VIETNAM
VIETNAM
VIETNAM | Turisti-info
A land of staggering natural beauty and cultural complexities, of dynamic megacities and hill-tribe villages, Vietnam is both exotic and compelling.
" History & Culture "
Vietnamese culture is complex, diverse and represents something of a history lesson. The nation's labyrinthine, teeming trading quarters are rich in indigenous crafts and reflect centuries-old mercantile influences. Ancient temples display distinctly Chinese influences in the north and Hindu origins in the south. Meanwhile the broad, tree-lined boulevards and grand state buildings that grace the capital date from the French colonial period. And it's impossible to forget Vietnam's pivotal position close to the epicentre of East Asian power and prosperity, for its cities' skylines are defined by clusters of glass-and-steel corporate HQs and sleek luxury hotels.
" A Culinary Superpower "
Thailand may contest the top spot, but in Southeast Asia nothing really comes close: Vietnamese food is that good. Incredibly subtle in its flavours and outstanding in its diversity, Vietnamese cooking is a fascinating draw for travellers – myriad street-food tours and cooking schools are testament to this. Geography plays a crucial role, with Chinese flavours influencing the soups of the north, spices sparking up southern cuisine, and herbs and complex techniques typifying the central coastline, rightly renowned as Vietnam's epicurean hot spot. And up and down the country you can mingle with villagers, sample local dishes and sip rice wine in Vietnam's many regional markets.
Sensory Overload
Unforgettable experiences are everywhere in Vietnam.
There's the sublime: gazing over a surreal seascape of limestone islands from the deck of a traditional junk in Halong Bay.
The ridiculous: taking 10 minutes just to cross the street through a tsunami of motorbikes in Hanoi.
The inspirational: exploring the world's most spectacular cave systems in Phong Nha-Ke Bang National Park.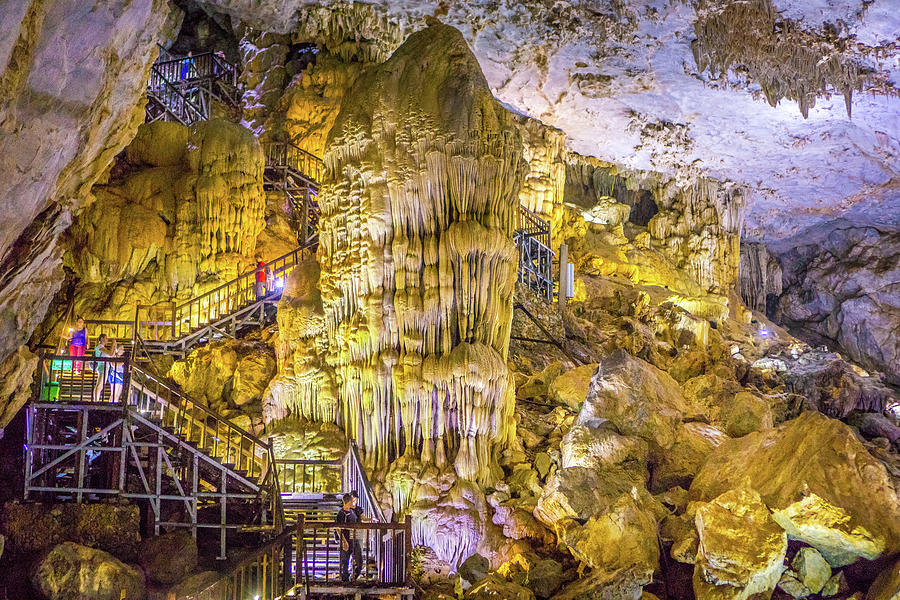 The comical: watching a moped loaded with honking pigs weave a wobbly route along a country lane.
And the contemplative: witnessing a solitary grave in a cemetery of thousands of war victims.
Thrills & Chills
If you have the bills, Vietnam has the thrills and chills. Some require a little physical effort, such as motorbiking switchback after switchback up the jaw-dropping Hai Van Pass in central Vietnam. Others require even more sweat: kitesurfing the tropical oceanic waters off Mui Ne or hiking the evergreen hills around Bac Ha or Sapa. And when you're done with all that adrenaline stuff, there's plenty of horizontal 'me' time to relish. Vietnam has outstanding spas – from marble temples of treatments to simple family-run massage salons with backpacker-friendly rates.
Destinations in Vietnam
There are a thousand places to visit in Vietnam and I can't possibly put them all on this page. Let's just start here with a few popular destinations.Vietnam has at least 8 UNESCO listed sites, including Ha Long Bay, Hue's historic sites, the old town of Hoi An and the Champa complex at My Son sanctuary.
Saigon refers to the inner city area of Ho Chi Minh City. Renamed after the war in honor of the North Vietnamese leader. The area that most people end up in is District 1 where you will find backpacker accommodation and agencies selling tours and transportation to just about anywhere in Vietnam.
One of the best tours from Saigon would be to the CHU CHI RUNNELS which are located about 50 km west. This tour can include a Cau Dai temple visit, this religion is unique to Vietnam and was founded in 1912.
The biggest draw card in Saigon itself is the War Remnants Museum and the Old Palace build by the South Vietnamese rulers but not used since tanks drove through its gates in 1975 to officially end the war.
This incredibly picturesque riverside city is something of a tourist hot spot these days, combing the charms of the Old Town with its ancient buildings, tailor's shops and Hoi An central market with nearby rice paddies and beaches.
Hoi An food is world-famous and central Vietnam is a big producer of quality sea food.
Around town there are various places of interest to keep you busy, throw a pot at the pottery village, take a free Vietnamese lesson or one of the many local eco tours. My Son Sunctuary and Marble Mountain are a short day trip from Hoi An and Hue is accessible by tour, bus or train.
" You haven't experienced Vietnam until you've visited its noisy, vibrant capital city, Hanoi. Navigate the traffic-choked streets of the Old Quarter to discover crumbling colonial buildings, street vendors and traditional tubular shops.
Hanoi is filled with historic buildings but don't miss the ornate Temple of Literature, St Joseph's Cathedral and the UNESCO listed Imperial Citadel of Thang Long.
Learn about the country's revolutionary leader at the Ho Chi Minh mausoleum and palace complex and take a stroll around Hoan Kiem Lake where locals come to exercise and relax.
No trip to Hanoi would be complete without sampling its famous food delights such as a Banh Mi sandwich or the city's signature dish, Bun Cha. Stop in at Café Giang for a Ca Phe Trung (egg coffee), they've been serving this traditional brew for over 70 years. "
"If you are looking for a magical location in Vietnam, then you cannot go past Ha Long Bay in the north of the country.
With emerald-green waters, limestone islands and mystical caves, all while touring on Junk Boats, Ha Long Bay draws travellers to her every day and is certainly one of our favourites in South East Asia.
From day tours through to tours that keep you entertained for 2 days 3 nights, we highly recommend the latter.
Sleeping on a Junk Boat, while doing day visits to floating villages, taking rowing tours, and getting to jump off the boat into the cool refreshing water, is so relaxing and fun plus gives you a great insight to local living and seeing nature's beauty up close.
No matter what your budget, we highly recommend you choose your junk boat tour wisely and spend a few extra dollars to get a better experience and higher quality boat. We have done three tours since 2008 and loved Signature Cruises. You can read all about our recent trip to Halong Bay right here. "
Home to Vietnam's highest peak (Fan Si Pan, which soars 3143m above sea level) Sapa is a must-see destination for nature lovers. The people of Sapa started welcoming tourists as far back as the early 1900s, when French colonists used it to escape the searing heat of Vietnam's lowlands. During the 1940s, Vietnamese independence fighters drove the French from the region and it wasn't until a few decades ago that tourists started to return to Sapa.
Within easy reach of Hanoi, by overnight bus or train, Sapa is now one of Vietnam's most popular tourist destinations.
RICE BOWL CAPITAL OF VIETNAM - SAPA
In Sapa, the magnificent purple mountains sink away into deep valleys, where terraced rice paddies feed the imagination — and the local population. Many ethnic minorities, including the H'Mong, the Dao and the Dai, make their homes in small hidden villages among these hills. Be mindful of travelling ethically in Vietnam. and in this delicate region.
For tourists, the big draw is the chance to trek along Sapa's stunning valleys and mountains. It makes an excellent antidote to the hectic pace of life in Hanoi and is still a great place to escape the heat. Taking a multi-day trek between village homestays will give you the chance to immerse yourself in a slower pace of life, stretch your legs on the mountain tracks, and indulge in shots of the locally-made rice wine. It burns a little as it goes down but is perfect way to loosen your muscles after a long day of walking!"
Phong Nha Ke Bang National Park
You will surely be impressed by Vietnams natural wonders. Vietnam is for example home to the biggest cave in the world - the Son Doong cave located at the heart of Phong Nha Ke Bang National Park. It can be explored through a cave expedition, but only with an official tour operator. The Quang Binh Province and some of the caves may be one your highlights travel in Vietnam. When looking for cool things to do in Vietnam then think about caving in this national park, so worth it.
Festivals in Vietnam
While holding religious significance and imbibed with tradition, festivals in Vietnam provide an authentic Vietnam experience. Their hospitality is enormous, especially when they are drunk and not that shy anymore! :)
The most important festival in Vietnam is the Tet Nguyen Dan or Lunar New Year as a result of a country with Buddhism as the predominant religion. Equivalent to the Chinese new year, Vietnamese welcome the new year by creating noise whether its simple beating of drums, lighting firecrackers or prodding dogs to bark. The morning is characterised with honoring ancestors, visiting temples and handing out flowers as part of the ritual. Meanwhile, evenings get really crazy because of all the celebrations and of course alcohol. Vietnamese New Year is always somewhere around end of January or the beginning of February.
Unfortunately I have never experienced this festival myself but I have heard so much about it that it is on my list of things to do in Vietnam. If you love the arts, head to Hue City, the capital of Thua Thien Hue province in Central Vietnam. It is the only place where the Hue Festival is celebrated every two years. The traditional customs practiced during the Nguyen dynasty are relived through different showcases and activities. Expect street performances, film screenings, art exhibitions, Ao Dai Fashion Shows, Hue Poetry Festival, and Dialogue of Drums and Percussions. For sporting activities, there is kite flying, boat racing, and human chess.
This festival attracts a large number of visitors and is a very popular festival among Vietnamese and tourists. Every 14th day of the lunar month whereby it is the full moon, every establishment in the Ancient Town turns off all their lights. They utilize multi-colored lanterns lit with candles for illumination and are also placed on the river for well wishing. You may opt to see lanterns on the water from the riverbank or organise a local boat ride. Trust me when you are around this is one of the better Vietnam travel tips I got along my travels. You will love it!
Best places to stay in Vietnam
Home to breathtaking scenery, glorious beaches and pulsating cities, Vietnam is a must-see on any traveller's to do list. But where to stay? From grand hotels to rustic bungalows, here's our round-up of the best places to stay in Vietnam to ensure your trip is unforgettable.
InterContinental Hanoi Westlake, Hanoi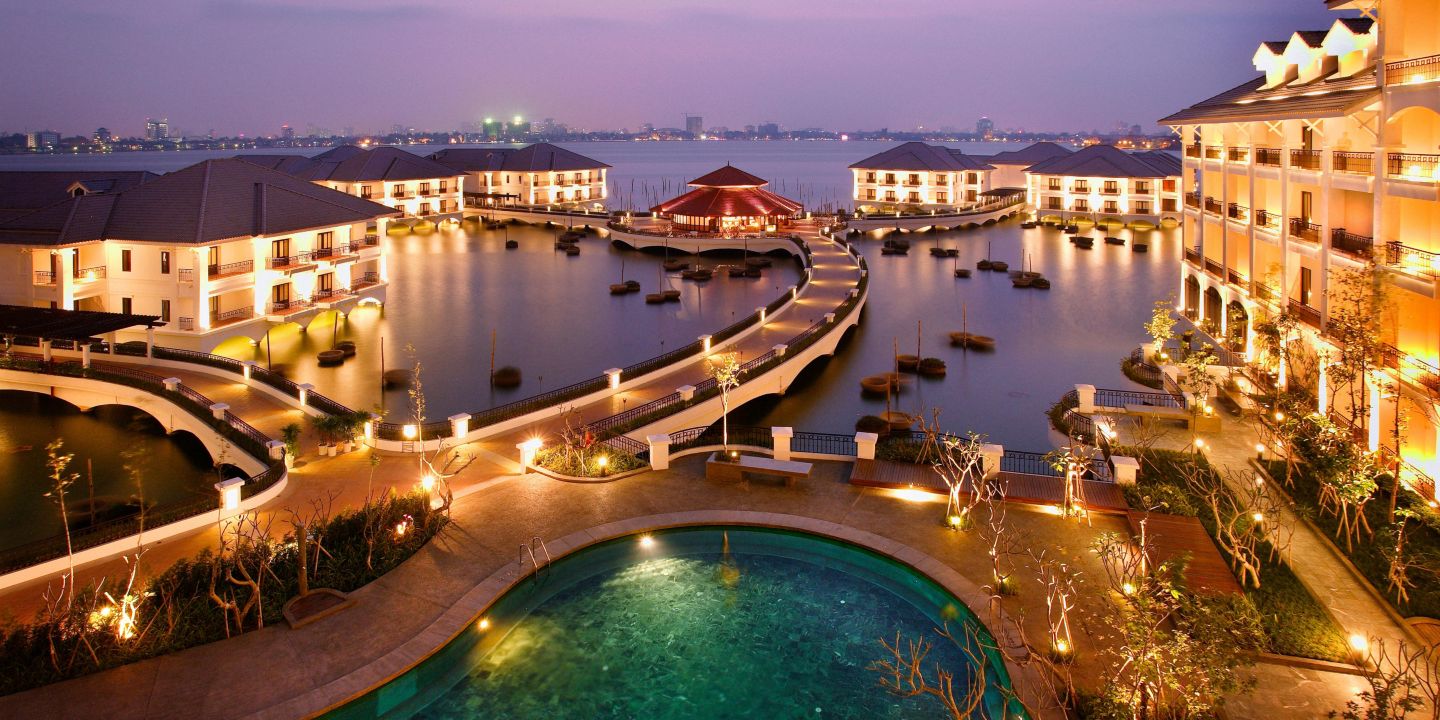 The hotel sits alongside an 800-year old pagoda in a serene and beautiful setting, just a 15-minute drive from the centre of Hanoi. Expect refined luxury throughout the hotel, from the sumptuous bedding and high-end toiletries in the rooms to the elegant restaurants and serene spa. Many of the rooms have lake views, or you can upgrade to one of the overwater suites on the lake's island pavilions to enjoy a stay of utter indulgence.
Four Seasons Resort The Nam Hai, Hoi An
Combining minimalist chic with tasteful Vietnamese accents, this beachfront luxury hotel is a designer's dream resort. The architecture and interior of the hotel have been decorated according to the principles of Feng Shui and inspired by the grand Tu Duc royal tombs. Expect villas featuring delicate Vietnamese lacquer and diaphanous silk, in which you will be tended to by attentive staff.
Six Senses Ninh Van Bay, Nha Trang
Accessible only by speedboat, this secluded resort is hopelessly romantic. The Six Senses Ninh Van Bay is an all-villa boutique retreat, set in an idyllic crescent-shaped bay along Vietnam's south central coast. As one might expect, it is breathtakingly wonderful at every turn (with price tags to match), from the exquisite diving opportunities on your doorstep to the mouthwatering cuisine and private butler service.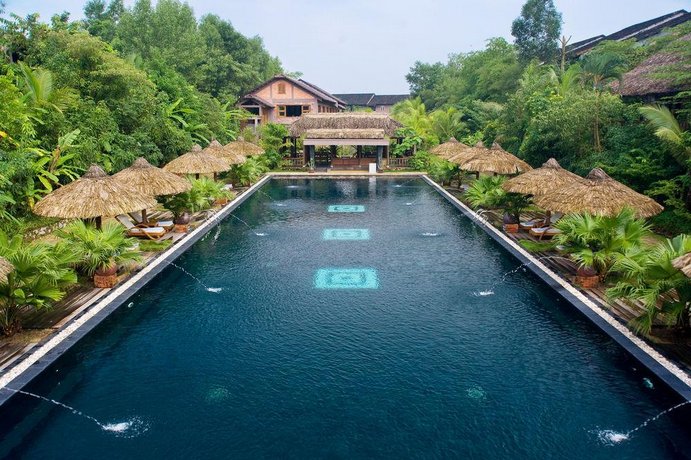 The Pilgrimage Village is home to tranquil, relaxing rooms and bungalows, nestled among lush, tropical jungle. Close to both Hue and Danang, visitors can access both locations with ease and escape to the soothing atmosphere the resort offers at the end of a full day's sightseeing. Traditional-style, wood-furnished guest rooms are hung with modern art, while the resort's restaurants combine restful settings with menus offering fusion Vietnamese cuisine and regional specialities. To fully unwind during your stay, you can enjoy meditation, tai chi and yoga classes, as well as indulge in spa treatments, followed by a Jacuzzi, sauna or herbal steam bath.
Grand Hotel, Ho Chi Minh City
Dating back to the 1930s, the Grand Hotel is one of the longest established hotels in Ho Chi Minh City . Located on the riverside, it is just a stone's throw away from attractions including the Saigon Skydeck and the Municipal Treatre Ho Chi Minh City. A grand building with colonial styling, including high ceilings, chandeliers, wooden shutters and wrought iron balconies, this is an impressive place to stay in the city. The hotel's spa only adds to the serene setting, with a range of treatments available including traditional massages.
Victoria Can Tho Resort, Can Tho, Mekong Delta
The Victoria Can Tho Resort was one of the first luxury hotels in the Mekong Delta. Located on the banks of the Hau River, the hotel's decor and design perfectly complement the region's character, and its facilities are top of the range across the board, from the luxurious spa to the elegant, traditional restaurant serving French-inspired cuisine. Try to book one of the eight luxury suites; they're decked out in authentic colonial style, with wooden floors, spacious sitting rooms and balconies affording stunning views.
Flower Garden Hotel, Hanoi
Located in the very heart of lively downtown Hanoi, the Flower Garden Hotel is within walking distance of the city's Old Quarter and Hanoi Botanical Garden. Attentive staff and elegant decor make this a great choice for a stay in the capital city. The hotel's facilities include a fully equipped gym and a spa offering treatments including massages, facials and hot stone treatments, while the two on-site restaurants offer menus of Asian and European cuisine.
Set in one of Hue's restored riverside colonial buildings, Hotel Saigon Morin, Hue wide selection of rooms offer panoramic city or river views. Located along the Perfume River, close to the Trang Tien Bridge, the hotel is within walking distance of Hue's historic Imperial City. The hotel's main restaurant serves classic Vietnamese dishes, while the Panorama Bar offers a relaxing atmosphere and sweeping views of the city skyline.
Hoi An Trails Resort & Spa, Hoi An
An exclusive boutique retreat set in tranquil countryside, the Hoi An Trails Resort & Spa is the perfect place to recharge and relax. Tucked between idyllic sandy beaches on the East Vietnam Sea and the bustling city centre, this resort offers luxurious accommodation in a wonderfully convenient location, complemented by a spa and a beautiful outdoor pool surrounded by fragrant frangipani trees.
- Here are some Essential things to know before travelling Vietnam Vietnam -
Best time of the year to visit Vietnam
For a lot of countries in Southeast Asia it is hard to determine, but the best time of year to travel to Vietnam is easy: March and April. Spring gets the least amount of rain and has moderate temperatures. The rainy season in Vietnam lasts from May to October. Mind you that especially the North of Vietnam has distinct summer and winter seasons. Snowfall in Hanoi is very rare, but it has happened before. If you decide to go for a trekking in Sapa, one of the best things to do in Vietnam, then beware that December, January and February it can be really cold. When you visit South Vietnam there is no need to bring warm clothes as the lowest average temperature in Ho Chi Minh is in December: 27 C / 81 F.
Is it safe to travel to Vietnam
Generally spoken one should not have any problems when visiting Vietnam. The most common threats are road accidents, theft and in a rare occasion snatch and grab. Just always make sure to use common sense.
Do you need a visa to travel to Vietnam
Nowadays there are even about 40 countries that don't even need a visa anymore, like: UK, Germany, France, Sweden, Spain, Italy. These countries can travel to Vietnam visa free for up to 15 days.Other countries need, the visa on arrival and a tourist visa for Vietnam can easily be obtained online.Most countries still need a visa though, this in contrast with other southeast asian countries like: Thailand, Malaysia, Singapore, Philippines, Indonesia where you can enter visa free.
How much does a Vietnam trip cost
You can make it as expensive as you wish. There are fancy nightclubs in Hanoi and Ho Chi Minh where a cocktail can easily cost $20, but you can also go local. For your backpacking Vietnam trip you should count on $40 per day, which makes you stay in hostels, eat local food, rent scooters, do sightseeing trip and small tours. When you travel to Vietnam as a couple you can count the same ($40 per person per day), a mid-range hotel is not much more expensive than $30 a night, food in a little upscale restaurant is about $10 and private tours will cost you about $25 per person per day. In many Vietnam blogs I read that you need a minimum of $50 a day, but with that money you can live large.
Vietnam is for every budget

The affordable cost on major travel expenses such as accommodation, public transport, and the food is also a reason that makes traveling to Vietnam so appealing. Therefore, if you have a higher budget for your trip to Vietnam, you can easily have a fabulous luxury experience. Luxurious 5-star hotels are very affordable in this country.
Overall, with all the Vietnam travel tips, reasons to go, things to do and places to see I hope this blog was helpful for your upcoming trip to Vietnam.
HAPPY TRAVEL ! :)