Nepal is the very watershed of Asia. Squeezed between India and Tibet, it stretches from rich subtropical forest to soaring Himalayan peaks: from jungly tiger habitat to the precipitous hunting grounds of the snow leopard. Climbing the hillside of one valley alone you can be sweltering in the shade of a banana palm in the morning, and sheltering from a snowstorm in the afternoon.
Nepal's cultural landscape is every bit as diverse as its physical one. Its peoples belong to a host of distinctive ethnic groups, and speak a host of languages. They live in everything from dense, ancient cities erupting with pagoda-roofed Hindu temples to villages perched on dizzying sweeps of rice-farming terraces and dusty highland settlements clustered around tiny monasteries. Religious practices range from Indian-style Hinduism to Tibetan Buddhism and from nature-worship to shamanism – the indigenous Newars, meanwhile, blend all these traditions with their own, intense tantric practices.
The cultural richness owes something to the shaping force of the landscape itself, and something else to the fact that it was never colonized. This is a country with profound national or ethnic pride, an astounding flair for festivals and pageantry and a powerful attachment to traditional ways. Its people famously display a charismatic blend of independent-mindedness and friendliness, toughness and courtesy – qualities that, through the reputations of Gurkha soldiers and Sherpa climbers in particular, have made them internationally renowned as people it's a rare pleasure to work with or travel among.
But it would be misleading to portray Nepal as a fabled Shangri-la. Heavily reliant on its superpower neighbours, Nepal was, until 1990, the world's last remaining absolute Hindu monarchy, run by a regime that combined China's repressiveness and India's bureaucracy. Long politically and economically backward, it has developed at uncomfortable speed in some areas while stagnating in others. Following a soul-scouring Maoist insurgency, which ended in 2006, it has ended up as a federal republic – governed, for the time at least, by Maoist rebels turned politicians. Nepal seems always to be racing to catch up with history, and the sense of political excitement in the country is thrillingly palpable.
Facts about Nepal
With a land area of 147,000 square kilometres, Nepal is about the size of England and Wales combined. Useable land, however, is in short supply due to the precipitous terrain and a growing population of 27 million or more, over a third of which is less than 15 years old.
• Eight of the world's ten highest mountains are found in Nepal, including Everest, the tallest of them all.
• Prior to 1951, only a handful of Westerners had ever been allowed into Nepal. Today, the country receives as many as 500,000 tourists annually; increasingly they are coming from neighbouring India and China.
• Despite the fame of its Tibetan and Sherpa Buddhist communities, Nepal was long the world's only Hindu kingdom, and Hindus still officially make up some eighty percent of the population. In truth, many Nepalis combine worship of Hindu gods with shamanic and animist practices.
• The decade-long Maoist insurgency ended in 2006, along with the career of the notorious King Gyanendra. Nepal's politics are now noisily turbulent but peaceful.
• With an average per-capita annual income of US$470, Nepal ranked 157th out of 186 countries in the UN's 2011 Human Development Index. Half the population survives on little more than a dollar a day.
Culture in Nepal
Many different ethnic groups coexist in Nepal, each with their own complex customs. In the Kathmandu Valley, where they mix the most, there's a high degree of tolerance of different clothes and lifestyles – a fact that travellers sense, and often abuse. Away from the tourist areas, however, ethnic groups are quite parochial, and foreign ways may cause offence. That said, many taboos relax the further and higher you head into the mountains, as Hindu behavioural norms are only partially shared by Buddhist and animist ethnic groups.
Getting to Nepal
In the autumn and spring tourist high seasons (late Sept to mid-Nov and late Feb to late March), flights to Kathmandu – Nepal's only international airport – often fill up months ahead. Most people book tickets through to Kathmandu, but you can also make your own way to a major regional air hub such as Delhi, and arrange transport from there. Airfares depend on the time of year, but timings of the high, low and shoulder seasons are calculated differently by each airline, and may not always coincide with tourist seasons.
Where to go in Nepal
Nepal's capital, Kathmandu, is electrifyingly exotic, with its medieval warren of alleys, Hindu temples and Buddhist stupas, and its uniquely relaxed nightlife. The city is increasingly hectic, however, so many visitors make day-trips into the semi-rural Kathmandu Valley, and the astoundingly well-preserved medieval cities of Patan and Bhaktapur, or overnight at one of the mountain view-points on the valley rim, such as Nagarkot, in the Central Hills. A few explore the valley's wealth of temples, towns and forested hilltops in more depth, or make road trips to the Tibet border or down the tortuous Tribhuwan Rajpath towards India. Most people will take the tourist bus six hours west of Kathmandu to Pokhara, an engagingly easygoing resort town in the Western Hills, set beside a lake and under a towering wall of white peaks. While many visitors are happy just to gaze at Pokhara's views, or hang out in its bars, it also makes a great base for day-hikes and mountain-bike rides, yoga and meditation courses, and even paragliding and microlight flights. Other towns in the Western Hills – notably Gorkha with its impressive fortress, Manakamana with its wish-fulfilling temple, and Bandipur with its old-world bazaar – offer history and culture as well as scenery.
Few travellers head into the flat Terai, along the border with India, unless it's to enter the deservedly popular Chitwan National Park with its endangered Asian one-horned rhinos. Bardia National Park and two other rarely visited wildlife reserves are out there for the more adventurous. In the Western Terai Lumbini, Buddha's birthplace, is a world-class pilgrimage site, as is Janakpur, a Hindu holy city in the east.
Nepal is most renowned, however, for trekking – hiking from village to village, through massive hills and lush rhododendron forests and up to the peaks and glaciers of the high Himalayas. The thrillingly beautiful and culturally rich Annapurna and Everest regions are the most oriented to trekkers, but other, once-remote areas are opening up, notably Mustang and Manaslu. Rafting down Nepal's rivers and mountain biking, meanwhile, offer not only adventure but also a different perspective on the countryside and wildlife.
Getting around Nepal
Getting around is one of the biggest challenges of travelling in Nepal. Distances aren't great, but the roads are poor and extremely slow, and public buses are crowded and uncomfortable. Tourist buses are available on the main routes, however, and you can always hire a motorcycle, or charter a taxi, car or 4WD vehicle, or catch a flight.
Best places to stay in Nepal
Sleeping
Kantipur Temple House Newari splendour and eco-friendly hotel.
Kathmandu Guest House Celebrated stop on the hippy trail.
Tiger Tops Tharu Lodge Traditional materials, organic food, safari luxury.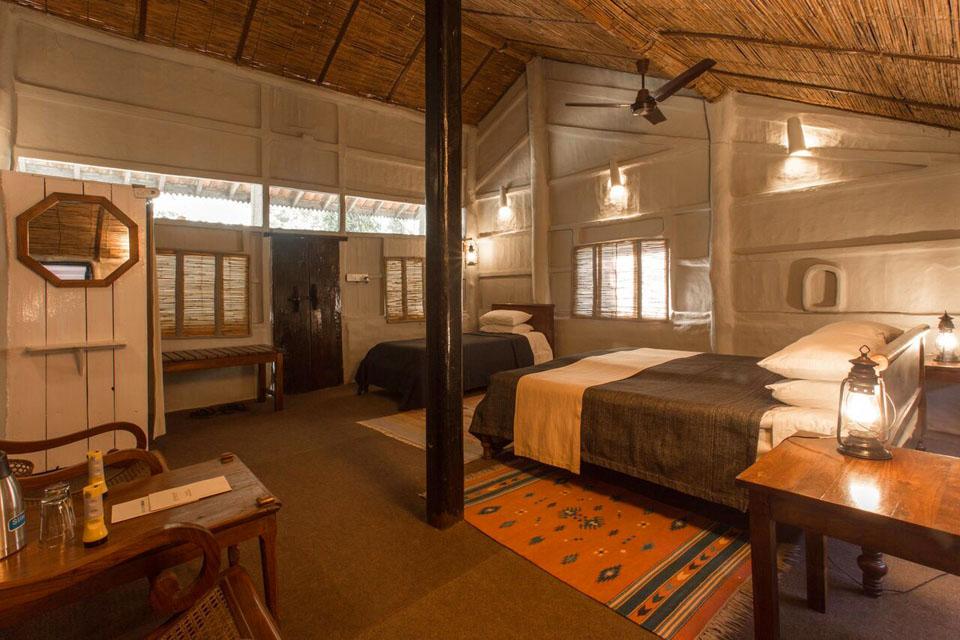 Heritage Hotels
Yak & Yeti Hotel Developed from a Rana-era palace with spectacular baroque decor.
Dwarika's A boutique hotel comprising rescued heritage architecture.
Old Inn Bandipur Beautifully restored mansion in a picturesque mountain village.
Budget Safari Lodges
Sapana Village Lodge Tharu-village decor in a relaxed riverside setting.
Chitwan Gaida Lodge Birdwatchers flock to this lodge run by a renowned twitcher.
Forest Hideaway Functional and friendly with expert guides for Bardia National Park.
Best Things to Do in Nepal
Let's start with the obvious: Trekking!
If you like hiking and you're traveling to Nepal, you'll definitely want to squeeze in a trek, or even plan your whole trip around one.
From the iconic peaks of the Himalayas more tame trails at lower elevations, there are hikes of all lengths and levels of difficulty to choose from.
Short & Easy Treks in Nepal
The Poon Hill Trek is quite accessible and is popular with hikers of all ages and varying levels of fitness. And you can complete the trek in just 5 days, making it a good option if you're in a time crunch.

Balthali Village Trek is located in the Kathmandu Valley and takes just 3 days. The trails are rated as "easy", so this could be an especially good option if you are limited on time and are concerned about your fitness level.

The Changunarayan Trek to Nagarkot takes just 2 days, and the highlight is reaching the hill station of Nagarkot where sunrise is said to be fantastic
Off the Beaten Path Treks in Nepal
We didn't run into a single other hiker during our 5-day trek on the Mohare Danda Route.

Langtang Valley is another lesser-visited route that is typically done in 7 - 8 days.
If you want to see Everest and the other Himalayan peaks, but you don't fancy trekking, there is another way. You can book an Everest Mountain Flight and see the giants from the air. You'll spend an hour in the air, soaring past the peaks of the world's tallest mountain range, with the pilot and crew providing a narration so you know what you're looking at. And you'll earn yourself some serious travel bragging rights!
Chaotic, crowded, and at times bat-crap-crazy, Kathmandu is Nepal's wonderfully insane capital. Many visitors treat the city as nothing more than a jumping-off point for a trek, but there's so much more to it. Spend some time exploring the city, and in particular its incredible temples…
Boudhanath is perhaps the most famous of Kathmandu's Buddhist temples, and it's one of the most impressive sights in the city. The gold and white stupa is enormous, and the complex is bustling with devotees and fluttering prayer flags.
Swayambhunath, aka the Monkey Temple, is a Buddhist temple offering some amazing – if hazy – views of the city. And of course, there are dozens of monkeys!
Pashupatinath is a sacred Hindu temple dedicated to Lord Pashupatinath. You can watch cremations being performed on the banks of the Bagmati River, and explore the crumbling stone buildings of this important Hindu site.
Fancy an adrenaline hit on your Nepal trip? Why not take to the skies in Pokhara – which is considered one of the best places in the world for tandem paragliding!
Thanks to relatively stable thermals, pretty decent weather year-round, and the safety net of Pokhara's huge blue lake, the city is perfect for paragliding. Throw in some seriously epic views of the snow-capped mountains that surround Pokhara and you have the ideal recipe for an amazing paragliding session.
Jungle Safari in Chitwan National Park
It's not all about the Himalayas in Nepal – the country's photography is actually pretty varied. Down in the lowlands in the south of Nepal lies Chitwan National Park, a sprawling area of lush jungles and grassy plains that's just 415m above sea level. On a safari in Chitwan, you'll be able to spot rhinos, elephants, hundreds of bird species, and – if you're lucky – the elusive Bengal tiger.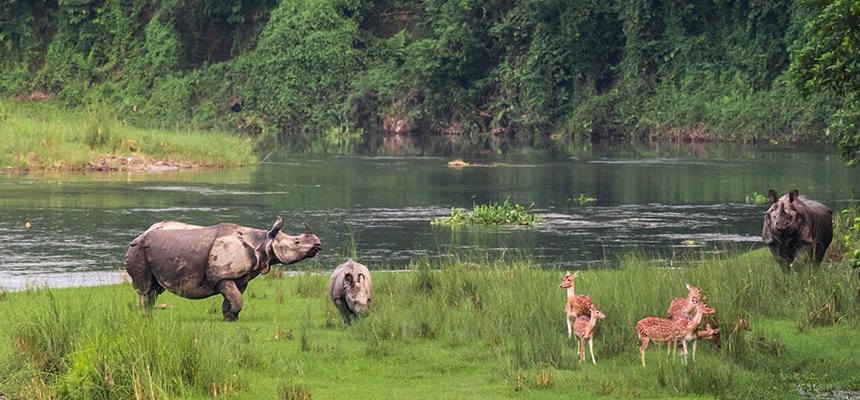 When it comes to adrenaline-rushes and extreme sports, Nepal does not disappoint! Not far from Kathmandu is the adventure sports complex The Last Resort – where you'll find the world's ninth - highest bungee jump. It's a 160m high jump into a tropical gorge above a raging river.
For a true Himalayan adventure, try your hand at canyoning in Nepal. Basically, you throw yourself into a fast-flowing mountain river and let it carry you downstream. This is a great way to get a real hands-on experience of the Himalayas, as you abseil, slide, and splash your way through gorges, waterfalls, and untouched jungle. This is one of nature's most amazing playgrounds – don't miss it!
India might be more famous for its connections with Buddha, who lived most of his life there, but Nepal is where he was born. In the southwestern lowlands lies the city of Lumbini, where you'll find the Buddha's birthplace. It's a sprawling complex of gardens, temples, and monasteries – and at the heart of it lies a small white building inside which are the archaeological remains of Buddha's birthplace. The woodlands behind the building are smothered in colourful chains of fluttering prayer flags, and the gardens are beautiful.
Yet another way to get wet and wild in the Himalayas is with white water rafting. Nepal has numerous rivers to explore on rafting trips ranging from one day to a week or ten days. Try something new, and discover the beauty of the Himalayas from raging rivers fed by snow-melts and monsoon rains. White water rafting in Nepal is a real challenge, but it's a serious thrill and a great way to test your limits!
For the ultimate adrenaline rush in Nepal, you really can't beat a tandem skydive in front of Mount Everest! Dropping from a helicopter at 23,000ft, you'll free-fall, then parachute, right in front of the world's highest peak. Then you'll land in one of the world's highest drop zones, Amadablam Basecamp at 15000ft.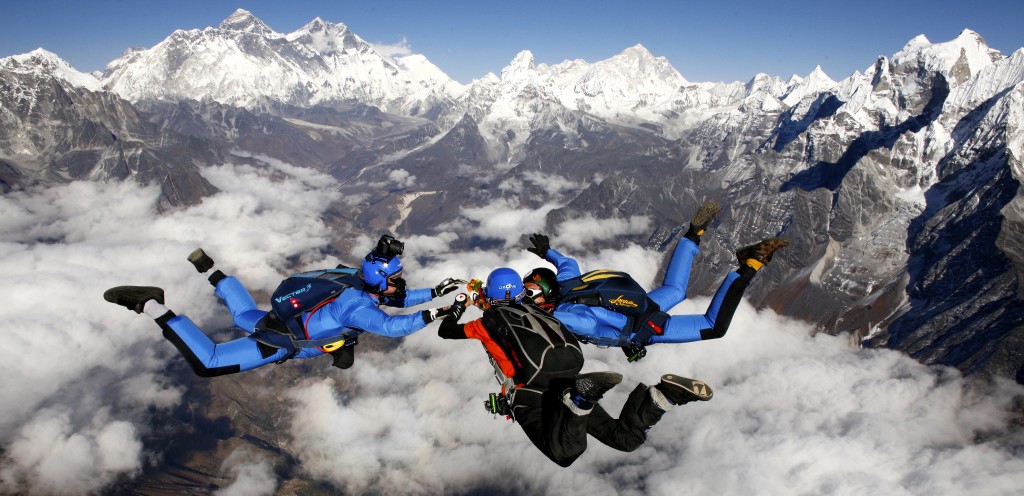 On the outskirts of Kathmandu, Patan was once an independent city-state and still feels quite separate from the capital. You can't miss a miss visit to Dubar Square , Nepal's best collection of temples and palaces. But there are also some great shopping opportunities. Visit the fair-trade craft stores to buy handicrafts and help support Nepal's neediest communities.
Yoga is all about connecting with the world around you. And what better way to do that than by practising yoga outside, surrounded by the very best of the natural world? At various yoga retreats in Nepal you can learn and practice meditation, yoga, and spirituality whilst surrounded by the majesty of the Himalayas.
Visit the International Mountain Museum
Although this is a post about things to do in Nepal other than trekking, it's still pretty hard to escape the Himalayas. The world's tallest mountain range is one of the countries biggest draws, after all.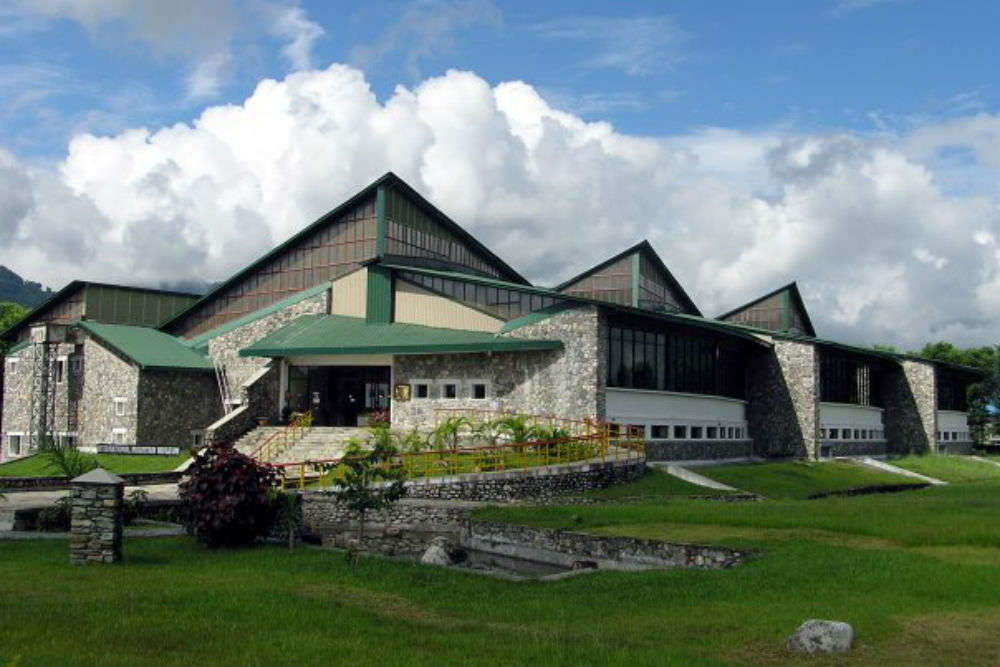 Traditional Nepali Dishes You Need to Try at Least Once
Ask any Nepali what their favourite food is and you're likely to get a laugh and a 'dal bhat, of course!' While it's imperative that you get used to eating dal and rice several times a week (if not, twice a day), there are plenty of other delicious traditional Nepali dishes that you should try while in Nepal.
Sometimes called Nepal's answer to the donut (because they're deep-fried and round), sel roti are in fact much less sweet than the familiar donut, though they do have a hint of sweetness. They're commonly found at road-side snack stalls and made in Nepali homes during celebrations and certain festivals (especially Maghe Sankranti and Tihar).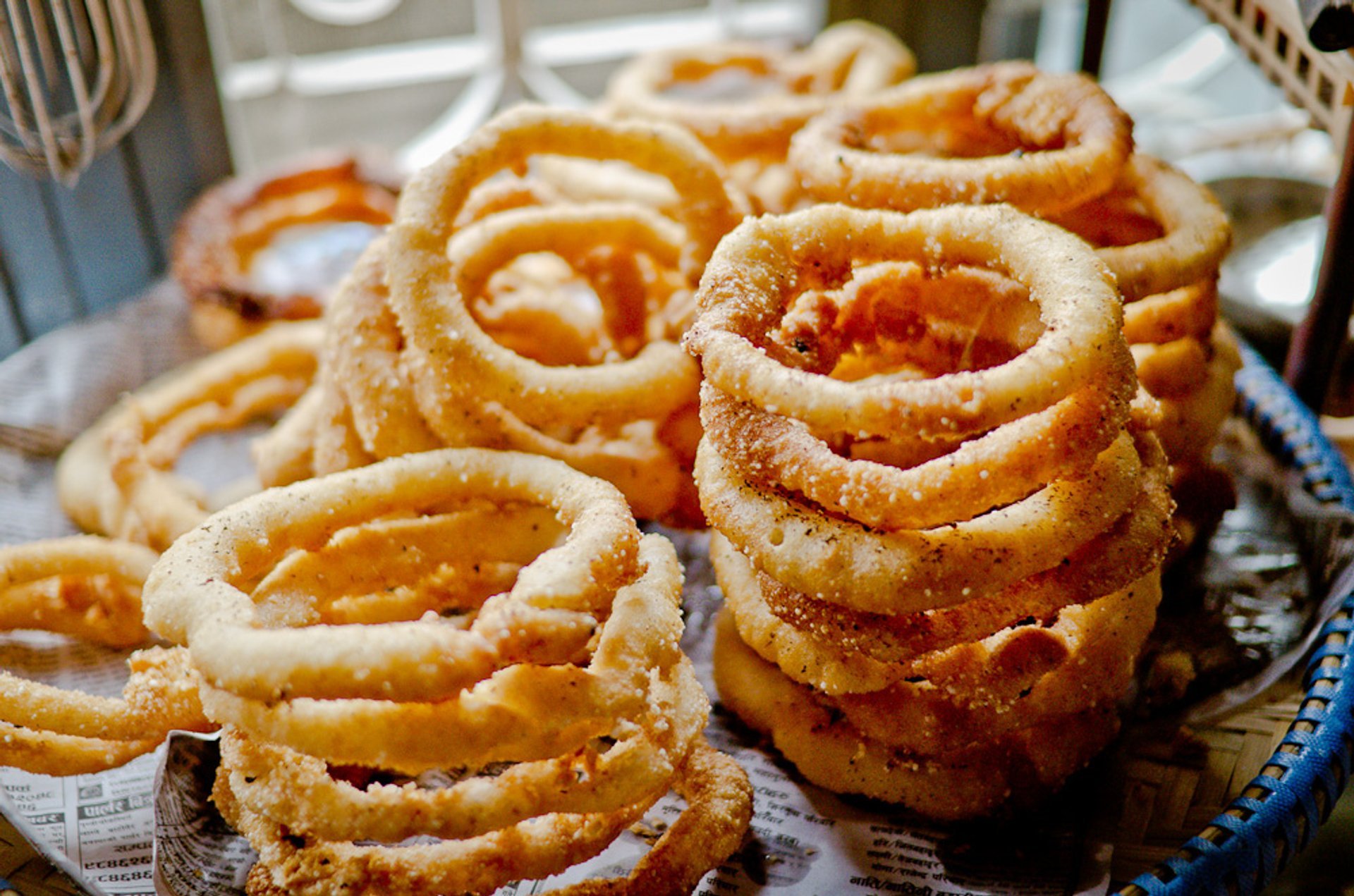 Wildly popular in Nepal, gundruk is made by fermenting leafy green vegetables. It's commonly made into a pickle, called gundruk ko achar. It tastes like nothing else we can think of – slightly mushroomy and quite salty. It perfectly complements Nepali curries and a dollop of it is usually added to a dal bhat meal.
Newaris are a Nepali ethnic group who were the original inhabitants of the Kathmandu Valley. Their distinct culture, cuisine, architecture and language still have a strong presence in the capital. Newari food is a unique subset of Nepali cuisine. A popular Newari snack is bara (also spelled bada), which is kind of like a thick savoury rice-flour pancake. It can be eaten plain, with an egg cracked on top or with minced buffalo meat.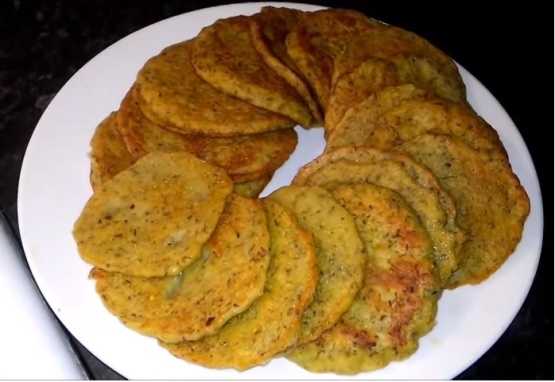 Chatamari is another favourite Newari snack that is very popular in Kathmandu. It has been called a 'Nepali pizza', but that's only because it's sort of round. Chatamari is a rice-flour crepe (thinner than bara) that is cooked with a variety of savoury toppings such as chopped onions, fresh coriander, minced meat, egg, chillis and a variety of spices.
Yomari is such a special food that it has its own festival, usually celebrated in December, called Yomari Punhi. The Newari festival marks the end of the rice harvest and sweet yomari are made and eaten on this day. The pointed, fish-shaped dumplings are made from rice flour and stuffed either with a sweet molasses mixture or a coconut one. Either is delicious.
Chiura is a bit of an acquired taste. It is rice that has been beaten flat and dried to keep it fresher for longer. It can be quite dry to eat, so it's best as an accompaniment to very wet curries. Be warned that it swells up in the belly once eaten, so you can feel quite full after eating chiura!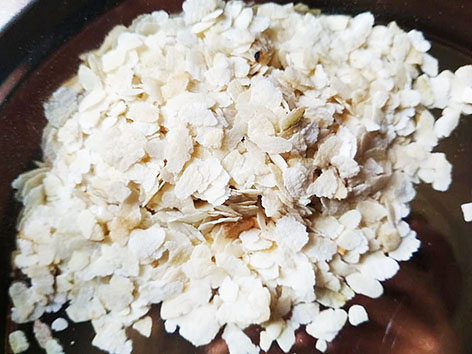 This spicy Newari salad is usually made with potatoes or peanuts, as well as chillies (lots of them!), raw onions, fresh coriander, spices and is served cold. This very tasty dish is a popular bar snack.
While momos are usually called Tibetan dumplings, the truth is, they're usually better in Nepal (take this from someone who's tried them in both places!). They are a favourite among Nepalis, not only of Tibetan origin, so it's safe to call them Nepali food. Rice paper wrappers are stuffed with finely chopped vegetables, minced buffalo or chicken and are steamed, deep fried or added to a spicy soup. They're also served with large helpings of spicy pickles, for dunking. Momos are always hand-made fresh to order, so don't be surprised if your order takes three times longer than everyone else's to arrive.
Juju dhau, or 'king curd', is a thick, creamy, sweetened yogurt served in clay pots in the city of Bhaktapur. It's made with buffalo milk, so it's much richer than regular cow's milk yogurt. It's an important accompaniment to many Newari celebrations and a must-try when visiting Bhaktapur. Grab a pot from a street-side vendor.
Alright, we couldn't present a list of traditional Nepali dishes without giving dal bhat an entry of its own! To call this rice and lentil dish a staple of Nepali cuisine would be an understatement – it's so much more than just rice and lentils. When served in a restaurant or at home, the rice and lentil curry is accompanied by a variety of seasonable vegetable and meat curries (spinach, potato, mushroom, chicken, buffalo, etc), as well as a salad, pickles, papad and curd. It's not just a dish, it's a full meal and a tasty and satisfying one at that. It's no wonder Nepalis are obsessed.
NEPAL TRAVEL TIPS
YOU CAN'T TAKE MONEY OUT OF THE COUNTRY
While exchanging your money in Nepal is totally fine, be sure to exchange all of your Nepalese Rupees back to your own currency before you leave. It's actually illegal to take the currency out of the country, and Nepalese Rupees aren't accepted (or exchanged) anywhere else.
YOU CAN HAGGLE - BUT ALWAYS BE RESPECTFUL
Haggling is a totally normal, and expected, part of life in Nepal - as long as it's done with respect. If you're after a specific item, walk around a few market stalls and gauge what the general asking price for the item, before negotiating with the one you'd like.
Nepal is a respect-based culture, so be sure to remain courteous and friendly, and always keep
AVOID FAKE TOURIST GUIDES
Keep an eye out for over-friendly locals at popular tourist spots around Kathmandu, like the Durbar Squares, Pashupatinath, and Swayambhunath and Boudhanath Stupas, who approach you and begin sharing the history of the site.
Often these are unofficial touts, and once they've finished your "tour", they'll demand money for their time.
In short, if someone approaches you and begins to lecture you about the place you're at, politely cut them off and ask how much their tour is going to cost you.
ALWAYS DRESS APPROPRIATELY (ESPECIALLY AT TEMPLES)
Religion is a hugely important part of the local culture here, and the Nepalese tend to be quite conservative when it comes to their dress.
Cover those knees and shoulders when visiting important sights, including temples and shrines!
BE AWARE OF TEMPLE CUSTOMS
Nepal is a deeply spiritual and religious country. When visiting its holy sites and temples, it's important to take note of a few basic customs to show your respect:
Always navigate clockwise around temples - and yes, that means walk around the temple again to get to something behind you, if needed!

Always remove your shoes when entering temples or a local's home. Shoes are considered the most degrading form of clothing, so this is an important one

Some temples are only accessible to those who follow Hinduism or Buddhism. Make sure you read the signage before you go ahead and walk in

Always check if it's alright to take photographs inside temples - this is generally sacred ground, and while some will allow it, others will ask you to put your camera away

Keep your displays of affection to a minimum, and keep your voice down - the world doesn't need Logan Paul 2.0
IT'S PRETTY SAFE | HOW TO BE SAFE IN NEPAL
Overall, Nepal is ranked as one of the safer countries for travel. Politically, after a few years of Maoist turmoil, the country has now made great strides in political stability and is largely peaceful, although demonstrations might still occur (don't get involved in these).
The locals here are friendly and generous and realise that tourism is a mainstay of their economy. Travellers will find themselves welcomed warmly, and with little to worry about in terms of personal safety. Keep normal safety precautions in mind; tell people where you're going, don't trek alone or walk by yourself late at night, keep your valuables out of sight, and avoid travelling on night buses.
For women, the risk of sexual harassment is relatively low, but it's still advised that you don't trek solo with a male guide and keep your clothing conservative.