MAAFUSHI ISLAND MALDIVES
''PLUNGE INTO THE MYSTICAL WORLD OF THE SEA AND BEYOND''
Located in Maldives is a small island called Maafushi island which offers picturesque beach views and a perfect escape from the hustle and bustle of the day-to-day life. It is famous for its water activities like snorkelling, dolphin watching and more. So, if you are planning a honeymoon or a trip next time, consider this small but charming island and have a different kind of experience.
Getting to Maafushi Island​
The local speed boat transfer from the airport to Maafushi
The easiest way to reach the island is from Male.The good thing about Maafushi is it's easy to get to from the airport. The nearest airport to the island is Male Airport. From there, you can either take a ferry or a speedboat. While the speedboat is faster for like $25 and takes half an hour to reach the island, the ferry is cheaper for like $1.5 and takes two hours. Once you reach the island, you can reach your accommodation easily through shuttle service or a cab.
BEST TIME TO VISIT MAAFUSHI ISLAND: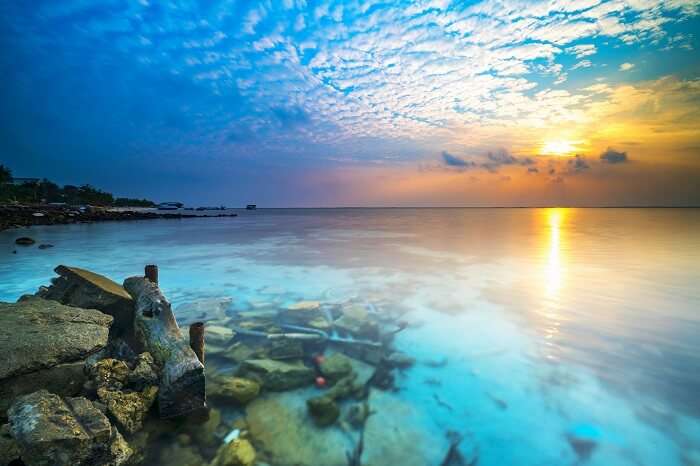 Although the beauty of the island can be witnessed at any time of the year, the best time to visit this island is between January and February. While the weather of the island remains hot & sunny throughout the year, it is most pleasant at this time which means you can go for sightseeing conveniently.
Here is a picture for you to paint – serene beaches embellished with palm trees, crystal clear water with shades of blue and green, sunny days, and tranquil vibes. This is a picture of the Maafushi islands in the Maldives. Every person who has ever thought of scuba diving has definitely thought of Maafushi. Why? Because where else can you fin exquisite and unmatched marine life amidst shipwrecks, overhangs, caves, and swim-throughs.
Scuba diving in Maafushi is on every adventurer's bucket list as the island city offers a vast diversity of underwater life like whales, sharks, fishes, turtles, corals, and many more. Maafushi helps every diver to witness the amazing underwater world through their eyes and in this blog, I willl give you a sneak-peak into the underwater world and give you idea on what other activities can you do in the island of Maafushi!
What Is Scuba Diving?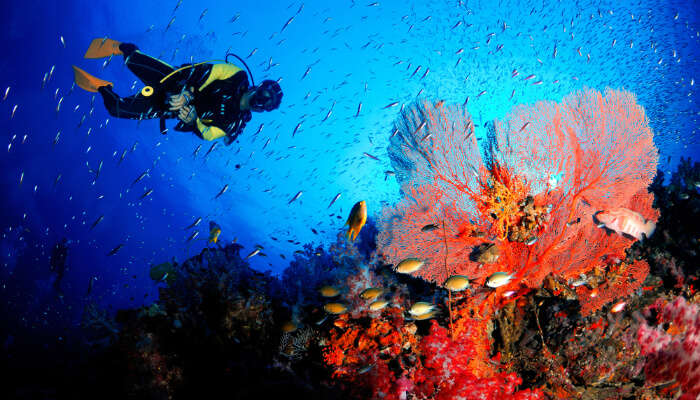 Scuba diving is an enthralling and adventurous sport that is carried out across many parts of the world and is highly enjoyed by all those who try it. The sport involves swimming underwater using a scuba which is short for Self-Contained Underwater Breathing Apparatus. Scuba diving is approached more than just a regular sport; it is often tried by people to simply find peace and solace in their lives as they exist in a world beyond conventions. It is really fun to swim underwater as you explore the marine life like never before – from fishes, turtles, and whales to many more aquatic beings along with beautiful coral reefs- you can experience the joy of meeting them all during scuba diving!
BEST TIME FOR SCUBA DIVING:
You can take a dive in Maafushi island throughout the year but the perfect time for a visit to the place to experience scuba diving is between the months of January and May. Maafushi island experiences heavy rainfall during the monsoon season which falls between June and November which is why the remaining months are ideal. The months between January through May experience a pleasant and balanced weather condition and during this time, the water current is also moderate allowing everyone to experience the sport. The average temperature during this fluctuates between 26 and 28 degrees celsius which is ideal for scuba diving.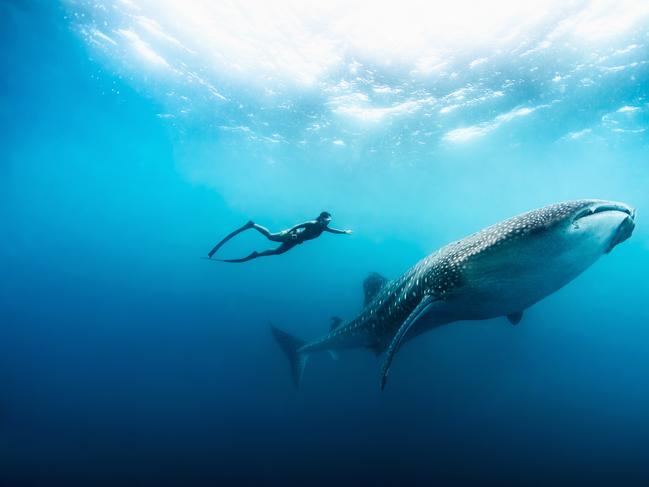 - Best Places For Scuba Diving In Maafushi -
There are several scuba diving sites in Maafushi along the channel that divides between north & south Male Atoll. The scuba diving places in Maafushi island is worth to be experienced by all divers which is why you must check out these six places for scuba diving
The shark reef or "Miyaru Faru" is a well-known scuba diving center 15 minutes away from Maafushi island by boat. The term itself depicts the idea about this center as "Miyaru" means shark and "Faru" means reef.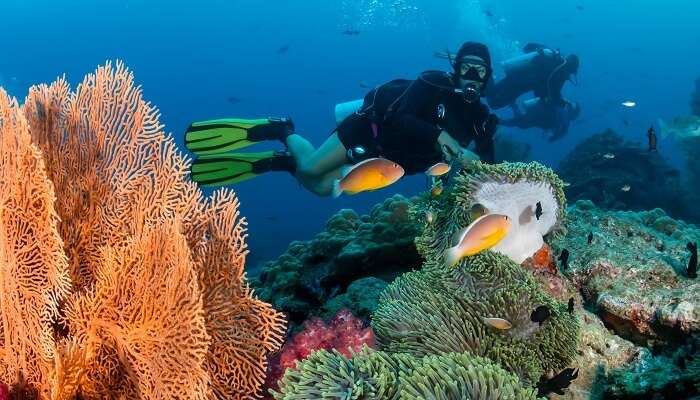 In this diving site, strong current exists which may attract eagle rays as well as sharks. You can also see several species likely barracudas, snappers, triggerfish, shrimps and much more.
It is an amazing diving center just 15 minutes away from Miyaru Faru and it has both reefs as well as a wreck with a depth of 20-35 meters. The fragments of the wrack are mainly covered with algae, sponges, stars, and corals. Different types of fish like stonefish, frogfish, clownfish as well as leaf fish along with turtles and octopuses can be found resting on the wreck.
You will have a lot of fun scuba diving in Kuda Giri and the most unique point with this spot is that you can easily dive during the night without any hesitation.
The cocoa corner is a 400 meters pinnacle and steep drop-off and during a dive here, you can see marine creatures' likely tuna, manta rays, gray reef shark, trevally and much more. You can also find fish pipes, sweetlips as well as stone cod along with attracting and vibrant colored sponges and gorgonians.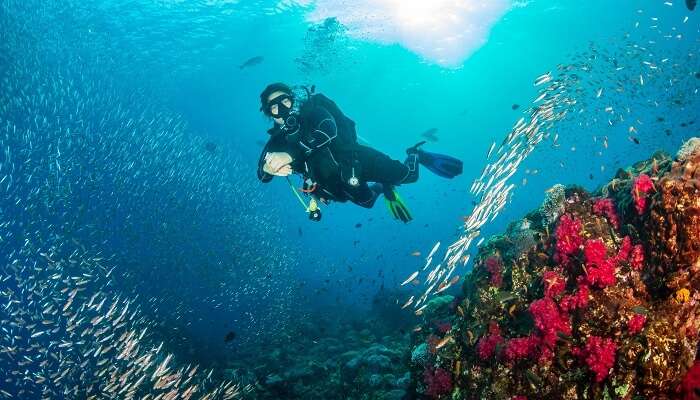 The cocoa corner is well famous for its amazing underwater scenic landscape, underwater turbulence and strong currents in the water and you can take a dip here and taste adventure!
It is the most renowned diving site in South Male atoll. Here, you can see eels, parrotfish, squirrelfish, and black corals.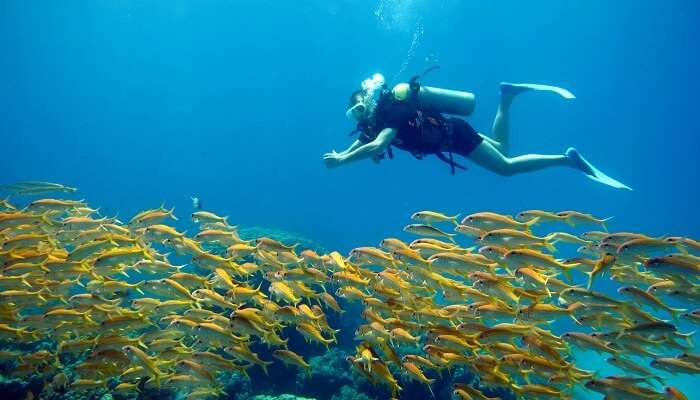 Among large marine creatures, you can only see stingrays & gray reef sharks in Guraidhoo corner. Guraidhoo corner is a great place for drift diving and you must experience the joy of diving here!
One of the most magnificent diving sites in Maafushi, Kandooma Thila invites all to explore different marine life such as gray reef sharks, white tip sharks, groupers, perches, barracudas and trevally.
It is a 6 km long channel located in the northeast of South Male Atoll and is famous for providing all with the opportunity to dive with sharks!
Divers can start diving 30 meters deep and can enjoy the views of white-tip sharks, schools of marbled perches, Napoleon wrasse, lionfish, eels and octopuses. A dive at the Embudhoo Kandu will be a dive to remember forever!

Tips For Scuba Diving In Maafushi

You should check the diving gear beforehand diving. You must check the gear regulator, air taste, air leakage in air gauze.

Avoid the use of the camera for first-time divers as they concentrate on the camera & pictures while forgetting the measures required underwater.

You are advised to take seasickness medicine if you are usually prone to it.

Always remember to avoid scuba diving in Maafushi if you have any wound in any open area as it may get infected underwater near coral reefs. You are advised to wear a wetsuit to protect the wound.

Drink plenty of water to avoid dehydration during your dive.
Scuba diving in Maafushi is not only adventurous but also unique as you get to explore rare species of aquatic life and swim amidst extraordinary marine animals. Imagine swimming deep underwater where you can lose all your inhibitions and simply enjoy being alive to each and every moment! So, experience this awesome sport as and when you plan your trip to Maldives.
OTHER THINGS TO DO IN MAAFUSHI ISLAND
Snorkelling is one of the activities that you cannot afford to miss out on! The island offers places like Guraidhoo and Biyadhoo for having a soul-filling snorkelling experience that you may have never had before!
Since the island is unexplored and offers limited but amazing experiences which will never let you get bored, you can easily explore the island by taking a tour. During the tour, visit the nearby islands, famous beaches, and fine dine restaurants for a delightful experience!​
If youre looking for some peace of mind and soul on your holiday on Maafushi Island, Maldives, then head to Gulhi beach. It is one of the best Maafushi Island beaches that will leave you enchanted with its simply beautiful views. The beach is very popular among locals and tourists alike.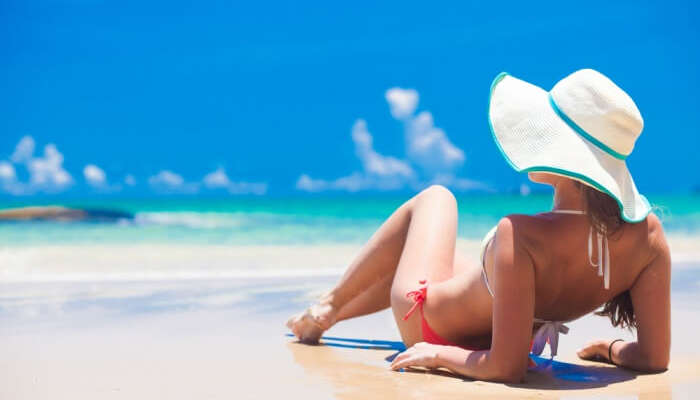 Maafushi Island Accommodation
Since the island is known to have some of the best guest houses in whole of Maldives, you'll surely find plenty of them! Though, we have listed below the best places to stay on the island, take a look!
1. Kaani Beach Hotel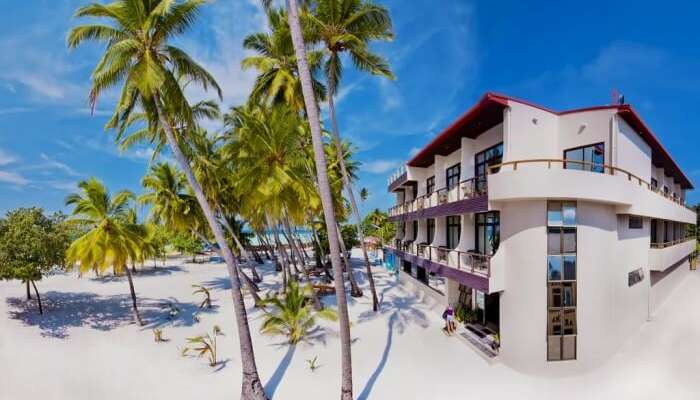 Located amidst coconut palm trees, this hotel is perfect for a peaceful staycation. The hotel offers luxurious rooms from where you can enjoy sea-views. Apart from offering several amenities, the hotel also provides services like visit to sand banks, snorkelling tours and many more.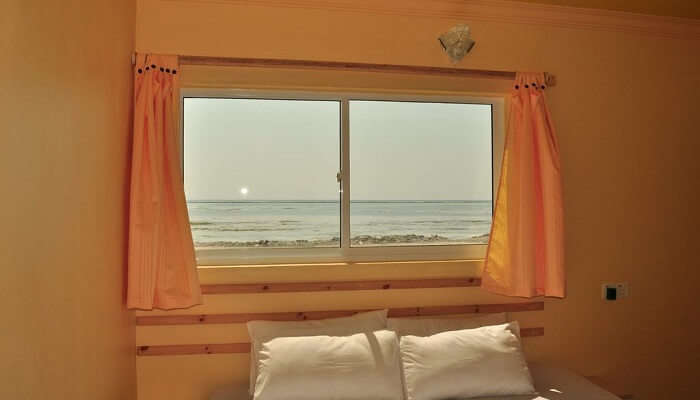 Maafushi Inn is a beachfront accommodation which offers beautiful beach views. If you are visiting Maafushi Island, Maldives with your family, then stay at Maafushi inn for a perfet stay. Apart from that, the inn also gives you the opportunity to go dolphin watching and more.
Summer Villa Guest House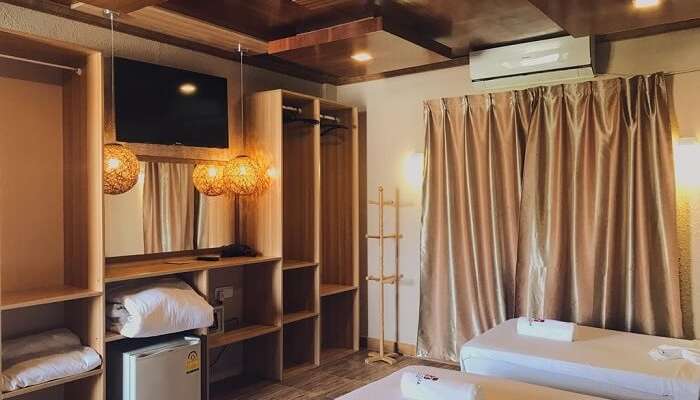 The golden interior of this guest house would leave you amazed. This is one of the best places to stay in Maafushi Island. Spend the day relaxing on the sun-loungers and the night in the restaurant which offers Maldivian delights.
Top Places To Eat At Maafushi Island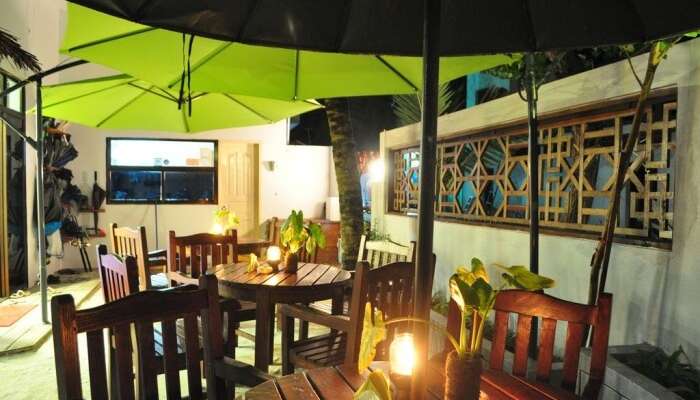 Everybody wants to savor lip-smacking cuisines whenever they are on a holiday, and any holiday is incomplete without eating the best that place offers. So, while you are holidaying in Maafushi Island, head to places like Kaalama Restaurant and Symphony Lagoon Restaurant, which are some of the best places to eat. They offer a wide range of delicious Maldivian dishes and international cuisines. And if you want to try something different, then visit Cafe Rio Maafushi which has an interesting ambience.
Reasons to visit Maafushi Island
For $50 for two people a night & breakfast.

If you want to experience the Maldives like we know it with loads of excursions that will be exactly the same as the resorts then come to Maafushi as there is a lot of competition meaning you'll get a good price.

If you want the island to feel like you're on holiday where there are loads of restaurants to choose from, music playing out along the street, watersports, including the comforts of home like western cafes and a gym then this is a great island to visit. I know other local islands don't have these amenities and you'll only be eating at your guesthouse with maybe a local shop if you're lucky.

Getting around the Maldives is tricky. I did a lot of research and Maafushi is the easiest island to get to and cheapest from the airport.

Lastly, Maldives is incredibly safe.
HAPPY TRAVEL :)