MALAWI
MALAWI
MALAWI | Turisti-info
Welcome to Malawi!
---
Malawi is beating faster now and the legendary welcome is there for all who wish to experience the unrivalled combination of Lake, Landscape, Wildlife & Culture in one of Africa's most beautiful and compact countries.
Described as the 'Warm Heart Of Africa', this relatively little known gem of this diverse continent has so much to offer; culture, adventure, scenery, and of course the wildlife. A year-round destination, some even go as far to describe Malawi as the most attractive country in sub-Saharan Africa!
Apart from the legendary Malawian friendliness, what captures you first about this vivid country is its geographical diversity. Slicing through the landscape in a trough formed by the Great Rift Valley is Africa's third-largest lake: Lake Malawi, a shimmering mass of clear water, its depths swarming with colourful cichlid fish. Whether for diving, snorkelling, kayaking or chilling out on beaches and desert islands, a visit to the lake is a must.
This may seem to be an extravagant claim for such a relatively small country but the truth lies in the unique combination of attractions that Malawi has to offer. Where else will you find such a genuinely warm welcome in a country at peace with itself? Where else can you experience such a diverse scenic kaleidoscope in such a small area?! Suspended in the clouds in Malawi's deep south are the dramatic peaks of Mt Mulanje and the mysterious Zomba Plateau, both a hiker's dream, with mist-cowled forests and exotic wildlife, unspoilt game parks. Further north is the otherworldly beauty of the vast high Nyika Plateau with seemingly limitless views, its rolling grasslands resembling the Scottish Highlands.
Malawi was once dismissed as a safari destination, but all that changed with a lion-reintroduction program at Majete Wildlife Reserve, which is now one of a few worthwhile wildlife-watching destinations nationwide.
MALAWI TRAVEL FACTS
Capital of Malawi: Lilongwe
Population of Malawi: 16.3 million
Languages in Malawi: Chichewa, English widely spoken
Voltage in Malawi: 230 V, 50 Hz
Visas for Malawi: Not required by UK nationals. U.S. citizens may obtain visas upon arrival at a port-of-entry in Malawi. The current fee for a 3-month single-entry visa is $50; diplomats and government officials are exempt from this fee. Contact the Embassy of the Republic of Malawi to confirm fees
Money in Malawi: Malawi kwacha (MK). Many lodges accept dollars. ATMS are not widespread – make sure you have enough cash on you when leaving a town.
Origin: The region was once part of the Maravi Empire. In colonial times, the territory was ruled by the British, under whose control it was known first as British Central Africa and later Nyasaland. It became part of the Federation of Rhodesia and Nyasaland. The country achieved full independence, as Malawi, in 1964.
Exports: The main exports are tobacco (53% of export value), tea, sugar, cotton, coffee, rubber, macadamia nuts, soya, rice, spices, textiles, clothing, footwear, wood products, gemstones and, from 2009/10, uranium. Malawi's main imports are food, petroleum products, building materials, fertilisers and transport equipment.
Wildlife: Elephants, lions, leopards, African buffaloes, hippopotamuses and rhinoceroses are present in the country but their numbers are low except in national parks and game reserves. More numerous are jackals and spotted hyenas, African wildcats, caracal and serval.
Best Time to Visit Malawi
Malawi has a hot summer rainfall season from November to April so the best time to visit is during the drier winter months - early May to late October. Winter gets chilly high up on the northern Nyika Plateau but down on the shore of Lake Malawi you can expect warm, sunny and dry days - great beach weather! This is also when to go to Malawi for the best game viewing - much of the vegetation has thinned out and animals are concentrated at rivers and permanent waterholes.
I recommend avoiding a Malawi Holiday during the mid-summer months of January and February: temperatures can get uncomfortably hot and humid, rainfall is at its highest - and so is the risk of malaria - while some of the roads in the national parks become impassable.
Getting to Malawi
For intercontinental flights from Europe South African Airways, Ethiopian Airlines and Kenya Airways (also with KLM) offer good options to Malawi, with routes involving an aircraft change at their respective national hubs (Johannesburg, Addis Ababa and Nairobi). All international flights have the option to land in either the capital Lilongwe (5-7 times per week) or Blantyre (2-3 days per week). Regional links between Malawi and Kenya, South Africa, Tanzania, Zambia and Zimbabwe are provided by Malawi Airlines and some of the national airlines of those countries. Such connections can sometimes be used in conjunction with another African or European airline flying from Europe to these countries. Malawi Airlines, through its association with Ethiopian Airlines can also offer connections around the world. Malawi-based air charter companies also link Malawi to its neighbours.
Entering Malawi by Road:
There are road routes into Malawi from Tanzania, Zambia and Mozambique. Assume that border posts will be closed from about 18.00hrs and reopen at 07.00hrs. Visitors requiring a visa may find this difficult to obtain at border posts and are advised to obtain the documentation in advance. Requirements for vehicle documentation should be checked before travelling. As of March 2016, the following are the requirements for a vehicle to enter Malawi:
Third Party Insurance – obtained at the border at a cost of MK21,000.00

Temporary Importation – obtained at the border at a cost of MK10,000.00

Vehicle Registration Certificate

If the vehicle is not owned by the driver, a letter of authorisation form the owner or car rental company is required.
International Tour Operators:
Most operators who organise tours to southern Africa will offer Malawi itineraries, or provide a tailor-made service. Information about companies can be found in the following sections of the Travel Directory: UK Tour Operators; European Tour Operators; North American Tour Operators; Worldwide Tour Operators.
Duty Free:
International travellers over the age of 18 may import, duty free: 200 cigarettes or 225gm of tobacco; 1 litre of spirits; 1 litre of beer; 1 litre of wine; plus a "reasonable" quantity of consumable goods to meet the traveller's immediate need while in Malawi.
Getting Around Malawi
There are a number of companies in Malawi which organise tours and/or safaris for travellers. They offer services from simple accommodation booking to full length, tailor-made guided tours. Their knowledge of Malawi is excellent and they will be able to suggest itineraries to fit all wishes, requirements and budgets. You can travel around Malawi by air, road, rail or boat. Compared to other countries in the region, distances between major centres are quite short, and generally roads and public-transport systems are functional, making independent travel fairly straightforward.
CULTURE OF MALAWI
The Malawi people are of Bantu origin and comprise of many different ethnic groups. These include Chewa, Nyanja, Yao, Tumbuka, Lomwe, Sena, Tonga, Ngoni, Ngonde, Asian and European. The Chichewa (Chewa) people form the largest part of the population group and are largely in the central and southern parts of Malawi.
Best Places to Visit Malawi
Malawi is a land of lakes and plateaux, delineated by the great ridges of the East African Rift. The nation is long and thin, snaking its way like a rare Nyika lizard around the lands of Tanzania, Zambia and Mozambique. The most defining geographical feature has to be that long finger of blue: Lake Malawi. Dominating the north-eastern edge of the nation, this belt of cobalt mountain waters has long been the lifeblood for the locals here. A haven for fishing and commerce, it supports rustic bamboo villages and old colonial hubs bearing the names of folk like Livingstone.
Today, snorkelers and kayakers, wildlife lovers and others come too, hitting spots like the Lake Malawi National Park and its exclave islands to boot. Inland and the story is different. There are otherworldly vistas of cave-carved mountains to conquer, sweeping savannahs and lush tropical woods, all peppered with elephants and waterbuck and all the other quintessential African beasts you can imagine!
HERE ARE SOME BEST PLACES TO VISIT IN MALAWI
The most accomplished wildlife spotting and safari area in all of Malawi makes its home along the courses of the Shire River.
A vast reserve of flood plains and wetland swamps, of swaying grass fields and baobab groves, it's a picture of the beautiful backcountry of East Africa.
A smattering of good holidaying lodges offers easy access to the park, where walking and motorized safaris showcase everything from bush elephants to side-striped jackals, hyena packs to impalas, waterbucks, baboons and more.
There's also a great diversity of flora to witness, from huge and waxy orchids to pretty lily-spotted ponds.
A business-minded metropolis of nearly one million people, Blantyre is the only real rival to Lilongwe when it comes to competing for the crown for the economic kingpin of the nation.
However, history also runs deep here, and the town boasts more than 150 years since it was first established by missionaries working for the Church of Scotland – hence the moniker: a namesake of Blantyre on the edge of the highlands back in the UK. Visitors can come and spy out old structures like the Mandala House, or get a feel for the invigorated Malawian economy at the Malawi Stock Exchange and the various tobacco packing factories that have popped up in recent decades.
The Kasungu National Park is one of East Africa's more off-the-beaten-track nature reserves.
Encompassing a whopping 2,100 square kilometers of land, where the rolling plateaus of western Malawi give way to the borderlands with Zambia, the area is a mosaic of swaying savannah and bush, sporadic miombo woodland and dusty plains.
Once known for its booming population of African Buffalo, Kasungu has been hit by hefty poaching problems in recent decades.
However, a clutch of lodges around the lake waters of Lifupa have helped raise the ecotourism profile, and safari going here is now all but back on track.
Set to the distinct scents of recently-harvested tobacco and wafts of petrol fumes from the endless streams of traffic that pulse through the dusty streets, this nigh on one-million-strong capital represents the beating political and commercial heart of Malawi.
Linger a few days and you're bound to unearth its wonders, which range from a particularly well-kempt nature reserve on the edge of the city (the Lilongwe Wildlife Centre) to a heady marketplace that throbs with haggling sellers touting everything from stacks of green mangoes to whittled wood figurines to multi-coloured pulses right throughout the week.
There are also oodles of lively local beer bars to kick-back in with a regionally brewed Carlsberg when you get thirsty!
Once trodden by the revered Scottish expeditionary and missionary, David Livingstone, the lands of the Lake Malawi National Park are a must for both nature lovers and history buffs.
Nestled between he verdant, sylvan hillsides that ring the shores of the country's largest lake, they encompass both freshwater habitats (famed for their uniquely evolved fish species) and swathes of land to boot.
Baboons and antelopes can be spotted strolling the shore, while a clutch of great safari lodges can be found on the reserve's various islands, from pretty Domwe to handsome Mumbo.
There are also the relics of old missionary settlements to see.
A world of montane landscapes that extends across great swathes of the central Malawian plateaux, the Nyika National Park is the largest of its kind in the entire country, and one of the most unique natural habitats in East Africa besides.
Known as the source of headwaters for many of the region's river ways, it's a place of verdant grass plains and colourful orchid beds, where zebras, elephants roam and water buffalo coalesce between the scrub.
Horse riding safaris are uber-popular with visitors, while hiking and bird spotting remain other major draws.
Shrouded by the dusty mountains of the Malawian north and clutching to the far-flung edge of great Lake Malawi just a short jaunt from the Tanzanian border, the welcoming little town of Karonga is a great place to spend a night or two in this less-visited corner of the nation.
Expect banks, good bus connections and a clutch of earthy little guesthouses: all you'll need to stock up before moving on.
And then there are the fossils, which are perhaps Karonga's single most impressive claim to fame.
These come in the form of huge Malawisaurus remains, now lurking in the exhibition rooms of the local Culture and Museum Centre.
Nkhotakota sits nestled right in the heart of Malawi's central backcountry.
Verdant and pretty, it's dressed in green dashes of miombo woods, cut-through by several winding rivers (each on their way to join the waters of Lake Malawi itself) and backed by its eponymous Nkhotakota Wildlife Reserve.
It's here that most travelers will head, to seek out the acclaimed safari lodges that clutch the edge of the waters, to wonder at tropical birds and see elephants, buffalo and maybe even leopards in the wild.
Rising like a great backbone of stone from the dusty plains of southern Malawi, just a stone's throw from the border with Mozambique, the hulking mass of stone and rock that is the Mulanje Mountain Forest Reserve has to be one of the country's most breathtaking.
Hailed as the highest peak in the nation – and the region as a whole, in fact – its whopping height of 3,000 meters above sea level is enough to host a whole array of different habitats.
The most famous is perhaps the woodlands of the endangered widdringtonia African cypress tree, which pepper the ridges sporadically as they rise to meet the sky.
Enveloped by the waters of Lake Malawi, but nestled on the Mozambican side of the border, the picturesque reaches of Likoma Island are an exclave of Malawi proper.
Famed as the onetime headquarters of Livingstone, the spot is steeped in colonial history.
This is evident with the likes of the Gothic rises of the Likoma town cathedral, and in the steady stream of tourists that head this way.
However, many also come for the natural side of things.
Why? Well, Likoma is also famed for its crystal-clear shore waters and unspoilt coastline, where the occasional fishing skiff offers the only interruption to a day spent snorkelling in the company of cichlid fish.
Chitimba is one-part rustic Malawian lake village and one-part upcoming safari lodge.
Nestled along the sandy stretches of shoreline that fringe Lake Malawi south of Mzuzu city, it's got pretty much unrivalled access to the dramatic Rift Valley landscapes that dominate the region here.
The hiking is top-notch, with tracks weaving in and out of the undulating hills and the dusty bushlands.
There's excellent wildlife spotting too, along the tracks heading up to Manchewe Falls and Mount Chombe, not to mention a chance to have a cultural encounter with a traditional East African shaman!
Known primarily for its rich histories and pre-historic arrays of rock art, the UNESCO-attested spot of Chongoni is perfect for any culture vultures traveling through Malawi. Reaching heights of nearly 2,000 meters above sea level with the peaks of the Dedza mountains, the area has revealed evidence of habitation since the early Stone Age. This is found in the caverns at spots like Chentcherere and Namzeze, displaying animist religious elements and the old artworks of East Africa's onetime hunter-gatherer nomad people. The far-flung reaches of Mphunzi Mountain form the westernmost extend of the UNESCO area, and have some of the most impressive frescos to boot.
This impressive waterfall thunders 125m into the valley below, about 4km from Livingstonia (towards the lake). Follow a small path behind the falls and there's a cave where, so the story goes, local people once hid from slave traders.
FOOD IN MALAWI
The cuisine of Malawi has not been influenced by many other cultures, and as a result, it has remained very traditional. There are many farmers in Malawi and the population grows much of the food. The country is known for its 'tuck shops', small shops found in rural areas that sell a variety of snack foods. These foods include meat pies, sausage rolls, bunny chow (rolls that have been deep fried and stuffed with a mix of curry meat and potato mix. Lake Malawi is not only a popular tourist destination, it is also a source of great fresh fish that is the country's specialty.
Popular dishes include:
Chambo: A fish from Lake Malawi, Chambo is Tilapia fish and is considered a delicacy. Other favourite fish include usipa, which is similar to sardines, and mpasa, which is similar to salmon.
Nsima: This is a staple of Malawi food. It is made from ground corn and served with side dishes of meat or vegetables. People in Malawi can eat this for breakfast, lunch and dinner.
Kachumbari: This is a tomato and onion salad.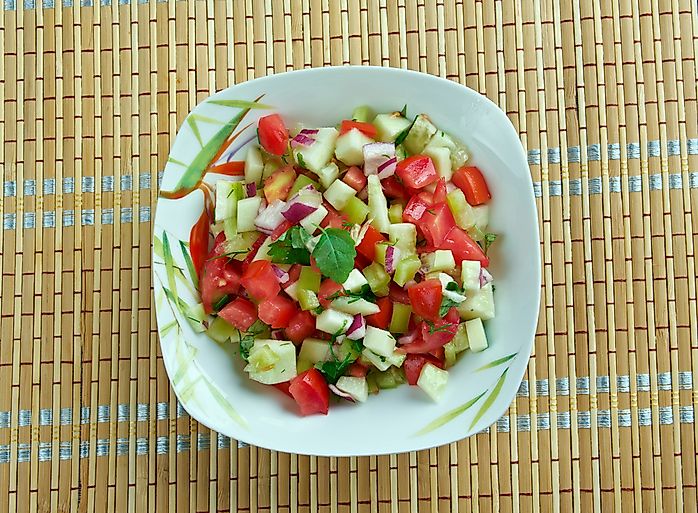 Nthochi: This is bread made with bananas.
Kondowde: This dish is made from cassava flour and water and is eaten with fish.
Drinks:
Tea is the second largest export crop in Malawi and as such, it is of an incredibly high quality. It is advisable to drink bottled water when travelling through Malawi. Carlsberg is the most common beer in the country, and Malawi gin and South African wines are popular.
Best places to stay in Malawi
Situated on the stunning Likoma island in the middle of Lake Malawi, set in the warm heart of Africa. Kaya Mawa, meaning Maybe Tomorrow, offers the ultimate beach destination in Africa, as an amazing escape in itself, before or after your safari elsewhere. For complete relaxation and indulgence, or to enjoy a variety of unique watersports. Upon arrival on the islands airstrip, you will experience the warmest welcome by the friendly people in the local communities.
Mkulumadzi Lodge, located on a 7,000-hectare private concession within the Majete Wildlife Reserve, offers a luxurious retreat in the midst of rugged landscape. Eight chalets with spacious bedrooms and lounges, en suite bathrooms, outdoor showers, and private viewing decks provide a dramatic view of the confluence of two rivers, the Mkulumadzi and the Shire. Laze around the poolside in the company of the local birds, or lounge on the shaded riverbank as hippos gently grunt nearby. The camp is equipped with the 'evening breeze' air-conditioned beds to provide respite from the soaring temperatures outside. Relish local flavors dining beneath the stars. Catch the reserve's amazing, unspoilt beauty on game drives, river cruises, walks, and cultural tours. If you are lucky, you will take home a picture of the elusive black rhino!
Mvuu Camp overlooks a broad stretch of the Shire River (pronounced Shiree) in Liwonde National Park. The camp is a clever mix of stone and canvas chalets and specially-designed family tents, which total 14 units. An impressive thatched dining and lounge area is situated between two enormous baobabs, and dinners are sometimes held under the stars in a specially constructed boma. A custom-built education and conference centre has facilities for up to 40 delegates or smaller corporate and team building functions.
Chelinda Lodge is set against a pocket of hagenia woodland overlooking vast tracts of Nyika National Park's rolling grasslands dotted with large herds of wildlife. Consisting of six double-storey log cabins, and one two roomed family unit . Each has a fireplace for the cold highland nights. The ground floor features an open-plan bedroom and lounge, en-suite bathroom and a veranda. A viewing area upstairs functions as additional living space – also ideal for children. The main building has a convivial dining area around a fireplace, and a lounge that opens onto a deck for sundowners.
Mumbo Island Camp, accommodating fourteen guests, features tastefully furnished tents with shaded decks, hammocks, hot bucket showers and 'eco-loos', complemented by a dining area with bar and a watersport gazebo. The whole camp is built of timber, thatch and canvas, and is perched on high rocks overlooking the water, blending with the lush foliage to create a 'Robinson Crusoe' atmosphere of rustic charm. The island is located within an exclusive concession area, guaranteeing privacy in tropical island paradise.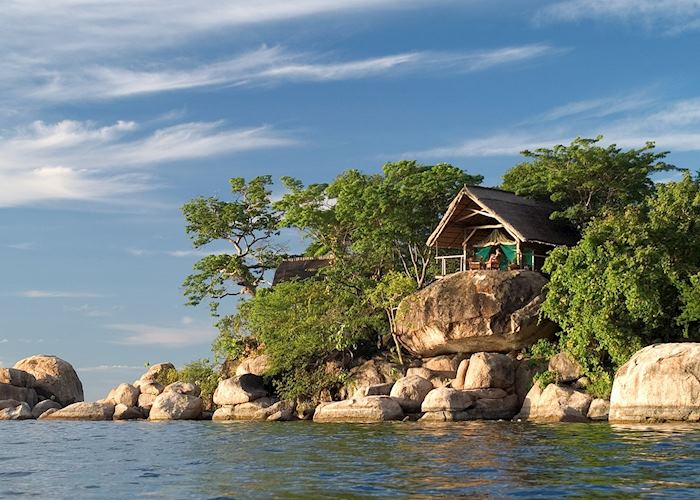 Situated on the west side of the Nankumba Peninsula on the Southern end of Lake Malawi you can find Pumulani subtly nestled in the lush hills amongst the trees and craggy outcrops. The ten villas provide the ultimate in space, design, comfort and privacy.
Packing List
Besides your underwear, pants, shirts and shoes, here are other items you may want to pack for Malawi.
-Comfy travel products for the long flights
-Mosquito repellant
-Hat, sunglasses, water-resistant SPF sunscreen
-SCUBA/PADI certification
-Voltage transformer and converter (Malawi uses Great Britain plugs.)
-Plastic bags for wet or soiled clothes
-Loose, light-colored, cotton clothes for safaris.
-Powder laundry detergent (most hotels do not have washers or dryers on site, so you may have to wash from time to time)
-Flashlight (some hotels run on generator power and lights will turn off in the early evening)
-Anti-diarrhea medication. Because diarrhea doesn't discriminate and can put a damper on your trip (no pun intended)
TRAVEL TIPS
Women should dress conservatively, especially away from Lake Malawi's beaches; perhaps invest in a chitenje (Malawian sarong). On safari dress in neutral-coloured clothing and take a hat to keep the sun off.
When shopping in Malawi's markets, don't haggle too hard – this is a poor nation and items are generally cheap anyway.
HAPPY TRAVEL :)