cebu Philippines | Turisti-info
Perched in the highlands of South Cotabato is the town of Lake Sebu, home of the indigenous T'boli and Ubo tribes and an emerging eco-tourism and adventure destination in Southern Mindanao.​
BOI LANG DULAY -(August 3, 1928 - April 30, 2015) was a Filipino traditional weaver who was a recipient of the National Living Treasures Award. She is credited with preserving her people's tradition of weaving T'nalak, a dyed fabric made from refined abaca fibre.
The Summer and the Eco-Cultural Center of South Cotabato, Lake Sebu is blessed with marvelous natural scenic spots and wildlife resources with unique cultural communities, and is the major producer of tilapia, forest product ( bamboo, rattan) and abaca handicraft renowned as T'nalak. It is a reflection of the unique cultural identity and ethnicity of the province. It is further shown off during its Helobung Festival that showcases the different arts, culture, sports and other tribal activities of the T'boli's
​
Known for its majestic waterfalls, lakes, rivers and springs, and with its rich biodiversity and culture, Lake Sebu is starting to hit big in the tourism landscape of the region. Its main attractions include Lake Sebu, the biggest of the three lakes that dot the town and an important watershed in the region being the source of water of the provinces of South Cotabato and Sultan Kudarat.
https://www.facebook.com/catrionaelisagray/videos/270360393591030/
TRAANKINI FALLS AND COLD SPRING

The Local tribesmen consider the lake not only a God-given food basket but also a miraculous body of water that never dries up. ​
​
OWONG -are traditional small dugout canoes of the T'boli people in the Philippines. It is traditionally made from the hollowed out trunks of lawaan (Shorea spp.). It is propelled by paddling and can carry around three people.
Aside from the lake, tourists also troop to this part of Mindanao to see the waterfalls in Barangay Siloton. A total of seven majestic waterfalls with the water coming from the outflows of the Lakes Sebu and Siloton. The first two waterfalls are easily accessible to tourists while the others require trekking. But the best way to see these waterfalls is by riding a zipline that passes above five of them!​
With a height of 200 meters from the ground and 300 meters above sea level, this is the higest and longest zipline in south east asia.
With all the attractions that the town offers, it is without a doubt that Lake Sebu is one of the best places in the country to experience culture, appreciate the beauty of nature and enjoy thrilling adventure.
A paradise on its own right, make Lake Sebu one of your unforgettable travel experiences in your journey to Mindanao.
​
THE SEVEN MAJESTIC WATER FALLS
Nestled some 700 meters above sea level, this sleepy municipality is blessed not only by nature but also by culture, as the location for where the famed T'nalak is woven.
It is a wonderful tourist destination as thousands of visitors here and abroad considered it a must-see paradise because of its cool weather, its one-of-a-kind resorts, visiting its Lakes, waterfalls and natural sceneries. 
LOTUS LAKE GARDEN
How to Get to Lake Sebu
Manila - General Santos – Lake Sebu
General Santos City is the usual jump off point to Lake Sebu. Philippine Airlines and Cebu Pacific have daily regular flights to General Santos City International Airport from Manila, Cebu and Iloilo.
From General Santos City's Bulaong Terminal, there's a direct van going to Lake Sebu.
General Santos – Marbel – Lake Sebu
Alternatively, you can catch a nonstop Marbel (Koronadal) bound Yellow Bus Line (YBL) from Bulaong Terminal, travel time is approximately one hour and fare is EUR2 (as of 2020). At Marbel Terminal, catch a van to Lake Sebu (travel time takes 1.5 hours) but schedule is unpredictable and limited. Alternatively, you may ride a bus going to Surallah, travel time is around half an hour and fare is EUR1 (as of 2020) and transfer to a jeepney stationed at Surallah Terminal going to Lake Sebu, a forty-five minute journey for EUR1 (as of 2020) with last trip usually at six in the evening.
Davao City to Lake Sebu
Take a bus from Davao Ecoland Terminal to Marbel. Travel time is at least four (4) hours and fare is around EUR7 (as of 2020). From Marbel Terminal catch a van straight to Lake Sebu or one via Surallah.
​
MISS UNIVERSE 2019 CATRIONA GRAY AT LOTUS GARDEN LAKE SEBU
Going Around and Away
Habal-habal or motorbike is the main mode of transportation around the town, minimum fare is EUR0.5. Meanwhile, jeepneys going to Surallah regularly ply the main road of Lake Sebu with the last trip at around 4PM. If you miss the last trip, a habal-habal can take you to Surallah for EUR1 fare.
HERE ARE SOME OF THE LIST OF TOURIST SPOTS DESTINATION IN LAKE SEBU
Visiting the Lotus Garden is one of my favorite activity. Best venue to have photoshoots .
Boating Fee: EUR3 /head
Time limit: Maximum time visit is 30 minutes.
Picking flowers and swimming in the lake is also allowed.
It's amazing how much you can see in one minute.
In one minute I saw four waterfalls gushing through a lush tropical rainforest. And a rainbow. It was too much beauty to behold in one minute, but I tried my absolute best to take it all in.
One of the tallest in Asia, the Seven Falls Zipline runs at 180 meters above ground (around 300 meters above sea level). It is divided into two lines: the first extends 740 meters, and the other 420. Visitors dangle and are swooshed 20 meters per second as they scramble to feast their eyes with the gorgeous view, take photographs, and just enjoy the moment. If you could do just one zipline in the Philippines, this is most definitely it.
​ ​ ​
Even before I stepped into the site, I were already in for a splashy treat. Hikong Alu, the first of the seven waterfalls, cascades by the trail. Hikong Alu means "passage" in T'boli. Standing at around 11 meters (35 feet), it is not as tall as the others, but it is the widest. It flows gracefully across the park and under a bridge, where admirers could bathe it in mesmerized gazes.
"Beautiful and Affordable Resort only in Lake Sebu"
Punta Isla Lake Resort is one of the most popular resort in South Cotabato located at the Sitio Tokuful, Brgy. Poblacion, Lake Sebu. The resort offer its guests a perfect view of Lake Sebu, perfectly combines nature and convenience. Punta Isla is the great place! The resort grounds are elevated giving you beautiful views of flowers and flora adorn the resort adding beauty everywhere you look. An experience you are sure to enjoy is the floating restaurant. They serve good food like Tilapia is their signature dish as all the Tilapia is caught fresh right in the Lake. They have accommodating staff and you will able to witness the T'boli culture as they entertain you with various presentations. Allow the views to come to you as you eat while sailing. During your cruise around the lake a guide explains its history. Lake Sebu offers this and many more travel stories to those lucky enough to visit.
The lake resort offers the following:
✔️Accomodating staff
✔️Famous Floating Restaurant and Open Cottages
✔️Tour around the Lake
✔️Natives with their cultural shows or dances
✔️Delicious yet affordable food like Tilapia Dishes
✔️Souvenir Shopping
✔️Affordable spacious rooms
✔️Nice view especially on sunrise and sunsets
✔️Water Biking
✔️Fishing Tilapia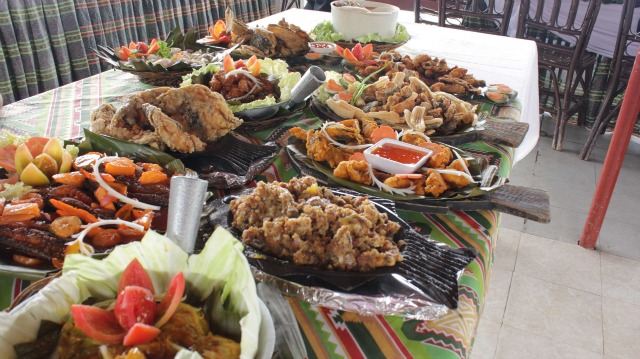 Punta Isla Lake Resort
Sitio Toku-fol, Lake Sebu, South Cotabato
Budget: As low as Eur19 for room good for 2
Contact No: +63919515015/+639052895134
Email: reservations.puntaisla@yahoo.com
​​​
Don't miss to include in your itinerary the newest attraction in town - the Divine Mercy Sanctuary situated uphill in Brgy. Lamdalag. It is a beautiful place to visit for prayers, to reflect and to relax, and be closer to God.
​ ​
A Bali inspired resort , to those who understand what peace means would really love this place.
Purok Sarisa brgy Lamdalag Lake Sebu South Cotabato,
The Dreamweavers Hill
Entrance fee is eur1
Accomodation:
GONO DATU(Tboli Traditional House): eur64 (good for 15 persons)
GONO UDI(perfect for couples): Eur30 (good for 2 persons) w/free breakfast
SELUNG TONOK(Mini Nipa Rooms)w/free breakfast :
eur16 (2 persons)
eur25 (4 persons)
eur34 (6 persons)
There is a Restaurant and a Coffee Bar available for you, and the food.
Other Things to do in Lake Sebu
Visit the Seven Falls: Hikong Alo, Hikong Bente, Hikong B'Lebel, Hikong Lowig, Hikong Ukol, Hikong K'Fo-I and Hikong Tonok; Ride the zipline and or go trekking to get closer to other falls

See Lake Sebu, Lake Lahit and Lake Siloton

Ride a boat or kayak in Lake Sebu

Go on a boat tour of Lake Sebu and visit its 12 islets (Approximately eur13 per boat with a tour guide, good for 8-15 persons)

Check out T'daan Kini Falls

Trekking to Virgin Forest

Visit the T'boli Museum

Immerse with the arts and culture of T'boli and Ubo tribes

Experience Tboli's fascinating culture at School of Indigenous Knowledge and Tradition (SIKAT Cultural Center) or at School of Living Traditions by Maria Todi

Go on a culinary trip with the different tilapia recipes

Celebrate with town's Helobung Festival every 9th to 11th of November
Where to Stay in Lake Sebu
A trip to Lake Sebu can be done on a day if you are coming from General Santos City but there are accommodations in town for those who prefer to stay a night or two.
School of Living Traditions
Sitio Lambanig, Barangay Poblacion, Lake Sebu, South Cotabato
Contact No: +63935-4569359 (Maria Todi)
Lemobung Lodge and Restaurant / Tourism Lodge
Poblacion, Lake Sebu, South Cotabato
Budget: As low as Eur2 per person
Contact No: +639206033554
Balben Family Cove
Contact No: +639165126256
Email: balbenfamilycove@yahoo.com
Merl Garden Spring Resort
Barangay Lake Lahit, Lake Sebu, South Cotabato
Contact No: +639194577221/+639258140524
El Galong Waterpark Resort
Sitio Tukofol, Barangay Poblacion, Lake Sebu, South Cotabato
Budget: As low as P900 for room good for 2
Contact No: +639185065222
Email: artachoedgar@yahoo.com
Dolores Lake Resort
Sitio Tukofol, Poblacion, Lake Sebu, South Cotabato
Contact No: (63-83)552 4435 / +639175214666
Email: dolores.lake@yahoo.com
Nadine Lake ResortMountain Log Resort
Barangay Poblacion, Lake Sebu, South Cotabato
Contact No: (63-83)236-1052/+639175746729
More details: Contact No: +639071153289
Sunrise Garden Lake Resort
Contact No: +639277500888 / +639092217614
Mountain Lake Eco Resort
Barangay Bacdulong, Lake Sebu, South Cotabato
Contact No: +639173265281
Email: reservation@mountainlakeecoresort.com
Tips
Mobile signal is of major networks are present

Some hotels have free wifi

Big hotels/resorts accept credit/debit card
ENJOY YOUR TRAVEL