COSTA RICA
COSTA RICA
COSTA RICA | Turisti-info
Costa Rica is a country located in Central America that is ranked as one of the most visited international destinations. One of Costa Rica's main sources of income is tourism. Costa Rica is a democratic and peaceful country and it has not had an army since the year 1948.
Although the country is small and it covers only 0.03 percent of the surface of the globe, it proudly shelters 5 percent of the existing biodiversity in the entire world. Twenty six percent of the country is composed of conservation and natural protected territory. Costa Rica is also an attractive country for investment and offers great potential for the establishment of important multinational companies, thanks to the outstanding academic level of its population, as well as the high standard of modern services and social and political stability.
The busy city of San Jose is home to the country's best museums and lovely squares, but the real treasures lie beyond the capital, in the forests and small coastal villages.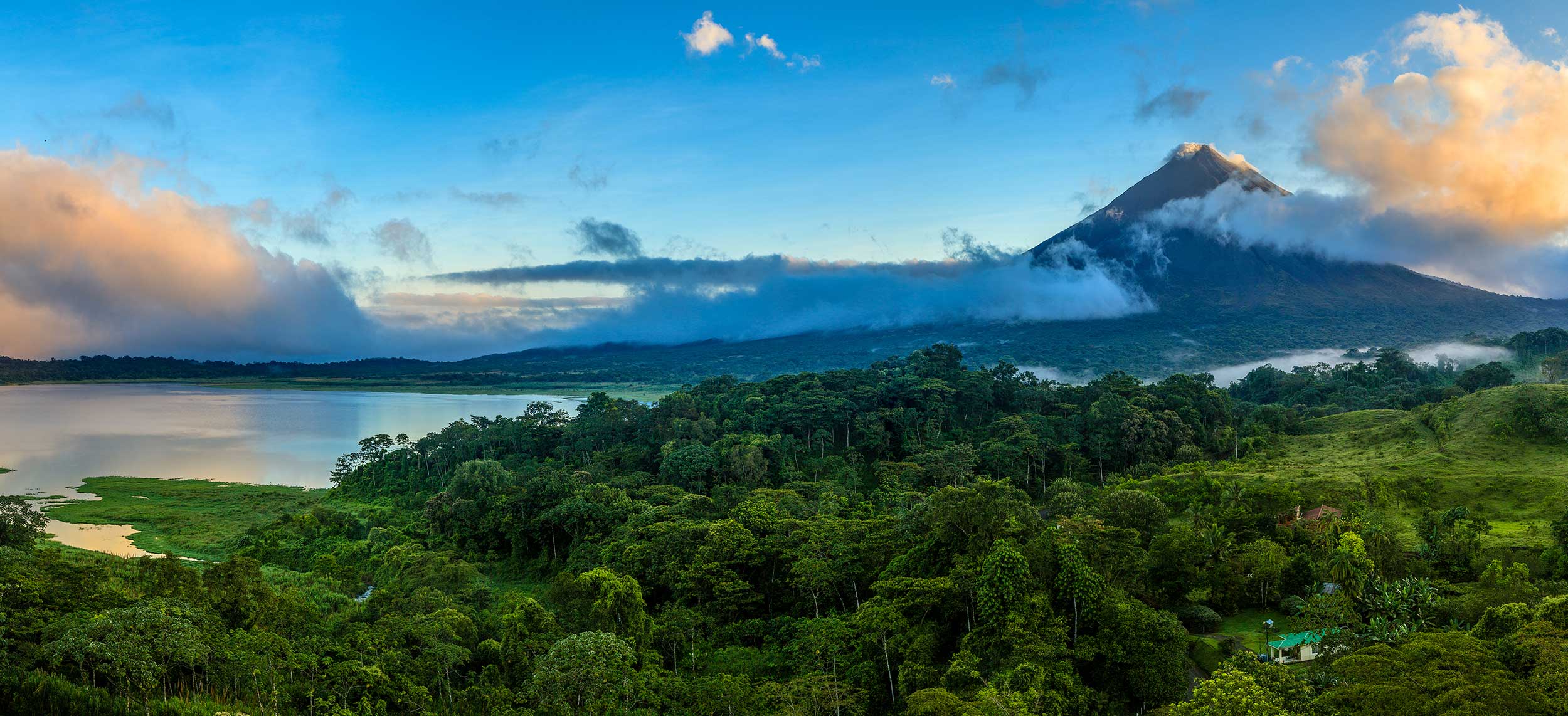 Costa Rica is a wonderland of natural attractions, with volcanoes, beaches, cloud forests,hot spings, caves,water falls and unique wildlife. This is a country that appeals as much to birdwatchers and luxury focused travelers as it does to surfers and backpackers.
Endless stretches of beach line the Pacific Coast, with small towns that cater to surfers and sun seekers. Inland, the forest-covered mountains offer their own adventures, from volcanoes and waterfalls to ziplining, extraordinary wildlife viewing and dense mangrove swamps.These habitats support an incredible variety of wildlife, from lovable sloths and tiny, green frogs to brightly plumed macaws and toucans. Costa Rica also has shoreline on the Caribbean. While this is a lesser visited area of the country, it offers something a little different in terms of culture and attractions, and is known in particular as a breeding ground for green sea turtles.
Costa Rica travel facts:
Spoken language: Spanish.
Currency: Costa Rican colón (CRC).
Area: 51,100 square kilometres.
Population: 4.8 million, with around a quarter aged under 15.
Origins: Largely of Spanish extraction, though there's a substantial community of English-speaking Costa Ricans of African origin along the Caribbean coast, as well as 64,000 indigenous people.
Exports: Coffee and bananas, but in recent years most income has been from tourism.
Wildlife: Costa Rica is home to around 250 species of mammal; over 400 varieties of
reptile and amphibian; nearly 900 species of bird; and 250,000 types of insect, including a quarter of the world's known butterflies.
Conservation: Around 25 percent of land is protected, mostly through an extensive network of national park and wildlife refuges.
Best time to go to Costa Rica:
The months of November, April (after Easter) and May are the best times to visit Costa Rica. At this time, the rains have either just started or have died off, and the country is refreshed, green and relatively untouristy.
The dry season runs from mid-November to April, with sunshine and warm temperatures. he wet season (May to mid-November) has sunny mornings and afternoon rains – heaviest in September and October.
Costa Rica is generally fully booked during the peak season – the North American winter months.he crowds peter out after Easter, returning again in July and August.
Travellers who prefer to play it by ear are better off visiting during the low or rainy season, when many hotels offer discounts.
How to get to Costa Rica:
Though some people travel to Costa Rica by land, most fly into Juan Santamaría (SJO) international airport, just outside San José. However, Costa Rica's other international airport, Daniel Oduber Quiros (LIR), near Liberia, handles an increasing range of flights from the US, Canada and the UK.
Airfares depend on the season, with the highest being around July, August and December to mid-January. You'll get the best prices during the wet summer (May–Nov).Note that flying at weekends is usually more expensive than during the week.
Travel visa requirements for Costa Rica
Citizens of the US, Canada, Australia, the UK, Ireland, New Zealand and most European countries do not need a visa for trips to Costa Rica of up to ninety days. All visitors need a valid passport. Your entrance stamp is very important: no matter where you arrive, make sure you get it. You have to carry your passport (or a photocopy) with you at all times in Costa Rica; if you are asked for it and cannot produce it, you may well be detained and fined.
Getting around Costa Rica:
The public bus system is excellent, inexpensive and relatively frequent, even in remote areas. Privately run shuttle buses offer quicker but more expensive transfers, while taxis also regularly do long- as well as short-distance trips, and are decent value if you're travelling in a group.
Car rental in Costa Rica is more common than in the rest of Central America, but is quite expensive. Expect to pay from about US$40 per day for a regular vehicle, and up to US$80 for an intermediate 4WD (both including full insurance). Extras such as additional driver, child seats, mobile phone and cool box will increase the price.
Driving can also be quite a hair-raising experience, with precipitous drops in the highlands and potholed roads just about everywhere else. Bear in mind that the difficult terrain makes driving distances longer than they appear on the map.
Domestic flights are a time-saver. The two domestic carriers, Sansa and NatureAir, offer reasonably economical flights between San José and many beach destinations and provincial towns.
Best places to visit in Costa Rica:
Spanning two coastlines – Pacific and Caribbean – and filled with tropical cloud forest, waterfalls and volcanoes in between, Costa Rica is ripe for exploration.
For something a little different and a little off the beaten path, visitors may want to head to Tortuguero National Park on the Caribbean Coast. This area, accessible only by boat or plane, is one of the wettest areas in the country and offers something different than the rest of Costa Rica. The park is an extremely important breeding ground for the green sea turtle and as a result, turtle watching is the main activity here.
Osa Peninsula and​ Parque Nacional Corcovado
Draped across the Osa Peninsula in the far south of the country, this biologically rich, coastal rainforest is one of Costa Rica's finest destinations for walking and wildlife-spotting.
In the far south of Costa Rica, beyond the beautiful beaches of Dominical, is the remote Osa Peninsula. The Dulce Gulf separates the peninsula from the rest of the Puntarenas province. Some of Central America's best stretches of coastal rainforest are found on the Osa Peninsula, and protected in Corcovado National Park. In addition to surfing, which is one of the main highlights, other popular activities in the region are diving, snorkeling, and fishing. Puerto Jiménez is the area's largest town, and several fine lodges can be found in the Drake Bay area.
Corcovado National Park was established in 1975 and protects what is considered to be the best remaining stretch of Pacific coastal rainforest in Central America. It has an extensive trail system and is popular with travelers who enjoy long-distance hikes.
Monteverde and the Cloud Forests​
Walk across a suspended bridge in the lush Monteverde cloudforest to experience the bird's-eye view – and possibly a touch of vertigo.
The Cloud Forests near Monteverde and Santa Elena have become popular ecotourism destinations within Costa Rica. For those itching to immerse themselves in nature and see unique plants and wildlife without venturing too far off the beaten path, this is definitely the place to come. The clouds that cover these forests provide the moisture necessary to sustain the area's unique habitats that are only found here.
Though long dormant, Arenal is still a magnificent sight, and the surrounding area is one giant adventure playground – soak in volcanic hot springs, zipwire through the forest canopy or sign up for any number of other outdoor activities.
Basílica de Nuestra Señora de Los Ángeles
In a country not necessarily known for its architectural heritage, Cartago's showpiece church is a stunner, with a gilded interior to match.
Parque Nacional Santa Rosa
This magnificent park protects a rare stretch of dry tropical rainforest – and the wildlife that calls it home.
There are few more enjoyable ways of watching wildlife than paddling a kayak through the limpid waters of the southern Nicoya Peninsula, camping on beaches and spotting monkeys, sloths and seabirds along the way.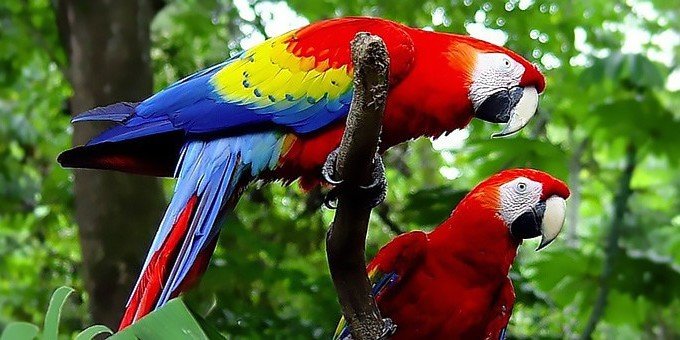 Organization of Tropical Studies
Spend a few days with the Organization of Tropical Studies at their biological stations in La Selva or Palo Verde and you'll see why their guides are rated some of the best in the country
Parque Nacional Manuel Antonio
Expect white-sand beaches, tropical forests full of sloths and monkeys, and dramatic coastal scenery. The park is known for its beautiful stretch of sand, forest, and the wildlife that inhabits the area. Standing in stark contrast to this tranquility is the small town of Manuel Antonio, known for its lively atmosphere. Visitors who can embrace both will find the area lends itself to a longer stay. The town has plenty of hotels and restaurants and is within easy walking distance of the park.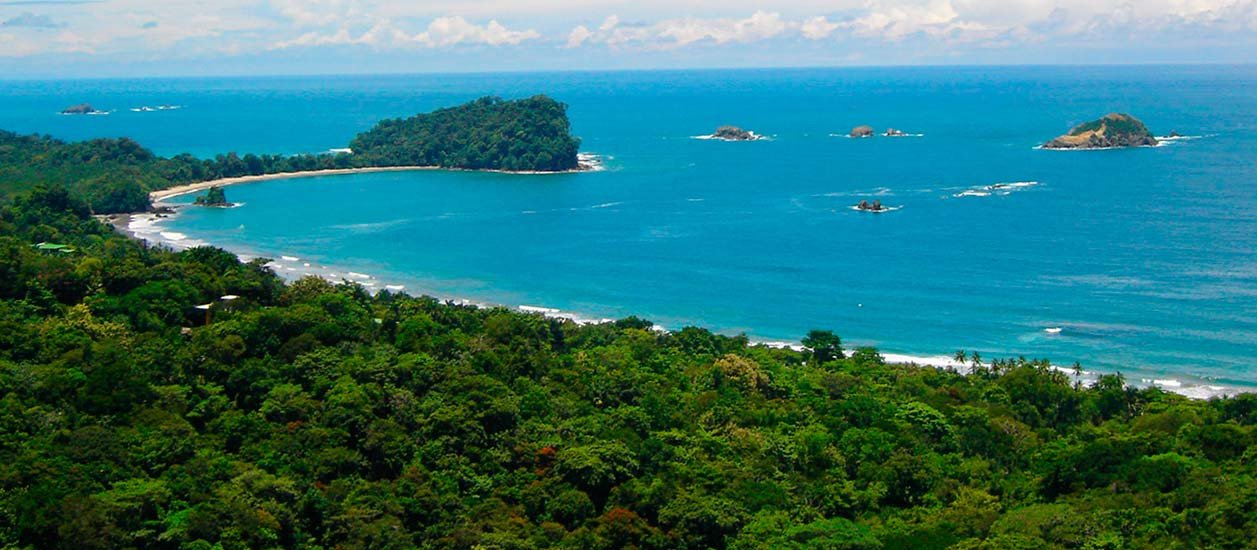 Hidden deep in the jungle, this off-grid jungle cascade is one of the best waterfalls in Costa Rica.
Off-the-beaten-track beaches
Escape the crowds at the gorgeous beaches of Playa Junquillal in Guanacaste and Ojochal's Playa Tortuga on the southern Pacific coast.
Tamarindo is the place on the Nicoya Peninsula for surfing, beaching, and fun. Once a quiet fishing village, Tamarindo is now a tourist haven where visitors can find good food and accommodations, as well as all kinds of other tourist amenities. The area around Tamarindo is also known for its eco-friendly adventures, and activities that include snorkeling, diving, horseback riding, ziplining, and turtle watching in season.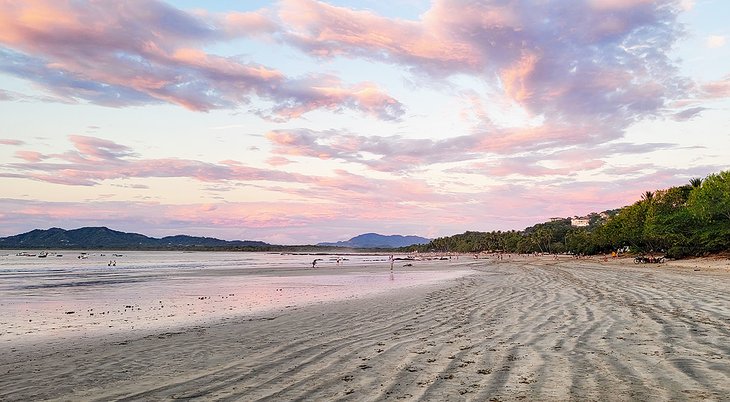 Find Out How Coffee And Chocolate Are Made
Costa Rica is famous for coffee and chocolate production. Close to Monteverde is El Trapiche, a family run coffee, sugar cane and cocoa experience. Along with a tour of the grounds and plenty of info and tastings, the trip doubled as an impressive wildlife experience too.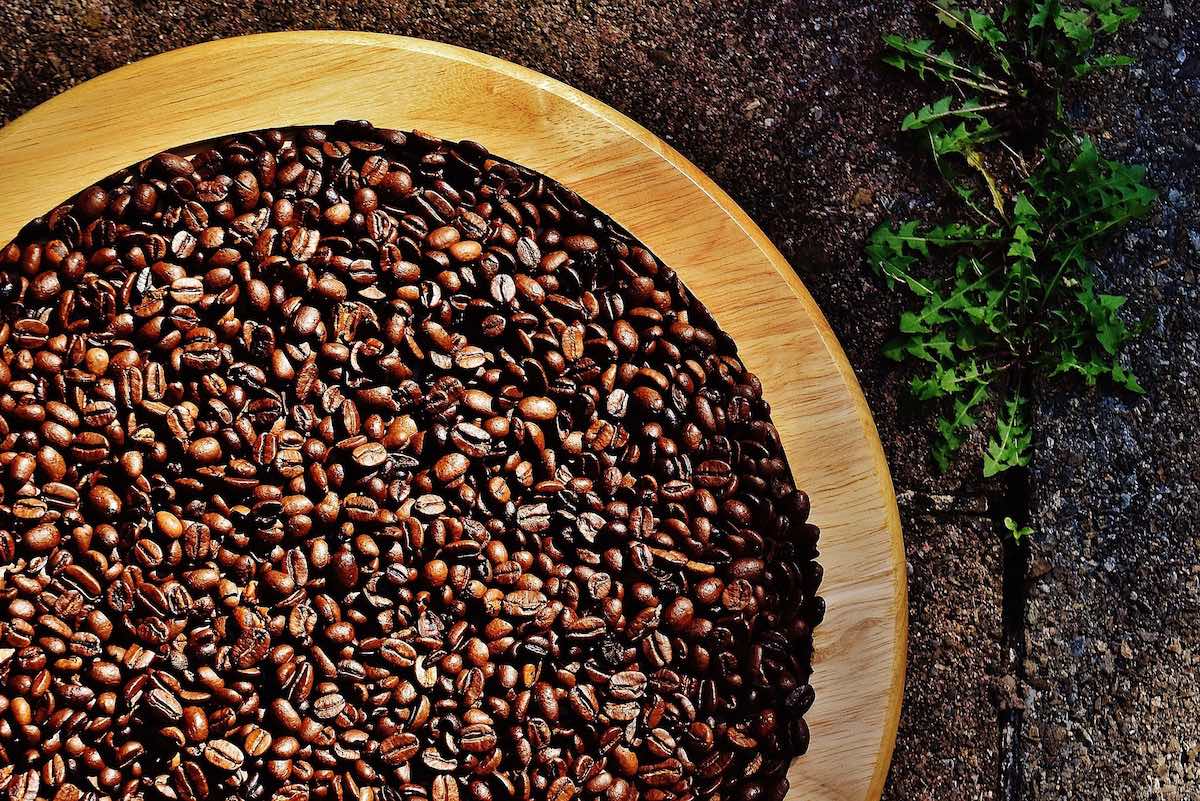 Adventure activities in Costa Rica
Costa Rica is a giant playground for adventurous travellers, with everything from whitewater rafting to canopy tours on offer.
Many people travel to Costa Rica for its excellent hiking, whether it be multi-day hikes through remote rainforest or ambling along well-maintained national park trails. Make sure to bring hiking boots, lightweight rain gear and potentially binoculars. Some of the finest hikes include Cerro Chirripó for incredible views, Sendero Laguna Meándrica for birdwatching, Sendero Los Patos–Sirena for wildlife and Sendero Las Pailas for scenery.
Some of the best rapids south of the Colorado are found in Costa Rica, with a growing mini-industry of rafting outfitters in San José, Turrialba and La Virgen. Most trips last a day, though some companies run overnight or multi-day excursions; costs range between US$60 and US$150 for a day, including transport, equipment and lunch. Rafters rate their rivers from Class I (easiest – Río Corobicí) to Class V (pretty hard, such as Upper Balsa – don't venture onto one of these unless you know what you're doing).
More than 20 rivers in Costa Rica offer good kayaking opportunities, especially the Sarapiquí, Reventazón, Pacuare and Corobicí, and the wildlife-rich mangroves of Isla Damas and Bahía Drake. La Virgen in the Zona Norte is a good base for customized kayaking tours, with specialist operators or lodges renting boats, equipment and guides. Sea-kayaking is for experienced kayakers, and only ever with a guide – both coasts have treacherous currents.
Canopy tours, hanging bridges and aerial trams
Monteverde and the area around Volcán Arenal have some of the best canopy tours in Costa Rica. These are also great places for a more sedate "sky walk" across a series of hanging bridges, many right alongside the tree canopy – perfect for wildlife-spotting. You can also ride on an aerial tram: a gondola-like cable car that slowly circuits the upper reaches of the rainforest. Try the Rainforest Adventures Costa Rica Atlantic, just outside Parque Nacional Braulio Carrillo.
Both the Caribbean and Pacific coasts offer good surfing. You can surf all year round on the Pacific: running north to south the best beaches in Costa Rica for surfing are Naranjo, Tamarindo, Boca de Barranca, Jacó, Hermosa, Quepos, Dominical and, near the Panama border, Pavones. On the Caribbean, the finest year-round beaches are at Puerto Viejo de Talamanca and Punta Uva. There are numerous camps and schools where you can learn to surf in Tamarindo, Santa Teresa/Mal País and Jacó.
Though diving is less of a big deal in Costa Rica than in Belize or Honduras' Bay Islands, there are a few worthwhile dive sites around the country. The best, however, lie some 535km off Costa Rica's Pacific coast in the waters around Parque Nacional Isla del Coco. To see an abundance of underwater life, try the small reef near Manzanillo on the Caribbean coast.
Costa Rica boasts more than 885 species of bird (including migratory ones) – a higher number than all of North America. You'll likely spot hummingbirds, toucans, kingfishers and trogons. The iconic resplendent quetzal can be found in the higher elevations of Monteverde and the Cordillera de Talamanca. It is elusive but can still be spotted – most likely at San Gerardo de Dota, close to Cerro de la Muerte, and Parque Nacional Los Quetzales.
The best places for mountain biking are Parque Nacional Corcovado, the road from Montezuma to the Reserva Natural Absoluta Cabo Blanco on the southern Nicoya Peninsula, and Parque Nacional Santa Rosa. The La Fortuna and Volcán Arenal area is also increasingly popular: you can bike to see the volcano (although not up it) and around Laguna de Arenal.
Enjoy The Reggae Vibes In Puerto Viejo
Rastas and reggae wasn't something I associated with Costa Rica before visiting, but take a trip to Puerto Viejo and you'll think you're over in the Caribbean. The vibe is chilled during the day, but there are some fun party spots at night, and with so many popular places to visit in the vicinity, it's a perfect base for part of your trip.
WHERE TO STAY IN COSTA RICA:
There's no shortage of interesting and affordable accommodation in Costa Rica: from unique eco lodges to treehouses, family-friendly beach resorts to funky surf hotels.
There is a wide range of places to stay in Costa Rica. Budget accommodation ranges from the extremely basic, where US$25 will only get you a room and a bed, to a clean, comfortable en-suite room with a fan and possibly a TV for around US$40.
In the middle and upper price ranges, facilities and services are generally of a very good standard.
The larger places to stay in Costa Rica are usually called hotels; while posadas, hostals, hospedajes and pensiones are smaller.
Casas tend to be private guesthouses or B&Bs, while albergues are the equivalent of lodges.
Cabinas are common in coastal areas: they're usually either a string of motel-style rooms in an annexe away from the main building or, more often, separate self-contained units. Anything called a motel – as in most of Latin America – is unlikely to be used for sleeping.
HERE ARE SOME HOTELS TO STAY IN COSTA RICA:
A funky and tastefully-designed option for those who are on a budget. The modern hostel is big and spacious, with dorm beds, private rooms and even family rooms with bunk beds. It's located on a hilltop with nice views of the city but just a 15-minute walk from the National museum.
GRAND HOTEL COSTA RICA, CURIO COLLECTION
​This iconic landmark hotel is the only hotel in San Jose declared by the government as a historical and architectural monument. Renovated in 2016, the historical hotel now has a fresh new look, with sophisticated furnishing and the most advanced technology. Located in the heart of San Jose, it is surrounded by national museums, plazas and walking boulevards.
ARENAL BACKPACKERS RESORT
Located close to the town of La Fortuna, this resort offers excellent value for money. There's a large swimming pool and hammocks everywhere, plus stylish tents with beds that are comfortable and cool. Food is excellent, plus you get unobstructed views of the volcano from the resort.
​The Springs Resort is possibly the most famous hotel in the Arenal area and voted as the best place to stay in Costa Arena on TripAdvisor for many years running. It's an iconic landmark and an established property with its own private hot springs and stunning, unobstructed view of the volcano. Every room has a jacuzzi and big spacious lounge area, suitable for honeymooners looking for a special experience. You'll get free access to the hot springs, which on its own already costs close to $100.
​One of the very few adults-only resorts in Arenal, Nayara Springs is an exclusive and upscale boutique hotel surrounded by tropical rainforest. Each luxurious suite here features a private thermal pool and includes romantic contemporary décor. The massive villas also include a seating area with views of the rainforest. It's a 20-minute drive to the Arenal National Park.
MILLENIUM HOSTELS MANUEL ANTONIO
​This is definitely the best budget option in Manuel Antonio considering how stylish and cool the rooms are in relation to their price. Their rooms range from dorm beds to spacious family rooms with two king beds. The hostel has an excellent location just walking distance from the entrance of the national park.
​This unique hotel is Costa Rica's only hotel made of container! Rooms are on the small end, but they all feature minimalistic and stylish designs. The ocean view suites even have unobstructed view of the Pacific coast. Located just 50m from the entrance of the national park, the hotel has an infinity pool that also has spectacular sea view.
WHAT TO EAT IN COSTA RICA:
Costa Rica is second only to the country's beauty. Known for its use of fresh ingredients, like fruits and vegetables, the cuisine in Costa Rica is generally on the mild side.Exotic fruits grow locally in the tropical environment, so there is always something to make the food exciting.
Meals in Costa Rica often contain both rice and black beans, or at least one or the other.
Here are some of the most popular foods in Costa Rica
Gallo Pinto - Traditional Costa Rican breakfast
​When the beans and rice are mixed together, the create some coloring variations that make it look like the rice is speckled. This is how the dish got its name, because gallo pinto means "spotted rooster."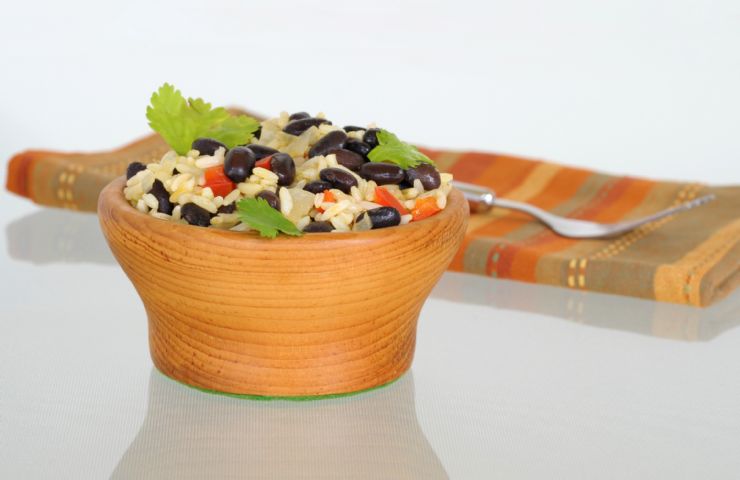 Casado - Made with pork chops
​is probably the most traditional dish in Costa Rican cuisine. It is not a singular dish, but a dish made up of many foods. In fact, it could be thought that a casado is a marriage of the foods that are served together, since marriage is the meaning of the word casado.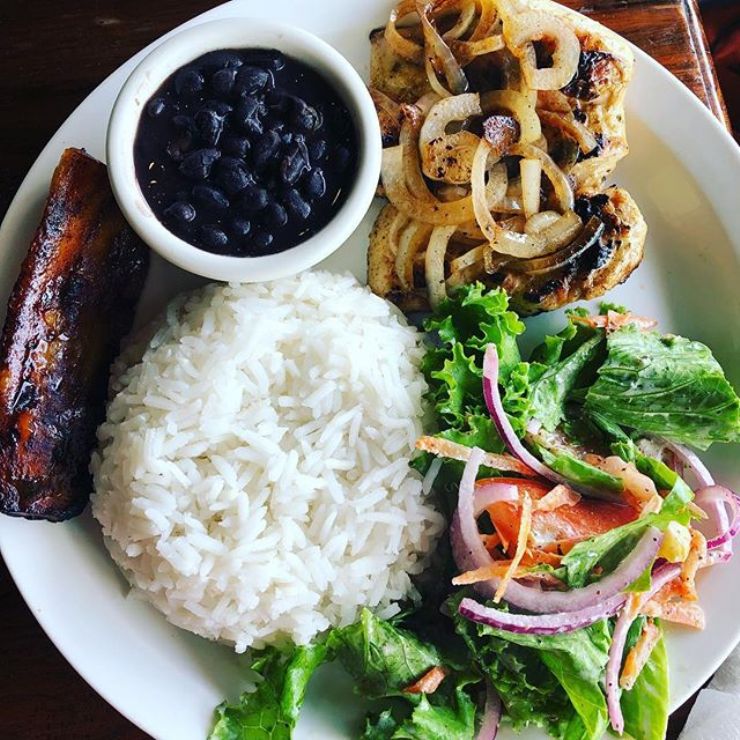 Costa Rican Tamal wrapped in a banana leaf
Tamales can be a meal all on their own, but they are also often paired with beans and served for breakfast.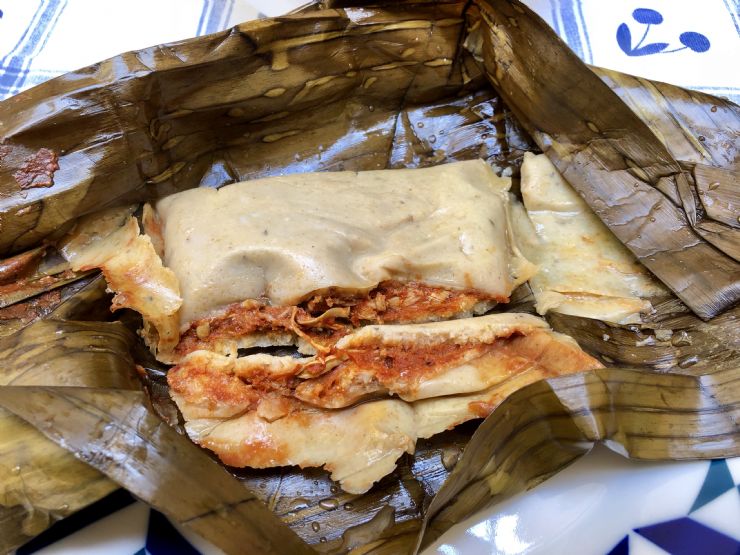 Typical Sopa Negra or Black Bean Soup
​This soup is a great option for vegetarians, and some recipes will meet other dietary restrictions, like gluten­-free.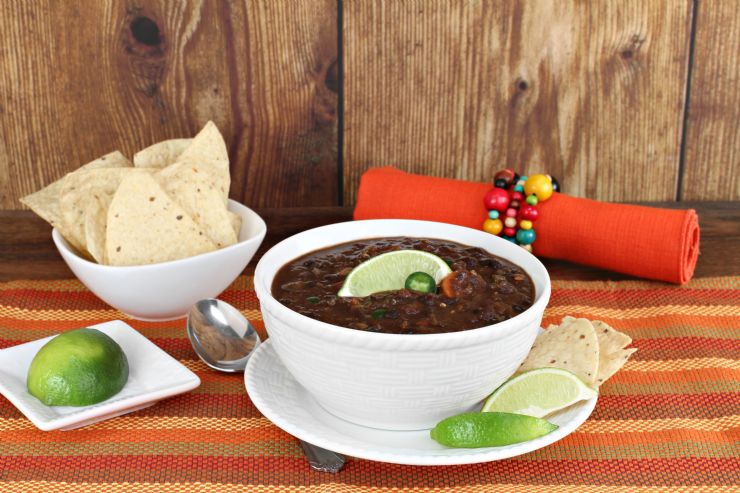 ​Costa Rica is a mecca for fresh ingredients, and these are tapped into for the olla de carne recipe. These ingredients include cassava, carrots, corn, plantains, and taro root. Combined with other vegetables, this stew is full of rich flavors.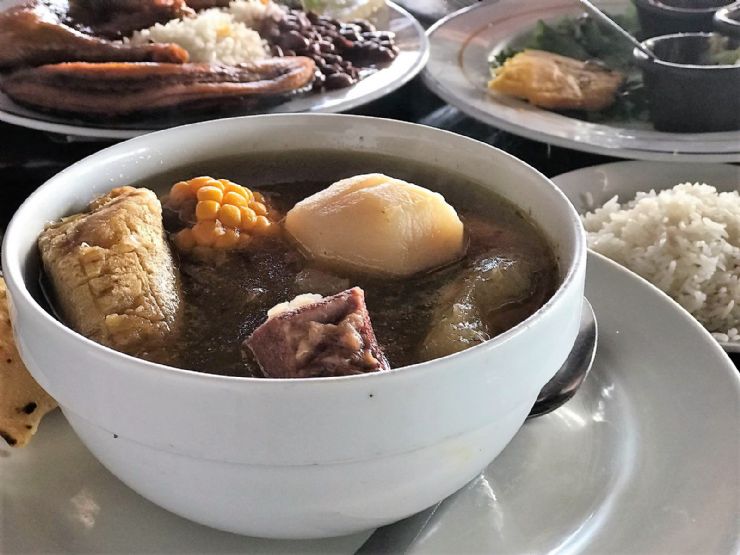 Chicarrones: fried pork rind, often with a squeeze of rangpur or lime juice.
Ceviche: raw fish "cooked" in lime juice with coriander and peppers.
Fresh fish: pargo (red snapper) or corvina (sea bass).
Fruit: papayas, pineapple and bananas are all cheap and plentiful in Costa Rica, along with some less familiar fruits like mamones chinos (a kind of lychee), anona (custard fruit), pejibaye (peach palm fruit) and guanábana (soursop) along the Caribbean coast.
Coffee: Costa Rica is famous for its coffee, and it's usual to end a meal with a small cup, Most of the best blends are exported, so premium coffee is generally only served in high-end restaurants and sold in shops.
Refrescos: cool drinks made with fresh fruit, ice and either milk (leche) or water (agua), all whipped up in a blender. You can buy them at stalls or in cartons, though the latter tend to be sugary.
Horchata or pinolillo: corn-based drinks made with milk and sugar, found in Guanacaste.
The most economical places to eat in Costa Rica – and where most workers have lunch, their main meal – are the ubiquitous sodas (diners). Because Costa Ricans start the day early, they are less likely to hang about late in restaurants in the evening, and establishments are usually empty or closed by 10pm.
Culture of Costa Rica
While Costa Rica is modernizing fast, its character continues to be rooted in distinct local cultures. For example, the Afro-Caribbean province of Limón, has Creole cuisine, games and dialect, whilst in Guanacaste, the cowboys and sabanero embody traditional ladino values.
Above all, the country still has the highest rural population density in Latin America, and society continues to revolve around the twin axes of countryside and family. Wherever you go, you'll see snapshots of rural life, whether it be horsemen trotting by on dirt roads, coffee-plantation labourers setting off to work in the highlands or avocado-pickers cycling home at sunset.
Tips for travelling to Costa Rica
Travel with children in Costa Rica
A small, inherently peaceful country with a friendly populace, good healthcare and decent transport, Costa Rica is arguably the most child-friendly destination in Central America. Add a bounty of exotic wildlife, countless beaches and outdoor adventures galore, and you've enough to keep even the most adrenaline-fuelled teenager quiet for a week or two.
Families with children will be made to feel more than welcome in hotels and restaurants and on guided tours and trips. Most national parks have well-maintained trails: Poás and Carara and the Reserva Santa Elena have pushchair-friendly paths, while the main-crater viewpoint at Parque Nacional Volcán Irazú is also reachable with a buggy.
Safety in Costa Rica
Costa Rica is one of the safest countries in Latin America. Pickpockets and luggage theft are the greatest problems, particularly in San José and other larger cities. Be vigilant in bus terminals and markets, and if you do have anything stolen, report it immediately at the nearest police station.
Car-related crime, especially involving rental vehicles, is on the rise, so always park securely, particularly at night. A common scam is for people to pre-puncture rental-car tyres, follow the vehicle and then pull over to "offer assistance". Drug-trafficking is a growing problem, and dealers in tourist hangouts such as Jacó and Tamarindo occasionally approach travellers. Drug possession carries stiff penalties.
Health
Health-wise, travelling to Costa Rica is generally very safe. Food tends to be hygienically prepared, so upsets are normally limited to the usual "traveller's tummy". The only areas where it's best not to drink tap water (including ice cubes) are Limón and Puntarenas. Guard against the blazing sun by wearing sunscreen and a hat, even on overcast days.
If you do require medical help, the (private) healthcare system in Costa Rica is excellent, with a couple of top-notch clinics in San José. In addition, the capital's Hospital Nacional de Niños (C 14, at Av Central) has the best paediatric specialists in Central America.
Inoculations
No inoculations are required before you travel to Costa Rica unless you're coming from a country that has yellow fever, such as Colombia, in which case you must be able to produce an up-to-date inoculation certificate. You may, however, want to make sure that your polio, tetanus, typhoid, diphtheria and hepatitis A jabs are up to date. Rabies should be taken seriously for prolonged periods in the countryside.
Malaria, dengue fever, Zika virus
There is a small risk of malaria on the southern Caribbean coast, particularly in Puerto Limón and towards Cahuita and Puerto Viejo de Talamanca. A course of prophylactics can be a sensible precaution. There were a record 50,000 cases of dengue fever reported in Costa Rica in 2013, although numbers have since declined.
In 2016, over a hundred Zika virus cases were reported in the country, mostly in the Puntarenas and Guanacaste provinces. The virus can be dangerous for pregnant women, who are advised to seek medical advice before travelling to Costa Rica.
For malaria, dengue fever and the Zika virus, the best course of action is prevention. To avoid getting bitten by mosquitoes, cover up with long sleeves and long trousers, use insect repellents (containing DEET) and, where necessary, sleep under a mosquito net.
Snakes and spiders
Snakes abound, but the risk of being bitten is incredibly small. Just in case, however, travellers hiking off the beaten track may want to take specific antivenins, available from Instituto Clodomiro Picado, and sterile hypodermic needles.
Most spiders in Costa Rica are harmless, but one species that's definitely worth avoiding is the Brazilian wandering spider, a large dark-brown arachnid, often with bright red patches. The most venomous spider in the world, it hides under logs and dried banana leaves during the daytime. If you are bitten, seek medical attention immediately.
Travel insurance
It's always a good idea to take out insurance before travelling. It's important to have one that includes health cover as well as cover theft or loss of belongings, since private medical treatment in Costa Rica can be expensive. Always check whether medical benefits will be paid as treatment proceeds or after you return home, and if there is a 24-hour medical emergency number.
HAPPY TRAVEL :)