CEBU - PHILIPPINES
CEBU - PHILIPPINES
CEBU - PHILIPPINES | Turisti-info
THE QUEEN CITY OF THE SOUTH PHILIPPINES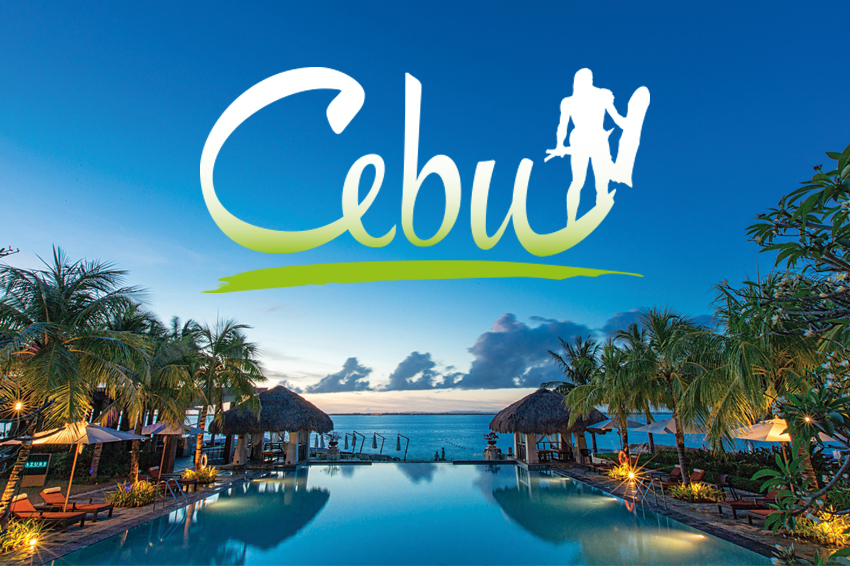 Cebu stands as the country's top business and tourist destination. Crowned as the Queen City of the South, it is here where business and leisure breathe together with office buildings and beach resorts finding its own place under Cebu's friendly skies.

Cebu is subdivided into 6 component cities and 47 municipalities. With its 6 cities; Cebu, Danao, Lapu-Lapu, Mandaue, Toledo and Talisay; and its 47 smaller towns, Cebu has more than kept pace with the nation's progress. Recent indications pointed out that Cebu has become the country's favorite tourist destination. In contrast to the bustling metropolis, the rest of Cebu's 167 islets and islands are lined with idyllic white sandy beaches and pristine clear waters. Cebu has gai ned wide popularity for fantastic diving grounds evidenced by the proliferation of resorts which offer luxurious accommodations. Cebu's strategic location makes it ideal for those who wish to travel to the other islands and provinces by plan, boat or bus. No place could be too far from Cebu.
CEBU CITY MOUNTAIN SIDE
Cebu is the hub around which the Visayas revolve. It is the most densely populated island in the Philippines and is second only to Luzon in its strategic and economic importance to the country. This is one of the most prosperous regions in the country – the 2016 growth rate was 8.8%, considerably higher than the national average. Tourism numbers are booming, Cebu draws almost two million foreign travellers a year. The island's prime attractions are its white-sand beaches and spectacular diving, chiefly off the northern tip of Cebu at Malapascua and down on the southwest coast at Moalboal. And don't ignore much-maligned Cebu City, which has lively bars, emerging eateries and burgeoning retail appeal.
As the oldest city in the Philippines, its past is also firmly entrenched in the annals of the Spanish conquest. A handful of historical remnants recall those missionary days - Magellan's cross and the Basilica Minore del Santo Niño.

The sightseeing options at Cebu are absolutely endless.
Geography:
Cebu is located in Central Visayas (Region 7) and the center of Philippine archipelago with a total land area of 5,000 square kilometers. Situated to the east of Negros, on the southeast by Bohol and directly to the west is Leyte. In between Cebu and Bohol is the Bohol Strait, while Tanon Strait lies alongside Cebu and Negros.

Cebu is composed of several islands including Sumilon Island, Mactan Islands, Olango Island, Camotes Islands, Malapascua Island, and Bantayan Islands. Some of the hundreds of islands surrounding Cebu are uninhabited.

Beaches, coral atolls, laudable diving spots in Moalboal, rich fishing grounds and famous islands such as Mactan Island, Malapascua Island and Bantayan lsland surround and embody Cebu. Its central location, is proximity to unusually exotic tourist destination, ready access to a diversity of plant, animal and geological wonders within the island, and remoteness from earthquake and typhoon activity are some of the special attributes which help maintain Cebu's track record. Exposure to nature's wonders allows busy families to recharge their batteries and relax.

Cebu has an abundance of beauty. From the central mountains to the coral sands, the island is a natural wonder. Most of the archipelago's 8,120 species of flowering plants can be found in Cebu. 5,832 are unique to the country. Birds migrating from Russia stop enroute to Australia at the Olango Bird Sanctuary.
Tourist Season:
The Low Season is when the winds change and blow eastward into White Beach. There is more rain than usual, but there are also fewer tourists, better prices on accommodations, and other lower prices. The low season begins in May, and ends in October.

During High Season, the winds come from the other side of the island, and White Beach is protected. The wind blows out to sea, leaving the beach pristinely clean and generally calm. It is also winter in the northern hemisphere, and tourists come in numbers in search of sun, heat, beach and party. High Season starts in October and ends in May.

The Peak Season is when the tourists are at their height. This includes Christmas, New Year, Chinese New Year, and Holy Week (Easter Week). Some resorts have a +10% to +25% premium on their rooms, and the island gets fully booked. Make sure you book as far in advance as possible.

Getting There:

By Air:

The fastest way to reach Cebu is by plane. Cebu is an international destination with flights from Singapore, Hong Kong, Malaysia, Japan, Taiwan and South Korea. Arrival is at at the Mactan International Airport almost daily. From Manila, Cebu is just an hour away by plane. It is an ideal jump-off point for other tourist attractions in Visayas and Mindanao.

By Sea:

Cebu City's vast, multi-piered port throngs harbor boats travelling around the Philippines. There are daily ferries to and from Cebu, Manila, Bohol, Negros, Leyte, Butuan, Davao, Cagayan de Oro, Ozamis and Iligan among others. Ferry schedules change often so reconfirm departure times you get from guidebooks.

Visa Extensions

The Bureau of Immigration (BI) can extend visitor visas as well as process other changes required in visa status. For visa extensions you will be required to make photocopies of your passport and fill out a visa application form. The cost varies depending on your visa and desired length of stay. You can expect to pay around 3000 PHP for a one month extension. There is a dress code so don't wear board shorts or tank tops. Located in P. Burgos St., Tribunal, Mandaue City 6014, Telephone number - (032) 345-6442-4 Fax: 345-6441, Airport - (032) 340-1473/3400-751.

Where To Stay In Cebu

With so many islands and places to choose from, all brimming with life and vibrancy, deciding what you want to see and do can be a little overwhelming. Where to stay in Cebu will largely depend on that decision.

Best Luxury Hotel in Cebu:

Movenpick Hotel Mactan Island Cebu

– This hotel has a hip of Mediterranean atmosphere with a contemporary style, located at Punta Engano, Mactan Island, Lapu-Lapu City Cebu Philippines. Room rates are from EUR 190 ++ for Deluxe King Room up to EUR 2,761++ for their Ibiza Loft for a total luxury and relaxation. (Note: Rates given are for rooms only.)

Plantation Bay Resort and Spa Cebu

– This is a classy hotel resort and spa located at Marigondon, Mactan Island, Cebu 6015 Philippines. This hotel and resort boasts its man-made village that resembles the clean elegance of colonial-plantation architecture. Their room rates start at P EUR 127++ for a Poolside Room to P EUR 800++ for their Quantum Villa. (Note: all room rates don't include free breakfast)

Shangri-la Mactan Resort and Spa

– This hotel is located at Punta Engano Road, Lapu-Lapu, Cebu 6015 Philippines. This is a hotel that offers not just luxury but pleasure within the resort. It also offers exciting underwater adventures. Room rates in this hotel ranges from EUR 236 for a Main Wing Deluxe Sea View Room to EUR 563 for a Main Wing Veranda Suite.

– This hotel/resort is one of the most exclusive resorts in Cebu located at Punta Engano Road, Mactan Island, Lapu-Lapu City Cebu Philippines. Here, one could experience a tropical hideaway with tranquility of rooms and villas set at the oceanfront. The room rate in this hotel/resort starts at EUR 289++ for a Master Oceanfront Suite toEUR 500++ for their Seaview Pool Villa.

Crimson Resort and Spa Cebu

– This is a deluxe beach resort that is located at Seascapes Resort Town, Mactan Island, Lapu-Lapu City Cebu Philippines. This beach resort has luxurious private villas with individual plunge pools and guestrooms with a contemporary Asian Style. Room rates for this hotel/resort range from EUR 152++ for a Super Saver Deluxe Garden Room to EUR 654++ for a Beach Front Casita King Bed Accommodation.

Cebu City, also known as the Queen City of the South, is the oldest city in the Philippines! The city may not be as aesthetically pleasing as some of the other parts of Cebu island, but it's a thriving metropolis in an unexpected region of the world. Cebu City offers loads of history, culture, and energy, with an atmosphere that is purely captivating.

Moalboal city is another must-visit on the island, and for the most part, it is still off the beaten track. This lazy beach town offers relaxation and is a favorite for the locals and tourists alike. For people living on Cebu, Moalboal is a great place to get away from the hustle and bustle of the city.

Mactan Island is a dream island for underwater enthusiasts. Located adjacent to Cebu City, and connected by bridges, you can find some amazing snorkeling and diving here. Also known as Lapu-Lapu, this island features white-sand beaches, enchanting marine life, and resorts that suit every type of budget, Matacan has everything!

THINGS TO DO IN CEBU CITY:

As the center of trade, commerce, and tourism in the Philippines, you can only imagine that there is a lot to be seen and done in Cebu. From historic sites where Spanish settlers first landed to incredible underwater marine parks teeming with tropical sea life, you won't be able to get enough of this South East Asian hub.

With centuries full of invasions, battles, and revolutions, Cebu is a city with stories to tell. Visit Cebu Heritage Monument for a synopsis.

Built with dark stone and bricks, the structure is a tangled sculpture of ships, churches, crosses, and key historical figures that are as mysterious as they are thought provoking. With centuries of history and tales, consider hiring a guide before you go or taking ones offer when you arrive. You'll enjoy the local interaction, be able to ask burning questions, and get some background information you would have otherwise missed out on.

This is a great way to start your vacation in Cebu in that it will give you insightful context to apply for the rest of your visit.

You wouldn't expect such a memorable experience to begin in a hardware store, but it will. Stepping inside the 1730 Jesuit House feels like stepping 100 years back through history.1730 Jesuit House is a local project that aims to preserve one of Cebu's historic sites. This ancient house has survived typhoons, earthquakes, and foreign invasions, yet still stands to tell the tale.

Your tour guide will take you through an hour-long journey while showing you restoration efforts, along with artifacts and antiques including cameras, carvings, furniture and even 100-year-old cedar chest that still gives off a beautiful aroma.

The biggest fish in the world are right off the coast of the Philippines. Although they are called "sharks", these gentle beasts are far from what you may imagine.

Oslob Whale Sharks Tour Company is one of the most respected in the business. They guarantee, with 99% certainty, that you will witness and have the opportunity to swim alongside a mighty Whale Shark.

These particular Whale Sharks are considered wild, but instead of migrating to warmer waters for parts of the year, they stick around as the fishermen continue to feed them. That means this experience is available no matter what time of the year you visit.
Jumalon Butterfly Sanctuary
Nature lovers come hither! There is a butterfly sanctuary in Cebu where you can walk through a mini rainforest teeming with tropical plants and flowers with beautiful butterflies fluttering all around. Keep your camera out just in case one decides to land on your nose for a selfie.
The Jumalon Butterfly Sanctuary has an impressive collection of butterfly specimen encased in glass that shows just how diverse the buttery fly family truly is.
Bring some cash as there is a small entrance fee, but it goes towards a wonderful cause.
In the Beverly Hills subdivision of Cebu, you'll find a beautifully designed Taoist Temple. Located 300 meters above sea level, expect lots of steep steps and winding paths that will get your blood pumping as you make you way to the top. Once you reach the temple, you'll be greeted with beautiful views of the island.
Join in on a Taoist ritual of taking two blocks of wood into the temple and dropping them on the floor in front of the shrine. If both blocks fall face up, then the gods are permitting you to make a wish; if not, then the gods don't believe it's time for your wish to come true. Before you enter the temple, however, be sure to wash your hands and take off your shoes.
As you travel the Philippines, you'll notice a curious Spanish influence in the country's currency, food, architecture, and even their language. Visit the Fort of San Pedro and this mysterious element will become much more clear.
On April 7, 1521, the Spaniards arrived on the coast of the Philippines, which marked the beginning of Spanish colonization.
However, Fort San Pedro was not built to mitigate the conflicts between native Filipinos and the Conquistadors, but rather was built in 1738 under the command of Miguel López de Legazpi to protect against Muslim raiders.
However, during the Philippines Revolution, it was eventually over taken by Filipino revolutionaries.
When you visit this crumbling fortress you'll certainly be thinking, "Oh, if only walls could talk."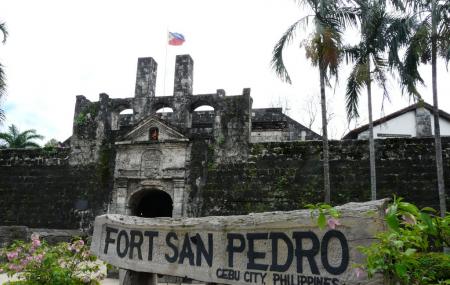 Terrazas De Flores Botanical Garden
Get away from the hustle and bustle of the city streets and instead, surround yourself with nature in it's purest form.
The Terrazas De Flores Botanical Garden offers terraced flower gardens planted in the sides of rolling mountains with a breeze that balances the heat.
Walk hand-in-hand with your loved one under floral gazebos or have a seat at the picturesque café to take in the sights.
While this botanical garden is a bit outside of the city center, the drive to reach it is just as enjoyable. Hire a local motor taxi for a truly thrilling day.
Eat Lechon at Rico's Lechon
If you know anything about the Philippines, you'd know that lechon is a national dish that serves as the culinary pride and joy of this country.
In Spanish, "lechon" means, "suckling pig"- no surprise there. With the Spanish colonization, came this culinary gem, which is often roasted and eaten at large family gatherings and celebrations.
Lucky for you, however, you can get lechon any day of the week in Cebu when you visit Rico's Lechon. This will be the most succulent, juicy, flavorful pork that you've ever had in your life. Served with rice and Pinakurat vinegar, this is sure to be a dish you'll never forget.
Cebu is surrounded by plenty of beautiful tiny islands with stunning white sand beaches and crystal blue water.
You'll find many tour offices that offer island hopping packages, which span from half-day to full-day tours. Many of these packages include a delicious lunch where fresh mango is almost certainly involved.
These day trips will whisk you out on to the water in a catamaran and take you to destinations where you can snorkel over the reefs, fish with the locals and visit some small villages.
Some of the best diving in the world can be experienced in the Philippines. You'll need to have your Open Water Diving Certificate previous to showing up or you can come to Cebu to take a scuba diving course.
Diving trips in Cebu include visits to the Hilutungan Marine Sanctuary and Nalusuan Santuray filled with tropical sea life. You'll have the chance to spot Thresher sharks, Mandarin fish, blue sea stars, and bizarre sea sponges.
Better yet, the Philippines offers some of the least expensive diving excursions in the world.
TOP 10 BEACH RESORTS IN CEBU
What I love about this part of the Philippines are the awesome beaches. They easily compare to some of the best beaches in Asia and because they are not as well known, they are less crowded. For me, some of Cebu's best tourist attractions are these amazing tropical beaches.
Bounty Beach (Malapascua Island)
One of most spectacular beaches in Cebu or even the Philippines for that matter. It's a lovely stretch of white sandy beach on Malapascua Island (in Cebu's north). This island became famous for the thresher shark dives which attracts divers from all over the world. You don't necessarily have to be a diver to enjoy this piece of paradise, Bounty Beach is a beach lover's dream. Swaying Palm trees, warm tropical clear turquoise waters and soft sand make it an ideal destination. If you plan to stay on the island, this is the place to be. There are a number of resorts, restaurants, and bars dotted along the beach. A great place to unwind, laze, or chill out with a cocktail and watch the amazing sunsets in this beautiful part of the Philippines. Bounty Beach makes for an awesome tropical getaway.
Paradise Beach (Bantayan Island)
This aptly named beach on Bantayan Island is a gorgeous little spot that everyone should visit if you are staying on the island. It's located in a peaceful, secluded area on Bantayan, a little out of Santa Fe Town. You may be lucky and get the place to yourself to enjoy the beauty and serenity. There is not a lot to do here other than swim or work on your tan, but what more do you want to do in paradise?
This is an amazing island in Cebu's south with a stunning little sandbank. It makes for a wonderful place to swim and enjoy this delightful beach. The waters here are just amazing with those aqua blues. Not only is it popular for a day trip (from Cebu City), but if you want to spend more time here, stay overnight (or longer) at the island's only resort – Sumilon Bluewater (rates from approximately $316 – $514). The resort offers some nice rooms or check out their glamping (upmarket camping) for something a bit different. The island is also not far from Oslob, where you can swim with the whale sharks, one of Cebu's most popular tourist attractions.
Santiago Bay (Camotes Islands)
This is one of best-looking beaches on the Camotes, especially if you staying at Santiago Bay and Garden Resort. The resort offers arguably the best views in the Camotes Islands from its hilltop location. Santiago Bay waters are crystal clear, calm and shallow. Along the beach, there are a number of small low key resorts and some open air restaurants offering great affordable food. It's also a perfect spot if you love watching sunsets. Over the years I've seen some specular ones here. Santiago Bay is a perfect place to spend your vacation in Cebu.
Bakhaw Beach (Camotes Islands)
Staying with the Camotes, but less touristy (and less crowded) than Santiago Bay is the beautiful Bakhaw Beach. It's a nice beach to chill out at. Rent out a cottage, bring some drinks or food and enjoy it with friends and family. There are plenty of palm trees to shade you from the sun or cool off in the amazing waters. While there are a couple of small resorts here, it's more popular to come here for a day trip, and it is fairly close to Santiago Bay (if you are staying there) making it easy to get to.
This pretty little beach in Alcoy in southern Cebu is a popular place for locals. In the summer months particularly, when the weather is good, it looks stunning. Watch videos in youtube about this beach, you can get a better idea of what I mean. Keep in mind, on the weekends and holidays it can get a little noisy. There are a number of resorts in the area, but if you want to stay at a resort with the best views in town hands down the best place is Voda Krasna Resort. It occupies the best piece of real-estate in Alcoy.
This lovely beach is part of the Badian Island Resort an upmarket resort (rates starting from around $252 – $395) in Cebu's south. Some of the more expensive rooms come with their own private plunge pool. I love the tranquillity of the place, a wonderful place to laze by a beautiful beach while enjoying some of the finer things in life. Saviour a relaxing cocktail (at happy hour) sit back and enjoy an amazing tropical sunset.
Moalboal has two main beach areas, Panagsama Beach and White Beach. Panagsama is more rocky than sandy, while White Beach is a lovely sandy beach. Not only do the waters look great, there is some terrific snorkeling offshore. A reef runs along Moalboal and there is lots of sea life to discover. If you're lucky you may be able to snorkel and see some turtles. It is a fairly popular place so on weekends and holidays it can get busy. There are cottages to rent out for day use or if you plan to stay longer there are a number of resorts dotted along the shore. Moalboal offers some good diving in the area as well, so a lot of these resorts have their own dive shops.
Santa Fe Beaches (Bantayan Island)
Bantayan Island is my favourite island in Cebu. The best beaches are located in the town of Santa Fe, the most popular place to stay on the island. Bantayan has some wonderful beaches that particularly in summer months (March – April) just look divine. The colours of the waters just blow me away. Not only that, it has that great island feel which I love. It's laid back, friendly and a fantastic place to holiday in. There are a number of great beach resorts to stay at, nothing luxurious though. It is more suited to the budget to the mid-price bracket. If you want a nice resort on the beach (depending on your budget) you could look at Kota Beach Resort, Anika Island Resort, Budyong and Santa Fe Beach Club to name a few. During Easter, it does get busy here with thousands of local tourists. Expect room rates to triple in price at this time of year. If I only had one island to visit in Cebu, this would be my preference.
Virgin Island (Bantayan Island)
This island is a must do when you stay in Bantayan Island. Around a 30-minute boat ride from Bantayan, it makes for an awesome day trip. If you like Virgin Island in Bohol (Philippines), this Virgin Island I think is even better. Its beaches are what you expect to find in a postcard. The island's beauty jwill surely blows you away. From its gorgeous white sands to those beautiful colours of the waters -just makes this feel like heaven. It's uncrowded and peaceful. If you wish to spend more time here, there are a couple of simple cottages to stay at.
CHASING BREATHTAKINGLY BEAUTIFUL WATER FALLS IN CEBU
Besides its infamous lechon and its beautiful beaches and rich culture, Cebu – the true Queen City of the South – boasts another nature's wonders with its breathtaking waterfalls. Check out nine of Cebu's waterfalls that you MUST visit in your lifetime!
Distance from Cebu City: ~55 km going North
Travel time from Cebu City: ~ 2 hours
How to get there?
– From the North Bus Terminal, take a any bus bound for Bogo, Hagnaya, Daanbantayan, etc. as long as it passes Catmon. Tell the conductor to drop you off at Katambisan, Catmon.
– Ride habal-habal (motorcycle) going to Brgy Tabili where Tinubdan Falls is located. You may negotiate with the driver to fetch you up after your river trekking since there are just few habal habals in the area.
– For safety purposes, hire a tour guide.

DAO FALLS (SAMBOAN)
Distance from Cebu City: ~140 km going South
Travel time from Cebu City: ~ 3.5 hours
How to get there? Take a (Ceres) bus bound for Bato via Barili in South Bus Terminal. Tell the conductor to drop you off at the Samboan town proper and ride a habal-habal (motorcycle) going to Dao Falls. You will be welcomed by locals who will provide a guide to accompany you going to the falls.

AGUINID FALLS (SAMBOAN)
Distance from Cebu City: ~140 km going South
Travel time from Cebu City: ~ 3.5 hours
How to get there?
– Take a (Ceres) bus bound for Bato via Barili in South Bus Terminal. Tell the conductor to drop you off at the "Aguinid Falls in Barangay Tangbo". You will notice a signage; from there, walk approx. 10 mins going to the falls.
– Upon arrival at Aguinid Falls, enter at the basketball gym and pay the entrance fee of 40 pesos each. Note, getting a tour guide is MANDATORY. Minimum fee is 100 pesos for the whole group.
BINALAYAN FALLS (SAMBOAN)
Distance from Cebu City: ~140 km going South
Travel time from Cebu City: ~ 3.5 hours
How to get there? Take a (Ceres) bus bound for Bato via Barili in South Bus Terminal. Tell the conductor to drop you off at the "Binalayan Falls in Samboan". You will notice a signage; from there, walk approx. 20 mins going to the falls.

KAMPAEL FALLS (GINATILAN)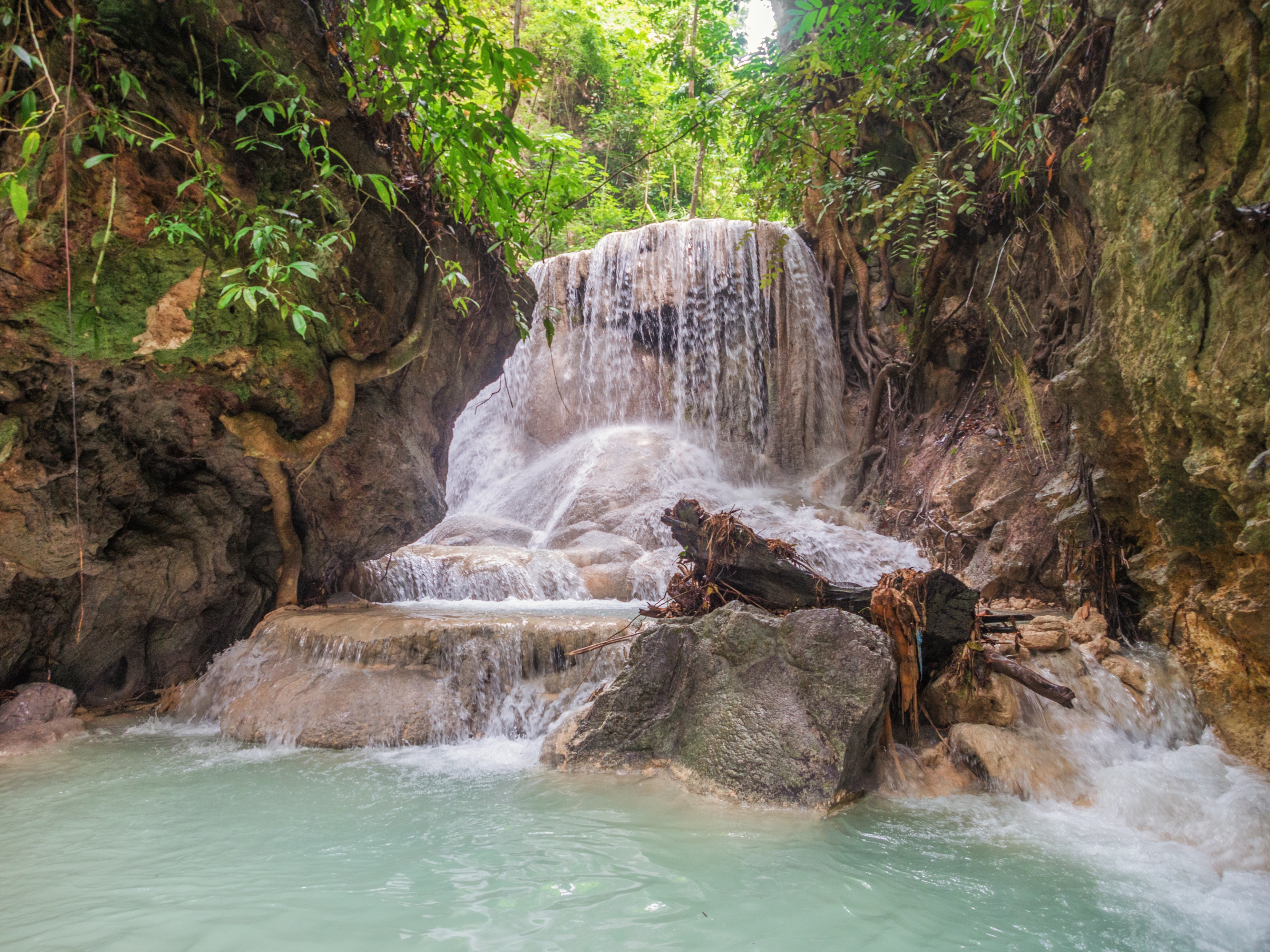 Distance from Cebu City: ~130 km going South
Travel time from Cebu City: ~ 3 hours
How to get there? Take a (Ceres) bus bound for Bato via Barili in South Bus Terminal. Tell the conductor to drop you off at Ginatilan and ride a habal-habal (motorcycle) going to Kampael Falls.

BUGNAWAN FALLS (GINATILAN)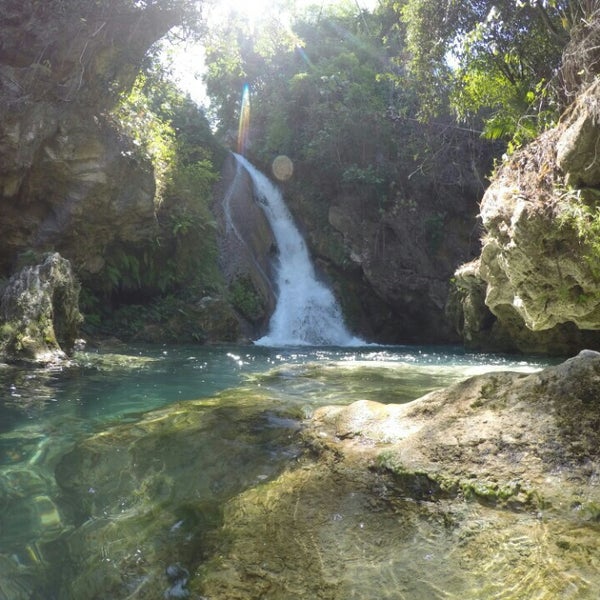 Distance from Cebu City: ~130 km going South
Travel time from Cebu City: ~ 3 hours
How to get there? Take a (Ceres) bus bound for Bato via Barili in South Bus Terminal. Tell the conductor to drop you off at Ginatilan and ride a habal-habal (motorcycle) going to Kampael Falls.

INAMBAKAN FALLS (GINATILAN)
Distance from Cebu City: ~130 km going South
Travel time from Cebu City: ~ 3 hours
How to get there? Take a (Ceres) bus bound for Bato via Barili in South Bus Terminal. Tell the conductor to drop you off at Ginatilan and ride a habal-habal (motorcycle) going to Kampael Falls.

KAWASAN FALLS (BADIAN)
Distance from Cebu City: ~115 km going South
Travel time from Cebu City: ~ 3 hours
How to get there? Take a (Ceres) bus bound for Bato via Barili in South Bus Terminal. Tell the conductor to drop you off at the jump-off point to Kawasan Falls (the landmark is a Catholic church). You can ride a habal-habal to the falls but you can also just trek it which is good for 15 minutes only.
Distance from Cebu City: ~130 km going South
Travel time from Cebu City: ~ 3.5 hours
How to get there? From the South Bus Terminal, take a (Ceres) bus bound for Bato – Oslob. Tell the conductor to drop you off at Tumalog Falls area in Oslob. You will notice a signage; from there, ride a habal-habal going to Tumalog Falls. Travel time is approx. 15 minutes. From there, trekking going to the falls is 10 minutes only.

CANCALANOG FALLS (ALEGRIA)
Distance from Cebu City: ~120 km going South
Travel time from Cebu City: ~ 3.5 hours
How to get there? If you are coming from Cebu City, take a bus ride from the Cebu South Bus Terminal and tell the driver to drop you off at Sangi, Alegria. From here, you can take a habal-habal ride (motorcycle for hire) and tell the driver that you want to go to Cancalog Falls. It is advised that you ask the driver to fetch you back on a specific time because there is no other transportation that plies the route.

LUSNO FALLS (RONDA)
Distance from Cebu City: ~90 km going South
Travel time from Cebu City: ~ 3 hours
How to get there? From the South Bus Terminal, ride a bus going to Bato via Barili. Disembark at Ronda Poblacion. From there, ride a habal-habal (30-45 mins) going to Lusno Falls. The driver will wait for you.
WHAT TO BRING:
Important Personal Documents and Money
Cash

Credit Card

Passport

Health insurance cards

IDs

Emergency contact information

Hotel reservations and itineraries

Transportation tickets

Business cards
Advice: The most important of all is to bring some cash and important travel and identification documents. Even if we travel for free, it can be because of some privilege or sponsorships, do not neglect the necessity of bringing your own money and IDs in case of emergency. Also prepare your travel tickets and hotel reservations. If you have certain health conditions, bring in some documents that detail about it. It can help in times of emergencies. Also your health card should contain your blood type. Bringing a couple of business cards can also enable you to create new business networks, who knows you might meet a potential business partner along the way.
Essential Clothing and Accessories
Shirts

Rain coat/Jacket/ Sweat shirt (for rainy, warm and cool climates respectively)

Underwears

Pants (short or long)

Swim wears

Sunglasses

Watch
Advice: The type of clothing you should be bringing will depend on the type of trip you are heading. Wear something appropriate and comfortable. Also keep in mind to bring only enough, don't bring too many as it can make your bags heavy.
HAPPY TRAVEL :)