Cayman Islands
Cayman Islands
Turisti-info
The Cayman Islands are located in the Western Caribbean about 150 miles south of Cuba, 167 miles northwest of Jamaica and 460 miles south of Miami, Florida.
Nestled in an unparalleled tropical setting. Offering that luxurious blend of sun-kissed beaches and calm, turquoise seas. Worldrenowned for dining, snorkelling and diving, the Cayman Islands offers an adventure for people of all ages – and interests. With such a diverse range of pursuits to enjoy and explore, your visit here can be filled with activities, day and night. Do it all. Or do nothing at all, except savour the spectacular view, the warmth of the people and the perfect weather. Either way, one thing is certain, your time in the Cayman Islands will be one you'll treasure forever.
Some 2.5 million tourists visit the Cayman Islands each year. Most of them are cruise-ship passengers, who spend a few hours shopping, sunbathing or swimming with stingrays before pulling out of port. Others hunker down near Seven Mile Beach, enjoying their all-inclusive resort on one of the Caribbean's most beautiful stretches of sand. And a lucky few venture further.
Cayman is an undeniably cosmopolitan place – nearly half the population is from somewhere else – but its rich local culture is alive and well, especially in Bodden Town, East End and Cayman Brac. Explore the North Side and the Sister Islands to discover lush forests, diverse birdlife, mysterious caves and \pristine beaches. Beneath the waves lie amazing underwater walls and accessible shipwrecks.
Dive in. It takes only a small sense of adventure to uncover Cayman's greatest treasures: the warm hospitality and the fantastic natural phenomena above and below the sea.
Three islands. Endless possibilities!
Grand Cayman The largest of the three islands. Cosmopolitan Grand Cayman offers a wealth of activities, restaurants, accommodation and attractions. The capital, George Town, offers some of the finest shopping in the entire Caribbean. Grand Cayman, the largest of the three islands, has an area of about 76 square miles and is approximately 22 miles long with an average width of 4 miles. The island is low-lying, with the highest point 72 feet above sea level.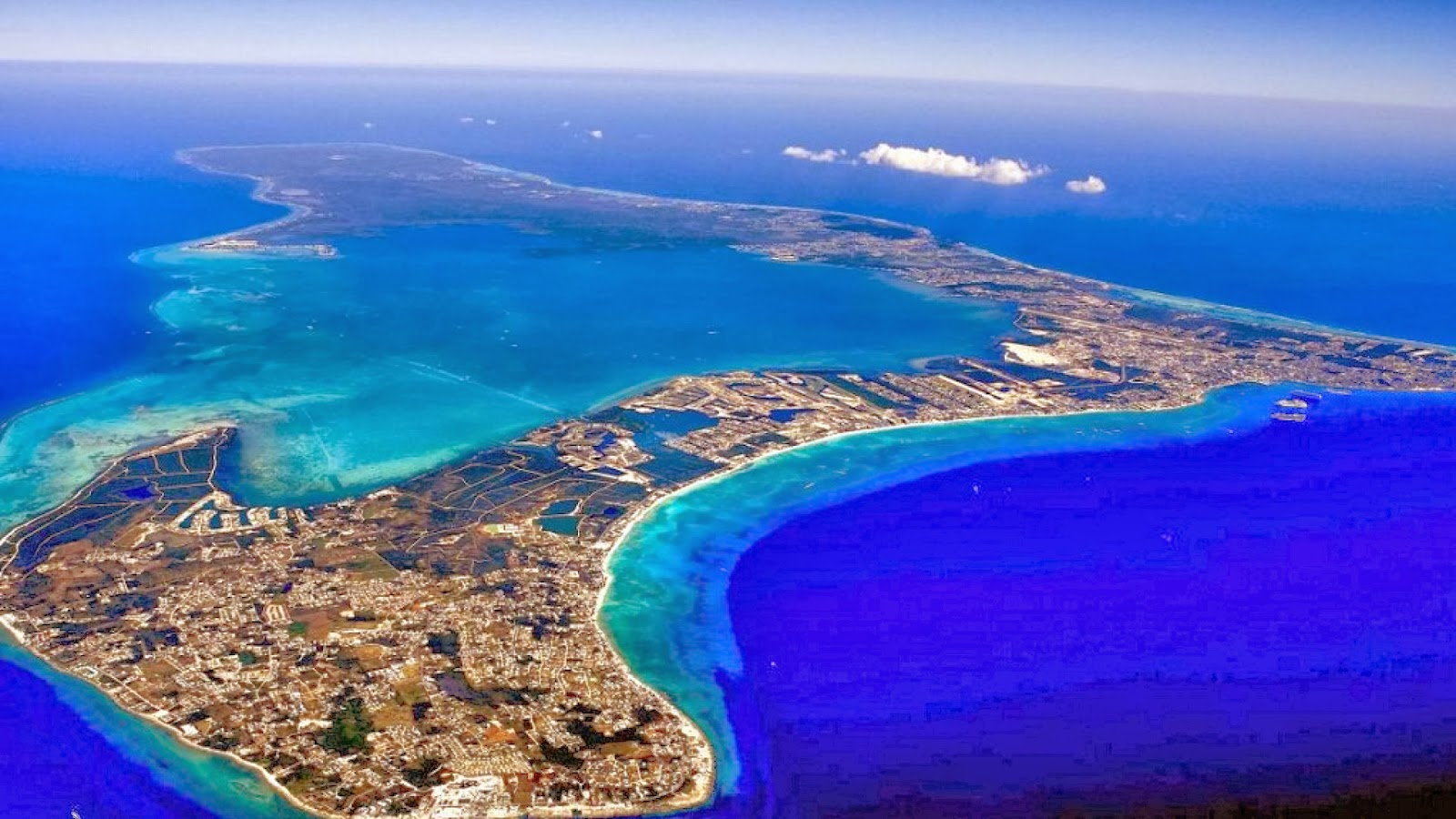 Cayman brac Unspoiled and unhurried. An island where breathtaking natural attractions and a rich seafaring heritage will awaken your adventurous spirit. A nature lover's paradise where diving, birding and snorkelling are celebrated. Cayman Brac named for its breathtaking 153ft bluff, lies about 89 miles northeast of Grand Cayman. It is about 12 miles long with an average width of 1.25 miles and has an area of about 14 square miles. Its terrain is the most spectacular of the three islands making it the ideal getaway for the adventure loving nature enthusiast.
Little Cayman Tranquil and serene. Blessed with pristine white sand beaches and miles of untouched wilderness. A favourite of divers, naturalists and photographers. Quietly redefining the word paradise, where time stands still. Little Cayman is located five miles west of Cayman Brac and is approximately 10 miles long with an average width of just over a mile. It has an area of about 10 square miles. The island is low-lying with a few areas on the north shore rising about 63 feet above sea level. With fewer than 160 residents, visitors are exposed to adventure in seclusion with the glistening white sand beaches and the feel of a private island
Best Month to Visit
The best time to visit the Cayman Islands is between March and June when the hotel rates drop. The islands are warm year-round with average highs holding steady in the 80s. January and February are the coolest months with average lows in the high 60s. The rainy season spans from May through October – though showers usually only last for a few hours at a time. The islands' location in the western part of the Caribbean shields them from being hit too hard by the annual hurricane season, which lasts from June to November. If you don't want to sacrifice weather for a break on hotel prices, plan a trip for the region's dry season, which runs from November to April.
Getting to Cayman Island
TRAVEL BY AIR:
The main gateway to the Cayman Islands is through Grand Cayman. Flights to Grand Cayman arrive at Owen Roberts International Airport. The airport lies just east of George Town, the capital, and is only a short taxi ride from most of the hotels along Seven Mile Beach. Customs can be aggressive at times, and you'll need to show a firmly booked hotel reservation and an ongoing or return plane ticket.
TRAVEL BY SHIP
Grand Cayman is home to George Town, where up to four cruise ships can anchor at one time. If there are more than four cruise ships in port, the others remain in the harbour. Passengers are ferried to one of three terminals, all of which are about five minutes away.
For those sailing by charter, there is two major ports of entry. One is located on Grand Cayman and the other is on Cayman Brac. Port Security greets travellers on VHF Channel 16 around the clock and, upon entering the Cayman Islands territory, vessels must fly the Q flag. All guns, spear guns, and other weapons must be left with customs. Outside fruit and plant life are not allowed on island.
Getting Arround Cayman Islands
Friendly cab services are at your beck and call from Grand Cayman resorts, Owen Roberts International Airport and the ship dock in George Town. There are also several reputable rental car companies available, allowing you to pick up your vehicle at the airport or at several locations around the islands. You'll find a few public bus stops in the busier districts too, but these buses can be flagged down from anywhere along the side of the road as well.

Taxis
Taxis are available at Owen Roberts International Airport on Grand Cayman. This information is available from the taxi dispatcher at the curb.
During your stay, taxis are also readily available from all Cayman Islands resorts and from the taxi stand at the ship dock in George Town if you take a Cayman Island cruise.

Car Rentals
Renting a car during your stay in the Cayman Islands provides the most flexibility when it comes to transportation. Visitors can get a temporary drivers license at any rental car counter or at the police station. Visitors applying for a temporary driver's license in the Cayman Islands for the purposes of renting a car must be 21 years of age. Driving on the left side of the road provides adventure and round-a-bouts provide good stories to tell when you return home. Caymanians are naturally friendly people and we are always happy and willing to lend a helping hand if you need directions and if you are really stuck, we have been known to drive there with you, just to make sure!
Car rentals available include Jeeps, Mini Vans, 4 doors, and SUV's. Renting mopeds and scooters are also a great way to explore the islands on your own.

Limousine Services
Several private limousine services on Grand Cayman offer transport for special events and airport transfers as well.
WHERE TO STAY IN CAYMAN ISLANDS
The Cayman Islands, located in the far Western Caribbean, is an ideal destination for those who want to relax on the charming beaches and be fascinated by the turquoise waters, with a number of fascinating underwater creatures, while admiring the rich history of the islands. The Cayman Islands consist of three beautiful islands: Grand Cayman, Cayman Brac and Little Cayman, all boasting exquisite natural beauty. All three islands that make up the Cayman Islands offer a great range of accommodation for visitors and those who prefer to live it up in a superstar lifestyle at a five-star hotel will find some excellent options to choose from.
Set right on the edge of Seven Mile Beach, this elegant resort is a real Mecca for design lovers. The establishment is set up so that guests barely need to lift a finger if they wish, while those who are interested in water sports will find plenty of excellent options to choose from. The dark colour scheme of the rooms is brightened up by splashes of fuchsia, while the bathrooms are especially large and luxurious. Nearly every room comes with a balcony that faces the ocean and guests are sure to love indulging in room service so that they can dine in style here. The resort also comes complete with three different restaurants that cater to different needs from decadent dining to light bites that can be taken away to enjoy on the beach or beside the lagoon style swimming pool. A flight of steps leads the way down from the pool to a private stretch of sand to make having fun in the sun very easy for guests.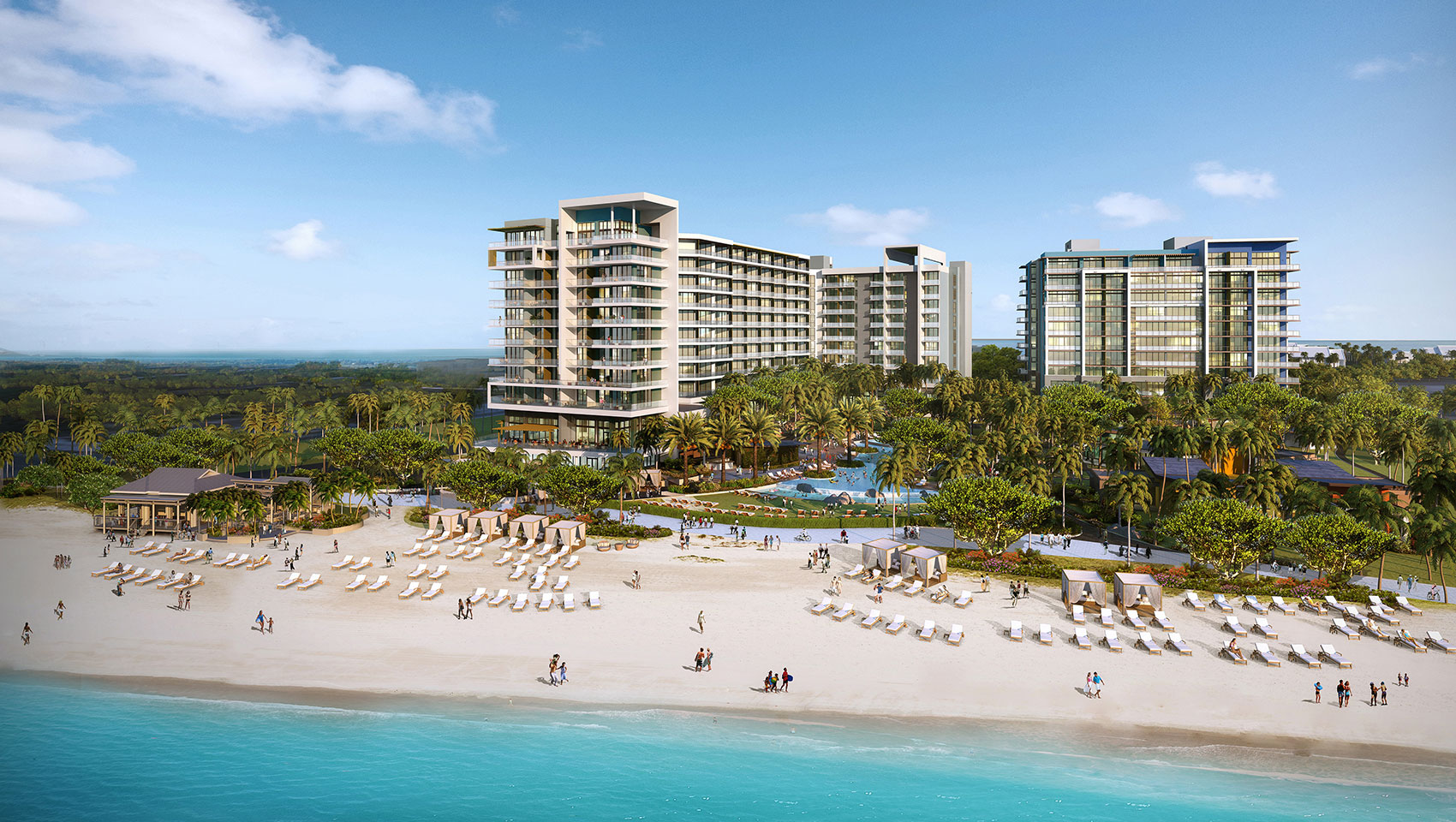 The newest addition to the first-class hotel scene on the exquisite Seven Mile Beach is the Ritz-Carlton that stretches sea to sea from the Caribbean Sea to the North Sound, providing high-profile tourists an ultimate holiday experience at a fabulous 144-acre resort. Each of the guest rooms is designed to be spacious and decadent and comes with touches such as Japanese silk screens. Guests should make sure that they secure one of the ocean facing rooms that come with huge balconies to unwind on. Celebrity chef Eric Ripert presides over the main restaurant and lovers of gourmet cuisine will want to make sure that they sample the seven course tasting menu so that they can sink their teeth into creative dishes such as poached halibut served with radish in a delicate parmesan emulsion and perfectly seared cod with served with sun choke in a rich coq au vin sauce.
Offering an excellent location on the sands of Seven Mile Beach, this imposing hotel fits perfectly with the other establishments in the popular luxury hotel brand. Large picture windows can be found throughout the hotel to optimise the position overlooking the Caribbean Sea, while the colour pallet in the lobby reflects the ocean to good effect. There are several different swimming pools to be found in the huge hotel complex and the swim up bar is a decadent touch that guests are sure to love. While each of the guest rooms are very comfortable and feature a bright blue and yellow colour scheme, it is worth paying a little extra for a room that comes complete with a balcony facing the ocean. There are six different eateries onsite for guests to choose from and seafood lovers who have a strong sense of adventure when it comes to dining should try the signature Sea Scallop Benedict, while other culinary treats that are just waiting to be enjoyed include seared yellowfin tuna served with edamame and avocado salad and the refreshingly different wasabi aioli and ginger miso ice cream.
With the light and friendly atmosphere of a cool beach club combined with plenty of decadent touches, this resort is sure to appeal to luxury lovers who like a laid back approach to life. There are nearly 300 rooms to choose from ranging from deluxe kings with balconies through to ocean view rooms, junior suites and king suites. Guests have the option of taking part in onsite activities such as morning yoga classes, beach bonfires and outdoor film screenings and it's just a five minute barefoot walk to the beach and waterfront bars and restaurants.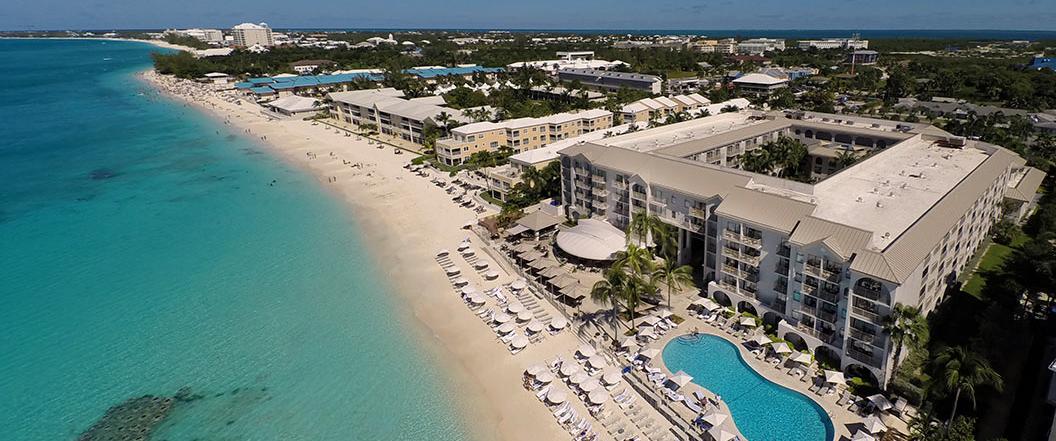 ​ The club stands on lush grounds and affords the most luxurious living on this sparsely populated island. The private villas here open onto a beach, and the complex has the island's finest pool.
​on Little Cayman offers a great blend of the best the Cayman Islands have to offer. There's diving, of course, but it is also set just away from miles of white sand and has bikes, hammocks, nature trails and several jacuzzis. They have just 11 boutique rooms and suites in beachside cottages.
​An intimate and inexpensive inn on the beach in a charming village. Apartments and two-bedroom condos with kitchens, living areas, and direct access onto the beach. Lovely pool, sun deck, and ocean views from all angles. Family friendly and laid back.
​A large cheerful beach resort surrounded by white sands and azure ocean views, but still within walking distance from shopping, nightlife and attractions. Colourful rooms and two-bedroom condos have kitchenettes and balconies. Swimming pool and kids pool, restaurant, and beach.
A luxury hotel boasting an epic location on a white sand beach. Take a room in the boutique hotel or, for utter privacy, hire a villa. Find simple Mediterranean style with white on white and plenty of light. Dine on exquisite cuisine with produce coming from the property's own farm. Fabulous.
A dive resort geared up for exploring some of the best Cayman dive spots. Caribbean style ocean view rooms and suites, al fresco dining, movies on the beach, spa, outdoor massages, tennis courts, and access to pure white sands. Ideal for families and those with a sporting agenda.
A boutique chic diving resort with one and two bed cottages that you can walk straight out of onto the beach. Creamy interiors and all the mod cons, large pool, bikes to borrow, boats to hire to dive the reefs, gourmet restaurant, and special beauty treatments in the spa. Family friendly, sporty.
​A good Four Star beach resort with excellent facilities. Elegant two-bed suites in picturesque surroundings with sea views. Three restaurants, a spa and beauty therapies, large pool, kids club, and just a short walk onto the beach. Perfect for families and those who like having everything on site.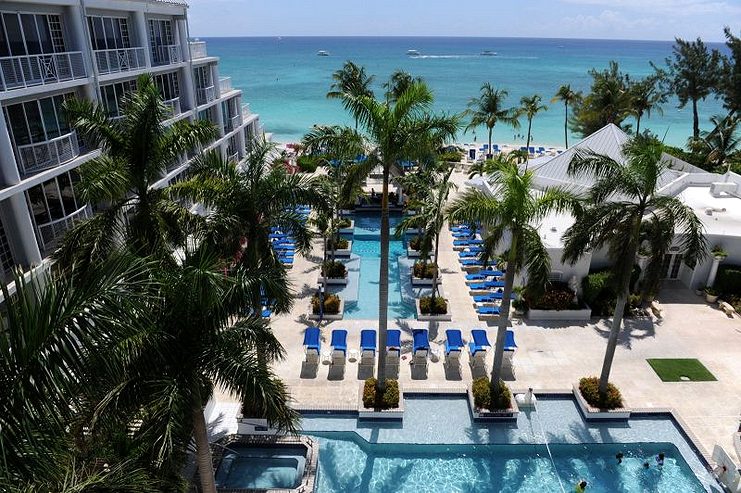 ​
A honeymooner's paradise. Chic Caribbean-style cottages and honeymoon suites set on the beach. Romantic candle lit dinners, deep sea fishing, diving on the coral reef, gourmet cuisine, swimming pool, and as much relaxation or activity as you please. A tropical romance with a difference.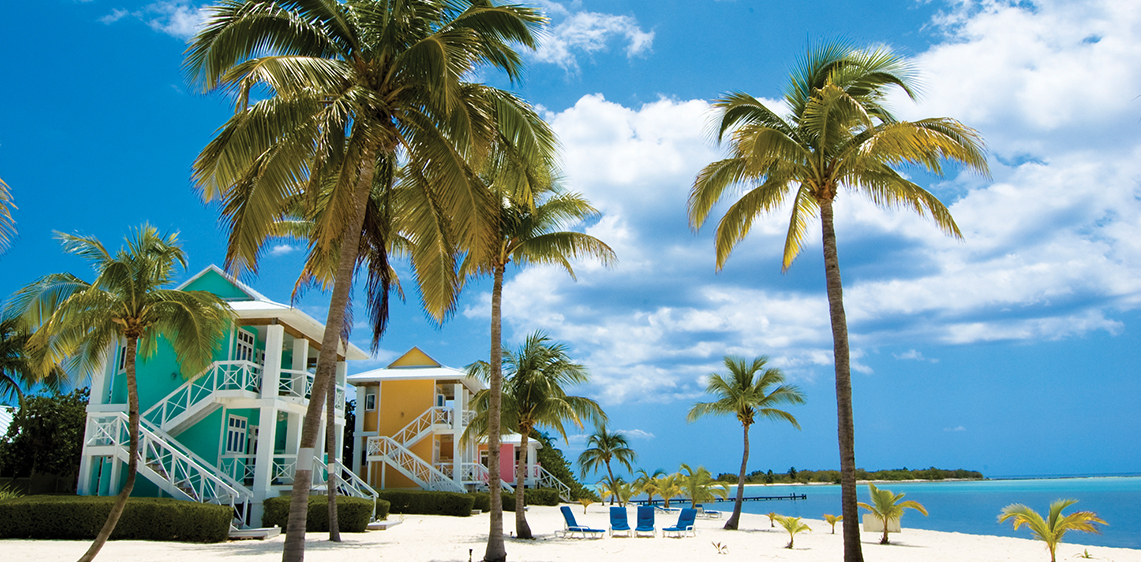 ​Opulent apartment complex. Decor is creamy with marbles, gilded mirrors, and large modern kitchens with granite bars. All suites & villas have jacuzzi bath tubs. Outdoor infinity pool, gym and massages available. Excellent Italian menu and slick bar. Luxurious and romantic.
What To Do In Cayman Island
The Cayman Islands are best known for two radically different offshore activities: banking and diving. The rich reserves within those protected vaults arguably pale beside the treasures of the bejeweled coral reef system ringing the three islands, Grand Cayman, Cayman Brac, and Little Cayman. While the western half of Grand Cayman seems under continual development—locals joke that the national bird is the building crane—the East End and the two Sister Islands remain blissfully tranquil on the verge of tranquilizing. Onshore activities are remarkably diverse. from horseback riding to enjoying a cosmopolitan dining scene with culinary influences from Peruvian to Punjabi.
Swim Among Stingrays at Stingray City
If there's one iconic activity on Cayman, this is it. The standard three-hour boat excursion includes stops for snorkeling along the way to Stingray City. But the real thrill is standing in this shallow sandbar, barely three feet deep and the soft translucent green of Murano glass, surrounded by dozens of Atlantic southern stingrays. The remarkable creatures exhibit a balletic grace as they glide around visitors, nosing for food and allowing themselves to be petted. Almost as entertaining are the boat crews, many of them multi-generational families; they explain their favorite rays' nicknames, tell tales – tall and otherwise – of their exploits, and strum guitars, exhibiting typically warm Caymanian hospitality.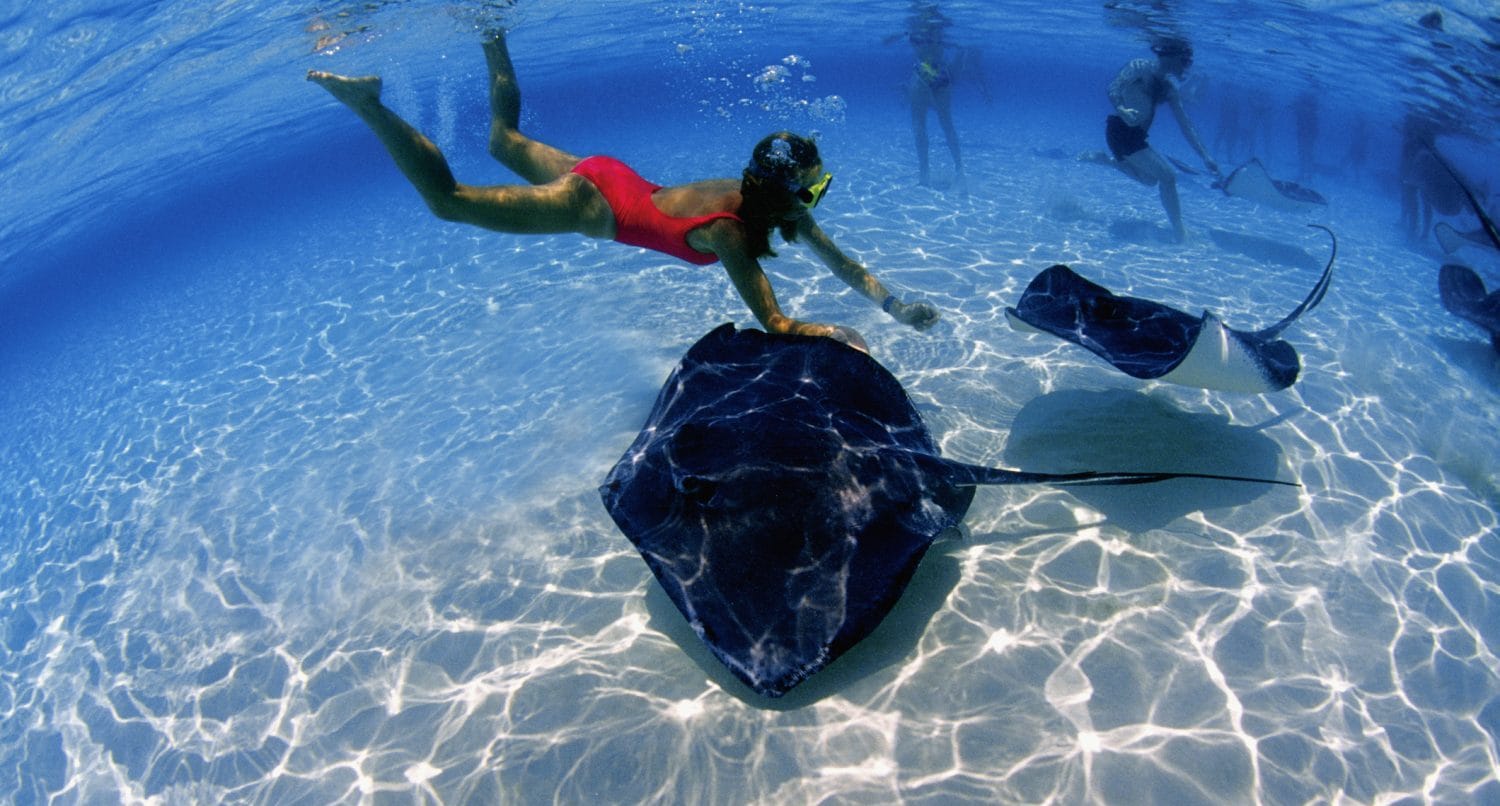 Meet and Learn About Turtles at the Cayman Turtle Centre
The outdoor exhibits at the Cayman Turtle Centre tell the life story of the glorious green turtles, from hatchlings to lumbering leviathan senior citizens. Kids of all ages especially love the photo ops with the youngins at the touch tanks. But there's more to the Turtle Centre than amphibians. Sharks glide menacingly through the Predator Reef, iguanas dart around their own enclosures, and colorful birds from around the Caribbean flit about the aviary. You can even sunbathe and snorkel at the artificial beach.
Chill Out at the Cayman Kai and Rum Point Beach Bars
Grand Cayman's North Side features a string of lovely beaches. The most popular, Rum Point, offers a slightly less frenzied and frenetic day in the sun than the showcase strand, Seven Mile Beach. Lime (meaning chill out) over margaritas or mudslides at the two rollicking beach bars, Kaibo and The Wreck, both of which also dish out decent pub grub. The onsite branch of Red Sail Sports can outfit you for aquatic activities aplenty: parasailing, snorkeling, windsurfing, jet skiing, and more.
Look for the Cayman Brac Parrot and Other Rare Birds
Birdwatchers will enjoy a literal field day on all three islands. The multi-hued Cayman Brac parrot is the prize sighting; the Brac even set aside a Parrot Preserve amid an unspoiled tropical hardwood forest. But Grand Cayman features several areas such as the Mastic Reserve, Salina Reserve, and Colliers Pond in the less developed East End that attract over 120 migratory fowl species. And Little Cayman's once-endangered red-footed booby population numbers 100 times that of its human residents. The Gladys B. Howard Little cayman National trust features viewing platforms replete with telescopes to admire the adjacent Booby Pond Nature Reserve, also home to majestic frigate birds, whose impressive wingspan enables their aerodynamic acrobatics.
Climb a Limestone Bluff Overlooking the Sea in Cayman Brac
Brac means bluff in Gaelic: The titular escarpment rises 140 feet at its highest point on the island's northeastern tip. Intrepid rock climbers have long considered the Brac one of the world's leading exotic challenges. Until recently, abseiling and rappelling was strictly an "at-your-own-risk" affair; climbers had to bring their own equipment, while the existing bolts along the 100-plus established routes weren't regularly maintained. Now Rock Iguana, whose founders include world-class climbers, leads expeditions with top-notch gear–plunging from the top of the Brac into the savage surf or spelunking into caves–and helps ensure the holds remain secure and safe. They also offer lessons for beginners.
Explore Skull Cave in Cayman Brac
The bluff is pocked with caves of varying size. Some names like Elevator Shaft hint at the difficulty of access, while others like Buccaneer's Inn reference the rumors of hidden pirate booty. Fortunately, several chambers have been opened up to visitors. Most are easily accessible, a legacy of olden days when families would take shelter during hurricanes. The infant's grave in Rebecca's Cave is a poignant testament to the latter. Bat Cave is less remarkable for its formations than its hanging epiphytes and creepy creatures. Skull Cave received its moniker from the shape of its yawning opening; the vaulted interior features intricate stone gardens and handsome cream-and-black striations.
Explore the Crystal Caves of Grand Cayman
Grand Cayman's newest major attraction, Crystal Cave, offers an unexpected treat on this flat island: a labyrinthine network of caverns still being explored, opened, and illuminated. A short hike through the rainforest brings you to a thatched souvenir hut (offering frosty beers and free insect repellent), overlooking an enormous banyan tree crawling up the main entrance. The two caves currently on display feature a vast array of limestone gardens, underground lakes, dazzling examples of flowstone, and fancifully shaped rock formations; the affable guides share some of their nicknames and encourage your descriptive imagination.
Snorkel Right Offshore at Eden Rock and Devil's Grotto
Grand Cayman is renowned for the quality of its easily accessible shore dives and snorkeling, circling the entire island. Three prime spots beckon right off "downtown" George Town: Cheeseburger Reef and the adjacent Eden Rock and Devil's Grotto. All three delight divers and snorkelers with a maze of tunnels and caverns hosting a riotously colored collection of marine life. Eden Rock's grottoes host the so-called "silver rush" in spring and summer: a shimmering curtain of silversides.
Dine at World-Class Eateries on Grand Cayman
For a small island, Grand Cayman's population boasts a virtual United Nations not only of accountants and bankers but chefs, too. It's an international smorgasbord of cuisines, where the kitchen staff might hail from Cambodia and Colombia, bringing their culinary influences to the menus. The savvy savory offerings start with Blue by Eric Ripert where the top toque's hand-picked team adroitly blends signature dishes from New York City's Le Bernardin with local ingredients. Crave Italian? Try Agua for everything from superlative ceviches to delectable pastas, the new Bacaro for sumptuous cicchetti (Venetian tapas), or Luca for classic fare presented with flair and paired with superb wines from an extensive list. In the mood for Indian? The new Pani Indian Kitchen offers a stylish take on sophisticated subcontinental street food.
Visit the Home Studio of Thatch-Weaving Practitioner Annalee Ebanks
Local Caribbean craft traditions are slowly dying; thankfully, Brackers such as 84-year-old Annalee Banks have imparted their skill to a younger generation. You can visit Annalee at her home, watching her nimble fingers fly over the plaited dried silver thatch palm fronds. She might even give you an impromptu lesson in how to weave them into stylish and sturdy handbags and hats.
Shop Duty-Free in George Town
Like any big cruise ship port-of-call, George Town hustles and bustles with duty-free shopping options. You'll find the usual luxury culprits from Kosta Boda to Breitling and Cartier to Clarins at such elegant establishments as Kirk Freeport. Don't overlook independent stores like Artifacts for stylish antiques like Spanish doubloons and maps, or Guy Harvey's for the marine environmentalist's artworks and signature logo merchandise. If you need a break, pop into the small but superlative Cayman Islands National Museum, set in the former gaol, which offers interactive natural history displays and cool animatronics bringing the islands' rich history to life.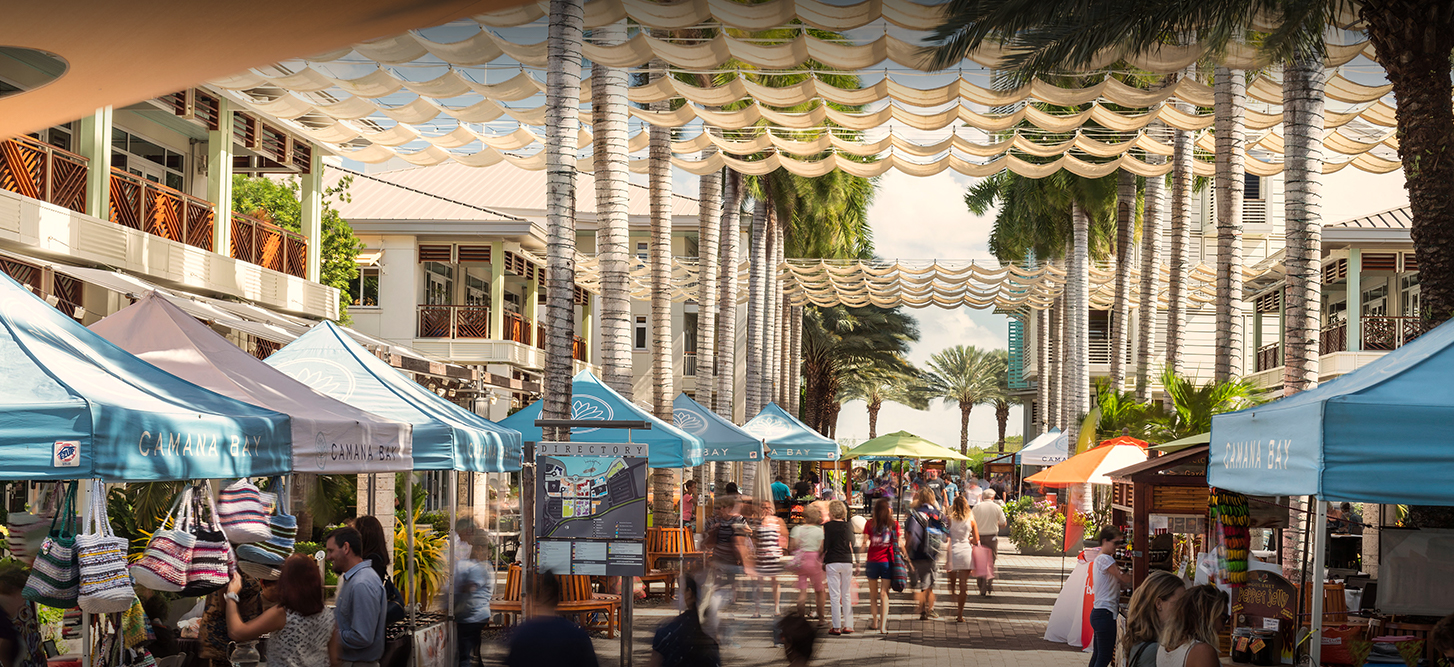 See Iguanas at the Queen Elizabeth II Botanical Garden
Located in the middle of Grand Cayman's less visited East End. Queen Elizabeth II Botanic Park is a wonderful spot to Zen and zone out, strolling through its beautifully curated and kept gardens, ranging from a selection of Caribbean palm trees to orchids. The Blue Iguana Recovery Program also runs fascinating tours, daily (except Sunday) at 11 am, of the small habitat tucked away inside the park. Volunteer student botanists from around the globe act as guides, explaining the endangered blues' life cycle and the vital breeding program that is slowly replenishing the population in the wild.
Seek Solitude at Little Cayman's Owen Island or Point of Sand
With fewer than 200 year-round residents and a handful of villas and small dive resorts, it's hard not to find solitude on blissful Little Cayman. But biking to Point of Sand, kayaking or swim with horse to nearby Owen Island rewards sun worshippers with gorgeous desolate beaches with powdery sand and gentle sea breezes. The fine snorkeling (and fishing in the flats on Owen) is a bonus.
Explore the Underwater Sculptures at Cayman Brac
An expat sculptor and avid diver named Foots has spent over a decade on his grand passion, fashioning life-size statues depicting larger-than-life legends from the Lost City of Atlantis: Elders and Sentinels, a.k.a. priests, lawgivers, and deities. Foots has sunk over 300,000 pounds of material offshore at the former Radar Reef, creating a convincingly mythic and magical sculpture garden wreathed in coral. Though his enormous arch and sundial were toppled by Hurricane Paloma, they're still fascinating viewing. Driving around the island, you can see his latest works in front of his home (and his friends' homes), awaiting their ultimate baptism. Chat Foots up at a bar or restaurant and he might just ask you to pose for a sculpture.
Hear the Calypso Sounds of Island Icon Barefoot Man
The Caribbean has a long tradition of Jimmy Buffet wannabes putting their own spin on Reggae and Calypso music Barefoot Man,who's been charming both locals and visitors for two decades, is a classic example of this tradition. Imagine Jimmy Buffett or Brian Wilson meets Bob Marley…after a couple of very strong rum punches. You can catch Barefoot once weekly at both Tides (a.k.a. Pelican's Reef) and The Wharf. Other regular island performers of note include Lammie (a reggae Elvis) and Hi-Tide.
Visit Seven Mile Beach in Grand Cayman
Perennially voted a Top-10 Caribbean strand, Seven Mile Beach is a mere 6.5 miles long, but its personality changes several times as it unfurls along the coast. The sections on either end, closer to George Town and West Bay, aren't as expansive but feature superb snorkeling. The larger hotels–Grand Cayman Marriott Beach Resort, The Ritz-Carlton, Grand Cayman, The Westin Grand Cayman Seven Mile Resort & Spa, and the newer Kimpton Seafire Resort + Spa–anchor the central sections, their beach bars and restaurants dictating the ambiance and pace. For a more raucous–bordering on raunchy–beach bar experience, try Calico Jack's (now part of the Kimpton Seafire Resort + Spa). Or, opt for a more refined tipple at Royal Palms and Luca.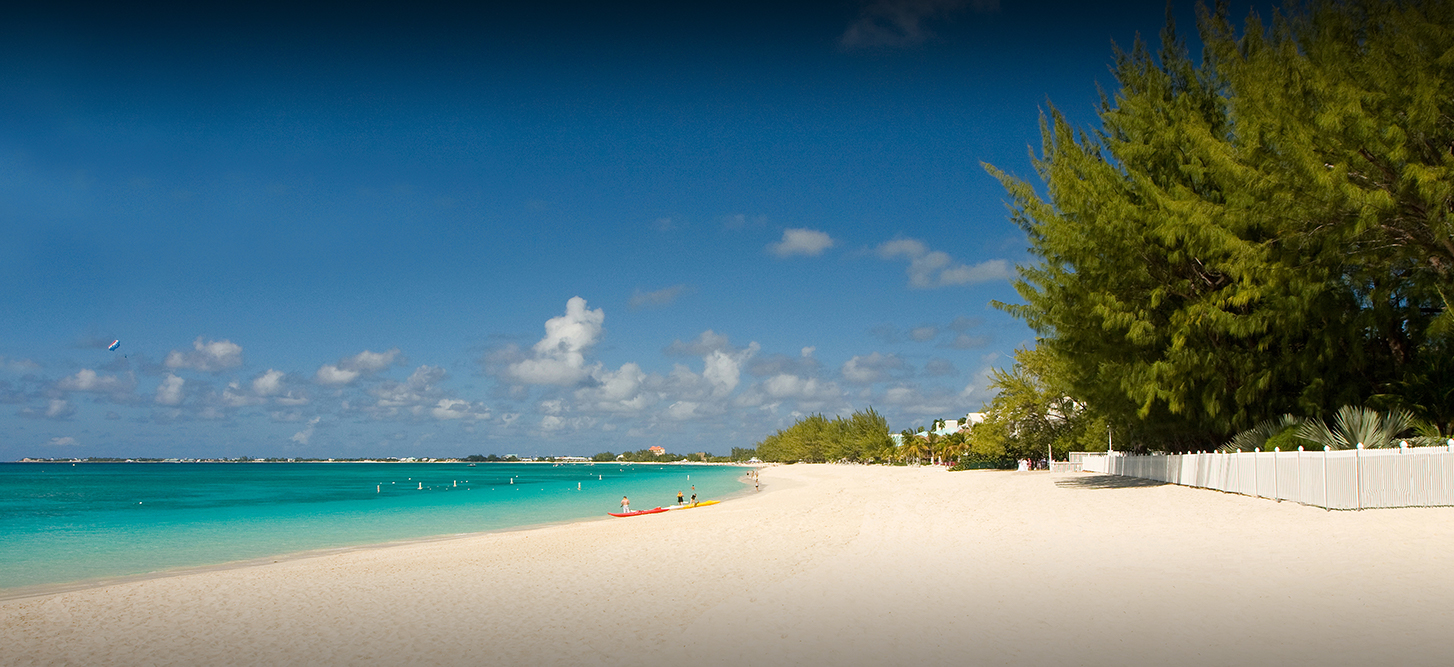 Dive the Bloody Bay Wall into the Cayman Trench
Little Cayman boasts one of the world's top dive sites, Bloody Bay Wall. Hanging gardens of anemones, gorgonians waving like come-hither courtesans, and pyrotechnically-hued schools of fish await happy divers. While you'll come face-to-face with groupers that outweigh you (not to mention sharks and barracuda), the wall was named not for predatory attacks but a deadly colonial naval skirmish. Less heralded yet just as striking is the adjacent Jackson Wall, also part of the designated Bloody Bay Marine Park.
Indulge in a Caybrew, the Local Beer
One of the best ways to sample a taste of Cayman is at happy hour, when several restaurants offer a tempting tapestry of tapas-style nibbles. Best of all, eateries like Cayman Cabana, The Wharf and Rackam's Waterfront also offer live entertainment: from local bands to feeding tarpon, illuminated by the setting sun.
Go Horseback Riding at Barkers National Park
For those who want to relive childhood fantasies of The Black Stallion or Black Beauty, galloping through crashing surf along a virtually deserted beach, the horseback riding companies organizing rides along Barkers make a winning proposition. Some outfits such as Pampered Ponies and Cayman Horse Riding even organize an actual swim with the horses. Usually hoofprints in the sand are the only sign of life, aside from the stray wild chicken (your guide will explain). It's an elemental Robinson Crusoe experience.
CAYMANIAN DISHES
With food as vibrant and colorful as the island itself, Cayman surpasses the rest of the Caribbean when it comes to the culinary scene. Blending spices, seafood and fresh bounty to create unique and flavoursome dishes, simply just trying the food in Cayman reason enough to visit.
A type of sea snail, conch is delicious in a stew, soup, fritters or in a salad. Typically known as the national dish in the Bahamas, Cayman conch is equally as appetizing. During conch season (November- April) you'll find conch on most menus. Take a drive out to North Side, dine by the sea and tuck into some of the best conch stew at 'Over the Edge' restaurant.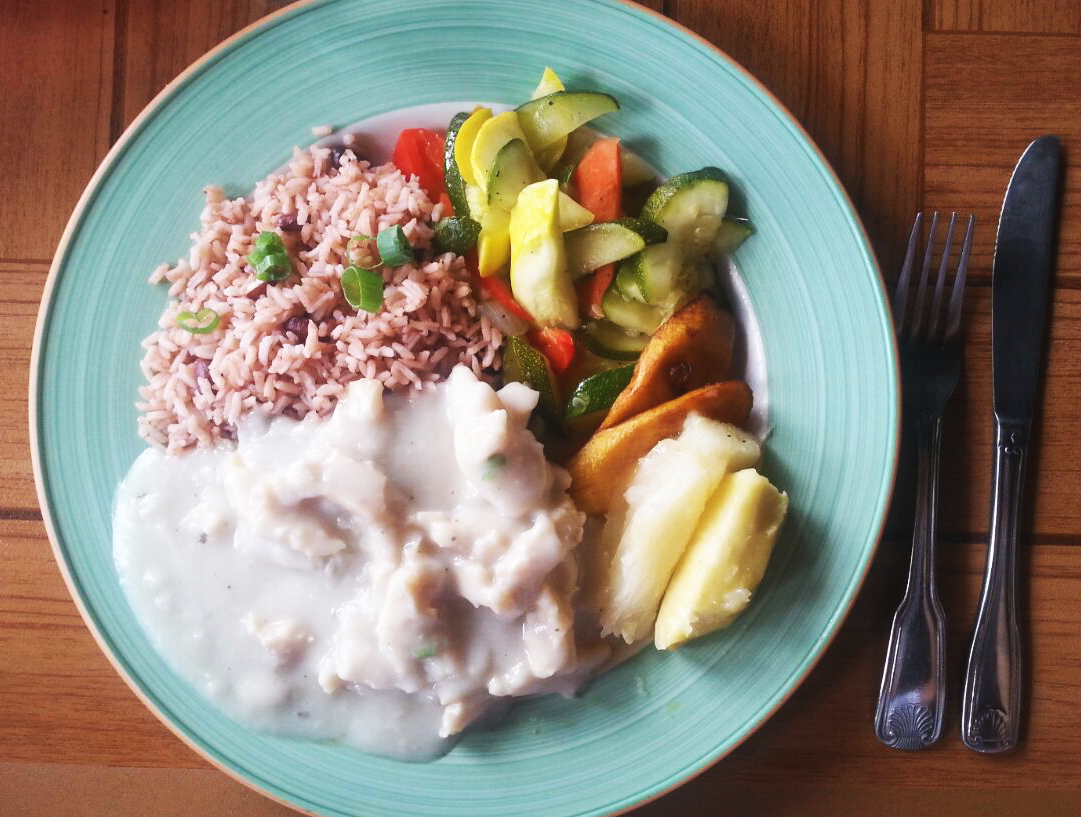 Small, deep-fried dumplings, Johnny Cakes make great starters or sides. These Caribbean delicacies are great on their own, with butter, jam or with sautéed fish. Get a taste of these little treats at the 'George Town Yacht Club' by the airport.
Native to Jamaica, this spicy dish, made with scotch bonnet peppers and allspice, is probably the most famous of the Caribbean foods. With smoking, delicious-smelling jerk stands scattered across the island, if you're craving some juicy meat with a kick, you won't be disappointed.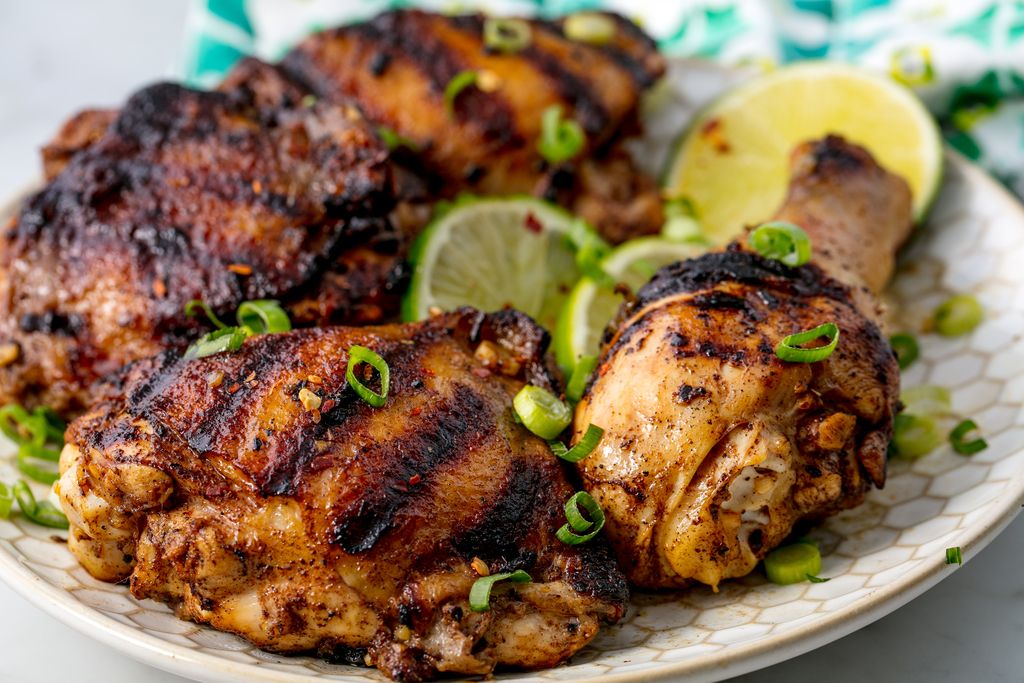 Lobster in the Caribbean is a delicacy and quite frankly, the best of its kind. You'll find succulent, irresistible lobster dishes in risottos, pastas and even patties all over the island, but one thing you simply must try is Cayman-style lobster tails from 'Deckers' on Seven Mile Beach. Cooked with hot sauce and scotch bonnet peppers, this spicy, tender dish is nothing short of exquisite.
The most tender meat you'll taste in your life. Cayman-style beef, or stewed beef, is slow-cooked shreds of meat, tossed with hot spices and left to soak up the juices. Yum.
A true taste of Cayman, fried fish, usually whole mahi mahi, grouper or snapper, originates from Cayman's seafaring past. Fillets are marinated in lime, salt and pepper and fried with onions, peppers, butter and spices for a delicious, crispy, old-fashioned Caribbean dish.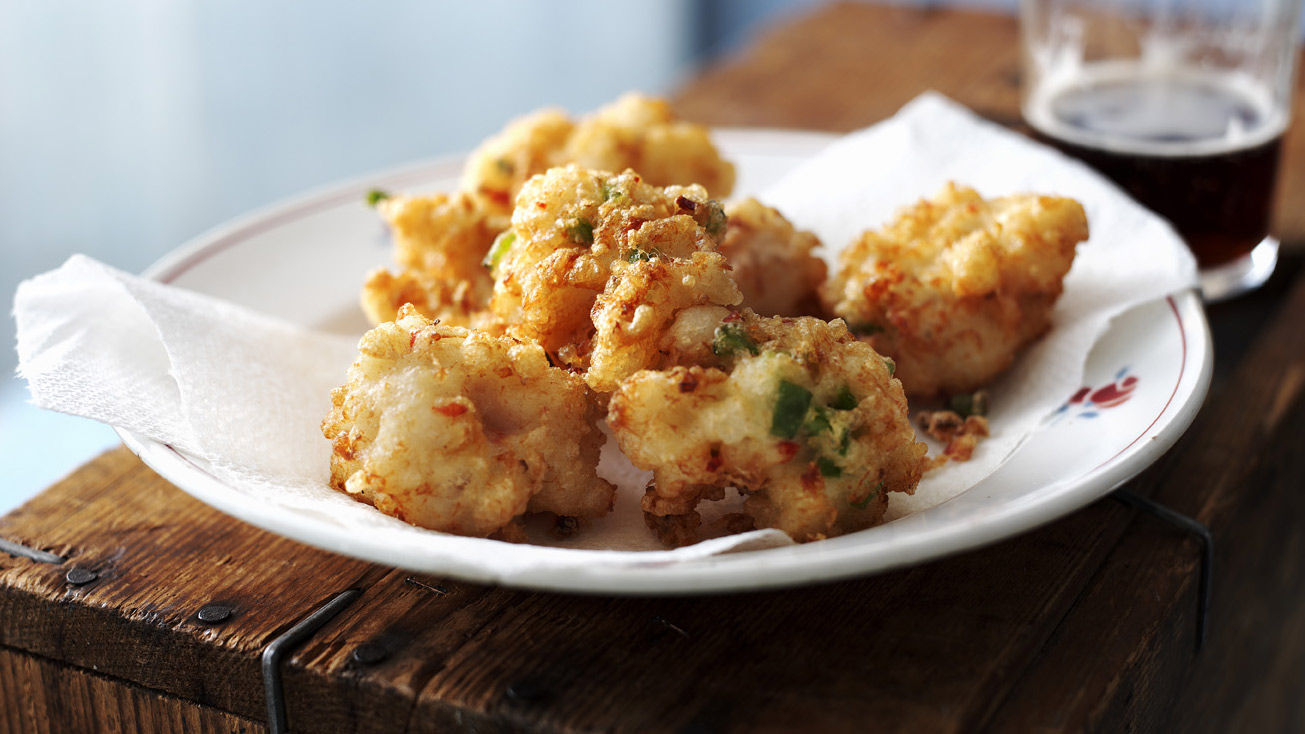 Succulent seafood dishes are aplenty in Cayman and an island favourite is coconut shrimp. Deep-fried and coated in coconut shavings, this isn't a meal to miss out on.
Whole fish fried to perfection served up on a bed of rice and beans and a side of plantains, mash and fritters- a true taste of the Caribbean.
CASSAVA CAKE ( HEAVY CAKE)
A root vegetable, cassava is actually native to Central and South America but very popular all over the tropics. Made with coconut milk, sugar and other spices for a dense, sweet taste, cassava cake (or heavy cake) is considered a traditional Caymanian dish. This tasty desert came about centuries ago when the lack of resources forced Caymanians to get creative in the kitchen. Get a mouthful of it at 'Grand Old House' in South Sound.
A traditional Caribbean breakfast, this is Jamaica's national dish and popular in the whole of the Caribbean. It may look like some kind of scrambled egg, but ackee is actually a fruit. It's boiled and mixed together with salt cod, onions, scotch bonnet peppers, tomatoes and spices for a tasty (and salty) meal. Get a serving of the good stuff at 'Paradise Restaurant' in Cayman Brac.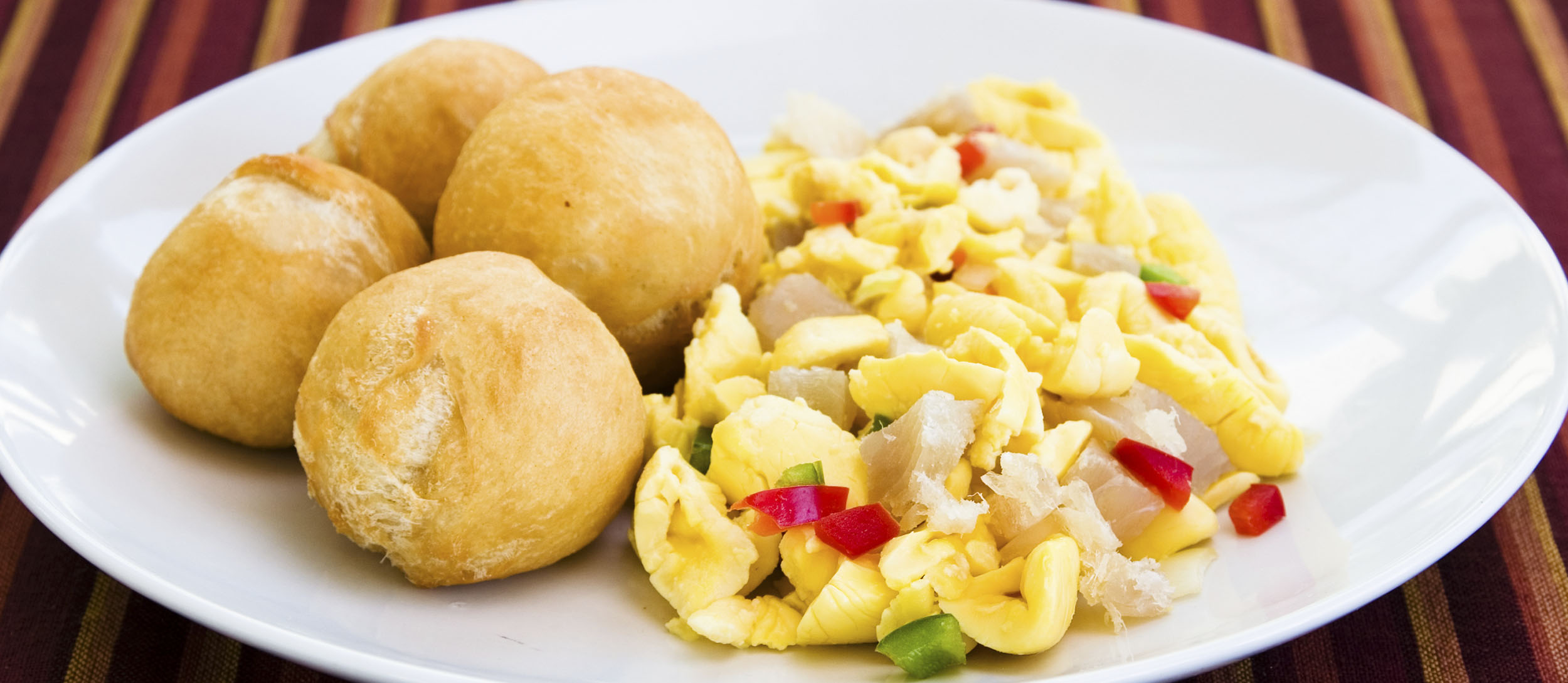 Perfect for a cool day or when you're in search of comfort food, conch soup is a great take-away lunch option, snack or paired with some bread for an evening meal. 'Heritage Kitchen' in West Bay is a popular choice.
A true delicacy and perhaps the most traditional meal in the Cayman Islands, 'turtling'- or farming for turtles, dates back to the 17th Century, and even now turtle stew is a favourite among locals. All turtle meat on island comes from the Cayman Islands Turtle Farm where they also serve up turtle soup at the on-site restaurant.
Entry & Exit Requirements
All citizens of the United States are required to have a valid passport to enter the Cayman Islands. There is a departure tax for travelers 12 and older that is included in the cost of airfare.
Safety
Grand Cayman, Cayman Brac and Little Cayman experience little crime, but you should lock your valuables in the hotel safe for the duration of your trip; theft of small tech items like smartphones and laptops has been on the rise. There are also a few health issues to keep in mind during your trip.
Mind the sun
The sweltering Caribbean heat could take you by surprise, so it may be best to take it easy on your first day on the islands. Remember to wear sunglasses, drink water and apply sunscreen regularly during your trip. This will not only help you avoid sunburn, but also heat stroke, the symptoms of which include fever, chills, headache, nausea or dizziness.
Respect the bugs
Dusk in the Cayman Islands brings out the "no-see-ums," tiny gnats that like to pester and bite. Slather on some bug spray and insect repellent before heading out for a night on the town.
Dive with care
Divers in the Cayman Islands should receive proper training before attempting even the most basic expeditions, and never dive alone. Keep an eye on weather conditions, as strong currents can wreak havoc on your underwater adventure.