Bora Bora saari matkaopas turisti-info
Bora Bora saari matkaopas turisti-info
Bora Bora island | Turisti-info
Bora Bora is a dream destination smack in the middle of the South Pacific. The French Polynesian island is famous for its crystal waters in 50 shades of blue, and luxury accommodation in over-the-ocean bungalows that come complete with a private balcony stepping straight into the sea.
It's a popular destination for honeymooners and just about anyone who likes to be pampered on an island while never being more than 10 steps away from tropical waters.
This is the place that dreams are made of. If you want to have your mind blown the second, you step off the plane, start in Bora Bora. turisti-info
Bora Bora is part of the Leeward Islands of French Polynesia, in the Pacific Ocean. Visitors come for its tropical climate and stay in resorts and over-water bungalows among the multiple islands of the Bora Bora island group. Many visit Bora Bora to get away from the hustle and bustle of modern life.
Bora Bora is exclusive and expensive because it is very hard to get to. There are limited flights to Bora Bora (only four per day), and they all originate in Tahiti.
Hotels are few and fancy, ranging from $400–$2,000 per night for the lowest standard rates.
The average cost for a week-long holiday in Bora Bora starts at around $11,000 for two.
There's one airport, Motu Mute Airport, and the vast majority of the island's pleasures, pastimes, and attractions are water-based, though there are some WWII relics on land.
Travel to Bora Bora and enjoy the turquoise lagoon and Mount Otemanu, the island's highest point that's testament to the volcanic origins of one of Polynesia's most beautiful locations.
A typical over-the-water bungalow will run you at least $1,000 a night. If you were paying full price, you'd have to save an enormous amount for this kind of holiday
There is no public transport on Bora Bora, so visitors get around by rental car, bicycle or small, two-seater buggies, which are available for hire in Vaitape, the island's largest city and administrative center. The main island is small enough to travel around in three hours or so, but the lagoon is significantly bigger. It's here and on the reef that pastimes like snorkeling, diving, canoeing, cruises take plac, jet skiing, and just spending every possible moment enjoying the beautiful outdoors. This place is all about the laidback island lifestyle..
You won't find a crazy nightlife, but you will find beautiful five-star resorts all over the island. The island has a range of big-name options. Most of the options in Bora Bora are resorts loaded with amenities, and it's easy to spend most of your days just living it up on private beaches.
GETTING TO BORA - BORA
Getting to Bora Bora is relatively easy, though it can be a long journey depending on where you are coming from. Your first step will be to fly into Fa'a'ā International Airport on the island of Tahiti. From there you can take a domestic flight to Bora Bora, which usually takes about 50 minutes. The properties in Bora Bora are meant for doing nothing but relaxing and treating yourself, so kick back and enjoy.
IDEAL TIME TO VISIT
Temperatures in Bora Bora are fairly stable year-round with lows averaging in the mid-70s and highs reaching up to the mid-80s. You can visit Bora Bora any time of the year, though June through October are generally considered the "peak" months for tourist visitation. During this time you will generally experience the "dry season", which generally means less rain, reduced humidity, and slightly cooler temperatures.Rainfall is most common during the summer months from November to April, which can also come with high humidity. Many people also choose to visit during the shoulder months of April, May and November, when the weather is still beautiful but the resorts are less busy (and often slightly cheaper).
WHERE TO STAY
Bora Bora has loads of options for accommodation! First you need to decide whether you want to stay at a resort, guesthouse, vacation rental, or on a cruise/yacht. Most people who think of Bora Bora picture beautiful overwater bungalows and resort style amenities… which is the romantic experience my husband and I were looking to have! Just keep in mind that it isn't the only type of lodging available.
CONRAD BORA BORA NUI
The resort is located on a private island around the backside of Bora Bora, so although you don't get as many views of Otemanu (Bora Bora's iconic mountain), you do get to experience more solitude and calmer waters. The Conrad Bora Bora Nui has a range of different room styles like the King Deluxe Overwater Villa, The room itself was so well put together, spacious, modern, and had everything you could have wanted. The villa had a huge deck featuring floating overwater hammocks, sun lounging chairs, and a freshwater shower. You can swim right off the edge without fear of being swept out to sea and the water was crystal clear! One of our most memorable swimming experiences you will ever had was floating and staring up at the stars one night, right off the deck of our own private villa.
Another feature you will loved about The Conrad Bora Bora Nui was that you had the opportunity to ride bikes around the resort. You will found this to be so fun and also a great way to quickly get around! Other on-site activities included mini golf, SUP boarding, kayaking, swimming in the infinity pool, tennis, and snorkeling. In fact, the resort had some magnificent coral gardens and we saw plenty of colorful fish!
Enjoy the food options at The Conrad, with the tasty amazing buffet breakfast spread and the Upa Upa lounge bar and sushi restaurant. It was also great getting to attend a traditional Polynesian performance one night, which included fire dancing and beautiful songs.
FOUR SEASONS RESORT BORA BORA
The resort has numerous villa options, including overwater bungalows with and without pools, and gorgeous beachfront villas. Another thing you will surely love about the Four Seasons Bora Bora was all the beautiful walking paths situated around the resort's protected lagoon. Fells like you had stepped into the jungle and you can also enjoy strolling around and watch fish swim below in the lagoon. The lagoon was teeming with gorgeous corals and colorful fish, with complimentary snorkel equipment provided for all guests.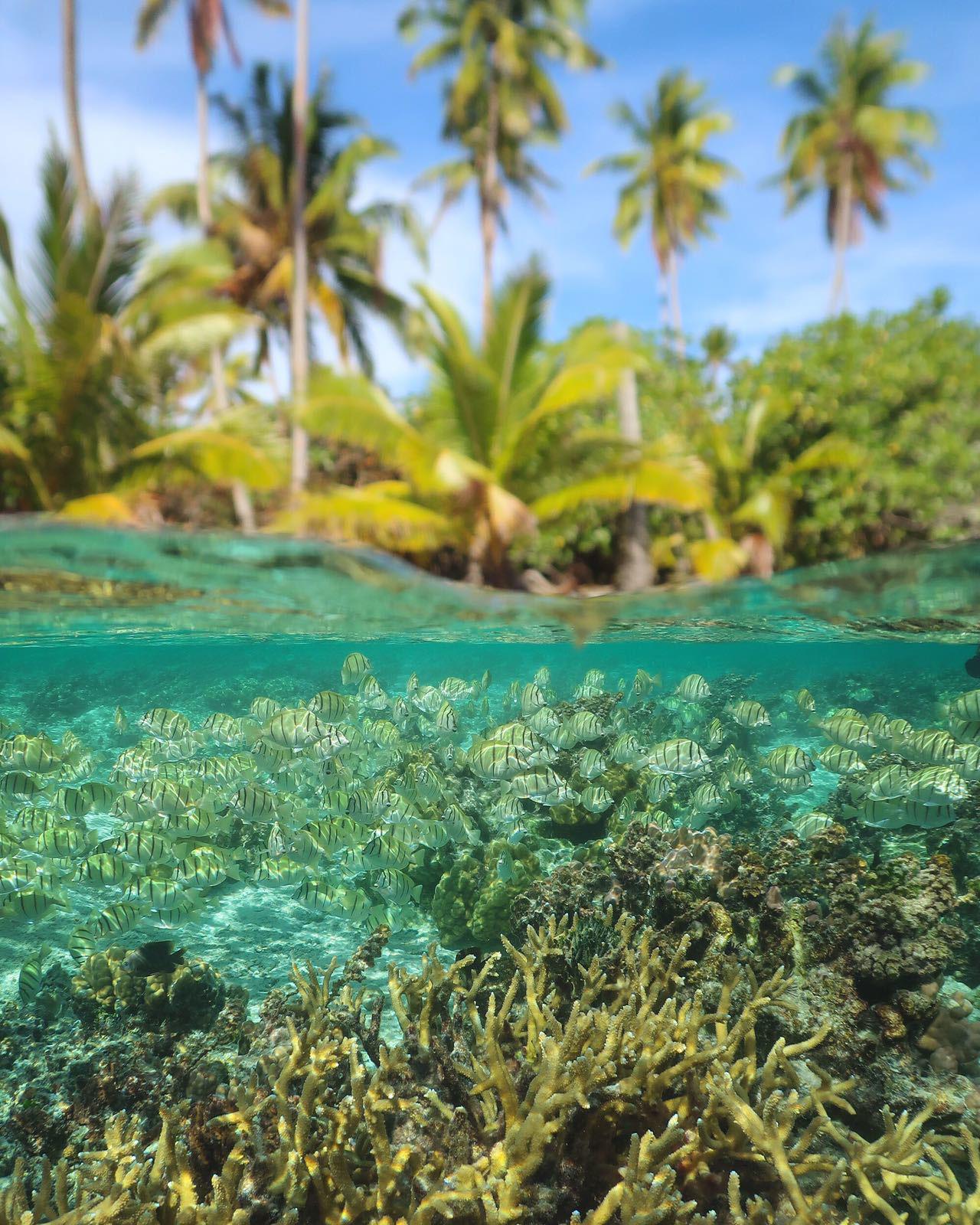 BEST THINGS TO DO
Some people visit Bora Bora purely for a relaxing and romantic getaway, whilst others are looking for a bit of adventure as well. Enjoy your vacation and engage your self to beautiful scenery, opportunities to relax, and also fun activities to try out. Bora Bora definitely has all three!
Below are some of the activities you can take part in:
Stand-up paddle boarding
Dolphin and whale watching
Scenic flights
Kitesurfing
ATV excursions

Fishing tours

Scuba diving

Hike Mount Pahia

Explore Vaitape
If you are looking for more romance focused activities then the following are an option:
Private island ("motu") picnic or dinner
Couples massage or spa treatment
In-bungalow dining experience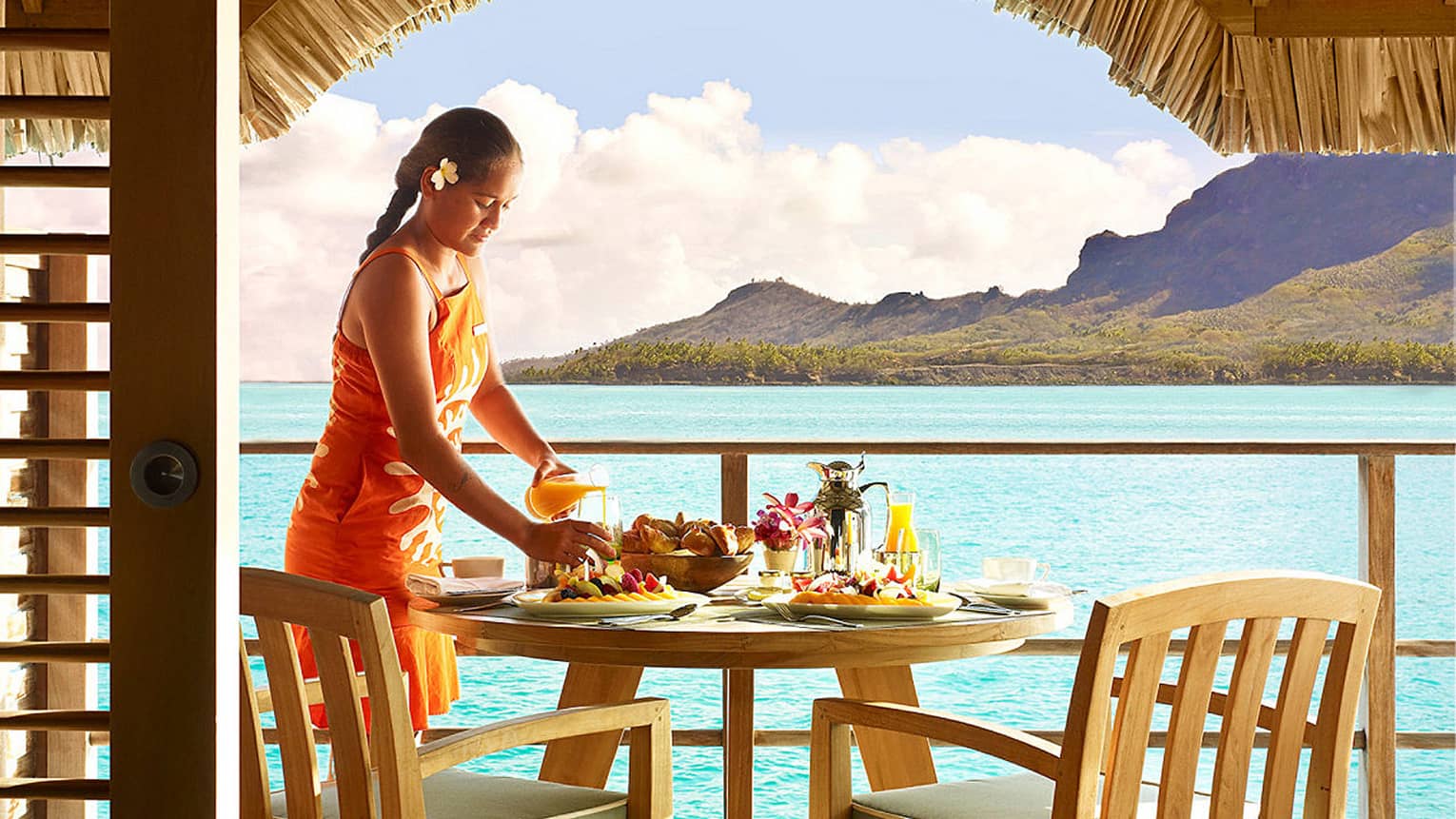 Scenic flight over Tupai (heart shaped island)

Sunset cruise and star gazing
WHAT TO EXPECT
Language: French is the official language of French Polynesia.
Currency: The local currency of French Polynesia is the French Pacific Franc (CFP). 1 USD is equivalent to 105.37 CFP. While the US dollar is widely accepted, you'll still need to have some of the local currency for smaller purchases.
Credit Cards & ATMs: You can use your credit card at most hotels, car-rental companies, restaurants, and shops on the islands. However, you should always have cash on you in case it's not possible to pay with a card. An ATM in French Polynesia is called "billetterie." You'll find ATM's at the banks on the main islands as well as some of the post offices.
Plugs: On the islands, the power plugs are type A, B, and E. The standard voltage is 110/220 V, and the frequency is 60/50 Hz. I recommend buying a universal adapter (make sure it has surge protection) and using a converterfor hair dryers and hot tools.
Safety: The islands of French Polynesia are amongst the safest on the planet. There are occasional break-ins in hotel rooms and bungalows, but it's nothing you need to be too worried about. Don't leave valuables alone and don't walk around by yourself on deserted beaches.
ENJOY YOUR TRAVEL !
Matkat suomesta tarjoaa: