bali
PARADISE OF BALI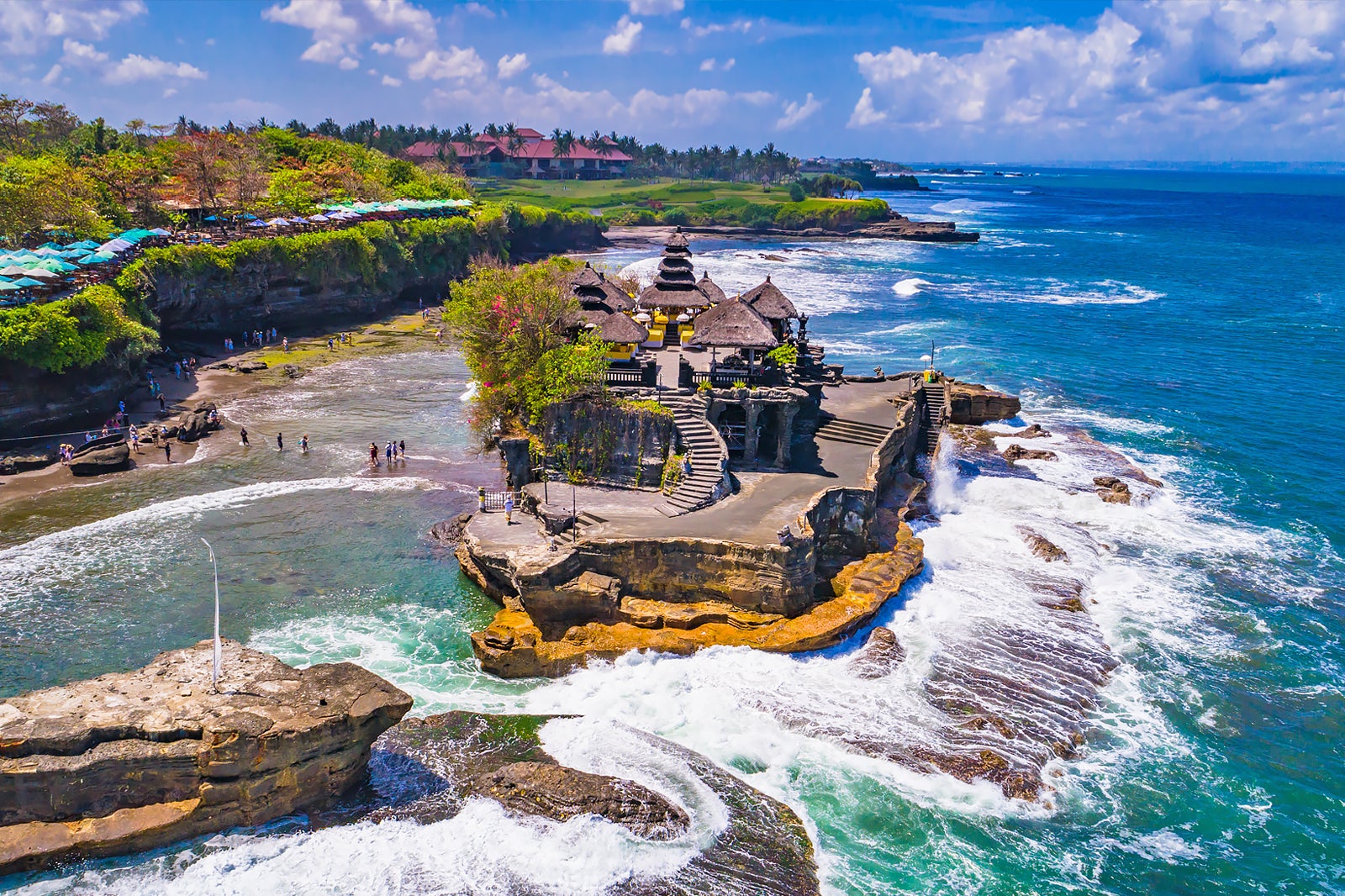 The mere mention of Bali evokes thoughts of a paradise. It's more than a place; it's a mood, an aspiration, a tropical state of mind.
BALI
Bali is Indonesia's most famous tourist destination. The tourism industry is the province's main source of income, fueled by tourism-related businesses like hotels and resorts, tour agencies and operators, etc.
Aside from making up the majority of the province's economy, tourism also led to the development of more sophisticated arts and crafts. It also revived some of the traditional dances and customs that are otherwise left buried and forgotten. Natural attractions also abound in Bali — both on land and underwater. Rice terraces, mountains, islands, beaches, jungles, caves, waves, and marine life are the draw for the adventurous. All these and more propelled Bali to rise as one of the world's top destinations.
Essential Information:
Language: The most widely spoken languages are Indonesian/Bahasa Indonesia and Balinese. Most people understand and speak English too.
Religion: Over 80% of the residents practice Balinese Hinduism, which is unique in Indonesia, a predominantly Muslim country. It is important to be respectful of their way of life, especially when visiting spiritual sites like temples. The island also observes Nyepi Day (Day of Silence), which we will discuss below.
Time Zone: GMT+8 (Central Indonesia Time). Bali is in the same time zone as Manila, Singapore, and Kuala Lumpur; and an hour ahead of Jakarta.
Currency: Indonesian Rupiah (IDR, Rp). USD 1 is around IDR 15.855.00 and EUR 1 is around IDR 17.220.91 (as of April 2020)
Modes of Payment: Most of the stores and restaurants transact in Rupiah, but major credit cards are accepted by most hotels, fine-dining restaurants, and souvenir shops. I noticed that quite a number of establishments have large signs that say they prefer Mastercard. Others like Visa and American Express are accepted too.
HOW TO GET TO BALI :
The primary gateway to Bali is Ngurah Rai International Airport, also known as Denpasar Airport or Bali Airport. It is situated in the southern part of the island near the capital, Denpasar, and located between Kuta and Jimbaran. The airport is one of the busiest in Indonesia and connects to major cities and airports, both domestic and international.
Travelers arriving in Bali are requested to fill out two forms: Custom Declaration Form and the yellow Health Declaration Form. No need for Arrival Card. If you are arriving as a family, you need to fill out only one Custom Declaration Form. Our forms were given to us onboard.
BALI AIRPORT TO KUTA, LEGIAN, SEMINYAK OR CANGGU:
A majority of tourists choose these four areas as their bases:
Kuta, Legian, Seminyak, and Canggu. All of them are located north of the airport on the southwest coast of Bali.
Here are your options for the mode of transportation from the airport to any of these tourist areas:
WHERE TO STAY IN BALI:
Tourism has transformed Bali's fishing villages into resort towns. Because it has become the primary source of income for locals, Bali has undoubtedly mastered the art of hospitality management. It has the widest selection of accommodations in Indonesia, from budget to luxurious options. Many of these properties take pride in excellent amenities and friendly service, so it is not hard at all to find a place to stay. If anything, there are too many choices.​
But what is the best area? Well, that depends on what you're in Bali for — your travel style, preferences, and itinerary. Every corner has its own pros and cons. It's important to be familiar with the geography of the island.
Bali is composed of eight regencies and one city, Denpasar. But for tourists, you can simply split the island into four regions:
South Bali. The southern portion of Bali is the island's tourism hub. The majority of the accommodations, restaurants, cafes, bars, shopping areas, and attractions are found in the south. There are several surfing spots that draw adventurous travelers to the area. Tourist hotspots: Kuta, Legian, Seminyak, Canggu, Jimbaran, Uluwatu, Nusa Dua, Benoa, Sanur, Denpasar, and the southeast islands — Nusa Lembongan, Nusa Penida, and Nusa Ceningan.
Central and East Bali. The central and eastern portions are mountainous and are perfect for agriculture and coffee production. East Bali is home to the massive active volcano, Mount Agung, the mother mountain. Ubud is situated a little bit north of Denpasar. It is the arts and culture hub of Bali. Other attractions are dive spots from Amed and Tulamben and a ferry port to Lombok in Padangbai. Tourist hotspots: Ubud, Amed, Tulamben, and Padangbai.
North Bali. The northern coast of Bali offers beaches, but the shores have dark to black sand. Also a jump-off point to certain dive spots. Tourist hotspots: Lovina and Singaraja (the old colonial capital).
West Bali. The western portion also offers both water and mountain activities. The shores here, like the northern area, have dark to black sand. Medewi is good for surfing, while Menjangan Island serves as a diving spot option. West Bali National Park is perfect for those who love to hike and trek. Tourist hotspots: Medewi, Pemuteran, and Menjangan Island.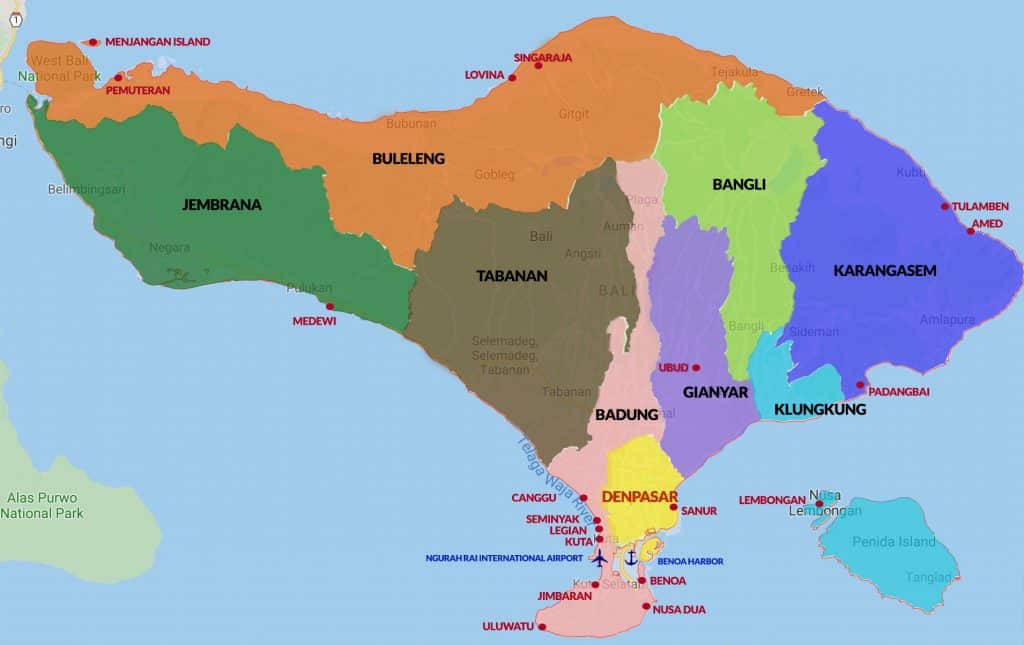 The red-labeled places on the map are the key tourist areas in Bali. As you can see, most hotspots are located along the southern edge of the island, particularly in the Badung regency. Kuta, Legian and Seminyak are all within this area. Even the islands airport — the Ngurah Rai International Airport, which is often called Denpasar Airport, is actually in Badung and not in Denpasar.
Here are some tourist hotspots in Bali. We also added the top affordable hotels in each area.
Kuta:
Kuta District in Badung Regency has the highest concentration of accommodations in Bali. Although there are high-end hotels here, the town is known for its budget- and backpacker-friendly accommodations.
Kuta is the most popular among visitors. There's a reason for that. The location is very convenient because it's along the main road and in the town center. You'll easily find almost everything that you might need here — ATMs, money exchange kiosks, banks, convenient stores, shopping places, restaurants and bars, tour agencies, and motorcycle rentals. It is also the home base of many tour agencies and operators. Many tour packages also start here.
Kuta is best known for its beach, where many surfers flock to ride the waves. This place put Bali on the map of international tourists. It is also famous — or infamous, depending on how you feel about it — for its vibrant, energetic nightlife.
It is important to also know that Kuta is crowded and very busy. If you're after some peace and quiet, Kuta is definitely NOT for you.
TOP HOTELS IN KUTA :
Best for: Budget travelers, backpackers, party animals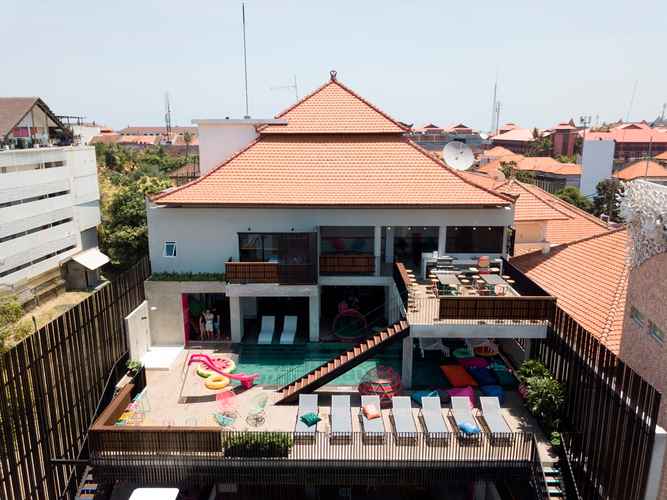 Seminyak:
Best for: families, travelers with bigger budget, those who love all the good things Kuta has to offer but hates big crowds
Seminyak is Kuta's less popular but classier stepsister to the north. When it comes to lodging options, think of it as the high-end version of Kuta. It is lined with plenty of luxury hotels, villas, and spa resorts. Many of them also cater to families and big groups. There are also several fine-dining restaurants, high-end shops, and chic bars, and trendy spots.
Like Kuta, it is a surfer's paradise. It's also located along the same coast, so they share the same view of the sunset. And it's also pretty accessible from the airport, albeit a little bit farther.
TOP HOTELS IN SEMINYAK
Ibis Styles Bali Petitenget.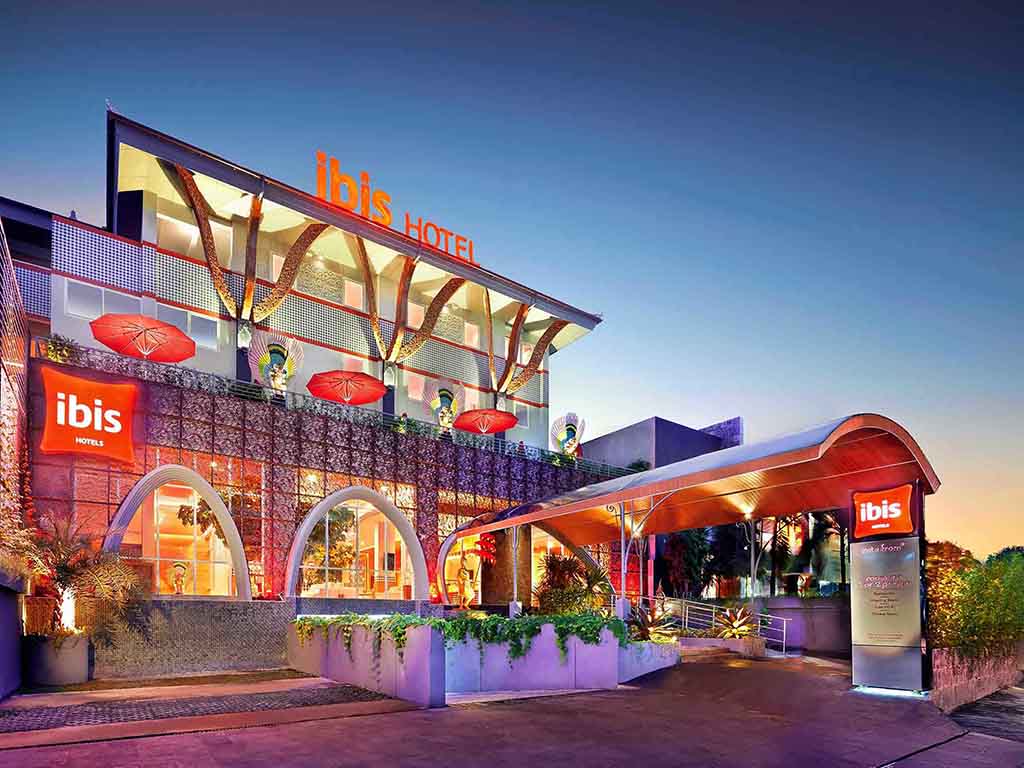 Legian:
Best for: travelers who want the best of both worlds (Kuta & Seminyak)
Situated between Kuta and Seminyak, Legian is a suburb that offers the best of both worlds. Locals joke that it is best for people who want to experience Kuta but don't want to stay there and who want to stay in Seminyak but can't afford it. But on a serious note, because both districts are accessible from Legian, it really offers a great balance. It's quieter and less busy than Kuta, but it's less expensive and chic than Seminyak. But it is quieter compared to the two.
TOP HOTELS IN LEGIAN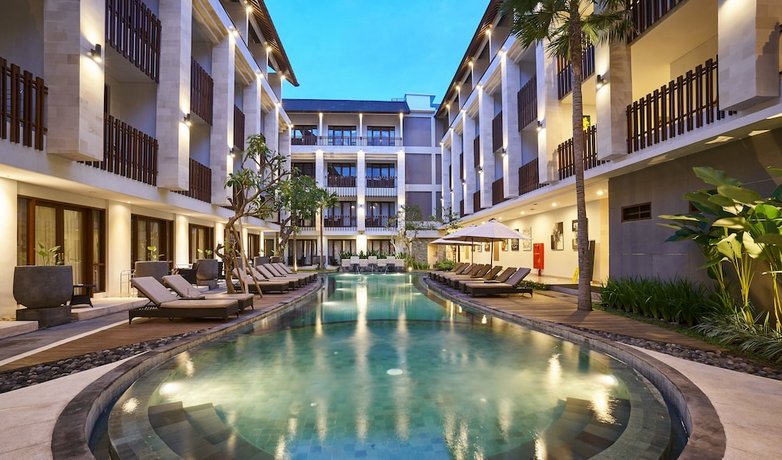 Sanur
Sanur was once the tourist hub in Bali. Together with Kuta, in the early days of Bali as a tourism juggernaut, Sanur underwent development ahead of the others. However, Sanur retained its tranquility despite the developments that happened there. While Kuta is sometimes called Sunset Beach, Sanur is often referred to as Sunrise Beach because it faces east.
Sanur is a good place to swim and relax by the beach and offers family-friendly accommodations.
TOP HOTELS IN SANUR
Kembali Lagi Guest House.
Ubud
Best for: travelers seeking some peace of mind and cultural experience
Ubud is the heart and soul of Bali. Although it has become busier as more tourists flood in over the years, it remains the island's cultural core. Most visit Ubud only on a day tour. But it has a lot to offer for those who want to immerse in the rural, spiritual side of the island. Staying here means you get easy access to breathtaking scenery, nature, temples, and the traditional Balinese way of life.
TOP HOTELS AND GUESTHOUSES IN UBUD
HOW TO GET AROUND BALI
There are choices aplenty for the modes of transportation to get around Bali. Here are your options:
Joining a group tour. Most tourists prefer to join group tours to get to famous attractions. These tours are offered by hotels, travel agencies and tour operators.
Private Charter with Driver. This is our recommended option if you're part of a group (with friends or family). This way, you have total control of your time and itinerary for 10 hours. This usually includes an English-speaking driver, gasoline, and driver meal. You just need to discuss it with your driver if your itinerary is feasible.
Tourist Shuttle. Well, from the name itself, this option is more tourist-friendly than the regular public buses in Bali. These shuttles cover the main tourist destinations in Bali. Kura Kura Bus and Perama Bus are popular among tourists. To contact them, you may check their official websites and social media accounts. Kura Kura Bus has a mobile app too!
Regular Bus. Trans Sarbagita is Bali's bus rapid system that serves mainly Denpasar and the southern Bali area. It has fixed routes but no fixed schedule. Other regular buses normally cover long-distance routes. The fare depends on your destination. However, this is not recommended to take if you are pressed for time.
Bemo or Angkot. These are local minivans. They are normally open and non-airconditioned. They look like vans but they work like Philippine's jeepneys.
Taxi. For short-distance travel, tourists hop on a taxi. Taxis are relatively cheap in Bali compared to other countries. The meter starts at IDR 7,000 (PHP25/USD.50/EUR.45) and IDR 6,500 (PHP24/USD.46/EUR.42) per succeeding kilometer. As a rule of thumb, always insist on using the meter.
Ride-Sharing App. Or a ride-hailing app. This should be the most convenient option BUT it's a bit tricky to use ride-sharing apps like GoJek and Grab in Bali. There are certain streets that don't allow these vehicles to pass and certain hotels that discourage their guests from hailing a ride using the app.
Motorcycle or Car Rental. Some travelers who like to be in total control of their time and itinerary opt to rent a car or a motorcycle. A motorcycle is the main mode of transportation used by both locals and tourists. The tourist hubs are bombarded by lots of motorcycle-for-rent ads/signboards. The rental rates range from IDR 70,000 (PHP250/USD5/EUR4.5) to IDR 150,000 (PHP540/USD11/EUR10) per day, depending on the type of motorcycle.
THINGS TO DO IN BALI
The good news is, Bali has a lot to offer. A LOT. You'll never run out of things to do and places to discover even if you stay for weeks. I have friends who are now based in Bali and they still haven't explored many parts of the island.
Here are the best things to do in Bali…
You might recognize Lempuyang Temple by its iconic, Instagram-worthy Gate of Heaven, which frames the majestic Mt. Agung in the background. But this temple, more formally called Pura Penataran Agung Lempuyang, is definitely more than just a selfie spot. Standing on the slope of Mount Lempuyang, it is one of the six holiest places in Bali, which are believed to maintain the spiritual balance in the island.
If you haven't surfed before or are just looking for some gentle waves then you have to come to the most famous beach in Bali which is Kuta Beach.
The beach sits across from a sand bar which means it has rolling surf that is free of any sharp reefs and you can rent a board here and sign up for a surf lesson, or rent a body board if you want to try something a little less strenuous.
Locals and visitors alike come here to watch the sunset and you can relax on the sand with a cold beer and drink in the atmosphere.
Ulun Danu Temple lies at the edge of Baratan Lake in Bedugul in Bali.
This pretty building is dedicated to the goddess of the lake and is one of the quietest and most serene places on the island.
Make sure to check out all the different shrines, each one dedicated to a different god, and look out for the ornate architectural touches such as the intricate carved gates.
Have fun at Bali Treetop Adventure Park
If you want an adrenaline packed afternoon then make your way to Bali Treetop Adventure Park where you will find a range of rides surrounded by lush forests.
The park is great for families as well as groups or couples and has rides for children as young as 4 years old.
There are a range of different circuits that are located high up in the trees and there are nets, swings, and flying foxes galore that let you fly through the air and take in the breathtaking views over the forest canopy.
Go muck diving in Padang Bai
Padang Bai is situated in the east of Bali and is most famous for its diving.
There are seven different dive sites that can easily be reached after a short boat trip from the shore and whatever your diving experience there is something for everyone here.
You can get PADI certified and if you like muck diving then this is one of the best places to do it in Bali and you will find a range of underwater critters like the blue ringed octopus and pygmy seahorses.
There is also a good chance of seeing sharks, turtles, and waving fans and coral gardens.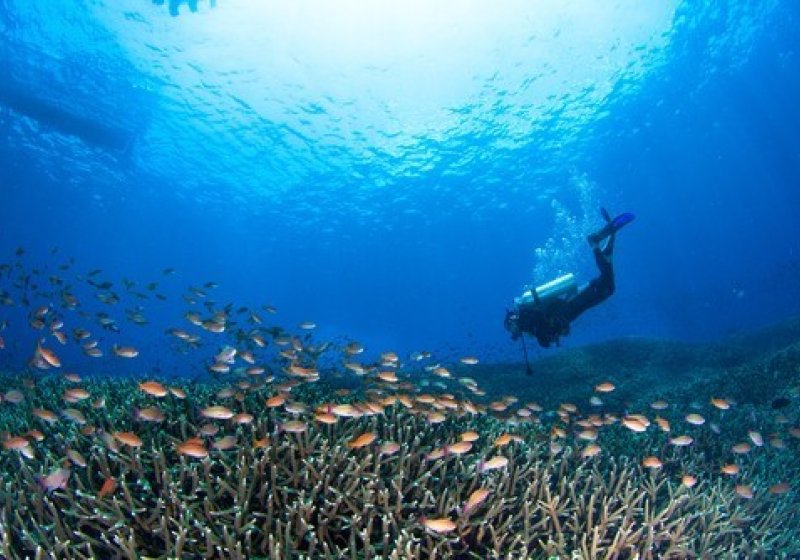 Marvel at Tanah Lot Temple
Tanah Lot Temple is probably the most famous attraction in Bali and is a Hindu temple that sits atop a large and scenic rock formation.
Over the years the sea has separated the rock from the mainland, and at high tide the rock is completely surrounded making this one of the most amazing sights in Indonesia.
Many people flock here for the sunsets around the temple so make sure you go early to get the best spot to watch the spectacle.
When the tide is low it is possible to walk across the sand to the temple.
Explore the paddy fields of Tabanan
Those looking for something a little different in Bali can head to the area of Tabanan which is covered in lush rich paddies that sparkle with an emerald hue under the sun.
The big draw here is that in addition to checking out the scenery you can also get involved and learn how rice is grown and harvested in Bali.
If you are feeling adventurous you can get knee deep in mud in a paddy and pick some of your own.
Go white water rafting on Ayung River
Bali has a huge range of water sports and one of the most exciting is a trip down the Ayung River on a raft.
The river is covered with white water rapids that make for a wild ride and as you float down the Ayung you will pass little local villages and lush forests that let you take in the beautiful vistas here from a completely different vantage point.
Discover a hidden waterfall in Sukawati
Bali is known for its natural beauty and no more so than its stunning waterfalls.
One of the best examples of these is the spectacular Sekumpul Waterfall which lies in a lush valley and is meant to be a sacred spot in Bali.
To get to the waterfall you will need to trek along a secluded path and you won't realize that you have arrived at the waterfall until you suddenly see it peeking out of the undergrowth.
You can swim in the pools beneath the cataract and cool off after the long hike.
WHAT TO EAT IN BALI
One of the ways to immerse yourself in the culture of the place is through the local cuisine. Indonesian food is generally spicy; Bali is not an exception. Here are some dishes to dig into when in Bali.
Ayam/Bebek Betutu. This is a spicy smoked chicken or duck seasoned with bumbu betutu (spicy paste) served with mixed veggies, rice, and sambal.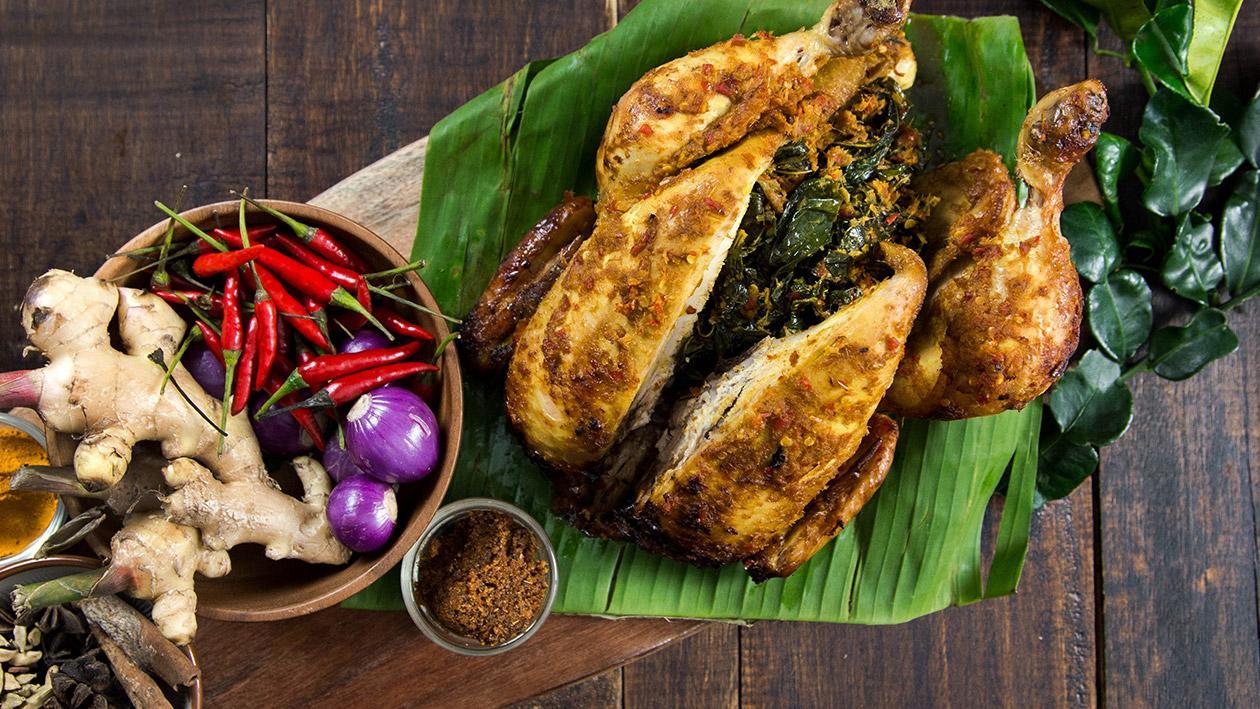 Bebek Bengil/Goreng. This is a crispy duck marinated in Indonesian spices, then steamed, and finally fried.
Sate. Pork satay or chicken satay are common, but lamb satay is also available.
Babi Guling. This is like Philippine's lechon. Also called Balinese suckling pig, Babi Guling is usually served with stewed vegetables, rice, crispy pork skin, and pork sausages. The pig is seasoned with local spices so it's spicy.
Bali Packing Essentials:
Short sleeve tops

Pair of shorts or skirts

Pair of sandals (make them hiking style and they can be your only shoes, unless you're going dancing!)

Pair of underwear

Nice dresses or collared shirts

Swimsuits

Light jackets

Daypack for day trips and adventures

Pair of yoga pants

Athletic shirts

Sarong, for a quick cover up in temples or cool evenings

Water bottle
Final Tips for Visiting Bali
Bali is one of those places you could return to over and over, finding your favorite hideaway and continuing to explore. There really is something for everyone, whether you're a week long tourist or a six month digital nomad.
Hit the beach, or several

Ubud makes a great base, but branch out

Head into the mountains to see the "natural Bali"

Drive through the villages, get out, look around

Visit at least one Hindu temple

Have breakfast at Bali Budha

Go for salad at Alchemy, an amazing raw food restaurant

Get off the beaten path and have an adventure
HAPPY TRAVEL ! :)