usa
usa
AMERICA | Turisti-info
"America's tropical paradise"
Hawaii is a group of islands, each with something special to offer a visitor. From the surfing on Oahu, to the wonders of Maui, to the beauty of Honolulu, to the hidden wonders on Lanai, Hawaii is the great tropical escape for those looking to stay within America. There are beautiful beaches, sunsets are just as stunning as in the movies,the volcanoes, lava fields, amazing jungles, monstrous waterfalls, excellent diving, and world-class waves, are what make the Hawaiian Islands truly unique. Hawaii is a great destination for honeymooners, surfers, and families. Hawaii is brimming with culture and every few miles you travel presents a whole new terrain. Along with a few Hawaiian delicacies there's incredible Asian food including sushi and ramen. Make the most of your Hawaiian vacation by reading this article that may help you score cheaper airfare, save money on authentic local food and choose the best hotel location.So whether you're planning a trip or wondering if Hawaii would be your kind of place, it's time to reveal the experiences to tick off on your first visit.
HAWAII SUNRISE
There are six major islands to visit in Hawaii:
Each has its own distinct personality, adventures, activities and sights.
Kauai is Hawaii's fourth largest island and is sometimes called the "Garden Island," which is an entirely accurate description. The oldest and northernmost island in the Hawaiian chain is draped in emerald valleys, sharp mountain spires and jagged cliffs aged by time and the elements. Centuries of growth have formed tropical rainforests, forking rivers and cascading waterfalls! Some parts of Kauai are only accessible by sea or air, revealing views beyond your imagination. More than just dramatic beauty, the island is home to a variety of outdoor activities. You can kayak the Wailua River, snorkel on Poipu Beach, hike the trails of Kokee State Park, or go ziplining above Kauai's lush valleys. But, it is the island's laid-back atmosphere and rich culture found in its small towns that make it truly timeless. Explore the regions of Kauai and make your escape to discover the undeniable allure of the island.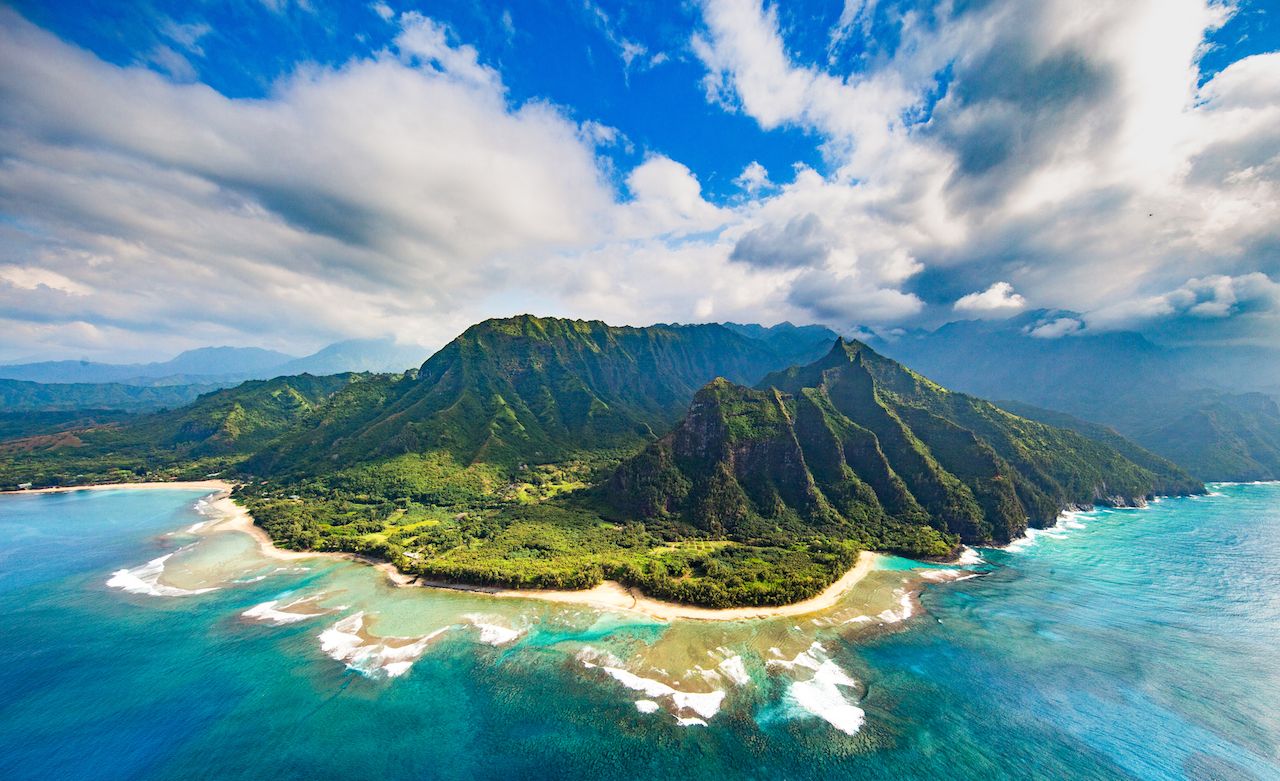 "THE GARDEN ISLAND - KAUAI ISLAND"
Sometimes called "The Gathering Place," Oahu certainly lives up to its name. The third largest Hawaiian island is home to the majority of Hawaii's diverse population, a fusion of East and West cultures rooted in the values and traditions of the Native Hawaiian people. It's this fundamental contrast between the ancient and the modern that makes discovering Oahu — from bustling city life to laidback surf towns — so enjoyable. You'll find plenty of different options for exploring Oahu's different regions, the island's many activities, its eclectic restaurants and accomodations.
" THE HEART OF HAWAII - UAHO ISLAND "
Hawaii's fifth largest island, Molokai is only 38 miles long and 10 miles across at its widest point and is home to the highest sea cliffs in the world and the longest continuous fringing reef. Molokai remains true to its island roots, with a high percentage of its population being of Native Hawaiian ancestry who continue to preserve their rural lifestyle thanks to their love of the land. Whether you're led by a guide along the cliffs leading to Kalaupapa National Historical Park or discovering Papohaku Beach, one of Hawaii's largest white-sand beaches, Molokai is truly an island of outdoor adventure where Hawaii's past comes alive!
" NATIVE HAWAIIAN ANCESTRY - MOLOKAI ISLAND "
The smallest inhabited island in Hawaii, Lanai offers big enticements to its visitors. Only nine miles from Maui yet a world away, Lanai can feel like two places. The first is found in luxurious resorts where visitors can indulge in world-class amenities and championship-level golf. The other is found bouncing along the island's rugged back roads in a 4-wheel-drive vehicle to explore off-the-beaten-path treasures. You're sure to find serenity, adventure and privacy on any of the three regions of Lanai.
" HAWAII MOST ENTICING ISLAND - LANAI ISLAND "
Maui, known also as "The Valley Isle," is the second largest Hawaiian island. The island beloved for its world-famous beaches, the sacred Iao Valley, views of migrating humpback wahales (during winter months), farm-to-table cuisine and the magnificent sunrise and sunset from Haleakala. It's not surprising Maui has been voted "Best Island in the U.S." by Condé Nast Traveler readers for more than 20 years.
"MAUI ISLAND CRUISE PORT"
The island of Hawaii is the youngest and largest island in the Hawaiian chain. Nearly twice as big as all of the other Hawaiian Islands combined (hence, its nickname, "Big Island"), its sheer size is awe-inspiring. You can travel through all but four of the world's different climate zones here, ranging from Wet Tropical to Polar Tundra, a result of the shielding effect and elevations of the massive volcanoes Maunakea and Maunaloa. From the many geological features at Hawaii Volcanoes National Park to the snow-capped heights of Maunakea; from the lush valleys of the Hilo and Hamakua Coasts to the jet-black sands of Punaluu Beach, the island of Hawaii is an unrivaled expression of the power of nature. However you decide to experience the island, it is sure to leave you humbled!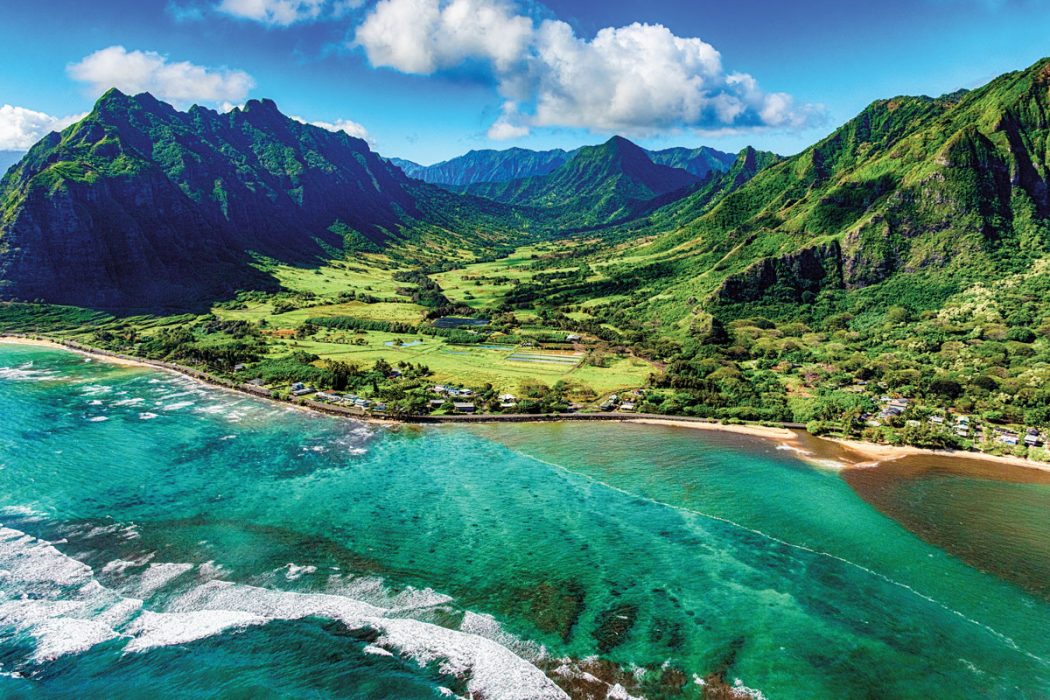 " THE BIG ISLAND "
GETTING TO HAWAII :
At the 27th busiest airport in The United States, Honolulu International Airport (HNL) is Hawaii's major airport serving as the major entry point for most visitors. All major domestic and many international carriers serve Oahu, so you can get here from just about anywhere. There are also direct flights from the continental US to Maui, Kaua'i, and Hawai'i Island.
How much should your daily budget be in Hawaii?
Let's be real, paradise is expensive.
Food average $10 to $15 per meal. Per person, I would say about $50/day on food alone.
Tours/Activities: $70 to $120
*This isn't including shopping, transportation services, and accommodation.
Hawaii Entry Requirements:
Contrary to popular belief, Hawaii is like any other continental United States, so you do not need a passport if you are an American. If you are traveling to another country after Hawaii or an international traveler visiting Hawaii then a passport is needed.
Please note the following entry requirements for travel to the United States:
You must hold a passport valid for at least six months from the date you enter the US. You must be on a short and temporary visit.
You must agree to leave the US before the expiration of your visa.
You must hold a valid passport for the intended period of stay.
You must hold a valid visa issued by the US Embassy or Consulate. You must maintain your identity as a foreigner during your stay.
You must comply with all requirements on visa issuance.
For more information, please contact the US Embassy or Consulate in your country.
When to travel?
As far as temperature goes, the islands remain at a perfect temperature between 75-85 degrees (23-29 celsius) year round. It rarely reaches above 90 degrees (32 celsius) or below 65 degrees (18 celsius) allowing a consistent flow of tourist throughout the year. However, here are times to be aware when planning to visit.
Winter Season (officially November to April): The time to see the big wave surf competitions and witness the best surfers of the world master these monstrous waves. Billabong Banzai Pipeline, Vans Triple Crown, and The Quiksilver Eddie Aikau Invitational all take place during the 'big wave winter months' between October – December on Oahu. JAWS beach on Maui also has massive waves. Some competitions are so insane that the minimum height waves have to be 20 feet (6 meters) before the competition can even start!
Summer Season: (officially May – September): The state of Hawaii basically has two seasons but has very little change in daily temperature. In order to really tell the difference of what 'season' we are in, we go by the swells. During the summer months, the south of the islands will have more waves; this means along the coast line of Waikiki (Oahu) where many tourists visit.
No matter what season you visit, trade winds keep things comfortable year-round so temperature is no issue. If you want to see one of the most famous waves in the world, winter time is for you. However, we recommend coming in the summertime when there isn't many rainy days, the ocean is calm (for the most part), and the long days deliver perfect sunsets.
GETTING AROUND:
Public transportation is very minimal in Hawaii and your options vary island to island, but to really experience the landscape, we HIGHLY consider renting a car. There is no metro. The major public transportation would be "The Bus" but can be very inconvenient if you're trying to travel across the island. Few of the major islands don't have routes for "The Bus" and if they do, are very limited to location/travel distance. If you prefer not to rent a car or ride The Bus, your best option would be a strong taxi (the most expensive) or use social services such as LYFT or UBER. Some hotels on Maui, Big Island, and Oahu offer shuttle services to and from certain locations but do not bet on it if you want to explore the island to more remote locations.There's only one inter-island ferry, the Expeditions Maui-Lanai Passenger Ferry. It only runs between Maui and Lana'i. It leaves from each port every 2-4 hours and costs $30 ($20 for kids). Flying is the only realistic way to get between the islands. Flights are about $70-200 each way.
WHERE TO STAY?
Some hotels charge a premium if they're located right on the beach. If you're on a budget, don't pay extra for such locations because almost all of Hawaii's hotels are a short walk or drive to the beach.
On Oahu, the major spot to stay is in Waikiki. This is where most attractions and many services are readily available along the lines of entertainment and necessities. Hotels can range from $150 to $1,000 a night depending on location. If you prefer the more "country" stay, away from the hustle and bustle of the city, then resorts out in Ko'olina would be perfect for you like the Hilton.
- Hostels are not common in Hawaii. There is only one Hostelling International-affiliated location in the state, found in the city of Honolulu on Oahu. You may find this to be the ideal budget-friendly accommodation if you're visiting Honolulu and are willing to share a room with other travelers.
Where to go?
Oahu offers countless tourist attractions and activities; from beaches and sightseeing to historic grounds of World War II and ancient Hawaiian war zones. Here are a few activities that are reasonable/free and well worth every minute:
- North Shore – Waimea Beach
- Lanikai Beach
- Ko'olina – man-made lagoons with white sand beaches; great for families.
- Beach Safety -
Hawaii's beaches are typically safe. For safety's sake, swim only at a public beach that is patrolled by a lifeguard. Pay attention to any signs posted on the shore, which should specify safety issues, such as rip currents or large waves
- Lanikai Pillboxes Trail – Great for families!
- Diamond Head – hike up one of Hawaii's most iconic landmark!
- Koko Head – for the advanced hiker looking for that perfect burn!
- Makapuu Lighthouse trail
Activities

Trek To An Active Volcano
Kilauea Volcano erupted with 1900 ft swells of lava in 1959, and while it's not guaranteed to be super active when you visit, you should see some lava in the mile wide crater. Head to the lookout in Volcanoes National Park for the best view of the inferno!
Discover Secret Waterfalls
Waterfalls are a dime a dozen in Hawaii, and they really do vary as you travel around. The Big Island is the place for true adventurers, and if you book onto a tour you could be taken to secret falls on private land! Feeling brave? Take a dip!
Explore Hawaii's Dramatic Coastline
One of the best ways to take in Hawaii as a whole is by hiring a car and road trippin' around. On Oahu there are several viewpoints with towering mountains, jutting rocks and ferocious waves. Be sure to check out Blowhole Point and Makapu'u – two beautiful spots with really dramatic views.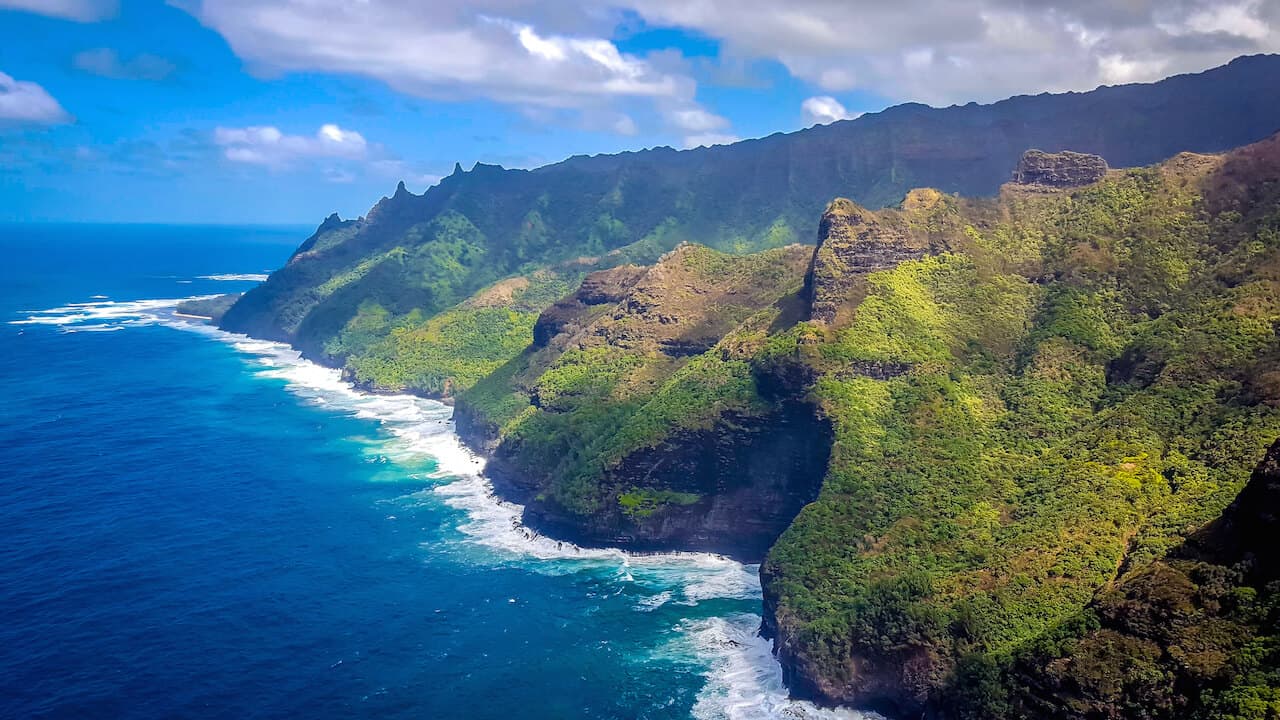 At over 4000m, Mauna Kea is said to be one of the best places to stargaze in the world. Book onto an organised tour or hire a car and drive to the Mauna Kea Visitor Centre. There are National Parks guides on hand with enormous telescopes and all the info you could need. Personally I enjoyed wrapping up warm and finding a spot away from the crowds to take it all in.
Hawaiians are extremely proud of their culture, and when you hear there are only 6,000 people remaining who are 100% Hawaiian, it's easy to see why they're so keen to preserve it. Hula dancing, the aloha spirit and the warmth and generosity is something you'll feel as you travel around the islands. Be sure to chat to locals as you travel – you'll get a feel for what Hawaii is really about!
December 7th 1941 has gone down in history as one of the bloodiest days in American history. While it's not a story that's easy to relive, it's an important one. A visit to Pearl Harbor begins with a very moving documentary followed by a visit to the USS Arizona Memorial. The scale of the tragedy is apparent when you see the names of the deceased on the walls. Afterwards, take a look into the water and you'll see the wreck of the USS Arizona – the sunken tomb for those who died.
While I didn't manage to squeeze in a helicopter ride over Hawaii, I took a few internal flights, which offered some stunning aerial views. Several people recommended the helicopter flights, mentioning that there was a chance to spot lava flowing down the cliff edge into the water.
Hawaiian Airlines flies between many of the islands, and in my opinion you need to see at least Oahu and The Big Island to understand what Hawaii is all about. Oahu is buzzy, touristy and home to several famous surf beaches. Meanwhile, The Big Island is raw, rugged and adventurous. It's contrasts like these that make Hawaii so unique.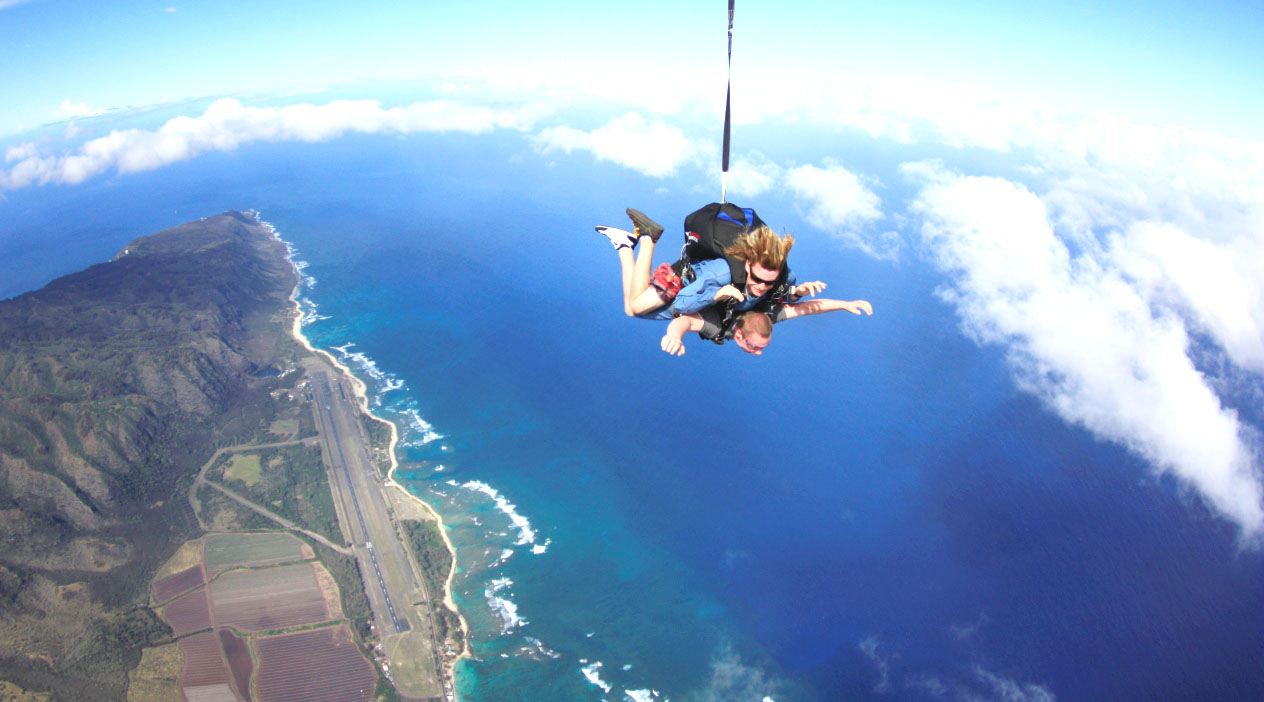 Kualoa Ranch Activities & Tours
Luau – Paradise Cove and Germaine's Luau
Skydiving – if you're a thrill seeker like us, skydiving in Hawaii is a must!
Parasailing
Snorkeling – Hanauma Bay and Shark's Cove.
The restaurants in most of Hawaii's resort districts, such as Oahu's Waikiki and Maui's Kaanapali, are often expensive and rarely authentically Hawaiian. For more budget-friendly food and a genuine taste of the islands, head outside of the resort district and eat where the local community dines. Ask your hotel's staff members for their personal recommendations. Great local food can often be found in strip malls and hole-in-the-wall establishments. Also, try local fast food joints like L&L Hawaiian Barbecues or Zippy's Restaurants, where you can pick up Hawaiian favorites, such as plate lunches and Spam musubis.
Never buy souvenirs in your hotel's gift shop or in tourist districts. Major retailers like Wal-mart and local retail chains such as Times Supermarket and Foodland often sell souvenirs, postcards and Hawaiian trinkets at prices that are much cheaper than those sold in hotels.
What to wear? What to pack?
Pack those board shorts and that cute bikini you've been dying to wear! It's summer temperature year round. For those familiar to cold weather, bring shorts and a good pair of walking shoes/slippers (ie: flip-flops) as it can be too hot for those not acclimated. The only time one would need warmer clothes is if you plan on visiting higher elevations like Haleakala National Park on Maui or Mauna Kea on the Big Island. At least bring a windbreaker/pullover sweater as it can get chilly due to trade-winds. Suits and ties are rarely worn in Hawaii; "business attire" stands for a tucked in aloha shirt, dress pants, and decent enough looking shoes.
Although not necessary but recommended is to bring some casual dress clothes if you plan on experiencing the Honolulu nightlife. Some places actually do have a strict dress code so for guys a long sleeve collar shirt, firm pressed jeans, and clean sneakers or are permitted. For girls a casual dress, romper, or skirt and blouse will do. If you're coming in hawaii during the winter.
Hawaii's currency is the US dollar. Traveler's checks aren't necessary since credit cards are widely accepted and ATM machines are plentiful. Don't worry if you forget something: Hawaii's retail stores and malls have everything you need, including snorkels, fins, swimwear, and plenty of sunscreen!
Customs and Rules you need to know before going to Hawaii
Hawaii is known as paradise and a very popular place for vacations, especially during the summer time. These are great tips and customs to follow to have a great vacation:
"Aloha" means Hello or Goodbye
"Mahalo" means Thank you
Don't touch ANY sea creatures – that means no selfies with sea turtles you "selfievores"!
Removing shoes when invited to someone's house is a cultural tradition.
Don't bring any fresh flowers, fruits, vegetables, etc to Hawaii as they could be harmful to Hawaii's nature and environment. Any plants or animals brought into Hawaii must be declared and inspected upon arrival.
Do not bring home sand, lava rocks, or any native flora. It's considered bad luck and can destroy the environment.
Like most cultures: be respectful of others and their way of life, don't be loud and obnoxious.
As a cautionary note that isn't mentioned a lot is: DO NOT stare at people for too long. Many locals do not like when tourists or other locals stare and watch them – this is known as "stink-eye", so just be aware of how long your gaze is when making eye contact.
I hope you've enjoyed reading this Hawaii travel blog and it's inspired you to get out and explore the beautiful islands.
HAWAII SUNSET