LAUANTAI, 14. MARRASKUUTA 2020
Haiti is a Caribbean country that shares the island of Hispaniola with the Dominican Republic to its east. Though it's still recovering from a 2010 earthquake, many of Haiti's landmarks dating to the early 19th century remain intact. These include Citadelle la Ferrière, a mountaintop fortress, and the nearby ruins of Sans-Souci Palace, the baroque former royal home of King Henry I.
The most common phrase in Haiti might surprise you. It's 'pa gen pwoblem,' and it translates to 'no have problem.' Haitians use it in a dizzying array of contexts: responding to thank-yous, asserting well-being, filling awkward silences. Despite Haiti's well-documented struggles, exacerbated lately by natural disasters, proud Haitians use the phrase sincerely, conveying an uncanny ability to live in the moment and appreciate what they do have, which is quite a lot.
Tranquil beaches, tumbling waterfalls and pine-tree-capped mountains dot the varied and striking landscape, easily rivaling the natural beauty found anywhere else in the Caribbean. The world's only successful slave rebellion happened here, and the music, art and culture that came with it make Haiti entirely unique. As those who come to assist Haiti often learn, an encounter with the soul of this fascinating, beautiful country often benefits a traveler just as much.
BEST TIME TO VISIT HAITI
Haiti experiences a tropical climate, with generally high temperatures and humidity throughout the year. Temperatures in Port-au-Prince usually peak between 88 and 93°F (31 and 34°C), becoming cooler and fresher with altitude. So when is the best time to visit Haiti? The weather is at its best during the dry spell from November through to March and this is generally considered the best time to visit Haiti. Heavy rains descend between April and June, followed by a hurricane season from August to October which has slightly lighter rains.
Spring (March through May)
Humidity and temperatures combine to make this season feel warm. Highs range from 91.2°F (32.9°C) and 87.5°F (30.8°C) with warmer temperatures in the later months. Spring is the second busiest for tourism, which makes it a good time for those looking for things to do.
Summer (June through August)
The middle-year months have hot weather with high temperatures that are quite warm. June – August is fairly slow season for tourism in Haiti, so lodging and other accommodations may cost slightly less.
Fall (September through November)
Fall daily highs range from 93.4°F (34.1°C) and 84.8°F (29.3°C), which will feel warmer than comfortable given the humidity and wind. Tourism is the busiest during these months due to the weather, so hotels may be higher priced.
Winter (December through February)
Weather is perfect this time of year in Haiti to be enjoyable for warm weather travelers. The average high during this season is between 89.6°F (32°C) and 83.4°F (28.6°C). These times of year are the slowest with tourists.
GETTING TO HAITI
Visa are required only by citizens of Colombia, Cuba, the Dominican Republic and Panama. However, citizens of Colombia, the Dominican Republic and Panama may enter visa-free for three months if they have a valid United States, Canadian or Schengen visa or resident permit. Citizens of other countries can stay for three months without a visa.
By plane - International travellers will arrive in Haiti at Port-au-Prince (PAP) at the Aéroport Toussaint L'Ouverture Airport or (CAP) Aéroport International Cap-Haïtien in the North. The plane tickets can be purchased via many online ticketing sites and agencies. There are intra-Haiti flights available as well. Prices on these flights can fluctuate from time to time due to inflation but, depending on the airline, are usually between USD125-132 return from and to Port-au-Prince, cheaper between Port-au-Prince and Jacmel. A really cheap, dependable and popular airline is Sunrise Airway.
GETTING AROUND HAITI
By chauffeur - You can hire a chauffeur to drive you around while you are in Haiti. It is more expensive than a city bus or tap-tap, but is similar to renting a car. Chauffeurs own their own vehicles, usually 4-wheel drive, and can take you most any place you want to go. There are very few road signs so it is difficult to navigate the roads without help. Chauffeurs can also interpret for you and recommend places to eat and stay. When looking for a driver, the Oloffson is an easy place to start; drivers often hang around the driveway looking for fares. Regardless of where you stay, it is easy enough to have the front desk phone a taxi, which will most likely be driven by a friend or a relative. If you have the chance, Alix Toyo is a particularly reliable and fair driver, who is full of interesting stories about the various visitors and celebrities he has driven around the country. If you are lucky enough to find Toyo, be sure to ask him about the time when he drove Jean Claude Van Damme to Jacmel. Very amusing.
By car - Cars may be rented through Hertz, Avis, etc. Taxis in Haiti are usually in the form of SUVs or trucks, as most of the roads are long overdue for repairs, in addition to plethora of unpaved roads one faces while travelling in Haiti. The price is often fair (i.e., HTG450, or USD11.53 at 39 gourdes to a dollar, from Port-au-Prince to Léogâne), but offers safety and comfort that cannot be found in riding tap-taps or buses.
By bus - Tap Taps are the most economical way to travel in Haiti. Haitian tap-taps are modified trucks or vans and are ubiquitous throughout Haiti. A raised wooden canopy-like cabin usually sits over the truck bed while wood benches are attached to the bed and serve as seats. Tap-taps are frequently painted bright colours, and often bear a religious slogan, such as Jesus vous aime ("Jesus loves you"). In Port-au-Prince, most routes cost 10 gourdes (USD0.25). They are also quite convenient as they will stop anywhere along the route: simply yell "merci!" to get the driver to stop. However, they are sometimes overpacked and can be quite dangerous to ride in the mountain roads where the road conditions are less than ideal. First time travellers who do not speak conversational Creole are advised not to travel by tap-tap without assistance. There are also school bus versions of tap-taps used for longer voyages. These are often modified school buses. A more comfortable alternative for long distance travel are minibuses. These congregate at various lots throughout the city, organized by destination. Seats to Jacmel, for example, cost about HTG150 (USD3.75), while the more comfortable front seat may go for 200 gourdes (USD5).
WHERE TO STAY IN HAITI
Catalonia Punta Cana - All Inclusive
Located in Punta Cana, this all-inclusive beachfront resort features an outdoor pool, full-service spa and recreational activities. It offers 10 dining options, live entertainment and a variety of water sports on Bavaro Beach. The air-conditioned rooms at the Catalonia Punta Cana boast Caribbean décor and free WiFi. They also feature a minibar and a terrace or a balcony with a hammock. Grand Caribe Restaurant is one of the dining options offering breakfast, lunch and dinner, and there are 4 à la carte restaurants open only for dinner. Pizzeria Sorrento, serves woodstove-cooked pizzas, and also there are 8 bars, including a natural juices bar and an exclusive bar for privileged. Room service for privileged is 24 hours. A coffee shop is also available. The Catalonia Punta Cana offers daily activities including aerobics and bike rides. A kid's club for 4 to 12 year-old children and a teens club for 13-17 years old teenagers are also available. Guests can also play games in the casino or dance at the discotheque. Golfing is nearby at the Cabeza de Toro Golf Club and the Caribbean Golf Club. Punta Cana International Airport is 22.5 km from Catalonia Punta Cana.
Barceló Bávaro Palace All Inclusive
Nestled on Bavaro Beach in the Dominican Republic's Punta Cana region, this all-inclusive resort is part of a select 2-hotel resort complex. It features 2 km of private beach and a coral reef. An iPod docking station and a flat-screen TV are included in all rooms at Barcelo Bavaro Palace All Inclusive. They also include a spa bath, a minibar, and a balcony. Guests at Barcelo Bavaro Palace All Inclusive can visit the 24-hour casino, the 18-hole golf course, or the world-renowned spa. The resort offers a train to transport guests around the property. The Barceló Bávaro Palace hotel has been awarded the Green Globe Certification for its sustainable tourism practices for two years. The all-inclusive program at Bavaro Palace includes breakfast, lunch and dinner at one of the 12 restaurants in the complex. Dining options include Japanese, Italian, French, and Mexican food. Punta Cana International Airport is 20.1 km from Barcelo Bavaro Palace All Inclusive. Santo Domingo, a UNESCO World Heritage Site, is 201.2 km away.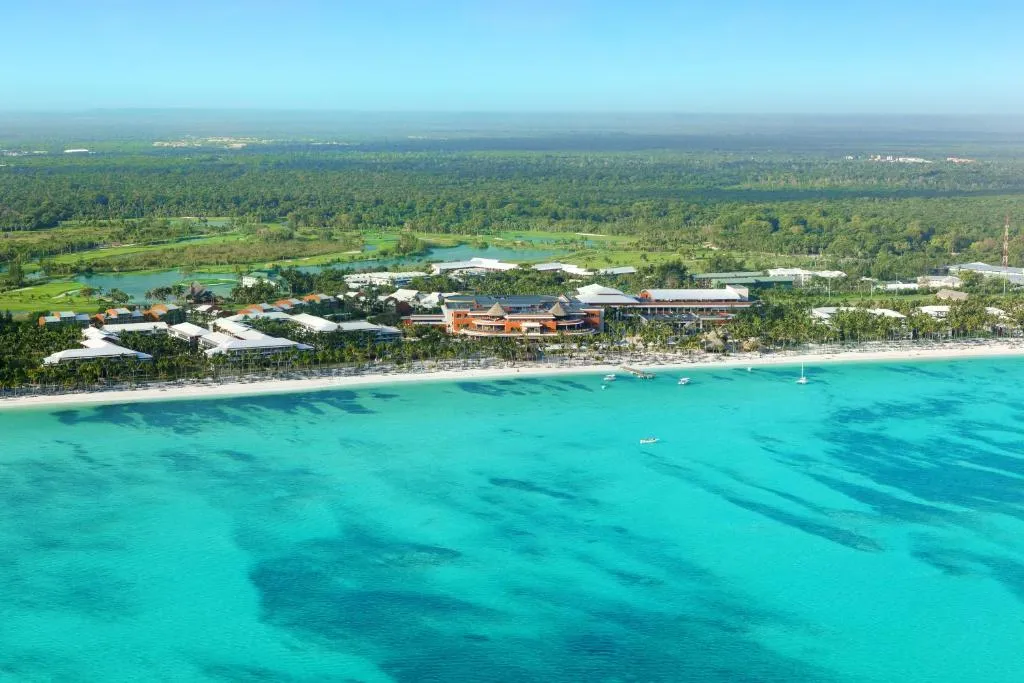 Be Live Collection Punta Cana
The Be Live Collection Punta Cana is located on the front line of Atlantic Beach in Cabeza de Toro, protected by a coral reef and surrounded by a tropical garden. The All Inclusive resort is 20-minutes from Punta Cana International Airport. Guest rooms at the Be Live Collection Punta Cana include air conditioning, cable TV and a minibar. The in-room safety box has an extra charge. This 24 hrs all inclusive resort offers some rooms with direct access to the pool or the beach. The resort features 9 pools, 2 of which belong to the Adults Club and Better Together packages. Also, a hot tub is available exclusively to the Better Together guests. Nightly shows and entertainment are available. Guests can enjoy activities such as tennis courts, sailing, volleyball, diving and ping pong. The resort has wedding and business facilities. Guests can enjoy 24 hrs Room service, Spa Services and Beauty Parlor for an extra charge. The main restaurant serves international buffet cuisine, while à la carte dishes are available in the Rodizio, The Chef´s Table,Italian, Mexican, Asian, Brazilian, Mediterranean and gourmet restaurants. Guests can also watch sports on the big screen TVs in the bar. Other restaurants include the Lobster House and Steak House, Burger Corner and KM Pizza. A golf course and the fishing yacht club are near the Be Live Collection Punta Cana. The resort is situated to the east of the Caribbean coast.
Royal Decameron Indigo - All Inclusive
Royal Decameron Indigo Beach Resort & Spa is a beachfront resort located in Montrouis and offers an outdoor swimming pool and an on-site restaurant. Free WiFi access is available only in the lobby. The air-conditioned rooms have a view of the sea and come with a private bathroom that includes a shower. At Royal Decameron Indigo Beach Resort & Spa you will find meeting facilities, a shared lounge and a tour desk. An array of activities can be enjoyed on site or in the surroundings, including table tennis and canoeing. All inclusive program offers Buffet-style breakfast, lunch and dinner, A la carte dinners and snacks, unlimited national alcoholic beverages, daily activities program, non-motorized water sports, tennis courts with lessons and nightly entertainment. This resort is 75 km from Port-au-Prince International Airport and the Musée du Panthéon National Haïtien is a 1-hour drive away.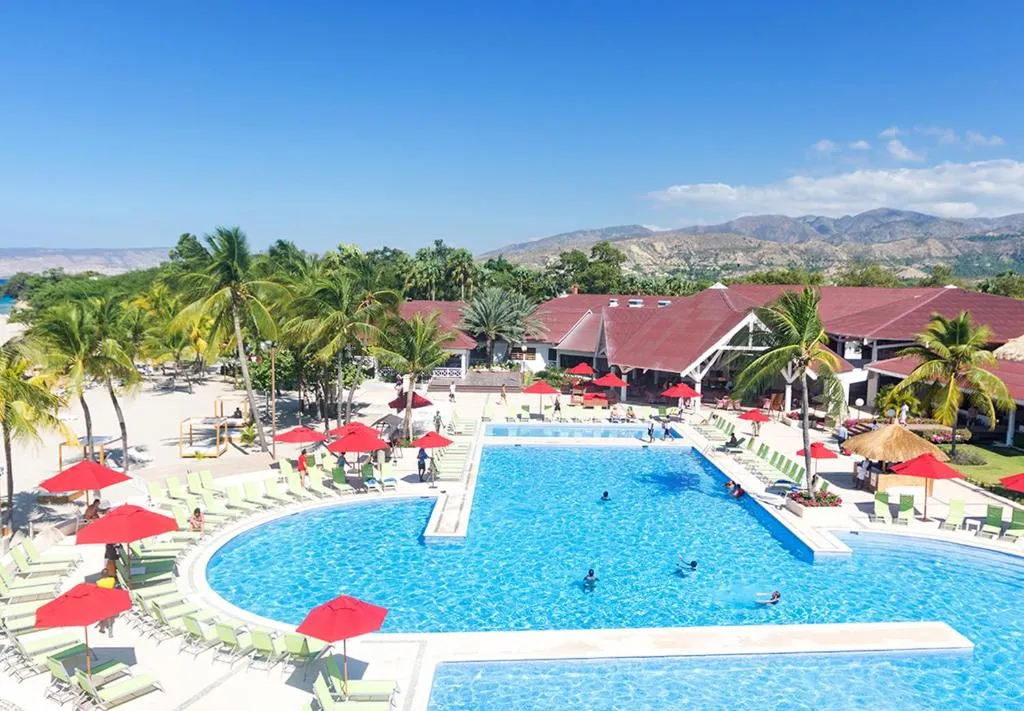 Satama Hotel features a restaurant, outdoor swimming pool, a bar and garden in Cap-Haïtien. Featuring room service, this property also provides guests with a terrace. The air-conditioned rooms provide pool view and come with a desk and free WiFi. Guest rooms at the hotel are equipped with a seating area, a flat-screen TV with cable channels and a private bathroom with a hairdryer and a shower. All units include a wardrobe. A continental breakfast is available daily at Satama Hotel. Speaking English, Spanish and French, staff will be happy to provide guests with practical guidance on the area at the reception.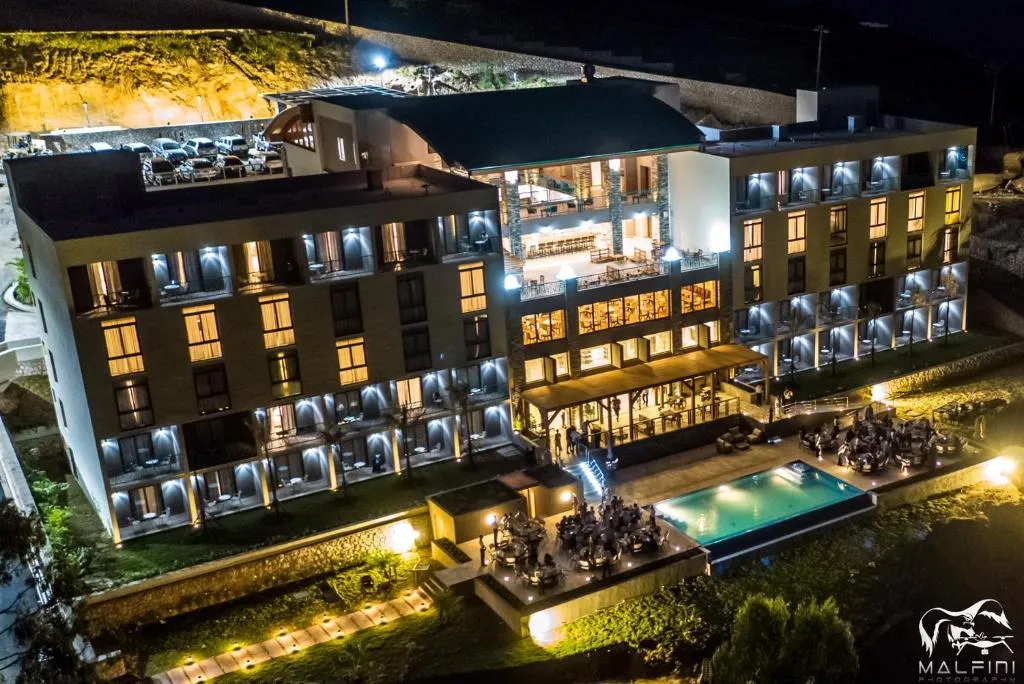 Located in the heart of Pétion-Ville, Royal Oasis by Occidental offers modern décor, a garden and an outdoor terrace with views of the capital, Port-au-Prince. Royal Oasis by Occidental's modern, air-conditioned rooms offer flat-screen TV with satellite and cable channels. They feature a desk, a safety deposit box, a minibar and a private bathroom with a shower and free toiletries. The property has 2 restaurants offering Mediterranean cuisine, appetizers and tapas, while its 2 bars serve cocktails and drinks. On-site, guests find an art gallery, boutiques and bank services. The centre of Port-au-Prince is 8 km away, while the Seaport Terminal is at a distance of 9 km. Port-au-Prince International Airport can be reached within a 20 minutes' drive.
Occidental Punta Cana - All Inclusive Resort - Barcelo Hotel Group
Occidental Punta Cana is an all-inclusive resort located on Bávaro Beach, Playa Cortesito. Rooms at Occidental Punta Cana have a minibar with daily replenishment, flat-screen TV, safe and terrace overlooking the pool, beach or garden. Occidental Punta Cana offers 11 restaurants, including 7 à la carte and 2 snacks, 10 bars offering tropical drinks. It also offers 3 swimming pools, children's club, tennis courts, day and night activities, water sports such as Kayac, boggie board, introductory scuba diving lessons in the pool, nightly shows with live orchestra and disco. Occidental Punta Cana is about 25 minutes from Punta Cana International Airport and 2 hours from the city of Santo Domingo.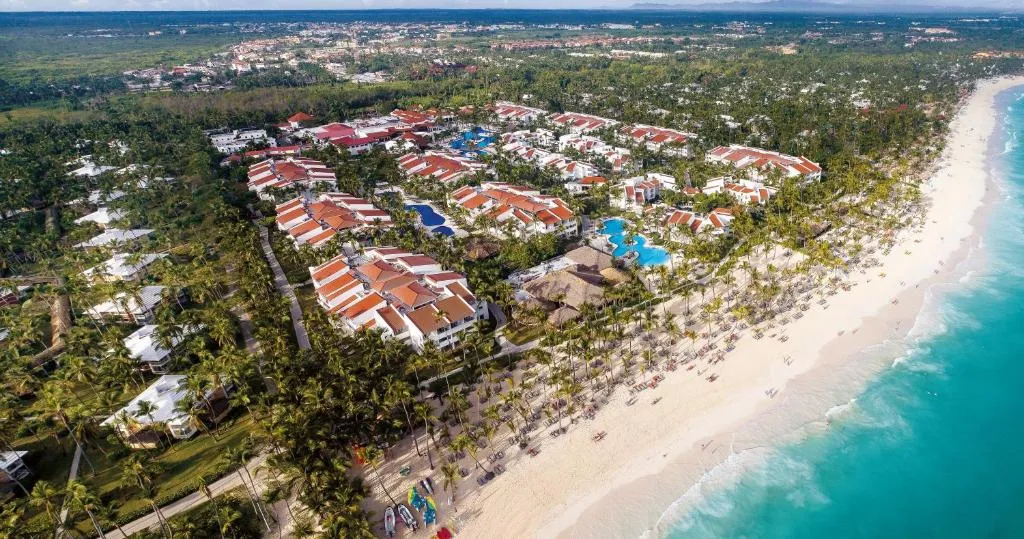 Courtyard by Marriott Isla Verde Beach Resort
Situated on San Juan's Isla Verde Beach, this resort offers luxurious rooms with a private balcony featuring full or partial ocean views. Facilities include outdoor pools and a 24-hour casino and free WiFi in pool and beach. The air-conditioned rooms of Courtyard Isla Verde Beach have floor-to-ceiling windows, making the rooms light and airy. All rooms feature, a mini-fridge, a flat-screen TV, and a DVD player. The Bananas Ice Cream Parlor serves sweet treats in a casual ambiance, and the Sirene Restaurant serves fresh seafood. Guests can enjoy live music and Caribbean exotic cocktails at the Picante Lounge. Courtyard by Marriott Isla Verde Beach Resort also offers a fitness room, weekly salsa dancing, an on-site cash machine, and laundry and dry cleaning facilities. This resort feautures wedding and meeting facilities. The San Juan Airport is just 1.6 km from Courtyard Isla Verde Beach Resort, and the Plaza Las Americas Shopping Center is 10.5 km away.
Embassy Suites by Hilton San Juan - Hotel & Casino
One of our top picks in San Juan.Located 2 blocks away from Isla Verde Beach, Embassy Suites San Juan – Hotel & Casino offers made-to-order breakfast daily, outdoor pool with waterfall, kids playground area and an on-site casino. Guests can enjoy a daily complimentary evening reception in the atrium from 17:30 until 19:30 daily. Every two-room suite features a 37-inch, and a 55-inch flat-screen TVs, wet-bar style kitchenette with a fridge, microwave and coffee-making facilities. All suites feature, minimalist design and have a separate bedroom and living-dining area, each with its own TV and telephone. El Patio Latin Bar Café serves Latin and international cuisine, while Coqui Pool Bar offers poolside sandwiches and drinks. Eterie is a casual dining outlet with a variety of grab and go items. There is an Outback Steakhouse in the lobby. Room Service is also available. Guests can use the 24-hour gym or the business centre at the hotel. The hotel's tour concierge desk offers information about things to see and do around the island. Nearby attractions including Old San Juan, San Juan cruise port, Plaza las Americas Mall and Mall of San Juan. Luis Munoz Marin International Airport (SJU) is only 13 km away.
Located in Délugé, 1.5 km from Royal Decameron Indigo Beach, Le Xaragua Hotel provides accommodation with a restaurant, free private parking, an outdoor swimming pool and a bar. Featuring a shared lounge, the 3-star hotel has air-conditioned rooms with free WiFi, each with a private bathroom. The hotel has a garden and features a sun terrace. At the hotel, each room has a desk and a flat-screen TV. Guest rooms at Le Xaragua Hotel are equipped with a seating area. A continental breakfast is available daily at the accommodation. You can play darts and tennis at Le Xaragua Hotel. A business centre and ironing facilities are available at the hotel. Moulin Sur Mer Beach is 2.5 km from Le Xaragua Hotel.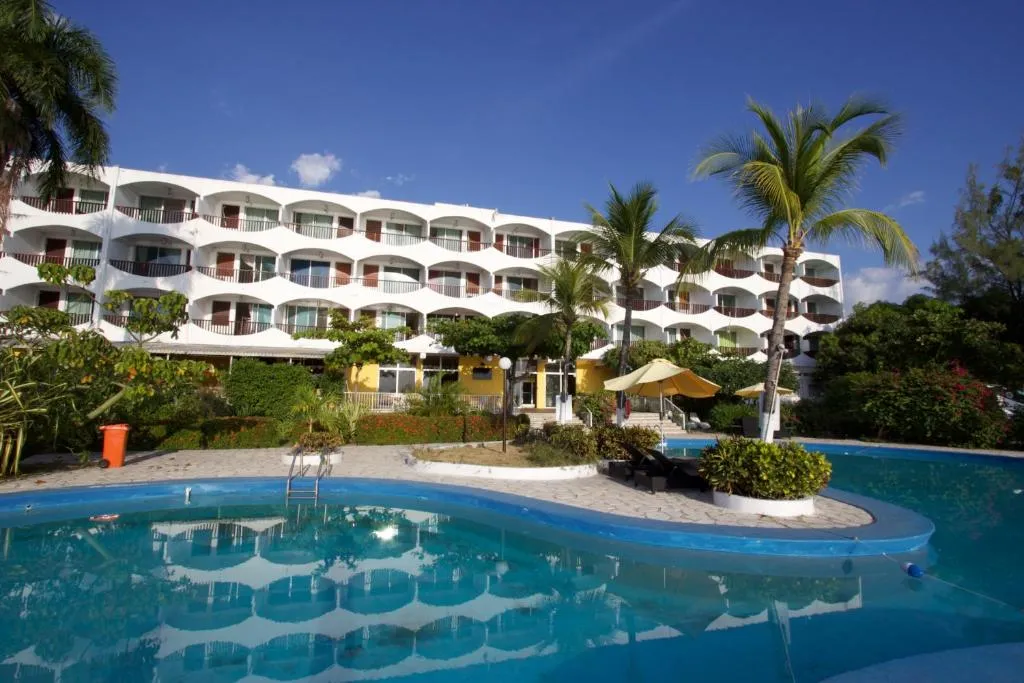 Cap Lamandou Hotel has a restaurant, outdoor swimming pool, a bar and private beach area in Jacmel. Among the facilities at this property are a 24-hour front desk and room service, along with free WiFi throughout the property. Private parking can be arranged at an extra charge. All rooms at the hotel are fitted with a seating area. Guests at Cap Lamandou Hotel can enjoy an American breakfast. Activities such as snorkelling, diving, fishing can be enjoyed in the surroundings, and guests can relax along the beachfront.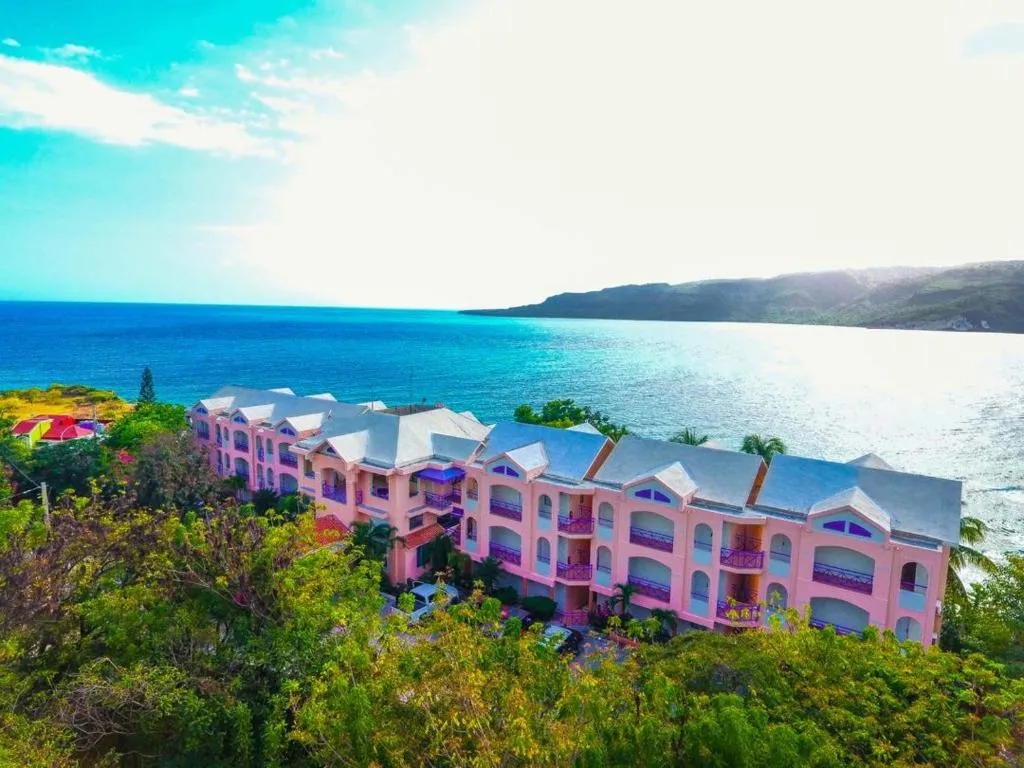 Manoir Adriana Hotel has a restaurant, bar, a shared lounge and garden in Jacmel. Boasting family rooms, this property also provides guests with a terrace. The accommodation offers a 24-hour front desk, room service and currency exchange for guests. All guest rooms at the hotel come with a seating area. At Manoir Adriana Hotel the rooms are equipped with a desk, a flat-screen TV and a private bathroom. Continental and buffet breakfast options are available every morning at the accommodation.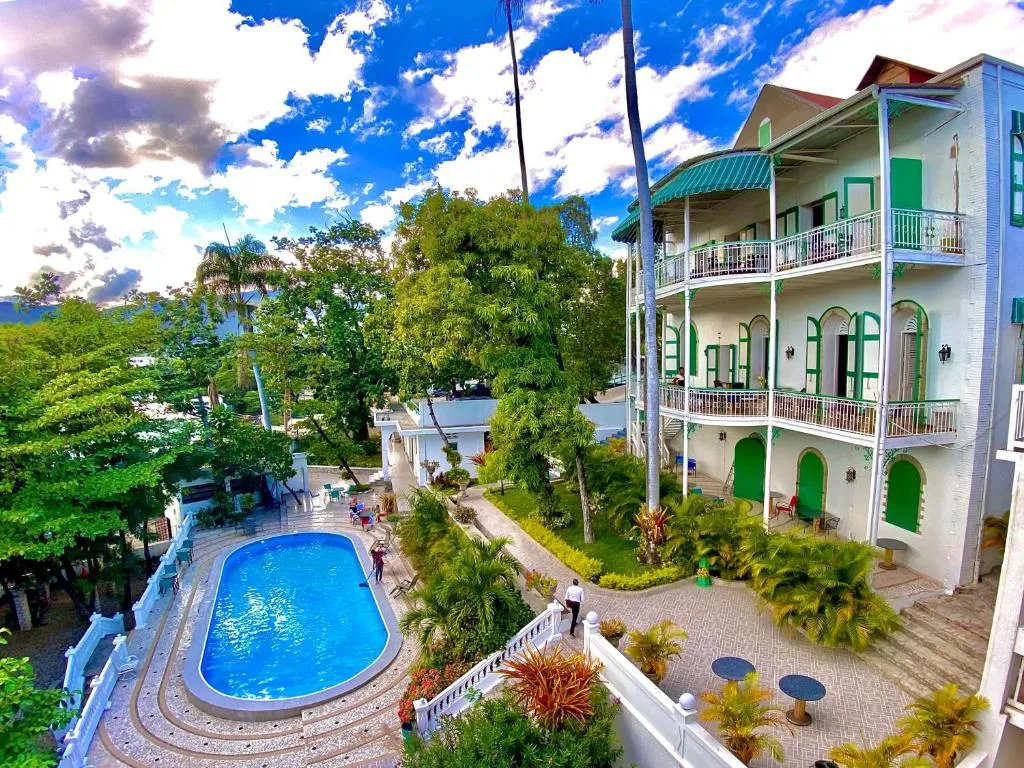 PLACES TO VISIT & THINGS TO DO IN HAITI
Haiti is a piece of paradise taken straight from the movies, with turqoise waves gently lapping at golden shores, misty mountaintops peeking through lush vegetation and spectacular sunsets blanketing the landscape in vivid color. It is located on the second largest island in the Caribbean, Hispaniola, and shares its idyllic setting with the Dominican Republic. If looking for enthralling historical monuments as well as blissful beach beauty, then Haiti is the place to be. Here's our guide to the most stunning spots in the region.
Bassin Bleu is a blissfully secluded waterfall on the hills of Jacmel, Haiti. Travelers can follow a trail to the basin and spend a day jumping from the waterfalls, swimming in the turqoise water and enjoying the cool cover of the lush vegetation. The privacy of the spot makes it feel like paradise.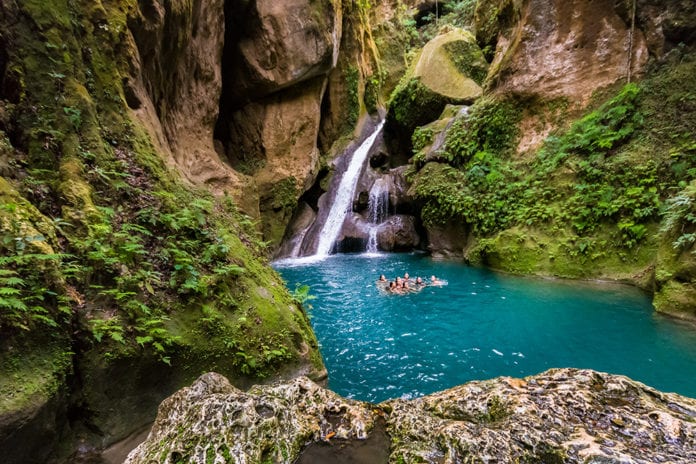 Labadee is a private port, and a secluded piece of paradise. Owned by the Royal Caribbean International cruise company, the white sandy beaches and crystal water here make it one of the most enchanting destinations on the island. Besides relaxing on the beach by the blue sea, visitors can shop from a selection of Haitian vendors, participate in watersports or try their hand at a zipline.
Kokoye beach is the idyllic Caribbean haven replicated in holiday brochures worldwide, with fine white sand, turqoise waters and tall, luscious palm trees swaying lazily in the warm breeze. The beach is a top spot for snorkelling, and is a good choice for those wanting to avoid a tummult of tourists; access is only possible via boat or by hiking.
Gelee Beach is the longest and most romantic stretch of sand in Haiti, with fishing boats bobbing on the horizon and the sweet smell of coconuts in the air. A number of excellent seafood restaurants offer daily deals nearby, and during August the place is packed with enthusiastic dancers and musicians for the Fete Notre Dame festival. A few meters beyond Gelee lie open pasturelands, so don't be surprised to see a roaming cow or two.
The largest waterfall in the area, Saut-Mathurine is an alluring cascade in the southwest region of Haiti. The Rivière de Cavaillon provides the source for the waterfall's stream, and its aqua waters are easily accessible for paddling and swimming. The drive to Saut-Mathurine offers beautiful views of the country and the lush greenery on all sides.
Try a zipline in Haiti and enjoy a stunning aerial view of the lush tropical environment and crystal water. Offering a birds-eye view unavailable to walkers, the Dragon's Breath Flight Line is a particularly popular option on the island, incorporating a drop from the mountaintops down to the beach of Labadee.
The Citadelle Laferriere is a magnificent mountaintop fortress originally built after Haiti gained independence, in order to provide protection against French invasion. It remains more or less in the same beautiful condition now as it did back then, and is, for Haitians, a revered symbol of their strength when faced with threat. Located on the northern coast of Haiti, on the top of mountain Bonnet a L'Eveque,the Citadelle provides beautiful views of the surrounding green fields.
This Catholic Cathedral is situated in Cap-Haitien, and is a pretty and peaceful place to relax after exploring the surrounding scenery of the colonial town. There is a small park in the front of the church, and the towering white walls are striking against the rows of humble houses all aound. The high-domed interior makes the cathedral equally appealing both inside and outside.
Before it was partially destroyed by an earthquake in 1842, the Sans-Souci Palace was home to famous former slave-turned-king Henri Christophe I. With its deep historical roots the palace evokes a sense of nostalgic beauty, and is often compared to the majesty of the Palace of Versailles in France. The Palace features many high-arched windows as well as decadent staircases.
The buildings at Site des Ramiers are located close to the Citadelle and the Sans-Souci Palace. Together, the three spots form a designated World Heritage Site, and comprise the largest fortress in the Western Hemisphere. The Site des Ramiers is a representation of liberty to the Haitians, as it was one of the first places to be constructed by black slaves who had gained their freedom.
While most of Haiti's artists are represented in the rarefied air of Pétionville's galleries, a collective of sculptors and installation artists produces spectacular work in an unlikely setting, squeezed into the cinder-block houses among mechanics and body workshops on Grand Rue. In this Caribbean junkyard gone cyberpunk, the artists turn scrap and found objects into startling Vodou sculpture, exploring a heady mix of spirit, sex and politics, all grounded in the preoccupations of daily Haitian life. André Eugène is the founder and elder member, sculpting in wood, plastic and car parts to produce his vision of the lwa (Vodou spirits). Dolls' heads and human skulls abound, alongside the earthy humor of highly phallic Gédé pieces. Jean Hérard Celeur, another of the artists, trained as a sculptor, and has done many of the largest pieces: life-sized statues of twisted wood and parts of car chassis, hubcaps, old shoes and a liberal application of twisted nails. Local children are also involved in making art, through the spin-off organization Ti Moun Rezistans. This hub of creativity is near Ciné Lido, set slightly back from the road. Look for the giant Gédé statue made from car parts and with a giant spring-loaded penis guarding the way. Just beyond this, Eugène's house-museum is surrounded by statues, with the motto 'E Pluribus Unum' ('from many, one') hung over the door.
Your basic paradise, this tiny island offers white sand, a lush core of trees, and turquoise water where snorkelers encounter centuries-old cannon and anchors. Columbus is said to have given the island its alternate name – Amiga – for the female companion that would accompany him here. Indigenous artifacts have also been unearthed here. Boat taxi captains in Labadie charge around US$50 for a round-trip excursion and US$15 for cooking up a lunch of whatever the local fishermen catch that day. On days when the Royal Caribbean ship is docked, the cruise line sends speedboats of cruisers to the island to buy overpriced cocktails and bottles of water from contracted caterers. Independent travelers can visit the island too via private transportation, availing themselves of sun loungers and the bar. Or go DIY and load a cooler of rum and Prestige: amenities on the island are only available when the cruise passengers are visiting.
Musée du Panthéon National
This modern, mostly subterranean history museum, set below gardens, hosts a permanent exhibition chronicling Haiti's history, from the Taínos and slavery to independence and the modern era. Fascinating exhibits include exquisite Taíno pottery; the rusting anchor of Columbus' flagship, the Santa María; a copy of the fearsome Code Noir that governed the running of the plantations; the silver pistol with which revolutionary leader Christophe took his own life; Emperor Faustin's ostentatious crown; and 'Papa Doc' Duvalier's trademark black hat and cane. Architecturally, the design of the museum echoes the houses of Haiti's original Taíno inhabitants. This design ethos is also visible internally, whereby a conical central light well illuminates a gold monument that recreates the cannons and banners found on the national flag. The bodies of Haiti's founding fathers are interred below this tribute, and the names of other independence heroes are marked on surrounding walls.
Installed by ex-President Michel Martelly, this kilometer-long boardwalk along Jacmel's waterfront has become popular with locals as a spot to socialize and relax. It's magical to go for a stroll over the boardwalk's elaborate mosaic tile designs, checking out local jewelry and paintings, trying street food and saying hello to curious passers-by. Streetlights aren't always illuminated and it can get dark at night. Locals say it can get dicey toward the encampment at the end of the boardwalk; best stick to the crowded bits.
About 45 minutes north of Port Salut, this massive cave is the largest and most impressive in Haiti. Visitors today can tour three areas of the cave, one of which is completely dark, and the whole thing takes about three hours. None of the guides here speak English, so bring a translator and call ahead for a tour. Since 1999, the cave's 36 known chambers on three different levels have been the subject of scientific studies and mapping projects. Indigenous Taínos used the cave to perform sacred ceremonies, and escaped slaves were known to hide in them.
This recently restored gingerbread home is the first of its kind to be not only preserved by a nonprofit, but also opened to the public. The creamy-yellow wood and brick home was renovated by Foundation Connaissance et Liberté (Fokal), a nonprofit organization partnering with architecture schools countrywide, and is a shining example of Haiti's unique and charming architecture.
This small jumble of a museum attached to the mission is worth a stop on your way up to Kenscoff. There are taxidermied specimens of Haitian fauna (including a flamingo and a very sad owl), political propaganda from the Duvalier and Aristide eras and even some Taíno artifacts. Especially interesting is the exhibit of Vodou objects, which comes along with a disclaimer from your Baptist hosts. Leave your name in the guest log and a few gourdes.
Musée Colonial Ogier-Fombrun
On the grounds of hotel Moulin sur Mer, Musée Colonial Ogier-Fombrun and its old sugar mill are housed in a restored colonial plantation. It's definitely worth a look: there's an eclectic collection of exhibits, from a reconstruction of a colonist's room to slave shackles. Official opening hours are optimistic – if you visit during the week, you may have to ask at the hotel reception for it to be opened.
WHERE TO EAT IN HAITI
Haiti has been through some tough times of late but things are looking up for the island nation. Those who visit will find some the Caribbean's best cuisine, along with a host of delightful restaurants in which to enjoy it. Beachside cafés showcasing the best of Creole cooking, smart brasseries celebrating the gastronomic legacy of the French occupation, and a crumbling hotel immortalized by the work of Graham Greene, all make it into our list of the ten best restaurants in the country.
More than just a restaurant, Lakou Lakay ('Our Home' in Creole) doubles as a Haitian cultural center run by Maurice Etienne and his family, with a programme of activities that includes dance and music workshops for children and young adults. Tables need to be booked in advance but the expertly prepared Creole dishes make it more than worth the hassle. Located in the northern town of Milot, the center is not far from the ruins of the Sans-Souci Palace (now a UNESCO World Heritage Site), the former residence of King Henri Christophe, a key figure in the Haitian Revolution.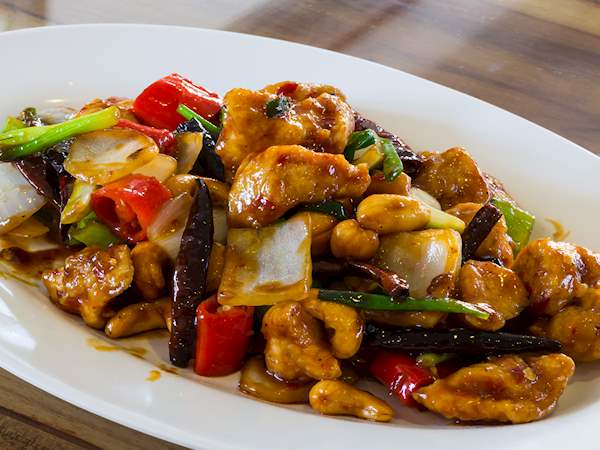 A popular neighborhood Italian in Pétion-ville, an affluent suburb of Port-au-Prince known for its elegant mansions, Fior di Latte is an excellent option for vegetarians and anyone in need of a break from Creole food. The extensive menu features a wide range of well-made pizzas, salads and pasta dishes, including mushroom ravioli and linguine with salmon. Widely considered to be some of the best in the country, the restaurant's homemade gelato is an obligatory final flourish. Available topped with chantilly cream as part of a decadent banana split, served with coffee as an affogato, or with pears and chocolate sauce, it's reason enough to visit in itself.
Another Pétion-ville favorite, popular with Port-au-Prince's expat community and frequently heralded as one of the city's best restaurants, Papaye offers a globe-trotting menu with the occasional stab at Caribbean fusion. Service can be slow at times but the outdoor dining room and bar with its elegant white interior and the excellent rum cocktails make it hard to grumble. Unlike many of the restaurants in Haiti, the menu here varies throughout the year, ideal if you plan to make repeated visits. Dishes include pizzas topped with caramelized onions and prosciutto, Asian salad with ground roasted peanuts, tuna tartare, and fried plantain with crabmeat and creme fraiche.
Renowned for its beaches and proximity to the magnificent UNESCO listed Citadelle Laferrière, the largest fort in the Americas, Cap-Haïtien on Haiti's north coast is also home to La Kay, one of the best restaurants in the country. An excellent introduction to creole cooking, the menu is strong on seafood dishes along with classics such as goat (cabri/cabrit) in Creole sauce and bouillon de boeuf (a traditional Haitian broth made with beef, plantain, potato and green vegetables). The restaurant's tables offer views of the seafront and there are regular soirées at weekends featuring live bands. Performances go on well into the early hours of the morning providing ample opportunity to soak up some authentic Haitian atmosphere.
An upmarket Lebanese restaurant in Port-au-Prince, Magdoos boasts a plush dining room, a garden and a covered patio hung with Middle Eastern lanterns and white drapes. The bar serves a potent rum punch alongside wine, cocktails and cold beer, with kebabs, salads and mezze plates of hummus and garlicky babaganoush among the highlights of the dinner menu. Shisha is is always available and Magdoos also hosts the occasional special event. The programme is eclectic to say the least. Previous evenings have included Arabian magic shows, wine tastings, string quartets and club nights presided over by local DJs.
One of the best examples of a 'gingerbread mansion' (the ornately decorated 19th century homes for which Port-au-Prince is famous) surviving today, this once-grand hotel won fame as the inspiration for the fictional Hotel Trianon in Graham Greene's The Comedians. Though it's true that the restaurant is nothing special, the service decidedly indifferent, and the building itself settling into gentle dilapidation, the hotel is still an essential stop for visitors to the city on account of its atmosphere and historical importance. What's more, on Thursday nights you can catch a boisterous performance by RAM, a 'Vodou rock 'n' roots' band led by Richard Morse, the Hotel's owner. One of the best known groups in the country, RAM are famed for their fiercely political lyrics and for fusing traditional Haitian rhythms and instrumentation with western rock and roll.
Near Place Boyer, a recently renovated Pétion-ville park, this charming restaurant offers an extensive breakfast and brunch menu along with pizzas, pastas and French classics at lunch and dinner time. The spinach ravioli is uniformly well received, as are the risotti and the desserts which include an indulgent chocolate mousse. Set in a converted house, the walls adorned with art and scribbled graffiti, the best of the tables are in the restaurant's shady courtyard where local jazz and salsa bands perform on several nights of the week. The pre-dinner cocktails, including a range of flavored martinis, come highly recommended.
One of the best places in the capital for French cuisine, La Plantation's specialities include steak tartare, snails, fish soup, rack of lamb and warm goat's cheese salads. Set in and around a central courtyard garden shaded by palms and hung with trellises, the dining room's colonial charm is accentuated by dark wooden ceiling fans and tiled floors. The wine list of predominantly French bottles is a further highlight and one of the more extensive in Port-au-Prince. Popular with visitors, expats and NGO workers, La Plantation also offers a lavish private room which can be hired for special events.
Known as the 'City of Poets', Jérémie is the birthplace of several of Haiti's most respected literary figures including Etzer Vilaire and Emile Roumer. Though less renowned for its cuisine, there are a number of Creole restaurants worth investigating. L'Oasis is among the best, with seafood dishes a particular strength. Portions are generous and inexpensive and most items arrive accompanied by salad, rice and fried green plantain (bannann peze). The Haitian classic Lambi Creole (Conch in an onion, garlic and tomato based sauce, sharpened with a little vinegar and lime juice) is particularly good here and worth trying. There's occasionally live music in the evenings.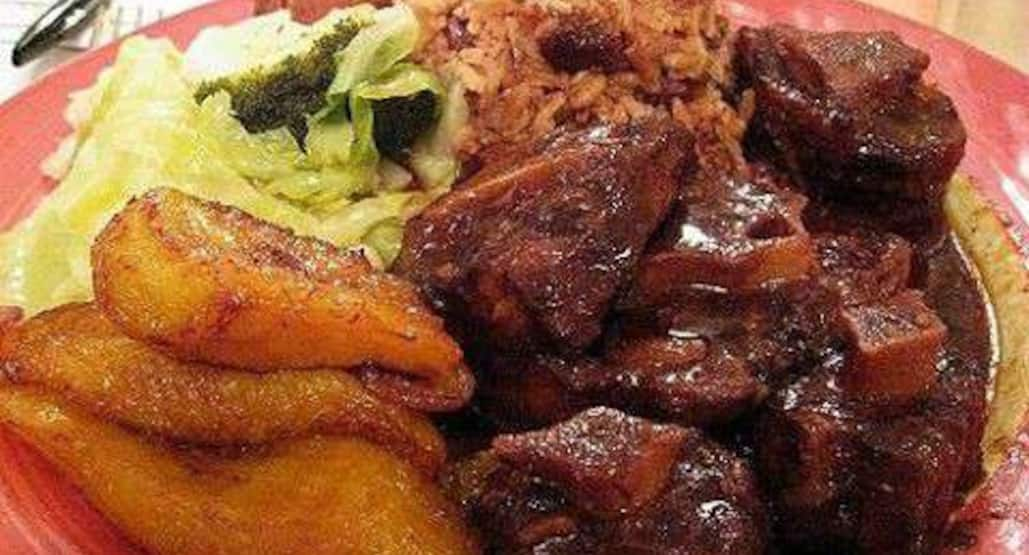 Hôtel-Restaurant Cyvadier Plage
A former coffee town known for its handicrafts, colonial architecture and for hosting the most spectacularly raucous carnival celebrations in the country, Jacmel is an essential stop on any Haitian itinerary. The restaurant at Hotel Cyvadier, a few miles outside of town, is the best option in the area for food. Arrive for breakfast and you'll be presented with fresh fruit, pastries and local coffee. Beyond that, freshly caught fish and seafood is the order of the day with lobster and grilled red snapper among the highlights. There are vegetarian dishes too, including avocado and basil bruschetta, and squash soup. The restaurant's terrace, dotted with coconut palms offers spectacular views across the cove.
WHERE TO SHOP IN HAITI
The capital of Haiti and the largest city Port Au Prince has so many things that you can do. If you are in the area, we recommend some of these artisanal markets and places in which you can buy some interesting and quirky gifts for family and friends. We check out some of the best artisanal markets in Haiti.
A wide range of truly amazing artisanal craftwork is on offer at Galerie Marassa, and the work is incredibly specialized. Everything exhibited either has a slight touch of native Haitian history or a distinguishable contemporary style. From this gallery, you can browse lots of intricate metalwork, creative crafts and mystical vodou flags. Come to Galerie Marassa and see the amazing artizanal work on offer.
For outstanding metalwork, artisanal stone sculptures and vibrant painted boxes, go to Comité Artisanat Haitien. The artisanal market was established in 1972 and seeks to boost Haitian artwork, crafts and trinkets. It also aims to promote fair wages for its artists and artisans and to aid craftspeople sell their products in Port–au–Prince. It provides an income and reduces the migration from the countryside to the city. If you're looking for the most creative of goods, visit Comité Artisanat Haitien and claim your artwork.
The perfect place for tourists and souvenir buyers, Moro's is a great location for buying keepsakes from Haiti. It is a great artisan gallery filled with trinkets and items for you to remember your stay in this beautiful paradise. Come and see the amazing gifts on offer at this creative space and get buying!
An exceptionally huge choice of interesting books and magazines, creative French and English language texts and postcards, awaits you if you visit Asterix market, Petion-Ville, Haiti. Pick up a book or two from this book market and discover more about the culture of Haiti as well as its history.
For an exceedingly interesting and incredibly diverse range of items and food, go to Marche de Fer which sells a wide range of fabrics, trinkets and memorabilia. This is a exceptionally huge market from which you can buy very creative items such as dolls, clothes, food, art and artifacts. Be sure to grab your items here on the iron market at Marche de Fer as you remember your stay in Haiti.