MAANANTAI, 26. LOKAKUUTA 2020
Alice Springs is known as the capital of Australia's "Red Center" and is the launching pad to the popular tourist attractions in the region like Uluru and Kings Canyon. It's probably the reason why 99% of people visit and travel to Alice Springs.
Alice Springs wouldn't win a beauty contest, but there's more going on here than first meets the eye, from the inspirational (excellent museums, a fine wildlife park and outstanding galleries of Indigenous art) to the practical (a wide range of accommodation, good dining options and travel connections).
It's the gateway to some of central Australia's most stirring landscapes: Uluru-Kata Tjuta National Park is a four-hour drive away, while closer still, the ruggedly beautiful MacDonnell Ranges stretch east and west; you don't have to venture far to find yourself among ochre-red gorges, pastel-hued hills and ghostly white gum trees.
Alice is a key touchstone for understanding Aboriginal Australia in all its complexity and its present-day challenges. The Aboriginal name for Alice Springs is Mparntwe, and the region's traditional owners are the Arrernte, although many different Aboriginal communities now call Alice Spring home. When it's not too hot, Alice can be good for cycling.
WHEN TO GO TO ALICE SPRINGS
Alice Springs' climate can be quite extreme, with scorching hot summers and cold winters. Summer lasts from December to February, and the average temperatures range from 60-95°F (20-35°C), but sometimes can climb as high as 104°F (40°C). It's dry here most of the year, but January is considered the wettest months.
Winter (June to August) is "cold," with average temperatures between 41-68°F (5-20°C), and July is the coldest month. Temperatures may even drop below zero, making it not the best time to be camping! On the other hand, prices are definitely lowest during the winter.
Spring (September to November) is pleasant with warm temperatures, but fall (March to May) really is the best time to visit. The days are warm and the nights are cool, with temperatures ranging from 54-81°F (12-27°C). This is also a great time to go to Uluru, but it can get a lot colder out there – sometimes dropping as low as 46°F (8°C). Pack plenty of layers!
GETTING TO ALICE SPRINGS
Alice Springs is regarded as one of the most popular outback cities of Australia, and while it is quite isolated, it is also relatively easy to reach. Located in the heart of the Northern Territory, Alice Springs is viewed as the center of Australia. Known to be the only destination within the easy reach of Ayers Rock, Alice Springs has quickly developed as a tourist hotspot of Australia. Here are some of the best ways for getting to Alice Springs.
By Air - Getting to Alice Springs by air has its own charm and advantages. You can take a flight from any of the major cities of Australia and can easily reach Alice Springs, which is also well linked to Brisbane, Cairns, Adelaide, Broome, Perth, Melbourne, Darwin and Sydney.
Qantas runs daily flights between Alice Springs and Adelaide, Melbourne, Perth, Darwin, Sydney and Uluru. To get more information about the Qantas flight schedule, visit www.qantas.com.au.
By Bus - Getting to Alice Springs by road is very adventurous as there is plenty to explore and enjoy in the beautiful surroundings and natural scenery. There are a few bus services like McCafferty's and Greyhound Pioneer, which provide transportation in whole area of northern Territory. These buses run from different parts of Australia to Alice Springs.
By Train - Great Southern Railways offers rail transportation through Indian Pacific, the Ghan and travels from Sydney to Perth, Adelaide, Melbourne and Alice Springs. The historic train starts from Sydney and Melbourne once a week and from Adelaide two times a week. For Train information and booking, visit www.trainways.com.au or call 13 21 47.
By Taxi - There are a number of private taxi providers in Alice Springs, running taxis from one part of the town to another.
GETTING AROUND ALICE SPRING
Walk – The downtown area of Alice Springs is incredibly walkable, so it's entirely possible to get around without having to spend much on transportation at all!
Public Bus – Alice Springs does have a public bus system. A single ticket is 3 AUD (1.81 EUR) and gives you three hours of unlimited bus travel. A one-day ticket costs 7 AUD (4.22 EUR). You can save 10 AUD (6.03 EUR) by getting their "Flexi-Trip" tickets, which give you 10 individual trips good for 3 hours each for 20 AUD (12 EUR) or by getting a one-week pass, which is also 20 AUD (12 EUR).
Taxi – Taxis are expensive (fares are a minimum of 4 AUD (2.14 EUR) and cost 2 AUD (1.21 EUR) per km, so this isn't the best option.
Bicycle Rental – Bicycle rentals are common in Alice Springs, starting from about 25 AUD (15.06 EUR) per day. My Ride is Alice Springs is one of the best rental places in town.
Car Rental – Getting a car rental is one of the most practical ways to get around Alice Springs and the area, and you can find prices starting from about 90 AUD (52.23 EUR) per day. That might be out of budget, but it's cheaper to drive to Ayer's Rock than it is to hop on a multi-day tour. Plus you can likely find someone to split the costs with.
WHERE TO STAY IN ALICE SPRINGS
DoubleTree by Hilton Alice Springs
Featuring refurbished guest rooms and suites with sophisticated furniture and fittings, modern bathrooms, LED lighting and Smart TV's, DoubleTree by Hilton Alice Springs offers accommodation in the heart of Australia. Set against MacDonnell Ranges, the hotel is only 15 km from Alice Springs Airport and within walking distance of the town. Free WiFi is available. DoubleTree by Hilton Alice Springs features a 24-hour fitness centre, two tennis courts, a heated outdoor pool overlooking the lush garden landscape and an 18-hole golf course located next door. Guests can enjoy an innovative menu, highlighting modern Australian cuisine at Saltbush Restaurant, as well as a signature, warm DoubleTree Cookie upon arrival at the hotel. The property is within a 10-minute walk from the Alice Springs Convention Centre and also features five function rooms, with outdoor breakout spaces and offsite catering options.
Desert Palms Alice Springs
Desert Palms is a 3.5-star property offering individual studio villa accommodation, surrounded by tropical gardens and set around a crystal clear swimming pool with island and waterfall. Free WiFi is accessible throughout the property. All villas at Desert Palms Alice Springs are air-conditioned and include bougainvillea-covered verandahs, private en suite bathrooms and kitchenette facilities. Located on the banks of the Todd River, in the main accommodation centre of Alice Springs, Desert Palms the resort is a 5-minute walk from Lasseters Casino, Alice Springs Convention Centre and the Alice Springs Golf Club. There is a small kiosk and shop on-site, where food items and liquor can be purchased. Facilities include a guest laundry, BBQ area and secure off-street parking directly outside each villa. Some of Alice Springs' best restaurants are within metres of the Desert Palms, including the Golf Course Club House, Hanumans and The Deck Eatery and Bar. There are also 4 restaurants at Lasseters Casino.
Diplomat Motel Alice Springs
Just 3 minutes' walk from Todd River in central Alice Springs, Diplomat Motel Alice Springs offers air-conditioned accommodation with cable TV and free WiFi in all areas. It features an outdoor swimming pool, barbecue facilities and a bar. Guests enjoy welcome drink. Diplomat Motel Alice Springs is 15 minutes' drive from Alice Springs Airport. Anzac Hill Lookout, which offers panoramic views of Alice Springs, is a 20-minute walk away. All rooms have a work desk, a refrigerator and tea and coffee making facilities. Each room has a private bathroom with guest toiletries and a hairdryer. Guests can relax in the garden, or enjoy a casual meal in the barbecue area. Diplomat Motel Alice Springs also offers a guest laundry, a tour desk and luggage storage services. Uncles Tavern offers bistro-style meals and a range of wines and beers, and features flat-screen TVs, karaoke and pool tables.
Aurora Alice Springs is the most centrally located accommodation in Alice Springs and the perfect place to stay for your true Outback holiday experience. Free Wi-Fi is provided for all guests. Situated between the banks of the famous Todd River and Todd Mall, it's a popular choice with both holiday and business travellers. You're in the perfect position to explore both the town and the surrounding Outback areas. The Red Ochre Grill Restaurant Alice Springs specialises in contemporary and native Australian cuisine. It has one of the finest collections of Central Australian panoramic photography by Ken Duncan. There is a refurbished reception, courtyard and pool/spa areas for our guests to enjoy. Undercover parking is available. Nearby are the magnificent East and West MacDonnell Ranges featuring Simpsons Gap, Standley Chasm, Palm Valley and Trephina Gorge.
Crowne Plaza Alice Springs Lasseters
Nestled at the foot of the majestic MacDonnell Ranges in Alice Springs, the 4.5 star Crowne Plaza Alice Springs Lasseters offers rooms with a balcony or patio. Guests enjoy free WiFi, a heated pool, a spa bath and a 24-hour health and fitness centre. Crowne Plaza Alice Springs Lasseters is located next to Alice Springs Convention Centre and Alice Springs Golf Course. Alice Springs Desert Park is 15 minutes' drive away. Crowne Plaza Alice Springs Lasseters offers rooms and suites featuring an LCD TV with in-room movies and cable TV. There is an on-site casino, a sauna and a spa and wellness centre. Other facilities include a concierge service, a tour desk and laundry services. Guests can enjoy 4 bars and 3 restaurants, including Juicy Rump bar and grill, Tempo, a wine and tapas bar, and Tali which offers modern Australian cuisine with outback influences.
Mercure Alice Springs Resort
Situated on the banks of the Todd River, Mercure Alice Springs Resort offers modern rooms with free Wi-Fi, just 5 minutes' walk from Alice Springs' town centre. This award-winning resort features a swimming pool, a restaurant and a seasonal bar. All air-conditioned rooms feature satellite TV, a work desk, a minibar and private bathroom. The Deluxe rooms have an espresso pod machine and a balcony offering river views. Guests have access to a fitness room, a guest laundry and free on-site parking. The tour desk can provide sightseeing advice and help guests with travel arrangements. The Barra on Todd Restaurant serves a full breakfast buffet and an à la carte menu for lunch and dinner. The poolside Barra Bar offers a range of beers, wines and cocktails. Mercure Alice Springs Resort is just a 10-minute walk from the Botanical Gardens. Alice Springs Airport is 15 minutes' drive away. Alice Springs Golf Course is a 3-minute drive away.
Sonja Golf Vila is located in Alice Springs, less than 1 km from Lasseters Casino, an 11-minute walk from Alice Springs Convention Centre, as well as 1.6 km from Royal Flying Doctor Service. Free WiFi is available in this holiday home, set 1.7 km from Alice Springs Reptile Centre and 1.8 km from Todd Mall. Australian Aboriginal Dreamtime Gallery is 1.8 km from the holiday home, while Museum of Central Australia is 3.1 km away. Alice Springs Airport is 10 km from the property.
Located in the heart of Alice Springs, Todd Tavern offers budget accommodation with a TV and mini refrigerator in every room. The hotel's bar includes a gaming room and bistro with outdoor dining area. Guests have a choice of rooms with en suite bathroom or with access to shared bathroom facilities. All rooms include tea/coffee making facilities, plus a table and chairs. Facilities include a coin-operated laundry and on-site liquor store. DJ's Bistro offers comfortable dining in a relaxed and friendly atmosphere, with traditional pub meals and an à la carte menu. Todd Tavern Alice Springs is a 4-minute walk from the town centre's restaurants and cafes. Alice Springs Convention Centre and Lasseters Casino are a 6-minute drive away.
BIG4 MacDonnell Range Holiday Park
Macdonnell Range Holiday Park is surrounded by the beautiful MacDonnell Ranges, 5 minutes' drive from Alice Springs. Guests have access to 2 swimming pools and a children's wading pool. All rooms at Macdonnell Range Holiday Park include heating/air conditioning and a verandah with outdoor furniture. Ironing facilities and basic cooking facilities are also provided. The recreation room offers pool tables, table tennis and video games. Children can enjoy the adventure playground and basketball half-court. Bicycle hire is available. Washing machines and clothes dryers are available in the guest laundry. Barbecue facilities are available. Macdonnell Range Holiday Park is a 15-minute drive from Alice Springs Airport.
Located in the Alice Springs town centre, Elkira Court Motel offers air-conditioned rooms with a refrigerator. It features an outdoor swimming pool and barbecue facilities. Elkira Motel is a 15-minute drive from Alice Springs Airport. Anzac Hill Lookout, which offers panoramic views of Alice Springs, is 20 minutes' walk away. All rooms come with en suite bathrooms and tea and coffee making facilities. Many rooms also have flat-screen TVs and private spa baths. The Elkira Court Motel tour desk can help guests with travel arrangements and activity bookings. Laundry and luggage storage facilities are available on site.
Located in Alice Springs, 9 km from Alice Springs Convention Centre and 9 km from Lasseters Casino, Wilmots on Dixon provides accommodation with free WiFi, air conditioning, free bikes and a shared lounge. The bed and breakfast offers a flat-screen TV and a private bathroom with a hairdryer, free toiletries and shower. Guests at Wilmots on Dixon can enjoy a continental or a buffet breakfast. The accommodation offers a terrace. Guests can swim in the outdoor swimming pool, go hiking or cycling, or relax in the garden and use the barbecue facilities. School of Air is 700 m from Wilmots on Dixon, while Australian Aboriginal Dreamtime Gallery is 5 km away. The nearest airport is Alice Springs, 19 km from the bed and breakfast, and the property offers a paid airport shuttle service.
PLACES TO VISIT & THINGS TO DO IN ALICE SPRINGS
As the heart of the Red Centre, as well as the physical and spiritual hub of Australia, Alice Springs is a town steeped in culture and history, surrounded by vast red desert, ancient landscapes and awe-inspiring natural beauty. From its fascinating indigenous culture and unique pioneering history to its diverse wildlife, Alice Springs is filled with a rich array of sights and activities guaranteed to enthral and entertain every visitor of the region.
This giant rock in the ground is well, a giant rock in the ground — but it's beautiful nonetheless. The rock started forming over 550 million years ago and it's of great religious importance to the local Aboriginals. The best way to see it is by going as part of a multi-day tour of the area or driving on your own. Admission to the park is 25 AUD (15 EUR) per person. Expect to pay around 225 AUD (132 EUR) per day for a multi-day tour.
If you're fascinated by these cold-blooded creatures, then a trip here is essential as it's the largest reptile house in Central Australia. Inside you'll find poisonous snakes like Inland Taipans, Death Adders, and Mulgas, as well as lizards like the Perentie Goanna and Thorny Devils. It costs 18 AUD (10.85 EUR) to enter.
Get an aerial view of the outback by taking a trip in a hot air balloon. This is a really popular activity, and there are many companies offering ballooning in and around Alice. Expect to pay around 330 AUD (198.92 EUR) for a half-hour journey. (It's not budget friendly but many people rave about it!)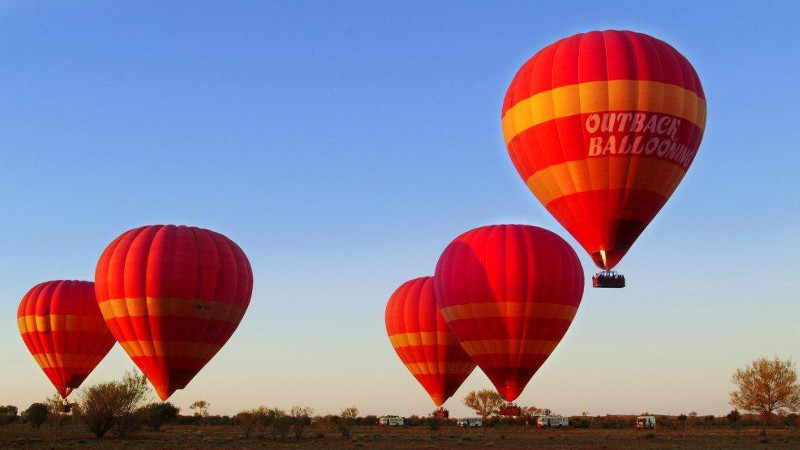 Alice Springs Desert Park
Part botanic garden, part animal sanctuary and part museum, Alice Springs Desert Park is one of the best places you can visit in Alice Springs, especially if you're short on time. Located at the base of the West MacDonnell Ranges, the Desert Park is divided into three different desert habitats – desert rivers, sand country and woodland – and is home to lots of local wildlife, including impossibly cute bilbies and big birds of prey. Closely connected to the local Arrernte communities, it's also a great place to learn more about the area's indigenous culture and its connection to the natural world, from survival to spirituality.
The Alice Springs Art Trail
Explore the Red Centre's deep connection to art on the Alice Springs Art Trail. One of four art trails that traverse the region, the Alice Springs Art Trail loops around seven of the town's most impressive and varied galleries and workshops within an easily walkable route. Encompassing everything from Aboriginal artworks to jewellery and crafts, most spots on the trail are owned and operated by local indigenous people or are community-based initiatives, like the Tjanpi Desert Weavers, the Bindi Mwerre Anthurre Artists Studio and the Tjutangku Tjukurrpa. The art trail also includes two annual events — the Alice Springs Beanie Festival and the Desert Mob Exhibition, which are both pretty incredible in their own right.
Head for the Cultural Precinct where highlights include the Sculpture Garden, the Museum of Central Australia, and the Namatjira gallery that displays the territory's largest collection of original paintings by the famous Aboriginal artist Albert Namatjira. Alice Springs' museums are fairly small so they don't take a lot of time to see but are interesting nonetheless, especially the Museum of Central Australia.
Royal Flying Doctor Service
The Flying Doctors were the first aeromedical organization in the world and patrol the outback to provide emergency medical care to the region's remote communities. The short museum tour provides all you need to know about this fascinating and essential service for residents in this part of Australia. As a history buff, I was super enthralled by this museum! Growing up in a big urban area, it's hard to imagine my ambulance being a plane! Admission is 17 AUD (10.25 EUR) and the museum is open 9am-5pm, except for Sundays when it opens at 1pm.
Olive Pink Botanical Garden
The Olive Pink Botanical Garden is located close to the scenic Todd River. Stroll through the magnificent landscaped gardens and check out their important collections of exotic plants, mature native trees, and shrubs. It's open 8am-6pm every day. There's no set fee but they do accept donations.
Built in 1928 (which in Australia terms is very old), the Old Courthouse was originally the office of the administrator for this part of Australia, before becoming the courthouse in 1980. It is now home to the National Pioneer Women's Hall of Fame, a small museum immortalizing 100 Australian women who were first in their fields. The museum is open 10am-5pm except on weekends when it closes at 4pm. There is no entry fee!
If you're a hiking enthusiast, this 250-kilometer trail through high mountains in a semi-desert area is a challenge for you. Situated within a national park, the area is heavily populated by a range of bird species so you find a lot of bird watchers there. You're in the desert so bring lots of water and gear. It's best hiked in the cooler winter months.
Aboriginal Australia Culture Center
This incredible gallery highlights the cultural history of the Aboriginal people of Australia who ruled the land prior to the Europeans. You can listen to traditional music, learn how to play the didgeridoo (indigenous Australian wind instrument), and even try to throw a spear. It has much more robust information than the visitor center at Uluru. It's open Monday-Friday from 9am-5pm.
Located just over 300 kilometers from Alice Springs, Kings Canyon is a great place to get out and hike while taking in the amazing natural beauty of the region. The walls of the canyon are over 100 meters high, offering some amazing views and great hiking. There are a few short trails you can explore in a couple of hours, as well as a longer full-day trail (the Giles Track is 22 kilometers). If you do visit, be sure to stick to the paths. Much of this area is sacred to the Aboriginals and leaving the paths is frowned upon. Single-day tours for Kings Canyon start around 200 AUD (120.61 EUR).
The Araluen Cultural Precinct
A must-visit spot in Alice Springs, the Araluen Cultural Precinct encompasses some of the most important historical, cultural and artistic experiences in the town. A 'keeping place of stories', the precinct covers the Museum of Central Australia, the Araluen Arts Centre, the Central Australian Aviation Museum, Central Craft and Yaye's Cafe. It also includes some important Arrernte cultural sites connected to the local Caterpillar Dreaming stories, Arltyerre, and public works of art.
Alice Springs first came to prominence in the 1870s as the central point of the Darwin to Adelaide telegraph line. Visit the restored Old Telegraph Station Reserve to learn more about this extraordinary feat, see some of the first buildings of Alice Springs, and to find out what life was like for the early pioneers of the Red Centre. You can also visit the site of the world's first Royal Flying Doctor Service, the School of the Air, the Australian remote learning program for kids across the territory, and explore Central Australia's first town, Hermannsburg.
Located in the East MacDonnell Ranges, 10km (6mi) out of Alice Springs, Yeperenye – or Emily Gap – is a sacred spiritual site to the Eastern Arrernte people, due to its importance in the Caterpillar Dreamtime story. Featuring a large Aboriginal rock painting of the caterpillar dreaming, Emily Gap is believed to be where the caterpillar beings of Mpwarntwe, now Alice Springs, originated. From Emily Gap, you can also continue to Trephina Gorge, which has over 5,000 ancient rock climbings and explore the ghost town at the Arltunga Historical Reserve.
A real must-do experience in Alice Springs, Simpsons Gap, is a gorgeous natural plunge pool in the middle of a towering gorge. Perfect for swimming, Simpsons Gap is also a great hiking spot, with several short walks including ancient Ghost Gums and incredible vistas over the West MacDonnell Range. Known as Rungutjirpa to the Arrernte people, this sacred gap was once home to a group of mythological giant goanna ancestors.
Just outside Alice Springs, the Kangaroo Sanctuary is the home of Kangaroo Dundee, Chris 'Brolga' Barnes. Initially opened in 2005 to care for orphaned joeys, the sanctuary – and Brolga – reached international fame when they were featured on a BBC documentary. You have to join a small-group sunset tour to visit the sanctuary, where you will come face to face with some of Australia's much-loved marsupials, red kangaroos, and see the fantastic work that Brolga has done to protect these incredible animals.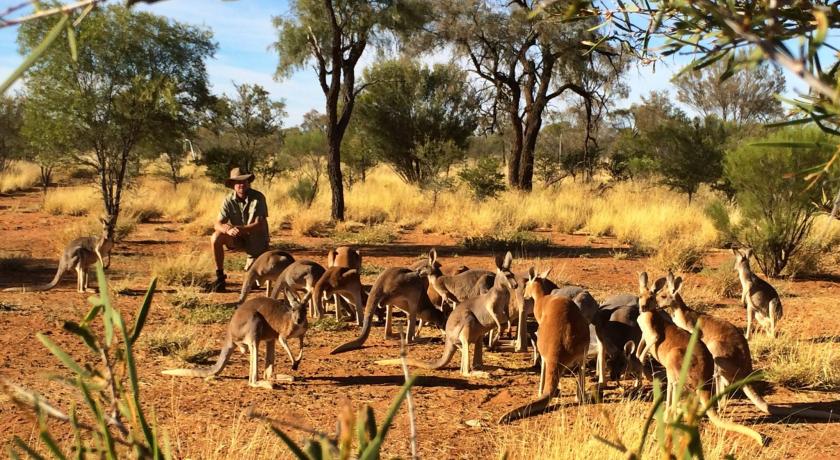 WHERE TO EAT IN ALICE SPRINGS
Venturing a little off-the-beaten-track doesn't mean your taste buds need suffer. Alice Springs, situated in the less trodden heart of Australia, attracts tourists looking to explore the outback. But the sleepy town has quite a few culinary gems awaiting too, here are the list of Turisti-Info to places to eat in Alice Springs.
A night of one-too-many delicious cocktails in the evening can be followed by a delicious breakfast in the cozy comfort of the Epilogue Lounge. This busy little place provides a buzzing atmosphere, but rest assured the service is very efficient. Live music often accompanies the famous duck pizza in the evening, while the breakfast burrito can be enjoyed alongside a quality coffee – a perfect start to the day or night.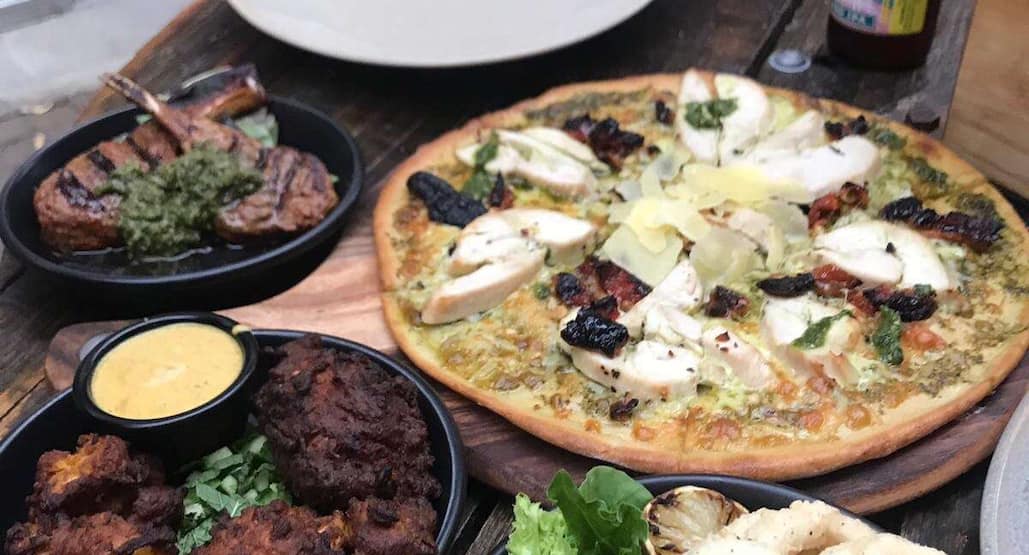 Alice Springs' first seafood restaurant is the perfect choice if you are looking for something a little on the fancy side. Meals can be fairly pricey but the stylish and contemporary surroundings are priceless. Breakfast, lunch and dinner are served every day of the week in the summer and the bar is open until late every night, meaning there are some pretty good parties and drinking sessions to be had here too.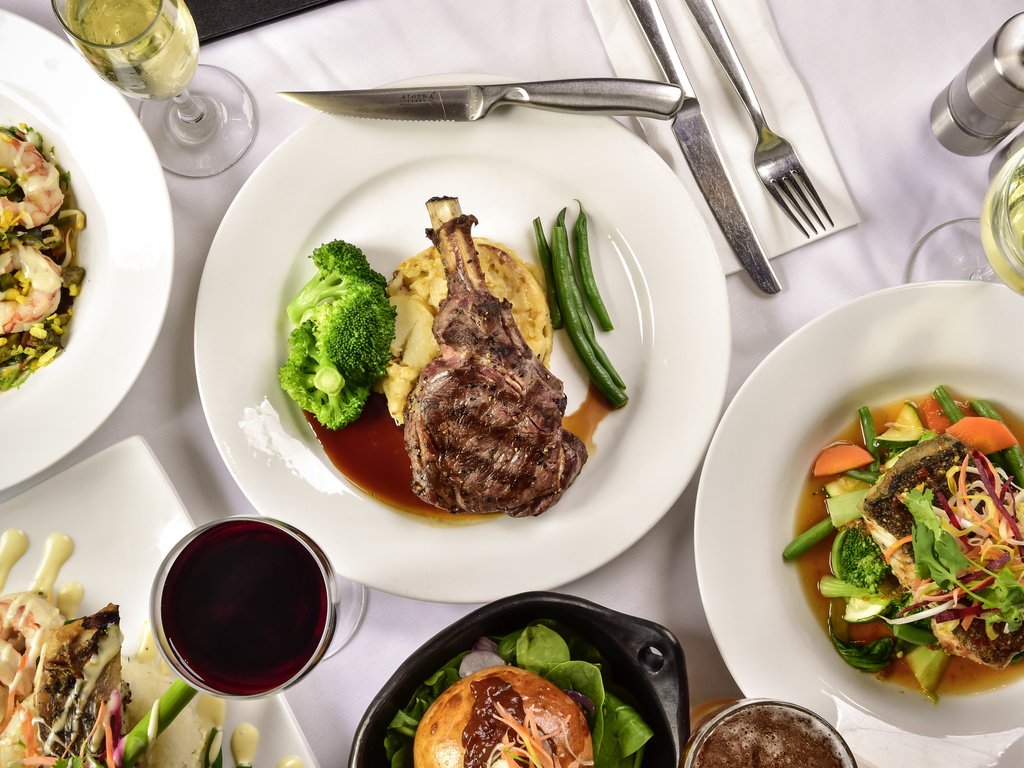 This quirky cafe has taken a page out of Melbourne's book, serving quality coffee and breakfast in a retro setting. Excellent vegetarian options are on offer too and visitors really get bang for their buck when it comes to portion sizes. Don't leave without sampling one of those elegant layered lattes, poured as meticulously as a work of art, and just check out the photo-worthy eggs Benedict; creamy and doused with fried mushrooms.
Casa Nostra Pizza & Spaghetti House
Casa Nostra Pizza & Spaghetti House does precisely what it says on the tin: fantastic pizza pies cooked up in the style of the Italian Boot itself (think crispy Napoli dough and fresh mozzarella) and creative, flavorsome pastas worthy of Tuscan farmhouse kitchens. And while the pizzas are great and the food as classic as it comes, it is the atmosphere here that is the real draw; alive with chattering locals and the occasional Italian traveler sampling their native cuisine far from the motherland.
If you want a taste of Australia, Red Ochre is the place to go. Camel sausage pasta and smoked kangaroo salad are just a few of the experimental modern Australian flavors on offer on the menu, while the fine ambience of Red Ochre is created by the prime location in the downtown, just opposite the city's botanical gardens. Expect plenty of regional seafood and game meat, doused in real Australian garnishes and served up with a dash of culinary flair.
Now here's something a little different. The coffee at this Indigenous catering place is good, but we love it for its snacks that put wild-harvested bush foods (eg bush tomatoes, lemon myrtle) front and centre. Take-home treats include saltbush or wattleseed dukkah, bush tomato chutney and quandong relish.
This cute little European-style cafe brings a slice of sophistication to Todd Mall. They do fine coffee (some say the best in Alice Springs) and terrific breakfasts. The menu is small but perfectly formed – try the black rice salad.
The place for steaks, big succulent cuts of beef – plus a range of native animals. Amid the cattle station decor you can try Stuart's Tucker Bag: a combo of croc, kangaroo, emu and camel. The Drovers Blowout set menu will satisfy your need to eat as many local animals as possible in one go: it features all of the meats, and you'll never want to eat meat again.
Made from the raw materials of an outback water tank (corrugated iron, decorated with a range of recyclables), this quirky cafe serves up decent breakfasts, light meals for lunch, free wi-fi and occasional live music. Food is international, meandering through Italy and Vietnam, with a few wraps, focaccias and bowl food.
There's no Bollywood drama in the decor of this humble family restaurant. While covering ubiquitous curries and tandoori favourites, the menu includes a smattering of non-Indian meals. There are several vegetarian dishes and, though fully licensed, BYO is also possible.
This modern cafe is popular with locals for its excellent food and some of Alice's best coffee. Try the toasties or one of the breakfast rolls. Lunch is a more standard affair with burgers, calamari and salads.
With tables and chairs strewn out over Todd Mall, this place is good for people-watching, hearty breakfasts and fresh, well-brewed coffee. Lunch is all about curries and quesadillas.
WHERE TO SHOP IN ALICE SPRINGS
This small enterprise by the Ngaanyatjarra Pitjantjatjara Yankunytjatjara (NPY) Women's Council employs and supports more than 400 Central Desert female weavers from 26 remote communities. The shop is well worth a visit to see the magnificent woven baskets and quirky sculptures created from grasses collected locally – tjanpi means 'wild harvested grass'.
Ngurratjuta Iltja Ntjarra
The 'many hands' art centre is a small gallery and studio for visiting artists from all over central Australia. Watercolour paintings by descendants of Albert Namatjira are the focus here. Works are reasonably priced and you buy directly from the artists. You can see artists at work from 10am to 3pm Monday to Thursday.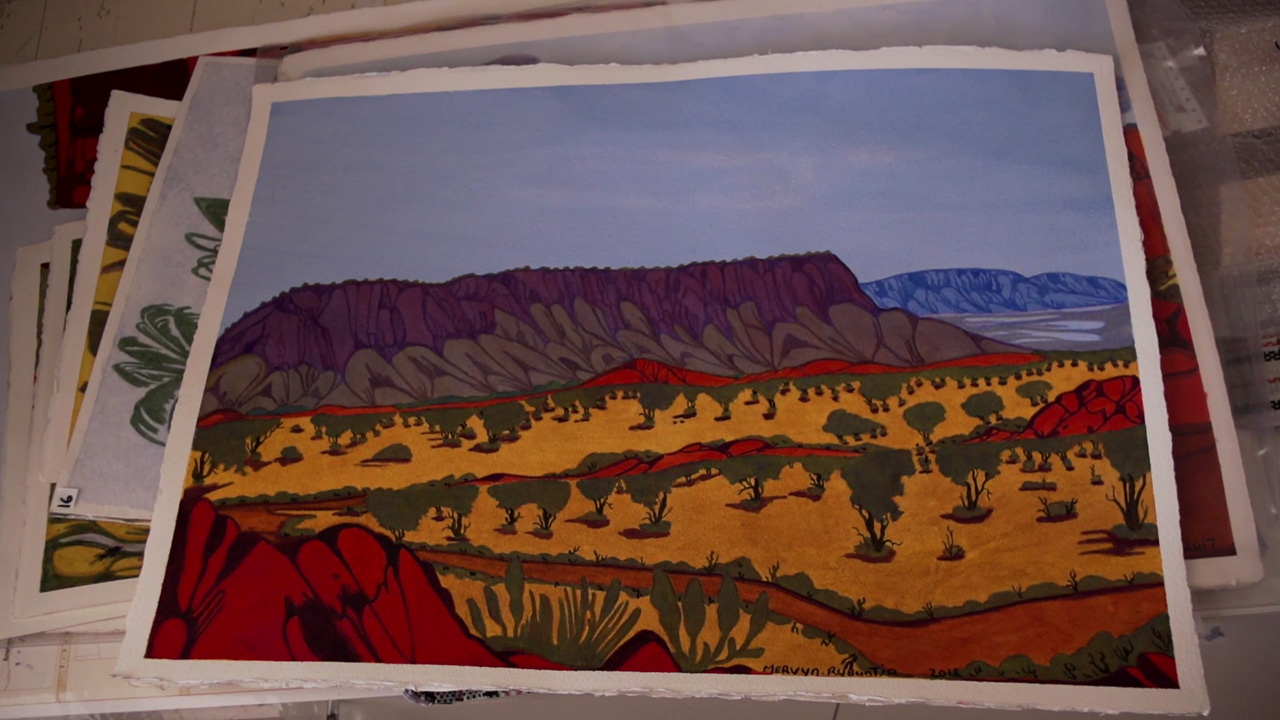 This privately owned gallery includes extensive exhibits of works from the renowned Utopia region, as well as watercolour landscapes from the Namatjira school. Collectors should ask to see their collection of bark paintings, old boomerangs and high-end works out the back.
Talapi is a beautiful space in the heart of town, exhibiting and promoting Central Desert Indigenous art. It sources its artworks directly from Aboriginal-owned art centres and is a member of the Indigenous Art Code. Drop in to ask about upcoming exhibitions.
One of the larger gallery shops in Alice, Yubu Napa has dot painting from the Western Desert, watercolours from the Hermannsburg School, photography, basketwork and other arts and crafts from central Australian Aboriginal communities.
Buskers, craft stalls, sizzling woks, smoky satay stands, Aboriginal art, jewellery and knick-knacks make for a relaxed stroll at this seasonal Sunday market. The market doesn't run in January, runs once in late February, then runs two to three times monthly the rest of the year – check the website for dates.
This stunning gallery showcases artworks from the Western Desert communities of Papunya, Kintore and Kiwirrkurra – even if you're not buying, it's worth stopping by to see the magnificent collection.
Excellent bookshop specialising in central Australian titles: history, art, travel, novels, guidebooks and more. It also has small but well-chosen wildlife section.
Paintings across a range of styles, printed textiles, recycled tin jewellery – there's a real breadth of genres on offer here at this urban Indigenous art centre.
A small but air-conditioned shopping centre with a handful of shops and a smallish food court.
If you're keen to tackle part of the Larapinta Trail but don't have your own equipment, Lone Dingo Adventure can put together packs of camping and hiking gear for hire, as well as GPS and EPIRB (Emergency Position Indicating Radio Beacon) equipment.
For camping and hiking gear, head to this shop, which has just about everything you need to equip yourself for an outback jaunt: maps, swags, tents, portable fridges, stoves and more.
High-end fine art from the Western Desert, including Utopia, is what this gallery is all about. They represent a number of big-name artists.
One of the better galleries selling original works, with a focus on contemporary paintings from the Western Desert.
If you've a special interest in Aboriginal stories, the publishing arm of the Institute for Aboriginal Development NGO has a small selection of books for sale, as well as a well-stocked library.
Central Australian Aboriginal Media Association
Here at the CAAMA studio, which has its own radio network (8KIN FM), you'll find CDs recorded by central Australia's Aboriginal musicians.