KESKIVIIKKO, 14. LOKAKUUTA 2020
When it comes to countries offering scenic train rides it doesn't come much better than Switzerland. With an efficiency that would make most other nations blush with shame and views that are hard to beat (did someone say the Alps?), the Swiss could justifiably rest on their railway laurels and nobody would complain. But keen to always be improving the services, this March saw the national carrier introduce a new, even higher standard of travel on the country's most famous route.
The journey in what has been dubbed the world's slowest express train takes travellers across the Alps within roughly eight hours, passing through 91 tunnels and over 291 bridges. The Glacier Express running to/from St Moritz and Zermatt since 1930, is on every train enthusiast's wishlist. A wonderful journey through some of Switzerland's legendary landscapes, it starts off in the uber-chic snow resort of St Moritz and, some eight hours later, arrives in equally glitzy Zermatt, with a view of the iconic Matterhorn thrown in for good measure. Between those two towns, the track runs through several sections of genuinely world-class scenery, highlights being the stretch from Disentis to Andermatt, across the Oberalp Pass, the highest point of the trip, and the Landwasser Viaduct, a six-arched, 65-metre high feat of engineering completed in 1902.
Passengers could previously enjoy all this Swiss splendour from comfortable second-class carriages and very comfortable first-class carriages, but now, for the ultimate Glacier Express experience, there's a new class on the block, Excellence Class. Started in March 2019, the Excellence upgrade gives you (and 19 other exclusive passengers) a window seat for full panoramic appreciation, a seven-course meal with champagne, access to the Glacier Bar (with a gold-plated ceiling compass in case you need to know which direction you're travelling), a tablet with lots of route information, and the services of a concierge because why not?
All this luxury inevitably comes with a price – the one-way journey from St Moritz to Zermatt in Excellence Class will set you back some 688 Swiss Francs (around €608) but for a once-in-a-lifetime train journey, especially if rolling on the rails is your thing, it's undoubtedly worth it.
Children aged under six travel free (buy an extra seat reservation if you don't fancy a young child on your lap for eight hours), and children aged six to 16 years pay half-price plus seat reservation. Rather than going for the on-board three-course lunch, served in the dining car or brought to your seat, consider bringing your own picnic. All aboard!
FACTS GLACIER EXPRESS
| | |
| --- | --- |
| Route: | Zermatt – St. Moritz or vice versa |
| Distance: | 291 km |
| Duration: | 8 h 03 min |
PLACES TO SEE
The Glacier Express takes the following route through the Swiss countryside: Zermatt – Visp – Brig – Andermatt – Disentis – Chur – St Moritz (or Davos). Each stop allows enough time to get some fresh air outside of the train, with a longer stop (30 minutes) in Disentis, allowing enough time to disembark and stretch the legs or purchase some snacks at a fraction of the price you will pay on board.
Matterhorn glacier paradise – a view of French, Italian and Swiss mountain giants from a vantage point of almost 4000 m
Gornergrat – a view onto the Matterhorn and 28 other four-thousand-meter-peaks from a vantage point of 3131 m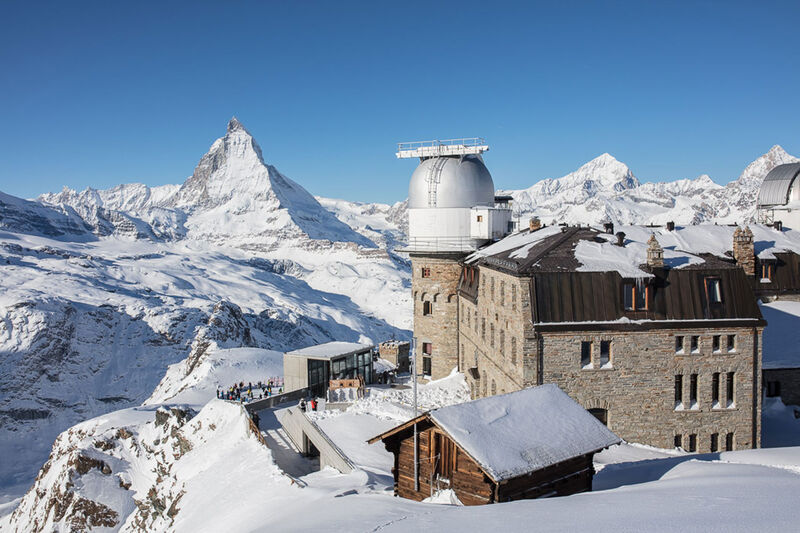 Rhine Gorge – Exploring the «Grand Canyon» of Switzerland between Ilanz and Reichenau on foot, by bike or by rafting boat
Lake Sils – at 1800 m, Europe's highest altitude regular scheduled passenger boat service
Corvatsch – the eastern Alpine region's highest altitude summit station at 3303 m. A paradise for skiers and hikers
VILLAGES & TOWNS
With around 8 hours on board there is more than enough time to experience the Swiss countryside from the comfort of your window. Not only does the Glacier Express stop in a number of Swiss towns, but also passes effortlessly by a number of smaller villages and regions.
From Zermatt, the train descends through the Mattertal line, passing through a handful of small towns such as Täsch, Randa, St. Niklaus, Stalden, and larger towns like Visp and Brig.
From here the train passes through the Furka section, into a winter wonderland as you pass through Andermatt, another popular ski destination.
Onwards to Chur, the train then passes through the impressive Rhine Gorge – home to huge rock faces and a turquoise river that is very popular for locals to enjoy water activities such as kayaking and canoeing.
From Chur the train heads onwards through the Albula line and passes some of the most impressive scenery of the entire journey. This is where you will see the famous Landwasser viaduct (a great photo opportunity) and a number of castles in the mountains and valleys.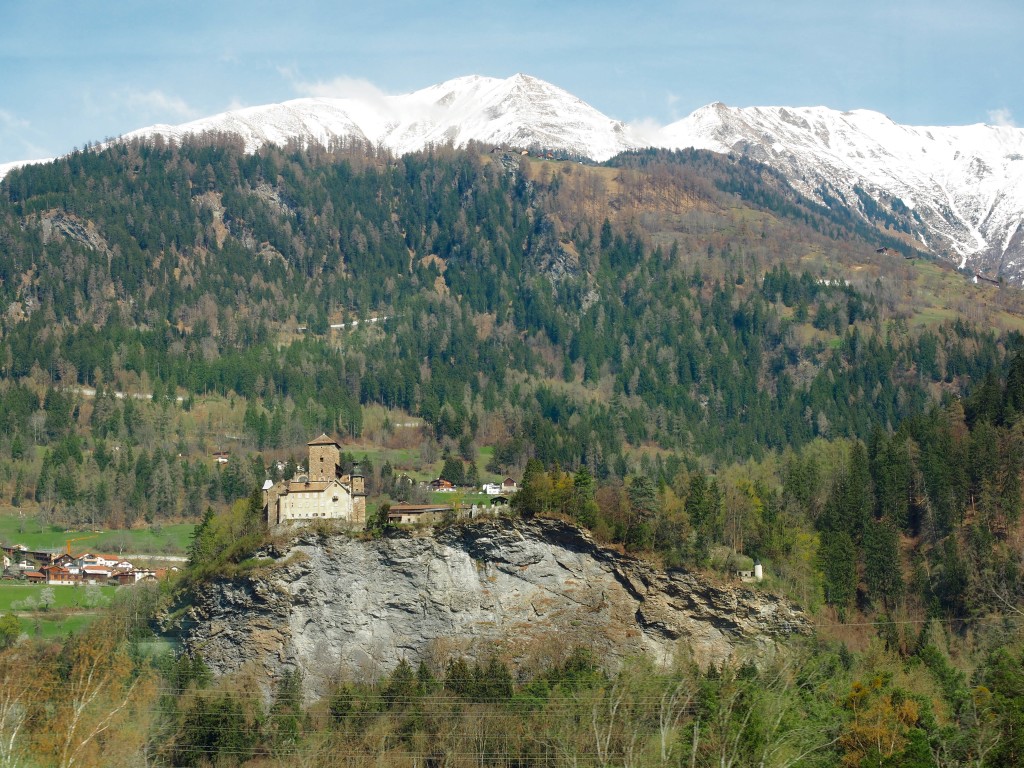 BEST SEASON TO GO ON TRIP
Any season can be great if the sky is clear enough to enjoy the views. In October, the brilliantly colored trees make the trip a special experience. In Winter, the special touch is the massive amounts of snow on the Oberalp Pass and mostly in the valleys too. Our personal favorite is Spring (April to June), as that offers the perfect combination of green valleys and snowy mountains.
REGULAR TRAINS VERSUS GLACIER EXPRESS
You are not required to travel with the Glacier Express if you want to enjoy the scenery of the Glacier Express route. There are regular train services on the same line as well. The regular trains do not offer the panoramic windows and the same level of comfort, but other than that you can see the landscape just as well.
The regular trains are local trains, so you would have to switch trains multiple times to cover the whole route. The Glacier Express is the only direct train from Zermatt to St. Moritz. Realistically, the Glacier Express is the best way to see the route if you plan to do it in one day. The local trains are an alternative to cover only part of the route or do it in multiple days. Also they're a good option if you're traveling when the Glacier Express does not operate.
THE GLACIER EXPRESS
Traveling on board the Glacier Express is comfortable. Both 1st and 2nd class coaches have panoramic sealed windows all the way to the roof. The train is air conditioned. Information about the routes and sites along the way is provided via headphones.
The 1st class seats are more spacious as there are only three seats across, versus four in 2nd class. Food and drinks will be served at your seat. Also there's an on-board bar and restaurant. If you want to splurge to have the most exclusive ride, you can book a seat in the Excellence Class coach. There are no more than 20 passengers in Excellence Class, and they all have window seats. There is a bar area, personal travel guidance, and a premium multi-course lunch.
TIPS IF YOU DONT HAVE TIME TO DO FULL ROUTE
For the best experience, we recommend to spend at least one night in Zermatt, do the full Glacier Express ride, and spend at least one night in St. Moritz. However, if you're based in another town you can still enjoy part of the route as a day trip. Some examples:
From Interlaken: take a train to Brig and board the Glacier Express there. Get off the train in Chur. Then take a train back to Interlaken. This day trip takes 9 to 10 hours.
From Lucerne: take a train to Chur and board the Glacier Express there. Get off the train in Brig. Then take a train back to Lucerne. This day trip takes 9 to 10 hours. If you get off the Glacier Express in Andermatt instead of Brig the trip takes 7.5 to 8.5 hours.
From Zurich: take a train to Chur and board the Glacier Express there. Get off the train in Brig. Then take a train back to Zurich. This day trip takes 8 to 9 hours. If you get off the Glacier Express in Andermatt instead of Brig the trip takes 6.5 to 7.5 hours.
Another option is to combine the Glacier Express and Gotthard Panorama Express. Detailed schedules can be found in the timetable.
ST MORITZ
The journey ends (or begins for travellers heading in the opposite direction) in St Moritz, infamously known as the winter playground for the International Elite (translation: its expensive).
Popular in both winter and summer, there isn't a great deal to do in St Moritz outside of these seasons and as we came to learn, it becomes quite a ghost town outside of these times. Regardless it was a nice pit stop for a couple of nights after such a long travel day and used this time to refresh before the onward journey to the Italian lakes district!
You can book your Excellence Class journey independently or let someone else take care of the logistics by using Vacation By Rail.