SUNNUNTAI, 11. LOKAKUUTA 2020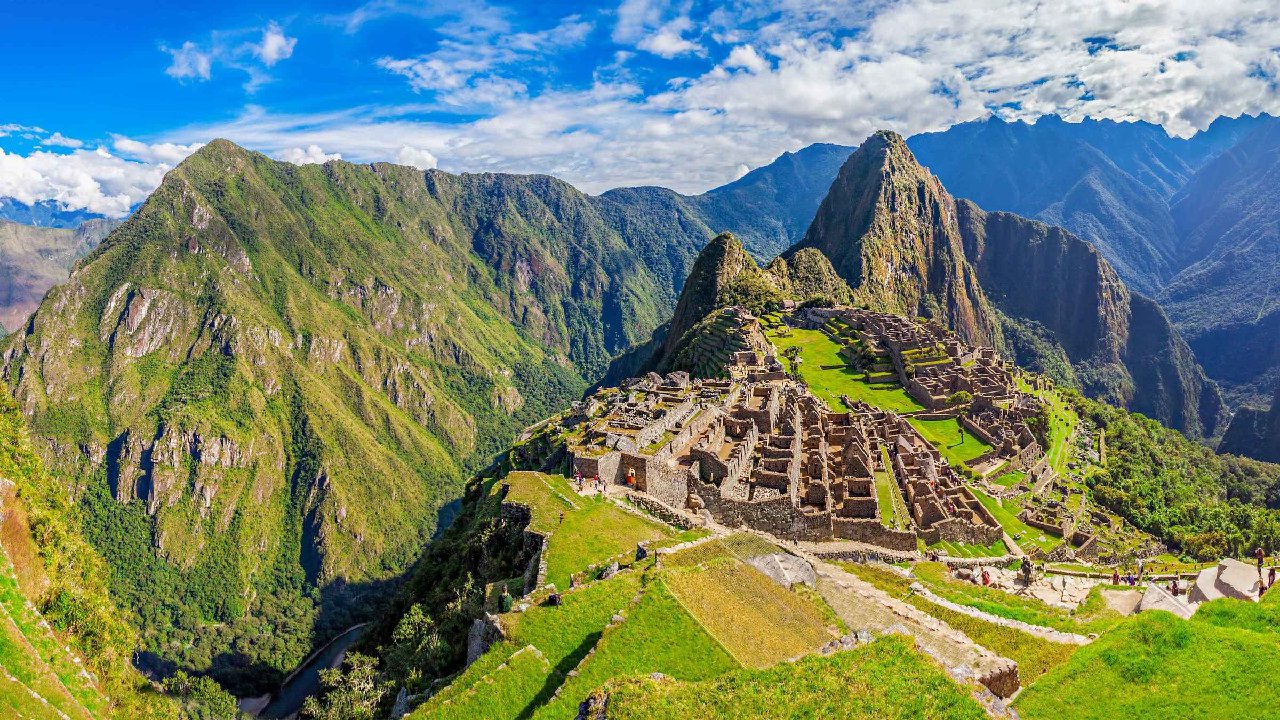 There's nowhere on earth like Machu Picchu. Located in the mountains of Peru, the city was constructed by the Inca Empire at an altitude of 7,900 feet. Even to this day, no one knows for sure why they risked their lives to build such a dramatic fortress, but one thing's certain: anyone who visits this magical site will be glad that they did. Perched atop sheer mountain cliffs, Machu Picchu is astounding, even before you learn its huge stone slabs were put together without any mortar. Visitors can take photos of the Urubamba River far below, climb nearby Huayna Picchu for breathtaking views, and tour the various buildings, including the Temple of the Sun.
Shrouded by mist and surrounded by lush vegetation and steep escarpments, the sprawling Inca citadel of Machu Picchu lives up to every expectation. In a spectacular location, it's the most famous archaeological site on the continent, a must for all visitors to Peru. Like the Mona Lisa or the pyramids, it has been seared into our collective consciousness, though nothing can diminish the thrill of being here. This awe-inspiring ancient city was never revealed to the conquering Spaniards and was virtually forgotten until the early part of the 20th century.
In the most controversial move in Machu Picchu since Hiram Bingham's explorations, the Peruvian authorities changed entries from daily visits to morning and afternoon turns in 2018. Visitors must plan more carefully than ever to seize the experience. Though an expanded limit of 5940 people are now allowed in the complex (including the Inca Trail) daily, demand remains insatiable. One of mankind's greatest and most mysterious engineering achievements, Machu Picchu is sure to leave everyone spellbound.
BEST TIME TO VISIT MACHU PICCHU
The rainy season in Machu Picchu officially begins in October and runs until April, but November to March are easily the wettest months. July and August are the peak months, when crowds can make it harder to enjoy the ruins at their best, so think about visiting in September or late spring.
REASONS TO VISIT MACHU PICCHU
Machu Picchu is beautiful, and nothing compares to witnessing this beauty in person. Floating far above the river below, with the jagged peaks of the Andes all around, it's more like a work of art than a city.
Learn About Some of the World's Greatest Engineers
Visiting Machu Picchu is a great chance to learn about the Incas. Some of history's greatest builders, the Incas constructed Machu Picchu without using wheels - an incredible feat.
Mountains to Climb and Trails to Hike
If you love hiking or climbing, Machu Picchu is an outstanding destination. Right next to the site itself you have the chance to climb Huayna Picchu, and there are hiking trails in almost every direction.
Visitors to Machu Picchu don't need to explore the ruins on their own. Licensed experts with companies like Machu Picchu Tour Guides are on hand to explain how and why the Incas chose to build in such a challenging spot.
An Incredible Climax to a Vacation on the Inca Trail
Machu Picchu doesn't have to be the only Inca site you visit in Peru; it's the ideal way to round off a walking tour on the Inca Trail. Once an Inca road, the Trail takes five days to complete and is a once-in-a-lifetime experience.
GETTING TO MACHU PICCHU
Plane - Most visitors to Machu Picchu fly into Lima with carriers like Delta or American Airlines and then transfer to local flights to Cusco. From there, you can take a rail connection to Aguas Calientes, which lies at the foot of the ascent to Machu Picchu. It is advisable to spend a few days in Aguas Calientes to become acclimatized to the higher altitude. After two or three days, you should be ready to start your journey to Machu Picchu.
Train - Visitors can choose from three companies: Inca Rail, Peru Rail, and Belmond Hiram Bingham Trains. Belmond offers a more luxurious service, with plush wooden compartments and fine wines, while the other two companies would suit a more budget-conscious traveler. The gorgeous ride along the Urubamba River takes around five hours.
Car - Thanks to reliable rail connections, driving to Machu Picchu isn't really necessary, but it can almost be done. You can't drive as far as Aguas Calientes, but the road from Cusco to Ollantaytambo almost takes you to the foot of the Inca Trail. Rental companies in Cusco include Europcar, Hertz, and Auto Rent Cusco.
Bus - Local buses are a cheap way to travel from Cusco to Ollantaytambo, but you'll have to catch a train from there to Aguas Calientes. The bus costs just S/17, while a taxi to Ollantaytambo costs around S/120.
GETTING AROUND MACHU PICCHU
Public Transportation - Catching a bus is the easiest way to get from Aguas Calientes to the ruins of Machu Picchu. Buses leave from the main station or the train station at Puente Ruinas, which is slightly closer to the ruins, and tickets can be purchased from the kiosk opposite the train station. The cost is S/15 from the town center and S/10 from Puente Ruinas.
Taxi and Driving - There are no taxis in Aguas Calientes, and you can't drive there either. The only way into the town is by train, and the only route from Aguas Calientes to the ruins is by bus (or walking). However, you can drive from Cusco to Ollantaytambo or pay around S/80 for a taxi.
Walking - For many people, the best way to reach the ruins of Machu Picchu is on foot. The four mile path is well signposted and takes between 90 minutes and two hours to complete - and the views are incredible.
WHERE TO STA IN MACHU PICCHU
Casona del Inca Machu Picchu
Set within 3.8 km of Machu Picchu Historic Sanctuary and 6 km of Huayna Picchu, Casona del Inca MachuPicchu features rooms in Machu Picchu. All rooms boast a flat-screen TV with cable channels and a private bathroom. The property offers a 24-hour front desk and free WiFi is available throughout the property. At the guest house, the rooms come with a wardrobe. Guests at Casona del Inca MachuPicchu can enjoy a continental or a buffet breakfast. Popular points of interest near the accommodation include Machu Picchu Hot Spring, Bus Stop and Wiñaywayna Park.
Golden Sunrise Machupicchu
Boasting a bar, shared lounge and views of river, Golden Sunrise Machupicchu is situated in Machu Picchu, 300 m from Machu Picchu Hot Spring. This 4-star hotel offers a tour desk and luggage storage space. The accommodation features a 24-hour front desk, a shuttle service, a concierge service and free WiFi throughout the property. At the hotel, the rooms are equipped with a wardrobe. At Golden Sunrise Machupicchu rooms have a desk, a flat-screen TV and a private bathroom. Continental and buffet breakfast options are available each morning at the accommodation. Golden Sunrise Machupicchu offers a sun terrace. Popular points of interest near the hotel include Bus Stop, Wiñaywayna Park and Craft Market.
Samuel's House is located in Machu Picchu, 700 m from Machu Picchu Hot Spring and features a shared lounge. The property is close to several noted attractions, around 2.5 km from Machu Picchu Historic Sanctuary and around 2.6 km from Huayna Picchu. Attractions in the area include Stadium, a 1-minute walk away, or Craft Market, situated 100 m from the property. All guest rooms in the hotel are fitted with a flat-screen TV with satellite channels. Featuring a private bathroom with a bath or shower and free toiletries, rooms at Samuel's House also feature free WiFi. All rooms have a desk. A buffet breakfast is served each morning at the property. Speaking English and Spanish at the 24-hour front desk, staff are always on hand to help. Bus Stop is 300 m from the accommodation, while Wiñaywayna Park is 300 m from the property. The nearest airport is Alejandro Velasco Astete International Airport, 76 km from the property.
Located in Machu Picchu, 200 m from Machu Picchu Hot Spring, El Mistico Machupicchu features a tour desk and free WiFi throughout the property. Featuring family rooms, this property also provides guests with a terrace. The accommodation provides a 24-hour front desk, a shared lounge and currency exchange for guests. At the inn every room comes with a desk and a private bathroom. A continental breakfast is available daily at El Mistico Machupicchu. Popular points of interest near the accommodation include Wiñaywayna Park, Bus Stop and Craft Market.
Perutambo offers rooms in Machu Picchu near Craft Market and Manuel Chavez Ballon Museum. Among the facilities at this property are a shared lounge and a concierge service, along with free WiFi throughout the property. The accommodation provides a 24-hour front desk, room service and currency exchange for guests. Guest rooms at the inn are equipped with a seating area, a flat-screen TV with cable channels and a private bathroom with a hairdryer and a shower. The units include a wardrobe. Guests at Perutambo can enjoy a buffet breakfast. Guests at the accommodation will be able to enjoy activities in and around Machu Picchu, like hiking. Popular points of interest near Perutambo include Machu Picchu Hot Spring, Bus Stop and Wiñaywayna Park.
Featuring free WiFi access in general areas, a complimentary breakfast and conveniently located only a 5-minute walk from the train station, Modo Viaje Hostel offers accommodations in Aguas Calientes, Machu Picchu. Rooms here all include bed linen and towels, and are fitted with either shared or private bathroom facilities. Some rooms offer a mountain view. At Modo Viaje Hostel guests will find a 24-hour front desk. Other facilities offered at the property include a tour desk and luggage storage. Additionally, and considering there are no cars in Aguas Calientes, the hostel offers a helpful walked assistance service from the train station, where staff will help and guide passengers towards the hostel. The guest house enjoys a privileged and tranquil location near shops and restaurants yet far from the noisy areas of town. There is a handicraft market only 100 m away and Machu Picchu Hot Springs are 600 m away.
Kaipy offers accommodations with free WiFi in Machu Picchu. Each room here features a private bathroom with free toiletries and cable TV. A daily American breakfast is included. At Kaipy guests will find free shuttle service. Other facilities offered at the property include a shared lounge, a tour desk and luggage storage. The Hostal is a 3-minute walk from the train station and a 10-minute walk from the city's main square and hot springs.
Located 30 m from Plaza de Armas Square, Hostal Urpi offers accommodations in Machu Picchu. Free WiFi access is available. Each room here features cable TV and a private bathroom with free toiletries. A daily breakfast is included. At Hostal Urpi guests will find free shuttle service and a 24-hour front desk. Other facilities offered at the property include a tour desk, luggage storage and shops (on site). The property is located steps from the train station and the central market.
Pablo's House is situated in Machu Picchu, within 600 m of Machu Picchu Hot Spring and 2.4 km of Machu Picchu Historic Sanctuary. Popular points of interest around the property include Craft Market and Bus Stop. The property provides a 24-hour front desk. The rooms in the guest house are fitted with a TV with cable channels. The private bathroom is equipped with a shower. Huayna Picchu is 2.5 km from Pablo's House, while Stadium is a 3-minute walk away. The nearest airport is Alejandro Velasco Astete International Airport, 76 km from the property.
Kcuychi Hospedaje is located in Machu Picchu, within 6 km of Huayna Picchu and 7 km of Machu Picchu Historic Sanctuary. The property is set 100 m from Craft Market and 1 km from Manuel Chavez Ballon Museum. The accommodation provides a 24-hour front desk, a shared lounge and currency exchange for guests. Featuring a private bathroom, rooms at the guest house also offer free WiFi. A continental breakfast is available daily at Kcuychi Hospedaje. Popular points of interest near the accommodation include Machu Picchu Hot Spring, Bus Stop and Wiñaywayna Park.
PLACES TO GO & THINGS TO DO IN MACHU PICCHU
Machu Picchu is undeniably Peru's premier tourist attraction and few visitors to the country fail to make their way to the hilltop ruins of the 'Lost City of the Incas'. Almost everyone has seen pictures of the enigmatic ruins nestling on their perch on top of a mountain, surrounded by swirling wisps of cloud. However, not everyone is so familiar with the highlights and unmissable sights within the complex. Turisti - Info gather the list of places to visit & things to do in Machu Picchu to make your visit worthwhile.
If you are staying at Aguas Calientes, you will need to wake early and queue for the bus, especially if you hope to secure tickets for Huayna Picchu. If you are feeling particularly energetic or you just want to beat the crowds, you can hike up to Machu Picchu. The route is more direct than if you take the bus and depending on how fast you go, it will take you between one to three hours.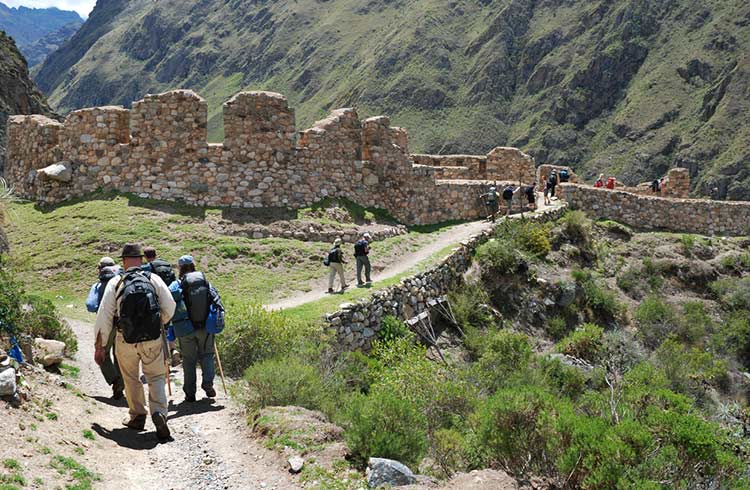 See the Sunrise from Machu Picchu
Another reason to hike up to Machu Picchu is to catch the sunrise – although this is also possible if you take the earliest bus. Another bonus, you will be able to explore the ruins before the tour groups arrive. If this sounds exciting then why not check out this tour that is designed to catch the first rays in Machu Picchu?!
The classic photo of Machu Picchu that everyone seems to take always features a large protrusion of rock rising up in the background. This rock is Huayna Picchu and it is possible to climb to the top of it for some of the best views of the site and the surrounding mountains. However, only 400 people are permitted to scale it per day, so you should reserve tickets well in advance. If you arrive at Machu Picchu very early in the morning, it can still be possible to obtain one of the last tickets but don't count on it!
The Inca Trail ends after its final descent from the notch in the horizon called Intipunku (Sun Gate). Looking at the hill behind you as you enter the ruins, you can see both the trail and Intipunku. This hill, called Machu Picchu (Old Peak), gives the site its name. Access from the Machu Picchu ruins may be restricted. It takes about an hour to reach Intipunku. If you can spare at least a half-day for the round-trip, it may be possible to continue as far as Winay Wayna. Expect to pay S15 or more as an unofficial reduced-charge admission fee to the Inca Trail, and be sure to return before 3pm, which is when the checkpoint typically closes.
This Quechua word loosely translates as the 'Hitching Post of the Sun' and refers to the carved rock pillar, often mistakenly called a sundial, at the top of the Intihuatana hill. The Inca astronomers were able to predict the solstices using the angles of this pillar. Thus, they were able to claim control over the return of the lengthening summer days. Its exact use remains unclear, but its elegant simplicity and high craftwork make it a highlight.
Behind and connected to the Principal Temple lies this famous small building. It has many well-carved niches, perhaps used for the storage of ceremonial objects, as well as a carved stone bench. The Sacristy is especially known for the two rocks flanking its entrance; each is said to contain 32 angles, but it's easy to come up with a different number whenever you count them.
Hut of the Caretaker of the Funerary Rock
An excellent viewpoint to take in the whole site. It's one of a few buildings that has been restored with a thatched roof, making it a good shelter in the case of rain. The Inca Trail enters the city just below this hut. The carved rock behind the hut may have been used to mummify the nobility, hence the hut's name.
The 'temple' derives its name from the massive solidity and perfection of its construction. The damage to the rear right corner is the result of the ground settling below this corner rather than any inherent weakness in the masonry itself.
Just above and to the left of the ceremonial baths is Machu Picchu's only round building, a curved and tapering tower of exceptional stonework. This structure is off-limits and best viewed from above.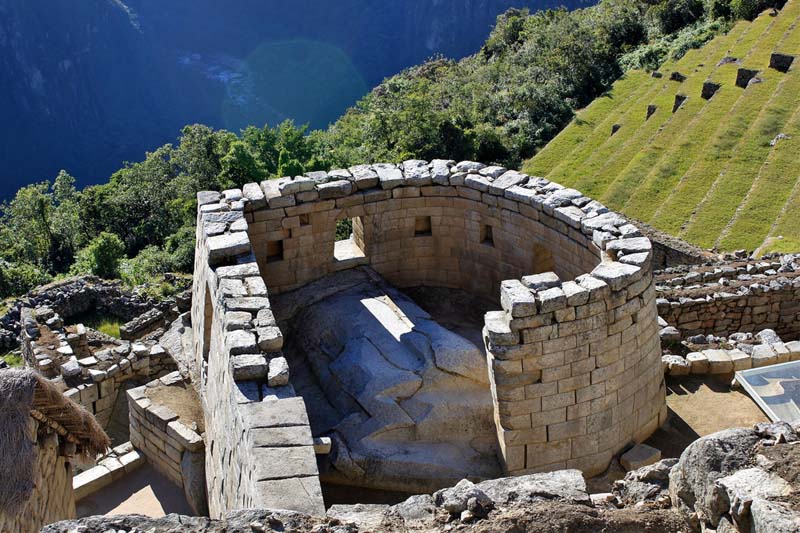 Temple of the Three Windows
Important buildings flank the remaining three sides of the Sacred Plaza. The Temple of the Three Windows features huge trapezoidal windows that give the building its name.
A scenic but level walk from the Hut of the Caretaker takes you right past the top of the terraces and out along a narrow, cliff-clinging trail to the Inca drawbridge. In under a half-hour's walk, the trail gives you a good look at cloud-forest vegetation and an entirely different view of Machu Picchu. This walk is recommended, though you'll have to be content with photographing the bridge from a distance, as someone crossed the bridge some years ago and tragically fell to their death.
Climbing the stairs above the ceremonial baths, there is a flat area of jumbled rocks, once used as a quarry. Turn right at the top of the stairs and walk across the quarry on a short path leading to the four-sided Sacred Plaza. The far side contains a small viewing platform with a curved wall, which offers a view of the snowy Cordillera Vilcabamba in the far distance and the Río Urubamba below.
If you head straight into the ruins from the main entry gate, you pass through extensive terracing to a beautiful series of 16 connected ceremonial baths that cascade across the ruins, accompanied by a flight of stairs.
Below the Temple of the Sun, this almost hidden, natural rock cave was carefully carved by Inca stonemasons. Its use is highly debated; though known as the Royal Tomb, no mummies were actually ever found here.
This 'temple' is named for a carving of the head of a condor with rock outcrops as outstretched wings. It is considered the centerpiece of the Prison Group.
The plaza separates the ceremonial sector from the residential and industrial areas.
CHECK OUT THE PRISON GROUP AND THE TEMPLE OF THE CONDOR
On the east side of the site, you will find a fascinating jumble of cells both above and below the ground known as the Prison Group. Here, you can also see the Temple of the Condor, so named for the carving on the front, said to resemble the head of the giant bird.
Little is known about these mysterious ruins, located opposite the Principal Temple.
If you manage to acquire a pass to climb Huayna Picchu, you also have the option of a longer hike around the back of the rock which takes you down to the seldom-visited Temple of the Moon and the Great Cavern. These are not among the most spectacular sights at Machu Picchu, but the walk will give you some respite from the oppressive crowds that always throng Peru's most famous tourist attraction. The hike to the top of Huayna Picchu, down to the temple and the cave and then back up will require at least a few hours.
If you are not lucky enough to obtain a ticket for Huayna Picchu, another option is to climb Cerro Machu Picchu, or Machu Picchu Mountain. Lying on the other side of the ruins from Huayna Picchu, this is another of the very seldom-visited parts of the complex and you will find yourself looking down on the ruins from above with hardly anyone else around.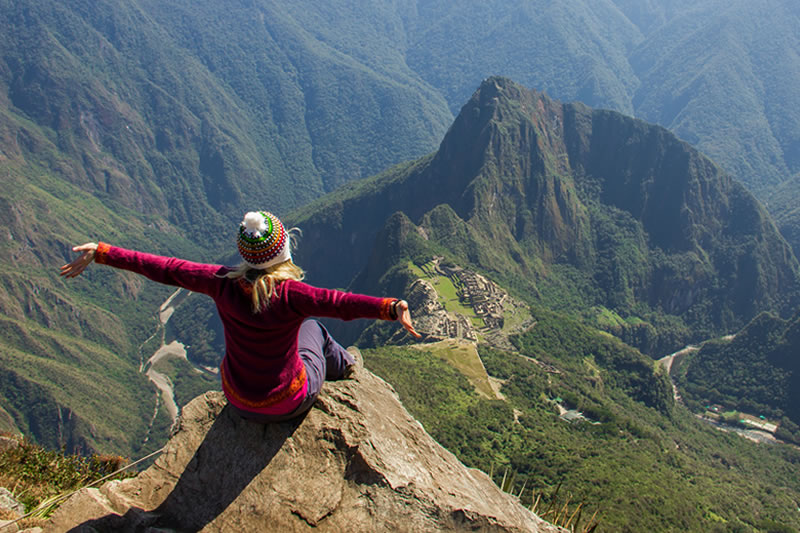 VISIT THE AGRICULTURAL TERRACES
One of the great achievements of the Incas was their ability to adapt the mountainous terrain of the Andes for agriculture. You can walk along the terraces at Machu Picchu to appreciate the techniques they employed to make the land there suitable for cultivation. This is also a quieter spot where you can seek a moment's respite from the oppressive crowds of the main site.
WHERE TO EAT IN MACHU PICCHU
Chullpi Machupicchu Restaurante
Located along the tracks heading out of town, the kitchen at this rustic-chic restaurant turns out high-quality gourmet versions of Peruvian classics such as ají de gallina with quail eggs and causa with salmon tartare. The beautifully presented plates are on the small side, so it's best to order at least two courses, or try the tasting menu of 6, 10, or 15 courses.
ADDRESS : Av. Imperio de los Incas 140 Aguas Calientes, Cusco Peru
An engaging French-Peruvian couple manage one of the best restaurants in Aguas Calientes whose eclectic decor—think maritime kitsch—is worth a visit on its own. Quiche Lorraine, ginger chicken, and spicy trucha a la macho (trout in hot pepper and wine sauce) are favorites on the Peruvian-French fusion à la carte menu, but the reasonably priced (S/77) prix-fixe menu is the way to go, offering all the same options plus heavenly homemade bread. It's as good a place for dining with friends as for an intimate dinner for two.
ADDRESS: Lloque Yupanqui s/n Aguas Calientes, Cusco Peru
Mapacho Craft Beer Restaurant
Go for the awesome craft beer but stay for the delicious food. Faster pub fare to full meals, such as lomo saltado (beef stir-fry), grilled chicken, and osso buco are served by friendly, professional staff in a casual setting along the river. The hardwood tables and chairs with the big screen TV make it seem more like a bar, but the food is as good as you might find in more upscale or trendy restaurants.
ADDRESS: Calle Imperio de los Incas 514 Aguas Calientes, Cusco Peru
A must experience for foodies, the culinary offerings by Sumaq Hotel's restaurant can easily hold their own against anything the finest restaurants in Lima dish out, along with first-class setting and the utmost in professional yet warm service. The menu features a fusion of flavors giving European dishes like ravioli an Andean slant by stuffing them with aji de gallina (creamed chicken) as well as infusing traditional Peruvian fare with international flair. Reservations are a good idea, especially if you want to opt for the six course degustation menu (US$118 per person), a true gastronomic delight.
ADDRESS: Av. Hermanos Ayar Mz. 1, L-3 Aguas Calientes, Cusco Peru
Among the best restaurants in Aguas Calientes, this French-owned bistro offers a welcome change from Peruvian cuisine. The dining room and terrace are a bastion of peace and tranquillity, compared to restaurants on the main thoroughfare. Make sure you save room for the chocolate volcano dessert. They also offer a prix-fixe menu of S/58.
ADDRESS: Urb. Las Orquideas E-7 Aguas Calientes, Cusco Peru
Incontri del Pueblo Viejo
With an owner-chef that hails directly from Italy, you can be sure to find authentic Mediterranean fare here as well as housemade pasta and Peruvian cuisine. The large open space has comfortable seating with a cozy fireplace, and the fair prices, especially on the Italian wines, make this a great value. For those who want something a bit simpler, delicious pizzas are also available. With luck, the dessert offerings will include the chef's fabulous tiramisu.
ADDRESS: Pachacutec s/n Aguas Calientes, Cusco Peru
Paris's loss is Aguas Calientes' gain with the authentic French pastries served here, as well as coffee, sandwiches on house artisanal bread, quiche, and more. Eat in or take some of the delicious choices to go—the excellent boxed-lunch options are perfect for enjoying in Machu Picchu, and they open at 5 am so you can pick them up on the way to the bus.
ADDRESS: Jr. Sinchi Roca Aguas Calientes, Cusco Peru
Although this casual café is part of the Supertramp backpacker hostel, the food is world-class with burgers, pizzas, and salads that are perfect for satiating an appetite forged by hoofing around Machu Picchu. Unlike many of the places lining the main streets in town, this pizza is worthy of the name, as are the burgers, both with a variety of tasty toppings available such as blue cheese and jamon serrano (dry-cured Spanish ham). If you come in the evening, be sure to check out the rooftop bar.
ADDRESS: Calle Chaska Tika 203 Aguas Calientes, Cusco Peru
This long-standing tourist favorite has long tables set up in the center of its cavernous dining room to accommodate tour groups who come for the huge buffet lunch (S/72). Evenings are more sedate with grilled dishes like trucha andina (Andean trout), beef, or alpaca set to the entertainment of a folkloric music show. Grab one of the smaller tables with a river view by the window or out on the shaded front patio for some good people-watching.
ADDRESS: Av. Imperio de los Incas 600 Aguas Calientes, Cusco Peru
Perched high above the streets of Aguas Calientes, this small, wood-paneled restaurant serves some of the best international cuisine in town. Fresh, local ingredients are the backbone for such dishes like quinua salad with goat cheese, gnocchi with lamb ragout, and Thai brochettes. The intimate candlelit dining room is small, so you may want to make dinner reservations. This is the best choice for a romantic dinner.
ADDRESS: Calle Huanacaure 180 Aguas Calientes, Cusco Peru
WHERE TO SHOP IN MACHU PICCHU
In Machu Picchu Town there are basic stores where it will be able to buy memory cards, picture films, clothes and shoes, bottled water, snack food, liquors, and souvenirs. Drug Stores: Basic medicaments, if you need special medecines is recommendable to buy them before the trip. There are banks offices and ATM machines. Some stores accept US dollars and Euros. The markets at Machu Picchu offer shoppers a wide range of interesting articles and souvenirs to pick from. They are stocked with attractive local products and handicrafts like alpaca sweaters, scarves, local arts and crafts. Close to train station is the Indian Market, streetsite shop, where you can find many places to shop from modern handicrafts inspired in pre-Columbian Andean art, alpaca sweaters and scarved, woolens, textiles, pottery, jewelry and the perfect souvenir.
Arte Joyeria Rumiwasi will keep you glued to it as the jewelry items offered at this place are amazing. You will be forced to look at the pieces again and again as they are quite mesmerizing. There are very few shopping destinations in the city and you can locate Arte Joyeria Rumiwasi close to the railway station. There are some interesting jewelry pieces that can be bought under a decent price range. The items do reflect a touch of Peruvian designs that are very interesting. You need to make sure that you visit this place in the day time as the evening hours the market is quite crowded. For people who are new to the city, public transport will be of great help to reach this place.
Pisac Market is one of the major shopping regions of Machu Picchu. You won't find a better place than Pisac Market when it comes to bargaining. You can explore a good collection of clothing and other accessories at this destination under a decent price. There are numerous merchants present in Pisac Market that offer interesting goods that are loved by the tourists. This market is always crowded, so make sure you are alert whenever you visit this place. Pisac Market can also be explored in order to savor local dishes that can be enjoyed from the outlets present in the area. You can take public transport in order to reach this place.
San Pedro Market is divided into four sections that offer fresh meat, fruit/vegetables and other knick-knacks. You can access interesting varieties of vegetables such as potatoes that are available in 3500 types. This is a typical Peru market which has a vibrant atmosphere. You can spot locals as well as tourists enjoying their time shopping delicious food items. The meat offered at San Pedro Market is fresh and is preferred by the city's population. You can also check out different food stalls in this market that offer relishing local delicacies. You need to carry a city map in order to reach this destination. If you are travelling alone, then do take care of your belongings.
Indian Market should be visited if you are in search for handicraft goods. This place is managed in an authentic way that will surely impress you. You can check out goods such as scarves, sweaters and other accessories easily in this market. The prices are very attractive that makes Indian Market frequently visited by the local crowd. If you wish to explore classic souvenirs from this city, then Indian Market will help you in accessing some wonderful items. Tourists love this place since it is easily accessible from the station. There are modern handicraft items as well that are quite alluring. You need to visit the Indian Market so as to learn more about the shopping culture in Peru.
Artesanias is one of the frequently visited stores in the city. This outlet is known for its genuine designs of artistic items. You can explore a number of handicrafts that are quite alluring. The shop might not look so grand, but the products offered at Artesanias are very impressive. People from different parts of the city visit this store to check out lovely goods for home décor. The craftsmanship is very much praised by the tourists to visit Artesanias. You need to carry a city map in order to reach this shop that is present in the main market of Machu Picchu. You can check out eateries in the vicinity that offer amazing delicacies.