SUNNUNTAI, 04. LOKAKUUTA 2020
Antigua is one of the 2 major islands that make up the Caribbean nation of Antigua and Barbuda. Ringed with coral reefs, the island is known for its many sandy beaches. Antigua's corrugated coasts cradle hundreds of perfect little coves lapped by beguiling enamel-blue water, while the sheltered bays have provided refuge for everyone from Admiral Nelson to buccaneers and yachties. If you can tear yourself away from that towel, you'll discover that there's a distinct English accent to this island. You'll find it in the bustling capital of St John's, in salty-glamorous English Harbour, and in the historical forts and other vestiges of the colonial past. Yet, Antigua is also quintessential Caribbean, full of candy-colored villages, a rum-infused mellowness and engaging locals who'll greet you with wide smiles.
Antigua's smaller sister island Barbuda was devastated by Hurricane Maria in 2017 and is still busy rebuilding, though its extraordinary beaches were unaffected, meaning that travelers wanting to lounge on white sand, snorkel around pristine reefs and watch the famous frigate birds nesting should not hesitate to make the journey here. Antigua is a convenient travel destination with plenty to do on land and sea.
BEST TIME TO VISIT ANTIGUA & BARBUDA
The best time to visit Antigua is from May to November, the island's offseason. Rates are cheapest at this time, and although there is a slight threat of hurricanes, the weather rarely escapes 80 degrees. You'll encounter less rain between December and April, but rates are more expensive and crowds are abundant.
December-February
The dry season begins in January, and though there are sometimes droughts, the sunshine creates one of the most pleasant climates in the Caribbean. But you'll have to make flight and hotel reservations several months in advance – this is the peak tourist season.
March-April
Antigua is often overlooked by spring break vacationers, so it's perfect for dodging coeds. However, the cruise crowds won't taper off until the end of April, meaning that hotel rates remain relatively high.
May-November
Hotels tend to offer bargain rates any time after April, especially on package deals. But many of the smaller hotels close for at least part of the time between August and October. June to November is also hurricane season, and although Antigua doesn't see too much rain, you should pack your umbrellas to be safe. Keep in mind that this area of the Caribbean has unfortunately not been spared from hurricanes in the past: In September 2017, Barbuda suffered severe damage from Hurricane Irma.
GETTING TO ANTIGUA & BARBUDA
With direct flights and easy connections from all our main source markets in the US, Canada, UK, Europe and the Caribbean, you will find yourself in the picturesque Caribbean twin islands of Antigua and Barbuda, in no time. British Airways (London Gatwick), Condor (Frankfurt, Germany), Virgin Atlantic (London Gatwick), XL (London Gatwick) You can also connect to Paris (Air France) and Amsterdam (KLM) via St Maarten.
By Plane - VC Bird International Airport (ANU) is about five miles outside of the Antiguan capital of St. John's. The island is also a major port of call for Caribbean cruise liners, and a sea ferry ties it to Montserrat.
By cruise ship - Many tourists come to Antigua and Barbuda via cruise ships. On Antigua, passengers enjoy a short walk through Heritage Quay into the heart of St. John's.
GETTING AROUND ANTIGUA & BARBUDA
The best way to get around Antigua is by car or taxi. Having a car can save you money, especially on longer visits, but the island can be difficult to navigate due to bumpy dirt roads and hilly areas that flood easily. A handful of rental agencies, including Alamo, Avis and Hertz, have locations in the arrival hall of Antigua's V.C. Bird International Airport (ANU), located on the northern part of the island just outside of the town of Osbourn. Travel to neighboring islands by air on LIAT charter planes or by sea aboard a cruise or a ferry, such as the Barbuda Express.
Taxi - This is one of the best ways to explore the island, since the drivers are happy to double as tour guides (with the hope of a slightly larger tip). Although, this arrangement can be convenient, it can also be expensive. Get a price quote before committing to one driver. Taxis can usually be found near popular attractions and the cruise port in St. John. Barry Taxi and Tour and Roger Taxi Tours are two well-reviewed companies.
Bus - Although there are bus services on the island, they are largely unreliable. Buses often turn out to be 15-passenger minivans with colorful paint jobs, and the bumpy roads make for a rough ride.
Car - Rental cars are another popular mode of transportation, but you'll have to get an Antiguan driving permit. They can be issued by most car rental agencies and require a valid driver's license from home, as well as an additional $20 fee. Don't forget that Antiguans drive on the left. Popular car rental agencies include Drive-A-Matic Car Rentals and Pete's Taxi and Car Rentals. To avoid costly fee, past visitors recommended arranging your car rental in advance and picking it up upon arrival at the airport instead of renting from your hotel after you arrive.

WHERE TO STAY IN ANTIGUA & BARBUDA
Cocobay Resort - All Inclusive - Adults Only
This all-inclusive St. John's resort is located on 10 acres and overlooks Ffreyes Bay. Jolly Harbour Golf Club is 10 km from the resort. Airy cottages feature a private balcony with views of the sea, gardens or resort. Private beach access, a full-service spa and an outdoor pool are available at the resort. Live entertainment is presented on select nights each week. Cocobay Resort offers snorkelling, kayaking and hobie cat sailing gear. Spacious cottages at Resort Cocobay include a fridge and coffee-making facilities. Wooden floors and wood beam ceilings are featured. Each cottage offers plenty of light and includes mosquito nets. Rafters restaurant serves a buffet-style breakfast and lunch while an a la carte dinner is available. Sheer rocks Restaurant is open for dinner and features private pavilions. The resort provides a weekly cocktail party. The resort is 45 minutes' drive from V C Bird International Airport. Nearby beaches include Valley Church Beach and Little Ffreyes Beach.
The Escape at Nonsuch Bay - ALL INCLUSIVE
The Escape at Nonsuch Bay - ALL INCLUSIVE in Gaynors provides adults-only accommodation with a restaurant, a bar and a garden. Among the various facilities of this property are a private beach area, water sports facilities and a terrace. Free private parking is available and the resort also features car hire for guests who want to explore the surrounding area. At the resort, the rooms have a wardrobe, a flat-screen TV and a private bathroom. At he Escape at Nonsuch Bay - ALL INCL, all rooms have a seating area. Guests at the accommodation will be able to enjoy activities in and around Gaynors, like snorkelling.
Antigua Yacht Club Marina Resort
Located in Falmouth Harbour, this waterfront resort is 3 km from the panoramic views of Shirley Heights Lookout. It features an on-site spa, a fitness center, and rooms with a flat-screen TV. Antigua Yacht Club Marina Resort boasts bright rooms with Indonesian furniture and ceiling fans. Guests can relax on the private balcony, boasting views of the garden or the marina. Massage services are available at this Antigua resort. Concierge services and a gift shop are also offered. St. John's, the capital of Antigua, is a 20-minute drive from the Antigua Marina Yacht Club Resort. VC Bird International Airport is 22 km from the property.
Featuring lush, tropical gardens and a private beach, this Antigua resort stands next to the tranquil waters of Nonsuch Bay. Water sports and in-room spa treatments are also available. The bright, Colonial-style rooms of Nonsuch Bay Resort offer beautiful hardwood floors and French windows. A flat-screen TV, iPod docking station and patio are also included. The resort features sailboats and sailing lessons. Kitesurfing and kayaking can also be arranged on the protected waters of Nonsuch Bay. Guests can explore the beaches and reef of Green Island. The Bay at Nonsuch Restaurant serves a la carte meals with menus reflecting Caribbean, Asian and world cuisine. The club lounge offers a relaxing spot for drinks and light snacks. The Harmony Hall Plantation House is less than 1 km from Nonsuch Bay. The V C Bird International Airport is 20 km away.
Hawksbill by Rex Resorts - Adults Only - All Inclusive
Set among 37 acres of tropical gardens, this beach-front adult only resort boasts all-inclusive recreation options that include sunfish sailing and snorkelling. The Five Islands, Antigua resort features on-site dining, 4 beaches and an outdoor pool. Views of gardens or the Caribbean Sea are offered in all units at Hawksbill All-Inclusive by Rex Resorts. The simply styled rooms feature light colours; they include a mini-fridge, coffee facilities and an en-suite bath. At Hawksbill All-Inclusive, guests can enjoy the open-air buffet at The Tamarind Tree for breakfast and dinner. The reservation-only Il Vigento Su Mare specialises in lobster and pasta dishes while the Sea Grape Bar & Grill offers light snacks and drinks beachside. Guests can relax at the on-site spa with a massage or play at one of the on-site tennis courts. Souvenir shops and car rentals are available. This property is just 14 km from Jolly Harbour Golf Club and is less than 10 minutes' drive from St. John's. VC Bird International airport is within 20 minutes' drive away.
Verandah Resort and Spa All Inclusive
Located in Saint John's, Antigua, the family-friendly Verandah Resort and Spa All Inclusive features a spa, 3 swimming pools and an 18-hole mini-golf course. The spacious Caribbean-style suites have a private patio or balcony. With Caribbean architecture and décor, the suites offer a flat-screen TV and a seating area with sofa bed. A microwave, fridge and coffee-making facilities are included. Non-motorized watersports such as sailing, kayaking, windsurfing and snorkelling are included. The Verandah Resort also includes a well-equipped gym and tennis courts. Nicole's fine-dining restaurant offers Caribbean-inspired cuisine. Casual dining can be found at the Buccaneer restaurant, which serves light dishes and an à la carte menu. Devil's Bridge is a short walk from from the Verandah Resort, while the Antigua rainforest canopy tour is 17.5 km away.
St. James's Club Resort - All Inclusive
This 4-star Antigua resort boasts 2 private beaches along the Caribbean Sea and Mamora Bay. It features 4 restaurants, 6 tennis courts and a full-service spa with hair salon. Overlooking the ocean and gardens, each spacious room has a private terrace or balcony. Cable TV and an in-room safe are included. The rooms feature tile floors and tropical décor. The state-of-the-art gym has floor-to-ceiling windows with sea views. St. James Club boasts 4 outdoor pools, including a children's pool and a 3-tiered tranquility pool. St. James Club All Inclusive has an on-site Watersports Center. Free windsurfing, sailing or kayaking lessons and equipment are available. The Billiards Center has pool and ping pong tables. Rainbow Garden restaurant offers a spacious dining room and wrap-around patio. The Docksider features panoramic ocean views and Caribbean-inspired dishes. Both beachside bars serve a signature rum punch. Antigua rainforest canopy tour is 20 minutes' drive away.
Set on a hillside overlooking Jolly Harbour and the Caribbean Sea, Sugar Ridge offers a beach shuttle, 2 outdoor pools and an Aveda spa. Each room has a furnished verandah with spectacular views. Each block of 4 rooms has a private entrance. Decorated in natural tones, the air-conditioned rooms include a four-poster bed, free Wi-Fi, an LCD TV and an iPod dock. Sugar Ridge Resort has a gourmet restaurant, which offers fusion cuisine and incredible views of the bay and nearby islands. The lively Sugar Club serves light meals, including pizzas, tapas and sushi. Electric buggies can be hired from reception to explore the island. Just 600 m away, Jolly Harbour offers regular diving and fishing boat trips. Antigua's capital, St. John's, is a 25-minute drive away.
The Cove Suites at Blue Waters
Located on a cliff top overlooking the Caribbean Sea, and situated on 17 acres of tropical gardens is this 4-star luxury resort. It boasts 4 infinity pools, 2 white sand beaches, gourmet dining and a full-service spa. Cove Suites are located in 4 separate villas and each villa boasts its own private infinity pool. Every suite features an over-sized terrace or balcony with panoramic ocean views. There is a separate living area, flat-screen TVs, iPod docking stations and large bathroom with a free-standing soaking tub. Amenities include state-of-the-art fitness centre, outdoor tennis courts, on-site water sports centre, full service spa, 4 bars and 3 à la carte restaurants. Gourmet entrées are served in the elegant, air-conditioned Bartley's Restaurant. On-site activities include early morning walks, sailing and cooking classes. Helicopter tours and sail-boat excursions can be arranged. Palm Restaurant offers Caribbean alfresco dining and The Pelican Bar features nightly entertainment.
Set in Jolly Harbour, 1.1 km from Turner's Beach, Tamarind Hills offers accommodation with an outdoor swimming pool, free private parking, a garden and barbecue facilities. Staff on site can arrange airport transfers. Featuring a private bathroom, rooms at the resort also feature free WiFi. Tamarind Hills offers a terrace. The area is popular for hiking, and car hire is available at the accommodation.
PLACES TO VISIT & THINGS TO DO IN ANTUGUA & BARBUDA
Former British colonies in the eastern Caribbean, Antigua and Barbuda boast some of the most ravishing beaches in the world. Antigua proudly proclaims it has "a beach for everyday of the year," and Barbuda, Antigua's sleepy sister island, is also blessed with some pristine stretches of pink-tinged sand sprinkled with chic resorts. Not surprisingly, many movie stars and moguls jet to these islands to swim, surf, sun, and swoon on the dazzling shores.
Antigua draws the majority of visitors. Many arrive at the cruise ship port in the colorful capital of St. John's where shopping, museums, and historic buildings are the prime draws. The island preserves its history as a strategic naval port, and animal lovers can swim with friendly stingrays. Peaceful Barbuda has less than two percent of the islands' combined population. Seclusion seekers and nature lovers cherish the tranquility, while birders love the fabled frigate sanctuary. Water sports abound on both islands; diving, swimming, fishing, sailing, and windsurfing are all popular, and golfers will find a couple of scenic courses on Antigua.
At the southeastern end of Antigua, tranquil Half Moon Bay is fringed by one of the Caribbean's best beaches. Protected by a reef, this idyllic crescent of fine white sand and azure sea, backed by natural foliage, offers excellent snorkeling on calm days. When the wind is up, the surf can be rough. A small restaurant serves snacks just off the beach. Note that the beach is difficult to find, so a GPS will come in handy.
Location: Southeast coast, Antigua
If you have a lifelong fear of stingrays, this fun face-to-face adventure a five-minute speedboat ride off the east coast of Antigua, should banish those fears forever. Stingray City is a shallow pool with a sandy bottom amid a tropical reef, where hundreds of friendly southern stingrays glide through the crystal-clear waters waiting to be fed by visitors. Depending on your comfort level, you can stand, swim, or snorkel with them, and after your encounter, you can explore the surrounding coral reefs. Feeling their smooth, satiny bodies brush against your skin is a highlight of this exhilarating adventure. The trip to Stingray City is one of the most popular things to do in Antigua.
Those who stroll Barbuda's 17 Mile Beach, will probably never see a more ravishing stretch of sand, nor another footprint. Lapped by pale aqua seas, this stunning stretch of pink-tinged sand separates the Barbuda lagoon from the Caribbean Sea, and pleases even the most jaded beach connoisseurs. Facilities are few, if non-existent, so you should bring your own supplies.
Nelson's Dockyard National Park, Antigua
One of Antigua's most popular tourist attractions, Nelson's Dockyard National Park, in English Harbour, is home to Antigua's former 18th-century British Naval Dockyard (inscribed on UNESCO's World Heritage List in July, 2016) as well as restored historic buildings and some of the island's best nature trails. Nelson's Dockyard is the only continuously operating Georgian dockyard in the world. The restored marina, with beautiful old stone warehouses, encompasses hotels, restaurants, shops, galleries, and museums. Both the Admiral's House Museum and Dockyard Museum trace the site's history from the 17th century to the present.
After touring the Dockyard, you can enjoy panoramic island views from the ruins of Fort Shirley, perched on the hilltop at Shirley Heights, or Fort Berkeley, at the west entrance to the harbor. The park is also home to 18th-century Clarence House, originally built for the future King William IV, as well as the Dow's Hill Interpretation Centre, along the Lookout Trail near Shirley Heights.
In the far north of Antigua, Dickenson Bay is one of the most popular tourist destinations on the island. Fronted by a long stretch of white sand beach lined with resorts and alfresco restaurants, the bay is great for swimming and offers the spectrum of water sports. Activity booths are sprinkled along the beach. The bay is also the hub for Antigua's windsurfing scene.
St. John's, the capital city and cruise ship port of Antigua and Barbuda, is a kaleidoscope of candy-hued colonial cottages and market stalls piled high with tropical fruits and flowers. Looming above the skyline are the white neo-Baroque towers of St. John's Cathedral, one of the city's most distinctive buildings. It is currently undergoing a thorough restoration. For an overview of the island's history, head to the Museum of Antigua and Barbuda in the 18th-century former Court House. Shopping is also excellent in St. John's. Duty-free shops abound at Heritage Quay, souvenir stalls beckon from touristy Redcliffe Quay, and the lively harborside public markets are the place to be on Fridays and Saturdays. For city and harbor views visit the ruins of 18th-century Fort James and Fort Barrington, built to protect St. John's from the French.
7 Devil's Bridge: Indian Town National Park, Antigua
Along the rugged northeast coast, the dramatic scenery of Indian Town National Park features the natural limestone Devil's Bridge, sculpted over the centuries by the pounding surf. At high tide, waves force geysers of water through blowholes in the nearby rock. The park also offers some rewarding hikes and excellent birding. More than 36 avian species roost in the park among the acacia trees, while the eastern point of the park is believed to have been an Arawak campsite.
Location: Northeast shore, Antigua
Museum of Antigua and Barbuda
The Museum of Antigua and Barbuda traces the history of these islands from their geological origins to political independence in 1981. Housed in the museum is a full-scale replica of an Arawak dwelling, as well as pottery, weaving, tools, and exhibits on the islands' different ecosystems. The museum is located in the former 18th-century Courthouse in St. John's.
Along Antigua's southern coast, Fig Tree Drive winds through rainforest, farmlands, and fishing villages. This picturesque drive offers a glimpse of local life. Banana trees (called "figs" by the locals), mango trees, and coconut palms dot the landscape, as well as the ruins of sugar mills. Look for the roadside stands selling fresh-picked fruit. Along the route, the Fig Tree Studio Art Gallery sells vibrant local art and zipline rainforest tours are nearby.
Frigate Bird Sanctuary, Barbuda
Barbuda's Frigate Bird Sanctuary is a haven for birders. Accessible only by boat, the bird sanctuary lies in Barbuda's northwest lagoon and is home to one of the largest nesting colonies of frigate birds in the Caribbean. These large sea birds are known for their bright red gullets and one-and-a-half meter wingspan. The reserve also attracts about 150 other species of birds such as herons, cormorants, and pelicans.
Darby Cave, caused by dissolution of the limestone, is one of Barbuda's most intriguing natural features. Although it is often described as a cave, the site is actually a sinkhole more than 100 meters in diameter. In contrast to the dry surrounding brush, the lush vegetation flourishing inside resembles a rainforest with ferns, tall palmetto palms, and thick lianas lacing around the tree trunks. Many birds can be spotted amid the foliage. Dripping water has also created stalagmites under the overhang.
On the beach at River, a few miles south of the village, Martello Tower (River Fort), was built by the British in the early 19th century on the site of a previous fort that was probably constructed by the Spanish. Today the thick stone walls and gun platform of this small defensive fort are mostly intact, and the ruins are attached to the remains of the previous fort. The tower is the highest building in Barbuda and an important landmark on the island.
WHERE TO EAT IN ANTIGUA & BARBUDA
Downright fancy for a beachside restaurant, delightful Catherine's overlooks the boats of Falmouth Bay and Pigeon Beach's shimmering sands. Hosts Claudine and Guillaume regale expats, yachties and locals with mouthwatering French fare from a stylish-casual cottage with a long bar and lounge chairs in the sand. It's a great lunch spot and especially busy for Sunday brunch. Reservations recommended. There's a small playground on the sand and direct access to the placid waters of the bay, which are perfect for swimming.
Cecilia's High Point Cafe
With gorgeous views of the azure sea, this fabulous beachfront find is presided over by a former Swedish model and her host of animal friends. It strikes the perfect balance between informality and professionalism. Perennial top menu picks include the lobster ravioli and the beef tenderloin, although the regularly changing blackboard specials also beckon mightily. Reservations advisable.
This high-energy joint is a local institution, famous for its Antiguan-style bouillabaisse and fresh fish – mahimahi to butterfish – served grilled or fried. With zouk on the sound system, crazy murals, Christmas lights and a nautical decor, it's the kind of place that's downright trippy even before you've started sampling the vast rum selection. Reservations essential.
Le Bistro is straight out of a foodie's daydream with a kitchen that has consistently wowed diners with meticulously prepared classic French cuisine. No matter if you fancy escargots or canard, you'll find the ingredients top flight, the presentation exquisite and the service immaculate. Reservations are essential.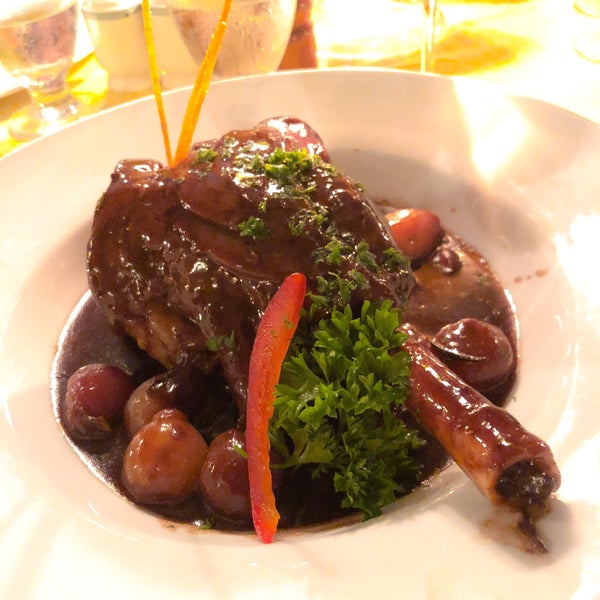 Dennis Cocktail Bar & Restaurant
Local boy Dennis Thomas creates magic on the plate with his mom's recipes and produce from his own garden. Tuck into such soulful dishes as creamy conch curry or pungent shrimp-and-chicken medley while taking in the sublime beach views from the breezy terrace. Those in the know come Fridays for the reggae barbecue or Sundays for the suckling pig roast. Happy hour runs from 4pm to 6:30pm, perfect for wrapping up a day in the sand with a coconut-rum-based Caribbean Sunset.
What was once a humble roadside cottage has evolved over the years into a cozy restaurant with linen-bedecked tables and a sophisticated island vibe. Catch of the day varies from mahimahi to tuna and even shark, while shrimp and lobster can be ordered in numerous ways and are served with a choice of two sides. Reservations recommended. Most dishes take a while to prepare, giving you plenty of time to nurse your beer on the wooden deck.
Eat, drink, socialise' is the motto of this locally adored courtyard cafe where South African wines complement tasty pastas, burgers, paninis and mains such as fragrant shrimp coconut curry. Tables spill from the pint-sized wine shop-bar onto a romantic courtyard, and fill to capacity crowd during 'Lasagne Thursdays' and 'Karaoke Saturdays' – book ahead. The name, by the way, stands for Cutie and Claudine, the charming hosts.
With its hot-pink, white and black color scheme, wispy cabanas and attached art gallery, breezy Ana's mixes urban sophistication with a relaxed vibe that matches its beachfront setting. The menu is big on Mediterranean staples including Caprese salad, seafood risotto and salmon tagliatelle, but also does a range of tasty curries. Being hemmed in by resorts puts it largely off the radar of locals.
The most talked-about recent addition to English Harbour's fine slew of dining options, Colibri is the brainchild of French transplant Didier, who helms a professional team working hard to bring its diners a superlative experience, either in the garden under the trees or in the stylish main dining room. Don't miss the excellent lobster risotto or the line-caught wahoo. Reservations advisable.
The chefs at this fine-dining outpost create a blend of Carib-continental cuisine, to be enjoyed with stunning views from the top of Sugar Ridge Resort. Bring a swimsuit for a sunset dip and cocktail in the infinity pool, then settle into a stylish rattan chair on the wooden deck while waiting for dishes such as Caribbean bouillabaisse and fresh lobster.
WHERE TO SHOP IN ANTIGUA & BARBUDA
Antigua's market – chaotic, colorful and always busy – sprawls north of 4a Calle Poniente. The best days are the official market days (Monday, Thursday and especially Saturday) when villagers from the vicinity roll in and spread their wares north and west of the main market building. The entrance to the market is dominated by tourist goods, so make sure you continue past to get to the heart of the everyday commerce.
This brilliant, sprawling depot has a huge collection of Maya clothing, as well as hundreds of masks, wood carvings, kites, refrigerator magnets, assorted Maximón figurines and local coffee and chocolate. The huipiles, cortes and other garments are arranged by region, so it makes for a fascinating visit whether you're buying or not.
Next to the ruins of the Iglesia El Carmen, this excellent market is a good place to browse for textiles, pottery and jade, particularly on weekends, when activity spills out onto 3a Av Norte. The inside is a warren of individual stalls, so take your time to find the treasure you're after.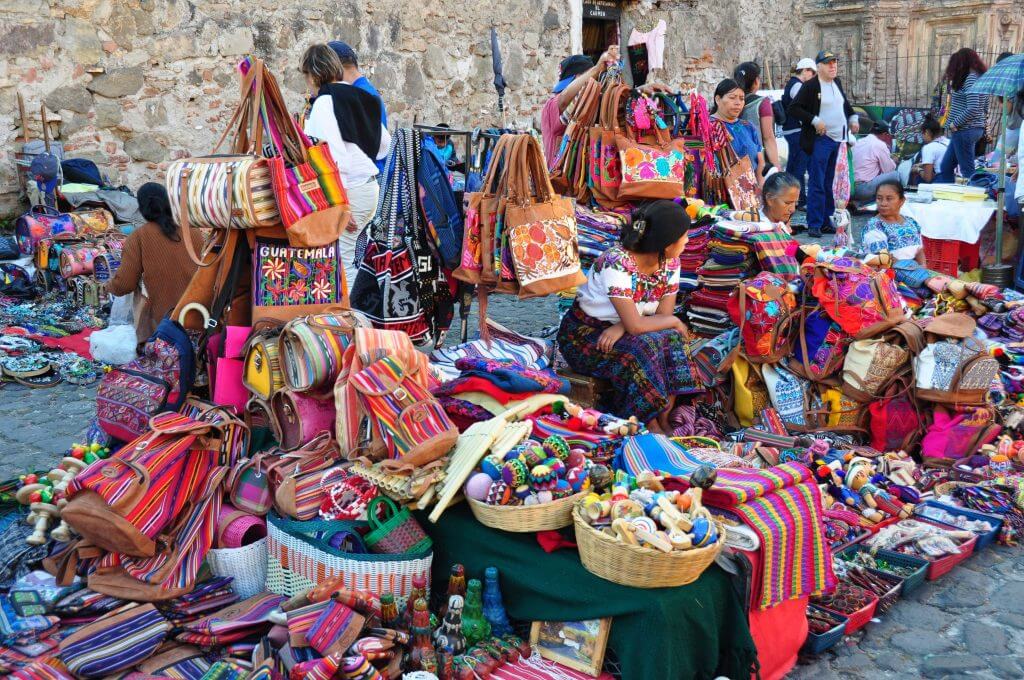 More than just a jewelry shop, the Casa has a small museum displaying dozens of pre-Hispanic jade pieces and an open workshop where you can admire the work of contemporary craftspeople. It's inside the Casa Antigua El Jaulón shopping arcade.
This long and narrow shop has a superior selection of bright local handicrafts and home decorations, from flocks of miniature birds to hang from Christmas trees to painted ceramics, mirror frames and quirky sculptures.
Librería La Casa del Conde
Bookshop with a good selection of English as well as Spanish titles, including books on Central American history and politics, plus nature guides, literature and Lonely Planet titles.
Doña María Gordillo Dulces Típicos
If you want to eat your way around some toothsome traditional Guatemalan sweets and pastries, this is the place for you. Try the coconut macaroons, dulces de leche (vanilla and cinnamon cookies) and marzipan – look for the crowd of antigüeños lined up to buy them.
Masses of Guatemalan handicrafts fill the stalls of this building at the west end of town just below the main market. While not at the top end of the quality range, it has a variety of colorful masks, blankets, jewelry, purses and so on. Don't be afraid to bargain.
Started by a pair of North American archaeologists who were researching ancient jade quarries in the Motagua valley, this shop features a jade workshop and a worthwhile small museum (free admission) with an assortment of pre-Hispanic pieces.
Inside the courtyard shopping arcade Casa Antigua El Jaulón, this shop/museum displays Tz'utujil oil paintings, cedar figurines, masks and other crafts. The art is thematically arranged to illustrate the various aspects of indigenous life.
This shop near the Santa Catalina arch specializes in designer jewelry featuring jade and other gems.