MAANANTAI, 28. SYYSKUUTA 2020
Located in the middle of the Andes, Futaleufú, in Mapuche, means "big river". A true paradise for extreme sports. The wild, frosty-mint waters of the Río Futaleufú have made this modest mountain town famous. Not just a mecca for kayaking and rafting, it also boasts fly-fishing, hiking and horseback riding. Improved roads and growing numbers of package-tour visitors mean it isn't off the map anymore – just note the ratio of down puffer jackets to woolen mantas (ponchos). It's a fun place, but if you prefer a peaceful visit, go on either end of the summer rush.
The town of Futaleufú, a small 20-block grid of pastel-painted houses 155km southeast of Chaitén, is mainly a service center to the Argentine border, only 8km away, and a bedroom community for boaters. Many visitors hop the border to the nearby Argentine towns of Trevelín and Esquel, and to Argentina's Parque Nacional Los Alerces.
BEST TIME TO VISIT FUTALUEFU CHILE
The best time to visit Futaleufú would be a time when you can completely soak in the experience and not worry about such hassles. The weather of Futaleufú is favorable along with the best of activities during this particular time in Futaleufú. If you are thinking about when to go to Futaleufú then, come visit Futaleufú at it's best time where you can make a memorable experience without having to worry about small issues.
Here are some average weather facts we collected from our historical climate data:
During the month of January and February you are most likely to experience good weather with pleasant average temperatures that fall between 20 degrees Celsius (68°F) and 25 degrees Celsius (77°F).

The months of May, June and July have a high chance of precipitation.

The warmest month is January with an average maximum temperature of 21°C (69°F).

The coldest month is July with an average maximum temperature of 6°C (42°F).

June is the most wet month. This month should be avoided if you are not a big fan of rain.

February is the driest month.
GETTING TO FUTALEUFU CHILE
Futaleufu is located in the north end of the Chilean Patagonia in "La Region de los Lagos" the X Region of the Lakes, 156 Km from Chaiten and nearby the border of Chile with Argentina.
By Air - From Buenos Aires – Argentina, fly direct to Esquel; or Buenos Aires to San Carlos de Bariloche then to Esquel. From Esquel there is a bus that will take you to the border with Chile. From Puerto Montt to Chaiten (30 mins), then by bus to Futaleufu. This is the easiest way to arrive from the Chilean side without entering into Argentina.
By Land - From Puerto Montt to Osorno (Chile) thence to Argentina: arriving in San Carlos de Bariloche, continuing south to El Bolson, Esquel, Trevelin then cross the border back into Chile to the town of Futaleufu. There are buses that take you from Puerto Montt directly to Futaleufu.
By Sea - From Puerto Montt to Chaiten in barge (10 hours) and from Chaiten by bus to Futaleufu (3 hours), everyday but Sundays.
GETTING AROUND FUTALEUFU
The town is entirely walkable. But you can also get around by riding a horse and a bicycle. Cars are only a recent introduction into the Futaleufu Valley so there is an abundance of horse trails. Much of the horse riding in done up the Epsolon Valley and Azul Valley, both of which flow into the the Futaleufu.
WHERE TO STAY IN FUTALEUFU
Featuring a swimming pool, a sauna, and a restaurant, Hotel El Barranco offers rooms with free WiFi and garden views in Futaleufú. Fishing and rafting activities can be booked on site. The Main Square is 400 m away. Rooms at El Barranco have large windows overlooking the garden. All of them have heating and private bathrooms. A buffet breakfast is served daily. Regional dishes can be ordered at the property's restaurant. Drinks and snacks from the bar can be enjoyed in the garden. Guests can relax by the pool or make use of the sauna. They can also request a massage session. The area is popular for rafting, but guests can also take part in activities such as fishing, hiking and horse riding. Free parking is provided. Hotel El Barranco is 300 m from the city centre and 2 km from Futaleufu River.
Set in Futaleufú in the Los Lagos region, Matapiojo Lodge has a patio and river views. Located on the beachfront, this property features a restaurant, a garden, a private beach area and free WiFi. There is a seating area, a dining area and a kitchen complete with a microwave, a fridge and an oven. The tented camp offers a continental or buffet breakfast. Matapiojo Lodge provides a terrace.
With garden views, Cabañas Sol de Montañas is set in Futaleufú and has a restaurant, a 24-hour front desk, bar, garden, barbecue and terrace. Both WiFi and private parking are accessible at the holiday home free of charge. A fridge and kettle are also offered. Futaleufu National Park is 38 km from Cabañas Sol de Montañas.
Set in Futaleufú, 14 km from Futaleufu National Park, Hostal Las Natalias offers accommodation with a shared lounge, free private parking, a garden and a terrace. The accommodation provides a shared kitchen and free WiFi. At the hostel all rooms are fitted with a private bathroom. Guests at Hostal Las Natalias can enjoy an American breakfast. The area is popular for hiking and cycling, and bike hire is available at the accommodation.
Located in Futaleufú, 15 km from Futaleufu National Park, Turismo Rural Los Alpes provides accommodation with a garden, free private parking and a terrace. At the guest house, each room comes with a patio with a mountain view. With a shared bathroom equipped with a shower and free toiletries, rooms at Turismo Rural Los Alpes also offer a garden view. Guest rooms will provide guests with a fridge. An American breakfast is available daily at the accommodation.
Located in a privileged Patagonian setting near the Futaleufú river and Los Alerces National Park, Challhuaquen Lodge offers accommodation in Los Cipreses. Rooms at Challhuaquen Lodge are spacious double suites, styled with vibrant colours, parquet floors and rustic wood furnishings, each providing panoramic views of Futaleufú river and the mountains. Rooms feature private bathroom facilities with a hot tub, a safety-deposit box, heating and a fan. Challhuaquen Lodge has sauna and spa facilities, as well as plenty of sunbathing areas with spectacular views of the mountains. Massage sessions can be bookoed at an extra fee. At this property guests can also find a restaurant serving Argentinean and international cuisine with local wines. The property also has a bar. Room service is available. The property has a tour desk, which can help to organize glacier, fishing, horse-riding or bird-watching tours at an extra fee. Los Alerces National Park is 40 km away. La Hoya Ski Centre is less than 2 hours away and shuttles to Esquel Airport, a 1-hour drive away, can be arranged.
Andyna - Cabaña frente al río
Boasting river views, Andyna - Cabaña frente al río features accommodation with a balcony and a kettle, around 26 km from Nant Fach Mill Museum. This lodge offers free private parking and a 24-hour front desk. The lodge includes 3 bedrooms, 1 bathroom with a hot tub and a bidet, a seating area, and a kitchen with a microwave. At Andyna - Cabaña frente al río guests are welcome to take advantage of a hot tub. Guests at the accommodation can enjoy hiking nearby, or make the most of the garden. The nearest airport is Esquel Airport, 70 km from Andyna - Cabaña frente al río.
Located in Trevelin, 5 km from Nant Fach Mill Museum, Ladera de Nant y Fall offers accommodation with a garden, free WiFi, a 24-hour front desk, and room service. This property offers access to a patio. The holiday home is fitted with 1 bedroom, a fully equipped kitchen with an oven and a toaster, and 1 bathroom with a bidet. Guests at the holiday home can enjoy a continental breakfast. If you would like to discover the area, skiing is possible in the surroundings and a ski equipment rental service can be arranged.
Boasting mountain views, Casona de Campo offers accommodation with a shared lounge and a terrace, around 13 km from Nant Fach Mill Museum. This holiday home has a garden, barbecue facilities, free WiFi and free private parking. The holiday home is fitted with 3 bedrooms, 3 bathrooms, a flat-screen TV with satellite channels, a dining area, a fully equipped kitchen, and a patio with garden views. A children's playground is available for guests at the holiday home to use.
Located in Futaleufú, Cabañas Aitue offers accommodation with a patio or a balcony, free WiFi and flat-screen TV, as well as a garden. There is also a dishwasher, fridge and a kettle. Futaleufu National Park is 14 km from the lodge.
OUTDOOR ACTIVITIES TO DO IN FUTALEUFU
Futaleufu is a paradise for kayaking, with plenty of great rivers and friendly culture. It is easy to meet other kayakers and tour chile's rivers on your own for a reasonable price, if you have the time to look around and like adventures. Book a custom kayak trip to tour of the rivers of Chile and Patagonia, especially in the south where there are many great rivers, you just need to know where they are and their difficulty. Kayaking the Rio Figueroa, this beautiful river is perfect for those class III kayakers who are feeling reluctant to paddle the Rio Futaleufu. Flowing 60 kilometers from Lago Verde to Lago Roselot, this emerald clear river has half the volume of the Fu, plenty of class II-III rapids, two class IV-, and one big walkable class V. Incredible native forest, magnificent Patagonian mountains, and seldom-seen wilderness canyons make this one of the hidden gems of Chile.
Experience an unforgettable time on the majestic Futaleufu River, riding it's turquoise water beneath towering snow-capped mountains and glaciers. This is truly one of the great whitewater rivers in the world. They offer 3 different sections, depending on the level of difficulty:
Bridge to Bridge Section – Class III, IV, & IV+ (8 km) - This section is the most popular and one of the most exciting stretches of whitewater offered anywhere. It is not necessary to have previous whitewater experience to join us on this stretch. Referred to as the "the bridge to bridge section" the run includes numerous class III, IV and IV+ rapids including; "Puente Colgante", "Alfombra Mágica", Pillow, and "Mundaca" and numerous others. (Duration Approximately 4.5 hours)

Azul River to Bridge Section – Class III, IV, & V (14 km) - It's more than obvious that we want more adrenaline, so we'll add class V rapids to the Bridge to Bridge Section beggining in the Azul River. We paddle the famouse class V rapids on the Futaleufu "Terminator" and "Himalayas" and more. We guarantee that you will enjoy this section, its awesome rapids and its gorgeous surroundings. (Duration approximately 6 hours).

Full Day Rafting – Azul River to Macal Section – Class IV, V (20 km) - This section combines both the "Azul-Bridge" section, going farther down to the class 5 "Macal" section (left part of the river map). In terms of Challenging whitewater and breath taking scenery, this is perhaps the greatest day of whitewater rafting on Earth and includes four class 5 rapids and a dozen class 4. The seven hour run will include lunch in the middle. It is not necessary to have previous whitewater experience to join to this section, remember that our experienced staff will offer an extensive safety talk, followed by lessons in paddling and river rescue.
Float down the Futaleufu River in Las Escalas Valley - Nestled between two Class V+ canyons, the Rainbow and Brown Trout thrive in this tranquil valley. Located in "Las Escalas" valley, your guide will row you down the river while directing you to the fish. Whether an expert or beginner, this section has potential to produce beautiful fish all while enjoying a spectacular view. Lunch will be provided in a relaxing atmosphere on land right next to a convenient fishing hole. The day will be rounded out with more fishing and floating, with a local landowner waiting for us at the end of the trip to carry the raft back upstream using his ox and cart.
Trekking "Las Escalas" Valley
An amazing walk begins by rounding the mountains and lakes until reaching the gorgeous Valley of Las Escalas. 15 minutes from town is located the lake "Ceno Muerto" where the trek starts. Across its flora and fauna of the way you'll get to the viewing-point where it will be possible estimate the beautiful valley that crosses the majestic Rio Futaleufú accompanied with meadows and mountains. You will begin to descend towards the valley up to the house of the Vargas Family where you will share with them a traditional lunch typical of the area, with potatoes and fresh vegetables from their own garden accompanied with home cooked bread. They are very kind and cheerful and will show you their life style with different kind of animals like sheeps, geeses, birds, cows, turkeys, pigs, horses, etc. The viewpoint of the valley, a big waterfall and the beautiful landscape that is characterized by bird diversity, forests coigüe, Lenga and mountain cypress and extensive areas of bush fires since the mid – century.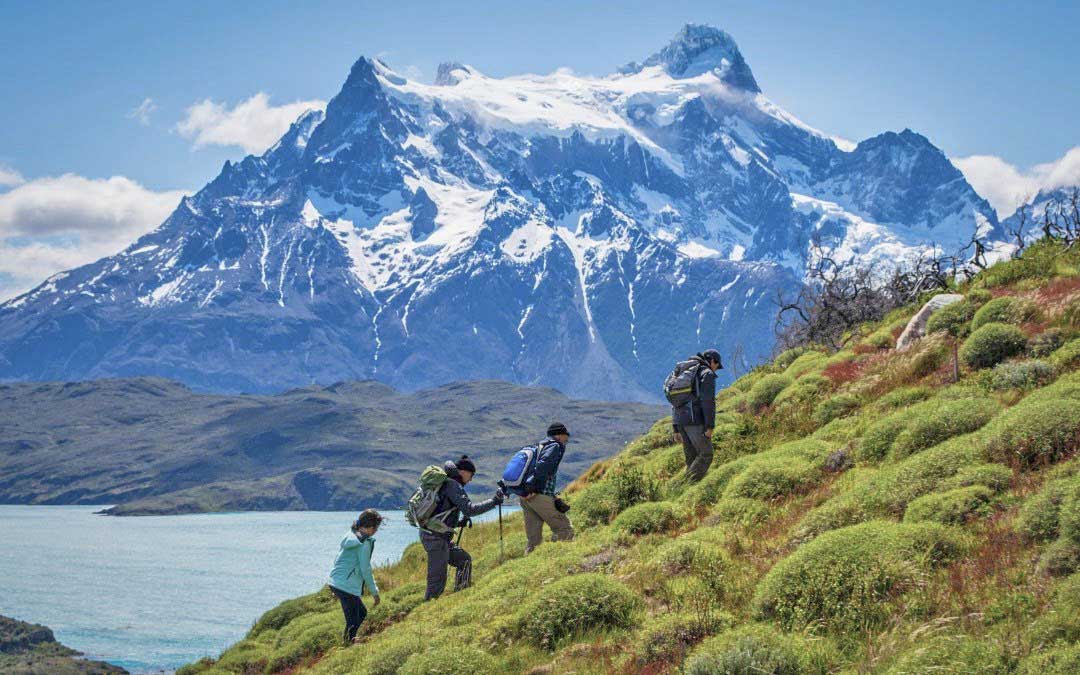 Since the beginning of the history of Futaleufu, the horses have been the best friend of the settlers especially during the most difficult years of colonization, when the routes that we see today were just a dream. In many ways, their lives of these settlers depended largely on these noble animals. We invite you to go back in time and walk the trails by visiting some of these families (with the option of sharing a meal with them), how they have done and continue doing these days "riding a horse".
WHERE TO EAT IN FUTALEUFU
There's no going wrong with these thin-crust, gooey pizzas made by Argentine chef Fabio, who gave up cooking haute cuisine to open his own grungy-fun takeout business. Vegan options.
This locavore eatery is taking some exciting risks with a rotating menu featuring local products you will see nowhere else. Think honey from local michay flowers, forest mushrooms, nalca fruit, rabbit and traditional Huilliche seafood. There's nice low-lit ambience with a roaring log fire. The four-course meal option (CH$30,000) offers a good sampling, with vegetarian options (ask ahead).
Restaurant Antigua Casona
With an elegant atmosphere, this cafe at the small La Antigua Casona Hotel does wonderful homemade pasta, gnocchi and lasagna with vegetarian options. The owner hails from Milan, so authenticity is not an issue. Continuous hours means it's open when you're hungry. Try one of the house-made craft beers.
In Nelsa's home kitchen there's no menu, but she can cook up pork chops, cazuela (oversized stews), milanesas (schnitzels) and fries. Tables are set with homemade sopapillas (fry bread), a Patagonian staple. It's on the way to the border.
This homespun restaurant with citrus colors and plastic tablecloths does home-cooked meals on the 2nd floor of a rambling alleyway house.