SUNNUNTAI, 27. SYYSKUUTA 2020
It's not hard to understand why many consider Niagara Falls a top natural wonder of the world. Or why it has been the location of some incredible (and now illegal) daredevil antics over the years. The second you see the mammoth Niagara River rumbling toward a 188-foot waterfall at about 20 to 30 (and up to 68) mph, your mouth will drop. The speed at which the river falls creates a misty fog and an unmistakable roar heard from miles away. From the top, crowds flock to the railings to feel the mist on their faces. As you follow the water's path downward, boats, platforms and observation decks support colorful poncho-clad visitors.
Over the years, Niagara has gone from classic honeymoon spot to cheesy honeymoon spot and, now, it's an odd mix of the two. In addition to the stunning waterfalls, there is a large concentration of quickie wedding chapels and hotels backlit in blaring neon. But strolling through the ice wine vineyards of the nearby Inniskillin Winery is truly romantic, as is enjoying the lush landscape at the Niagara Parks Botanical Gardens. So hop in the two-seater with your special someone or pack your family in the minivan and take a spectacular trip to the majestic Niagara Falls.
BEST TIME TO VISIT NIAGARA FALLS
The best time to visit Niagara Falls is June to August. Summer is peak season, and with good reason: Average highs rest in the low 80s. Mists and breezes from the waterfalls can make the area feel cooler. You'll spend more money and face more crowds, but visiting in summer will allow you take full advantage of the weather and attractions. Plus, the free Discover Niagara Shuttle is in full operation during the summer season, making it easy to get from one attraction to another. Spring and fall welcome fewer tourists thanks to the plummeting temps, but there are a few advantages to each season. Fall constitutes harvest season at local wineries, while spring's warming temperatures usher in colorful blooms at the botanical gardens. Winter sees below-freezing temperatures, causing many attractions, such as the Maid of the Mist boat tours, to shut down. However, the frigid climate does drive down hotel rates.
Peak season means peak rates. But if you don't mind marveling at the falls with plenty of other tourists, you'll be rewarded with 70- and 80-degree temperatures. If you are planning to stay the night, book two to three months in advance to secure the best hotel deals.
Fall sees daily highs ranging from mid-40s to the the low 70s . You can expect snow as early as the end of October. Room rates have dipped since the summer and will continue to dive as the fall goes on. Keep in mind: Canadian Thanksgiving takes places in early October. If your trip coincides with the holiday, be prepared for closures on the Canadian side of the falls.
Although the falls don't stop, the crowds and attractions can come to a halt during the freezing winter. Blizzards come with the territory. If you elect to visit now, bundle up and enjoy the discounted hotel room rates.
Snowfall can continue well into April, so spring is not exactly a warm time to visit. But by May, temperatures should overcome the 60-degree mark. Attractions and tours will start to reopen in April. Plus, the area's gardens erupt with blooms, including the Centennial Lilac Garden, the Floral Clock and the Botanical Gardens.
GETTING TO NIAGARA FALLS
Plane - Buffalo-Niagara International Airport is around half an hour from Niagara Falls, and it's easy to transfer from there to local hotels. Buffalo Airport Shuttle provides a private transfer service for just over $20 per person (based on a family of four). You can also arrange taxis from the airport, which can cost as little as $10 per head if you are traveling in a large group.
Train - Niagara Falls Amtrak station is served by two passenger rail services. The Empire Service starts at New York's Pennsylvania Station and terminates at Niagara, while the Maple Leaf runs between New York and Toronto. Expect the journey from New York to take around 5 hours.
Car - Niagara Falls is easily accessible by car. If you are coming from the west, take I-90 along the shore of Lake Ontario. The same road also links Niagara Falls with New York, although you will need to take I-87 to Albany before switching to I-90. If you are coming from Toronto, just take Queen Elizabeth Way straight to the border.
Bus - If you intend to travel to Niagara Falls by bus, the best option is to book a Greyhound service. Greyhound run buses from most northeastern cities, including New York, Buffalo, Boston, and Philadelphia, and their terminal is outside the Quality Hotel at 240 First St.
GETTING AROUND NIAGARA
The best way to get around Niagara Falls is on foot. Walking around the area is relatively easy (when there is no snow). Even getting across the United States to Canada border is only a 20-minute walk across the Rainbow Bridge. What's more, attractions are generally close together and within walking distance of one another. If your feet are feeling a bit weary, you can hop on the area's efficient (and free) Discover Niagara Shuttle. Having a car can make your trip more stressful, since roads are prone to congestion and parking is very expensive.
On Foot - When unencumbered by the weather, strolling around the falls or the hotel areas of the Canadian or New York side can be leisurely and fun. Plus, the compact business areas can be enjoyed and fully explored on foot.
Bus - WEGO is a bus system that connects accommodations and attractions within the Niagara Falls area, including Lundy's Lane, Victoria Avenue, Clifton Hill, Fallsview, Main & Ferry and Queen Street. There are three different bus lines that all connect in Niagara Parks at Table Rock next to Horseshoe Falls. This point is the main transfer hub from the blue and red lines (which mainly service the tourist areas) to the green line that offers trips through Niagara Parks. Though the service is not free (a 24-hour pass costs $7.50 for adults; $4.50 for children 6 to 12), it does run year-round. Hours vary by line and season, but generally, routes begin service around 9 a.m. and conclude around 1 a.m.
Shuttle - The Discover Niagara Shuttle is a hop-on, hop-off bus that offers free service between the Niagara USA Official Visitor Center and Old Fort Niagara, stopping at 15 destinations along the 14-mile route. The shuttle, which operates seasonally in the summer and early fall, offers service between 9 a.m. and 6 p.m. during the week and between 9 a.m. and midnight on the weekends. Many hotels also operate free shuttles to local attractions. It might be worth staying at one of these properties.
Car - Road tripping to Niagara Falls is a tradition for some families. But, once you arrive you'll want to ditch your car ASAP. Traffic can be slow, and the roads are either packed with tour buses in the summer or covered in snow in the winter. Parking outside of your hotel lot is also difficult and expensive. Though you'll find a handful of free parking areas in the north and south end of Niagara Parks, most lots closest to the attractions are gated or metered. You can find a list of available lots and daily parking prices on the Niagara Parks government website.
WHERE TO STAY IN NIAGARA FALLS
Connected to Casino Niagara and Fallsview Indoor Waterpark, this hotel features views of the Niagara Falls. It offers on-site dining, shopping, and spa treatments. The rooms boast a 37-inch flat-screen TV. Each contemporary guest room at Sheraton on the Falls includes floor-to-ceiling windows and a marble bathroom. A coffee maker is provided and Wi-Fi is also available. Located across from the Falls, the Fallsview Restaurant offers buffet and a la carte meals for breakfast, lunch, and dinner. A Starbucks Coffee Shop is located in the hotel's lobby. Concierge services and valet parking are available at The Falls Sheraton. The business center is open 24 hours a day. The shops and entertainment at Clifton Hill are less than a 5-minute walk from the Sheraton on the Falls. The Skylon Tower is 1 km away.
Niagara Falls Marriott Fallsview Hotel & Spa
Niagara Falls Marriott Fallsview features a full-service on-site spa. This hotel is conveniently located just 5 minutes' walk from Fallsview Casino and the Scotiabank Convention Centre. Each guest room provides a TV, coffee maker, mini-bar, hairdryer and individual climate control. Select rooms also contain a hot tub. Found on site, the Morton's Grille Niagara Falls Restaurant serves locally sourced cuisine and boasts breath-taking views of the Falls. Guests will enjoy the convenience of having a Starbucks located in the lobby, while the Lobby Lounge bar features 3 flat-screen TVs and a great view of Niagara Falls. Serenity Spa by the Falls is the hotel's boutique spa facility. It offers 2 hot tubs, a sauna, steam room and an extensive selection of Dermologica products and treatments. Additional amenities include an indoor pool, outdoor sundeck and well-equipped fitness centre. Free WiFi is accessible in the hotel lobby. Other helpful facilities include a gift shop, currency exchange service and business centre.
This hotel is located less than one kilometer from the Maid of the Mist Niagara Falls boat tour. It features a full service spa and free Wi-Fi in the rooms. Guest rooms at the Sterling Inn & Spa contains a mini fridge, coffee maker and cable TV. Rooms feature either a 2-person spa bath or an in-shower steam unit. Sterling Inn & Spa is home to AG, the on-site restaurant. Sterling Inn of Niagara Falls is less than one kilometer from Casino Niagara. Marineland is 4.8 km away.
A few minutes walk from the world-famous Horseshoe Falls and offering on-site tour assistance to surrounding area attractions, this Niagara Falls, Ontario hotel features comfortable accommodations and thoughtful amenities. The Vittoria Hotel and Suites is situated only steps from the excitement of Casino Niagara, the views from the Skylon Tower and the popular Maid of the Mist boat ride through the Falls. The hotel's on-site tour assistance can also help arrange trips to nearby Niagara-on-the-Lake, local wineries and much more. Thoughtful amenities at the Vittoria include free wireless internet, on-site laundry facilities and an indoor heated pool. The hotel also features an on-site restaurant.
Courtyard by Marriott Niagara Falls
Just 1 block from Niagara Falls and the heart of the entertainment district, this hotel offers an indoor and outdoor pool. The Keg Steakhouse & Bar is located on site. Free Wi-Fi is included in all rooms. Boasting a flat-screen TV with cable, all rooms at the Niagara Falls Courtyard by Marriott are equipped with tea and coffee-making facilities. A fridge is provided. Floor-to-ceiling windows are in every room. The Courtyard by Marriott Niagara Falls offers a full service business centre. Guests can choose from a variety of hot and cold items at the breakfast buffet. A gym is also available. The Courtyard by Marriott is 15 minutes' walk from Niagara Fallsview Casino and Niagara Parks Butterfly Conservatory. The Scotiabank Convention Centre is 2 km away.
Country Inn & Suites by Radisson, Niagara Falls, ON
Situated in Niagara Falls, Ontario, and within walking distance from the famous waterfall, this hotel offers a variety of modern conveniences in an ideal location. A complimentary breakfast is served daily and free WiFi is also offered. The Country Inn and Suites Niagara Falls places guests only steps away from many of the area's most popular attractions. The spectacular Niagara Falls, Casino Niagara, museums, restaurants and entertainment are moments away. Guests can relax after a long day in the completely smoke-free environment of the Niagara Falls Country Inn. Guests can also enjoy the on-site 24-hour fitness centre, the spacious indoor swimming pool, and the hotel's library.
Howard Johnson by Wyndham by the Falls Niagara Falls
Situated in the centre of the Clifton Hills tourist area, this Howard Johnson by Wyndham by the Falls Niagara Falls hotel is 8 minutes' walk from the Falls. Indoor and outdoor pools are featured. Guest rooms provide free WiFi and a safe. Each room is equipped with a 37-inch LCD TV with pay-per-movies. A coffee maker, mini-fridge, hairdryer and ironing facilities are included. Howard Johnson by Wyndham by the Falls Niagara Falls boasts a 24-hour Denny's restaurant along with a Pizza Hut Express, KFC Express and Baskin Robbins. Guests at Howard Johnson Howard Johnson by Wyndham by the Falls Niagara Falls can enjoy the on-site hot tub or sauna. There is also a fitness centre. Skylon Tower, Ripley's Believe It Or Not Museum and Casino Niagara are within an 11-minute walk from the hotel. Marineland amusement park is 4 km away.
Radisson Hotel & Suites Fallsview
With a prime location overlooking breathtaking Horseshoe Falls and within walking distance of world-famous Niagara Falls, this hotel offers warm hospitality, and exceptional services, sure to please all travellers. Radisson Hotel & Suites Fallsview features comfortable rooms and a variety of services that will ensure every trip is relaxing and stress-free. The hotel features Outback Steakhouse, which is open for lunch and dinner. The Radisson Fallsview is close to major Niagara Falls attractions, including Niagara Fallsview Casino. The famous Maid of the Mist boat cruise, Niagara Falls IMAX Theater, and Marineland Theme Park are also only moments away.
Niagara Falls Marriott on the Falls
Featuring a terrace and observation deck overlooking the Falls, Niagara Falls Marriott on the Falls is only 500 m from Fallsview Casino. A shuttle service to the casino and other area attractions is provided. Niagara Falls Marriott on the Falls has modern rooms with large windows overlooking the city or Falls. Each contains a 37" LCD TV, coffee maker, hairdryer and individual climate control. Select units also include a fireplace and hot tub. Guests looking for a memorable dining experience can enjoy the Milestones Fallsview Restaurant. It is located on-site and offers stunning views of the Falls. There is a Starbucks located on the lobby level, and a breakfast buffet is available at the on-site café. Niagara Falls Marriott on the Falls boasts an indoor pool, hot tub and fitness centre. Free WiFi is accessible in the lobby. Other helpful services include currency exchange and a business centre. Containing many brand name shops, Canada One Outlet Mall is 9 minutes' drive from this hotel. The Journey Behind the Falls attraction can be found within 1.7 km.
Days by Wyndham Niagara Falls Centre St. By the Falls
Located in Niagara Falls, 500 m from Casino Niagara, Days by Wyndham Niagara Falls Centre St. By the Falls offers express check-in and check-out and free WiFi throughout the property. This 3-star hotel offers an ATM. The hotel provides an indoor pool, fitness centre and a 24-hour front desk. Guest rooms are equipped with air conditioning, a TV with satellite channels, a fridge, a coffee machine, a shower, a hairdryer and a desk. The units include a private bathroom, free toiletries and bed linen. Popular points of interest near the hotel include Skylon Tower, Niagara Fallsview Casino Resort and Fallsview Indoor Waterpark. The nearest airport is John C. Munro Hamilton International Airport, 85 km from Days by Wyndham Niagara Falls Centre St. By the Falls.
THINGS TO DO & PLACES TO VISIT IN NIAGARA
Located on the US-Canada border, Niagara Falls is one of Ontario's most impressive sights, visited by millions across the world. Here, we uncover the most exciting and unusual ways to appreciate the beauty of this natural wonder, as well as the wealth of other things to do in the region.
If you love to be close to the action, a Maid of the Mist boat tour is the ultimate way to experience the falls. You'll be amazed by the magnitude of this natural wonder as you soak up its powerful spray while admiring views of the falls from all angles. This popular attraction is one of Niagara's most talked about and has been experienced by the likes of Marilyn Monroe, Princess Diana and Robert Redford. Trips last approximately 30 minutes and waterproof ponchos are provided. Maid of the Mist is wheelchair accessible.
It may be slightly garish and over-the-top, but Clifton Hill – one of Niagara Falls' most famous streets – is a must-visit. Ontario's version of the Las Vegas strip is packed with tourists during peak season, but its many themed attractions make it worth battling the crowds. Kids will love the Fun House with its hall of mirrors, and there are plenty of gift shops for those who want to pick up some souvenirs. Other popular attractions include the Movieland Wax Museum, Niagara Speedway and the area's ample restaurants and bars.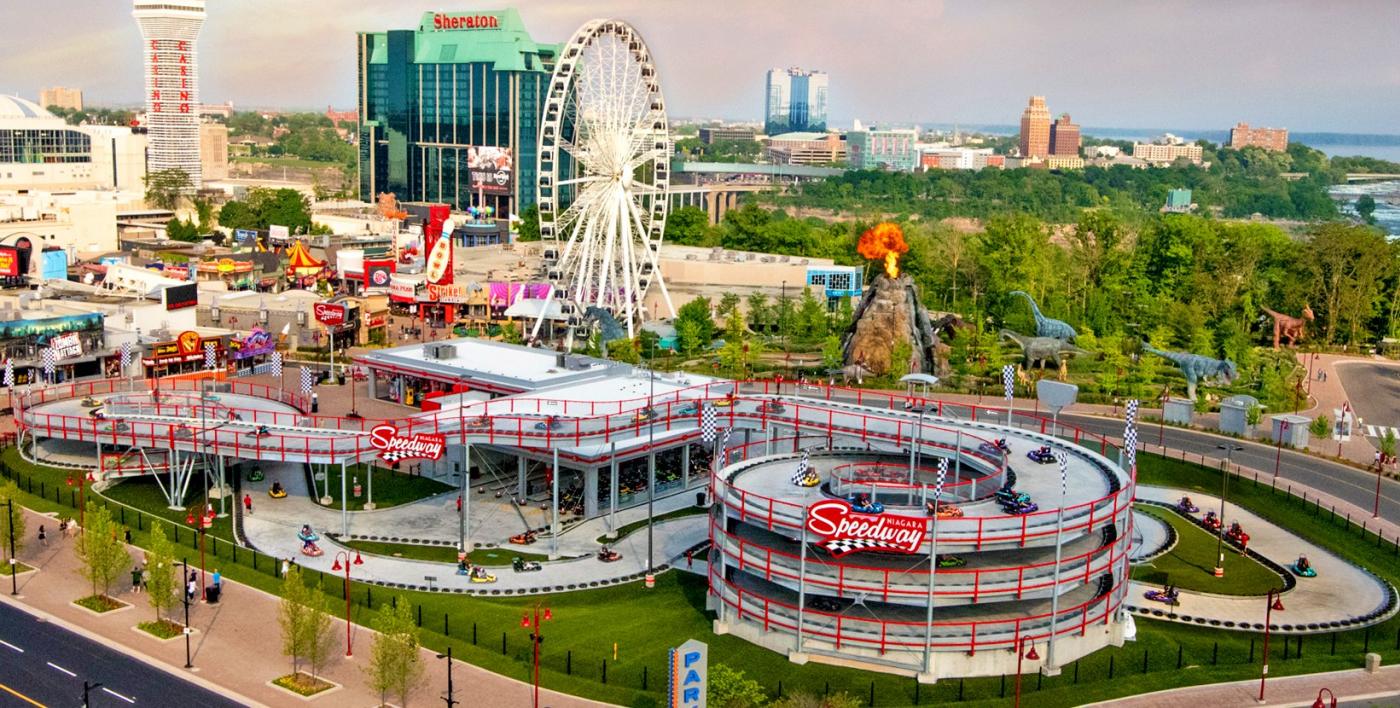 One of Niagara Falls' other great attractions is the magnificent Fallsview Casino, just meters away from the famous natural landmark. Located within the Hilton resort, Canada's largest gaming facility contains over 3,000 slot machines and 130 gaming tables. Even if you're not looking to place any bets, it's worth a quick visit to marvel at the resort's grandeur. The venue also offers over 20 dining options, led by some of North America's most inspired and creative chefs. Popular choices include 21 Club Steak and Seafood, Ponte Vecchio and Golden Locus.
The lakeside location of the Niagara Falls region makes the area the perfect spot for growing grapes, and consequently, there is no shortage of wineries to discover. A wide range of tours are available but our favorite, Winery Tours of Niagara, offers a comprehensive service including hotel pick-up and visits to specially selected wineries accompanied by a knowledgeable guide. Alternatively, you can go off-map and create your own tour route, paying a small fee at each winery for a tasting of the finest red and white varieties.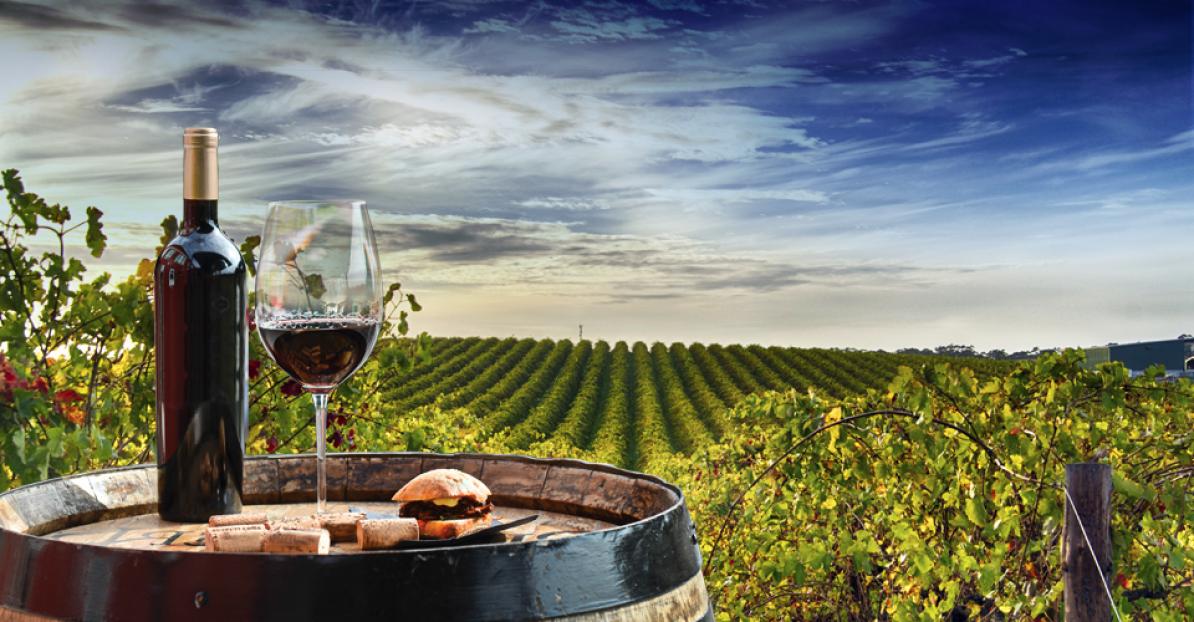 Most tourists flock to the Niagara Falls resort area of the region, but just a few kilometers north is the quaint 19th-century town of Niagara-on-the-Lake, which is equally worth a visit. Situated on the edge of Lake Ontario, the town boasts lovely views of Toronto in a beautiful natural setting. Here, you will find a great range of restaurants, boutique stores and the famous Shaw Festival which celebrates the work of George Bernard Shaw through a series of plays performed from April to November.
Niagara Botanical Gardens
About 10 minutes north of the Falls is another beautiful natural attraction – the Niagara Botanical Gardens. Established in 1936 and maintained by the Niagara Parks School of Horticulture, the gardens stretch over 99 acres (40ha) and feature everything from perennials and azaleas to rhododendrons and hydrangeas. Among its most beautiful areas are a formal parterre garden, a butterfly conservatory and a world-famous rose garden featuring over 2,400 roses. Entry is free and the gardens are open to the public 365 days a year, with new blooms appearing in every season.
For another alternative view of the falls, it's well worth a visit to Skylon Tower's observation deck, which stands 775ft (236m) above the water. A glass elevator takes you to the top in under a minute, giving you access to unparalleled views of the falls and Niagara's wineries, as well as Toronto and New York. The lower of the tower's two restaurants is the Revolving Dining Room, which provides a constantly changing vista while you enjoy your meal.
Every day at dusk, the drama of the falls is heightened by a mesmerizing colored light show. Hundreds of LED lights create a spectacular vision of color, with different shades gradually fading in and out through the full range of the rainbow. On special occasions, the colors used are themed to celebrate national holidays or to support particular charities or not-for-profit organizations.
Niagara Falls Helicopter Tour
Combining adventure and spectacular views, a helicopter tour is without doubt the most exhilarating way to see the falls. There are plenty of photo opportunities along the way as you soak up the sights of the Niagara region, including Queen Victoria Park and the area's magnificent wineries. Several tour operators offer flights from both the US and Canadian sides, with two of the most popular being Rainbow Air and Niagara Helicopters. Although it can be a pricey ride, it's well-worth it for this unique experience. Flights depart daily and are weather dependent.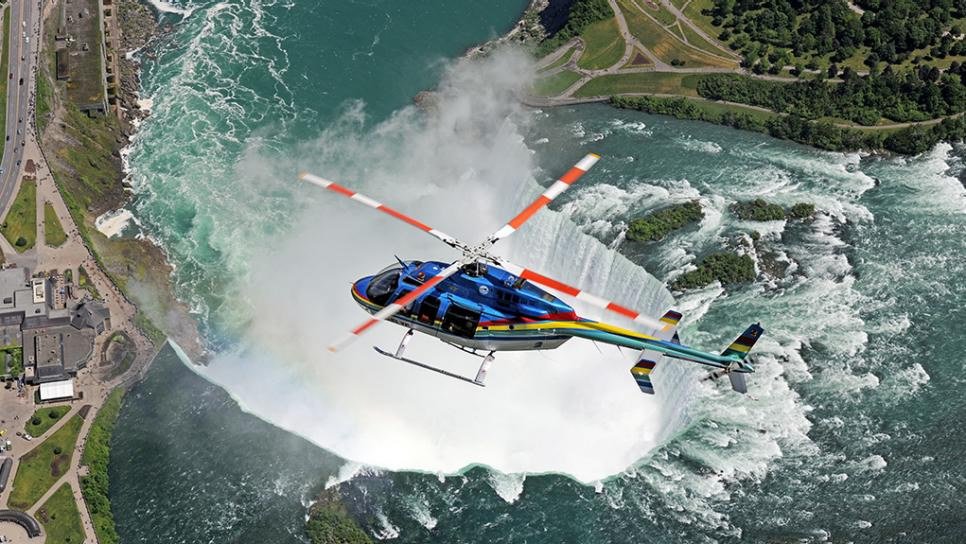 Located in the middle of Clifton Hill is the Niagara SkyWheel, a 175ft (53m) ferris wheel that offers its passengers a panoramic view of the falls, the Niagara River, Niagara Parks and other landmarks. You can choose to experience this attraction during the day or at night, with evening rides offering romantic views of the area's sparkling skyline. Climate-controlled gondolas make this a comfortable, convenient and fun way to soak up an aerial view all year round. Rides last between 8 and 12 minutes.
Located on the US side of the Falls, this 17th-century fort is a must-visit for history buffs. The oldest operational fort in North America, Old Fort Niagara has seen action during the likes of the American Revolution and the French and Indian Wars, as well as serving as a training station during the Civil War. You'll have the chance to explore underground gunpowder rooms, old army barracks and ancient cannons. If you don't have your own vehicle, Old Fort Niagara can be accessed via the free Discover Niagara Shuttle.
Niagara Glen Nature Reserve
Hike through more than two miles (3.2km) of preserved Carolinian Forest at the Niagara Glen Nature Reserve, a peaceful escape from the region's crowds of tourists. Situated just off the Niagara Parkway on the Canadian side of the Falls, this area is particularly beautiful during the autumn months as the trees begin to change color and shed their leaves. Visit the on-site nature center to learn more about the area, or join a daily guided hike, available between May and August. Niagara Glen Nature Reserve is free to access and open year-round.
Join Cave of the Winds tour
How close is up close? Bring your waterproof camera, slip into the special yellow poncho, and follow a series of wooden walkways (built fresh each year!) to the famed Hurricane Deck of Cave of the Winds. There, you'll find just feet away from the base of Bridal Veil Falls, so expect to get wet from the spray coming off the Falls itself and be awed! Please note, this is a timed-ticket experience.
Lockport Locks & Erie Canal Cruise
Take a cruise through history on the Erie Canal on this scenic cruise. You'll go past five of the original 1800s locks, including the only double set (the boat will rise 50 feet due to the 3 million gallons of water it takes to fill the locks!). You'll also pass the widest bridge in the U.S. (the Big Bridge) as well as rock cuts, lift bridges and the Upside Down Bridge.
Niagara George Hiking Trails
For the serious hiker, getting off the beaten path and descending into the heart of the Niagara Gorge is a must (those who are less experienced will want to stay on the top trails). Just 3 miles from downtown, you'll find Devil's Hole State Park where you can access the signature route of miles of trails that take you down to the rapids of the Niagara Whirlpool, edged by rock formations and canyon walls for a breathtaking view of nature up close.
Niagara Jet Adventures & Whirlpool Jet Boat Tours
The Class V rapids of the Niagara River can be daunting to even seasoned mariners. However, when you add jet-powered boats to the equation, you get a white-knuckled ride that'll test your vocal cords. Both Niagara Jet Adventures and Whirlpool Jet Boat Tours take guests on a guided, 45-60 minute tour through the Devil's Hole Class V rapids of the Niagara River. Offering both a wet and dry experience, these high-speed boats will have you craving another adrenaline-packed adventure.
WHERE TO EAT IN NIAGARA FALLS
The Canadian city of Niagara Falls, home to the famous waterfalls of the same name, is an unsurprisingly popular tourist destination. Although many of the city's restaurants provide typical tourist-friendly fare, visitors willing to dig a little deeper will find that it's home to a number of innovative places to eat. Read on to discover the 12 best restaurants in Niagara Falls.
Casa Mia Ristorante offers generous portions of Italian cuisine, made using fresh, high-quality ingredients. Owned and managed by the Mollica Family for over 25 years, the restaurant features stylish seaside decor inspired by Italy's Amalfi Coast. It's simple, well-prepared menu features mains including veal parmigiana, along with a selection of antipasti and sides. There's a sommelier on staff to help choose wine pairings from the restaurant's cellar, which is full of over 300 labels. The restaurant is located about a 10-minute drive from the Falls, with a free shuttle service operated from local hotels.
Taps On Queen Brewhouse and Grill
Taps Brewhouse offers a diverse menu of sandwiches, burgers, pizza and pub classics, alongside beers brewed on-site. Its beers are brewed using only four ingredients – filtered water, hops, malted barley and yeast – and all menu items are prepared fresh in-house with a focus on local products. The restaurant is set in an old warehouse, featuring an open concept interior that allows diners to watch sports on the TV or enjoy live music performed on its small stage. Bands, DJs and open-mic nights are frequently hosted here, in addition to weekly specials such as wing nights.
Located in a drab strip mall, Pho Xyclo has a bland exterior that belies the authentic Vietnamese and East Asian dishes served inside. The interior is simple yet cheerful, and service is consistently friendly. The menu features a variety of noodle soups, rice dishes, vermicelli and wontons. Dishes such as the Tom Yum Pho (hot and sour Thai soup) are spicy enough to satisfy diners who crave a piquant dish; while milder dishes, for example, the Xyclo Fried Rice, cater to less adventurous eaters; served with egg, shrimp, grilled chicken, BBQ pork, carrots, peas, corn and the restaurant's signature sauce.
Weinkeller brings the brewpub concept to wines, with three reds and three whites produced right in the restaurant. Set in an intimate, brick-walled basement, the restaurant takes its name from the German word for "wine cellar." Aside from craft wines, its menu focuses on seasonal, local ingredients. Diners have a choice of three- or five-course prix fixe menus, which might include a main such as Pacific salmon, which is served cedar-planked, blackened, poached with hollandaise, or panned with fresh herb butter, according to the diner's preference.
Owned and managed by British expats Linda and Roger Ollis, Queen Charlotte offers diners a quintessentially British Experience. The restaurant's delightful decor is inspired by a British tearoom, with a menu to match. The menu focuses on authentic British dishes, including fish and chips, steak and kidney pie and bangers and mash served with baked beans and Yorkshire pudding. Choose from a wide selection of loose-leaf tea, including herbal varieties such as peppermint and specialty teas including Scottish caramel. Book in advance to enjoy a traditional high tea, complete with scones with Devonshire cream, and cucumber and cream cheese sandwiches.
Set in the basement of Sterling Inn and Spa, AG Inspired Cuisine is a sleek restaurant with a cutting-edge, contemporary menu. Chef Cory Linkson uses traditional French cooking techniques to present local ingredients from the Niagara region's farms in creative new ways. Expect dishes such as pan-seared scallops, served with soppressata, pomme purée, Niagara peach salsa and harissa. The 'field-to-fork' section of the menu is seasonal, changing daily depending on the ingredients available. The restaurant's atmosphere is particularly inviting on Friday and Saturday evenings when live music is often featured.
Napoli Ristorante Pizzeria
Widely touted as the best Italian restaurant in the city, Napoli Ristorante Pizzeria has been serving up home-style Italian fare for more than 30 years. The staff follow a mantra of "he who eats well, lives well," and the restaurant exudes a warm, welcoming ambience. The menu is a familiar mix of pizza, pasta and risotto, with all diners given a plate of house-made focaccia and olive oil to enjoy while choosing their meal. Go for the ravioli in bianco, made with a ricotta and parmigiano filling, and served simply with olives, butter and lemon.
The Tide and Vine is a rustic oyster bar that offers expertly shucked oysters and the region's freshest seafood. The restaurant is converting even non-seafood enthusiasts into fans with its fantastic menu, which includes an excellent selection of local wines and beers. Everything is produced in-house, from the seafood chowder and lobster rolls, to the fresh oysters, served alongside grated horseradish, mignonette and Scotch bonnet hot sauce. The intimate 24-seat restaurant is decorated with natural woods, stainless steel, white ceramic and airy green-and-blue tones.
Owned and operated by a French family, Paris Crêpes Café mixes fine French cuisine with a relaxed, bistro-style ambience. As the restaurant's name suggests, the menu focuses on sweet and savoury crêpes, with popular choices including the Papillon – served with eggs, cheese, apple compote and ham, and the Niagara Falls – served with mixed berries, peaches, Nutella and vanilla ice cream. In addition to crêpes, the menu includes other French classics such as ratatouille, escargots, moules and beef bourguignon, as well as a fine selection of French and Niagara wines.
Located in Fallsview Casino Resort, 21 Club's red, black and gold color scheme is inspired by the game of roulette. The best seats are along the windows, set on an illuminated platform and offering fantastic views overlooking the Falls. Although the restaurant's dishes change with the seasons, 21 Club is primarily a steakhouse with a menu focused on prime-aged steaks and pork chops, along with poultry, seafood and a raw bar. A well-stocked wine cellar rounds out the excellent menu and contemporary atmosphere.
Carpaccio Restaurant and Wine Bar
Frequently voted as Niagara's best restaurant, Carpaccio uses only fresh and seasonal ingredients in its menu of fine Italian cuisine. Classics including spaghetti bolognese, penne arrabbiata and arancini are cooked to perfection, as are its brick-oven pizzas. A wide selection of red and white wines are served by the glass or the bottle, and cocktail lovers can choose from its martini and disaronno drinks menus. Finish your meal with a specialty coffee in true Italian style, sweetly served with a sugared rim and whipped cream.
Sitting on the former site of the Foxhead Inn, one of Niagara Falls' first luxury hotels, Niagara Brewing Company is best known for brewing a range of innovative beers, including its Honeymoon Peach Radler, with an airy malt sweetness, touch of ginger and pleasant peach finish; and its Niagara Icewine Beer – a limited-edition brew that blends the sweetness of Icewine with the traditional lager flavor. Don't leave without trying the restaurant's signature pretzel. Choose from warm salt pretzel served with beer-infused cheese sauce, or a warm cheese pretzel served with marinara.
WHERE TO SHOP IN NIAGARA
After a day of sightseeing in Niagara Falls, spend a few hours at the various shopping locations found in Niagara Falls Ontario and Niagara Falls New York. Retail locations including popular brand names at exceptional prices are available in Niagara Falls. Check out the list of all the shopping centers, boutiques, outlet malls and other unique shopping including the duty free shop.
Canadian Gifts & Marketplace
Discover one of Niagara's newest and most exciting shopping destinations at Canadian Gifts & Marketplace inside the lobby of the Sheraton on the Falls hotel. At the Great Canadian Gifts Shop, visitors can shop for souvenirs, gifts, clothing, and specialty Niagara-made products that will commemorate your stay in Niagara Falls. It offers a retail experience unlike anywhere else in the city and is the ultimate souvenir shopping destination, located just steps away from the Falls.
This open-concept shopping destination features a number of food and retail stores including the Great Canadian Gifts Shop, Freshii, Starbucks, Sweet Jesus ice cream shop, Wine Rack boutique, and Niagara Vines Wine Bar.
Niagara Duty Free Niagara Falls
Niagara Duty Free is located at the entrance of the Rainbow Bridge on the Canadian Side of the boarder. Offering duty free products including perfume, food, alcohol and more to visitors from abroad. Offering a variety of duty free products to visitors from abroad. Ample parking for cars and motorcoaches.
Hard Rock Cafe Merchandise
After dining amid rock'n roll memorabilia at the world-famous Hard Rock Cafe Niagara Falls stop by the Hard Rock Merchandise Shop, and take home a piece of genuine Hard Rock merchandise. Located on Falls Avenue in Niagara Falls, the Hard Rock Merchandise Shop is located one floor below the Hard Rock Café. The Hard Rock Shop is loaded with t-shirt, sweaters, jackets, and other merchandise that only the Niagara Falls Hard Rock Merchandise Shop can offer.
Hershey's Chocolate World Niagara Falls
Welcome to the world's only Hershey's Chocolate World Store of its kind displaying 7,000 square feet of chocolate fun! Located on Falls Avenue, Hershey's Chocolate World is a must see for any chocolate-lover. Even the entrance is surrounded in chocolate, enter through the 4-story high Hershey's Bar. Once inside shop for freshly made chocolate sweets and confections at our fresh food counter or shop for unique merchandise, souvenirs and memorabilia allow you to bring a little Hershey's home with you. The Hershey Store Niagara Falls is 7,000 square feet of chocolate. Located on Falls Avenue The Hershey Store offers a wide variety of hershey chocolates and sweets, along with clothing and collectables. The Hershey Store Niagara Falls also features its one of a kind fudge, homemade cookies, and other unique treats.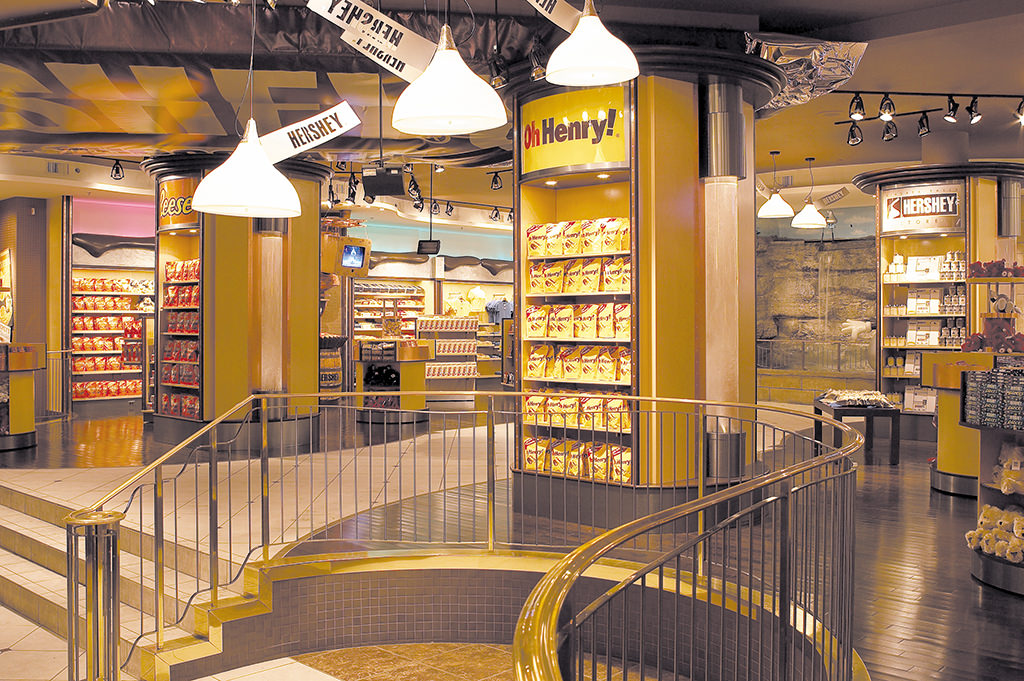 Canada Trading Company Niagara Falls
The Canada Trading Company in Niagara Falls Ontario offers a large variety of unique Niagara Falls and Canadian gifts and souvenirs to visitors. Canada Trading Company offers a wide range of Niagara Falls and Canadian gifts and souvenirs. Including a large section of native items.
Peace Bridge Duty Free Niagara Falls
Peace Bridge Duty Free located in Fort Erie at the entrance of the Peace Bridge offers travellers the opportunity to purchase quality merchandise Duty Free. Peace Bridge Duty Free offers quality merchadise, travellers' information, custom service, currency exchange, WiFi internet, faxing and photocoping services.
Queenston Lewiston Duty Free Niagara Falls
Open 24 hours a day, 365 Days a year, the multi-lingual associates at the Queenston Lewiston Duty Free will welcome you into a friendly atmosphere ensure that your duty free shopping experience is pleasant. Shop for duty free products including alcohol, tobacco, perfume and brand name products.
Niagara Square Shopping Centre
The Niagara Square is a mall that represents a wide variety of shopping options including the new additions of JYSK, Micheal's, the Mandarin restaurant, and Bouclair and is anxiously awaiting the opening of The Brick. These new additions add to the line up of over 70 stores and services available at Niagara Square.
Fashion Outlets of Niagara Falls USA
Located in Niagara Falls, NY - Fashion Outlets Niagara Falls, USA invites visitors to enjoy elegant indoor outlet shopping. This premier outlet center is conveniently located just minutes from Niagara Falls, the Canadian border and local hotels and casinos. Visitors can shop the newly expanded indoor shopping center, featuring several designer outlets, making it one of the biggest and best outlet centers in the country.
​
Outlet Collection At Niagara
Located minutes from Niagara Falls, in the heart of the Niagara region, this outlet mall combines brand name fashion and lifestyle retailers—all at outlet store prices! Outlet Collection at Niagara features over 100 outlet brands including Coach, J. Crew Factory, Kate Spade New York, Michael Kors, Tommy Hilfiger and many more!
Located a short distance from Niagara Falls, The Pen Centre is the largest indoor mall in the Niagara Region. It features 180 stores including a movie theatre and offers shoppers over one million square feet of endless shopping experiences.
Canada One Brand Name Outlets: Niagara Falls Shopping
Travelers looking for the best place to shop in Niagara Falls should look no further than the Canada One Factory Outlet Mall. Featuring more than 30 stores for shopping lovers, the outlet mall provides for amazing shopping in Niagara Falls for people with diverse tastes. Top brands like Coach, Guess, Escada, Tommy Hilfiger, and Nike beckon visitors to find the looks they love, in a relaxed environment and at outlet prices.
The Canada One Niagara Falls outlet mall is open 364 days a year, besides Christmas, so you can head there any time you want to get your Niagara Falls shopping fix. Just five minutes away from the iconic Niagara Falls and welcoming to group tours, the Canada One is an attractive destination to relax and unwind, and find beautiful garments and goods. A shopping trip is a fun way to round out a vacation, and with offerings for everyone in the family, you're sure to find something you love at the Canada One Brand Name Outlets.