TIISTAI, 22. SYYSKUUTA 2020
Zihuatanejo is a resort city on Mexico's Pacific Coast, northwest of Acapulco. Zihua as it's affectionately called, is a Pacific paradise of beautiful beaches, friendly people and an easygoing lifestyle. Until the 1970s it was a sleepy fishing village, but with the construction of Ixtapa next door, Zihua's tourism industry boomed practically overnight.
Parts of the city have become quite touristy, especially when cruise ships are in town, and luxury hotels are slowly replacing family guesthouses. But for the most part, Zihua has retained its historic charm. The narrow cobblestone streets of downtown hide wonderful local restaurants, bars, boutiques and artisan studios. Fishers still meet every morning on the beach by Paseo del Pescador (Fishermen's Passage) to sell their catch of the day. At night, young lovers and families stroll carefree along the romantic waterfront sidewalk. Zihua is the best of both worlds. No wonder Andy and Red chose to live out their post-prison days here in The Shawshank Redemption.
BEST TIME TO VISIT ZEHUATANEJO
The tourism score favors clear, rainless days with perceived temperatures between 65°F and 80°F. Based on this score, the best time of year to visit Ixtapa-Zihuatanejo for general outdoor tourist activities is from early January to late April, with a peak score in the first week of March.
Spring (March through May)
Humidity and temperatures combine to make this season feel warm. Highs range from 89.6°F (32°C) and 85.1°F (29.5°C) with warmer temperatures in the later months. Rain is extremely rare with 0 to 1 days of significant precipitation per month. Spring is the second busiest for tourism, which makes it a good time for those looking for things to do.
Summer (June through August)
The middle-year months have very comfortable weather with high temperatures that are quite warm. These months see the most precipitation with 2 to 4 days of precipitation per month. June – August is the busiest season for tourism in Zihuatanejo, so lodging and other accommodations may cost more than usual.
Fall (September through November)
Fall daily highs range from 89.6°F (32°C) and 87.5°F (30.8°C), which will feel very nice given the humidity and wind. It rains or snows a normal amount: 0 to 5 days per month. Tourism is the slowest during these months due to the weather, so hotels may be affordably priced.
Winter (December through February)
Weather is perfect this time of year in Zihuatanejo to be enjoyable for warm weather travelers. The average high during this season is between 87°F (30.6°C) and 85.1°F (29.5°C). On average, it rains or snows a insignificant amount: consistently 0 times per month. These times of year are fairly slow with tourists.
GETTING TO ZIHUATANEJO
Plane - The Ixtapa-Zihuatanejo International Airport (ZIH) is eight miles away from Zihuatanejo. Most hotels offer free shuttles from the airport, but you can take a taxi to Zihuatanejo for Mex$35, book private transport for Mex$130, or take a colectivo for Mex$10.
Car - Taking a taxi from Ixtapa to Zihuatanejo will only cost Mex$70. You can easily drive to Zihuatanejo yourself by following Autopista del Sol or Autopista Siglo 21 if you are coming from Mexico City.
Bus - You can take a colectivo from Ixtapa for Mex$8.50. Grupo Estrella Blanca, Estrella de Oro, and other companies offer buses between major cities such as Acapulco, Morella, and Mexico City to Zihuatanejo. Bus fare between Mexico City and Zihuatanejo should cost Mex$370 while the trip from Acapulco to Zihuatanejo should cost Mex$300. The bus terminal is a few miles away from the city, and you will have to spend Mex$30 on a taxi.
GETTING AROUND ZIHUATANEJO
Public Transportation - Buses and colectivo vans are a convenient way to get around town. Head to Avenida Benito Juárez to find colectivos that will take you to the Playa Larga for Mex$10 or to the Playa la Ropa for Mex$7.
Taxi - Finding taxis in Zihuatanejo is very easy if you are near the pier. There is a minimum fare of Mex$30 within the city and you can go to Playa la Ropa for Mex$30 to Mex$50 or to Playa Larga for Mex$160.
Car - You can rent a car for Mex$600 a day, including insurance. There are several car rental agencies at the airport, including Alamo, Budget, and Hertz.
Popular Neighborhoods in Zihuatanejo
Centro - this is an area typical of a small Mexican town and is great for shopping and people watching. The pier and its fish market are major attractions, but you will find many stores and restaurants as you get further away from the waterfront.
Playa la Madera - this beach is not far from the Centro area and is where locals go to swim. It's a great spot for seaside dining since there are many excellent seafood restaurants to choose from.
Playa la Ropa and Playa las Gatas - these beaches are located south of the city. They are less crowded and are ideal if you enjoy snorkeling or want to relax at a beach bar.
WHERE TO STAY IN ZIHUATANEJO
Las Palmas Luxury Villas​
Las Palmas Luxury Villas features a restaurant, outdoor swimming pool, a bar and garden in Zihuatanejo. This 5-star hotel offers a private beach area and a 24-hour front desk. There is a terrace and guests can make use of free WiFi and free private parking. Guests at the hotel will be able to enjoy activities in and around Zihuatanejo, like hiking and cycling. Ixtapa is 26 km from Las Palmas Luxury Villas, while Troncones is 48 km away. The nearest airport is Ixtapa-Zihuatanejo International, 7 km from the accommodation, and the property offers a paid airport shuttle service.
Offering well-equipped suites overlooking La Madera Beach and Zihuatanejo Bay, Arena Suites is just 5 minutes' walk from Zihuatanejo town centre. It features free Wi-Fi and free on-site parking. The air-conditioned suites at Arena Suites have attractive décor with tiled floors. Each has a private entrance and some come with a terrace. All suites have a kitchenette with a fridge, microwave and coffee maker. There is a selection of shops, bars and restaurants within 10 minutes' walk of the Arena Suites. The complex has a beautiful setting less than 1 km from Zihuatanejo Marina. Ixtapa Zihuatanejo International Airport is a 15-minute drive from the Arena Suites.
Villa El Morro is located 10 minutes' walk from Zihuatanejo Town Centre and from the beach. It features panoramic Zihuatabejo Bay views and an outdoor swimming pool. The accommodations offer air conditioning, wardrobe, cable TV and a terrace with sea views. The bathrooms come with shower and free toiletries; and all rooms, suites and apartments include a coffee maker and a fridge. Guests at Villas El Morro will enjoy international food just 200 m away, Spanish cuisine places 300 m away and a restaurant specialized in seafood within 500 m. This property is 10 minutes' drive from Ixtapa Zihuatanejo and 10 minutes' walk from a Water Sport Station. The Ixtapa-Zihuatanejo International Airport is a 20-minute drive away.
This Zihuatanejo hotel is located on the Madera Beach with private beach access. Guests can swim in the private pool or the ocean, each suite provides ocean views. Hotel Aura del Mar suites include a private balcony or patio with a seating area. The suites are also equipped with a minibar and satellite TV. Guests at the Hotel Aura del Mar can dine in the hotel's gourmet restaurant or have a relaxing drink on the beach on the bar terrace. The Brisas has a full-service spa, which features massage services and beauty treatments. Leisure areas with hammocks and lounge seats are available. Free WiFi is available in the public areas of the hotel. The Zihuatanejo Hotel Aura del Mar offers guest the use of a business center and gym. The hotel also offers table tennis and a tour desk with information on area activities and events.
Surrounded by tropical gardens, this luxury 5-star resort boasts 1,0 m of private beach along Zihuatanejo Bay. It features an oceanfront infinity pool, gourmet dining and spacious rooms with a private balcony. The elegant rooms at Thompson Zihuatanejo are decorated with local Mexican art and bright colors. Plasma TVs, iPod docking stations and free Wi-Fi are provided. Renovated guestrooms and suites carry Thompson's signature mid-century aesthetic. Along the beach you can retreat to one of the attached palapas, walk or jog along the beach, or dive into all that our resort has to offer: a trio of outdoor swimming pools — two for adults, one for families An on-site spa features 6 treatment rooms and a fitness center. Thompson Zihuatanejo also has 2 tennis courts and 3 outdoor pools. Water skiing, wind surfing and snorkeling are available on site.
This hotel is located on a cliff in Playa La Madera and features 2 outdoor pools. Each room boasts Mediterranean décor and the on-site restaurant serves Mexican cuisine. Every air conditioned room at Hotel Irma provides satellite TV and bathroom amenities. Wake up calls are available. Guests can enjoy scenic views of Zihuatanejo Bay from the hotel. Massages, foreign currency exchange and tour information are available at Irma Hotel. Zihuatanejo Museum and the Club de Golf Palma Real are within driving distance from the hotel. Hotel Irma is nearby fishing, diving and surfing.
Offering a sun terrace with a swimming pool, stunning sea views and free Wi-Fi throughout, Hotel Casa Sun and Moon is located 5 minutes' drive from Las Gatas and La Ropa beaches. The rooms offer contemporary décor, air conditioning, ceiling fan, cable TV and a fridge. The bathroom is private and includes shower, hairdryer and free toiletries. The beach-front hotel's restaurant offers Mexican cuisine and bar service. There is as well a common kitchen for all guests to use. Hotel Casa Sun and Moon is 1.5 km from a bus station and 10 minutes' drive from Zihuatanejo main square. Ixtapa-Zihuatanejo International Airport is 15 minutes' drive away.
This intimate oceanfront hotel offers breathtaking views of Zihuatanejo Bay from its spacious terraces and infinity pool. It has a fitness centre, and its impressive rooms come with a balcony and free internet. La Casa Que Canta has a oceanfront saltwater pool, surrounded by natural rock formations. There are loungers on the terrace which overlook the bay, and massage services are available. The lift provides an easy access to the infinity pool and the restaurant. The rooms at La Casa Que Canta feature traditional Mexican décor, with handmade furniture and tiled floors. Each one has a private bathroom and all have beautiful sea views. The hotel's award-winning restaurant serves traditional Mexican food and specialises in seafood. There is also a bar with a terrace where you can enjoy a drink with panoramic ocean views. La Casa Que Canta sits just above La Ropa Beach, a 5-minute drive from the peaceful fishing village of Zihuatanejo. Ixtapa/Zihuatanejo Airport is a 20-minute drive away.
Embarc Zihuatanejo by Diamond Resorts
Located in Zihuatanejo, Embarc Zihuatanejo by Diamond Resorts offers beachfront accommodation less than 1 km from Principal Beach and provides various facilities, such as a restaurant and a bar. The resort features family rooms. At the resort every room is equipped with air conditioning and a TV. The nearest airport is Ixtapa-Zihuatanejo International Airport, 13 km from Embarc Zihuatanejo by Diamond Resorts.
Villas Miramar is located in Playa La Madera area and offers massage services for a fee, 2 outdoor pools, and a beach club. Private parking on site. The air-conditioned rooms have a seating area, fan and telephone line. Some units have a balcony, while others feature a fridge. The bathroom comes with a shower. Villas Miramar restaurant is specialized in local dishes and operates from 08:00 to 15:30 hours, along with the bar services. Within a 5-minute drive, guests will find other restaurants to choose from. Playa la Ropa Beach is 5 km from Villas Miramar, and Zihuatenejo's town centre is 3 km away. Ixtapa Zihuatanejo International Airport can be reached in a 20-minute drive.
PLACES TO VISIT & THINGS TO DO IN ZIHUATANEJO
Playa la Ropa: Hit the Beach
A vacation to the popular oceanside destination of Zihua is incomplete without a day of beach related fun. This popular stretch of sand is the number one choice for visitors, and whether you are looking for chilled out vibes or thrills on the water, there is something for everyone here. While relaxing in the sun and going for a swim never gets old, the Playa also offers water sports galore and boat rentals for adventurers.
Museo Arqueológico de la Costa Grande: Today meets Yesterday
Mexico teems with indigenous cultures, making it one of the richest countries for archaeological exploration. This museum highlights the influences of different cultures on the Costa Grande, from Acapulco to Zihuatanejo. Discover craftwork and tools from the Olmec, Teotihuacan, Tarascan, and Mexican communities - it is sure to enrich your experience in Zihua and Mexico in general. Paseo del Pescador runs along the water and past the museum, full of the sights and smells of the coast.
This delightful island, right off the shore of Zihuatanejo, is the ultimate destination along Guerrero's coast. A short and sunny boat ride carries you straight to paradise, where endless activities await. Swimming, snorkeling and scuba diving excursions will have you right at home in the water, surrounded by the most colorful sea life imaginable. On land, kick back in the sand on Playa Coral, take a walk, and hit the restaurants for good eats and drinks. You'll wish the day would never end!
Playa Las Gatas: Enjoy some Variety
Beyond the frequented and jam-packed Playa la Ropa, this isolated stretch of sand beckons you from across the water. Either wander your way through the trees along the cliffside coastline or get a lift to the pristine inlet by boat. There, you can explore the shore until your heart's content, snorkel the shallow waters or make yourself at home on a pristine patch of sand. Cute little seafood restaurants line the outskirts too, meaning that once you arrive, you won't have a care in the world!
Delfiniti de México: Swim with Dolphins
Your Mexican coastal vacation would be incomplete without fulfilling this ultimate tourist dream - to swim with the happiest creatures on earth! Dolphins are tender, agile and sweet, not to mention adorable, and this is your chance to come face to face with the frolicking sea creatures. Capture pictures with your new best friends as you splash through the water together. There are experiences for visitors of all ages and abilities, so there is no reason to miss out.
Also known as La Soledad de Maciel, Xihuacan is an archaeological site not far along the coast to the southeast. This settlement was occupied for more than 3,000 years by three different cultures (Tomiles, Cuitatecos and Tepoztecas), while excavation work only began as recently as 2007. A small museum has been set up on the site offering context about the monuments that have been uncovered so far, and presenting artefacts like steles, ball court hoops, jewellery and the contents of a burial chamber. At the site there's a massive ball court, possibly the largest of any Mesoamerican site, the base of a pyramid covering one hectare and a rise with rock carvings and what may be an altar for sacrifices.
With its warm seas and vibrant marine life, it's no shock that Zihuatanejo is a big-time diving destination. There are seven dive centres in the Ixtapa-Zihuatanejo area. If you're new to the activity you couldn't wish for a better place to make your first open water dive. You could get your PADA certification in a matter of days, while kids can learn the ropes on a "Bubblemaker" course. You may already have many hours of dives under your belt, in which case Zihuatanejo is a two-tank diving playground. Underwater temperatures push 28°C from June to October, and diving in canyons and coral reefs you may see whale sharks, sea horses, manta rays, dolphins, sea turtles, sharks, and moray eels.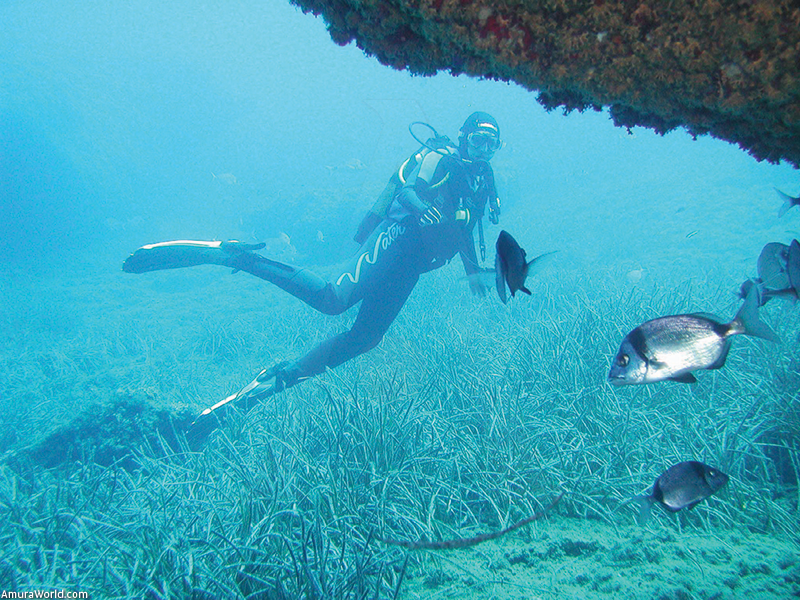 If you have a snorkel and flippers you can slip into the rockier parts of Zihuatanejo's beaches to glimpse an incredible variety of underwater life just metres from the shore. This equipment can also be rented, and almost every beach on this list also offers an array of gear, from jet-skis to kayaks. The currents in the bay are light enough that you could embark on a half-day guided kayak tour. You could combine this with snorkelling, to view the sea urchins and sea cucumbers that make their homes on the sea wall protecting the bay.
This waterfront promenade curls around the bay in Zihuatanejo, beginning at the municipal pier and ending on the east side of Playa Madera. As you go you'll happen upon handicraft shops, restaurants and bars, all under the shade of coconut palms. If you want a real slice of local life show up early in the morning, between 06:00 and 08:00, when fishermen lay out their catches on tarps. This can be anything from snapper to shrimp, crabs, swordfish or tuna. Later in the day you could take the weight off at an outdoor cafe table and watch the fish leaping in the bay.
No two beaches in Zihuatanejo-Ixtapa area are the same, and Playa el Palmar on the main drag in Ixtapa is the most commercialised of all. This can have its advantages, especially if you're in one of the all-inclusive hotels beside it and only need to take a few steps to be on the sand. Playa el Palmar is more open to the Pacific than the other examples on this list, so children will need to be supervised as the undertow can be sharp. The upside is that if you can handle yourself in the water you can body surf on the waves, and you may catch sight of a humpback or grey whale from the shore between November and April.
Away from the tourist drag, Playa Quieta is 15 minutes west of Zihuatanejo, looking out towards Ixtapa Island. Unlike most of the others on this list, tourist development is so low-impact you may not even know it's there. Playa Quieta has little more than a branch of Club Med towards the southern end. The remainder of the beach is just open sand, with little palm shelters behind where people come for picnics. You'll need to bring your own provisions, or make the short walk up to one of the restaurants at the nearby Playa Linda.
You may not want to pass a whole holiday lazing in the sun, so beginning at Marina Ixtapa is an eight-kilometre bike trail through a nature reserve containing rainforest. There are a couple of businesses in both Zihuatanejo and Iztapa offering cycling tours on this trail or simply bike rentals if you want to go self-guided. Take the Ciclopista Ixtapa at an easy pace and you may be overwhelmed by the profusion of natural life that shows up. You may see roseate spoonbills, iguanas, herons, parrots, cardinals, lake turtles and armadillos, as you coast through ceiba and parota forest where the trees get up to 40 metres high. Also on the trail are crocodiles, kept safely behind a fence!
November to April there are thousands of humpback and grey whales off Mexico's Pacific coast. Mothers make a long migration from Alaska to Mexico to calve in these warmer waters. After the calves are born the pods stay close to the coast from around January before beginning the long journey north a few months later. At this time of year you can sight these pods just by standing on the shore at one of the more open beaches like Playa el Palmar, Playa Blanca or Barra de Potosi. You could also charter a yacht or contact one of the diving companies like Dive Zihuatanejo for a whale watching expedition, when you may get to see one of these creatures breaching close by.
Golfers are well-catered for as there are two 18-hole courses barely ten minutes away in Ixtapa. Palma Real Golf Course, currently the most popular one, arrived in 1977 when the resort was first developed for tourism. This par-72 6,898-yard was designed by the famed course architect Robert Trent Jones Jr. and is set in a former coconut plantation. Marina Ixtapa Golf Club is also a par-72 and poses a tricky round, with a network of canals for water hazards and dunes for sand traps.
As you'd guess, the gastronomy in Zihuatanejo is centred on the ocean and there's a host of tasty specialities to sample. The hallmark dish might be tiritas de pescado. These are raw skipjack tuna or mahi-mahi fillets, cut into strips and accompanied with lemon juice, onions and chillies. Shrimp is abundant in Guerrero, and comes in mojo de ajo (garlic sauce) or in shrimp tacos. You could also get some red snapper in mojo de ajo or with a Veracruz-style tomato, garlic, pepper and cinnamon sauce.
This annual maritime event began in 2002 and its main aim is to raise money for Zihuatanejo's most disadvantaged children. Over the last 16 years it has grow into one of Mexico's top sailing events. There's a week-long programme comprising a dance, gala dinner, chilli cook-off and benefit concert. On the water, sunset cruises take place all week, and the main event takes place on the Saturday when there's a flotilla on the Zihua Bay. Proceeds from the Sailfest have gone towards local schools, building classrooms, kitchens and playgrounds.
WHERE TO EAT IN ZIHUATANEJO
When dining in Zihuatanejo, the beautiful views over the bay are often included. You can enjoy some great traditional Mexican food and numerous seafood dishes, or try some of the local specialties like Huachinango (red snapper) with tomato or garlic sauce. Zihuatanejo is also surrounded by several mango farms, making them a staple at most tables.​
Restaurantes Mexicanos Any​
This thatched-roofed diner with cheerful, colorful folkloric decor is an essential stop in Zihua for traditional Guerrero cuisine. Breakfast egg dishes are served with nopal (cactus) or three kinds of salsa (including a chocolate one with a chili kick); other highlights include Guerrero-style green pozole (hominy stew), served daily, to-die-for tamales and sweet, corn-based hot drinks known as atoles.
You're sitting so close to the sizzling spit of carne asada (marinated grilled beef) that sweat runs down you in rivulets. You watch, transfixed, as the chefs deftly slice and dice the meat, cow eyeballs, tongue, brains and other nose-to-tail ingredients, toss them atop some freshly made tortillas and serve them with aplomb and with two types of green salsa.
From his curbside barbecue, grill master Mauricio Cancino cooks up fresh fish (usually tuna or mahi-mahi with grilled veggies) to perfection, then he finishes it off with a brush of delightful guajillo chili and garlic sauce. There are some gringo crowd-pleasers, such as grilled steak and key lime pie, but what you really come for is the fish.
While walking around in Zihua heat, you come to appreciate havens of arctic air-con, such as this split-level, bicycle-themed cafe – ideal for sipping a strong Guerrero coffee while clacking on your laptop, or snacking on waffles, enchiladas, sandwiches, cakes and pizza.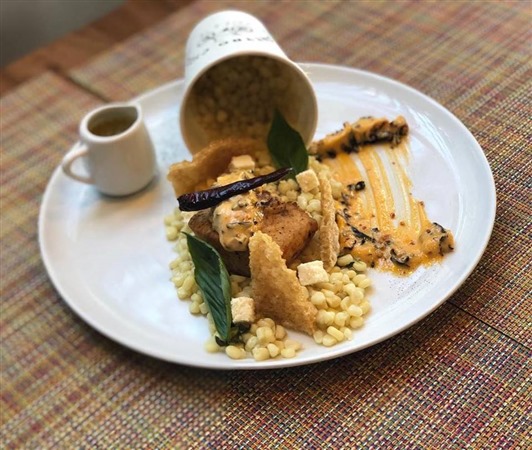 Carmelita's Cafe is a much-loved family-run restaurant and cafe. After starting as a small coffee shop in the airport, they have recently expanded and moved to a new location, now serving fantastic traditional fare in downtown Zihuatanejo.
Rufo's Grill is a local favourite, offering mouthwatering grilled dishes based around meat, fish, shrimp, pork ribs, chicken or vegetables, among many other options, all in a rustic and elegant setting.
At Tentaciones you can enjoy sophisticated fresh, local seafood specialties and Asian fusion cuisine. With a beautiful location on a mountaintop, the restaurant offers breathtaking views over the bay. The impeccable service provided here makes the whole dining experience delightful.
Ristorante Il Mare is a cosy and romantic restaurant, with an ideal location on a cliff at "La Madera" beach overlooking the beautiful waters and beaches of Zihuatanejo Bay. When dining at this restaurant you can enjoy modern Italian and Greek cuisine.
La Pampa offers panoramic views of Ixtapa's coastline and has a romantic open-air balcony where you can enjoy your meal. This restaurant specializes in Argentine-style prime beef, as well as fresh local seafood, such as tuna steak. It is recommended to make a reservation in advance.
When dining at this restaurant you will be dining in the oldest building in Zihuatanejo, located in the historic centre. Coconuts serves a unique mixture of gourmet Mexican and international dishes prepared with fresh and seasonal ingredients. They also host live music and dancing, and screen a lot of major sporting events, making it a great place for drinks on game night.
Starting as a pizzeria in the mid 1980's, Cafe Marina has evolved into a beloved Zihuatanejo restaurant and cafe, offering great pizza and local dishes, as well as smaller snacks and great coffee with an unbeatable view of the marina.
Bistro del Mar Restaurant
Claimed to be one of the best restaurants in Zihuatanejo, Bistro del Mar Restaurant offers typical Mexican food in an elegant atmosphere next to the sea. The menu offers everything from pizza to meat and fish dishes which are all cooked with the best ingredients.
At La Perla Restaurant you can tickle your taste buds with Mexican dishes prepared with fresh local ingredients. On the menu you will find traditional local cuisine, such as grilled red snapper served with garlic and fresh tortillas, spicy Pacific lobster, octopus, jumbo and medium size shrimp and scallops, to name a few.
WHERE TO SHOP IN ZIHUATANEJO
There is a wide selection of shops both in Zihuatanejo and Ixtapa, including clothing boutiques, beachware shops, and great places to find souvenirs, particularly in downtown Zihuatanejo. There are also numerous galleries that showcase the best of Mexican art and traditional crafts, as well as fine jewelry in gold and silver.
Zihuatanejo is in essence a fishing town, and the daily fish market is a sight to behold. Fishermen gather on the beach and display their catches and the beach becomes a raucous affair with plenty of haggling and the absolute freshest fish available.
Café Caracol is another small and cosy cafe in the centre of Zihuatanejo. Besides serving high-quality, organic coffee from the Guerrero region, Caracol also sells organic and locally-produced honey and vanilla.
Zihuatanejo's central market isn't very large, but it's packed tight with stalls selling everything from produce to knick knacks. It is a buzzing centre of commerce and life in the city, and is definitely worth visiting for a bit of local flavour.
Zihuatanejo's crafts market, located on Cinco de Mayo Avenue, has numerous stalls showcasing local arts and crafts in the form of rugs, pottery, wood carvings and much more. It is perhaps the best place in town to shop for souvenirs to take back home.
The area of Casa Marina, near the harbour, is home to several small shops that offer some other examples of traditional Mexican crafts and products, such as hammocks, rugs, art and some home decor items.
Lupita's is a unique boutique that showcases beautiful, bright and colourful women's apparel from Mexico and the surrounding region. Pieces include handmade items from Oaxaca, Yucatán, and even neighbouring Guatemala.
Located in Ixtapa, La Fuente is a small but colourful boutique with a fantastic selection of clothing for women and good options when it comes to housewares and other assorted items (often good as gifts to take back home).