MAANANTAI, 21. SYYSKUUTA 2020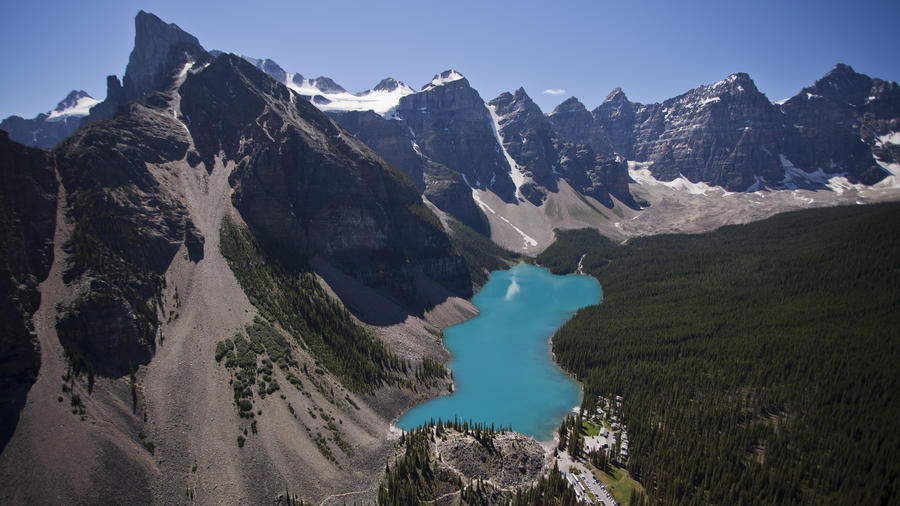 In a modern world of clamorous cities and ubiquitous social media, Jasper seems like the perfect antidote. One of Canada's wildest places, Jasper National Park provides kaleidoscopic panoramas at every turn. Travelers can marvel at many views as they trek from the peaks of Mount Edith Cavell to the caverns of Maligne Canyon. Located on the eastern edge of Alberta, the park serves as a beacon for adventurers in the Northern Hemisphere. Jasper boasts the distinction of being the largest park in the Canadian Rockies and was designated part of a UNESCO World Heritage Site, along with Banff and a handful of additional parks. With more than 2.7 million acres of land to explore, travelers are sure to spot animals ranging from caribou to wolverine to moose.
The park offers all the natural wonders you'd expect, including mountains and rivers and even glaciers, but the town of Jasper elevates the park's possibilities. In addition to serving as a convenient base camp, Jasper provides a variety of tours and excursions for travelers to utilize. Not to mention, winter in Jasper means travelers can enjoy cold-weather activities like skiing in Marmot Basin or snowshoeing through the backcountry. No matter the season, there's always a reason to visit Jasper.
BEST TIME TO VISIT JASPER NATIONAL PARK
The best times to visit Jasper National Park are March through May and September through November. While traveling in these seasons may mean chillier temperatures (think: highs around 60 degrees and lows around 20 degrees), it's a small price to pay for a quieter and less crowded park. Plus, camping, hiking and mountain biking are all still options during the shoulder seasons. If you don't mind a crowd, the summer offers slightly warmer temperatures, with highs hovering around 70 degrees and lows around 45 degrees, plus the opportunity for water activities. Otherwise, winter-weather enthusiasts can take advantage of downhill skiing and snowshoeing, but cold-weather explorers should keep in mind that areas of the backcountry are closed for caribou conservation in the winter.
March-May
Spring transitions Jasper National Park from its frigid winter to its slightly warmer summer. Temperatures can hit the single digits in March, while daytime highs can reach 50 degrees in May. This mild weather gradient means travelers can enjoy almost everything Jasper has to offer. What's more, the spring rainfall mixed with snowmelt means that the park's many waterfalls become particularly photogenic. Keep in mind that bear sightings are most common in the spring.
June-August
With temperatures ranging between the low 30s and low 70s, it's no surprise that summer is Jasper's busiest season. Thanks to the warm weather, travelers can take advantage of boat tours, kayaks and paddleboards. What's more, because the odds for a dangerous cold front are lower than any other season, the summer is also the most forgiving time for backcountry trips and day hikes.
September-November
Travelers can still eke out the last of the 50-degree days in early fall, but lows drop into the single digits by November. Despite the declining temperatures, fewer crowds mean elevated experiences for those who stick around to partake in activities like camping, hiking and mountain biking. Leaf peepers also flock to Jasper in the fall to marvel at the explosion of color, while animal lovers are most likely to see sheep and elk during this time.
December-February
With highs hardly cresting 20 degrees, and lows dropping below zero, winter in Jasper National Park brings a foreboding climate. But, those who brave the weather are treated to an assortment of exclusive adventures. Snowshoeing, skiing and ice skating are all options, while winter campgrounds open up to the most avid outdoor enthusiasts. Keep in mind: The park service closes some parts of the backcountry during the winter for caribou conservation.
GETTING TO JASPER NATIONAL PARK
Jasper is an exceptional place where taking the path less traveled rewards you with an authentic, remarkable experience. And in our case, the journey is as exceptional as the destination. However you prefer to get from A to B, whether by rail, car, bus, or air, Jasper National Park is accessible. Situated only 370 km west of Edmonton, where an international airport connects our corner of Alberta to the rest of the world, reaching Jasper has never been easier.
By Air - Edmonton International Airport is serviced by major national and international carriers, and will bring you closest to Jasper. From Edmonton, you'll then need to drive or take a bus or train.
By Car - Trans-Canada Highway 16, also known as the Yellowhead, runs through the park and is the main east-west route to and from Jasper. The Icefields Parkway, widely considered one of the most scenic stretches of highway in the world, runs north-south, connecting Jasper with Trans-Canada Highway 1 near Lake Louise and Banff. All major roads in Jasper are paved, and all major highways have shoulders. The maximum speed limit inside Jasper National Park is 90 km/hour, with several areas having slower limits for wildlife safety. Make sure to factor in plenty of time for breaks, slow traffic and inclement weather conditions.
By Train - For a chance to sit back, relax and see scenery that you can't see from any highway, take the train! There are two rail services that can bring you to Jasper: VIA Rail Canada and Rocky Mountaineer.
By Bus - If you'd rather let someone else do the driving, you can use these bus services: Sundog Tours can pick you up at the Edmonton airport and bring you to Jasper via Highway 16.
GETTING AROUND JASPER NATIONAL PARK
The best way to get around Jasper National Park is by car. A car is practically essential for exploring the more than 2.7 million acres that make up Jasper. Otherwise, travelers can take advantage of the three taxi companies that service the area or opt for a guided tour. All three options are also helpful in getting to Jasper National Park itself, which is about 240 miles west of Edmonton International Airport (YEG) and about 270 miles north of Calgary International Airport (YYC). Shuttles between the two closest airports and Jasper are also available. For a more scenic journey, travelers can pay a premium of about CA$300 (about $230) round trip to take Via Rail to Jasper via Edmonton or Vancouver. The train provides luxury accommodations and stunning views, but those who choose to ride the rails should also be prepared to find a way to get around after they arrive in Jasper.
Car - Visitors can rent cars in downtown Jasper, or from Edmonton International Airport or Calgary International Airport. Speed limits in the park are restricted to 90 kph (about 55 mph) on major roads and 60 kph (about 37 mph) on secondary roads. Snow tires or chains are legally required for travel on all roads, except Highway 1 and Highway 16, between November and mid-March. While driving, keep an eye out for cyclists and wildlife, which share the park's roads as well. Keep in mind that Icefields Parkway (Highway 93) and Yellowhead Highway (Highway 16) are the two major thoroughfares that divide the park. You do not need an international driving permit in Canada.
Taxi - Three taxi companies operate in and around downtown Jasper. Keep in mind that taxi fees add up quickly though, and waits can be long if you're calling from a remote area in the park.
Shuttle - SunDog Tours offers a shuttle between Jasper, Hinton, Edson and Edmonton as well as a shuttle between Jasper, Banff and Calgary. Fares vary greatly based on pickup and drop-off points, but the shuttle is generally a cheaper option than renting a car. SunDog Tours also provides an assortment of hiking and photography tours for travelers, which are all about CA$70 (about $53) for adults. Meanwhile, the Brewster Express provides transportation between Banff and Jasper national parks during the summer.
WHERE TO STAY IN JASPER NATIONAL PARK
Featuring an award-winning seasonal restaurant and indoor pool, this environmentally friendly hotel is located in Jasper National Park, only 13 minutes' drive from the Jasper Tramway. A seasonal ski shuttle is provided for an additional charge. A flat-screen TV and free WiFi are provided in the air-conditioned guest rooms at the Chateau Jasper. Free toiletries and a hairdryer are available in the private bathrooms. Chateau Jasper features a modern gym and a indoor hot tub. Meeting rooms are available for guest use. Heated underground parking is also included. Athabasca Falls is 30 minutes' drive from the Chateau in Jasper. The Miette Hotsprings are 1 hour's drive away.
Located in the heart of Jasper National Park, this hotel offers on-site dining and an indoor pool and hot tub. A sauna and steam room is available. Free Wi-Fi is included in all guest rooms. A flat-screen TV with cable is featured in each room at Jasper Inn & Suites. Comfortably furnished, each room is equipped with tea and coffee-making facilities. A fridge is provided. Serving authentic Canadian cuisine, The Inn Restaurant and Lounge offers breakfast and dinner. During summer months, guests can dine on the heated outdoor terrace. Ski lockers and a ski wax room are provided for guest use. Jasper Inn & Suites is within 48 km from Maligne Lake. Ski Marmot Basin is 22 km away.
Situated in the heart of Jasper National Park, this hotel offers a seasonal ski shuttle service. Free Wi-Fi is provided in all guest rooms. Jasper city centre is 2 minutes' drive away. A cable TV is provided in each room at Mount Robson Inn. A refrigerator, a coffee maker, and a work desk are also offered. An en suite bathroom includes free toiletries. Guests can enjoy mountain views from all rooms. A 24-hour reception greets guests of Jasper Mount Robson Inn. A tour desk is on site and ski storage is offered. Guests can relax in 1 of 2 outdoor hot tubs. Athabasca Falls are 25 minutes' drive away. Marmot Basin is 21 km from Mount Robson Inn.
The Crimson Jasper is only a 10 minute walk from Jasper Railway Station. C200 Restaurant serves gourmet dishes and a daily breakfast buffet. Guest rooms include free WiFi. Featuring flat-screen TV, each spacious room at The Crimson Jasper provides a Keurig coffee machine, microwave, refrigerator, and electric kettle. Private bathrooms offer a shower and hairdryer. The lodge offers a business center for added convenience. Jasper Park Information Centre is 550 m from the lodge. Local restaurants are within 900 m of the Crimson Jasper.
Featuring a rooftop hot tub, this hotel is located within Jasper National Park, 8 km from the Jasper tramway. The hotel offers 2 on-site restaurants and a pub. Whistler's Inn features cable TV, complimentary bottled water and a coffee maker in every room. Rooms also provide individual air conditioning and a private bathroom. Guests at the Whistler's can use the steam room or visit one of the 3 on-site gift shops. Jasper Park Golf Course is 13 minutes' drive away. Jasper train station is located across the street from this property.
Situated in Jasper, within 60 m of Marmot Basin Ski Area and 4.3 km of Jasper SkyTram, Filia Inn features accommodation with a restaurant and free WiFi as well as free private parking for guests who drive. The hotel offers a terrace. The Palisades Stewardship Education Centre is 9 km from Filia Inn, while Miette Hot Springs is 35 km from the property.
Located in the heart of Jasper within the Canadian Rockies, The Astoria Hotel features Papa George's Restaurant and De'd Dog Bar & Grill on site. A refrigerator, cable TV, DVD player and coffee facilities are provided in every room. Rooms are accessible by stairs only. Guests can relax and play darts and billiards at De'd Dog Bar & Grill or enjoy a true Canadian dining experience at casually elegant Papa George's which has maintained dedication to regional Canadian cuisine since 1925. During the summer months, Jasper offers sightseeing and adventure tours such as rafting and biking. Guests can also go swimming, canoeing and fishing on the nearby lakes or explore the numerous hiking, biking, and horse riding trails. In winter, skiing and snowboarding are available at Marmot Basin, within driving distance from the hotel. There are also winter activities like fat biking, skating and snowshoeing available. The Astoria is also located at walking distance from the train station, gift shops, sport stores, and the local information centre.
Featuring an indoor pool, Tonquin Inn is located in Jasper National Park and surrounded by the Canadian Rocky Mountains. Free WiFi is available. A flat-screen cable TV and a refrigerator are provided in each elegantly furnished room of the Tonquin Inn. A coffee maker, hair dryer and air conditioning are included. Two outdoor whirlpools and 3 saunas are all open at the inn. Guests can also enjoy the largest fitness room in Jasper National Park. The Tonquin Inn is less than 1.5 km from the Jasper Yellowhead Museum & Archives. Ski Marmot Basin is 20 minutes' drive away.
An on-site restaurant and bar are featured at this Jasper hotel. Free Wi-Fi is offered in all guest rooms. Marmot Basin is 22 km away. A cable TV is provided in each room at Athabasca Hotel. Mountain views can be enjoyed from all rooms. Select rooms include an en suite bathroom, while others offer shared bathroom facilities. Guests can relax in O'Shea's lounge which features a billiards table and a large flat-screen TV. Atha-B nightclub is located on-site. Ski and luggage storage is available. Columbia Icefield Glacier Adventure is 104 km away. Maligne Lake is 55 minutes' drive from Athabasca Jasper. Complimentary passes are provided to the Jasper Aquatic Centre which is just 10 minutes' walking distance from this property and offers a pool, waterslide, sauna and gym.
Sawridge Inn & Conference Centre Jasper
Featuring an indoor pool and on-site spa services, this Jasper hotel offers 3 restaurants. Free WiFi and a refrigerator are included in each guest room. Jasper city centre is just 3 minutes' drive away. A cable TV is included in all rooms at Sawridge Inn & Conference Centre Jasper. An en suite bathroom offers free toiletries and a hairdryer. Ironing facilities are provided. Select rooms feature a pool view. The Jasper Sawridge Inn and Conference Centre also features 2 on-site dining options offering Canadian-inspire cuisine. Guests can enjoy breakfast at Walter's Dining Room or relax with a cocktail at the Hearthstone Lounge. A fitness centre is offered at this property. Luggage storage and ski storage are also offered. Athabasca Falls is 27 minutes' drive away. The Jasper Park Golf Course is 7 km from Sawridge Inn & Conference Centre Jasper.
PLACES TO VISIT & THINGS TO DO IN JASPER NATIONAL PARK
Jasper is a service center, a junction and a destination unto itself. It is the natural and obvious destination when traveling north from Banff and one of the two principal routes into British Columbia. As the largest park in the Canadian Rockies, there is so much to discover in this part of the world. The town itself has been described as a small drinking town with a train problem, but it is in fact a hub for so much natural discovery. Jasper is very isolated (the closest major airport is four hours away) and the park has become a major Dark Sky preserve, ideal for stargazing and even enjoying the Northern Lights. Over time, Jasper has developed into a four-season destination and remains an important rail hub for Canadian National. Even the famous cross-Canada Via trains pass through Jasper.
Highway 93 North – The Icefields Parkway
Highway 93 North connects Jasper with Lake Louise, through a route with amazing mountainscapes, waterfalls and alpine forest, and which is considered one of the most incredible drives on earth. The initial section going south from Jasper Town is a good area to spot bears, and even wolves from time to time. You will also see signs for caribou, but they are so elusive that they are almost a myth. Drive between Jasper and Lake Louise and you pass through five river valleys, all of which deserve a moment to stop and admire. Driving north and south offer entirely different vistas, so make sure you take the time to explore both directions.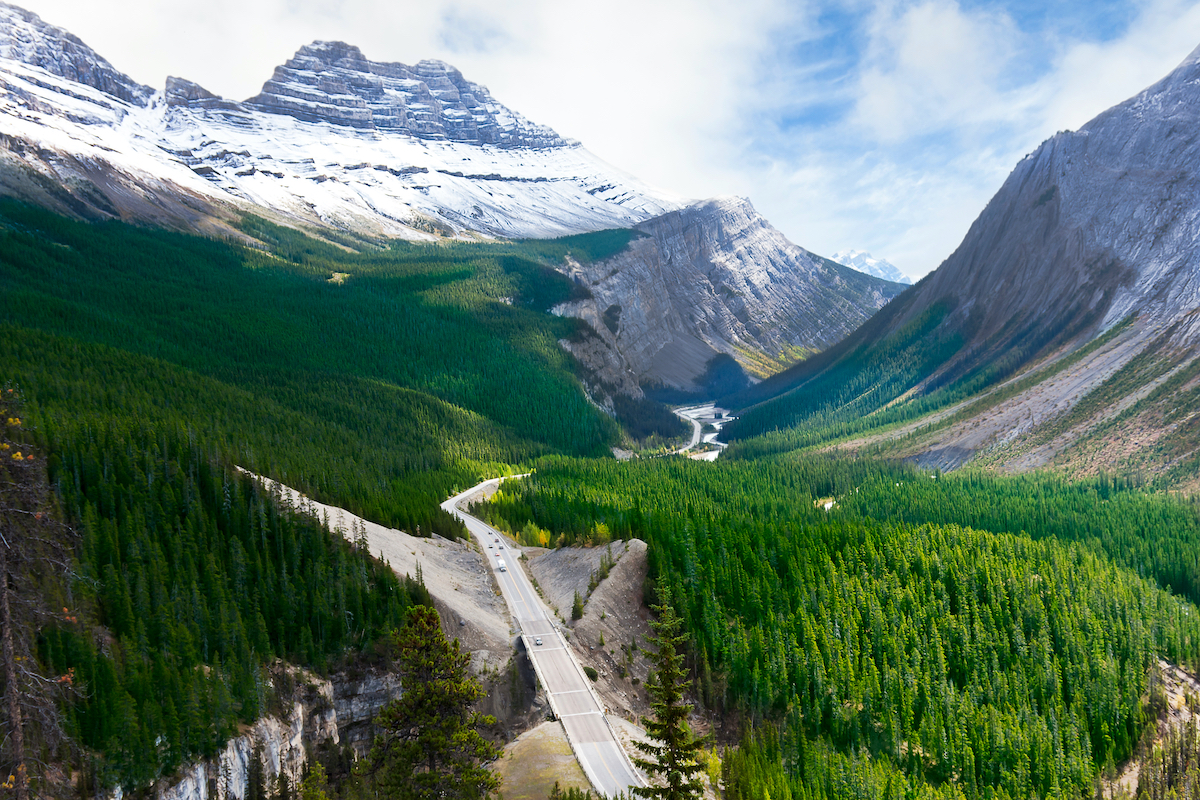 Located at the southern end of Jasper National Park, the Columbia Icefields are the second-largest non-polar icefields in the world. The icefields are one of the fastest changing landscapes in the country and current advertising for the tours say, "come visit while they are still there." Six glaciers flow from the mighty icefield and all are receding rapidly, while nearby Mount Snow Dome is the hydrographic apex of North America, with waters flowing to the oceans.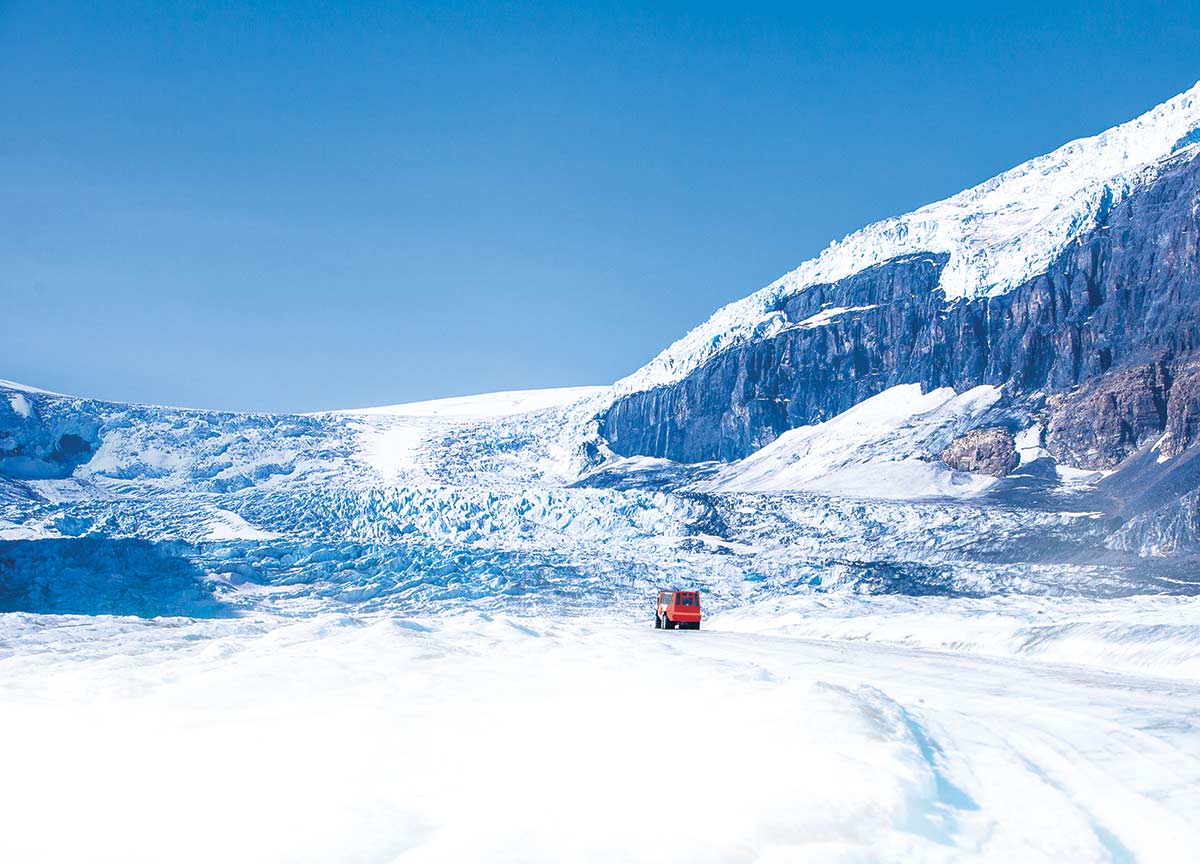 Jasper is home to only 4,600 permanent residents, but welcomes millions of visitors. The town is an interesting mix of tourist services, Parks Canada and railway, as well as many local businesses, restaurants and pubs. Jasper has an incredibly relaxed feel and is easy to walk around, so give yourself a whole day to explore it properly.
Make sure to set aside enough time to visit the whole route of Jasper National Park's East Gate. The front (east) mountain ranges are nearly vertical and are very exposed. This part of the Rockies is somewhat less-visited and worth every minute you'll spend there.
Atop the Maligne Valley, Maligne is the largest lake in the national park and a must visit when in Jasper. Maligne is simply magnificent, framed by the Brazeau Glacier at the southern end. This moose country and the Maligne River is home to protected harlequin ducks. There is a day lodge, boat tours to Spirit Island and canoe or kayak rentals. If you fancy a day fishing, this should be your destination. The largest trout ever caught in the lake was over 20lb (9kg)!
Whether you go for a long walk or a short one, Maligne Canyon absolutely must feature on your itinerary. The canyon area is spectacular anytime of the year, well marked and easy to reach by road. From certain viewpoints you will look down to 160 feet (50m) into the depths. In the winter, the canyon should be visited from the inside with ice cleats.
Jasper Raft Tours offer float trips on the Athabasca River, which flows near the town. The waters of the Jasper area eventually drain into the Arctic Ocean and emerge from the Columbia Icefields. Rafting in Jasper manages to combine the thrill of a few bumps and waves on the river, while being entirely safe and accessible for almost everyone. For those seeking a little more adrenaline, there are more ambitious raft trips in the area, but these may not be suitable for younger children. Find Jasper Raft Tours at number 611 on Patricia Street, or book a tour online in advance.
Jasper is home to many mountains, with interpretive guides and walks available for all levels and interests. Evening walks are popular for spotting wildlife and interpreting the stars, and walks can be planned for just a few hours or even for several days in the wild. At certain times of the year, there are colorful eruptions of flowers on the mountain meadows. Walking with a guide is an excellent idea due to the bears and other wildlife that reside in the area, and you will also benefit from their extensive local insider knowledge of the area.
One of the very best winter activities is the Maligne Canyon Icewalk, which is located just a few kilometers from the townsite and can be entered every year once the ice has formed. The canyon icewalk, organized by local company SunDog Tours, is done with a guide who will assist visitors with everything from crampons to ice pick. The limestone canyon is remarkably deep and throughout the walk participants will explore frozen waterfalls, ice caves and ice formations, while learning much about the Maligne Valley. You will probably meet some professional ice-climbers along the way, too.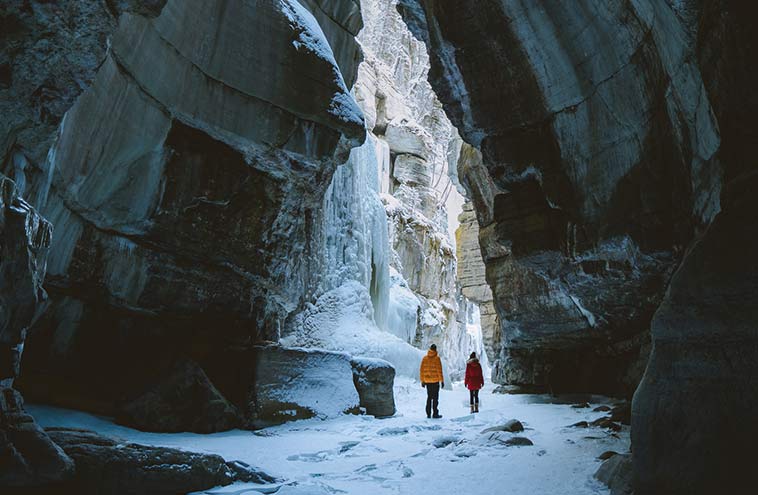 Try the Maligne Lake tour
Widely considered the most magnificent boat tour in the Rockies, Maligne Lake is a picturesque one-hour drive from town. The tour takes visitors to Spirit Island, which only stands as an island for a few weeks each year as the melting snow of springtime causes water levels to rise high enough to separate the land mass from the shore. This has become an artist's destination for its incredible landscapes, with the small island framed by the lake and Brazeau Glacier is the distance. When visiting Maligne Lake, make sure to walk down to the "bridge to nowhere" at the mouth of the Maligne River and look for harlequin ducks and trout.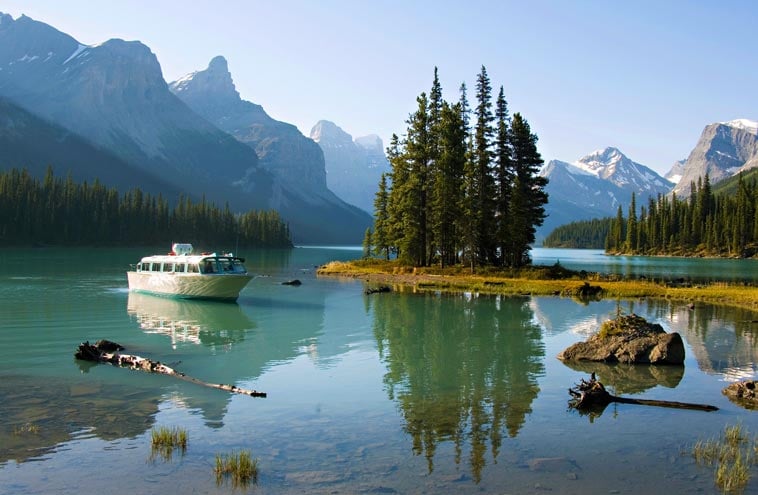 Located on Whistler Mountain, just outside the center of town, this tramway has two large cabins, rather than many small pods. Jasper Tramway takes visitors above the tree line on the mountain, past sweeping views of the Athabasca Valley and the Yellowhead Pass. It is the highest and longest guided aerial tramway in Canada. It goes to a height of 2,263 meters above sea level with a travel time of 7.5 minutes. While it may be tempting to enjoy the scenery from the comfort of the tramway, It is well worth spending time walking the trails atop the mountain, before riding back towards town.
Jasper's only downhill ski resort, Marmot is a short drive from town and visitors benefit from almost constantly short lift lines. The winter sports area is situated between the elevations of 1,698m and 2,410m on the mountain and the ski area has runs for all abilities, as well as views across and down the valley, with 91km of slopes available for skiers and snowboarders and six lifts to transport you between slopes. During ski season, listen for avalanche blasting in the mornings.
WHERE TO EAT IN JASPER NATIONAL PARK
Jasper's family-friendly culinary history and drool-worthy après-ski scene have for years helped explorers fuel up for adventure. But whether you're filling the tank in preparation for a hike or just savouring the simple pleasures, you're always welcome at their table. When deciding where to dig in, here are the list of ten following Restaurants.
Great coffee, fresh bread, artsy vibe; what more could you want from a friendly neighbourhood cafe? Coco's is a cherished local java joint that prides itself on being a welcoming refuge for all, and offers tons of vegan, vegetarian and allergy-friendly options. Carnivores will also find plenty to sink their teeth into (including the famous Coco's Breakfast Wrap) and bread buffs would be remiss to not try a slice of artisanal sourdough loaf, made daily from scratch. Make your order 'to stay' and enjoy the intimate, colourful vibe inside, made all the more unique thanks to featured creations from local artists, or bask in the sun on the sidewalk patio.
Globally inspired and wickedly delicious, this funky family restaurant offers a diverse menu bursting with fresh ingredients and creative flare. Cocktail lovers will find plenty of refreshment options (the Northern Lights cocktail is as beautiful as its namesake). Carnivores will delight in the Malevolent Meatloaf — a perennial favourite and classic Alberta dish made with bison and wild boar. Vegan and gluten-free diners will melt over the Karma Curry. Still hungry? The cowboy sushi is great to share as a starter, while the Deadly Desserts will, as the name suggests, send you straight to heaven.
Welcome to the ultimate Canadian foodie experience. This unpretentious yet artful "cabin in the woods" restaurant (located a lovely 10 minute bike ride outside downtown Jasper), serves up gourmet Canuck cuisine: regional products such as AAA Alberta beef, elk, bison, wild boar, and rainbow trout are complemented by mountain views that seem close enough to touch from Tekarra's sunny patio. Get even more stunning views by having your artisanal charcuterie board and drinks served picnic style on the fully-licenced ridge that overlooks the Athabasca River. Families will appreciate the playground next to the restaurant, where energetic kids can work up an appetite before sitting down to eat. Open only in the summer.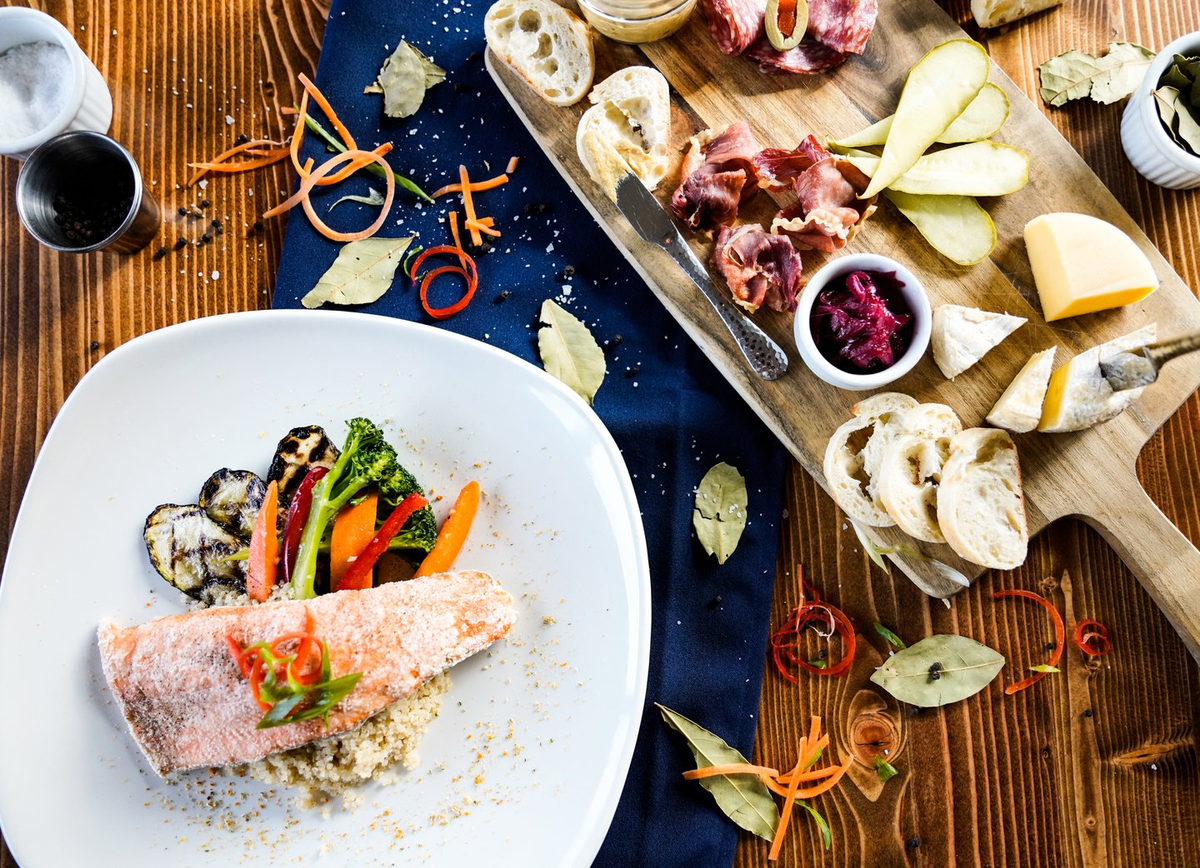 Foodies, history buffs and cultural explorers will all find something to love about this new culinary experience. Led by longtime local Estelle Blanchette, Jasper Food Tours introduces diners to Jasper through storytelling, while also filling your belly with delicious food and drink. The daily, year-round three hour walking and eating journey takes participants to four local restaurants (which remain a mystery until you arrive at their door) and many Jasper landmarks (total distance walked is 1.5 km). The menu is kept a surprise, but includes wild game meats, local brews, Canadian classics and globally-inspired treats (note: it can be customized in advance for vegetarian and gluten free preferences). Packed with fascinating facts and local stories (and capped at twelve people per excursion) each tour feels like a fun and intimate afternoon out with friends. Bonus: you'll finish stuffed.
Maligne Canyon Wilderness Kitchen
Capture the timeless warmth of comfort foods with slow-smoked meats, handmade preserves, fresh local veggies. Follow the culinary footsteps of early explorers and sample delicacies prepared using handcrafted techniques like pickling, canning, curing and smoking while looking out on one of the most jaw-dropping wildernesses around. Stop in during the day for coffee or a quick bite (to-go picnic lunches are also an option) or enjoy an evening meal with a side of live music and campfire storytelling. Alberta-sourced meats dominate the menu, and are prepared according to the chef's unique take on Southern smokehouse traditions.
Most days of the week, at select times of the day, the pleasant smell of freshly boiled barley wafts through the restaurant known around town as simply The Brewpub. As the first brewery to open within a Canadian national park, it uses real glacier water (and all the minerals that come with it) as the base for its many craft beers. And thanks to a recent top-to-bottom renovation, the Brewpub's decor has stylishly stepped back in time too and evokes a cozy 70's-retro-meets-barnyard-chic-aesthetic. Between May and September, chow down on its upscale pub fare on the large patio, complete with heaters and generous awning coverage.
The Jasper Royal Canadian Legion is a unique service club and community organization in Jasper National Park. Serving up delicious pub-style food, live music and Jasper's largest selection of craft beers on tap, the 'Stand Easy Lounge' has been recognized as one of the best small music venues in North America and is sought out by up and coming and established musicians. And with free pool, foosball, darts, and big screen TV's, there's no wonder why this is a favourite local watering hole. Don't miss Friday Night Jam Nights, starting at 8pm, and pub trivia every Tuesday night.
Famoso Neapolitan Pizzeria
As they do in Naples, Italy, this pizzeria uses only highly refined, imported '00' Caputo flour to make their dough. The pizzas are hand-stretched and tossed to create a soft and crispy thin crust that is naturally low in gluten and easy to digest. The sauce is made from imported tomatoes from Southern Italy's Campania region. Their low acidity and natural sweetness make for a rich, caramelized sauce. The fresh fior-di-latte whole-milk mozzarella used as a topping on all their pizzas is known for its creamy texture. The pizzas are then baked for 90 seconds at 900 degrees Fahrenheit in a traditional, fire-roasting Italian pizza oven. Drool.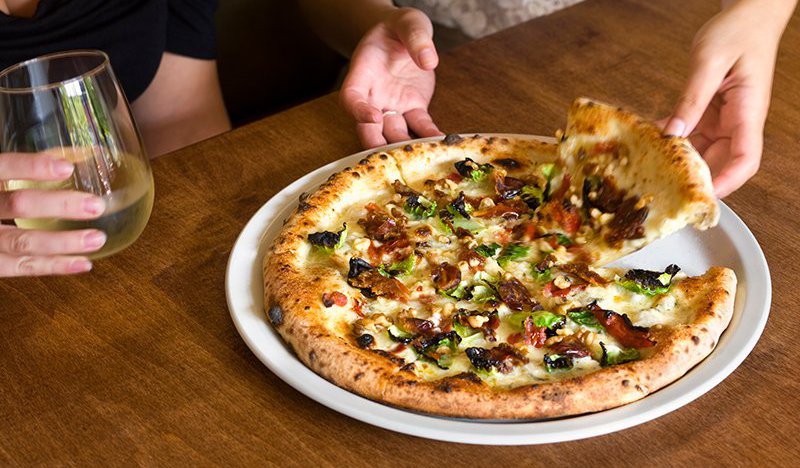 Downstream Restaurant and Lounge
Downstream Restaurant and Lounge was recreated in 2008 by local owner Sotirios Korogonas as a concept for a modern restaurant and lounge that captures Jasper's mountain town spirit and casual feel. Executive Chef David Gomez and his dedicated culinary team fashions fresh and innovative plates, with a dedicated attention to detail and passion for excellence.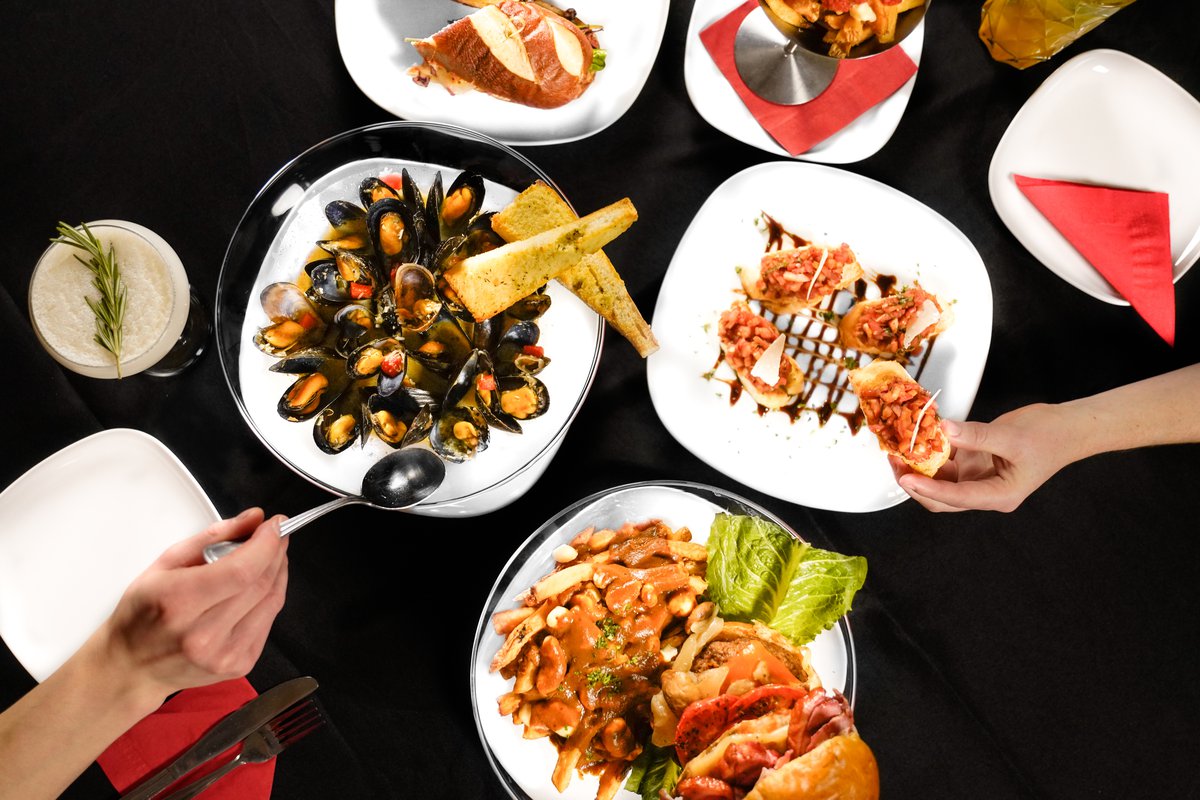 Pizza from wood burning and traditional ovens elevates this casual dining restaurant, as does its enviable, newly renovated rooftop patio (which also boasts rain cover, washrooms and its own dedicated bar). Not in the mood for pizza? The menu also offers up a variety of options like burgers, pastas, salads, steaks, wings, fresh salsa & chips, and calamari. Family friendly and perfect for large groups, sports teams & big families. Well behaved dogs are welcome on the front patio too.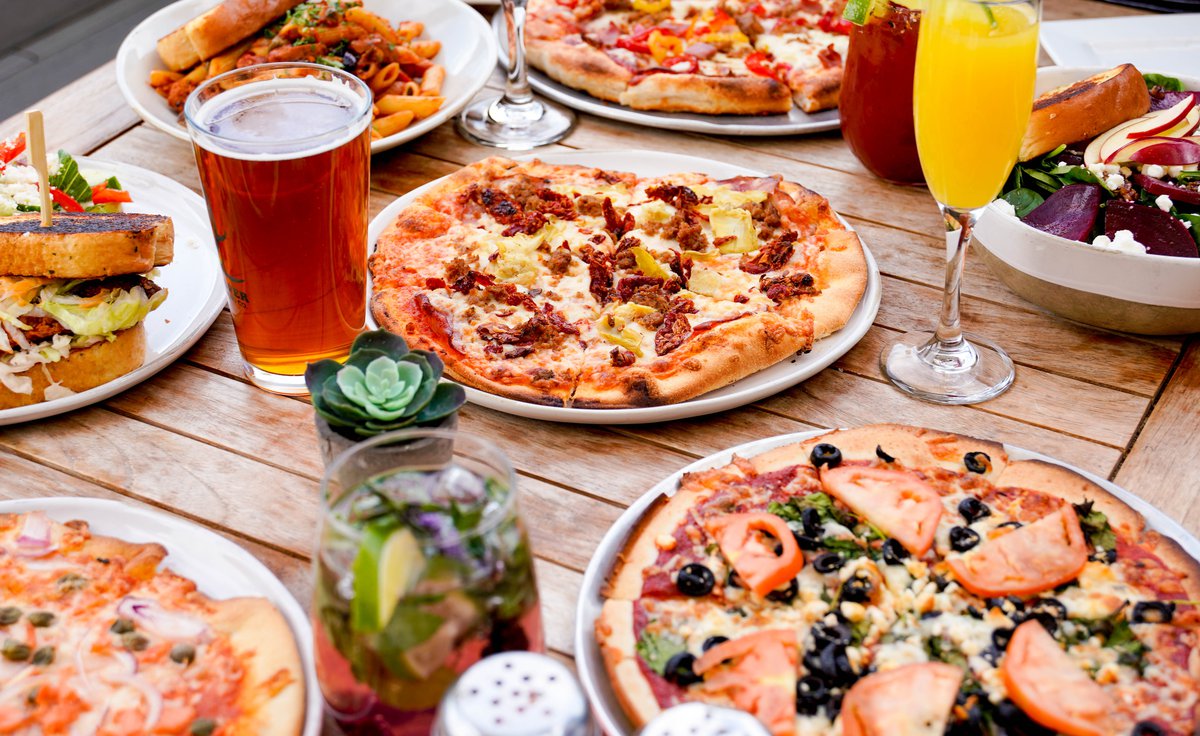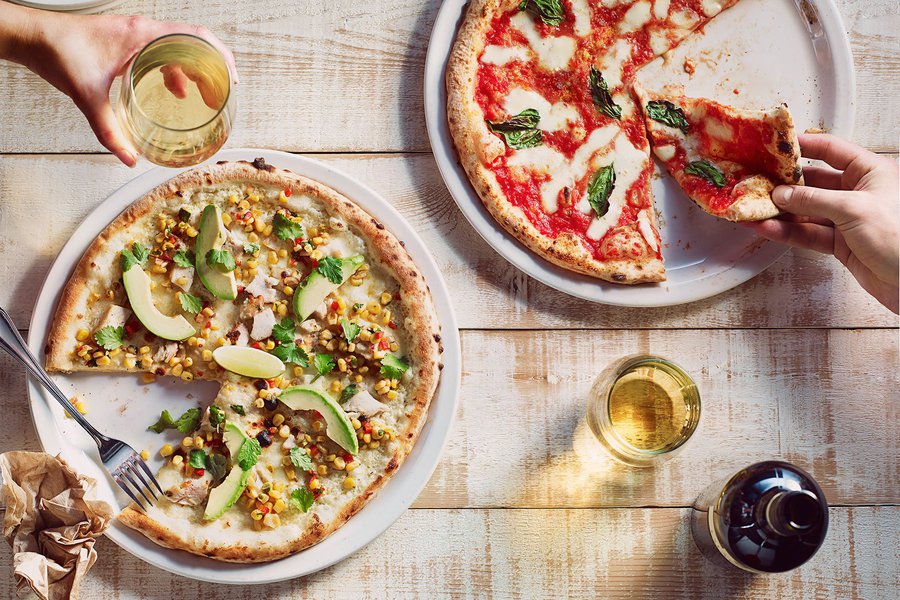 WHERE TO SHOP IN JASPER NATIONAL PARK
Whether you're looking for the perfect souvenir or just need to pick up an item you forgot to pack, Jasper's various retailers can help you find what you need. Stocking everything from rugged garb fit for backcountry adventures to fashionable Rocky Mountain attire to top-of-the-line ski gear, get ready to venture in style.
Bombshell Boutique offers a uniquely curated collection of women's clothing and accessories each season. Featuring locally made jewellery and Canadian designers.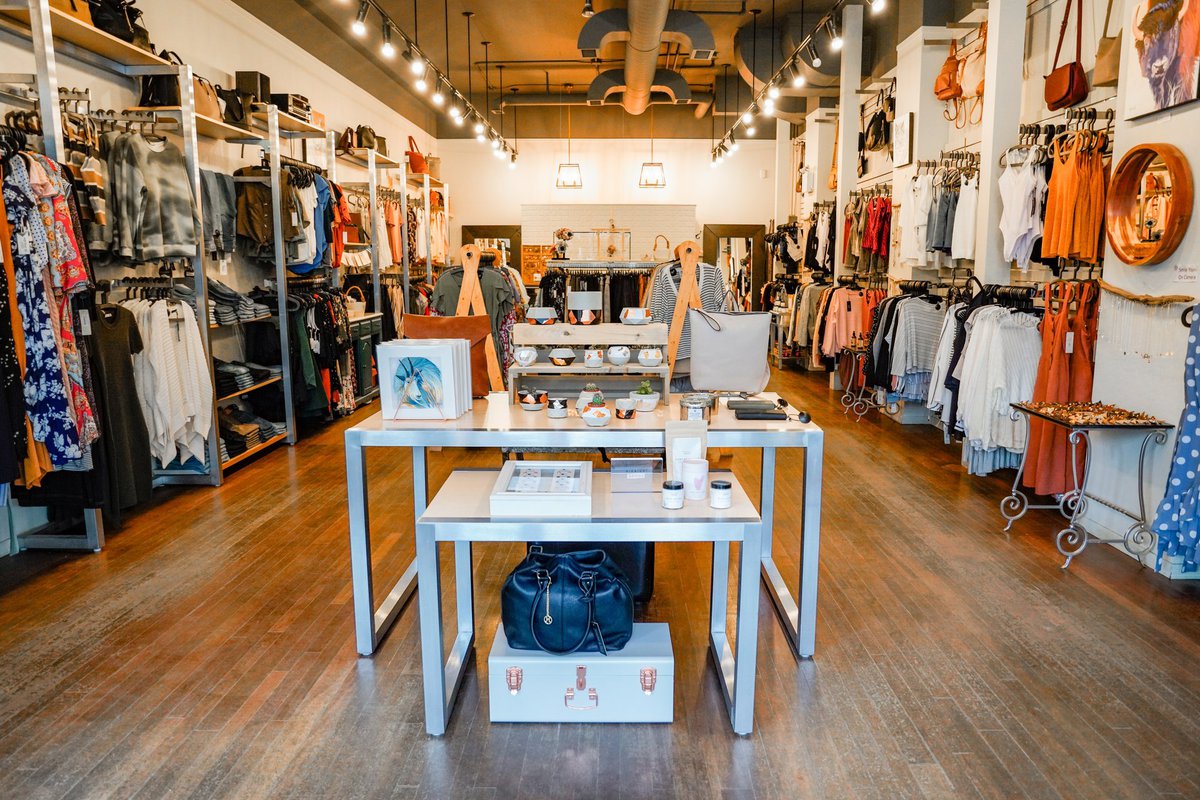 At Everest Outdoor Store, we're driven by our dedication to offer a superior, personalized service to ensure you find all the outdoor recreational equipment you need. We carry a unique selection of active and lifestyle apparel and footwear, as well as camping equipment, and performance Dog Gear. With brands such as Buff, Keen, Sherpa, Marmot, and Ruffwear we can outfit you for any adventure Jasper has to offer.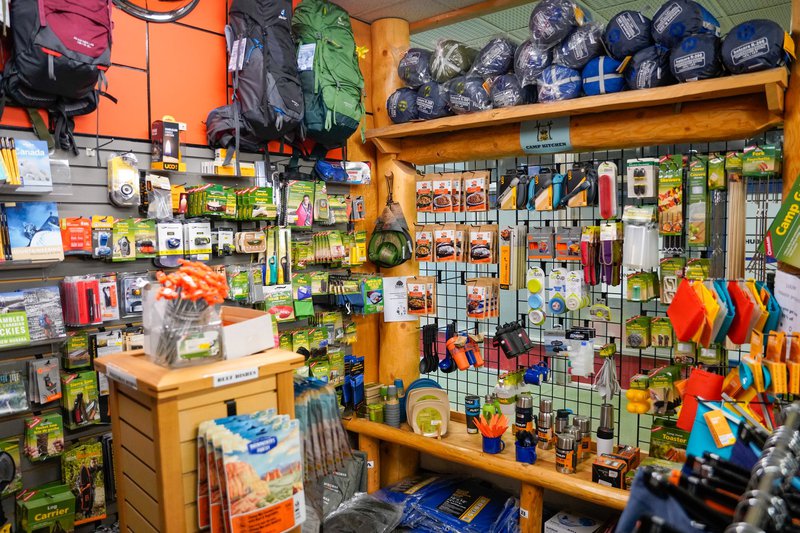 We are a full-service flower shop with weekly fresh flowers and cool plants. We offer event services specializing in weddings.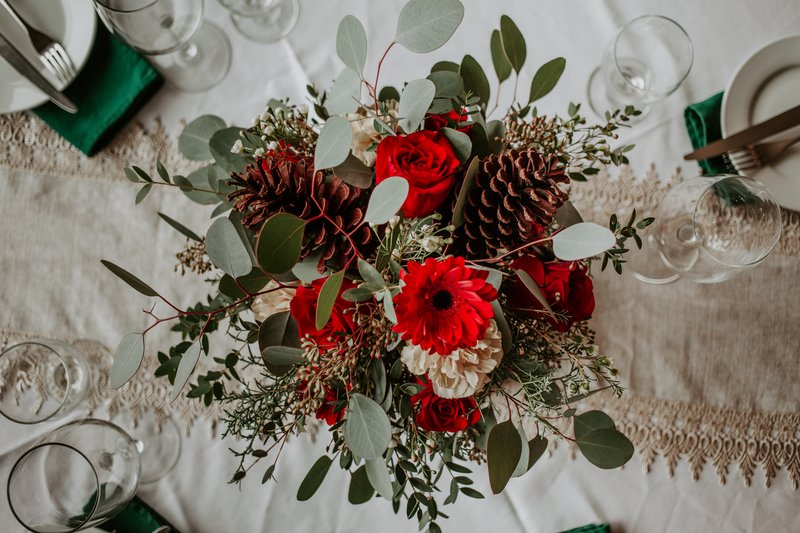 Welcome to the experience of Jasper's only locally owned independent boutique. Fleur Cannabis Boutique provides safe and reliable cannabis products through professional guidance. The educated Herbal Guides will support you through your journey at their Boutique. They care deeply about your experience and vow to educate you on each option they offer. They operate in a discreet location to ensure your privacy and pride themselves on supporting everyone from the beginner to the seasoned user.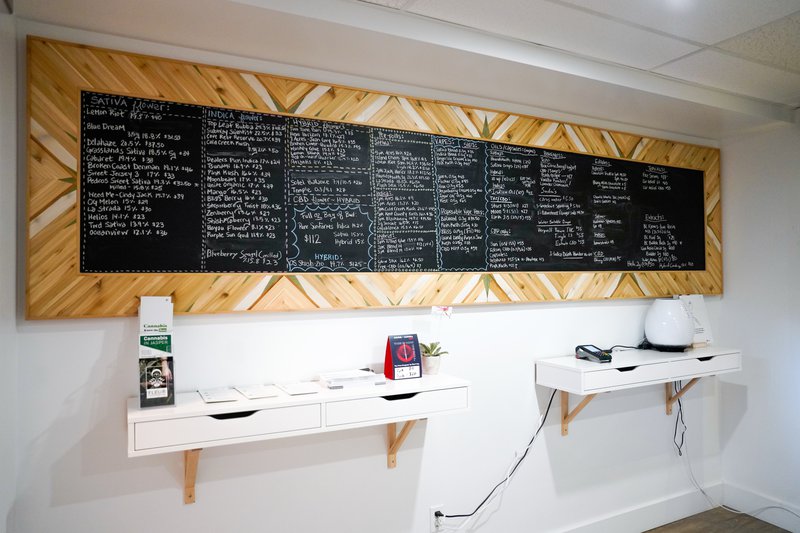 Experience counts. For over 100 years, Totem's Ski Shop has been able to grow and evolve with Jasper's mountain sports. Let our staff assist you with your recreational needs and find out how much we love to be part of your mountain experience. Winter or summer we have all the equipment you need for Jasper.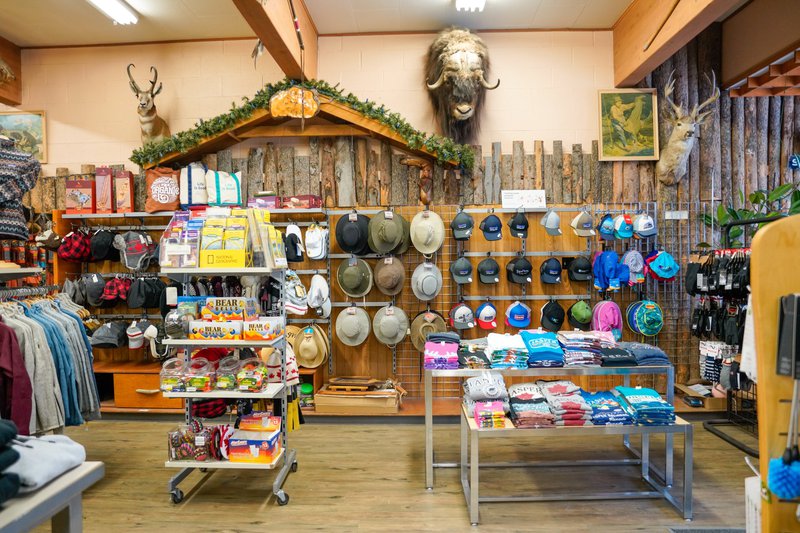 Source For Sports® is an organization of more than 150 independently owned sporting goods stores across Canada. Jasper Source for Sports is a member of the Source for Sports organization, and part of a worldwide sporting buying force. Jasper Source for Sports is locally owned and committed to providing you with the best customer service, knowledge of the game, and a shopping experience beyond your highest expectations.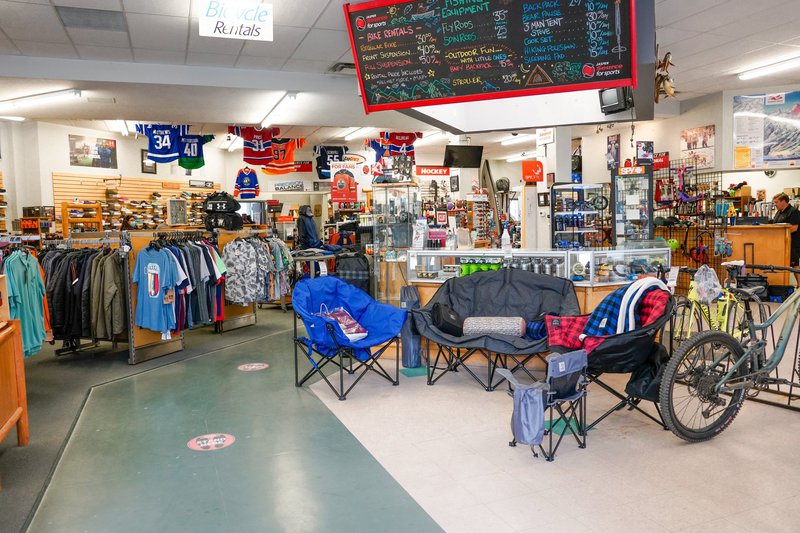 Ransom is a locally owned shop carrying mountain inspired, fashion forward clothing, shoes and sunglasses. Their in house Ransom brand collaborates to feature the work of local artists.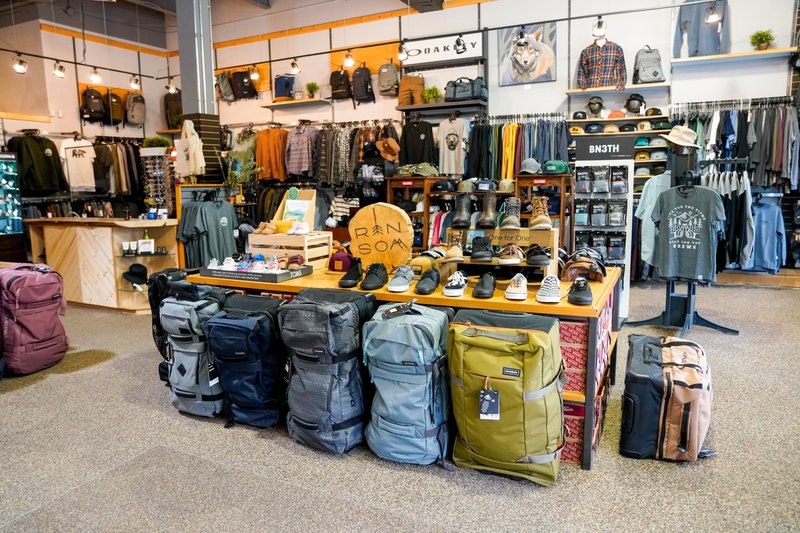 Since 1983, Mountain Air Clothing has been Jasper's best-kept secret in boutique shopping. Experience what retail has to offer with the right clothes, smart advice and the perfect fit. You will love it!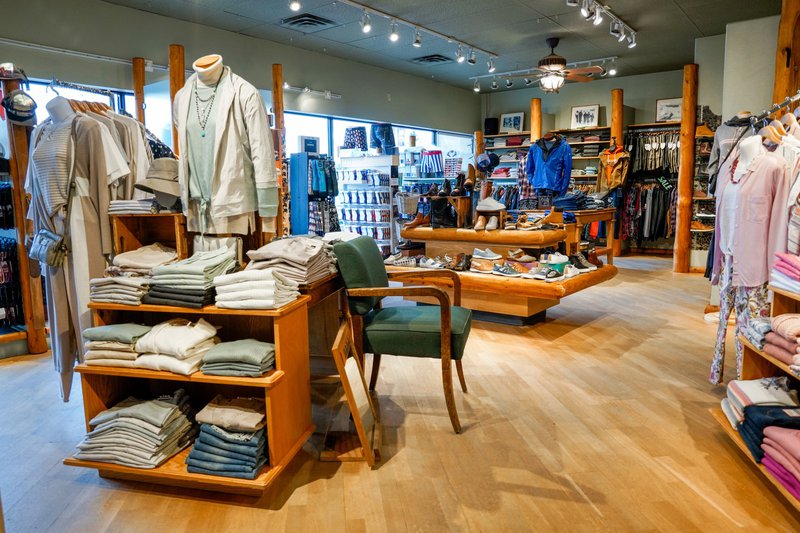 Wild Mountain, or as locals refer to as The North Face store, has been a go to shopping destination for travelers and locals alike for 20 years. Come check out the great selection of outdoor clothing, footwear and equipment from brands like The North Face, Smartwool, RAB, Fjall Raven and more! The friendly staff are passionate about living and playing in the mountains and truely love to share their knowledge to help every visitor get the most from their time spent outdoors.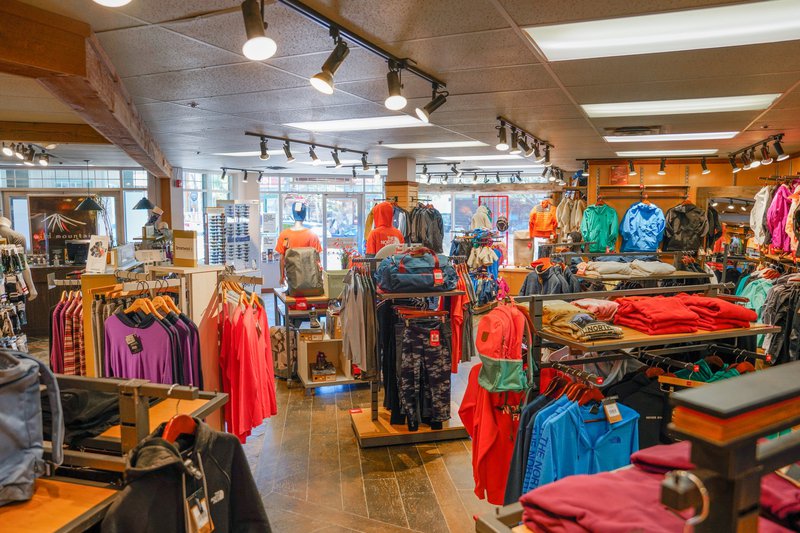 Lole is Canadian wellness inspired clothing brand, committed to sustainabilty, comfort and movement. Whether it's yoga, running, hiking or skiing, Lole offers beautiful clothing to help you enjoy the outdoors and feel great.