PERJANTAI, 18. SYYSKUUTA 2020
The British Virgin Islands, part of a volcanic archipelago in the Caribbean, is a British overseas territory. Comprising 4 main islands and many smaller ones, it's known for its reef-lined beaches and as a yachting destination. The largest island, Tortola, is home to the capital, Road Town, and rainforest-filled Sage Mountain National Park. On Virgin Gorda island is the Baths, a labyrinth of beachside boulders
The British Virgin Islands (BVI) are territories of Her Majesty's land, but aside from scattered offerings of fish and chips, there's little that's overtly British. Most travelers come to hoist a jib and dawdle among the 50-plus isles. With steady trade winds, calm currents, protected bays and pirate-ship bars, this is one of the world's sailing hot spots. Main island Tortola is known for its full-moon parties and sailing prowess. Billionaires and yachties swoon over Virgin Gorda and its magical rocks. Anegada floats in a remote reef and has a hammock waiting for those serious about unplugging. And who can resist little Jost Van Dyke, the 'barefoot island' where Main St is a calypso-wafting beach? The islands have a quirky edge, and despite all the fancy boats and celebrity visitors, they remain relatively undeveloped.
Others find more than enough to keep them exclusively anchored by these 50 plus islands and cays, which sadly were hit hard by Hurricane Irma in September 2017. Travelers will still be able to find evidence of the hurricane's handiwork, though BVI has done a valiant job of rebuilding. On Tortola, you'll find mountainous cliffs and chalk white beaches, characterized by changing tides and calm easterly winds. A brief sail away, sleepy Jost Van Dyke offers delicious Caribbean food and drink, one of the region's best New Year's Eve parties, as well as a few outdoor excursions like diving and fishing. On Virgin Gorda, you'll find The Baths, perhaps the most picturesque shore in the British Virgin Islands, and with good reason: It offers unique grottoes amidst gigantic granite boulders. For supreme seclusion, try Anegada; its slow pace, flat terrain and sparkling sand lies almost overlooked in Caribbean Sea.
BEST TIME TO VISIT BRITISH VIRGIN ISLAND
The best time to visit the British Virgin Islands is from September to November, before the crushing crowds of the winter holidays. Though the fall months see the highest amount of precipitation, they also welcome some of the lowest hotel rates you'll find all year. Keep in mind: Hurricane season runs from June to November, so keep an eye on the weather if you're planning a summer or fall visit. Divers should plan a trip for winter or spring – the summer is the absolute worst time for visibility underwater – and sailors should try to visit in March, during the BVI Spring Regatta.
December-February
This is when the BVI winter hat trick – sunny skies, pleasant breezes and very little rain – lures the most visitors. Temperatures linger in the low 70s to low 80s, and they aren't the only thing that's high. Some resorts charge upward of $500 a night for a room. This is a great time to party, however; the New Year's celebrations on Jost Van Dyke are some of the most popular throughout the Caribbean.
March-August
It's unfortunate that more people don't experience the British Virgin Islands at this time of year because when the weather is good, it's truly divine. Temperatures range from the low 70s to mid-80s, and there are some great deals on airfare and hotels starting by about mid-April. For the best rates, plan a trip for early March, late April or May. That way you'll bypass the crowds and expense of Regatta season. Still, there is the threat of hurricanes from June to November, and it might be wise to purchase some travel insurance just in case.
September-November
British Virgin Islands hotels and vacation rentals offer pretty good incentives to visit at this time of year. What's more, average temperatures rest in the low 80s. Be prepared for occasional rain showers as this is the wettest time of year.
GETTING TO BRITISH VIRGIN ISLAND
There are no direct flights to the British Virgin Islands from Europe or the USA. All flights connect through another Caribbean airport such as Antigua, St Thomas, Puerto Rico, St Kitts or St Maarten.
Connecting airports surround the BVI, making arrivals and departures an easy part of your travel itinerary. When travelling to the BVI, there are no direct flights from the USA, Canada, Europe, or South America to the British Virgin Islands' main airport, the Terrence B. Lettsome Airport (EIS).
All flights must connect through another Caribbean airport on islands such as Puerto Rico, St. Thomas, Antigua, or St. Maarten. Your travel agent or international airline will be able to assist with booking flights. If you plan to make reservations online, remember that you will have to request flights to Tortola (EIS).
If you are travelling on to Virgin Gorda (VIJ), Anegada, Peter Island, or Jost van Dyke, check with your hotel, resort, or villa to make sure that charter flights or ferry service will be available if you arrive after 4pm. Otherwise, plan to spend a night or two in Tortola before exploring the rest of "Nature's Little Secrets." Boat charters can be arranged via St. Thomas, Road Town or Beef Island.
The BVI's additional major airports are Auguste George Airport, Anegada (NGD); and Taddy Bay Airport, Virgin Gorda (VIJ). Regular service from San Juan, Puerto Rico (SJU) to Virgin GOrda (VIJ) is available with Cape Air. VI Airlink offers both commercial and charter flights from Beef Island, Tortola to Anegada (NGD). Many charter airlines also offer service to Anegada. Visit our Inter-Island Aviation section for more information.
The most direct way to arrive to the BVI from North America is via San Juan, Puerto Rico (SJU). Frequent connecting service is offered by Cape Air and Seaborne and interCaribbean Airways, with occasional service offered by other airlines and charter flights. Charter airline service can be arranged from almost anywhere in the Caribbean. See our Inter-Island Aviation section for more information on airline charter companies.
You may arrive by sea via the following ports of entry: Road Town, Tortola; West End, Tortola; Great Harbour, Jost Van Dyke; St. Thomas Bay, Virgin Gorda; Gun Creak, Virgin Gorda. All entering vessels must clear in with BVI Customs and Immigration immediately upon arrival into the territory, and retain a valid passport and boat registration papers.
ENTRY REQUIRMENTS :
The following measures are to be adhered to by all non-British Virgin Islanders entering the Territory: Bona fide visitors may be granted entry for up to one month at the ports of entry, provided that they possess return (or ongoing) tickets, evidence of adequate means of support and pre-arranged accommodations during their stay. Visitors wishing to stay longer will need to apply for an extension.
From Europe:
European citizens require a valid passport to enter the British Virgin Islands with proof of a return or onward ticket. Visitors from some countries may require a visa – if in doubt please check with your nearest BVI Tourist Board.
GETTING AROUND BRITISH VIRGIN ISLAND
The best way to get around the British Virgin Islands is on a boat. You might even need one to arrive at your destination first – there are no direct flights from the United States to this island chain and many people fly into Cyril E. King Airport (STT) on St. Thomas in the U.S Virgin Islands and then ferry over. You could also take a connecting flight from Puerto Rico, St. Thomas, Antigua or St. Maarten to Tortola Airport (EIS). Once you're settled, you might end up on the water again – to ferry or to sail between the numerous islands that make up this archipelago. You should rent a car or take a taxi to move about larger islands like Virgin Gorda or Tortola.
Boat - You'll probably get on a boat at least once during your vacation – either because that's the way you arrived in the British Virgin Islands or that's the way you traveled among them. And fortunately, there are plenty of on-the-water options. Ferries travel between Tortola and Virgin Gorda as well as to the U.S. Virgin Islands, plus there's also a ferry link between Tortola and Jost Van Dyke and Peter Island. Keep in mind that there are two docks in Tortola, one on the West End and one in Road Town. If you have a mind to splurge, you can also charter your own boat for transport to and from surrounding islands and cays.
Car - It's possible and convenient to rent a car on the larger islands of Virgin Gorda and Tortola. On Virgin Gorda you can find agencies across from the yacht harbor; in Tortola, the agencies are located outside Road Town near the ferryboat dock. You'll need a valid driver's license. Remember to drive on the left, and keep your eyes peeled for potholes, blind curves and maybe even a few cows, roosters and iguanas, especially on Anegada.
Taxi - Taxis are a hassle-free way to move around most of the islands. There are stands near the ferry docks and at the airports, but hotels on the more developed islands are willing to call one for you. The cabbies are obviously better prepared to navigate the island than you will be, but they're also pretty good tour guides. There is, however, some expense involved. Each island or cay has different taxi rates: You can check BVI Tourism's website to get an idea on what the price for your destination might run. Keep in mind that the price is determined by the distance traveled and the number of persons in the vehicle.
Bus - For cheap transportation to well-known tourist spots, you can take an open-air safari bus. They hold approximately 20 people and charge between $2 and $5 for a one-way trip from the ferry dock to a popular spot like The Baths of Virgin Gorda. This is an especially efficient option if you're just visiting an island for one day. Van-type buses, most often seen on Tortola, are less practical if you're just generally trying to move around town.
WHERE TO STAY IN BRITISH VIRGIN ISLAND
Scrub Island Resort, Spa & Marina, Autograph Collection
This beachfront complex is located in Scrub Island. It offers an outdoor pool, a private beach area, free Wi-Fi and ocean views. The rooms at Scrub Island Resort, Spa & Marina, Autograph Collection feature air conditioning, a safety box, iPod docking station, seating area and a flat-screen cable TV. Each one has a coffee maker, minibar and balconies. The bathrooms are private and have bathrobes, a shower and slippers. The Scrub Island Resort serves international and seafood. There are also a pool bar and a beach bar for the guests to enjoy. Activities like hiking, kayaking, scuba diving and snorkelling are also an option to arrange at this resort. This private resort is accessible only by boat or helicopter and the Tortola's Trellis Bay Dock is a 10-minute boat trip away. The dock is 2 minutes' drive from Tortola's International Airport.
Quito's Luxury Inn has a restaurant, fitness centre, a bar and garden in Cane Garden Bay. Featuring a terrace, the 4-star hotel has air-conditioned rooms with free WiFi. The rooms include a balcony with a sea view. At the hotel, rooms include a wardrobe, a flat-screen TV and a private bathroom. The rooms will provide guests with a stovetop.
Villa Sirenetta offers accommodation in Belmont Estates. The villa is equipped with air conditioning and free WiFi. Free private parking is available on site. The villa is fully air conditioned with 3 bedrooms each with its own en-suite bathroom. It has WiFi, back up whole house generator, private pool, fully equipped kitchen and BBQ. There is flat-screen TVs in each bedroom and the main living space. The villa enjoys wonderful views of neighboring islands. On island staff is available to assist you during your stay.
Four Diamonds Park Villas
Boasting a year-round outdoor pool and pool views, Four Diamonds Park Villas is located in The Settlement. This villa features a garden, barbecue facilities, free WiFi and free private parking. Featuring a Blu-ray player, the villa has a kitchen with a microwave, a fridge and an oven, a living room with a seating area and a dining area, 2 bedrooms, and 1 bathroom with a shower and a bath. A flat-screen TV with cable channels and a DVD player are featured. A bicycle rental service is available at the villa.
Providing city views, Ocean View Villas in Jost Van Dyke provides accommodation, a restaurant, a shared lounge, a garden, a private beach area and barbecue facilities. Both WiFi and private parking are available at the villa free of charge. Ocean View Villas provides guests with a patio, garden views, a seating area, satellite flat-screen TV, a fully equipped kitchen with a microwave and a fridge, and a private bathroom with shower and a hairdryer. For added convenience, the property can provide towels and bed linen for an extra charge. The accommodation offers a terrace. A car rental service is available at Ocean View Villas, while hiking and diving can be enjoyed nearby.
Fort Recovery Villa Suites Hotel
This tropical hotel offers a private pool and private beach overlooking the Caribbean Sea. Guests have access to beach and pool equipment. The villas feature a fully equipped kitchen area. The spacious villas at Fort Recovery Villas Suites Hotel include a microwave and refrigerator. The villas also have seating areas and bright, island decor. Guests can dine at the Fort Recovery Restaurant, which is open for breakfast and dinner. Guest can also relax at the full-service spa, which offers massages and exercise classes. Fort Recovery Villa is adjacent to the historical Fort Recovery, which was built by the Dutch in 1640. The hotel is in West End, about 15 minutes' drive from Road Town.
Oca Maloca Tortola Immaculate 1BR apt near Nanny Cay
Boasting a garden and a terrace, Oca Maloca Tortola Immaculate 1BR apt near Nanny Cay offers accommodation in Road Town with free WiFi and garden views. Featuring free private parking, the apartment is in an area where guests can engage in activities such as hiking and snorkelling. The air-conditioned apartment consists of 1 bedroom, a living room, a fully equipped kitchen with a microwave and a coffee machine, and 1 bathroom with a shower and a hairdryer. A car rental service is available at the apartment.
Bayview Vacation Apartments
Bayview Vacation Apartments has garden views, free WiFi and free private parking, set in Virgin Gorda. Each unit is fitted with air conditioning, a flat-screen TV, washing machine and coffee machine, as well as a kitchen. A garden, barbecue and a terrace are offered at the aparthotel.
Wyndham Tortola BVI Lambert Beach Resort
Situated in East End, Tortola, Lambert Beach Resort features an outdoor swimming pool. Staff on site can arrange airport transfers. Guest rooms at the hotel are equipped with a seating area and a flat-screen TV. The rooms are fitted with a private bathroom, while selected rooms also boast a terrace and others also boast a mountain view. All guest rooms at Lambert Beach Resort include air conditioning and a wardrobe. The distance from Terrence B. Lettsome Airport to the resort is 5.6 KM.
Offering an outdoor swimming pool and a restaurant, Fort Burt Hotel is located 1.7 km from Cruise Ship Pier and 2.4 km from J.R. O'Neal Botanical Garden. Each room here will provide you with a TV, air conditioning and a balcony. There is also a dining table. Featuring a bath, private bathroom also comes with a hairdryer and free toiletries. You can enjoy sea view and mountain views from the room. Extras include free WiFi. At Fort Burt Hotel you will find a terrace and a bar. Other facilities offered at the property include meeting facilities and luggage storage. The property offers free parking. Fort Burt Hotel is 15.3 km from Beef Island Tortola Airport.
PLACES TO VISIT & THINGS TO DO IN BRITISH VIRGIN ISLAND
When Columbus first sailed through the Virgin Islands, the multitude of islands surrounding him reminded him of the martyred women in the story of Saint Ursula and the thousand virgins. He therefore named the archipelago "Virgin Islands," and the name has stuck. The British Virgin Islands are a place of beauty, from the lush, green peaks of its many islands down to the sparkling, crystal-clear waters and beyond, down to the sea life living beneath its surface. No matter if you seek solitude, surfing, swimming, scuba-diving, sailing or simply sitting on a perfect beach, the British Virgin Islands have something to offer you.
Located on Virgin Gorda, The Baths are the most famous and possibly most photographed location in the British Virgin Islands. The site is a deposit of large volcanic boulders, some of which are stacked on top of one another, creating small grottoes and "baths" underneath. From Tyra Banks to the honeymooners you met at dinner last night, everyone who holidays to the British Virgin Islands gets their obligatory Baths photo moment.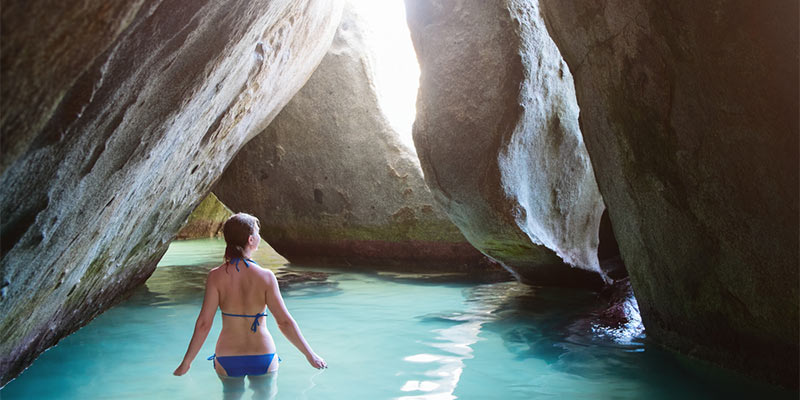 Situated about halfway between Jost van Dyke and Tortola is a spit of, well, sand. Sandy Spot is a popular launching spot for kite and windsurfers since the channel between the islands funnels wind in a prevailing direction. Sandy Spit is a also a favorite stopover for day charter boats whose patrons want a private, albeit exposed, beach.
Peter Island is a great place for someone who wants the exclusivity of a private island but not the bank account required for one. The price tag for accommodation and dining is certainly more than the big three of Tortola, Jost, and Gorda, but you aren't paying for nothing. The beaches are as white as the perfect linens on your bed, and the water is as clear and sparkling as the Perrier in your glass.
The British Virgin Islands offers world class diving. Some of the more popular places to dive are shipwrecks. Drop in at the RMS Rhone which sank off Salt Island in 1867 with the loss of almost all hands, or explore the airplane crash site off Dog Island. Wreck alley features four different shipwrecks. Wrecks offer an exciting opportunity to explore the ocean in three dimensions, since you can enter the ships to explore.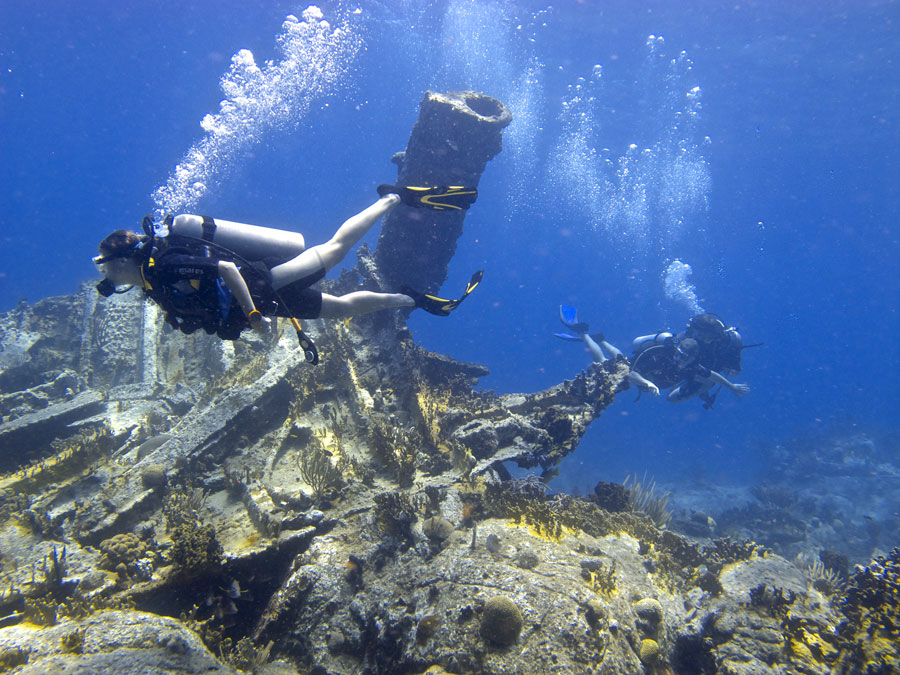 A road of sea running between St. John of the US Virgin Islands and various cays of the British Virgin Islands, the Narrows is technically British water. Blackbeard used to sail through here, using the steep peaks of the islands to hide the mast of his ship. Sailing through this waterway is magical, and little has changed since pirates did it centuries ago since neither the cays nor the northern part of St. John are developed.
The top surfing in the British Virgin Islands is at Cane. A long right-hander peels out from the right side of the bay into the center, and on really big days, closes out the whole place. A favorite anchorage for charter sailboats, Cane Garden Bay is usually packed with charter boats. In the distance is Jost van Dyke, a perfect place to stare at lazily as the sun sets.
Anegada is almost a legendary place, an island many, if not most, Virgin Islanders have never been to. Unlike all the other Virgin islands, both US and British, Anegada is wholly flat. Its flat topography makes it incredibly windy and an ideal place for kiters and windsurfers. Most tourism here is by wind enthusiasts, but Anegada is still a beautiful place in its own right, and due to its location and lack of fame, almost empty of people.
In addition to wreck dives, there are a multitude of coral reefs surrounding every Virgin Island to explore. If you can manage to book a dive at Anegada, take it. Because it is rarely dived, all of its reefs are still alive and positively packed with sea life. Remember to tell your dive instructor if you see a sea lion. Although they are beautiful, they are an invasive species introduced from the South Pacific and Philippines region to the Caribbean by people. They destroy the reefs and have no predators in the Caribbean, and each one killed brings in a reward.
At the western end of Tortola and the eastern end of The Narrows is Soper's Hole. Soper's Hole itself is a marina and shopping/dining center, but the area that surrounds it is gorgeous, invoking visions of Jurassic Park. Lush, verdant greenery consumes every slope, and the harbor is always filled with mega yachts.
Named after a Dutch pirate, Jost van Dyke is host to a famous New Year's Eve party in White Bay affectionately called "Old Year's Eve" (although technically, the eve is just before something, not after it). Jost is a place for rum and fun, or as the t-shirts at one of that bars says "A sunny place for shady people." Soggy Dollar Bar on Jost invented the famous Painkiller rum drink and a few bars down the beach offer Bushwackers with magic mushrooms blended into them. Throw a few Painkillers and Bushwackers back and forget all your worries, until you wake up the next morning somewhere on White Bay Beach covered in sand and nursing a powerful hangover.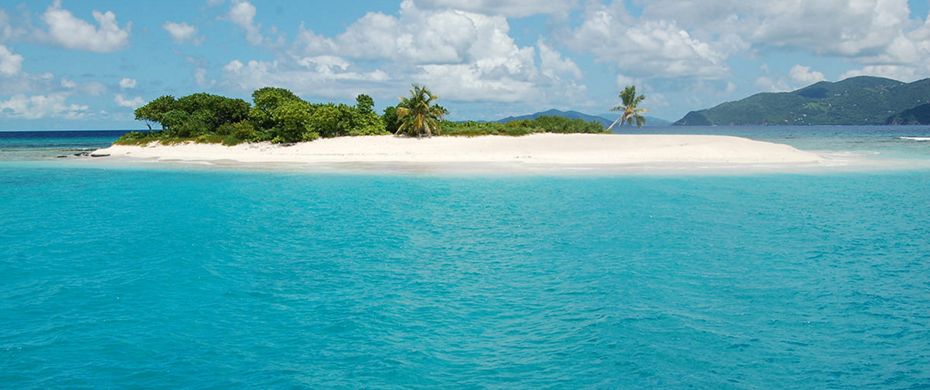 If you're looking for a change of pace from all the aquatic activities, Gorda Peak National Park is a great place to soak up some land-based nature. Two well-marked hiking trails lead to the summit of Gorda Peak, the island's highest point. From the observation tower here, you can enjoy sweeping views of the North Sound, Anegada, and the other islets and cays of the British Virgin Islands. Rich in biodiversity, the park comprises 107 hectares of semi-rainforest, with dry forest cloaking its upper slopes and rare plants flourishing within its borders, including six species of native orchids. Wildlife such as reptiles; tree frogs; birds; bats; soldier crabs; and the world's smallest lizard, the Virgin Gorda gecko, are also found in the park.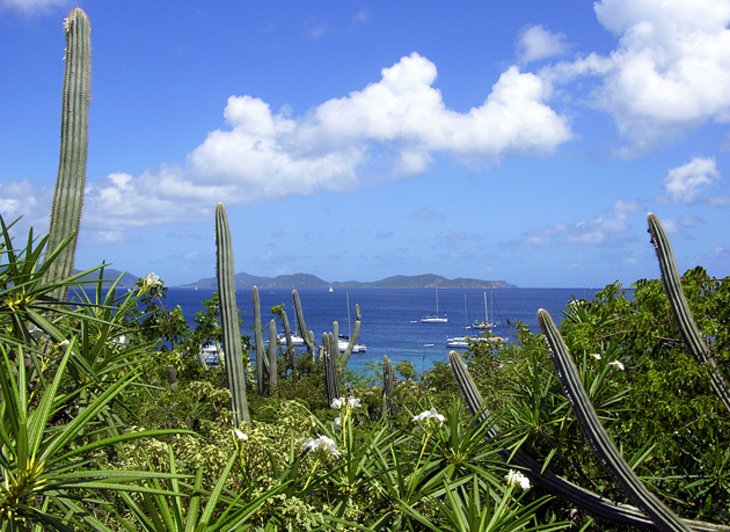 North Sound, Virgin Gorda
The North Sound, on the northeast shore of Virgin Gorda, is a major water sports center in the British Virgin Islands. The area offers well-protected waters and many anchorages, with every kind of boat and water activity available - diving, sailing, windsurfing, parasailing, jet skiing, water-skiing, glass bottom boats, and trips to secluded beaches. Hiking is also another popular activity in the region. Since the channel and surrounding areas can only be reached by boat, the North Sound is extremely popular with boaters and private charters.
Smuggler's Cove Beach, Tortola
At the westernmost end of Tortola lies Smuggler's Cove, a secluded, sheltered, and undeveloped patch of island that lures beach lovers seeking an escape from the busier resort scene. This relatively peaceful beach offers great snorkeling, with sea turtles swimming just offshore. Look for the old car used as a film prop for the Hollywood remake of The Old Man and the Sea, filmed here in 1990.
The capital of the British Virgin Islands, Road Town is named for Tortola's principal harbor, Road Bay. Located in the center of the southern shore of Tortola, Road Town is the commercial center of the entire British Territory, and the harbor is often crowded with charter yachts, ferries, and the occasional cruise ship. Most of Road Town's attractive shops and eateries are found on Waterfront Drive and Main Street, with historic forts and sugar mills, some dating back 200 years. The town's tourist attractions include Dolphin Discovery Tortola, J.R. O'Neal Botanic Gardens; Virgin Islands Folk Museum; and Government House, a classic example of British colonial architecture.
Sage Mountain National Park
A gift from the Rockefellers to the government of the BVI, Sage Mountain National Park cloaks a ridge running east to west along the spine of Tortola and is the first national park established in these islands. Almost the entire park is 305 meters above sea level, and 523-meter Mount Sage is the highest peak in all the Virgin Islands. Twelve looped hiking trails thread through the forest, and while the park is not an actual rainforest, you can see philodendrons, hanging vines, ferns, mahogany, cedar, and manilkara trees. Wildlife includes birds such as martins, hummingbirds, and kestrels. Since the BVI National Parks Trust acquired the land, reforestation programs have been successful in many areas of the park.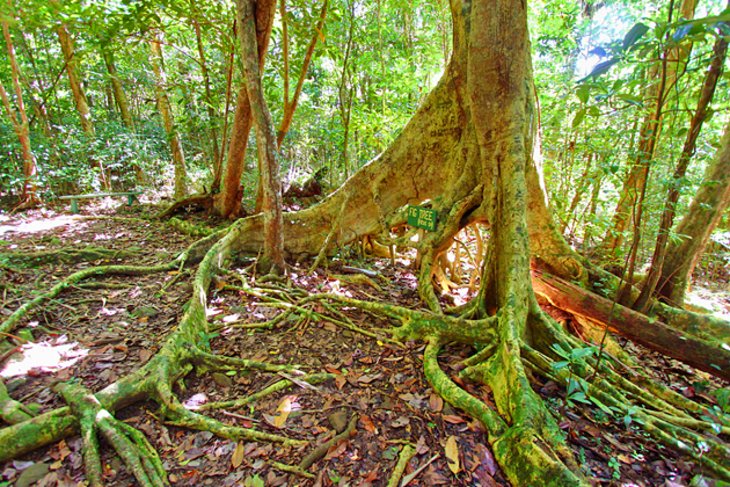 Since 1843, various legends have deemed Norman Island the site of buried treasure. Lying 10 kilometers southwest of Tortola, this is the largest uninhabited island in the British Virgin Islands. The anchorage at the Bight, known for good snorkeling, is usually crowded with sailboats, swimmers, and dinghies. Apart from the beaches at the Bight and Benures Bay, on the east side of Norman Island, the terrain is mostly undeveloped and impenetrable. Also of note here are the underwater Treasure Caves, believed to be the place Robert Louis Stevenson had in mind when writing Treasure Island. The four caves offer ideal snorkeling and diving, and one of the caves extends 24 meters under the island, replicating the conditions of a night dive. Lying 1.6 kilometers south of Norman Island, Santa Monica Rock is one of the prime dive sites in the British Virgin Islands, featuring a pinnacle reaching 30 meters. Since the rock lies on the outer edge of the island chain, it is a good place to spot larger open-ocean fish such as nurse sharks or spotted eagle rays. The BVI National Parks Trust has set up moorings here.
WHERE TO EAT IN BRITISH VIRGIN ISLAND
The British Virgin Islands are a tropical paradise and a travel destination steeped in glitz and glamour. The cheapest way to get local flavour is to try the local cuisine at some of the best restaurants in the main city of Road Town on Tortola.
Island Roots on Main Street
Located within the Old Custom House in Road Town, Island Roots is a casual restaurant tapping into the laid-back vibe of the British Virgin Islands. In addition to being a great place to stop for lunch, Island Roots has a staff of skilled baristas so that you can get your caffeine fix as well.
Captain Mulligan's is a fun and friendly restaurant and sports bar, and even has a mini-golf course for kids. Despite its child-friendly atmosphere, Captain Mulligan's welcomes people of all ages. If mini-golf isn't your thing, then perhaps a tall glass of rum is. Be careful though; if you stay at the bar here too long, you may end up walking like a peg-legged buccaneer.
Capriccio di Mare is conveniently located in central Road Town, serving your favourite bolognese, frutti di mare, risotto and linguine. If you're craving Mediterranean cuisine, be sure to book a table at this cosy spot.
Sugar Mill Hotel & Restaurant
Tucked away in the jungle along the beautiful Apple Bay is the Sugar Mill Hotel & Restaurant. The verdant scenery overlooking the sea is the perfect background for couples and honeymooners. The restaurant lies inside a restored sugar mill, and the dappled shade from the surrounding trees gives this place its romantic magic.
Brandywine Estate Restaurant
Brandywine Estate Restaurant offers one of the more elegant dining experiences in the Caribbean. Patrons enjoy exquisite Mediterranean food at the beautiful Brandywine Estate as they look out over the breezy Sir Francis Drake Channel. Watch yachts sail by as you sip fine wine and tuck into their freshly caught lobster. Brandywine specialises in food from the sea and boasts a loyal clientele.
Dove Restaurant features the one of the most extensive wine selections in the British Virging Islands. Located in a historic house in the centre of Road Town, this restaurant and wine bar possesses an old-world charm reminiscent of the days when pirates and sugar merchants sailed between the islands.
Overlooking the picturesque Sir Francis Drake Channel, Sharkey's is a favorite among regular travelers to the British Virgin Islands. Serving up traditional bar food but with a quality above the average pub, Sharkey's is a short walk from the ferry dock.
WHERE TO SHOP IN BRITISH VIRGIN ISLAND
The U.S. Virgin Islands are rightly known as a shopping mecca: hundreds of merchants cater to a captive audience of cruise ship passengers, resort guests and boat enthusiasts. Add to that a generous $1600 duty-free allowance and no sales tax, you've got a shopaholic's paradise. But prices on most items aren't especially cheap – don't forget that everything has to be shipped or flown in, which adds to the bottom line. Here are the list of Shop that you might want to visit here.
Just outside the hustle and bustle of Charlotte Amalie is an excellent gallery selling works by local and internationally recognized artists who spend all or part of their time in the Caribbean. In addition to paintings, sculpture and photography, the gallery, which is over 20 years old, also carries crafts, ceramics, glasswork, textiles, ironwork, wood sculpture and more by the likes of Don Dahlke, Max Johnson, Dana Wylder and others. The airy gallery also offers framing services, an impressive selection of historical Caribbean maps, and monthly art shows of emerging artists during peak season. Located in Al Cohen's Mall on Raphune Hill, about one mile from downtown.
Recently voted "best ladies' clothing in the USVI," this enchanting little store owned by Danna Brosius has been dressing Crucian women (and men) in stylish island-casual garb for more than 20 years. Collections come from designers all over the world, and most are fair-trade and organic. You can find pieces for the entire family here: women like the forgiving fabrics, pastel colors and beachy, breezy feeling of the skirts, dresses and sarongs; men can find Island Guy shirts, which are like Hawaiian shirts, but not tacky. Kids love the backpacks made from banana leaves. Handpainted silk scarves, candleholders carved of native woods, and handcrafted jewelry are among the other treasures you'll find. Sales staff are very professional and knowledgeable and will go out of their way to find the most flattering style for your shape and personality.
This ceramics gallery is also a workshop where you can watch artisans at work making water fountains, lights, signs, planters, vases, musical wind chimes and dinnerware. The gallery specializes in coral pottery dinnerware; coral sand and melted glass are mixed to mimic the colors and textures of Caribbean stone and water. Schnell also represents a short list of other artists from St. John and worldwide. The studio is located in the Amoré Center, which is just a short walk from either Mongoose Junction or the ferry dock in Cruz Bay.
Silk-screen artist Jim Tillett and his wife founded Tillett Gardens in 1959 as a screen printing studio and art gallery. Since then it has expanded into a wide- ranging arts and crafts center where local artists and craftsmen make and sell pottery, candles, jewelry, baskets and more. Many of the artisans work on-site so you can watch the crafts take shape, and some offer workshops. The legacy of the Tilletts continues with their protege Sonny Thomas, who produces the famous Tillett maps and fabrics, which feature island motifs. Tillett Gardens is also home to a music studio (which offers lessons), and the Pistarckle Theater, which stages about a dozen plays and musicals throughout the year. The facility also hosts several classical and contemporary musical performances during the island's high season.
This shop, which is next door to the historic Whim Plantation house, offers an impressive array of art, West Indian crafts, artifacts, antiques, furniture, textiles, and even local foods. Many of the mahogany and teak furniture pieces are reproductions of furniture in the plantation house. If you're not in the market for furniture, place to pick up a really memorable portable souvenir: there are historical maps, books about the history of St. Croix and the Virgin Islands, locally designed cards and jewelry, and CDs by local musicians. Food items include dundulsa, lassinga, peppermint and coconut and ginger sugarcakes, guavaberry liqueur, and tarts (guava, pineapple, coconut and guavaberry).
Located in an un-missable pink and yellow house with gingerbread trim, Pink Papaya dazzles the eyes with a riot of colors, shapes and sizes once you step in the door. You'll find everything from ceramics to tableware to jewelry to home decor with a Caribbean flair. Colorful table linens, hand-painted serving trays, holiday ornaments, prints, photographs, handmade pendants, quirky eyeglasses, stuffed animals, humorous greeting cards, candies, hot sauces - you name it, they've got it. They also showcase pieces from local and international artisans, such as the vivid Haitian metalwork in the shape of sea creatures. Shipping and gift-wrapping are available. Located next to the Lime Inn in the center of Cruz Bay.
Yacht Haven Grande is new-ish waterfront development that includes a luxury yacht marina, residential condos, restaurants, and over 40 high-end shopping boutiques. Lots of pricey designer brands are represented here, including Louis Vuitton, Coach, Gucci, BCBG Max Azria, and Bulgari. But there are also mid-range chains like White House Black Market, Bebe, Cache, and Tommy Hilfiger, plus a beauty salon and non-chain boutiques selling swimwear, pet supplies, and sunglasses. Dining options include Fat Turtle, Grande Cru, and Bad Ass Coffee. During high season there are regularly-scheduled outdoor concerts, parties, pet adoption fairs, and more.
Owned and run by the Bishop family, a team of artisans and metalsmiths native to St. Croix, Crucian Gold features a variety of beautiful handmade jewelry designs inspired by the history, people, and natural environment of the island. Crafted from gold, silver, copper and brass, you'll find bracelets, pendants, earrings, rings and necklaces here. Popular items include the "Crucian knot" bracelet (which features a "lover's knot" in the center) and the Turk's Head ring (a knot of interwoven gold strands). Pendants and earrings are also available with the distinctive designs. Bishop's other masterpieces are chess sets inlaid with precious metals and featuring Caribbean scenes. All of the materials they work with come from recycled and eco-friendly sources.
Located in the heart of Mongoose Junction, owner Jo Sterling's excellent multi-cultural boutique offers an impressive array of historic and exotic finds from the Caribbean, Africa and Indonesia. You'll find yourself spending hours browsing the ever-changing inventory of art, music, clothing and home decorative items that are displayed on antique West Indian furniture. Home decor includes wall hangings, block-printed bedspreads and table linens, hand-crafted wood bowls, throw pillows, utensils and goblets. Haitian metal art, Caribbean and African musical instruments, and island made jewelry are among the crafts you'll find. Clothing ranges from leading contemporary brands to one-of-a-kind batik-print pieces. While you shop, the sounds of the Caribbean and Africa pulse through the sound system. All music is available for sale.
This mall, which greets cruise ship passengers who disembark at the West Indian Company dock, is one of the major shopping areas on the island (besides downtown). It boasts about 100 shops and restaurants, plus various service providers such as banks and a post office. Numerous jewelers have branches here, where you can buy everything from black coral to Austrian crystal, to French perfume and Swiss watches at excellent prices. There are also various beachwear shops, an electronics store, a bookstore, a gourmet grocer and a music store. Ancient mahogany trees line the streets, and casual eateries like the Delly Deck and Havensight Cafe provide tasty, cheap grub for refueling stops.