MAANANTAI, 14. SYYSKUUTA 2020
Yosemite National Park is in California's Sierra Nevada mountains. It's famed for its giant, ancient sequoia trees, and for Tunnel View, the iconic vista of towering Bridalveil Fall and the granite cliffs of El Capitan and Half Dome. In Yosemite Village are shops, restaurants, lodging, the Yosemite Museum and the Ansel Adams Gallery, with prints of the photographer's renowned black-and-white landscapes of the area.
The jaw-dropping head-turner of America's national parks, and a Unesco World Heritage site, Yosemite (yo-sem-it-ee) garners the devotion of all who enter. From the waterfall-striped granite walls buttressing emerald-green Yosemite Valley to the skyscraping giant sequoias catapulting into the air at Mariposa Grove, the place inspires a sense of awe and reverence – four million visitors wend their way to the country's third-oldest national park annually. But lift your eyes above the crowds and you'll feel your heart instantly moved by unrivaled splendors: the haughty profile of Half Dome, the hulking presence of El Capitan, the drenching mists of Yosemite Falls, the gemstone lakes of the high country's subalpine wilderness and Hetch Hetchy's pristine pathways.
BEST TIME TO VISIT YOSEMITE
The best times to visit Yosemite are May and September, when the park is accessible but not too crowded. It's important to know that many roads and trails in Yosemite are closed for the majority of the year due to snow. Snow can come as early as October and arrives in full force in November, typically remaining until March. But just because the snowstorms stop in March doesn't necessarily mean closed parts of the park suddenly swing their doors open. Depending on conditions, all seasonally closed roads and trails don't open till May or June.
Seasonal park closures are precisely why so many travelers visit during the summer months, making it the park's busiest time of year (think packed trails, road traffic, sky-high hotel rates and more). To avoid this, the best time to visit is before or after the summer crowds come, which is typically late May and September. Late May and early June is the best time to view waterfalls, roaring from freshly melted snow, and September offers cooler temperatures ideal for hiking (summer temps can reach the 80s). If the only time you can visit is during the summer, be sure to book several months in advance. Campsites are known to reach capacity the moment they become available for booking. If you're looking for a bargain on accommodations, winter is the best time to visit Yosemite.
May and September
With the thunder of the waterfalls in the background to drown out the few voices around you, May will allow you to have some time to appreciate the wilderness in a brisk, but bearable climate – average highs range in the mid-60s. Lows, however, stay in the mid-30s, so be sure to bring a coat with you. Aside from fewer crowds and comfortable-ish temperatures, May is the best time to visit the park for waterfalls (thanks to the melted snow). Some roads and trails may still be closed, so it's a wise idea to visit toward the end of the month. Come September, highs hang in the mid-70s while lows are in the mid-40s. This temperature range allows for a more comfortable hiking experience. Not only will there be fewer people on the trails but the sun won't be as intense as it is during the summer months. Waterfalls, however, won't be as free-flowing.​
June-August
The magic of Yosemite can easily be disrupted by summer crowds. Because of seasonal road and trail closures that can last until May and June, Yosemite sees most of its visitors during the summer. During this time, you can expect crowded trails and campsites as well as road traffic and expensive hotel rates. You need to book at least six months in advance to secure accommodations during this time; campsites have been known to reach capacity just days after they become available for the season. The upside to visiting during the summer, however, is that the entire park is open. Daytime temps reach the low 80s, but depending on where you are in Yosemite, such as uncovered valleys, it can feel a lot hotter. Nighttime temps dip to the low 40s throughout summer, so make sure to bring a coat. To avoid severe crowding, visit in early June when the park's waterfalls are robust thanks to the melted snow. If you time your visit later in the summer, you'll come across blooming wildflowers.
October-November
After September, Yosemite is practically crowdless, but for good reason. Temperatures drop drastically from highs in the mid-70s in September to the mid-60s in October and low 50s in November. Nighttime temps plummet too, with averages hanging in the 30-degree range in October and November. What's more, trail and road closures typically start in October or November due to snow. If you do visit in October, be aware that you won't see a whole lot of fall colors; the majority of trees in Yosemite are evergreens.
December-April
Winter sports enthusiasts will love the snow-blanketed park, especially the Badger Pass Ski Area, where visitors can partake in downhill and cross-country skiing. Daytime temperatures from December to March hang in the mid-40s and nighttime temps linger in the low 20s. April sees a slight increase, with lows in the mid-30s and highs in the mid-50s. Regardless, aside from the Badger Pass Ski Area, the majority of the park is closed to cars with the exception of the Yosemite Valley and Wawona areas. Tire chains may be needed to access park roads during this time. If you're willing to endure the conditions, you will get the best deal on accommodations during this time. Room rates will be at their lowest and there will be no crowds.
GETTING TO YOSEMITE
There are a variety of airport options around Yosemite, making the park one of the most convenient to visit in the USA. The closest airport is the Fresno-Yosemite International Airport (FAT), which is about 65 miles south of the park (about a 1½-hour drive). San Francisco International Airport (SFO), Oakland International Airport (OAK) and San Jose International Airport (SJC) are also within driving distance of park. However, know that the drive will be considerably longer, clocking in at more than three hours on the road.
GETTING AROUND YOSEMITE
The best way to get around Yosemite is by car. Unless you're taking a private car or public transportation from one of the park's nearby airports, there's no point in ditching your (albeit expensive) rental car and taking Yosemite's shuttles around the park, especially after a long hike. However, during the park's peak travel season, these shuttles will be your friend. Road traffic during the summer is known to cause major delays and trailhead parking lots can fill up fast. If you aren't interested in getting up early to hit popular spots or the trails (which is highly recommended by park officials to avoid crowds), the park's shuttles can save you some serious time.
Car - Having a car is essential to getting around Yosemite, especially if you're visiting outside of the summer months, when park shuttles and some of the YARTS routes aren't running. If you're visiting during summer, having a car can be a pain thanks to crowded parking lots. To avoid road congestion, park officials urge visitors to hit the park's popular attractions early. There aren't rental car facilities at or near the park. Your best bet is to rent a car at the airport or city you arrive in. Keep in mind that international airport car rentals will be more expensive than at the park's nearby regional airports. If you don't want to drive from the airport to the park, you can take alternative transportation, but it could be a lot more time-consuming. You can take the Amtrak to the Merced train station and from there take the YARTS blue line bus to Yosemite Valley, which costs $25 round trip. The seasonal yellow line, operational from mid-May to mid-September, also takes visitors to Yosemite Valley from Fresno, costing about $30 round trip.
Shuttles - Run by the National Park Service, the Yosemite Valley Shuttle provides free service to and from all the major vista points, shops and accommodations within the valley, from 7 a.m. to 10 p.m. year-round. There's also the free, seasonal El Capitan shuttle, which stops at the Four Mile trailhead and the Valley Visitor Center from mid-June through early October. Other seasonal shuttles include the Tuolumne Meadows Shuttle (available from mid-June to early September) and the Badger Pass Ski Area shuttle (in service from mid-Decembery through March). In addition to NPS shuttles, the Yosemite Area Regional Transportation System (YARTS) also offers routes to and around the park. You can take YARTS buses from Sonora, Merced, Fresno and Mammoth Lakes directly to the park. Once inside, you can reach points of interest such as the Tuolumne Meadows Visitor Center or Half Dome Village. Fares are dependent on destination. Keep in mind: The blue line (from Merced to Yosemite Valley) is the only YARTS bus that operates year-round.
WHERE TO STAY IN YOSEMITE
Set in Midpines, AutoCamp Yosemite offers a terrace. This 3-star hotel offers a 24-hour front desk and a concierge service. There is a barbecue and guests can make use of free WiFi and free private parking. At the hotel, all rooms come with a patio with a mountain view. The units at AutoCamp Yosemite come with a seating area. Guests at the accommodation can enjoy a continental breakfast. The area is popular for hiking and skiing, and free use of bicycles is available at AutoCamp Yosemite. Mariposa is 11 km from the hotel, while Oakhurst is 48 km away. The nearest airport is Merced Municipal (Macready Field) Airport, 76 km from AutoCamp Yosemite.
Offering a children's playground and hot tub, WorldMark Bass Lake is located in Bass Lake in the California Region. The rooms are equipped with a TV and DVD player. Some units have a seating area to relax in after a busy day. You will find a coffee machine in the room. Each suite comes equipped with a washer and dryer plus a dining area and a fireplace. BBQ facilities are also available. You can play billiards at the hotel. Mariposa is 38 km from WorldMark Bass Lake, while Yosemite Village is 46 km away. The nearest airport is Yosemite Airport, 63 km from the property.
Best Western Plus Yosemite Gateway Inn
Located 24 km away from Yosemite National Park South Entrance, Best Western Plus Yosemite Gateway Inn features an outdoor and an indoor pool. All of guest rooms feature free WiFi. A restaurant is located on-site. A flat-screen TV with HBO film channels and ESPN sports channels is provided in every air-conditioned room at Best Western Plus Yosemite Gateway Inn. Rooms are decorated in bright colours and feature original artwork. A work desk and a coffee machine are included in all rooms. Open for dinner, the Yosemite Gateway Restaurant features traditional American cuisine and serves steak, pasta and seafood entrees. Guests of Best Western Plus Yosemite Gateway Inn can work out in the fitness centre. A business centre with fax and photocopying services is available. For convenience, a guest launderette is located on-site.
Yosemite Southgate Hotel & Suites
Located off the Southern Highway 41 Entrance to Yosemite, this California hotel boasts a seasonal outdoor pool and hot tub, has suites with free Wi-Fi and serves a daily continental breakfast. Oakhurst town centre is 1.6 km away. A satellite TV with film channels, a microwave and a refrigerator are featured in all of the spacious suites at Yosemite Southgate Hotel & Suites. All of the comfortable suites include a desk and tea and coffee-making facilities. An on-site sauna and spa are offered to guests at Yosemite Southgate Hotel & Suites. Guests can enjoy stop by the on-site business centre. For convenience the hotel offers 24-hour reception and a guest launderette. Yosemite National Park is 24.1 km from this hotel. Bass Lake is 15 minutes' drive away. Yosemite Mountain Sugar Pine Historical Railroad is 20 minutes' drive away.
Best Western Plus Yosemite Way Station
Located in the Sierra Foothills adjacent to Mariposa Arts Park, this hotel is 51.5 km from the west entrance of Yosemite National Park which provides access to the valley floor and waterfalls. A satellite TV is featured in each air-conditioned room at the Best Western Plus Yosemite Way Station. A compact refrigerator and microwave are also provided for guest convenience. Free WiFi is included. Each morning the Yosemite Way Station provides guests with a full hot breakfast. This hotel is within walking distance to restaurants and shopping in historic downtown Mariposa. A sun deck, seasonal outdoor swimming pool, hot tub and fitness centre are located on site. There are 2 computers in the lobby available for free guest use. Laundry facilities are also provided onsite. Free parking is provided. The Best Western Plus Yosemite Way Station is 2-minute drive from the Mariposa Museum and History Center. Nearby leisure activities include hiking, swimming and river rafting. The hotel offers 24-hour front desk service and free public on-site parking.
Located in Yosemite Village, 700 m from Yosemite Valley, Yosemite Valley Lodge provides accommodation with a restaurant, free private parking, a bar and a shared lounge. The accommodation features a 24-hour front desk, a shuttle service, an ATM and free WiFi. At the hotel, the rooms are fitted with a balcony. At Yosemite Valley Lodge each room has a private bathroom. The area is popular for hiking and skiing, and bike hire is available at the accommodation. El Capitan is 3.9 km from Yosemite Valley Lodge.
Shaver Lake Village Hotel
Shaver Lake Village Hotel is offering accommodation in Shaver Lake. There is a sun terrace and guests can make use of free WiFi and free private parking. All guest rooms at the hotel feature a flat-screen TV with cable channels, blu-ray player, and a private bathroom with a shower, a hairdryer and free toiletries. At Shaver Lake Village Hotel all rooms are fitted with a seating area. Guests at the accommodation will be able to enjoy activities in and around Shaver Lake, like hiking, skiing and cycling. The nearest airport is Fresno Yosemite International Airport, 75 km from Shaver Lake Village Hotel.
Located in a structure built in 1901, this historic Mariposa hotel features uniquely decorated rooms with period furnishings and solid oak woodwork. A free continental breakfast is served daily. Free Wi-Fi is offered in each guest room at Mariposa Hotel Inn. Each air-conditioned room includes a flat-screen satellite TV, a seating area and a private bathroom with a hairdryer. Select rooms offer mountain views. At Mariposa Hotel Inn you will find a free airport transfer service, a garden and a terrace. Mariposa-Yosemite Airport is 7.8 km away from Hotel Inn Mariposa. Yosemite National Park is 49 km away. Surrounding info: Hide Out Saloon (café/bar), The Alley (café/bar) and Pioneer Market (general supplies) are less than 1 km away. The Merced River is 24 km away. Free guest parking is available.
Each room at this resort is equipped with a TV. Every room includes a private bathroom. Extras include free toiletries and a hair dryer. Heidelberg Inn features free WiFi .
Best Western Premier High Sierra Hotel
Situated in Mammoth Lakes, California region, Best Western Premier High Sierra Hotel is set 8 km from Mammoth Mountain. The hotel has an indoor pool, fitness centre and a 24-hour front desk. At the hotel, the rooms are fitted with a desk, a flat-screen TV and a private bathroom. All rooms at Best Western Premier High Sierra Ho have air conditioning and a wardrobe. The accommodation offers a buffet or American breakfast. At Best Western Premier High Sierra Hotel guests are welcome to take advantage of a hot tub. Guests at the hotel will be able to enjoy activities in and around Mammoth Lakes, like hiking, skiing and cycling. Best Western Premier High Sierra Ho offers a business centre, free WiFi access and free private parking. The nearest airport is Mammoth Yosemite Airport, 15 km from the accommodation.
PLACES TO VISIT & THINGS TO DO IN YOSEMITE
Yosemite National Park —one of the most popular outdoor meccas in the country—was created over 125 years ago. On October 1, 1890, President Benjamin Harris signed the legislation that made it the third national park in the country, behind Yellowstone and Mackinac, paving the way for outdoor enthusiasts to enjoy Yosemite's majestic landscapes for centuries. The wonders of Yosemite started to spread in the 1850s, when sketches and writings from artist Thomas Ayres were published in 1855. Stagecoaches started arriving with visitors from all over the country, and by the mid-1860s, people were living in the valley year-round; hotels eventually started springing up. Nowadays, Yosemite sees upwards of 4 million visitors annually.
Here are some things to see and do in Yosemite —though we could probably come up with hundreds at this 1,169-square-mile wilderness wonderland that's beloved by so many.
Securing a permit to hike this iconic landmark takes planning, a permit (issued via a lottery system), and patience. Yes, it's a haul to even get there: 12-15 miles round-trip. Yes, you'll be tromping up the rock with dozens of other people. But hiking half dome is well worth all of the hassle. The elevation (4,800 feet at the summit), the grade and the slipperiness of the rock up the adrenaline, and the views from the top are as stunning as you can imagine. And, every time you see the rock's profile on a postcard on a subsequent trip through the park, you can know you conquered it.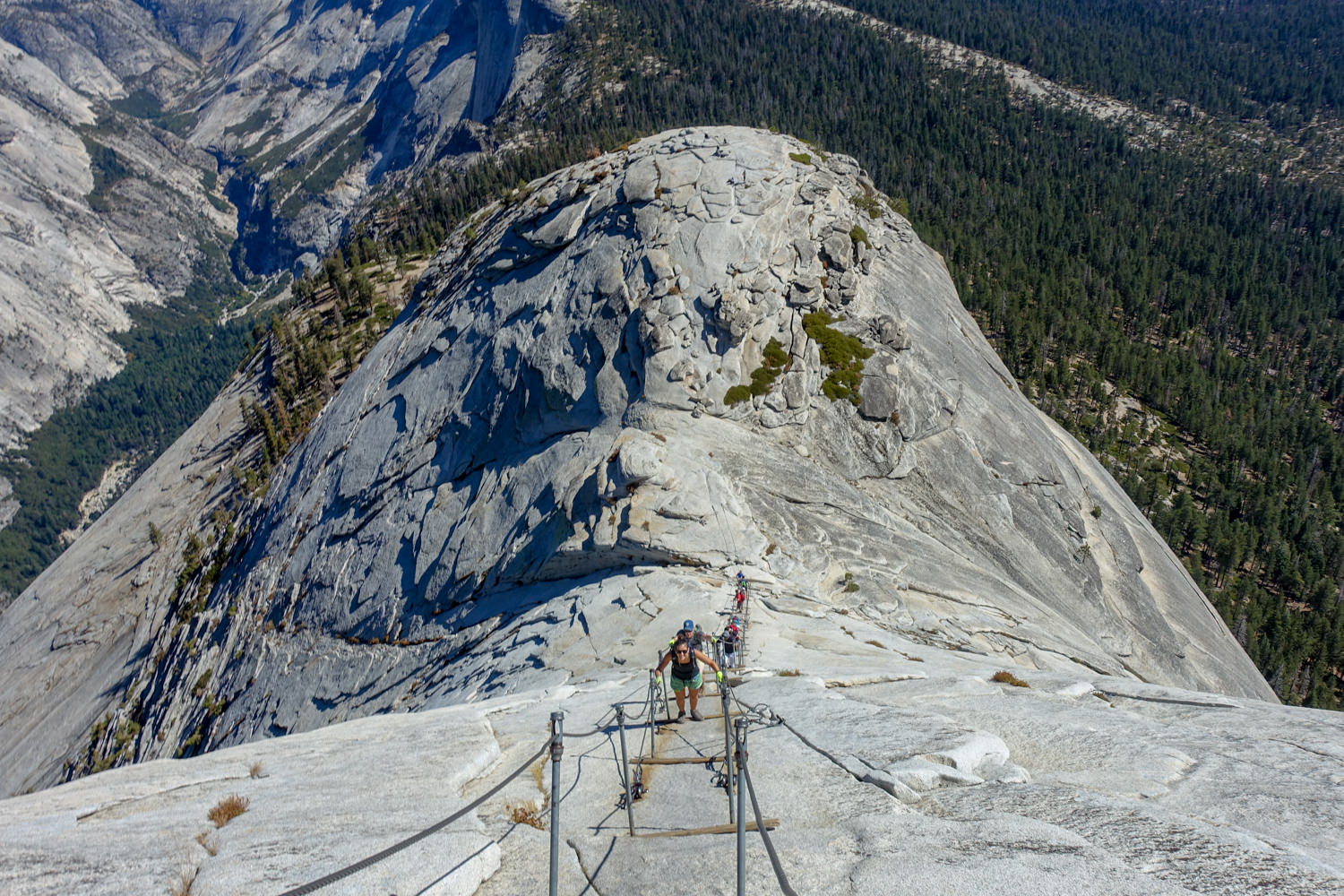 Camp in the backcountry in style
Backpacking is great, but when you don't have to worry about schlepping the tent or food and cooking gear, you can concentrate on the amazing wilderness instead. At Yosemite's High Sierra Camps, you'll start and end every day with vittles prepared by a chef and bed down in cozy canvas tents. Five camps make up the High Sierra Camps, which are spaced between 6ish and 10 miles apart on a loop through some of the park's most spectacular backcountry. Not surprisingly, it's a popular excursion, and reservations are issued through a lottery system (applications are being accepted now, so hop to it!)
The dozens of switchbacks (and other hikers) along the lower stretches of this popular trail can be off-putting. But keep at it: Gradually, both will taper off, and you'll find yourself gazing at increasingly amazing views of the valley floor from the top of the spectacular Yosemite Falls. Along the way, you'll pass Columbia Rock, a popular turnaround point; another half-mile will put you at a bird's-eye view of the falls. But for the real glory, keep going to the tippy-top of Yosemite Point, with panoramic, brag-worthy views that make all the quad-killing climbs worth it. The entire 7.2-mile round-trip trek takes between six and eight hours, so get an early start.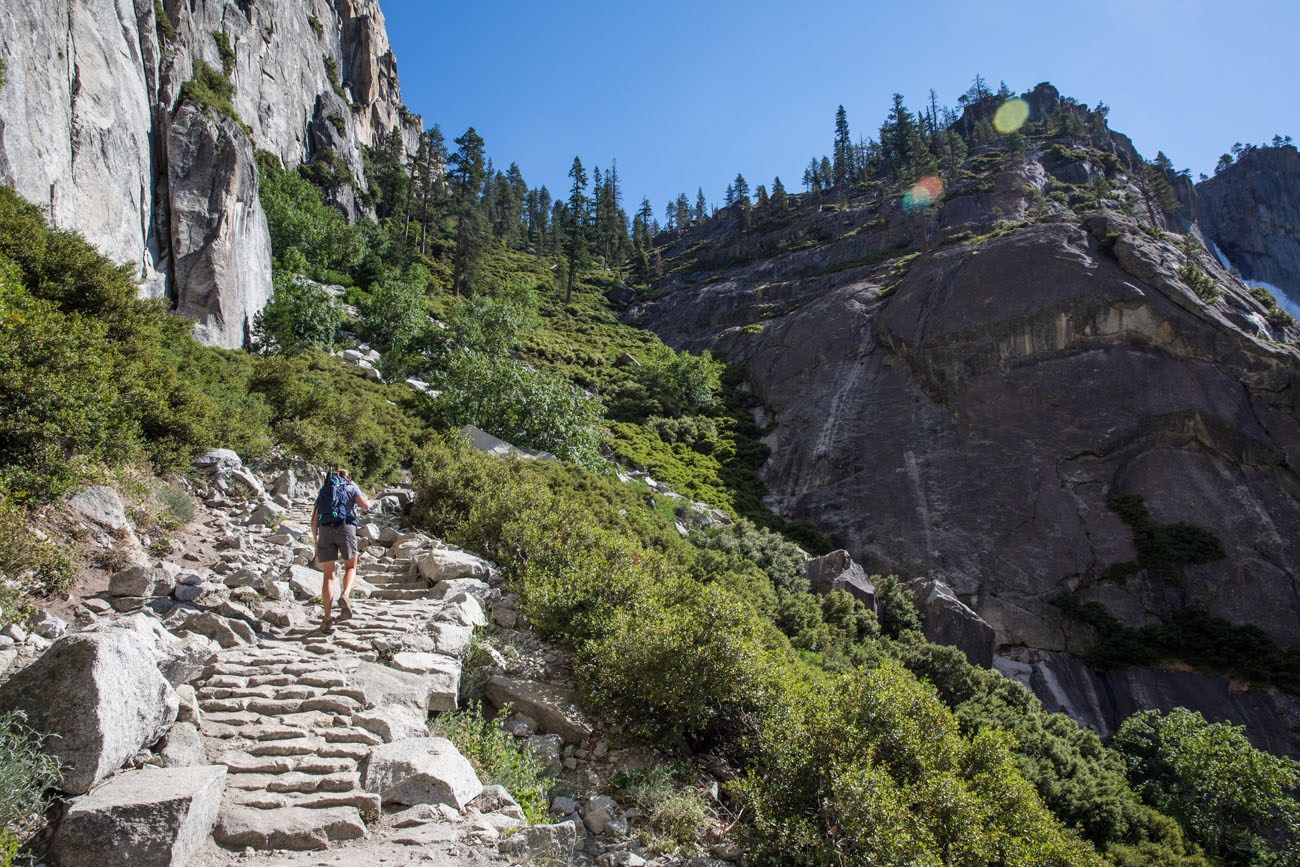 Schuss down the slopes at Badger Pass
Under a blanket of snow and minus the summer throngs of fannypacked tourists, Yosemite becomes a winter wonderland. But what many visitors don't know is that winter also means the chance to visit California's oldest ski area, Badger Pass. With 10 runs serviced by five lifts, the resort doesn't boast hair-raising runs or sphincter-puckering bowls; instead, you'll savor a no-attitude, laid-back day carving turns without breaking your budget on a lift ticket. If you visit in the winter, don't miss it.
Catch the action at Camp 4
This walk-up campsite is ground zero for the sport of rock climbing, and the infectious spirit of community and camaraderie among climbers (and wannabes) remains just as alive as it did when pioneers like Royal Robbins and Warren Harding first started scrambling up El Cap and other sheer rock faces back in the 1960s and '70s, much to the consternation of the rest of the world. You'll have to arrive early (the ranger station opens at 8:30 am, but a line usually forms long before then) to snag one of the 35 no-reservation sites from spring through fall. But even if you're not staying at Camp 4, a visit to this legendary spot—which is listed on the National Register of Historic Places—is a must-do, especially for climbing enthusiasts.
Get soaked on the Mist Trail
This popular trail is like Mother Nature's version of a Slip 'N Slide. For a rigorous excursion perfect for families with older kids (younger ones will have trouble with the steep steps), it's hard to top the delightfully drenched hilarity that ensues when you're making your way up about 600 ridiculously steep steps while being soaked from the water from Vernal Falls. If you're not laughing at yourself, you'll surely be laughing at other ill-prepared hikers, some wearing trash bags, others in flip flops.
In all seriousness, though, when the falls are roaring in spring and early summer, the granite steps are extremely slippery (i.e., wear proper hiking shoes with good grip). And stay on the trail: Sadly, deaths are a regular occurrence among the unwise souls who climb over the rails at the top of Vernal Falls.
Stargaze at Glacier Point
One of the most commanding viewpoints on the continent, Glacier Point, which towers 3,214 feet above Yosemite Valley, also is an ideal spot to soak up sublime views of the night sky. In the summer months, join amateur astronomers who set up telescopes at there on Saturdays. Or sign up for astronomy walks or talks in Yosemite Valley, Tuolumne Meadows, and Wawona.
Pedal through Yosemite Valley
Yes, Yosemite's free shuttle is great for getting around the park easily. But it's still a shuttle. So hop on two wheels instead for the ultimate freedom in exploring the relatively flat valley, which has 12 miles worth of trails. It's also worth it to check out Yosemite's programming, which includes bike-centric events like full moon rides.
Splurge on a stay at the "Ahwahnee Hotel."
OK, so this hotel is technically called the "Majestic Yosemite Hotel" thanks to a dispute between the park and a former concessionaire. But to us, it will always be the Ahwahnee. Regardless of the name of the hotel, a night at this grand dame will still set you back about $400 (or higher). But trust us, you won't be thinking about your wallet when you're sitting on the back patio, cocktail in hand, gazing up at the soaring rock walls. Dating to 1927, the Majestic Yosemite Hotel has recently undergone a renovation that spruced up rooms, and you're sure to swoon at the soaring ceilings in the knock-your-socks-off dining room. For a less pricey alternative, pop in for brunch.
Marvel at the climbers on El Capitan
After a long day exploring the park, grab your binoculars and some beers (the Village Store is incredibly well stocked) and swing by Yosemite Meadow to watch climbers on the biggest and baddest hunk of rock in the world, which soars some 3,000-plus feet into the sky. Toast to their accomplishments—or dream about the day when you, too, just might be joining them.
Vernal Fall is 317ft (97m) high and one of the most popular hiking routes in all of Yosemite. Visitors can either take the John Muir Trail or the Mist Trails to reach the view at the footbridge. Opt for the Mist Trails for a close-up view of the two falls, Merced River and Yosemite Valley. Note: during the spring and early summer, the Mist Trails can be slippery from the mist, so caution is advised; for those headed here in the winter, keep in mind only a particular route is open.
Glacier Point a viewpoint located on the southern part of Yosemite Valley, provides some of the most memorable views in the area. At an elevation of 7,214 feet (2,199m), visitors gain the best view of Half Dome and the High Sierra. Glacier Point is accessible by car in the warmer months, making it easy for the unexperienced hiker to take part in the beauty of Yosemite without having to break a sweat; cross-county skiers can head here during the winter.​
Mirror Lake not only offers stunning views of Tenaya Canyon, Mount Watkins and the Washington Column, but also gives hikers a different perspective of Half Dome, looking directly up at it from its base. Plus, the lake offers beautiful mirrored views of the surrounding cliffs. The trail is open year-round, but the best time to visit is during spring and early summer when the lake is filled by the flowing Tenaya Creek.
Mariposa Grove is always on the top of any must-see list in Yosemite. This park is filled with giant sequoia trees, and is the largest grove of its kind with several hundred mature sequoias. Due to a current restoration project, the grove is closed until summer 2017, however, hikers can visit other groves in the area in the meantime, or plan for a visit next year.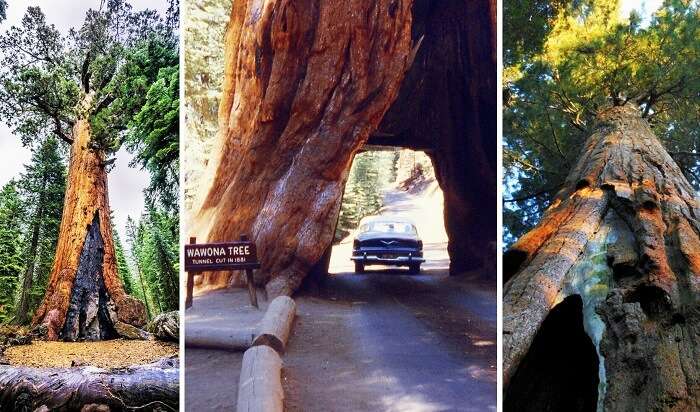 Tuolumne Meadows is one of the most picturesque areas in Yosemite, with two miles of blooming fields, the winding Tuolumne River and backdrop of rising peaks, this is the spot for a peaceful escape. Here, visitors can catch unique views of Cathedral Peak, Pothole Dome, and Lembert Dome alongside the Tuolumne River Bridge and Tuolumne pools. Be sure to head here in the spring when the grasses are green and full.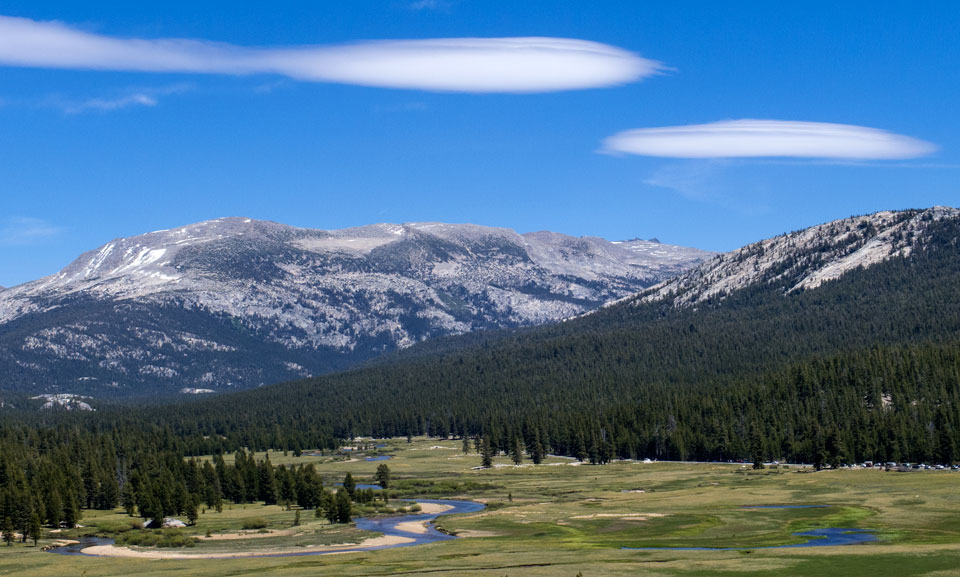 Yosemite's iconic Tunnel View has been the most photographed, drawn, and painted scene in Yosemite since its opening in 1933. Tunnel View gives visitors an unrivalled view of the Yosemite Valley, with El Capitan on the left, Half Dome in the center, and Bridalveil Fall on the right. It's the first view drivers get upon entering Yosemite Valley, making for a striking first impression.
Cathedral Peak a granite pinnacle rising high from the Cathedral Range, is an offshoot of the Sierras, located in the Tuolumne Meadows. This peak, formed by glaciers, is stunning to look at from all angles. And, as a famous climbing spot – John Muir was the first to ascend in 1869 – it makes for the perfect destination for the active climber.
Yosemite Falls is one of the tallest in the world, made up of three waterfalls: Upper Yosemite Fall at 1,430ft (436m), Middle Cascades at 675ft (206m), and Lower Yosemite Fall at 320 feet (98m). Yosemite Falls can be seen from different areas in Yosemite Valley, but for the best view, visitors can hike a one-mile trail that loops around the base of the lower falls, or experienced hikers can opt for an all-day hike to the top of the falls.
Three Brothers is El Capitan's rival rock formation, located just east of El Capitan. The three peaks, Eagle Peak, Middle and Lower Brothers, make for a famous site in Yosemite – John Muir considered the view from the top of Eagle Peak to be the most beautiful view of Yosemite Valley – and can be seen from various areas in Yosemite. Visitors can get a great view from the Cathedral Beach Picnic Area, but for the best perspective, hiking to the top of Eagle Peak, the Valley Floor Loop, or the Lower Yosemite Fall Trail is encouraged.
WHERE TO EAT IN YOSEMITE
In comparison to other national parks, Yosemite offers a decent amount of dining options. You'll find many of Yosemite's best restaurants in the park. There are also a handful of stand-alone restaurants in Yosemite and Half Dome Villages, including Pizza Deck and The Loft at Degnan's, but overall they are few and far between in the park. Half Dome and Yosemite Villages also feature general and grocery stores that sell food and hiking supplies, such as camping amenities and dehydrated food and water. ​
Warm and welcoming, with high ceilings and sports on the large-screen TV and occasional music in summer, Rush Creek's tavern is ideal for a taste of low-key comfort after a day on the trails. And the quality and creativity of the menu far exceeds expectations: vegetarian flatbreads, cheese boards and so-called small plates (portions are big), like wild boar bolognese and bison meatballs. The bar does great cocktails and serves area craft beers. Children are well served with their own menu and coloring kits.
Evergreen Lodge Restaurant
Creative and satisfying, the Evergreen's restaurant serves some of the best meals around, with big and delicious breakfasts, three types of burger (Black Angus beef, buffalo and veggie) and dinner choices including rib-eye steak, lobster risotto and vegetarian chickpea curry. The homey wooden tavern is a perennial favorite for evening cocktails, beers on tap over a game of pool and live music on select weekends. A general store fills the gaps with to-go sandwiches, snacks and dreamy gelato.
Majestic Yosemite Dining Room
The formal ambience (mind your manners!) may not be for everybody, but few would not be awed by the sumptuous decor, soaring beamed ceiling and palatial chandeliers here. The menu is constantly in flux, but most dishes have perfect pitch and are beautifully presented. There's a dress code at dinner, but otherwise shorts and sneakers are OK. Sunday brunch (adult/child $55/22; 7am to 2pm) is amazing. Reservations highly recommended for brunch and dinner.
Big Trees Lodge Dining Room
Beautiful sequoia-painted lamps light this old-fashioned dining room, and the Victorian detail makes it an enchanting place to have an upscale – though somewhat overpriced – meal. ('Tasteful, casual attire' is the rule for dinner dress.) There's a barbecue on the lawn from 5pm to 7pm every Saturday during summer. The hotel's wide white porch makes a snazzy destination for evening cocktails. Listen for veteran pianist Tom Bopp in the lobby.
This tiny and super-friendly market sells groceries and bags of divine locally roasted coffee (take a deep breath in the aisles), and in summer it sells crates of seasonal fruit grown by regional farmers. It's located a mile east of Hwy 41 amid the redwoods in Yosemite; turn east off Chilnualna Falls Rd, which is just north of the Pioneer Yosemite History Center. You pass the market on the way to the Chilnualna Falls Trailhead.
Formerly a dated and stodgy food court, this large space has been completely redesigned and modernized. Several self-service stations serve a variety of cuisines, including Asian-style noodle dishes, artisan pizzas, healthy salads and the usual burgers and chicken tenders. And whatever your view on things (park staff are generally enthused), it's a bit startling to find a Starbucks attached.
You can hardly say you've visited Tuolumne without scoffing down a chili dog or burger in the parking lot in front of the Tuolumne Meadows Grill. The soft-serve ice-cream cones and hearty breakfasts – not to mention the people-watching at the picnic tables – are equally mandatory.
Half Dome Village Pizza Deck
Enjoy tasty pizza at this buzzing eatery that becomes a chatty après-hike hangout in the late afternoon. Specialty pizzas like the Hog Heaven (pepperoni, Canadian bacon, sausage and more bacon) runs $26 for a large.
Majestic Yosemite Coffee Bar
In the morning, the Majestic Yosemite Bar transforms into a cafe serving espresso drinks, pastries and continental breakfast items.
Yosemite Ski & Snowboard Area Fast Food Grill
In winter, the ski area runs a fast-food grill serving pizza, burgers, nachos and chicken strips. More healthy-minded eaters can choose from a handful of salads and a veggie burger.
WHERE TO SHOP IN YOSEMITE
Offers the valley's best selection of camping, mountaineering and backpacking supplies and is the home of the Yosemite Mountaineering School. It's also world renowned for its selection of big-wall climbing gear.
This tiny and super-friendly market sells groceries and bags of divine locally roasted coffee (take a deep breath in the aisles), and in summer it sells crates of seasonal fruit grown by regional farmers. It's located a mile east of Hwy 41 amid the redwoods in Yosemite; turn east off Chilnualna Falls Rd, which is just north of the Pioneer Yosemite History Center. You pass the market on the way to the Chilnualna Falls Trailhead.
The Ahwahnee Gift Shop features a wonderful collection of Yosemite-inspired gifts including table wear, a diverse selection of American Indian pottery, Kachinas and jewelry, unique local and international gifts, and handcrafts, clothing, books, art and photographic prints. Open all year.
Yosemite Valley Lodge Gift Shop
Yosemite Valley Lodge Gift Shop is your stop for Yosemite souvenirs, including t-shirts and logo apparel, books, children's gifts, postcards, snacks, cold beverages, convenience items, picnic supplies.
Crane Flat Gas Station and More
The Crane Flat Gas Station is located on CA 120 at the junction of Big Oak Flat Road and Tioga Road. Gas is available 24 hours a day year-round with credit or debit card. The Crane Flat Store is open seasonally from spring through fall.
Curry Village Gift & Grocery
Here you're find everything you need for your picnic, souvenirs, gift apparel, ice, firewood, batteries, books, postcards and an ATM.
Housekeeping Camp General Store
With all the essentials including basic groceries, snacks, beverages, firewood, ice, and essential camping supplies, the Housekeeping Camp General Store is open seasonally from spring to fall.
When your sweet tooth takes over, The Ahwahnee Sweet Shop offers delectable chocolate truffles, snacks and gifts—as well as a selection of local and regional wines.
Located adjacent to the Wawona Hotel, you'll find groceries, snacks, camping supplies, fishing supplies, souvenirs, apparel, books and maps as well as a wide selection of local and regional wines.
You find the Village Store in Yosemite Village, with all the essentials you need — including groceries, meat and produce, baked goods, camping supplies, books, magazines, postcards, ice and firewood. There's also an ATM in the store. Additionally, you'll find all the souvenirs, T-shirts, sweatshirts and hats you could ever want—perfect for gifts or commemorating your Yosemite experience.