Yellowstone National Park is home to some of nature's most fascinating wonders, with a varying landscape of steep canyons, vast forests and rugged mountains that stretch across 3,500 square miles (9,100 square kilometres) of America's Northwest. Turisti-Info has your guide to how best to experience its beauty.
Boasting the largest collection of geothermal features across the globe – among them the kaleidoscopic Grand Prismatic Spring – Yellowstone National Park was crowned the first UNESCO World Heritage Site in the USA in 1978. Just over 100 years before this, the landscape was recognized as the world's first national park. Today, it stands as one of the world's biggest natural laboratories and a national treasure.
The sights of Yellowstone are so fantastic that when the first white person to visit described what was there, he was roundly criticized as delirious or possibly a liar. It wasn't until the world saw the paintings of Thomas Moran from the Hayden Expedition some 70 years later that people began to believe such a wondrous place could exist.
Yellowstone is home to over 60% of the world's geysers – natural hot springs with unique plumbing that causes them to periodically erupt in towering explosions of boiling water and steam. And while these astounding phenomena and their neighboring Technicolor hot springs and bubbling mud pots draw in the crowds (over 4 million people each year), the surrounding canyons, mountains and forests are no less impressive.
Teeming with moose, elk, bison, grizzly bears and wolves, America's first national park also contains some of the country's wildest lands, just begging to be explored.
Yellowstone National Park is known for its natural wonders. For the past 2 million years, the park's active super-volcano, Yellowstone Caldera, has continued to spew lava, earning the destination its reputation as a volcanic hotspot. Fortunately, it hasn't erupted for the better part of 640,000 years. Its fabled geyser Old Faithful, however, can blow multiple times a day. With its alpine rivers, lakes, canyons, waterfalls, mountains and meadows, the park is so gargantuan that it spills over from Wyoming and into the neighboring states of Montana and Idaho. A place of lush vegetation, it's home to hundreds of plant and animal species – many of which are endangered or threatened. Yellowstone National Park forms the center of the Greater Yellowstone Ecosystem, which makes it a vital focus for scientific study.
The Old Faithful geyser is a must-visit on a trip to Yellowstone National Park. It's difficult to predict exactly when it will blow, but for you best chance of seeing one of its approximately 23 daily eruptions, allow 30 to 120 minutes for your visit.
Alongside the main attraction, the terraces of Mammoth Hot Springs are lauded as natural works of art. Created over thousands of years as hot water bubbles up from the ground, sculptural formations of deposited calcium carbonate dominate the landscape. While there, you can start a self-guided tour at former US army fort Fort Yellowstone, where most of the buildings were constructed at the turn of the 20th century.
There are numerous other highlights worth checking out within a 30-minute drive of the Tower-Roosevelt area. Take in the views of the Grand Canyon and Yellowstone River, scope out the wildlife across Lamar Valley, hike along the Bannock Trail, discover the petrified trees in Black Canyon, have a drink at the historic Roosevelt Lodge or hike to the magnificent Tower Falls waterfall.
The Norris Area, on the other hand, is a great place to spot iconic sights like the largest active geyser in the world, Steamboat Geyser; the Roaring Mountains with their thermal pools, and the Virginia Cascades waterfall. Nearby, fly-fishing enthusiasts can cast a line in the Gibbon River to try their luck at catching rainbow and brown trout.
The best times to visit Yellowstone National Park are from April to May and between September and October. These shoulder months offer mild weather and fewer crowds. July and August are the most popular months to visit: The kids are out of school, and the weather is warm enough to sleep outside. However, this park is no stranger to the cold. Temperatures have been known to drop into the 30s even in the summer. During the winter, expect a wide range of temps, spanning from subzero digits to the high 20s. Don't let that stop you: There's nothing quite like seeing plumes of steam rise from beneath a thick blanket of snow and ice.
Spring weather in Yellowstone can be unpredictable, but if you time it right you'll be able to watch the park emerge from its winter hibernation without rubbing elbows with hordes of tourists. Average temperatures can fluctuate anywhere between the high 10s and low 50s, so plan to pack layers. And remember, park roads to popular features don't start opening to the public until the third Friday in April.
Average highs hover in the 60s and 70s, making for great hiking conditions. Plus, all of the park's facilities will be open. During the warmer months, Yellowstone welcomes more than 2 million visitors, meaning accommodations will fill up quickly. July is an especially popular time to visit for festival lovers, as the park and its surrounding towns host an array of events. If you do decide to tackle the high season, make reservations as far in advance as possible.
Autumn is one of the best times to visit: The weather is still relatively mild, there are plenty of wildlife-watching opportunities and almost all of the summer crowds have dispersed, leaving behind plenty of more reasonably priced hotel rooms and campsites. But as the park prepares for winter, so should you: Average daytime temperatures can range from the mid-30s to low 60s. Also, keep in mind that most facilities (like visitors centers, general stores and post offices) close as early as mid-October.
Winter in Yellowstone is not for the faint of heart. The park experiences heavy snowfall during this season, and daytime temps are rarely above freezing. If you do decide to visit this time of year, always carry safety gear – sleeping bags, flashlights and extra food – and be prepared for precarious driving conditions (some roads will be closed). The North Entrance is the only entrance open to automobiles in the winter, and most park facilities (aside from park headquarters in the Mammoth Hot Springs area) will already be closed for the season by December.
Car - A car is necessary for visiting different regions and attractions. Yellowstone consists of 350-plus miles of paved roads that make getting around fairly easy. Roads often close for heavy snowfall and construction, so it's best to check advisories posted on the National Park Service website before you hit the road. Also, keep in mind that gas stations are limited inside Yellowstone and GPS devices may provide incorrect directions, so you'll want to pick up a handy road map at any of the park's five entrance stations. You can rent a car from any of the airports that service the park. When entering Yellowstone by car, you'll have to pay a $30 fee (or $50 for a combined pass for Yellowstone and Grand Teton National Park. Your park pass is valid for seven consecutive days. Keep track of your entrance record to re-enter the park at different locations.
Bus Tour - There are several trusted companies that offer guided bus and van tours of the park. These tours depart daily from the park's visitor areas and gateway communities like West Yellowstone and Jackson. Tour fees vary by company and departure point, but basic tours generally cost less than $100 per person, per day. Some tours do not include park entrance fees in their rates. Consider the "Yellowstone in a Day" tour – offered by Xanterra Parks & Resorts – which hits all the major sites.
Shuttle - Xanterra Parks & Resorts also offers an airport shuttle that travels between Bozeman's airport and the Mammoth Hot Springs Hotel. However, this service is only provided once daily each way from mid-December to early March and costs $75 for adults and $37.50 for kids ages 3 to 11. Reduced rates are available for guests who book winter packages and are staying at one of Xanterra's hotels.
WHERE TO STAY IN YELLOWSTONE
1872 Inn - Adults Exclusive​
Located 1.7 km from the West Entrance to Yellowstone National Park, 1872 Inn offers upscale, adults-exclusive accommodation in West Yellowstone, Montana. Free WiFi is provided at the hotel, and each guest room boasts a gas fireplace. Every room at this boutique hotel is air conditioned and has a flat-screen TV with satellite channels. A coffee machine can be found in every room, along with complimentary toiletries, towel warmers, bathrobes and slippers, and a refrigerator. Guests can enjoy the sauna at 1872 Inn. Additional facilities include a fitness centre and guest computer and printer in the lobby. A light continental breakfast is served daily, and guests are greeted by complimentary snacks and water at check-in. Free transportation to and from West Yellowstone Airport is available. The area is popular for various activities, such as horse riding, fishing and canoeing.
Located in Cody, Cody Cowboy Village offers a terrace. All rooms feature a flat-screen TV with cable channels and a private bathroom. The air-conditioned rooms provide a mountain view and come with a wardrobe and free WiFi. At the hotel, each room includes a patio. All units will provide guests with a fridge. Cody Cowboy Village offers a continental or buffet breakfast. At the accommodation guests are welcome to take advantage of a hot tub. You can play tennis at Cody Cowboy Village, and the area is popular for hiking. The nearest airport is Yellowstone Regional Airport, 7 km from the hotel.
Best Western Premier Ivy Inn & Suites
Best Western Premier Ivy Inn & Suites is offering accommodation in Cody. The 4-star hotel has air-conditioned rooms with a private bathroom and free WiFi. Private parking can be arranged at an extra charge. At the hotel, every room has a desk. All units include a wardrobe. Staff at Best Western Premier Ivy Inn & Suit are available to provide guidance at the 24-hour front desk. The nearest airport is Yellowstone Regional Airport, 5 km from the accommodation.
This cozy inn is situated along Flat Creek, just 3 blocks from Jackson Hole town square. It features free Wi-Fi and individually decorated rooms with terry-cloth robes. The elegant rooms at The Creek Inn offer upscale down bedding, chocolates on the pillows and satellite TV along with a DVD player. Select rooms include creek views, a fireplace or an in-room spa bath. Inn on The Creek serves a hot breakfast daily which can be enjoyed in the main dining room or delivered to the room. Fresh baked cookies are offered every afternoon. Guests can relax by the fireplace in the lounge or borrow a movie from the hotel's large collection. The staff can help arrange excursions. Jackson Hole Airport and the Grand Teton National Park entrance are both within 16.1 km of this hotel. Numerous restaurants are within 5 minutes' walk away.
This Cody hotel is 45 minutes from Yellowstone National Park. It offers free WiFi in public areas and an indoor pool. Every guest suite at The Cody features a microwave and refrigerator. They also are equipped with a flat-screen TV and DVD player. Deluxe suites offer a balcony. Recreational facilities at the Cody hot tub and gym. Guests can also enjoy the business centre and 24-hour front desk service. Breakfast is offered every morning at the Cody. Room service is available. The Cody Rodeo Ground and Cody Old Trail Town are within one kilometer of the hotel. Whitney Gallery of Western Art is 3.2 km away.
West Yellowstone Condominium Resort
Situated in West Yellowstone, within 300 m of Grizzly & Wolf Discovery Center and 500 m of National Geographic IMAX Theater, West Yellowstone Condominium Resort provides accommodation with barbecue facilities and as well as free private parking for guests who drive. Boasting family rooms, this property also provides guests with a children's playground. The hotel features an indoor pool, fitness centre and a 24-hour front desk. At the hotel rooms come with air conditioning, a seating area, a flat-screen TV with satellite channels, a kitchen, a dining area and a private bathroom with a hairdryer, a shower and free toiletries. The rooms will provide guests with a wardrobe and a kettle. You can play billiards at West Yellowstone Condominium Resort, and the area is popular for hiking and skiing. Yellowstone Historic Center Museum is 500 m from the accommodation, while Paddle On Adventures is 23 km from the property.
Offering a restaurant and a hot tub, Hotel Jackson is less than 5 minutes' walk from historic Jackson Town Square. Free WiFi access is available. Guests can enjoy a outdoor hot tub and 2 restaurants with bars. A gas fireplace, a flat-screen cable TV and an en suite bathroom with a hairdryer are included in all rooms at Hotel Jackson. A small refrigerator and coffee-making facilities are also offered. Select room include a balcony. Hotel Jackson offers luggage storage and ski storage. A fitness centre and a business centre are available. Jackson Hole Ski Area is 25 minutes' drive from the hotel. Grand Teton National Park Entrance is 8.1 km from Hotel Jackson.
WorldMark West Yellowstone
Located just a block from the west entrance to Yellowstone National Park, WorldMark West Yellowstone is a sprawling, rustic and inviting retreat. Tucked in among the picturesque mountains and rivers of Southwest Montana, the charming town of West Yellowstone is a haven for hospitality and outdoor adventure.
Kelly Inn West Yellowstone
Just a 3-minute walk from the Grizzly & Wolf Discovery Center, the Kelly Inn West Yellowstone is located in West Yellowstone, Montana. An indoor pool and hot tub, free WiFi, and complimentary breakfast are featured at this hotel. The air-conditioned guest rooms here are equipped with a satellite flat-screen TV, a microwave and a refrigerator. The private bathrooms come with a bath, shower, and free toiletries. A communal sauna and a business centre can be found on site at Kelly Inn West Yellowstone. A 24-hour front desk, vending machine, and free parking are offered for added convenience. The hotel is a 2-minute walk from the National Geographic IMAX Theater and a 3-minute drive from the West Entrance to Yellowstone Park. Bozeman Yellowstone International Airport is 147 km away.
Bill Cody Ranch is set in Cody and features a restaurant, a bar and a shared lounge. Featuring family rooms, this property also provides guests with a children's playground. The accommodation offers evening entertainment and a 24-hour front desk. The units come with a microwave, fridge, a coffee machine, a shower, a hairdryer and a wardrobe. At the hotel all rooms are fitted with a private bathroom with free toiletries. Bill Cody Ranch offers a à la carte or American breakfast. The accommodation offers a sun terrace. You can play table tennis at Bill Cody Ranch, and the area is popular for hiking and fishing. The nearest airport is Yellowstone Regional Airport, 45 km from the hotel.
PLACES TO GO & THINGS TO DO IN YELLOWSTONE
Yellowstone is known for its red-tinged canyon walls and awe-inspiring natural wonders like Old faithful and Mammoth Hot Springs, but you can't miss exploring some of the park's hiking trails and basins for striking views of the park's waterfalls, forests and alpine lakes. The Grand Canyon of the Yellowstone's trails are especially popular with adventurous travelers. Other park activities encompass everything from horseback riding in the backcountry to fishing at the lake, so plan to hit the sites that cater to your interests. Venture to Yellowstone Lake for a boating expedition or head north to Hayden Valley or northeast to Lamar Valley for excellent wildlife-watching opportunities.
Grand Canyon of the Yellowstone
Formed over thousands of years of erosion caused by wind, water and other natural forces, the Grand Canyon of the Yellowstone is the primary attraction in the Canyon Village area and one of the park's most popular hiking spots. The canyon stretches approximately 20 miles long and nearly a mile wide. Just as remarkable as the canyon's terra-cotta hued cliff walls is its river, which is the longest undammed river in the country, meandering for more than 600 miles through Wyoming, Montana and North Dakota. "Amazing," "beautiful" and "fascinating" are just a few adjectives recent visitors used to describe this natural wonder. Most praised its hiking trails (like Artist and Lookout points), but a few said to check the National Park Service's Canyon Area Construction Projects page before you arrive since several paths are either partly or completely closed for renovations. Another tip: Get to the canyon early or late in the day to avoid rubbing elbows with hordes of tourists.
The world's most renowned geyser is a must-see for every Yellowstone visitor. Although it isn't the largest geyser in the world, Old Faithful's eruptions are definitely awe-inspiring, averaging around 130 feet high. Like its name suggests, you can count on Old Faithful erupting approximately every hour and a half (the nearby visitors center can provide you with a more accurate schedule). There are several ways to see Old Faithful's power: You can join the hordes of tourists who gather around the perimeter or find a less hectic spot in the nearby Old Faithful Inn's dining room. More adventurous travelers can enjoy the mile-long hike out to Observation Point for a bird's-eye view of the Upper Geyser Basin. Recent visitors enjoyed seeing Old Faithful, although some felt it wasn't as impressive as other Yellowstone geysers. Many, however, said this geyser is worth checking out. Despite it's fairly predictable schedule, Old Faithful's eruptions occasionally occur sooner than expected, so consider arriving early.
Sitting in the heart of Yellowstone's West Thumb area is Yellowstone Lake, the park's largest body of water and the largest freshwater lake above 7,000 feet in North America. First visited by Lewis and Clark's scout, John Colter, in the early 1800s, Yellowstone Lake has since become a popular destination among anglers and boaters. During the winter, many animals (think: bison and grizzly bears) trek to the more shallow areas of the lake's southern shores, where the water doesn't freeze due to the geothermic activity that takes place beneath the surface. But most of the lake freezes over by early December and can stay that way until early June. For panoramic views, travelers suggest driving around this lake. When the weather is warmer, many say a picnic lunch by the water's edge can't be beat. And if you're interested in bedding down in the area, several recommend staying at Lake Yellowstone Hotel & Cabins, which overlooks the lake and is a National Historic Landmark. Tours of the hotel are also offered via Xanterra Parks & Resorts and Buffalo BusTouring Company.
The Midway Geyser Basin's Grand Prismatic Spring is the largest hot spring in the United States, approximately 370 feet in size and around 121 feet deep. But its rainbow waters are what really make it fascinating: While the center of the pool's cerulean hue is pretty characteristic, the deep reds, bright yellows and fiery oranges encircling the edges are not. These colors are caused by pigmented thermophilic bacteria that thrive on the rich minerals produced by the geothermic activity. The color of the bacteria is determined by the temperature of the water – the center is too hot to support life – which is then reflected when light hits the organisms. This natural wonder is one of the park's most photographed sights, so expect crowds when you visit. You may find fewer visitors if you arrive early, but fog is common until late in the morning on cooler days, so travelers recommend arriving around 10 a.m. No matter when you go, visitors say the attraction's Fairy Falls overlook will provide you with the best views. Grand Prismatic Spring sits 2 miles southwest of the Lower Geyser Basin and 7 miles north of Old Faithful. Other nearby attractions include the Excelsior Geyser and the Turquoise Pool. Restrooms, a gift shop and multiple parking lots can be found at this attraction, but food and beverage concessions are not available.
One of the best places to catch a glimpse of Yellowstone's fascinating wildlife is Hayden Valley. This lush valley north of Yellowstone Lake is a highly visited gathering place for bison, elk, coyotes and grizzly bears. While you can get a good view of the valley from the Grand Loop Road, you need to get out your car for the best perspective. Hikers should check out the area's two trails: The Hayden Valley Trail runs parallel to the Yellowstone River from Yellowstone Lake to the Grand Canyon of the Yellowstone, while the Mary Mountain Trail traces the valley's northern edge. While you're exploring, be sure to check out some of its geothermic features, such as Mud Geyser and Sulphur Spring. Past visitors praised the valley's scenery, but many were most excited about seeing its various animals. For a better view of harder-to-spot critters like wolves, several suggest bringing a pair of binoculars. Just remember to keep a safe distance from the animals. The National Park Service advises staying at least 100 yards away from wolves and bears and roughly 25 yards away from other kinds of animals.
Old Faithful may be Yellowstone's most well-known geyser, but this geothermal hot spot in the Norris area is the park's oldest and hottest. From its boardwalks, visitors can see rare acid geysers like Echinus Geyser, as well as the tallest active geyser in the world, Steamboat Geyser. Although the basin's geysers rarely erupt, recent travelers highly recommend checking out this geothermal area, saying it's an "other-worldly place" and the "best geyser basin in Yellowstone." A few, however, caution that it can get crowded and run out of parking spaces at the main lot, so consider arriving early or late in the day. Sunrise and sunset are especially beautiful times to visit.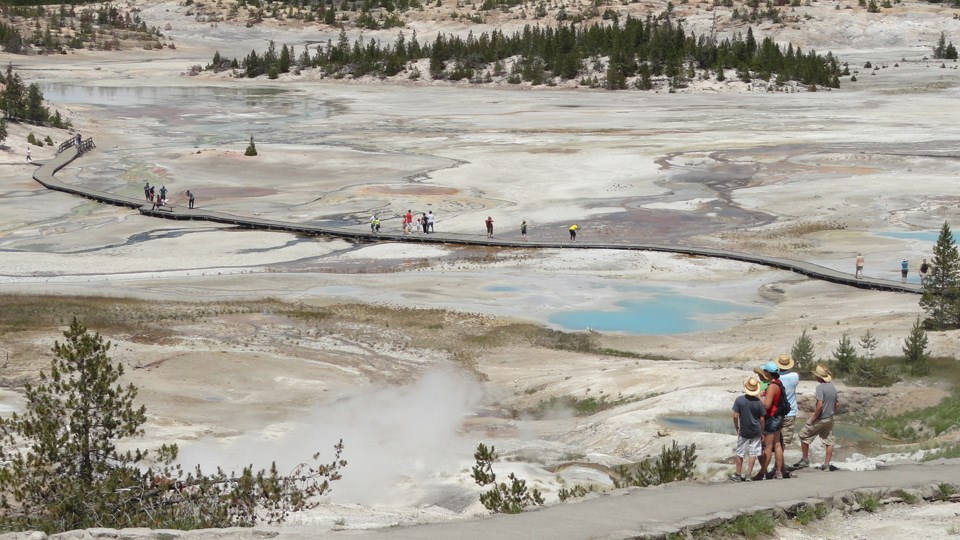 Sitting just southwest of the North Entrance in the aptly named Mammoth Hot Springs area, Mammoth Hot Springs is one of the park's more unique attractions. Known for its terraces – formed over centuries of hot water bubbling up from the ground, cooling and depositing calcium carbonate – Mammoth Hot Springs' travertine formations are often described as natural sculpture. As you explore, keep an eye out for elk grazing near the edge of the springs before terrace-hopping along numerous boardwalks down toward the bottom. Also, avoid direct contact with the water, which can easily cause burns. According to recent visitors, Mammoth Hot Springs is "an amazing spectacle" that can't be missed. For some of the attraction's best views, travelers suggest walking up to the Upper Terraces. Hikers, meanwhile, can enjoy longer treks on one of Yellowstone's hiking trails, many of which start near the springs. If you're interested in Yellowstone history, several travelers recommend checking out the adjacent Albright Visitor Center, which features displays on the park's natural and cultural history, as well as contemporary exhibits showcasing the unique wildlife found in the park's Northern Range. The facility stays open year-round.
Located between Yellowstone's Northeast Entrance and Mammoth Hot Springs in the Tower-Roosevelt Area, Lamar Valley is a wildlife haven. In fact, this valley is often referred to as "America's Serengeti" because it has an abundance of animals. Bison are most commonly spotted here, but you may also catch a glimpse of grizzly bears, pronghorns, bald eagles and wolves. The remnants of a former hot spring are also situated in the eastern part of the valley. Previous visitors said passing through Lamar Valley is a must. You'll have ample opportunities to see bison. Some may even cross Beartooth Highway (Lamar Valley's main thoroughfare, which also goes by Northeast Entrance Road) at times, so stay alert when driving. If you're looking for a scenic spot to stop for a bite to eat, some travelers suggest packing a picnic lunch to enjoy during your drive. Just remember to never feed or get too close to the valley's animals. The National Park Service recommends staying at least 100 yards away from wolves and bears and 25 or more yards away from other creatures like bison and elk. Lamar Valley can only be reached by car from May 25 to Oct. 10, when Beartooth Highway is open. You're welcome to visit at any time during this period. There are no attraction admissions, but all park visitors must purchase a seven-day pass before entering the park. Other than a few restrooms and campgrounds, no facilities are available, so consider buying snacks and drinks at the Cooke City Visitor's Center (outside the park's Northeast Entrance) or the Albright Visitor Center (by Mammoth Hot Springs) before visiting.
Grizzly & Wolf Discovery Center
Those who want to learn about Yellowstone wildlife in a more controlled environment should take a break from the park and head to the Grizzly & Wolf Discovery Center. Located just outside the park's West Entrance in West Yellowstone, Montana, this nonprofit center offers a detailed history of bears and wolves in the Yellowstone area and insight into conservation tactics. It offers a diverse selection of hands-on activities and programs, such as the Keeper Kids program, which gives children the chance to learn about grizzly bear behavior while a naturalist and animal keeper usher them into a bear habitat to observe how bears hunt for food. Although some previous visitors felt the center was a bit small, most said its habitats housing live bears and wolves and large viewing areas were great. To avoid feeling crammed in the tight space, a few travelers recommend visiting during the park's offseason.
Take a Hike in Yellowstone and Grand Teton Parks
To explore Yellowstone's wild side, get off the beaten path and onto the park's 1,300 miles trail system. Some of the most popular hikes are Bunsen Peak, Mt. Washburn and Uncle Tom's Trail to the base of Canyon's Upper Falls.
Take a paddling trip along the shores of Yellowstone Lake near lakeside geysers, or raft down one of the nearby rivers. There are rafting trips are available near all the entrances to the park.
One of the best ways to experience the Yellowstone region is by spending a night or more under the stars. You can stay at one of the many campsites inside the park, at a nearby campground outside the park or camp in the backcountry.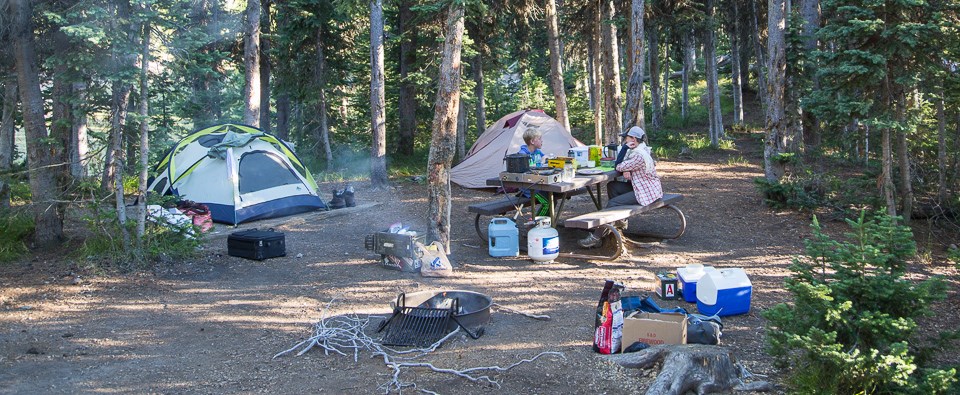 Yellowstone is smack in the middle of cowboy country so don your boots and hat and go with it. Watch a rodeo, attend an Old West gun fight or stay at a guest ranch. Explore Yellowstone on horseback and ride past wildlife, valleys, and rivers. Eat at Old west cookout. Or learn about a famous, real-life cowboy at the Buffalo Bill Center of the west in Cody, Wyo.
Fishing in Yellostone Country is an experience that compares with few other places on Earth. Fling a cast into Yellowstone Lake or the Madison River for fly or lure fishing. Try the trout waters north, south and west of Cody, filled with native Yellowstone cutthroat, brown trout, rainbow trout and brook trout larger than most anglers can imagine. On your way to Yellowstone through Wyoming, go for the gold and fish Carbon Country's Miracle Mile, or try the waters of Casper, the "No. 1 Big Fish Destination."
Hunt for Rocks, Fossils and Dinosaurs
The Yellowstone area has many paleontological sites – from dinosaur and fossil museum to petroglyphs and pictographs on rock walls. Inside Yellowstone you will find basalt columns formed by lava and a petrified forest.
Immerse Yourself in Native American Culture
There are several Native American Reservationsnearby Yellowstone. Attend a powwow and watch tribal members to participate in traditional rituals. On the Wind River Reservation, visit Sacajawea's gravesite, explore the church and museum at St. Stephen's Massion or try your luck at gaming. While in Cody, stop to see the Plains Indian Museum, one of five museums at the Buffalo Bill Center of the West.
WHERE TO EAT IN YELLOWSTONE
With 2.2 million acres to explore, it only comes to follow that you might need a little sustenance to fuel your journey through Yellowstone National Park. You can satisfy your taste for adventure at any number of restaurants in Yellowstone, so it can be tricky to know where to start and what to order when you get there. You may be in the wilderness, but that doesn't mean you have to eat like you are. Here are a few of our best places to eat in Yellowstone to help you plan your trip!
Old Faithful Lodge Cafeteria
Everyone knows the Old Faithful Inn, but for an off-the-beaten-path option with a direct view of an Old Faithful eruption, stop by the Old Faithful Lodge Cafeteria. Find a table next to the large windows and enjoy lunch or dinner with a front-row seat. Enjoy bison meatloaf, barbecue sandwiches, roasted turkey carved to order, entrée salads, deli sandwiches and more. You'll find something for everyone here. Or grab a snack from the Lobby Snack Shops—fresh-baked muffins, bagels, sandwiches, and soft-serve ice cream—and take it out to a rocker on the porch. It doesn't hurt that you find all of this alongside the most famous geyser in the world.
Lake Yellowstone Hotel Dining Room
The park's shining crown jewel of a restaurant, the Lake Yellowstone Hotel Dining Room is a showcase of glamour and elegance on the shore of Lake Yellowstone. Widely known for its stunning views and fine food, the ambiance is refined and the menu creative and upscale. Try a chef favorite from Executive Chef Mike Dean, the Grilled Bison Ribeye with Blue cheese and horseradish butter, a locally-produced New York Strip Steak from Cody, Wyoming, or the vegetarian Caramelized Onion and Gruyere Cheese Ravioli. For breakfast, lunch, or dinner, come casually as you are, but dining here will take you far away from the wilderness that surrounds you.
Grant Village Dining Room
All that time driving by the lake inspiring you to eat seafood? We've got you covered at the Grant Village Dining Room. Choose from popular dishes like Sauteed Trout, Grilled Halibut, Wild Alaska Sockeye Salmon, Calamari, Cod Bites, or Steamed Mussels. Stop by for breakfast or dinner to enjoy the sunset or sunrise with your meal!
M66 Grill at Canyon Lodge
What better way to start your day off right than with a delicious breakfast? A number of breakfast specialties will give you the energy you need for a day of adventure in Yellowstone. The Montana Cream of the West Seven Grain buttermilk pancakes fresh from the griddle are especially delicious. Get a caffeine kick with Rainforest Alliance Dark Roast Coffee or local tea from Tumblewood Teas out of Big Timber, Montana. And once you're all fueled up, get yourself out for wildlife spotting and top attraction seeking.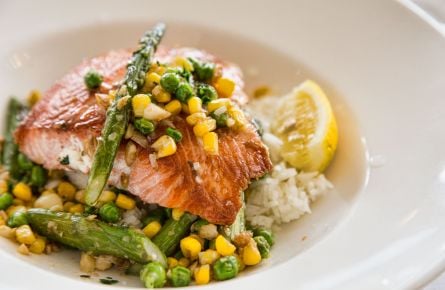 Wylie's Canteen at Lake Lodge
Thanks to striking large windows, the views from Wylie's Canteen at Lake Lodge are tough to beat. Overlooking Yellowstone Lake, you're sure to relax while getting off the beaten path. It's not uncommon to see a bison or elk grazing. Newly remodeled and open for breakfast, lunch, and dinner, you're also sure to get good food at a good value with a rotating menu of daily specials. Then take some time to reflect on the day by one of the two fireplaces in the great room or rock away your troubles on the porch.
Kids will love the long tables, tall diner-style stools, and the general fun, laidback vibe of the Canyon Lodge Eatery. Parents will love the customizable meals with fresh local ingredients and combinations that will satisfy even the pickiest of eaters. Choose from Fresh Woks noodle bowls and Slow Food Fast, a variety of American comfort food favorites. And because it's not a formal sit-down restaurant, as soon as you're ready, you can get back to doing what you really want to be doing: exploring the park.
Named after Ulysses S. Grant, president when Yellowstone became the world's first national park in 1872, the Grant Village area of Yellowstone often sits in the shadow of other park regions and attractions. The dining room here is stocked with old favorites, but it's the Grand Village Lake House that really stands out. Tucked away on the southwestern shore of stunning Yellowstone Lake you'll find the Lake House and its extraordinary views of the West Thumb of Yellowstone Lake and the Absaroka Mountains from the shores. It's also only a short drive to the hot springs, mud pots, and geysers of the West Thumb Geyser Basin and, at equal distance from Old Faithful and Lake Village, it makes a great home base for exploring other areas of the park.
Canyon Lodge Ice Creamery
You can get ice cream just about anywhere in Yellowstone, but our famous huckleberry ice cream is the one to try, and Canyon Lodge Ice Creamery is the place to get it. People line up for the Montana-made, handcrafted ice cream from Big Dipper served in house-made waffle cones. Try the Mt. Washburn, our tallest sundae ever, or create your own sweet treat. It's the best way to stay cool after exploring the Grand Canyon of the Yellowstone or watching wildlife in Hayden Valley.
Roosevelt Lodge Dinning Room
A living tribute to the Old West, you'll have trouble deciding what you love most about the Roosevelt Lodge Dining Room: the traditional frontier fare or the authentic rustic ambiance. Built near a favorite location of Theodore Roosevelt, this cozy log lodge features stone fireplaces, a family-style restaurant, and a porch made for rocking. Pull up a chair and settle in to enjoy its signature dish, Applewood-Smoked Barbecue Ribs. House smoked, slow-cooked and juicy, these famous ribs are served with two sides. With choices like Roosevelt beans, mashed potato and gravy, chuckwagon corn, and Granny Smith apple and cabbage slaw, how will you decide?
Spain has shared its tapas tradition around the world, and in West Yellowstone, you can get Spanish tapas at Cafe Madriz. The chef and owner imports all the necessary ingredients, like Manchego cheese and Serrano ham, for flavors as authentic as possible. The way to eat tapas is to order a table full of small plates that everyone shares. If you need a bigger meal then try the paella for the table instead (or as well as).
WHERE TO SHOP IN YELLOWSTONE
Bear Den Gift Store At Old Faithful Snow Lodge
The winter-themed Bear Den Gift Shop is located in the Old Faithful Snow Lodge, and offers the largest selection of youth-oriented products in the park.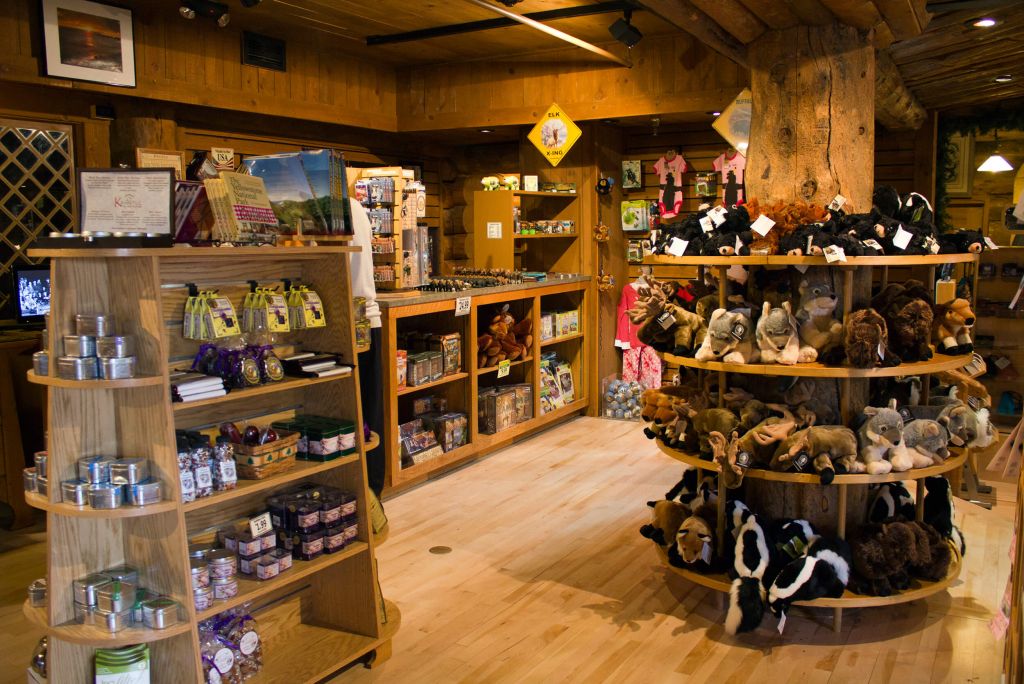 If you are planning a winter visit be sure to visit the Bear Den Gift Shop at either Mammoth Hot Springs or Old Faithful Snow Lodge for ski and snowshoe rental and instruction information. The expert staff can help you plan your day on the trails. Information on snow conditions, ski shuttles and tours is available at the Bear Den Ski Shop.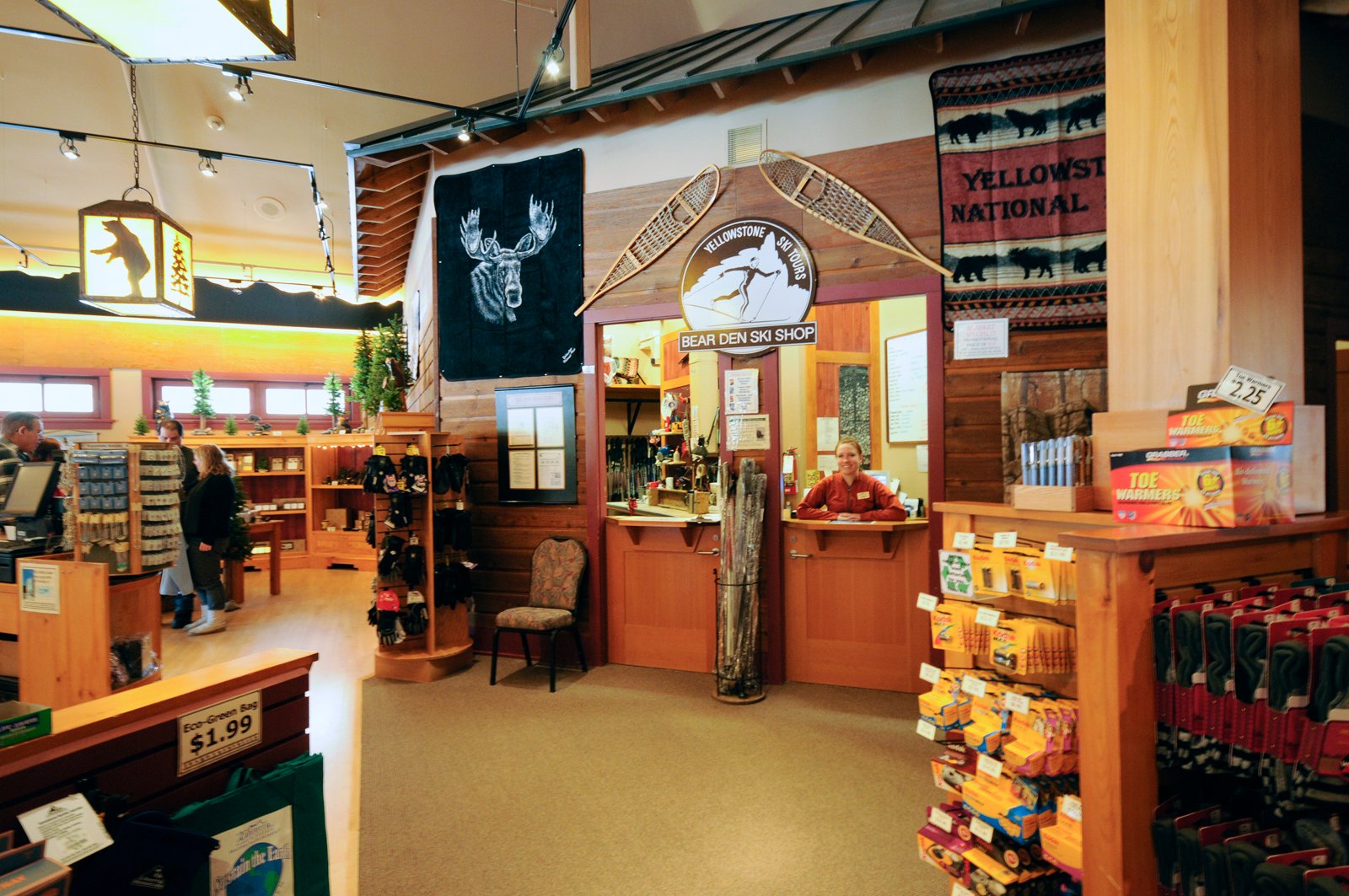 The Canyon Lodge, located at the Grand Canyon of the Yellowstone, features various canyon-themed items in its cozy gift shop.
For Future Generations: Yellowstone Gifts
This gift shop, located inside Mammoth Hotel, offers sustainable shopping. In keeping with their commitment to leadership in sustainable business practices, Xanterra Parks & Resorts has developed a gift shop that focuses on environmentally friendly products, interpretive messaging regarding climate change, and guest education on sustainability initiatives at Yellowstone.
The gift shop at Grant Village offers items that are catered to the Grant Village area of the park, along with other souvenir, apparel and travel items.
With an atmosphere that mirrors the rustic decor of the lodge itself, the Lake Lodge Gift Shop caters to kids of all ages.
Lake Yellowstone Hotel Gift Store
The gift shop at Lake Yellowstone Hotel boasts the largest collection of apparel in the park, as well as regional products that reflect the lake lifestyle.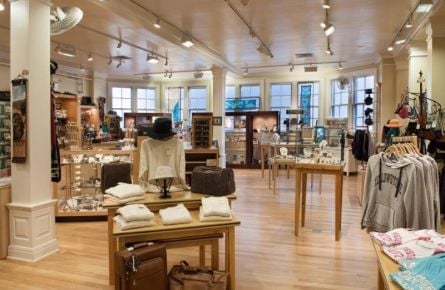 Old Faithful Inn Gift Store
The Old Faithful Inn Gift Shop transports you back in time, featuring a wide selection of memorable gifts, from fun keepsakes to fine apparel.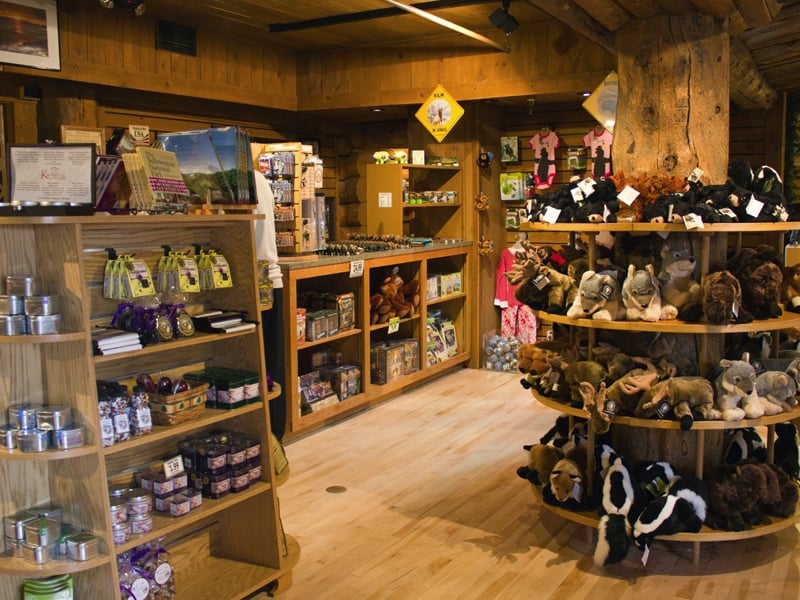 Old Faithful Lodge Gift Store
Discover Yellowstone and its wonders through the many themed items you'll find at the Old Faithful Lodge Gift Shop, a premier geyser basin store.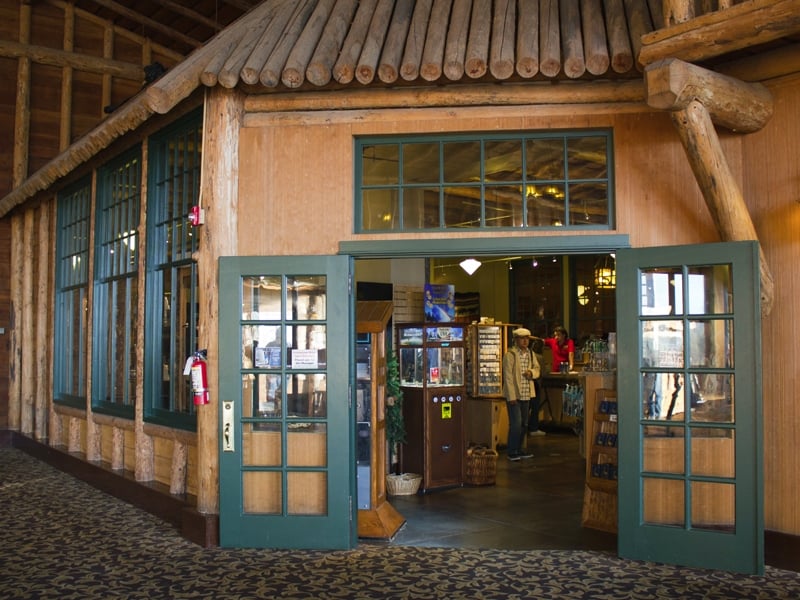 Roosevelt Lodge Gift Store
Like the Roosevelt Lodge itself, the lodge's gift shop harnesses the spirit of the old west. Indulge your inner cowboy with fun western memorabilia and Native American crafts.