PERJANTAI, 11. SYYSKUUTA 2020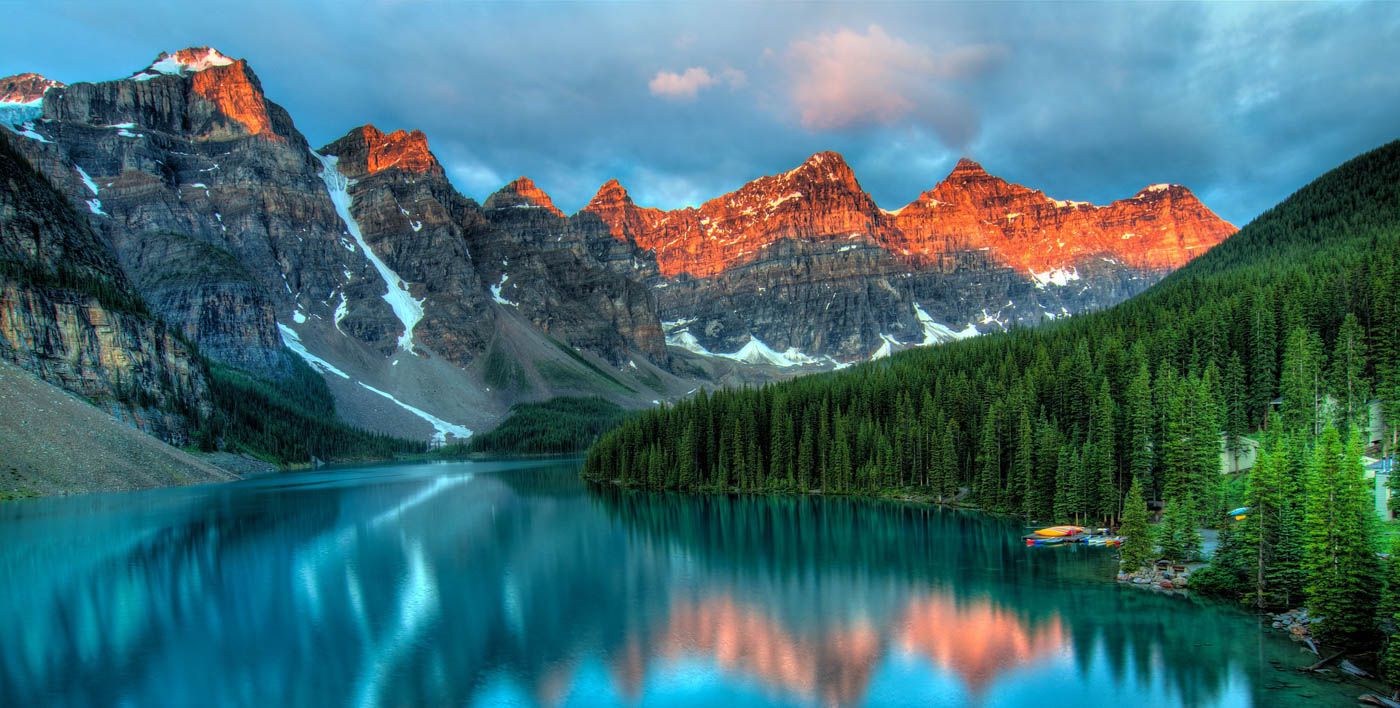 Banff is a resort town in the province of Alberta, located within Banff National Park. The peaks of Mt. Rundle and Mt. Cascade, part of the Rocky Mountains, dominate its skyline. On Banff Avenue, the main thoroughfare, boutiques and restaurants mix with château-style hotels and souvenir shops. The surrounding 6,500 square kilometres of parkland are home to wildlife including elk and grizzly bears.
It seems hard to believe when you first lay eyes on Banff Town, but this overgrown village of less than 10,000 souls is the largest metropolis in the entire national park. Thankfully, Banff has largely avoided North America's notorious penchant for sprawl – though its few city blocks do manage to squeeze in a surprising amount of commercial hustle and bustle.
A resort town with boutique shops, nightclubs, museums and fancy restaurants may seem incongruous in this wild setting. But Banff is no ordinary town. It developed as a service center for the park that surrounds it. Today it brings in busloads of tourists keen to commune with shops as much as nature, alongside artists and writers drawn to the Rockies' unparalleled majesty. Whether you love or loathe Banff's cosmopolitan edge, wander 15 minutes in any direction and you're back in wild country, a primeval world of bears, elk and wolves.
BEST TIME TO GO IN BANFF TOWN
The best times to visit Banff are June to August and December to March. Nature lovers will want to get to the park when the weather is warm and welcoming (and while the hotel rates in town are at a reasonable level). The skiers, however, will want to vacation in the height of winter. Depending on what you want to do, Banff can be seen as an almost year-round destination (although fall can be a bit of a gamble). Temperatures fluctuate dramatically throughout the year; average winter temperatures range from the single digits to the low 30s. During the summer, average temperatures range from 40 to 70 degrees Fahrenheit. No matter when you choose to visit, plan to wear sunglasses, a hat and plenty of sunscreen to protect against UV exposure: The sun at these alpine altitudes is strong.
December-March - Although snow falls every month, December to March is the peak period for skiing. Day temperatures will rarely surpass 32 degrees Fahrenheit until mid-March and will dive toward zero at night. Note that temperatures change quickly and vary radically on different mountains. You'll want to secure a hotel early to visit at this time, and avoid the holidays if you're on a budget. If you're hoping to see top sites, such as Moraine Lake and the Columbia Icefield , this is not the time to come as roads leading to these attractions are closed due to avalanche risk.
April-May - During these shoulder months, Banff will experience everything from blizzards to warm weather. Although springtime highs can reach the mid-50s, traveling to Banff in April or May is asking for a surprise. However, if you've come to Banff to spot wildlife, especially bears, late spring and summer is your best bet (you'll have the most luck in the early morning or later evening). The Columbia Icefield starts welcoming visitors in mid-April. The road to Moraine Lake usually opens in mid- to late May. Meanwhile, ski season begins to wind down in late May.
June-August - These are the most crowded months, with the warmest weather (average highs sit in the low 70s). But the warm weather isn't the only reason to visit in the summer: the area's mountain lakes are at their most brilliant (especially in July, August and September). If you venture here any other time of year – even June – the lakes will likely be frozen. Booking a hotel during these months will give you access to the best hiking and biking in the Canadian Rockies.
September-November - While September here is the height of fall, October can turn treacherously cold in a hurry. October blizzards are not uncommon and will wipe away the beautiful fall leaves. But if you're willing to put up with the cold, you'll be rewarded with a busy event calendar. Late November marks the start of ski season.
GETTING TO BUNFF TOWN
Banff National Park is located 80 miles west of Calgary. Calgary's International Airport is serviced by major national and international carriers with multiple flights arriving daily. From the airport, rent a car and take Trans-Canada 1 west from Calgary straight into the park, through Banff and Lake Louise. A direct bus service from the airport or downtown Calgary is also available to Banff and Lake Louise, as are shuttle services through tour operators.
GETTING AROUND BANFF TOWN
The best way to get around Banff is on foot. But when weather prevents the casual stroll, this small resort town also has a bus system that is easy to use. Even more convenient, your hotel will most likely offer a complimentary shuttle that services the town and ski areas. All three ski hills also offer complimentary shuttle between the hills and the town of Banff. The closest airport, Calgary International Airport (YYC), handles most major airlines; from there you could rent a car to drive the 90 miles west to Banff or hop on the Banff Airporter, a shuttle that transports visitors from the Calgary airport directly to their hotel.
On Foot - Walking will give you a better understanding of the unique environment. But follow this advice only in summer when the weather accommodates a stroll. Stick to the main drag (Banff Avenue), but don't miss Bear Street. The quaint stores will surprise you with fun trinkets, especially those in Bison Courtyard.
Car - This small resort town is easy to navigate. Residents are friendly and helpful to visitors, so don't hesitate to ask for directions. If you rent a car, select one with four-wheel drive to better navigate off-road or through the winter snow. You can rent a car at the Calgary airport or once in Banff. You don't need to apply for an international driving permit to drive in Canada; your U.S. driver's license is valid. Driving in Banff is very similar to driving in the U.S., with one notable exception: speed limits are posted in kilometers per hour. If you're driving in winter, check the Parks Canada website to see the latest road conditions.
Bus - "Roam," the town bus system, offers convenient transportation through the streets and to popular attractions, including the hot springs and the gondola. Buses do run sporadically, so check the town's public transit website for schedules and routes. Fares for rides within Banff cost CA$2 (around $1.50) for adults and CA$1 (or about $0.80) for seniors and kids (children younger than 6 ride for free). You can also purchase an unlimited day pass for CA$5 (about $4). Service runs daily from 6:15 a.m. to 11:30 p.m.
WHERE TO STAY IN BANFF TOWN
Located a 1 minute walk from the heart of Banff, the Moose Hotel & Suites features a spa centre and on-site bar. Each unit offers a patio or balcony. Every air-conditioned room has a flat-screen TV. Certain units have a seating area where you can relax. An a la carte breakfast is available each morning. Dining is available at Pacini Italian Restaurant, featuring gourmet Italian food with unique and authentic flavours and a warm ambiance. Meadow Spa & Pools features 10 treatment rooms and a private outdoor hot pool. A bright indoor swimming pool and exercise room is located on the 4th floor, and 2 spectacular rooftop hot pools offer views of the Canadian Rocky Mountains. The Whyte Museum of the Canadian Rockies is 700 m from Moose Hotel and Suites, while Banff Park Museum is 700 m away.
Banff Rocky Mountain Resort
Featuring an a la carte breakfast, this resort is situated along the Banff Rocky Mountain National Park and features spacious all-suite accommodation. Only moments from the Banff Rocky Mountain Resort are top-rated ski trails, scenic hiking paths, golfing and much more. The resort also offers free shuttle service to the charming town centre, filled with shops, restaurants and entertainment options. Guests can enjoy a health and fitness club, including full gym, squash courts, outdoor tennis courts, 15 m indoor swimming pool, plus indoor and outdoor hot tub. Alpha Bistro is located in in the main building and offers Canadian cuisine in a cozy atmosphere. Large screen TV's and a spacious outdoor patio is available.
Offering an on-site coffee shop, Canalta Lodge is located 5 minutes' drive from Banff city centre. Free WiFi access is available. Snowy Owl Sled Dog Tours are 20 minutes' drive away. Each air-conditioned room offers a seating area and a cable HDTV. Featuring a bath or shower, private bathrooms also come with a hairdryer. Extras include ironing facilities. Happy Camper coffee barista offers coffee and confectioneries to guests of Canalta Lodge. In the morning, a complimentary breakfast is offered. Ski storage and fitness facilities add to the guest experience at Canalta Lodge. Paid underground parking is offered on site. Red Earth Spa is 2 minutes' walk from this hotel. Mount Norquay Ski Resort is 14 minutes' drive away.
Offering a sauna and a hot tub, Elk + Avenue Hotel features guest rooms with a flat-screen TV and an iPod docking station. Free WiFi is available. Banff Gondola is 4 km away. A mini refrigerator is included in each room at this hotel. Featuring a bath or shower, private bathrooms also come with a hairdryer and free toiletries. Select rooms offer a mountain view. At Elk + Avenue Hotel you will find a ticket service, a tour desk and luggage storage. Depending on the season guests can enjoy activities like skiing, hiking, and sight-seeing in the area. The property offers free parking. Lake Minnewanka is 20 minutes' drive from this property. Lake Louise is 59 km away.
With scenic views of the Canadian Rockies, this contemporary mountain lodge is located directly on Banff Avenue and offers an on-site restaurant and an indoor pool. Free WiFi is provided throughout the property. A 42" HDTV is provided in each spacious guestroom at The Rundlestone Lodge. A refrigerator and tea & coffee making facilities are offered. A work desk and comfortable seating available. Select rooms include a balcony. The Rundlestone Lodge features a lobby with a large, open fireplace. Guest can work out in the fitness centre. Patrinos Restaurant is open for breakfast and dinner. Guests can experience world-class skiing or discover scenic hiking trails just minutes from the hotel. Banff Centre is only 3 km from the property. The Cave and Basin Historic site is only 9 minutes' drive away.
Featuring a fitness centre and hot tub, this hotel is located in the heart of Banff, surrounded by the Canadian Rockies. Shopping and restaurants are conveniently within a few minutes walk. Free WiFi is provided. A 37" flat-screen cable TV is provided in all guestrooms at Irwin's Mountain Inn. A coffee machine, mini refrigerator, and seating area are provided. A hair dryer, bathtub, and shower are available in the private bathroom. A sauna is available on site. Irwin's Mountain Inn offers great amenities for ski enthusiasts such as a ski room with lockers and nearby transportation to ski areas. Banff Gondola is only 12 minutes' drive away. Mount Norquay ski area is only 7.5 km from the property.
Nestled in the pristine mountains of Banff in Alberta, Canada, is this environmentally friendly hotel, offering exceptional service and comfortable accommodation in a beautiful natural environment. From the moment you arrive at the Banff Park Lodge, you will be amazed by the variety of modern amenities and services available for your convenience. With a state-of-the-art fitness centre, steam rooms and a number of specialty boutiques located on-site, your stay is sure to be relaxing. Surrounded by protected natural parks as well as the charming city of Banff, there are a number of activities at Banff Lodge, both indoors and out, available for your pleasure, no matter the season.
This apartment-style property is nestled in a secluded area on Tunnel Mountain and offers stunning views of Banff town centre and the surrounding mountains. The resort features apartments with full kitchens and wood-burning fireplaces. Boasting wooden furnishings in a mountain style, each apartment includes a balcony and free Wi-Fi. Cable TV with a DVD player is included. Firewood is provided. A free shuttle service travels into town from The Hidden Ridge Resort. Guests can relax in the outdoor hot tub or cook on the barbecue facilities. Banff Museum National Historic Site is a 5-minute drive from the Resort Hidden Ridge. The Cave and Basin National Historic Site is 4.2 km away.
Featuring a steam room, an indoor mineral pool and a hot tub, Charltons Banff includes a breakfast lounge. Free WiFi and a flat-screen TV are included in all rooms. Banff Gondola is just 5 km away. Charlton Banff provides rooms and suites with comfortable seating areas and spacious bathrooms with bathrobes. Select suites include full kitchens and gas fireplaces, as well as mountain views. A light complimentary breakfast is served each morning, including cereals, fruit, pastries, toast, yogurt, hardboiled eggs, coffee tea and juice. Ski and golf storage is provided on-site. Fax and photocopying services are offered. Covered parking is available for guests and complimentary bike rentals are available in the summer. Sunshine Village Ski and Snowboard Resort is 30 minutes' drive from this property. Banff Upper Hot Springs are 5 km away.
Featuring a hot tub, steamroom, and sauna, this Banff hotel is located just 19 km from Sunshine Village Ski Resort. Guests can enjoy the on-site restaurant and bar. Free WiFi and a cable TV are provided in every guest room. Air-conditioned rooms at The Banff Inn include a telephone and an alarm clock. Featuring a bath or shower, private bathrooms also come with a hairdryer. Carlito's Pizzeria is open for dinner and serves a variety of pizzas. The restaurant also offers hamburgers, salads, various poutines and more. The front desk is available 24 hours a day at The Banff Inn. Other facilities offered include luggage storage, ski storage and a vending machine. Johnston Canyon is 26 minutes' drive from this property. The Fairmont Banff Springs golf course is almost 4 km away.
PLACES TO GO & THINGS TO DO IN BANFF TOWN
Located within Banff National Park, Canada's oldest national park, Banff is a resort town that attracts visitors from across the world. Marvel at the area's incredible natural beauty, from sublime mountainscapes to beautiful lakes and trails. If you're planning a trip to this scenic region, be sure to read this list of the things to do & best attractions that you can't miss.
Located in the south end of Banff National Park, this little town, surrounded by mountains, is one of the main tourist destinations in Alberta. It is devoted to the tourism industry with all kinds of accommodation options, interesting shops, and restaurants that range from casual to high end. In the summer, the streets are packed with tourists from all over the world who come to see the Canadian Rockies, and in winter, the town maintains its lively atmosphere as skiers descend on Banff to enjoy the nearby slopes.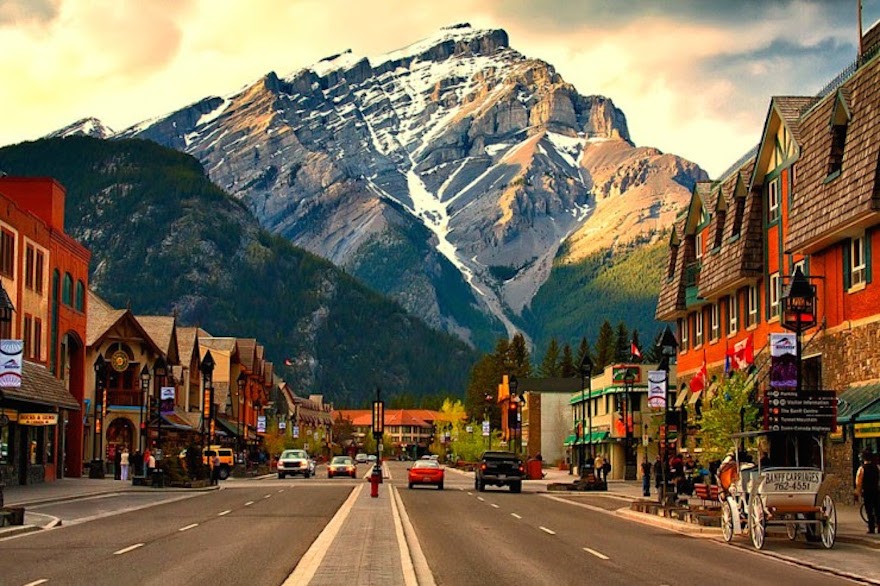 The true jewel of the Banff National Park region is the beautiful Lake Louise. During the wintertime, this area is one of North America's largest ski resorts, which is incredibly popular with both skiers and snowboarders, as well as those wanting to try other winter activities such as snowshoeing, dog sledding, and tubing. For a particularly magical experience, take a horse-drawn sleigh ride through the snow. In the summer, the lake is arguably even more spectacular and can be reached by a variety of hiking and biking trails, offering scenic views of the Canadian rockies.
For a more relaxing way to experience the area's impressive views, Banff Gondola is a fantastic option. Situated just 5 minutes outside of Banff, the gondola takes you 2,281m (7484ft) above sea level to an observation point overlooking six mountain ranges and the Bow Valley. Once at the top, you'll find a small range of other attractions, including a self-guided 1km (0.6mi) walkway, several restaurants and the Sanson Peak Meteorological Station, where you can track the region's weather patterns across the last 30 years and learn more about Banff National Park.
Another one of Banff National Park's most famous lakes is Moraine Lake, which is situated in the rugged Valley of the Ten Peaks. Entirely glacier-fed, the body of water is a fantastically bright shade of turquoise blue, making it one of the most photographic spots in Banff. The lakeside area is surrounded by several hiking and biking trails, from which you can witness the 'Twenty Dollar View' of the lake, known for its appearance on the 1969 and 1979 issue Canadian twenty-dollar bills.
Whyte Museum of the Canadian Rockies
Specializing in the history of the Rockies and their inhabitants through the ages, the Whyte Museum provides a great introduction for visitors to the area. Many of the exhibitions are water-related, focusing on the importance of this natural resource throughout civilization. Others are dedicated to specific artifacts and documents related to the region. Knowledgeable and informative staff are more than happy to answer questions and also lead daily guided tours through differently themed areas of the galleries.
If you're looking to appreciate Banff's natural beauty but want to avoid the crowds or a particularly arduous hiking trail, head to Bow Falls. This area is especially popular with film fans, with many recognizing it from appearances in Hollywood movies, such as Marilyn Monroe's River of No Return. This impressive waterfall occurs just before the junction of the Bow and Spray Rivers, making it accessible by car as well as via a relatively short trail – 1.2km (0.7mi) from Bow River Bridge.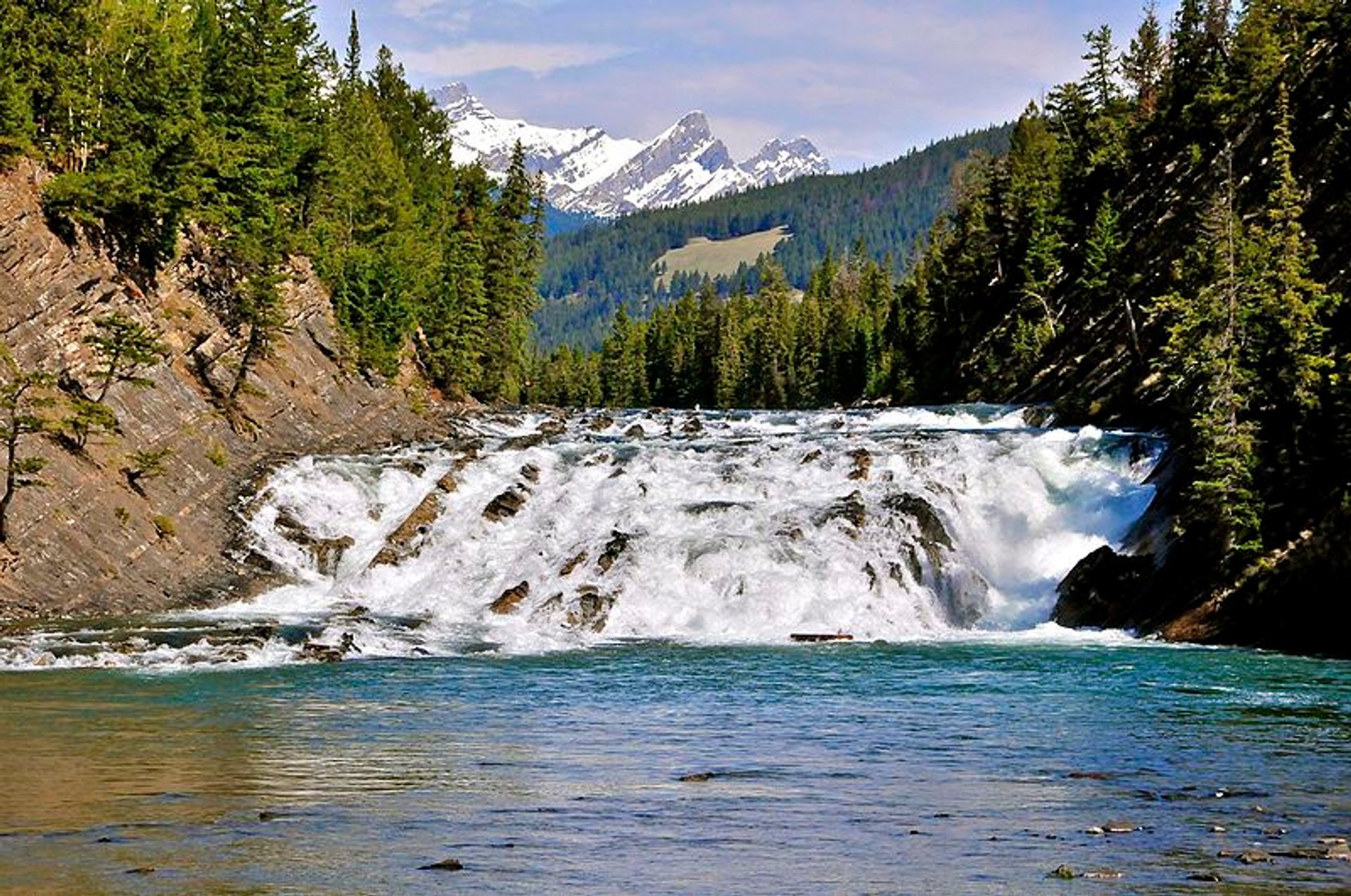 Nestled into the Rocky Mountains at an elevation level of over 5,000ft (1524m) is Canada's highest natural hot mineral springs, Banff Upper Springs. With the amenities you might expect from an outdoor spa, this completely natural pool, which was discovered in 1883, is naturally heated to a temperature of close to 40C (104F). Both an invigorating and relaxing experience, the springs are best enjoyed during the quieter morning hours when the peaceful atmosphere is even better for enjoying your scenic surroundings and you can look across the valley to Mount Rundle.
Founded in 1933, the Banff Centre for Arts and Creativity is a cultural venue in the region, which describes itself as 'the intersection between art and ideas.' Through innovative programs, the center aims to inspire everyone who visits to unleash their creative potential. It's worth keeping an eye on its website for a multitude of events, including music, dance, film and theater performances, as well as information on the scheduled program of annual festivals, such as the Banff International String Quartet Competition and the Banff Mountain Festival, celebrating local literature and film.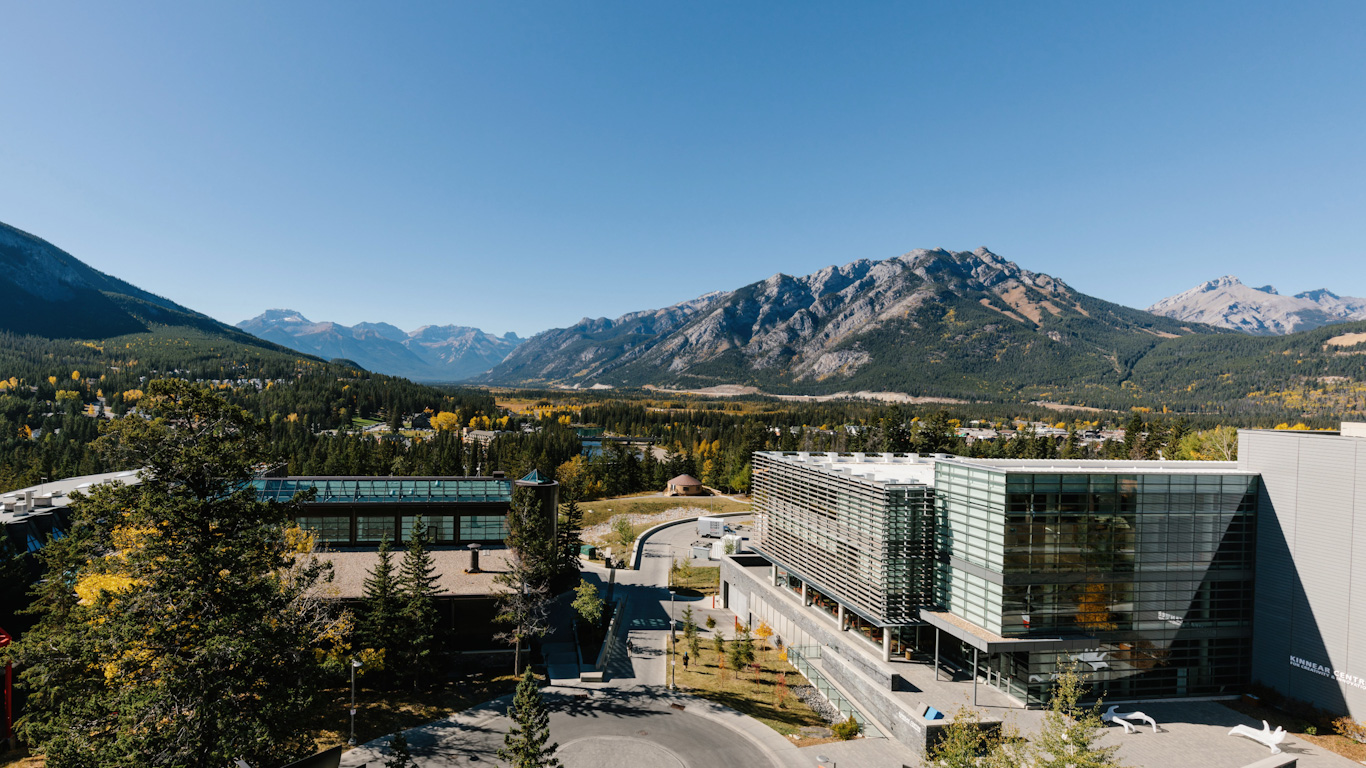 Situated in the northwestern area of the Banff National Park you'll find the Columbian Icefields, the largest single icefield in the Rockies. Brewster Adventures offer a 90-minute 'Glacier Adventure' tour where a specially designed vehicle will drive you onto the icefield's surface before you disembark directly onto the Athabasca Glacier – one of the most accessible glaciers in the world. The Columbia Icefield Glacier Discovery Centre also houses a small factual display on the glacier's history, as well as a glass-bottomed Skywalk, a 1km (0.6mi) walkway providing incredible views from 280m (919ft) above.
Located in the Bow River Valley of Banff National Park lies Tunnel Mountain, the region's smallest summit and one of the best hiking options for novices all year round. Despite its relatively easy incline, the mountain offers expansive views of the Bow and Spray River valleys, the Banff Springs Golf Course, and Banff Hot Springs on Sulphur Mountain. The highway that traverses the mountain is currently also used as the main access route into Banff and makes for an exceptionally scenic drive and introduction to the area.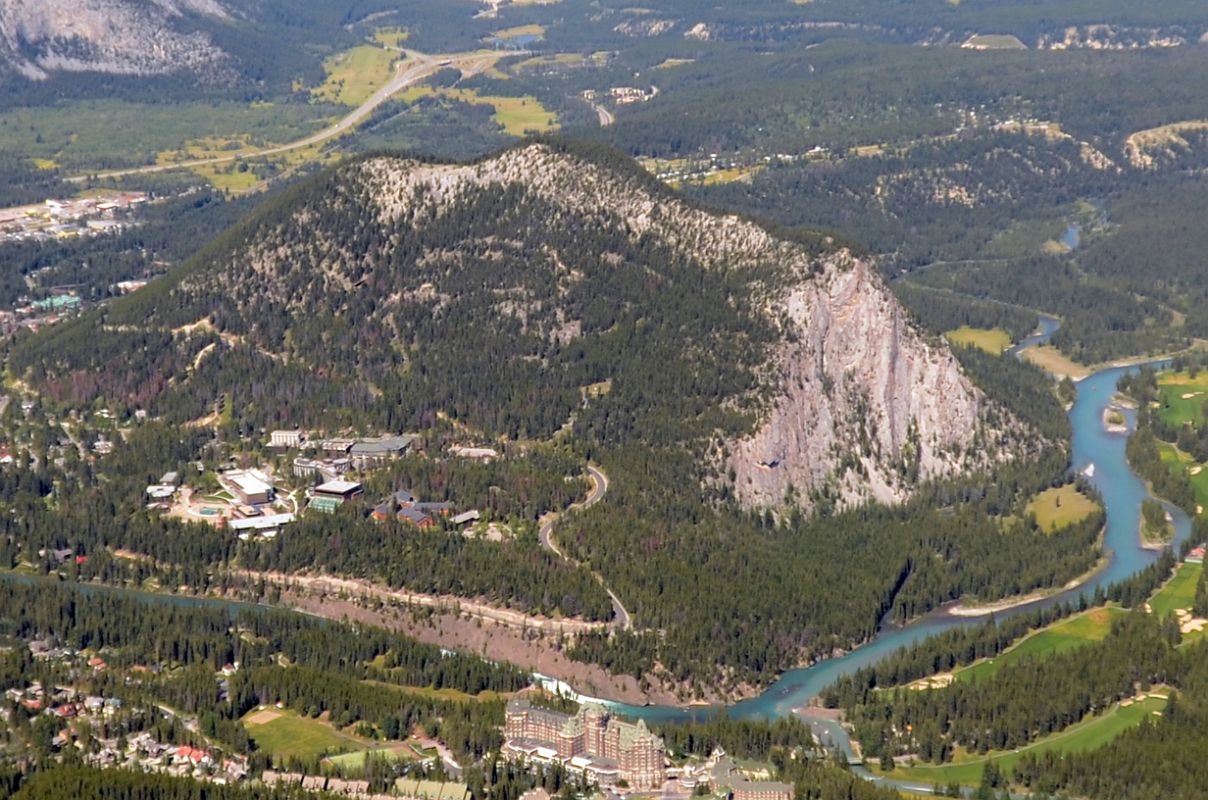 Buffalo Nations Luxton Museum
An attraction that seeks to pay respect to Banff's indigenous heritage is its Buffalo Nations Luxton Museum, one of Alberta's oldest museums. The compact, but well-crafted, exhibition uses historic artifacts, documents and works of art to piece together what life was like for First Nations peoples in the area before the arrival of European settlers. As the museum's name suggests, you'll also learn about the return of the buffalo — an important part of the indigenous culture — to Banff National Park. Included in the admission price is an informative guided tour, led by the expert volunteer staff. Opening hours: 10am-7pm from Sunday to Thursday, 11am-10pm from Friday to Saturday.
Located 5km (3mi) outside of Banff, Lake Minnewanka is the largest body of water in Banff National Park. This glacial lake — coined 'Water of the Spirits' by First Nations tribes — has a rich history, with people camping and hunting along its shores for over 100 centuries. It's a popular spot year-round, offering an abundance of summertime activities, including mountain biking and diving, as well as cross-country skiing and snowshoeing during winter. Keep your eyes peeled for grizzly bears who flock to the area to feast on berries.
Cave and Basin National Historic Site
After three railway workers stumbled upon this cave and its hot springs in 1883, Canada National Parks system was founded, and this National Historic Site became one of the country's most significant landmarks. Learn more through a series of interactive exhibits, including a four-screen visual experience showcasing Canada's network of protected places, or take a guided tour of the original cave where you'll hear about the history and culture of this historic area. Lantern Tours are also offered for those keen to experience the cave's after-dark allure.
One of the main highlights in Banff is the Fairmont Banff Springs Hotel. This historic hotel was built in 1888 and is today the emblem of Banff. Once planned to be the largest hotel complex in the world, this traditionally-designed, castle-like grand hotel still preserves much of the glamour of the early days of railway tourism. In those days, only well-to-do travelers could afford to make the journey into the then still remote region of the Canadian Rocky Mountains. The hotel is set off on its own in a wooded area with lovely views of the surroundings. Below the Banff Springs Hotel, easily reached on foot from downtown Banff, the Bow River tumbles over a cliff-like rise.
For fabulous views of the town of Banff and the entire valley, one of the best places to visit in Banff is Sulphur Mountain. Taking a ride on the Sulphur Mountain Gondola is one of the most popular things to do in summer. The parking area is just four kilometers outside Banff. On a clear day, there is a splendid view from the three terrace decks and the mountain-top restaurant. At the top are a number of walking options, including the Banff Skywalk (Vista Trail), an easy one-kilometer trail that leads to the Cosmic Ray Station National Historic Site of Canada and the Sanson's Peak Meteorological Station. The four-hour Banff City Sightseeing Tour is an easy way to see this attraction, with pickup and drop-off at locations in town, a gondola ride, and additional sightseeing in the area.
This iconic hotel is part of the scene at Lake Louise and a nice place to have lunch overlooking the lake. In 1890, the Canadian Pacific Railway built the first Château Lake Louise on the moraine at the end of the lake. Easily accessible by rail, Lake Louise and the surrounding countryside soon developed into a tourist center. From here, expeditions started out to explore the rocky region on horseback. Mountaineers from England and the United States scaled the as yet unknown peaks. The present day Château Lake Louise was built in 1924 after a fire destroyed its smaller wooden predecessor. In the early days, horse-driven coaches - later to be superseded by trams - transported guests from the rail station down in the valley to the hotel six kilometers away. In the 1920s, a road was built from Banff to Lake Louise. In the Bow River Valley, the holiday village of Lake Louise developed with nearly 400 permanent inhabitants.
Well-known from many pictures and postcards, Lake Louise is a starting point for some rewarding walks, the best of which is perhaps to the Plain of Six Glaciers. Another very popular walk leads to Lake Agnes (difference in altitude 365 meters), which lies in a picturesque location between the two round hills known as the Beehives. The strenuous climb to the top of one of the Beehives is rewarded by a superb view over the entire area. In summer, the Lake Agnes Teahouse supplies food and drinks for hikers.
Lake Louise Ski Resort is the most well-known ski resort in Alberta, and also one of the best ski resorts in Canada. It offers skiing for all levels of ability with terrain that includes open bowls, groomed runs, and tree skiing. The runs on the mountainside are visible from the lake and Chateau Lake Louise. During the summer months, the Lake Louise Sightseeing Gondola offers an easy way to get up into the alpine landscape. The gondola ascends to 2,088 meters, where there are opportunities to tackle some day hikes or short walks, or simply enjoy a meal. Ride and Dine packages are available. The Whitehorn Bistro, at more than 2,000 meters, is open for lunch and breakfast at the top of the Sightseeing Lift. This restaurant has both indoor and outdoor dining and great views over the surrounding forest and beyond to the turquoise waters of Lake Louise.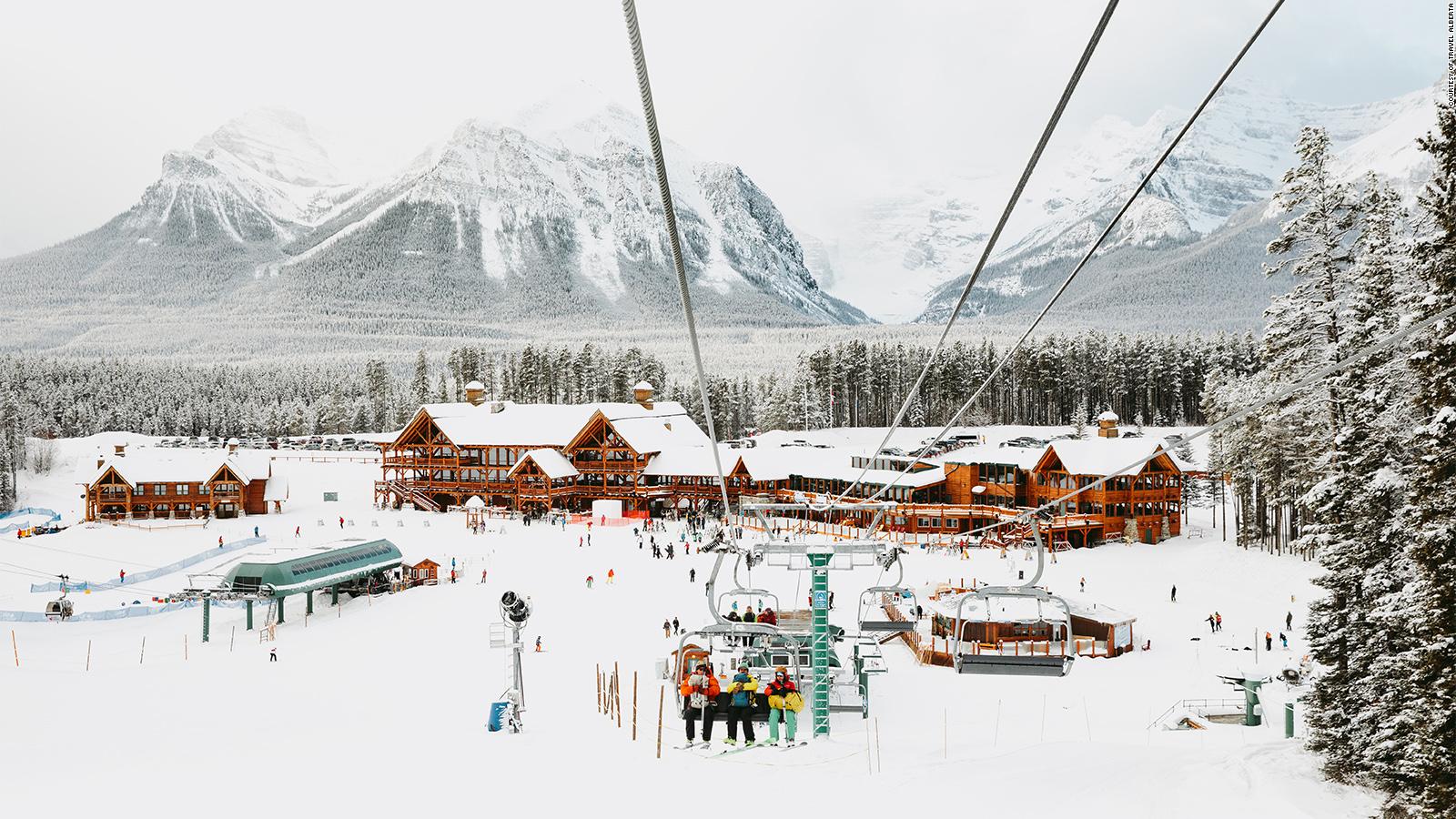 Sunshine Village Ski Resort
Sunshine Village is just a short drive outside the town of Banff and is one of the top two ski resorts in Alberta, along with Lake Louise. The resort offers a variety of terrain and runs for beginners to advanced skiers. Sunshine Village now runs their gondola in the summer time. Gone are long rides in old school buses via the twisty, dusty access road. Now, you can easily step onto the gondola and gaze out at the scenery as you're whisked to the top. From the base area, multiple hikes fan out to spectacular viewpoints. Highlights of these hikes are wide-open meadows filled with spring and summer flowers, wildlife encounters, and some of the best views in the park. A less taxing alternative is to ride to the very top of the Continental Divide on the Standish Express high-speed quad chairlift. Getting to Sunshine is easy. Either drive to the parking area on your own or catch a free shuttle from the Banff town site.
The Icefields Parkway (Highway 93) is one of the most scenic highways in Canada. It crosses the northern part of Banff National Park and the southern part of Jasper National Park and forms a link between Trans-Canada Highway 1 and Yellowhead Highway 16. Unlike the busy Trans-Canada Highway, the Icefields Parkway is purely and simply a sightseeing route through magnificent high mountain scenery. Between Lake Louise and Jasper, the road follows a narrow valley running north-south for 230 kilometers between the glaciated peaks of the main range of the Rocky Mountains. Frequent overlooks with parking places provide opportunities to enjoy the breathtaking views, and interpretive plaques fill in the background on the landscape and local history. Bighorn sheep and mountain goats - at the roadside or on the mountain tops - romantic waterfalls, the shimmering turquoise waters of mountain lakes, looming icefields, and snow-clad mountain peaks all make for a journey of infinite variety.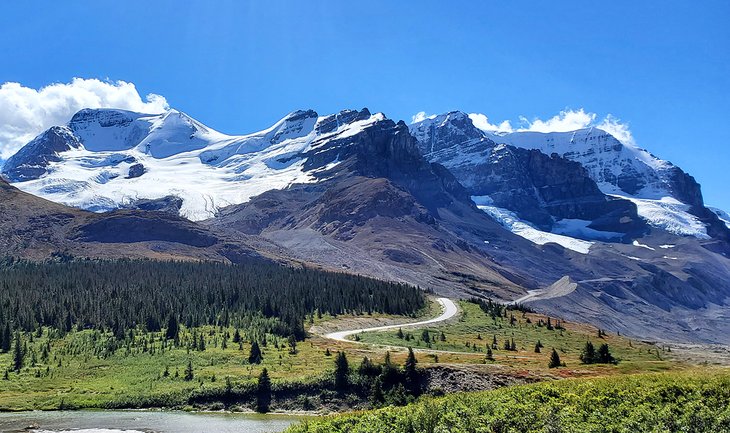 At 2,068 meters, Bow Pass is the highest pass in Banff National Park and the watershed between the river systems of the North and South Saskatchewan River. A short branch road leads to the magnificent Peyto Lake viewpoint, and another superb lookout point can be reached on foot about a kilometer from the parking area. Peyto Lake is the unique turquoise color of many of the glacier-fed lakes in this area, and is especially lovely in mid to late summer, when Bow Summit's mountain meadows are carpeted with wildflowers. A long, steep path from Bow Pass leads down for 2.5 kilometers to Peyto Lake, named after the mountain guide Bill Peyto, who began exploring the area in 1894 and took pack horses of supplies north over Bow Summit.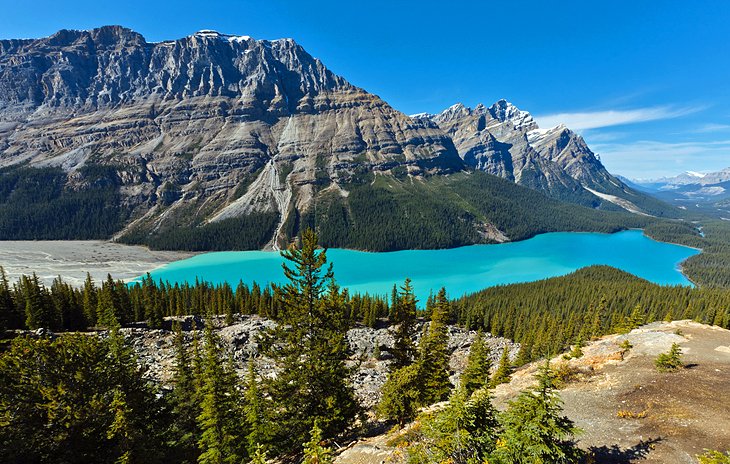 About 26 kilometers along the Bow Valley Parkway is the entrance to Johnston Canyon with its two waterfalls. A trail leads through the canyon, with bridges along the steep cliff walls. The path continues on some six kilometers on the far side of the canyon, leading up to the Ink Pots, a group of springs. Two of these are particularly striking because of the bluish-green color of the water. Most visitors just stick to the lower level, while those with more time and energy take on the more strenuous walk to the Ink Pots. Johnston Canyon is an impressive site in both summer and winter, although it sees very few visitors outside of the summer season.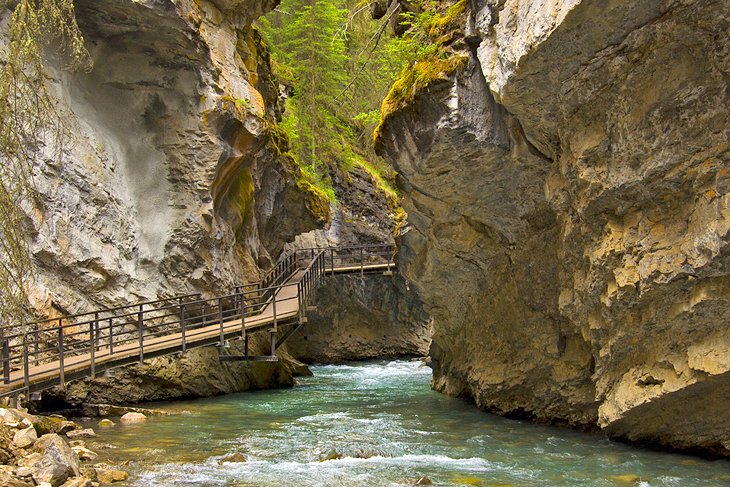 The wildlife is one of the great tourist attractions of Banff National Park. More than fifty species of mammals are found in the national parks of this region. Large animals are most likely to be spotted in the early morning and the evening. Some of the most commonly seen animals in the park are elk, bighorn sheep, moose, deer, woodland caribou, mountain goats, and black bears. The park is also home to grizzly bears. Hiking trails are sometimes closed due to grizzlies in the area. Normally, they do not come near roads and towns. When walking in the "backcountry," it is wise to keep an eye open for them, as well as black bears. The latter prefer wooded areas and thick undergrowth on the flat valley floors and sunny south-facing slopes, while grizzlies keep to the alpine regions in summer but seek food lower down in spring and autumn. While it's rare, grizzlies have been known to come right down to Moraine Lake, on one of the busiest walking paths in the middle of the day, with large groups of people around. These animals have poor sight but can smell or hear approaching humans long before they see them. Bears can be surprisingly quick, so hikers should never approach one. A great way to increase your chances of seeing some of these marvelous animals is on a Wildlife Tour, available during the summer months. This half-day tour is led by a professional guide and takes you to some of the best wildlife viewing areas around Banff.
WHERE TO EAT IN BANFF
Canada's oldest national park offers a spectacular landscape of glaciers, valleys, mountains and lakes. But the food in Banff isn't bad, either. Here's our pick of the 10 best spots to dine, for food and views alike.
Balkan brings lively Mediterranean flavors and hospitality to the heart of Banff. Opened more than 30 years ago by Jason and Joanna Karlos, the restaurant specializes in authentic Greek recipes with fresh ingredients. The couple's sons, Stavros and Yanni, recently modernized the decor and menu while remaining true to Greek culinary traditions. The interior features rock walls, a hardwood communal table and colorful Greek art. There are special dinner nights on Tuesdays and Thursdays, featuring belly-dancing, ouzo shooters, and – of course – plate smashing.
For 10 consecutive years, Eden has received the AAA/CAA Five Diamond award for its regionally influenced French cuisine and exceptional service. The upscale dark wood interior features landscape art and comfortable leather chairs. Set in Rimrock Resort Hotel on Sulphur mountain, Eden affords stunning views of Rundle Mountain and Spray Valley while you're enjoying your meal. À la carte and fixed-price menus are available, with entrees changing regularly. The staff include a team of certified sommeliers, who guide diners in choosing the perfect wine pairing from their selection of more than 17,000 bottles.
This bistro, in the hotel of the same name, offers international dishes with a local spin, such as Moroccan-style lamb saddle made with fig, olive, spinach and spice, as well as classic dishes such as the Juniper burger: a house beef brisket and short rib patty on a brioche bun, topped with thick-cut black pepper bacon, smoked cheddar and juniper berry mustard. Set on the slopes of Mount Norquay the Juniper Bistro has views of Mount Rundle, Vermilion Lakes and the town of Banff, which you can enjoy from the terrace.
The Bison specializes in sophisticated Canadian cuisine made using organic, local ingredients in a rustic chic setting with Douglas fir beams, concrete floors and views of the copper open kitchen. Windows on three sides offer views of Mount Rundle, or you can enjoy the scenery out on the bright terrace. As the name suggests, bison is the signature dish. Try the short ribs with roasted potatoes, or burger topped with red pepper relish, bacon pickle aïoli, cheese curds and double-smoked bacon – served up with delicious fingerling potatoes tossed in a pesto mayo. A wine list that's strong on labels from Canada and the Pacific Northwest completes the menu.
The Maple Leaf serves upscale Canadian Cuisine in a friendly, welcoming atmosphere. The menu is all about Canadian steak, seafood and wild game with dishes such as grass-fed bison stroganoff and cast-iron west coast halibut. The alpine decor matches the food, with copper and wrought-iron touches, rock fireplaces and lots of wood and leather. The walls are lined with bottles representing the restaurant's 600 wine labels – it has been recognised with a Wine Spectator excellence award, and the wine list highlights vineyards across Canada in addition to a few well-chosen international selections.
This Banff institution, known for its fondue dinners and retro decor, opened in 1967 as a disco nightclub and began serving fondue to comply with local liquor laws. Little has changed since the early days: the interior features a disco ball, bearskin rugs, wood-paneled walls and other vintage furnishings and the soundtrack is straight out of the 1970s. Each table has a working old-fashioned telephone, which once helped singles connect to each other. In addition to 14 types of fondue, the menu offers Alberta beef steaks and wild game, along with a selection of more than 100 wines.
La Terrazza is an elegant restaurant set in the Banff Park Lodge. The menu changes with the seasons, with both à la carte and multi-course tasting menus available. Dishes include the Alberta wild boar tenderloin, marinated in a fig-infused balsamic then pan-seared, demonstrating the chef's ability to prepare local seasonal ingredients with flare. Panoramic windows offer fantastic views stretching from Sulphur Mountain to Mount Norquay. The inviting atmosphere encourages diners to linger after diner, sipping a glass of wine by the fireplace.
Three Ravens Restaurant and Wine Bar
At the top of the Sally Borden Building, Three Ravens Restaurant & Wine Bar offers some of the best views in Banff thanks to its floor-to-ceiling windows. Watch the sun set over the mountains while choosing a meal from the seasonal menu. The selection changes regularly, but you can expect dishes such as maple and sake-glazed sablefish with mushrooms, golden beet coulis, dashi braised daikon, alumette potatoes, and nori dust. The menu also offers suggested pairings from the extensive wine list.
A Banff landmark for more than 30 years, Melissa's Missteak has been voted one of the town's top restaurants by Calgary Herald readers for seven straight years. Locally owned and operated, Melissa's, set in a historic building dating back to the early 20th century, offers breakfast until 4pm; burgers, sandwiches, soups and salads for lunch; and a choice of seafood, BBQ, steaks and other Canadian mains for dinner. The upstairs bar is where locals gather in the evening, featuring sports on plasma TVs, darts, pool, pinball and affordable drink specials.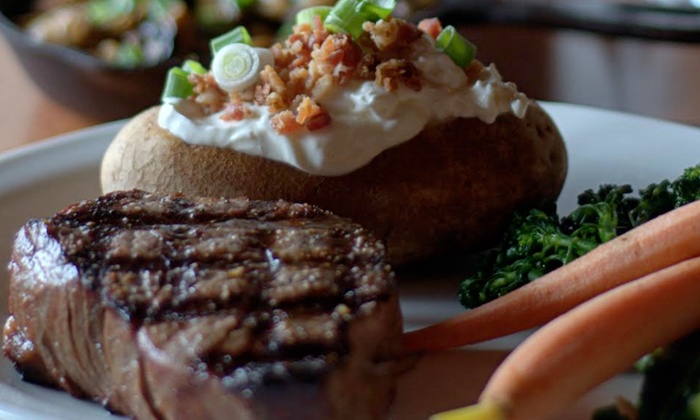 WHERE TO SHOP IN BANFF TOWN
The town of Banff has a wide variety of shops, with everything from big brand clothing and technical outerwear, to local art and must-have souvenirs. Spend time on Banff Avenue browsing the latest in men's and women's fashions, or make a quick stop to pick up some new gear on the way to your next adventure. Explore the shops selling genuine Canadian goods, sports equipment, and gifts for everyone on your list and don't miss Canada's largest, year-round Christmas store for a festive experience in any season. Bear Street in Banff town offers shoppers a creative and laid back feel. Wander through the eclectic mix of art galleries, bike shops, and health and wellness stores. You'll also find true Canadian treasures in original art, handcrafted jewellery, native crafts and souvenirs – all perfect for taking home to friends and family. A selection of grocery, liquor, and convenience stores in Banff and Lake Louise carry everything you need to fully stock your hotel room or condo, or to help you pack a picnic lunch. If you have a special occasion while you're here, there are specialty stores selling all the essentials, from florists, bakeries and wine stores, to sweet shops and party supply stores.
A BIT OF BANFF - 120 Banff Avenue, Banff, AB, T1L 1A5
Family owned and operated gift and souvenir store in the heart of Main Street Banff. Come and check out our great prices on Clothing, Gifts, and personalized Souvenirs to remember your time in Banff. You'll be glad you stopped by!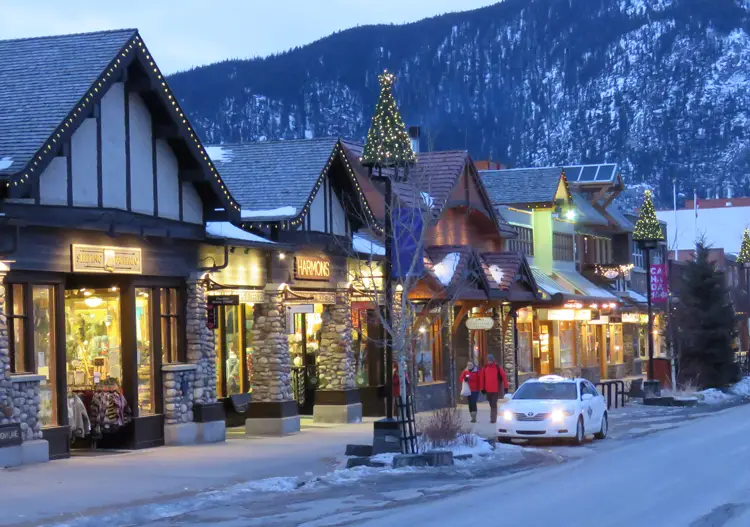 ABOMINABLE SKI & SPORTSWEAR - 229 Banff Avenue, Banff, AB, T1L 1B3
Retail ski, snowboarding, clothing, camping, hiking, shoes, t-shirts and sunglasses.
THE FAIRMONT STORE - 405 Spray Avenue, Banff, AB, T1L 1A9
The grand hotel's signature gift store features Fairmont Banff Springs embellished items, exclusive hotel collectibles, books, and convenience and sundry items. We have something for everyone.
FIRE & FLOWER CANNABIS CO. - 229 Bear Street, Banff, AB
Fire & Flower is a Canadian purpose-built, independent cannabis retailer, bringing you a guided and informed experience in locations across the country.
FREYA'S JEWELLERY & CURRENCY EXCHANGE / SGT PRESTON'S OUTPOST
Jewellery, Russian boxes, custom made jewellery, Ammonites, watches, and Canadian Mint products. Purchase and sale of foreign currency and will cash local business cheques.
GORO CANYON SMOKE & GIFT SHOP
Canadian souvenir & gifts, magazines, newspapers, books, postcards, maps, cards, postage stamps, photocopy, fax, lotto, sundries. Service with a smile.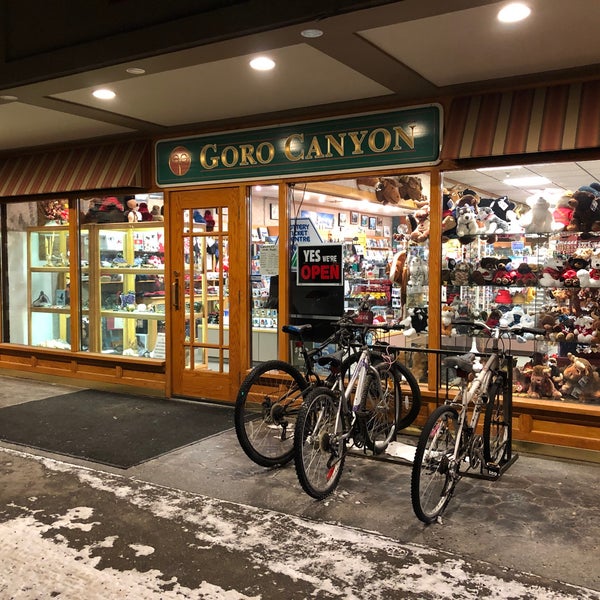 Helly Hansen's combination of purposeful design, style and protection have become the choice of professional athletes, patrollers, mountain guides, and discerning outdoor enthusiasts since 1877. Whether you are working in the adverse elements or playing in the mountains, Helly Hansen has what you need to stay dry, warm and comfortable. We also carry optics by Smith and care products by Nikwax.
We are a destination souvenir and gift store located in the beautiful mountain resort town of Banff, Alberta, Canada, at 103b Banff Avenue, and have been locally family owned since 1973. With friendly store people, great service and a large selection of items, we make it easy and convenient to get your favourite treasures and flavours of the mountains.

Jacques Cartier is best known as the pioneer in the production of Qiviuk garments and yarn. Qiviuk (key-vee-ook) is the insulating undercoat of the Arctic Muskox which helps them survive and thrive in the harsh Arctic winters. Qiviuk is one of the rarest natural fibres in the world and because of its unique hollow structure, Qiviuk garments are much lighter and warmer, yet breathable than any other natural fibre.