TIISTAI, 08. SYYSKUUTA 2020
Cairo, Egypt's sprawling capital, is set on the Nile River. At its heart is Tahrir Square and the vast Egyptian Museum, a trove of antiquities including royal mummies and gilded King Tutankhamun artifacts. Nearby, Giza is the site of the iconic pyramids and Great Sphinx, dating to the 26th century BC. In Gezira Island's leafy Zamalek district, 187m Cairo Tower affords panoramic city views.
Cairo is chaos at its most magnificent, infuriating and beautiful. From above, the distorted roar of the muezzins' call to prayer echoes out from duelling minarets. Below, car horns bellow tuneless symphonies amid avenues of faded 19th-century grandeur while donkey carts rattle down dusty lanes lined with colossal Fatimid and Mamluk monuments.
This mega-city's constant buzz and noise is a product of its 22-or-so million inhabitants simultaneously crushing Cairo's infrastructure under their collective weight and lifting its spirits up with their exceptional humour. Your nerves will jangle, your snot will run black from the smog and touts will hound you at every turn, but it's a small price to pay to tap into the energy of the place Egyptians call Umm Ad Dunya – the Mother of the World.
Blow your nose, crack a joke and look through the dirt to see the city's true colours. If you love Cairo, it will definitely love you back.
BEST TIME TO VISIT CAIRO
The best times to visit Cairo are from March to April and from October to November. These short shoulder seasons welcome comfortable temperatures, fewer crowds and low hotel rates on most days of the week. Winter is by far the most popular time to visit Egypt's capital because the days are warm and sunny and the evenings are cool and breezy. If you're planning a trip between December and February, you can expect swarms of tourists. You'll find the best deals on hotels during the summer, but for many, battling the heat isn't worth the savings.
December-February
Winter is prime tourist season in Cairo, with visitors hoping to pair sightseeing with pleasant weather. Average daytime temperatures rest in the upper 60s, and evenings usher in cool, refreshing breezes. While visiting at this time of year may sound tempting, keep in mind that you'll be battling long lines at the city's main attractions (especially the Pyramids of Giza ). Since this is the peak tourist season, plan on making your hotel reservations at least a month or two in advance to ensure availability.
March-April
Springtime is a great time to visit Cairo: The winter crowds are waning and the weather is gorgeous. Expect daytime highs in the mid-70s to low 80s and cooler winds come nightfall. Hotel prices aren't quite at their lowest yet, but if you book three to four weeks in advance, you shouldn't have trouble finding something reasonable.
May-September
Spending summertime in a desert climate does not appeal to most travelers. Average daytime temperatures hover in the high 80s and low to mid-90s, although they have been known to cross into triple digits from time to time. And the lack of rain can leave the city feeling parched. However, because your fellow travelers can't beat the heat, you're bound to find some fantastic hotel deals during this scorching season. Hotel prices rise during Ramadan, though, so plan your trip around the holiday if you're sticking to a tight budget.
October-November
Late fall marks another sweet spot in Cairo's tourism calendar: The summer heat retreats and the winter crowds have yet to arrive. Expect daytime temperatures in the mid-70s to mid-80s. Hotel prices will occasionally climb, but you can nab a pretty good deal if you book a month or more in advance.
GETTING TO CAIRO
Cairo International Airport (CAI) is the second biggest airport in Africa with more than 16 million passengers a year. It's well served by Egyptair the national carrier and its Star Alliance partners (Singapore Airlines, Lufthansa, Swiss, Austrian, Sky Team (Air France, KLM, Alitalia), Oneworld (British Airways), Gulf Carriers (Emirates, Etihad) as well as budget carriers TUI-fly and Jet-Air-Fly. If you are planning a trip to Cairo whilst you are on holidays at the seaside, Nile Air and Egyptair offer connections between Cairo and Hurghada or Sharm el Sheik.
Getting to downtown Cairo used to be a little hard, but now there's quite a nice bus system to take you downtown.
Once you get out to the arrival hall, you'll be flooded with taxi drivers. Ignore them at will. Take the free shuttle bus. It's a big, white/blue bus that leaves about 50 meters from the terminal exit. If you can't find it, ask the airport staff or policemen. The shuttle bus is free and takes you to the nearest bus station. From the bus station, you have many options, one of them is bus 381. It costs 10 EGP and takes you downtown. Google Maps works fine for trip planning on this particular bus line (and all metro lines). There are other nice buses (numbers 111, 356, 27), but only use the notorious (non-A.C) green buses if you're feeling adventurous. In some cases, the bus destination and/or number will be in Arabic. If this is the case, be prepared to ask a driver or passengers if the bus stops at your destination. Buses run every 30 min, take 60-90 min and cost LE 5. At least on the non-A.C bus, you may be charged an additional LE 2 if you bring aboard large or bulky items. To get from downtown to the airport, board an A.C bus at the bus terminal just north of the Egyptian Museum (under the highway bridge). Finally, there are also direct express buses from the airport to Alexandria every 30-60 min. However, the buses operate only during daylight hours (4 AM to 7:30 PM).
By train - Cairo's main railway station - Ramses Station (Mahattat Ramses) - is on Midan Ramses, which is also the location of the Martyrs Metro Station. Trains run to Cairo from most other regions and cities within Egypt. Trains in Egypt rarely run on schedule and are almost always at least 15 min late, if not later. Train service is available from Ramses Station to Alexandria, Luxor, and Aswan. Service to Luxor and Aswan is also available at the Giza Railway Station. Visitors wishing to connect with trains to Luxor , Aswan , and the rest of upper Egypt should take the Metro from Midan Ramses Mubarak Metro Station, on line one to Giza Metro-Train Station which should take approximately twenty minutes.
By bus - Buses arrive to Cairo from virtually all over the country. The two main destinations are Midan Ramsis and Cairo Gateway, formerly known as Turgoman, but vehicles also sometimes stop at other destinations, notably Abbasiya. From Midan Ramses and Cairo Gateway it's a quick 10 LE taxi cab ride to downtown, 17-20 LE to Zamalek. Cairo Gateway is a new, modern indoor station located approximately 500m from the Orabi Metro Station. within the new Cairo Gateway Plaza.
By car - Driving in Cairo is not recommended or necessary. The traffic is, at the least, overwhelming for the common traveler. Recently, many automated traffic lights have been introduced in almost all the districts of Cairo. Traffic violation tickets are strictly adhered to in the daytime and double parking penalty can reach up to 1000 EGP. Sometimes police officers are directing traffic at busy intersections. In downtown Cairo, drivers will sometimes bump other cars that are blocking their way. Also, do not be upset if your side-view mirror gets hit. At night, many drivers do not use headlights, so use extra caution or avoid driving at night. In Egypt, vehicles travel on the right side of the road. Instead of making a left turn, you will often need to make a U-turn and backtrack, or you can make three right turns.
GETTING AROUND CAIRO
The best ways to get around Cairo are by metro train or taxi. Egypt's capital is constantly choked by traffic. But below Cairo's congested streets, the metro system is clean, affordable and extremely efficient. If you prefer to stay above ground, several fleets of buses can take you where you need to go for very little money. However, aside from those operated by the Cairo Transport Authority, buses here can be very crowded, tough to navigate and likely to carry pickpockets. Tour buses are safer and more convenient, but you'll have to pay more and stick to a set schedule. Taxis are the more affordable way to get to places that the Cairo Metro doesn't cover, especially from Cairo International Airport (CAI), which is located about 13 miles northeast of the city center. However, taxi drivers are some of the best con artists in the city. Arm yourself with inside knowledge of the city and you should be fine.
Metro - Cairo's Metro system is by far the most efficient way to get around. There are three lines that converge in the center of the city, and trains carry passengers to attractions like the Egyptian Museum and those found in Coptic Cairo. The metro's third line is currently undergoing an expansion project that will connect central Cairo with Cairo International Airport. Trains run every day from around 5 to 1 a.m. (or until 2 a.m. during Ramadan). One-way tickets cost 1 Egyptian pound (around $0.11) each and can be purchased at ticket booths located in each station. Like the Washington, D.C. metro system, you'll need your ticket to enter and exit the Cairo Metro system, so be sure to save your ticket after going through the turnstile. Also, if you're a woman traveling alone or with other women, consider boarding the middle cars, which are reserved for women only and can keep you from receiving unwanted attention that's often directed at female passengers.
Taxi - Taxis are the most convenient way to get around areas that the Cairo Metro doesn't cover because you can't throw a stone without hitting a cab. Cairo contains two breeds of taxis. Older unofficial cabs (known as "black-and-whites" because of their coloring) are the cheapest, but these vehicles rarely have air conditioning. Also, black-and-whites don't charge fares based on a meter, so you'll have to negotiate the cost with the driver before setting out. To ensure that you're not getting nickel-and-dimed, talk to your hotel concierge about how much you should expect to pay. The fare chart provided in each cab will also give you an idea of the cost, although you can usually haggle the price down from there. Another option is to use the yellow or white cabs, which do use meters and have starting base fares of 3.50 Egyptian pounds (or less than $0.50). Some yellow and white cab drivers may try to tack on additional fees for use of air conditioning or avoid using their meters when there's heavy traffic. To avoid incurring unexpected fees, always come prepared with extra cash. You can also get out and waive down another cab if a driver tries to overcharge you. If you'd rather pass on taxicabs, consider using the ride-sharing service Uber.
Tour Bus - If you don't want to haggle with taxi drivers and can spend a little more on transportation, consider taking a guided tour with bus transfers. Many attraction fees – like those at the Pyramids of Giza and for sights in the Salah El - Din Citadel – are covered by bus tour prices (which average around $100 per person), plus you'll avoid the headaches that come with parking in congested lots or figuring out the city's confusing bus system. Additionally, tour buses will pick you up and drop you off at your hotel, and you'll gain more context at locales from your knowledgeable guide. Keep in mind that some attractions are not included in Cairo tour excursions.
On Foot - At first glance, Cairo seems impossible to traverse on foot. But when you break the city down and explore its neighborhoods, you'll find Cairo is actually very walkable. Strolling through areas like Islamic Cairo and Coptic Cairo will give you a sense of the city's rich culture and heritage. Just make sure to remain extra vigilant; pedestrians don't necessarily have the right of way here.
Bus - Three types of buses help clog Cairo's streets. The local, privately-operated microbuses aren't always helpful to travelers: No destinations are marked and overcrowding is common. However, this is the cheapest mode of transportation, with rides costing 1 Egyptian pound or less. Fares are passed to drivers after taking your seat onboard. The city's orange minibuses are also not tourist-friendly (pickpockets are regular passengers), and they cost more than the local buses at around 1 or 2 Egyptian pounds ($0.11 to $0.23). You'll have the best luck with the largest fleet operated by the Cairo Transit Authority (CTA). These buses are clearly marked with the CTA logo and serve major hubs such as Cairo International Airport and the Pyramids of Giza. However, these buses can also be tricky to use since b us numbers are non-existent or written in Arabic and no route maps exist. One-way tickets cost roughly 2 Egyptian pounds and can be purchased from the bus conductor.
Felucca - Less of a means of transportation, feluccas offer a peaceful (albeit slow) way of navigating the Nile. Comparable to Venice 's gondolas, feluccas (privately operated wooden boats with oversized sails) are designed to propel passengers along the Nile to and from Giza attractions like the Pyramids and the Great Sphinx . The best place for flagging a felucca is the Dok Dok landing point in Garden City; expect to negotiate a price of around 60 to 80 Egyptian pounds (roughly $7 to $9) for a one-hour ride.
Car - There is no need for a car in Cairo; in fact, having your own set of wheels will drive you insane. Parking is a nightmare, and Cairenes are notoriously aggressive drivers. Egypt has one of the highest rates of road fatalities per mile in the world, so it's best to avoid getting behind the wheel. If you absolutely must have your own vehicle, you can rent a car at Cairo International Airport. You'll also need to obtain an international driving permit before your trip.
PLACES TO STAY IN CAIRO
Prime Select Ocean Blue Heliopolis​
Situated in Cairo, 6 km from City Stars and 9 km from Cairo Intl Conference Centre, Prime Select Ocean Blue Heliopolis features accommodation with free WiFi, air conditioning, an outdoor swimming pool and a fitness centre. The apartment provides guests with a balcony, garden views, a seating area, satellite flat-screen TV, a fully equipped kitchen with a microwave and a fridge, and a private bathroom with bath or shower and a hairdryer. For added convenience, the property can provide towels and bed linen for an extra charge. Prime Select Ocean Blue Heliopolis offers a terrace. A children's playground can be found at the accommodation, along with a garden. Cairo Citadel is 16 km from Prime Select Ocean Blue Heliopolis, while Mosque of Mohamed Ali Pasha is 16 km from the property. The nearest airport is Cairo International, 5 km from the apartment, and the property offers a paid airport shuttle service.
Boasting a bar, The St. Regis Cairo is situated in Cairo in the Cairo Governorate region, 4.4 km from Tahrir Square and 5 km from The Egyptian Museum. Featuring a restaurant, the 5-star hotel has air-conditioned rooms with a private bathroom. The accommodation features a 24-hour front desk, room service and currency exchange for guests. Khan Al Khalili is 5 km from the hotel, while Cairo Tower is 6 km from the property. The nearest airport is Cairo International Airport, 20 km from The St. Regis Cairo.
Magic Golden pyramids Inn
Set in Cairo, 600 m from Great Sphinx and 1.1 km from Giza Pyramids, Magic Golden pyramids Inn offers accommodation with free WiFi, air conditioning, a restaurant and a bar. The bed and breakfast offers a flat-screen TV and a private bathroom with a hairdryer, free toiletries and bidet. A continental breakfast is available every morning at Magic Golden pyramids Inn. The accommodation offers a terrace. There is a shared lounge at this property and guests can go cycling nearby. Cairo Tower is 13 km from Magic Golden pyramids Inn, while Mosque of Ibn Tulun is 14 km away. The nearest airport is Cairo International, 34 km from the bed and breakfast, and the property offers a paid airport shuttle service.
Tilwana House is set in Cairo and offers free bikes, a shared lounge and a terrace. This country house offers free private parking and a shared kitchen. This air-conditioned country house comes with a kitchen, a seating area, a dining area and a satellite flat-screen TV. For added convenience, the property can provide towels and bed linen for an extra charge. Both a bicycle rental service and a car rental service are available at the country house, while cycling can be enjoyed nearby. The nearest airport is Cairo International, 68 km from Tilwana House, and the property offers a paid airport shuttle service.
Situated in Cairo, Golden Pyramids Inn features city views and free WiFi, 300 m from Great Sphinx and 1.2 km from Giza Pyramids. Fitted with a patio, the units offer air conditioning and feature a flat-screen TV and a private bathroom with bidet and free toiletries. For added convenience, the property can provide towels and bed linen for an extra charge. Guests at the bed and breakfast can enjoy a continental breakfast. Golden Pyramids Inn offers a terrace. A car rental service is available at the accommodation. Cairo Tower is 13 km from Golden Pyramids Inn, while Mosque of Ibn Tulun is 14 km from the property. The nearest airport is Cairo International Airport, 34 km from the bed and breakfast.
Featuring a bar, BBQ facilities and views of city, Gardenia Pyramids View is located in Cairo, 1.5 km from Giza Pyramids. Among the facilities of this property are a restaurant, a 24-hour front desk and a shared kitchen, along with free WiFi. The accommodation provides room service, a shared lounge and currency exchange for guests. Guest rooms include a private bathroom with a shower and a hairdryer. A continental breakfast is available daily at the hostel. Gardenia Pyramids View offers a terrace. Great Sphinx is 2 km from the accommodation, while Cairo Tower is 12 km away. The nearest airport is Cairo International, 33 km from Gardenia Pyramids View, and the property offers a free airport shuttle service.
Prime Select Eastown Sodic New Cairo
Situated 25 km from City Stars, Prime Select Eastown Sodic New Cairo provides accommodation with a garden, a terrace and a 24-hour front desk for your convenience. Featuring a balcony, each unit is air conditioned and features a dining area and a seating area with a satellite flat-screen TV. There is a fully equipped private bathroom with shower and free toiletries. The apartment offers a children's playground. A car rental service is available at Prime Select Eastown Sodic New. Cairo Intl Conference Centre is 26 km from the accommodation, while El Hussien Mosque is 31 km from the property. The nearest airport is Cairo International, 24 km from Prime Select Eastown Sodic New Cairo, and the property offers a paid airport shuttle service.
Sunset Hotel Cairo is situated in Cairo and features accommodation with a shared lounge and free WiFi, less than 1 km from Tahrir Square and 2 km from Khan Al Khalili. Offering a balcony or terrace with views of the city, the units feature air conditioning, a seating area, satellite TV and kitchen. A microwave and fridge are also offered, as well as a kettle and a coffee machine. Guests at the bed and breakfast can enjoy a continental breakfast. A car rental service is available at Sunset Hotel Cairo. The Egyptian Museum is 2.4 km from the accommodation, while Al-Azhar Mosque is 2.5 km from the property. The nearest airport is Cairo International, 19 km from Sunset Hotel Cairo, and the property offers a paid airport shuttle service.
Draz pyramids view Bed & breakfast
Set in Cairo, 1 km from Great Sphinx and 1.6 km from Giza Pyramids, Draz pyramids view Bed & breakfast offers accommodation with free WiFi, air conditioning, a bar and a terrace. There is also a microwave, fridge and a kettle. Continental and à la carte breakfast options are available every morning at the bed and breakfast. Mosque of Ibn Tulun is 13 km from Draz pyramids view Bed & breakfast, while Cairo Tower is 13 km from the property. The nearest airport is Cairo International Airport, 33 km from the accommodation.
21 شقة مكرم عبيد للعائلات فقط
Set within the Nasr City district in Cairo, شقة مكرم عبيد اول سكن للعوائل فقط 21 has air conditioning, a balcony, and garden views. The property, housed in a building dating from 2019, has free WiFi and is 2.3 km from City Stars and 4.4 km from Cairo Intl Conference Centre. The apartment features 2 bedrooms, a flat-screen TV with satellite channels, an equipped kitchen with a microwave and a fridge, a washing machine, and 1 bathroom with a shower. The apartment offers a terrace. If you would like to discover the area, hiking is possible in the surroundings and شقة مكرم عبيد اول سكن للعوائل فقط can arrange a car rental service. Muizz Street is 10 km from the accommodation, while Mosque of Mohamed Ali Pasha is 11 km away. The nearest airport is Cairo International, 9 km from شقة مكرم عبيد اول سكن للعوائل فقط 21, and the property offers a paid airport shuttle service.
PLACES TO GO & THINGS TO DO IN CAIRO
It's so easy to fall in love with a city when the history is as unique as Cairo's. The crowds here may make Manhattan look like a ghost town, but it's a small price to pay to experience the energy of the city Egyptians know as Umm ad Dunya – 'the Mother of the World'. Use this guide to discover modern-day Cairo as you've never seen it before.
There is probably no other city in the world where modern architecture is topped by such a magnificent 4,000-year-old complex of royal pyramids, temples and causeways. Any trip to the Egyptian capital must start with these majestic creations. They go from Menakaure, the smallest pyramid, to Khafre, the second largest, to Khufu, better known as the Great Pyramid of Giza. To avoid the smog, head down in the afternoon.
A short drive to the city side of the Giza plateau takes you to the feet of the Sphinx, another enigmatic symbol of ancient Egypt. An aged marvel, the reclining lion with a human head sits proudly on the Nile's west bank. For thousands of years, the mysterious Sphinx has been looming over Giza, guarding the only remaining of the Seven Ancient Wonders of the World. It has greatly inspired the imaginations of emperors, poets, artists, scholars and travelers for centuries, and remains a truly enigmatic feature of Cairo.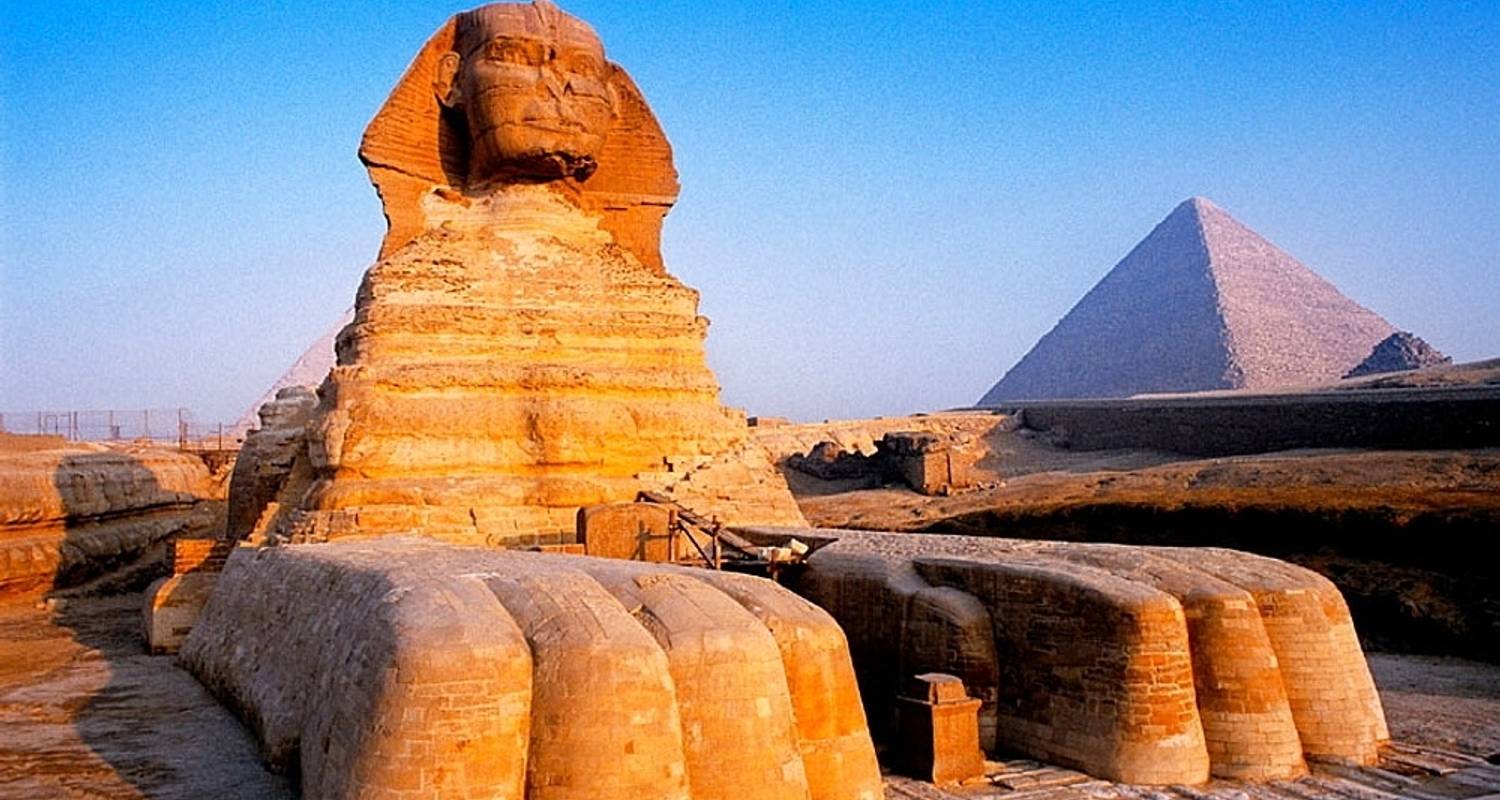 The Egyptian Museum Of Antiquities
Back in the centre of Cairo, just outside Tahrir Square, visitors will find the Egyptian Museum Of Antiquities (Midan El-Tahrir); one of the many museums in the city that invite people to explore Egypt's glorious past. Definitely a must-see while in town, the museum houses a unique collection of more than 160,000 pieces of ancient Egyptian history. Take the time to browse through the museum's chambers, dedicated to some of Egypt's most prosperous dynasties, and discover what life was like during the reign of the Pharaohs.
Stretched for one mile, this side of Cairo is the oldest place of settlement and religious worship in the region, combining Islamic, Christian and Jewish histories. Taking in the warren of narrow streets, you will find yourself at a cultural and religious crossroads. Discover the Amr Mosque, the first one to be built in Cairo, the Ben Ezra Synagogue, dating back to the 9th century, as well as some of the world's oldest churches, such as the Church of St. Gergius, or the Hanging Church of the Virgin Mary, erected in the 4th century.
The Hanging Church Of The Virgin Mary
Next we stop by this famed 4th-century church. It takes its name from the fact that it appears suspended, as it was built on the ruins of two old towers remaining from an old fortress, the Fortress of Babylon. The church is quite rustic, which is understandable considering its age, and has heavy doors, inlaid with ebony and ivory, and marble pillars. Its historical importance is due to the fact that it became the residence of the Coptic patriarchs of Alexandria, as well as having been the place to host many synods that determined when Easter should be celebrated.
The Khan el Khalili Bazaar
Step into Medieval Islamic Cairo for an oriental fantasy trip into the land of spices, luxury fabrics and perfume. The area displays several monuments and mosques from the Islamic period, but its gem is undoubtedly the Khan el Khalili Bazaar. Established in the 14th century, it is one the world's first markets, as well as a maze of winding and narrow alleys. Almost anything can be bought here and if one merchant doesn't have what you're looking for, he'll happily find somebody who does. Don't forget to haggle though!
Built in 970 AD, Al - Azhar is one of Cairo's newer mosques, its sheikh being considered as the highest theological authority among Egyptian Muslims. The building has seen extensive enlargements over its thousand-year period, thus becoming a harmonious blend of architectural styles. The mosque exhibits three minarets dating from the 14th, 15th and 16th centuries, while the central courtyard is the earliest part built. The building also hosts the world's second-oldest university, dating back to 988 AD, with its large modern campus as the most prestigious place to study Sunni theology.
Cairo's charm derives greatly from its mishmash of different religions and cultures. This museum stands testimony to Cairo's multiculturalism. Founded in 1908, the museum houses Coptic art, going from the earliest days of Christianity in Egypt up through early Islam. Displaying an elaborate woodcarving section, its galleries contain sculptures that show traces of the Ptolemaic period, rich textiles and entire walls of monastery frescoes. The first floor hosts the world's oldest book of psalms, the Psalms of David, with two original wooden covers.
This 187 meter - high tower is Cairo's second most famous landmark after the Pyramids. Commissioned in 1961 as a stylized lotus plant, the tower's 360-degree views are best enjoyed late in the morning, after the smog of the city below burns off. Visitors can also book a table at the Sky Garden cafe, which sits one floor down from the observation deck and offers some great dinner-time panoramas.
No trip to Cairo is complete without a trip on the mighty Nile. You can choose between floating restaurants and nightclubs and cruise boats, but nothing really compares with a relaxing and rewarding river experience on board a felucca. Come dusk, when the call to prayer echoes around Cairo, board one of these traditional sailing boats and experience the marvelous serenity only the Nile can offer. Sailing down the same river Cleopatra did so many centuries ago is a real treat.
Egypt is known for its dreamy sand dunes and when every oasis lies hours away from Cairo, Fayoum stands out at just a one and a half hour drive away, making it ideal for a weekend break. Whether you're looking for a historic, adventurous or peaceful break, Fayoum has it all. Opt for a desert safari, climb mountains, go hiking and trekking, enjoy sand boarding, camp in the middle of the desert, stargaze at the Milky Way, explore ancient monuments, view beautiful lakes or contemplate Wadi Al-Rayan's waterfalls in the middle of the desert. Whatever you do, rest assured that you will have the time of your life.
Located 180 km from Cairo, it's no doubt that the city of Alexandria has become a luring destination for tourists from around the world. It includes several amazing hotspots such as Pompey's Pillar, the New Library of Alexandria, Al-Montazah Palace, the Citadel of Qaitbay, the Pharaonic Anfushi Tombs, the Alexandria National Museum and the list goes on. If you're more into relaxing than sightseeing, go for a stroll on the promenade, while enjoying the beauty of the Mediterranean Sea, until you reach Al-Montazah Palace. Unwind in its beautiful royal gardens and later, fill yourself up at one of Alexandria's finest fish restaurants.
Here is where you can simply enjoy crystal blue beaches, pristine white sand, have a good bite to eat, relax – and nothing more! The North Coast, which is about a three-hour drive from Cairo, is the weekend getaway for most of the capital's residents during summer. It is mostly composed of upscale gated compounds and beautiful luxurious hotels, such as the Rixos Alamein resort. There are many houses for rent that offer private infinity pools overlooking the tranquil Mediterranean coast, making it an ideal spot for a romantic getaway.
This is another top favourite weekend getaway among Cairo's residents, due to its proximity to the capital, with a distance of only an hour and a half by car. It can sometimes become crowded as most residents flee here for a peaceful break from Cairo's hustle and bustle. Nevertheless, while Ain Al-Sokhna is famous for its beaches and breathtaking mountain views, it is also prominent for being a fishing destination. All of this – and more – make it a great getaway for families and friends looking for some tranquillity and serenity.
Known as a hub for kitesurfers, Ras Sudr is as close as it gets when it comes to Sinai as it's only a three-hour drive from Cairo. Due to its shallow waters and constantly blowing winds, Ras Sudr is a popular destination among kitesurfing fanatics from around the world. Its beautiful beach coastline also makes it the perfect getaway for family, friends and couples alike. Nevertheless, Ras Sudr also attracts many visitors who are into viewing different species of migrating birds.
This park has International in its name because some of its flowers, trees, and animals originate from different countries around the world. One of its entrances has flags of the countries that are represented in the garden. The International Park offers a train ride where visitors can explore its different parts within 15 minutes. There is also a theatre inside the park as well as a mini zoo whose museum contains some mummified bodies and skeletons of animals with a small board of information for each.
The Aquarium Grotto Garden—also called El Gabalaya Garden after the name of the street where it is located—was built in 1867 by Khedive Ismail, the viceroy of Egypt and Sudan. Unique for its architectural beauty, the garden's formations are made of clay to look like fish gills. The Aquarium Grotto Garden has many underground grottoes that used to host various unique types of fish from the Nile and other places. Although the number of fish has decreased and some of the grottoes lie empty, the garden still hosts some rare fish that are worth watching. Besides the fish, a wide collection of various types of trees and flowers call the Aquarium Grotto home as well. The garden has been featured in several movies as a romantic spot since 1956.
Nile Kayak Club is the first recreational kayaking club in Egypt operating domestic and cross-country kayak tours in Cairo, Aswan and Luxor.
Gouda Academy offers a great experience with different water sports in Cairo, and is one of the few academies that offers windsurfing.
If you want to enjoy a new sport and at the same time get in touch with nature, contact AC Rowing Academy for a wonderful experience.
If you're looking to have fun on the Nile, join Dragon Boat Academy and have some fun with a great workout and a beautiful view.
Pdal are a cycling group that regularly organizes cycling events. They also provide bikes if you don't have one.
Alia Parachuting & skydiving Academy is the first certified private academy in Egypt specialized in Static Line Jumping.

Zip Lining and High Ropes in Moqattam
The Monastery of Samaan in Moqattam is for adventure lovers and thrill enthusiasts, visit Samaam Monastery in Moqattam for an enjoyable and exciting experience. The monastery is open 7 days a week from 10 am till 10 pm.
The page is the public gateway for the closed group 'Egypt Hiking Community'. It discusses, shares and promotes hiking experiences inside and outside Egypt.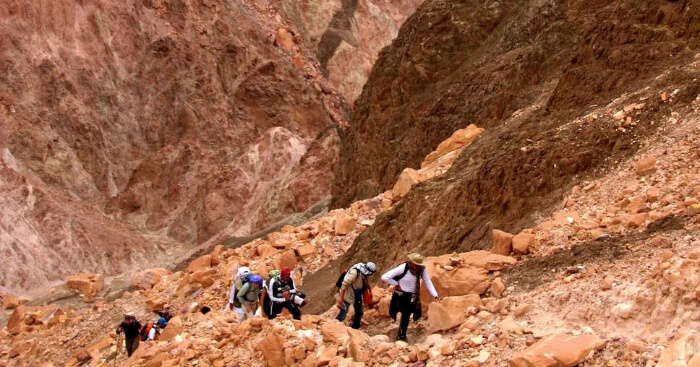 Join a sailing team at ERC Sailing Team – Cairo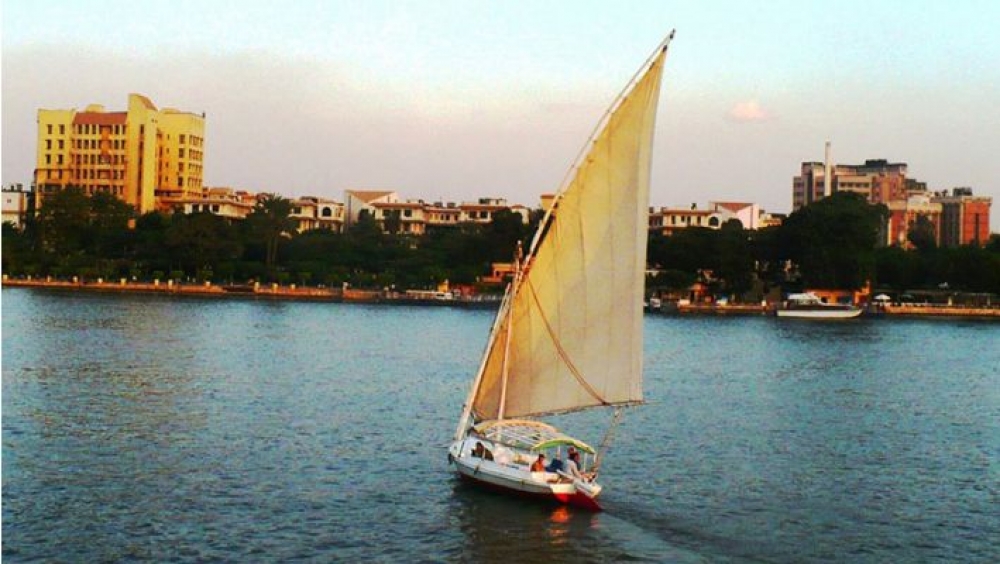 WHERE TO EAT IN CAIRO
An innovative city where ancient meets modern, Cairo's crowded streets offer just about everything, from an afternoon coffee in one of the many cafés, where you can enjoy the best of Egyptian atmosphere accompanied by Arab music, to dining in one of the finest restaurants by the Nile. Here are the list of 10 best cultural restaurants to be discovered in Cairo.
Rated as one of the best Latin American restaurants in the heart of Cairo, Tabla Luna offers both contemporary and classic dishes, such as the aji de gallina, ceviche de camaron and the mouthwatering torta de tres leches dessert. Dishes come from countries such as Peru, Argentina, Mexico, Bolivia and Ecuador, and use organic traditional ingredients. With its festive but casual setting and Latin American flavours, this is the place to savour the diversity of Latin American cuisine in Cairo.
Andrea Mariouteya, where guests feel as if in a dream, casts a spell on its guests, and keeps them coming back for more, with its classic Spanish hacienda architecture and décor, creating an exotic atmosphere and bringing the charm of Spain to Cairo. With its location on one of the most popular beaches in Egypt, it's no wonder it captures the heart of any visitor. Guests savour the flavours of Spanish dishes such as the chicken marinades, tortilla Espanola served with an exquisite salad, or the grilled octopus salad crafted with Andrea Mariouteya's secret herbs. Dishes are accompanied by traditional oven-baked Egyptian bread, making a guest's visit to Andrea Mariouteya a once-in-a-lifetime memory.
Located in the prestigious Boehel building, La Bodega is both a French and Mediterranean aperitivo spot and bistro, offering an elegant environment for guests to enjoy its lounge or bar, surrounded by 1930s décor. When it comes to the menu, guests have a variety of options, with lunch dishes such as the aubergine haloumi combination; the duck filo in orange sauce; the classic club sandwich; and the beef burger, or the dinner menu, which consists of classic haute cuisine dishes like the beef carpaccio or the spicy calamari. La Bodega also offers its own delivery service, which can appeal to the traveller looking to stay in after a long day spent exploring the city.
Le Pacha 1901 is considered one of the best restaurants in the area. Originally built as a paddle boat in 1901 on the edge of the Nile alongside Gezira Island, it's now a landmark dining and entertainment venue. In 1992 it became the headquarters of the best international restaurants in Cairo, with three signature restaurants opening there – the Italian Piccolo Mondo, the French Le Steak, and Johnny's Pub. Offering a variety of global dishes, Le Pacha 1901 has continued to expand its global restaurant selection at the site, including L' Asiatique, specialising in authentic Asian cuisine, Egyptian Le Tarbouche - Akl Zaman, with its lavish red and gold décor, and the outdoor terrace of Carlo's café where guests can enjoy shisha while feeling the breeze off of the Nile. With its combination of international restaurants, Le Pacha is a unique headquarters that has room to accommodate everyone's palate.
Named after the Egyptian writer and Nobel Prize Laureate Naguib Mahfouz, Naguib Mahfouz Cafe is a lively place for the guest in search of an authentic North African experience. With its traditional magical Arab décor, guests are able to come for a light meal, the finest coffee, or the best shisha, served by the friendly staff dressed in Egyptian vests decorated in gold designs and the classic fez hat. At Naguib Mahfouz everything is presented on classic Arab golden plates, representing the elegance and richness of tradition in Egyptian culture.
Having established itself as one of the friendliest and best-quality food spots in the heart of Cairo, the atmosphere at Quay Lounge is such that family and friends go there to relax and enjoy a creative meal, in the company of the best of Egyptian coffee. Whether sitting in modern chairs and tables or on comfortable couches, guests can enjoy a menu that offers a mixed cuisine of anything from Middle Eastern to Italian dishes. On sunny days guests also have the option to dine on the outdoor terrace while looking out at the magic waters of the Nile.
Featuring a casual and warm local atmosphere, Taboula offers traditional Arab hospitality and the best of diverse delicacies from the Middle East. One of the most popular is taboula (Lebanese salad), along with other side dishes and garnish. Another popular choice is the Egyptian mezzas, which are small, tapas-like bites, perfect accompanied by a bottle from the vast global selection of wine. You can then wrap up the evening by delighting in traditional Middle Eastern desserts and listening to classic Arab melodies, with songs by Umm Kulthum and Fairuz played in the venue.
Its creative interior design of natural plaster and recycled wood and its philosophy and commitment to a green ethos has made The Vegan Kitchen one of Cairo's foodie hotspots. Operated by an Egyptian couple, The Vegan Kitchen's passion is to serve international and original vegetarian recipes. The restaurant offers a wide array of unusual dishes, like the spicy rainbow salad, raw tomato tart or the quinoa tabbouleh, but also offers a variety of vegetarian pizzas and homemade desserts and ice cream. The Vegan Kitchen has certainly established a presence and name for itself on the streets of Cairo.
Bringing the best of Italian cuisine to Cairo, Tutti Matti entertains with a cosy indoor setting and outdoor terrace, making it an easy to please to stop at. At Tutti Matti guests can enjoy the finest of Italian cuisine, while experiencing the friendly Cairo atmosphere in the company of family and friends, either for a morning breakfast or brunch, accompanied by quality Italian coffee. Alternatively, stop by for the lunch buffet or dinner menu, while being entertained by live performances by local music bands.
By turning popular Egyptian street food into delicious gourmet dishes all the while using the freshest local ingredients, at Zooba, whether you are a regular guest or first-time visitor, a variety of delectable flavours await you. Offerings include Zooba's own whole-grain koshari, the chicken liver hawashi, or the sakalans sandwiches, with Zooba's own fresh oven-made bread to accompany them. With its multi - coloured decor and casual outdoor setting, along with its dedication to providing healthy cuisine and a lively environment, Zooba is a gem to discover in Cairo.
WHERE TO SHOP IN CAIRO
Visiting different places and getting to know various cultures is, of course, an exciting experience but many people find it more exciting to hunt down some authentic souvenirs which capture the spirit of another culture. As for Egypt with its great history and grand civilisations, there are plenty of places to get some original and genuine gifts. Here are some places to find some unique souvenirs.
In the heart of old Cairo, Khan El Khalili has to be on the top of your list while shopping for some Egyptian authentic gifts. Besides the historic nature of the place, you'll find so many souvenir options around you that you won't know what to get; from eastern jewelry boxes to silverware, gold arts and crafts, stained glass lamps, statues, copper and other handmade accessories, textiles and a range of items decorated with pearls.
Khayameya (Tent Makers') Market
Located near Bab Zuwaila in old Cairo, the Khayameya Market, aka tent maker's market, is another good place to get some authentically artistic textiles. Having been open since the 1600s, the market is famous for its decorative cloths which egyptiansEgyptiansents for weddings, funerals and other gatherings. Khayameya textiles are also used as covers for cushions, tables, and beds, especially during Ramadan celebrations. The Khayameya cloth is characterized by Arabic typography and colorful Islamic shapes, so if you want to bring a taste of Egypt home, this market is the perfect place to look.
Want some Arab-inspired authentic gifts? Muizz Street is the perfect place for it, with the mixture of antiques, handmade accessories, folkloric costumes, djellabas (long gowns), dancing dresses and accessories, scarves, spices, copper coffee and tea pots, copper lanterns, and other handcrafted copper items.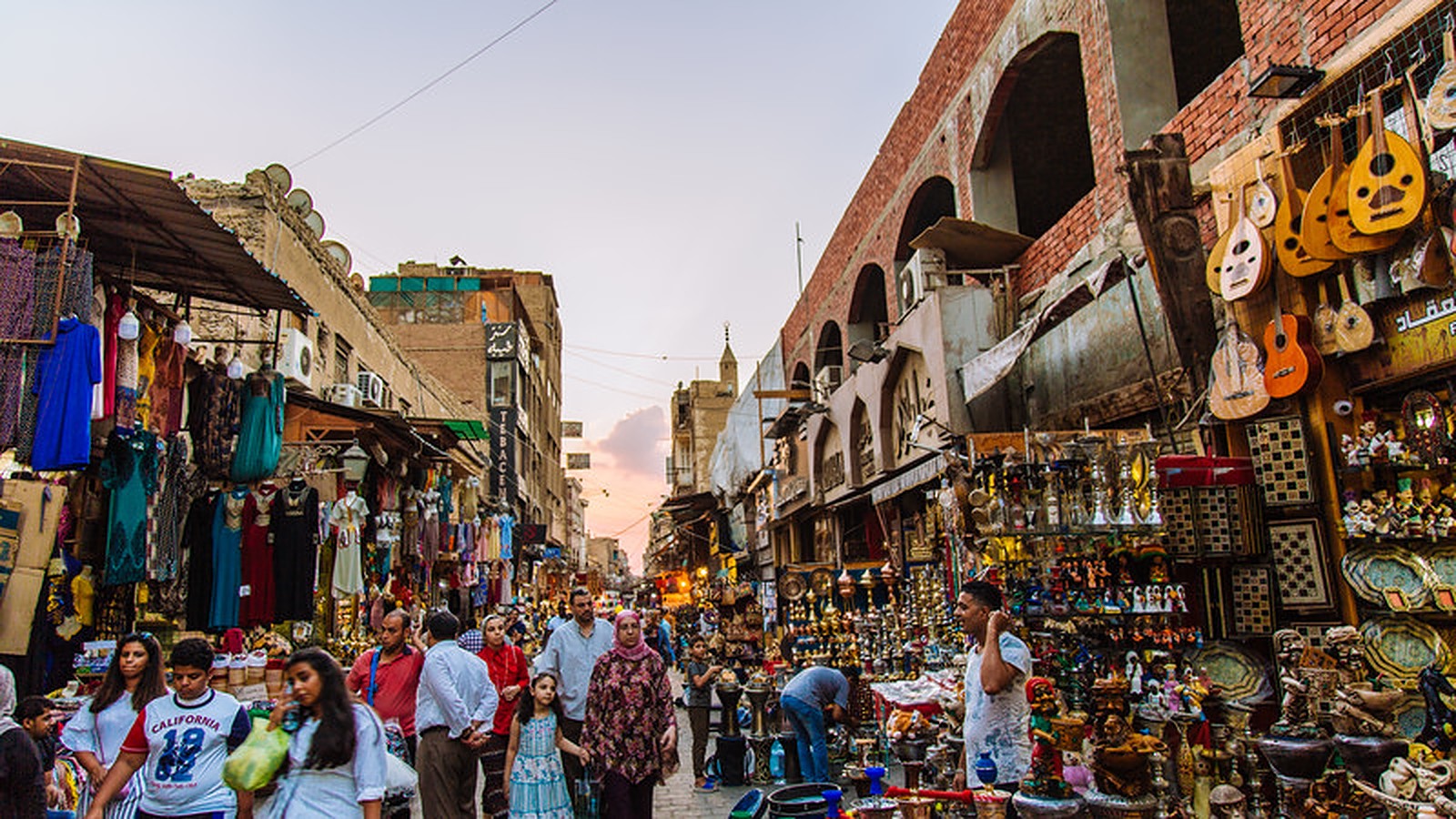 Dokki, Maadi, Zamalek, and the downtown neighborhoods are known around Cairo known as areas which are teeming with Art Galleries including Azraq w Buny (Blue & Brown) gallery in Dokki, Maadi Showroom, Asfour El Nile in Zamalek, Falak in Garden City, and Townhouse in Downtown. From leather bags and wallets to handmade items, antiques, statues, home accessories, notebooks and other handcrafted items, there is plenty to choose from for any souvenir hunter.
Fokhareen Market (Pottery Market)
If you're looking for some local pottery items, then you're in luck: there is a whole market for you to choose from a selection that is sure to include just what you want. Located in Fustat, which is also an area in Old Cairo, the Fokhareen market is a place where you'll find a broad range of unique pottery items that you simply wouldn't find anywhere else, even the fanciest galleries or bazaars. And even if you aren't looking for anything in particular, the experience of wandering around the market and the area is well worth it!