LAUANTAI, 05. SYYSKUUTA 2020
The otherworldly blue-green waterfalls of Supai are for real—a must see!
In the remote reaches of the Grand Canyon, the Village of Supai—the most remote community in the lower 48 states—beckons with a prized and rare feature: towering year-round waterfalls. The blue-green waterfalls of Havasu Canyon are among the Grand Canyon region's greatest treasures. Tucked in a hidden valley, the five stunning, spring-fed waterfalls – and their inviting azure swimming holes – sit in the heart of the 185,000-acre Havasupai Reservation. Parts of the canyon floor, as well as the rock underneath the waterfalls and pools, are made up of limestone deposited by flowing water. Known as travertine, these limestone deposits give the famous blue-green water its otherworldly hue.
The Havasupai Reservation is located south of the Colorado River and four hours west of Grand Canyon National Park's South Rim, off Route 66. Supai, the only village within the reservation – and indeed the entire Grand Canyon – is situated below the rim. From Hualapai Hilltop, a well-maintained but demanding trail leads to Supai (8 miles) and the waterfalls and campground (10 miles).
It's not easy to get to Supai, but then, that's the point. Nope, this secret corner is home to the small Havasupai tribe, who have inhabited the area since AD 1300. Known as the "People of the Blue-Green Water," their village is accessible only by foot, pack animal, or helicopter. The U.S. Postal Service delivers mail via mule.
The adventurous traveler makes the challenging hike eight miles down from Hualapai Hilltop (you can helicopter in if you're less sure-footed or short on time) to the Village of Supai for a huge payoff: waterfalls in an Eden-like paradise, among the most photographed in the world. There's no greater reward than peeling off your socks and boots, dropping your pack, and plunging into the refreshing waterfalls and travertine pools of Havasu Creek, a tributary of the Colorado River.
After cooling down, you'll continue another two miles and make camp under spreading trees with similarly intrepid types. Save some energy for the trek down to the even more secluded Mooney Falls. At night, look up: there are no lights for miles, just an inky, star-saturated sky. And congratulate yourself for completing a trip most only dream of.
BEST TIME TO VISIT SUPAI
This is a big question at the Grand Canyon and Havasupai Waterfalls because certain times of year are far better than others. Bottom line is you need to consider the temperatures you'd prefer, whether you want to swim, how early you're willing to get started each day, and whether you want to gamble with possible flooding. Here is a weather conditions during the different seasons in Supai during your trip in the Grand Canyon and Havasu Falls:
Winter (Dec-Feb):
The Havasupai Waterfalls are closed during this time, as is the North Rim of the Grand Canyon. So Havasu Falls trips, Thunder River and Deer Creek Falls are all out during the winter.

This is a great time of year to see Ribbon Falls, as Phantom Ranch reservations are often available last minute, and camping at Bright Angel Campground is easier to secure.
Spring (Mar-May):
Spring is the best time to backpack into Clear Creek and Cheyava Falls, as snowmelt often assures it will be flowing.

It's also fantastic for backpacking for Elves Chasm and hiking into Ribbon Falls.

Spring is an excellent time of year to visit Havasu Falls – hiking is comfortable, days are long, and swimming is good.

The North Rim of the Grand Canyon is closed until May 15, so most of the Spring is out for Deer Creek Falls and Thunder River.
Summer (June-Aug):
The Grand Canyon is hot in the summer – the bottom of the Canyon can reach as high as 120 degrees fahrenheit. It's recommended that the only waterfall trip you do in the summer is Havasu Falls.

Havasu Falls is still going to be very hot, and it's important you start your hike early each day. But once you're at the falls it's quite nice. The water is 70 degrees year round, which is perfect when it's 100 degrees outside the water.

July and August are monsoon season, so it's important to check weather reports for "Supai, AZ" and "Williams, AZ". If there's significant (40% or more) chance of thunderstorms, then go into Havasu Falls with extra caution.
Autumn (Sept-Nov):
Autumn is great for all the waterfall trips featured on this website, including Havasu Falls.

The second half of November can get cold, and the North Rim is normally closed so Deer Creek Falls and Thunder River aren't possible.
GETTING TO AND AROUND SUPAI
Supai can be reached by hiking 8 miles (13 km), descending 2,004 feet (611 m) in elevation from Hualapai Hilltop through the Hualapai Canyon. Alternatively, the AirWest Helicopters service schedules flights from Hualapai Hilltop to Supai. Hualapai Hilltop is located about 70 miles (110 km) from the community of Peach Springs, along paved BIA Road 18.
The trail is braided but generally follows the obvious drainage. 5 Other Attractions within 10 km. Then another 3 to the farthest waterfall. Havasupai Falls Arizona is a major destination for hikers who want to visit the blue green waterfalls. You have two main options for getting to Havasu Falls from here… and they're very different.Your choice is likely to depend on three things: fitness levels, budget and time available.The hike to Havasu Falls and the Havasu Falls campground is another 1.5 miles, meaning the entire hike to Havasu Falls is around 10 miles in total.It's a long but fairly straightforward hike. It is possible to ride helicopters in and out of Havasupai. To sign up, simply fill out the very brief form below and you'll start receiving information that will help you maximize your outdoor vacations! Supai is an oasis in the middle of desert country on the Havasupai Nation reservation in Arizona.
Whichever city you come from, the drive to the Havasupai trailhead is mostly a 60-mile long straight road in the middle of nowhere.There's nothing along the way, except maybe for a few Route 66 souvenirs at the start.For that reason, many people choose to sleep in their cars at the trailhead and begin their hike in the morning.If you don't fancy that, you could stay in a motel about an hour's drive away and get up early.The road to the Havasupai Falls trailhead is about as straight as it comes, but the turning is easy to miss.You need to hike during daylight so a wrong turn could mess up your entire journey to Havasu Falls.Once you get into the Havaupai trail, it's almost impossible to go the wrong way.There are few signs or directions, but it's hard to go wrong in a narrow slot canyon.Just keep walking… and walking some more… and you'll get to Havasu Falls. Hualapai Hilltop is a long way from any big cities, but Las Vegas is the easiest to drive from.Vegas is a world away from Havasu Falls, but combining the two makes a great trip.
WHERE TO STAY IN SUPAI
For Havasupai Waterfall trips, it's best to stay at the Grand Canyon Caverns Inn as it's the closest lodging to Hilltop (the trailhead). It's recommended that you arrive the at the Grand Canyon Caverns Inn the evening before and leave early the next morning. Camping reservations are a must, as this beautiful area is very popular. If you prefer to sleep indoors, Havasupai Lodge is Supai's only hotel. It includes first-class accommodations with a nearby café. For Grand Canyon National Park waterfall trips, the best lodging depends on whether you're starting from the South Rim or the North Rim. For North Rim trips (Deer Creek Falls and Thunder River), it's best to stay at a hotel in Jacob Lake, Arizona. For South Rim trips (Ribbon Falls, Elves Chasm, and Cheyava Falls), it's best to stay in Tusayan, Arizona for easy access to the trailheads the first morning.
Located on historic Route 66 in Seligman, Arizona, this motel is 15 minutes' drive from Grand Canyon Caverns Airport. Rooms offer free Wi-Fi and a cable TV with extended film channels. A microwave and a refrigerator are included in all rooms at Supai Motel. The air conditioned rooms offer floral bedding and a desk. 24-hour reception is offered at Motel Supai. Fax and photocopying services are available. Vending machines featuring drinks are located on site. Havasupai Falls is 144.8 km from this motel. The Grand Canyon is 177 km away.
Grand Canyon Caverns Inn has a restaurant, seasonal outdoor swimming pool, a bar and garden in Peach Springs. Boasting family rooms, this property also provides guests with a children's playground. The accommodation features a 24-hour front desk, a shared kitchen and organising tours for guests. The inn offers a barbecue. Guests at Grand Canyon Caverns Inn will be able to enjoy activities in and around Peach Springs, like hiking and cycling.
Cabins at Grand Canyon West
Cabins at Grand Canyon West features accommodation in Peach Springs. The hotel has family rooms. All rooms at the hotel are fitted with a seating area. At Cabins at Grand Canyon West, the rooms include air conditioning and a private bathroom.
Jacob Lake Inn has been family owned and operated since it was founded by Harold and Nina Bowman in 1923. Now, the third and forth generation of the family continue the tradition of competent friendly service, comfortable beds, excellent meals and baked goods, outstanding quality Native American Arts and Crafts, and useful information about this unique area. Jacob Lake Inn is an "Inn" in the original sense of the word: a public house which offers hospitality and recreation. The name evokes the idea of home-like comfort, rustic surroundings, and friendly service. We welcome you to visit and experience what it was like to travel when the journey was as important as the destination.
Holiday Inn Express Grand Canyon, Tayusan
Featuring an indoor swimming pool, this Grand Canyon, Arizona hotel is 15 minutes' drive from Grand Canyon National Park. Free Wi-Fi is provided in all rooms. A flat-screen TV with cable is featured in all guest rooms at Holiday Inn Express Grand Canyon. Simply furnished, each air-conditioned room boasts coffee-making facilities. A hot tub is provided onsite at Grand Canyon Holiday Inn Express. Fax and photocopying services are offered onsite. Phoenix Sky Harbor International Airport is 368 km away, while Kaibab National Forest is 22 km from Holiday Inn Express Grand Canyon.
Historic Route 66 Motel offers air-conditioned accommodation in Seligman. All rooms boast a flat-screen TV with satellite channels and a private bathroom. The motel has family rooms. All guest rooms will provide guests with a fridge. The reception at the motel can provide tips on the area.
Located in the small town of Seligman on historic Route 66 and near attractions such as the Grand Canyon, this motel offers guestrooms with free, high-speed wireless internet access. OYO Hotel Seligman AZ Route 66 features guestrooms with comforts such as air-conditioning and cable TV. Select rooms offer microwaves and refrigerators. A variety of shopping and dining options is available only minutes from the OYO Hotel Seligman AZ Route 66. Guests can also explore the Grand Canyon Caverns or the remote Village of Supai, located in Havasu Canyon.
PLACES TO GO & THINGS TO DO IN SUPAI
Explore the Toroweap Overlook
Perfect photo opportunities at sunset. Unique views of the Grand Canyon. Walk right up to the edge. Remote camping with no crowds. Dramatic cliffs down to the Colorado River. Toroweap Overlook can be accessed via Country Road #109, 8 miles west of Fredonia, AZ. It's about a two hour drive along a dirt road, with the final stretch becoming much more technical over larger rocks (a truck with high clearance is recommended). Tuweep Campground is the only area you're allowed to stay out here and you'll need a backcountry permit from NPS ahead of time. Once you make it to the campground, you shouldn't have any trouble finding a spot - more people seem to visit this area solely for sunset instead of overnight stays.
Camp at Tuweep Campground
Intimate views of the Grand Canyon and Colorado River along the North Rim. Dramatic sunrises and sunsets. There are a number of ways to access Tuweep – and all access moves from the north to the south as you make your way toward the campsites. The most reliable road is Country Road #109 (a dirt road), which begins about eight miles west of Fredonia, Arizona. It's also known as the Sunshine Route. Once you enter the dirt road, you'll travel south for about 61 miles. Most of those 61 miles are tame and manageable enough but the last three miles can be treacherous. Highly recommend a high-clearance vehicle for this trip but regular cars make it to the campsites. Still, driving a regular car is not something that would advise. Moreover, be sure you have a spare tire; the National Park Service (NPS) does not maintain the last three-mile stretch – and there are sharp rocks that jut out of the road. The NPS puts your odds of getting a flat tire at one in four. If you haven't guessed by now, getting here is an adventure unto itself. Once you get to the campsites at the Tuweep campground, you should not have any trouble finding an open campsite. There are ten of them. If you need the largest one, which can accommodate up to about ten people, you'll need to reserve that in advance.
Trek to an oasis of cool blue water and thundering falls deep in the Grand Canyon. Havasu Falls is a waterfall of Havasu Creek, located in the Grand Canyon, Arizona, United States. It is within Havasupai tribal lands. The Havasupai Reservation is a remote area just outside Grand Canyon National Park, full of blue-green water and dramatic waterfalls. Despite being an extremely isolated location, camping in the canyon is overwhelmingly popular and reservations are required. On popular weekends you will be sharing the campgrounds with hundreds of others but shoulder seasons can bring some respite. The trail to Supai Village starts at Hualapai Hilltop and is downhill the entire way. There is little cover, so lots of water and an early start is recommended; the way back will be even tougher. Once you reach the village you will pick up your permits and maps, any items needed from the small market, and continue another 2 miles to the campgrounds. After setting up camp, Havasu Falls is a short trip back up the trail and your best bet after a long day of hiking.
Hike to the Confluence of the Colorado River and Havasu Creek
Distance: 16 miles round trip to the confluence from the campgrounds (8 miles round trip from Beaver Falls). Duration: All day long adventure starting at sunrise. Beautiful orange hues of the canyon walls that tower above turquoise blue waters of Havasu Creek which meet at the powerful Colorado River confluence. The trail is very poorly marked, so bring your GPSBe sure to have your permit and camping reservations planned far in advance due to high demand.
Hike:
Starting from the Havasupai campgrounds, which is a 10 mile hike in itself from Hualapai Hilltop, the trail goes past Mooney Falls to Beaver Creek for 4 miles. The elevation gain is limited but makes up for difficulty with route finding. Getting to Beaver Falls will require creek crossings at least 4 times. For this hike one must be particularly keen about spotting the faintly drawn trail across the creek sides. After reaching the spectacular and serene Beaver Falls, the trail continues to the right of the creek. This is the most challenging part of the hike because it is not marked and hard to find the route over and down the ridge. There are two options that you may take from the small falls just past Beaver Falls. There is piton on a cliff on the left side that may take some time to find which you can carefully rope your bags down and slowly rappel down after. The alternate more safe route is up and over the ridge to the right. If you are looking up to the right, you will notice a few rock cairns that will help to guide you to the path. This route goes up and over the ridge and down the creek. Once you make your way to the creek you follow this down another 4 miles to the confluence. This trail is at times extremely difficult to find but note that the trail will always follow the creek. You will have at least 10 creek crossings so it should be advised to wear Keens or water proof shoes with toe protection instead of soaking your boots or running shoes. With the strikingly orange canyon walls towering above the turquoise waters, the trail becomes rife with greenery as you get closer to confluence. Close to the Colorado River, there is the potential to see Desert Bighorn Sheep on the cliff sides. As you approach the Colorado River, you can slowly begin to hear the mighty roar which crashes into the the tributary. Once arrived, the views are breathtaking and allow you to take in the raw power of the Colorado River firsthand. Enjoy this view, you have made it where few people have!
If you hike down to Havasupai and stop at Havasu Falls, you will have missed the grandest of the waterfalls in the Grand Canyon: Mooney Falls. At a towering 200 feet tall, not only is this waterfall scenic, but getting to the idyllic pool at its base is an adventure unto itself, requiring you to use chains and ladders to hike down through the old mining route tunnels in the cliff face. Hiking down to Mooney Falls is a great, short adventure when camping at the Havasupai Campground. Not only that, it is certainly the most adventurous waterfall to reach, requiring travelers to hike down through a menacing passageway cut through the side of the canyon wall by miners at the turn of the 20th century. Descend to the base of Mooney Falls at your own risk; the falls are named after a prospector (Mr. Mooney) who fell to his death way back when, prior to the existing path being in place (still dangerous now). While Mooney Falls makes a great destination, Strongly encourage it to be only one stop along your way to the many cascades and Beavers Falls further downstream.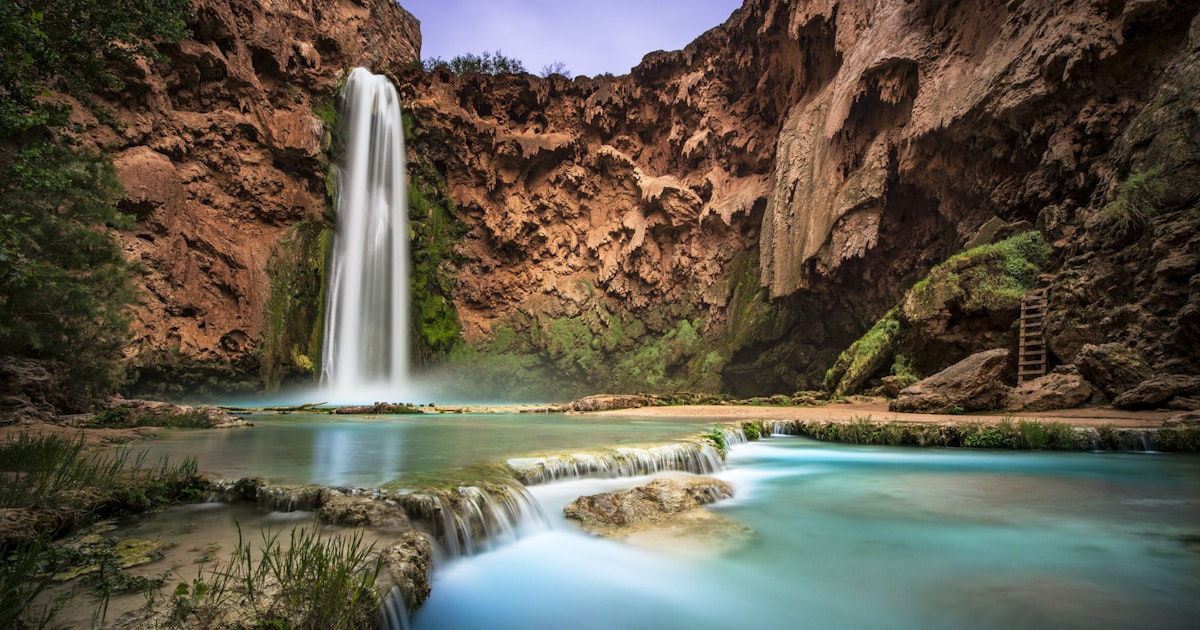 Hike to Hidden Falls in the Havasupai Reservation
Want to cliff jump at Havasupai but not down to jump 125 footers? This is the perfect place to get 40-60 foot jumps in! Coming from the campground, you'll want to backtrack back towards Navajo and Fifty Foot falls, crossing the bridge that you came over coming into the campground. Continue on the trail until you see a picnic table with a small canopy with a big piece of tarp/burlap hanging from the front. Go past it, hug the rocks to the left and continue down towards the river. You'll have to get your feet wet, but there's somewhat of a defined trail. Continue to hug the rocks to your left until you see the falls. At this point, you'll have to cross the water over to your right. From there, there are 3 spots you can dive from, 30 feet, 40 feet, and 60 feet. At 60 feet, you'll want to jump far outwards as there are rocks directly underneath you. It's pretty deep, so don't worry about it and enjoy!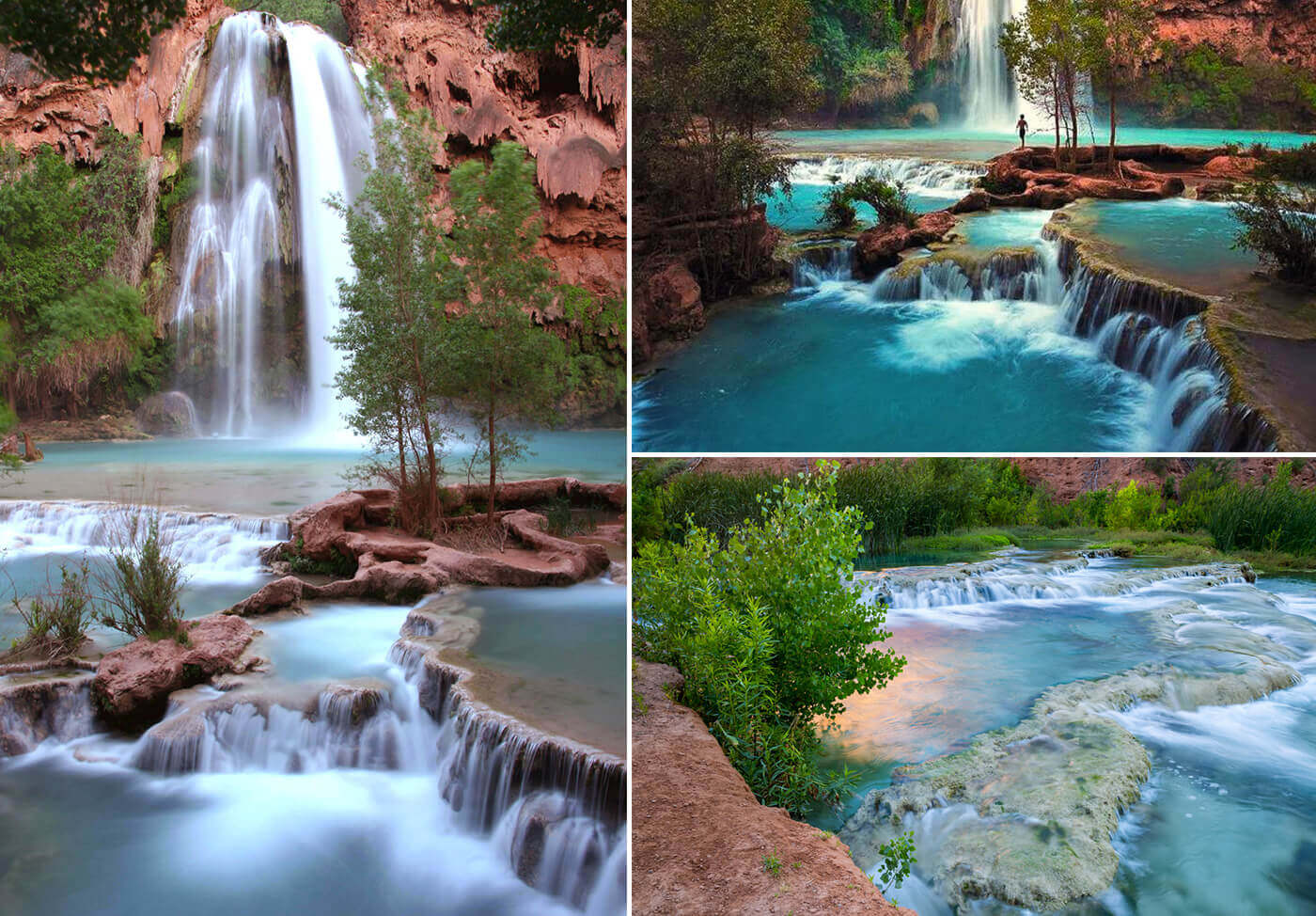 WHERE TO EAT IN SUPAI
This was a welcomed stop after the hiking in to the village. The store has a nice variety of cold and microwavable items. They also have a nice selection of toiletries if needed. The Indian man working inside the store is really nice. A lot nice than the people at the café. Sinyella has a nice shaded area with picnic tables and a cafe around the side. They serve breakfast burritos and other hot breakfasts, as well as burgers and various other lunches.
This is the only restaurant you'd find on your way down to the campsite. If you don't want to carry a lot of food for the entire trip, then this a good option to stop by. The food here is good, there is a good variety of choices.