PERJANTAI, 04. SYYSKUUTA 2020
Sitting in solitude in the middle of the South Atlantic Ocean, 2400km from anywhere and reachable only by boat, Tristan da Cunha is one of the world's last destinations for the truly intrepid traveller.
Tristan is British territory, but the gateway to the island sits a mere 2800km away in South Africa. Vessels depart from Cape Town to make the often arduous six-day crossing to what is 'the world's remotest inhabited island', according to the local tourist board and no less an authority than the Guinness Book of World Records. Boats making the trip vary – in the summer months, a couple of cruise ships pass by as they travel from Africa to Latin America and the spiffy new SA Agulhas II research vessel visits each September.
But for the rest, a rough-and-ready voyage awaits. Eight times a year, cargo and fishing boats leave Cape Town's gleaming harbour to tackle the rolling waves to Tristan. On board amenities are few – a sole bathroom shared by the half-dozen passenger cabins, a TV room where surprisingly varied meals are served, a couple of chairs on the deck and plenty of banter with the crew heading off to the crayfish-rich waters around Tristan.
There's no airport here, no wi-fi, ,no night clubs no restaurants, no jet skis not a latte to be found anywhere,nor safe sea swimming and the only way to tweet or update your Facebook status is by mustering the patience to deal with the 90s-style dial-up connection available.
Stepping back in time is a big part of travelling to Tristan. Teenage dances are held in the hall on Saturday nights, there are just two channels to choose from on TV, and the hospitality on offer has long since disappeared in many parts of the world. And then there's the transport. Some islanders do have cars and there's even an intermittent bus service, but only a fraction of the 98-square-kilometre lump of volcanic rock is accessible by anything other than a rugged hike. The challenge lies not in getting around the island but in getting there in the first place.
BEST TO VISIT TRISTAN DA CUNHA
Climate on Tristan da Cunha and neighbouring islands is marine subtropical with relatively cool weather and high rainfall, but rarely extremely cold or hot. Average rainfall is between 1500 and 2000 mm a year and average temperatures around 15 °C, but with some variations between the islands. November to March is summer, June to September the coolest period, though differences between months are generally not very high. Rainfall is fairly evenly distributed throughout the year.
GETTING TO TRISTAN DA CUNHA
By Boat - It is not possible to get to Tristan da Cunha by plane, so you will need to take the boat, most likely from Cape Town or sometimes from Walvis Bay in Namibia. As there are only about 10 ships making the trip a year, it requires special planning if you want to travel there by yourself. Most places on board are booked months if not a year in advance, mainly for locals returning to their island. If you are lucky enough though, the trip takes 5 or 6 days and will mean you have to spend months on the island. Tickets roughly cost about US$800 for a return trip on one of the fishing vessels and around $1,000 to $1,200 on the Agulhas ship. It's best to check the Tristan da Cunha website for details about schedules and prices. Also, contact them at their website for permission to visit the island and arrange accommodation and possible trips on Tristan da Cunha and surrounding islands. Otherwise, if you want to visit for a brief periode of time, it is best to join a tour with boats (mainly sailing ships) between Antarctica and Europe for example. Pricey, but priceless! Oceanwide Expeditions offers a cruise to Tristan da Cunha and other remote islands in March-April.
GETTING AROUND TRISTAN DA CUNHA
By Vehicle - There is a paved road (the M1) from Edinburgh (aka The Settlement) to the Potato Patches, which are about 3 miles away. There are no vehicles for hire on Tristan; however, local transport is available to the Potato Patches. This local transport could be an islander's car, tractor, and during the mornings a bus service also operates. The bus is targeted at pensioners, who can ride on the bus for free. The charge is £5 return.
By Boat - There are boats for hire for trips around Tristan da Cunha island or even to Nightingale Island. Also, there are cruise trips to Nightingale Island and Inaccessible Island, mostly including Zodiac trips. Gough Island is the least visited of the islands. You need to arrange things with the local government and rates include permits and local guides.
By Foot - Travelling by foot is the most common method of getting around Tristan da Cunha Island and the only way of moving about any of the outer islands. Due to rugged, steep terrain, going all the way around the island is difficult, but if you are just staying in the village of Tristan, the flat, grassy ground there is easy to manage.
WHERE TO STAY IN TRISTAN DA CUNHA
There are no hotels on Tristan, but there are several guest houses, and you could also arrange to stay with an island family. For a unique experience, stay overnight in the Thatched House Musuem.
All booking enquiries should be made by email to the (tourism@tdc-gov.com) who will advise options available during your stay and arrange a booking.
Traditional Thatched House Museum
The Tristan Tourism Department has made this unique property available for overnight stays. Situated in isolation beyond the Big Watron, the accommodation offers a special experience for those determined for something special. Thatched Tristan House is only available for a single night at £100.00 for up to two people to stay. Included in the price are tea, coffee, milk, sugar, candles, sleeping bags and a traditional Tristan cooked meal prepared by islanders and brought to the house at lunch time.
William Glass Guest House
This spacious insulated wooden bungalow, and the first privately owned guest house, is situated in the middle of Station Lane. It comprises of 4 bedrooms (two single and two double); bathroom with bath, shower and toilet; a separate toilet; kitchen with separate laundry; and a large lounge. Outside there is a very private enclosed garden with a BBQ area. All amenities, tourism, post office, internet café, supermarket, and harbour are within and a three minutes walk.
Comprises : 3 double bedrooms, 2 single bedrooms. 1 single bed with adjoining shower and toilet. 1 bathroom. 1 kitchen. Open plan lounge and diner area.
Comprises : 2 Bedrooms (1 double and one with two single beds), lounge and open plan kitchen / diner.
Open plan kitchen/dining/lounge area, two bedrooms, bathroom including toilet, shower and bath. Situated in the east side of the village.
Mountain Lodge Guest House
Open plan kitchen/dining/lounge area, two bedrooms (1 double and 1 single room), bathroom including toilet, shower and bath. Situated in the most eastern part of the Settlement with a perfect view that over looks the village.
Iris and Martin Green's Guest House
The guest house comprises an open plan kitchen, double bedroom & bathroom en-suite. Outside is a covered veranda. The guest house is situated at the east end of the village with views of the sea.
This property comprises of a sunny open plan kitchen with sea views and living room with indoor bbq, a spacious shower room and double bedroom (two singles or one double bed depending on guests) with mountain views.
PLACES TO GO & THINGS TO DO IN TRISTAN DA CUNHA
Tristan da Cunha has a range of activities and excursions that can be planned for individuals and groups featuring a personal and bespoke service using experienced Islanders as guides. Walks and climbs are popular with visitors, but local guides are essential once you leave the settlement plain. Other activities include boat trips to Nightingale, fishing and golf.
All enquiries for excursions should be made to Tourism Co-ordinator Dawn Repetto: tourism@tdc-gov.com
The Thatched House Museumis sited between the east of the settlement and the 1961 volcano. It is a traditional Tristan cottage newly built from volcanic rock and thatched with New Zealand flax. It is lined inside with painted wood, which in the past would have been salvaged from shipwrecks, and furnished in traditional style. It even has a traditional outside privy! The museum was opened in 2012 and is available for overnight stays.
The 1961 Volcano and Volcanic Park
Looming alarmingly close over the east of the settlement is the parasitic volcanic cone and lava flow whose eruption in 1961 led to the evacuation of the population to England for two years. Now that it is no longer active, there is a path to the summit, which tourists can take on organised hikes or on their own. Beside the volcano is Volcanic Park, a place for peace and quiet built to commemorate 50th anniversary of the eruption.
Post Office and Tourism Centre
Situated in the west of the settlement, the Post Office and Tourism Centre is the hub for the island's visitors and tourists, as well as a social venue for the islanders themselves. Apart from the Post Office, it hosts the Gift Shop, where visitors can buy local hadicrafts and souvenirs.
Tristan da Cunha's 2062m high Queen Mary's Peak is a mecca for lovers as it offers a stunning view of its heart-shaped crater lake. Reaching it is a labour of love though, because it is a perilous hike that can only be undertaken during longer visits in good weather with island quides. More accessibly, the islanders knit traditional love socks threaded with coloured stripes that convey hidden romantic messages for your loved ones.
There are a number of other attractions available to tourists. Visitors can wander at will around the settlement and across the settlement plain, or take part in organised walks. Geocachers can follow the British Garrison Geotrail that links sites associated with the settlement of the island in 1816. Golfers can play a round on the course in American Fence and earn the sought-after Golf Club tie.
Prior permission is required for any fishing activities in Tristan waters. Applications to permit recreational fishing by passengers or crew during the period of the vessel's visit should be submitted to Head of Natural Resources Department. Licences issued will be subject to certain conditions which must be strictly observed. A licence fee of Eur.55 will be charged for visiting cruise ships.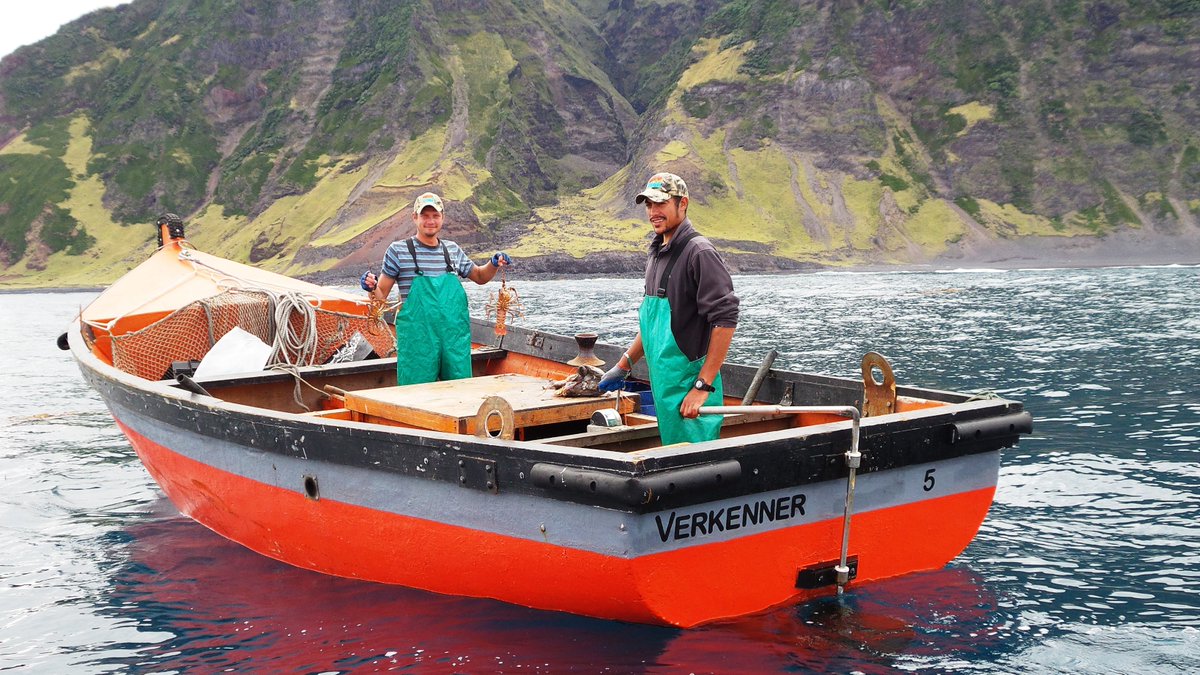 Weather conditions permitting, local boats are available for hire for offshore fishing, or for trips around Tristan or to Nightingale Island.
Hiking to the Patches takes about 30 minutes along a tarmac road. Hike, with a local guide, to the summit of the 1961 volcano also takes about 30 minutes. A climb to the Base, or to the Peak must be arranged in advance with the Tourism Co-ordinator.
Rockhoppers hopping on the rocks
These Rockhopper Penguins are pictured as they group waiting to return to sea after their annual moulting in January. They are able to leap onto and 'hop' up the sheer and smooth rocks on Nightingale Island, but even Rockhoppers probably prefer a sandy beach for an easier landing. A possible visit to Nightingale, or seeing Rockhoppers on Tristan will be a highlight of a well-planned trip to Tristan da Cunha.
Cruise Ship Visits to Nightingale
Vessels wishing to land passengers at Nightingale Island, or to conduct Zodiac trips around Nightingale or Inaccessible, must first call at Tristan to obtain clearance and embark local guides at ratio of one guide to 8 participating passengers. In the case of landings, each guide will be in charge of a landing party. The Visits Liaison Officer or nominee aboard the vessel will act as operations co-ordinator and advise on whether the proposed activities should proceed depending on weather or sea conditions. If cancelled for any reason, each guide is to receive a payment of Eur 22 to compensate for loss of earnings. Guides must be returned to Tristan before nightfall.
WHERE TO SHOP IN TRISTAN DA CUNHA
When you visit Tristan, you are sure to visit the Post Office and Tourism Centre to send post cards and buy souvenirs. However, if you ran out space in your baggage, or if you have not yet been fortunate enough to visit the island, everything they sell, and more besides, is also available from their online store (and as a bonus, they will post your order to you using Tristan stamps).
The Post Office always has lots of attractive stamps & first day civers, postcards and other postal products. New issues are announced on the Post Office News page and RSS feed. If you wish, you can also set up an account to receive new issues as they appear.
The Gift Shop has a wide range of gifts and souvenirs, from fridge magnets, badges and toys, to tea towels, souvenir clothing, and the famous Tristan Love Socks. We keep some models and larger Tristan knitwear items in stock, although they are usually made to order.
Our exclusive 37 Degrees South brand Tristan knitwear offers something special. Our wool, in natural colours, is hand spun from island sheep, and garments are made to measure by our team of expert knitters. You can buy skeis of island wool to knit your own Tristan garments, if you prefer.
Among other handicrafts, our hand made model longboats are miniature versions of the real thing, with canvas covered framework hulls, oars and sails.
Newly launched in December 2019, our Tesori di Tommaso brand includes ranges of jewellery and gifts is hand-crafted on Tristan from sterling silver, and stones and seaglass from the beach, as well as decorations made from flax leaves and Christmas baubles recycled first day cover envelopes from withdrawn stamp issues.