TIISTAI, 01. SYYSKUUTA 2020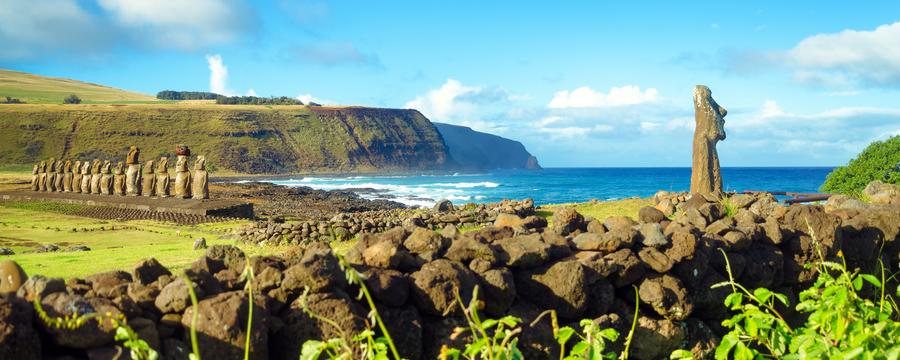 Hanga Roa is the main town, harbour and capital of Easter Island, a province of Chile. It is located in the southern part of the island's west coast, in the lowlands between the extinct volcanoes of Terevaka and Rano Kau. The population of 3,304 comprises 87 percent of the total population of the island.
The main street in the town is called Atamu Tekena after the first leader in the area. It is still not clear when the first settlement on the island was founded. Historians think that first settlers appeared here between 700 and 1100. First Christian missionaries arrived in Hanga Roa in the middle of the 19th century. Currently, roughly two thousand and five hundred people live on the island. They speak English, Spanish, and the native Rapa Nui language. Local people mostly work in the cattle breeding industry – they usually keep sheep. Besides raising livestock, local men adore fishing. This is also an additional source of income for them. When arriving in Hanga Roa, tourists can be sure that local people will be very friendly and hospitable because this is a tradition on Easter Island.
Hanga Roa is the island's sole town. Upbeat it ain't, but with most sights almost on its doorstep and nearly all the island's hotels, restaurants, shops and services lying within its boundaries, it's the obvious place to anchor oneself. It features a picturesque fishing harbor, a couple of modest swimming holes and surf spots, and a few archaeological sites.
There are hotels, restaurants, bars and clubs in Hanga Roa, the focal point of Rapa Nui (Easter Island) life. You can walk around town and enjoy the never-ending company of the sea breeze. Get lost in its little streets and you'll certainly be surprised by a restaurant or a craft shop. You can't miss out on the cove, where you'll find diving schools, coffee shops and ice-cream parlors with an ocean view. Sit down and enjoy the sunset on the terrace. If you're lucky, you might run into a curious sea turtle looking for food on the surface.
BEST TIME TO VISIT HANGA ROA
Hanga Roa is two hours behind mainland Chile. The weather is fairly constant year-round, with an average temperature of 23°C (73°F) in January and February, and 18°C (64°F) in July and August. Late January and early February is the busiest time, as the islanders stage the annual Tapati Rapa Nui festival.
March through May
Humidity and temperatures combine to make this season feel warm. Highs range from 81.6°F (27.6°C) and 73°F (22.8°C) with colder temperatures in the later months. Rain is somewhat common with 6 to 8 days of significant precipitation per month. Fall is the busiest for tourism, which makes it a good time for those looking for things to do.
June through August
The middle-year months have very comfortable weather with high temperatures that are comfortable. These months see moderate precipitation with 6 to 9 days of precipitation per month. June – August is the second busiest season for tourism in Hanga Roa, so lodging and other accommodations may cost slightly more.
September through November
Spring daily highs range from 75°F (23.9°C) and 70.3°F (21.3°C), which will feel very nice given the humidity and wind. It rains or snows a significant amount: 5 to 6 days per month. Tourism is the slowest during these months due to the weather, so hotels may be affordably priced.
December through February
Weather is perfect this time of year in Hanga Roa to be enjoyable for warm weather travelers. The average high during this season is between 82.2°F (27.9°C) and 76.1°F (24.5°C). On average, it rains or snows a fair amount: 3 to 7 times per month. These times of year are fairly slow with tourists.
GETTING TO HANGA ROA
Because of its remote and isolated location, the most common way to get to Hanga Roa is by plane. The island's only airport, Mataveri International Airport, is served by LATAM Airlines, Chile's national carrier, which offers direct 5-hour flights from Santiago and weekly flights from Papeete. It is the only commercial carrier that regularly serves the island.
GETTING AROUND HANGA ROA
The first thing to say is that in general everything is very simple, because of the size and shape of the island, it is very difficult to get lost and if someone gets a little off, there will always be a friendly villager willing to help you.
Walking - Walking around Easter Island is undoubtedly the best way to appreciate and feel this distant territory. Hanga Roa is a small town and all the interesting places are relatively close and divided between Atamu Tekena, the main street, Te Pito o Te Henua street, where is the church, and the road of the coast that leads from Hanga Piko to Ahu Tahai.
Riding a horse - A more relaxed and different way of mobilizing is to do it on horseback. After encountering these beautiful animals in almost every corner of the island, you feel like climbing on one of them. To do this, it is necessary to hire some of the horseback riding available. There are several tours on the island, and horseback riding can last from a couple of hours to two days.
Cycling - Another alternative to travel not only Hanga Roa but the whole island, is to rent a bike in one of the several businesses located on the main street. It is important to try them for a while before deciding and make sure that in addition to the bike give you the necessary kit for if we suffer a puncture. Although a padlock is included, the truth is that security problems are almost non-existent.
Cars, motorcycles and quads - It is also possible to rent motorbikes or quads, although the most commonly used alternative for visitors is car rental. Most are off-road and well-prepared for unpaved roads. They are a convenient and quick way to travel around the island, but do not forget that there are no insurance companies, so if there is any damage in the vehicle, the client must cover the repairs.
Taxis - For those who do not want to rent any type of vehicle, there is a good taxi service with which you can agree routes, prices and make round trips. A trip to Anakena beach, for example, can cost around US $ 25 and the taxi driver will pick up the customer at the time indicated. It is important to coordinate the collection time previously, since the coverage of mobile phones is almost non-existent in most areas of the island.
WHERE TO STAY IN HANGA ROA
Located 15 minutes' walk from the city centre, 100 m from Tahai ceremonial centre, and 800 m from Pea beach, Pikera Uri offers rooms with sea views and free Wi-Fi in public areas in Hanga Roa. Full breakfast with fresh fruit juices is included and a garden is featured on site. Free airport shuttles are included. Providing a tranquil environment, the rooms in Pikera Uri feature private bathrooms and balconies with scenic views. Guests at Pikera Uri are provided room service and laundry services can be arranged upon request. Pikera Uri is 1,5 km from Mataveri airport. Free private parking is possible on site.
Hotel Tekarera - Kainga Nui
Surrounded by a fragrant forest, Hotel Tekarera - Kainga Nui offers comfortable accommodations in Hanga Roa. The hotel is 150 m from Hanga Roa Anthropological Museum and 300 m from the beach. Barbecue facilities and free WiFi access are available. Each unit features a balcony with outdoor furniture. They are equipped with a seating area and a safe. Some units include full kitchen facilities, a TV and a DVD player. Bathrooms are completed with a hairdryer and free toiletries. Guests can opt between garden or sea views. Guests staying here can enjoy a common dining area where they can enjoy a daily breakfast featuring fruits, cereals, ham, milk and coffee facilities. There is a tour desk and a terrace. Hotel Tekarera - Kainga Nui offers free shuttle and housekeeping services. Laundry facilities can be used for an additional cost. The hotel is 600 m from Tahai and 2.4 km from Puna Pau. Downtown is a 10-minute walk away.
Located in the remote Easter Island, Hare Nua Hotel Boutique offers accommodation in Hanga Roa. Guests can enjoy the on-site bar, hot tub, and included organic breakfast. Free WiFi available. Some rooms at Hare Nua Hotel Boutique include views of the garden while some of the city. All rooms include a private bathroom, where you will find free toiletries and a hairdryer. Anakena beach is 17 km from Hare Nua Hotel Boutique, while Pea beach is just 700 mts away. Hare Nua Hotel Boutique offers different tours to explore the island. Various activities can be enjoyed in the surroundings, including horse riding, snorkelling and windsurfing. Guest can hire a shuttle service at the frontdesk. The nearest airport is Mataveri International Airport, 2 km from the property.
Located in Hanga Roa, within 1.1 km of Playa Pea and 21 km of Ahu Tongariki, Takarua Lodge provides accommodation with a garden and free WiFi as well as free private parking for guests who drive. Featuring family rooms, this property also provides guests with a terrace. The accommodation offers room service, a concierge service and organising tours for guests. Guest rooms are equipped with air conditioning, a flat-screen TV with cable channels, a kettle, a shower, a hairdryer and a desk. At the hotel each room comes with a wardrobe and a private bathroom. Guests at Takarua Lodge can enjoy a continental breakfast. Hanga Roa Anthropological Museum is less than 1 km from the accommodation, while Tahai is 2.1 km away.
Located in the remote Easter Island, world famous for its monumental 'Moai' statues and a part of UNESCO World Heritage. It offers rooms in a tropical setting and an outdoor pool. Arranged in a building made of stone and wood, rooms are designed out of natural materials and local art that cover the coloured walls. Rooms include free WiFi, a seating area with TV, air conditioning and a minibar. Guests are invited to a buffet breakfast each morning, which includes fresh fruits from the garden, natural juices and a variety of bread. Cocktails are ordered at the bar and tasty regional dishes are served during the evening. Set around a flowery garden, guests at Hotel Puku Vai can enjoy the sun at the terrace by the pool. Natural juices made of seasonal fruits, papaya, mango, pineapple or guave, as well as the famous Pisco Sour or widely-known Chilean wines can be ordered. Tours include visits to Rapa Nui archaeological sites. The main Hanga Roa street on the island is just a 10-minute walk from Puku Vai. Free parking is available at the Hotel. The airport is located just 350 m from the property.
Situated in Hanga Roa, 450 m from Pea, Hotel Maea Hare Repa features accommodation with a restaurant, free private parking and a garden. The property is set 500 m from Playa Pea, 20 km from Ahu Tongariki and 1.6 km from Tahai. The air-conditioned rooms provide a garden view and come with a wardrobe and free WiFi. At the hotel, every room has a patio. At Hotel Maea Hare Repa rooms come with a desk, a flat-screen TV and a private bathroom. Continental and buffet breakfast options are available each morning at the accommodation. Hanga Roa Anthropological Museum is 2.4 km from Hotel Maea Hare Repa, while Vinapu is 5 km from the property.
Located on Atamu Tekena island's main street, 600 m from Pea beach and from Mataveri airport, Inaki Uhi Hotel offers fully equipped common kitchens and free Wi-Fi in Hanga Roa. Providing a tranquil environment, the rooms in Inaki Uhi Hotel feature private bathrooms. Guests at Inaki Uhi Hotel are provided 24-hour front desk assistance and free private on-site parking.
Featuring a spa, an outdoor pool and a restaurant, Hotel Hare Uta offers accommodation in Hanga Roa. WiFi is available, connection is limited. Rooms at Hotel Hare Uta were inspired by the homes of the first inhabitants of the island. They are decorated with parquet floors and stylish furnishings, and all feature a private bathroom. International dishes can be ordered at the property's restaurant. Guests can benefit from relaxing massages for an extra fee in the spa, which features a natural volcanic stone solarium. Excursions can be booked on site. Hotel Hare Uta is 18 km from Anakena Beach and 2.5 km from Mataveri Airport. Free parking is provided.
An outdoor swimming pool and bungalows surrounded by gardens can be enjoyed in Hanga Roa only a 5-minute drive from Mataveri International Airport. Wi-Fi is free in public areas and breakfast is included. Taha Tai has plenty of common outdoor areas to enjoy nature and is only 500 m from downtown Hanga Roa. Anakena beach is 18 km away and Hanga Roa Museum is 3 km from the bungalows. Private parking is free.
Hotel Hangaroa Eco Village & Spa
Featuring spa facilities, an outdoor swimming pool and a restaurant overlooking the ocean, Hangaroa Eco Village & Spa is a modern hotel that offers rooms with free WiFi. Guests will be offered a welcome cocktail upon arrival. Decorated with stylish furnishing, rooms at Hangaroa Eco Village are fitted with air conditioning and minibars. All of them have private bathrooms, and offer seating areas. A la cart breakfast is offered. International, national and local dishes can be ordered at the property's restaurant. Half-board rates include lunch or dinner, as well as an afternoon tour. Spa facilities include a hot tub, a sauna and a massage room. Guests can relax on the sun loungers by the pool or rent bikes to explore the island. Cultural activities are also organised. Free parking is available, subject to availability. Hangaroa Eco Village & Spa is 3 km from the Anthropological Museum and 2 km from Mataveri (IPC) International Airport.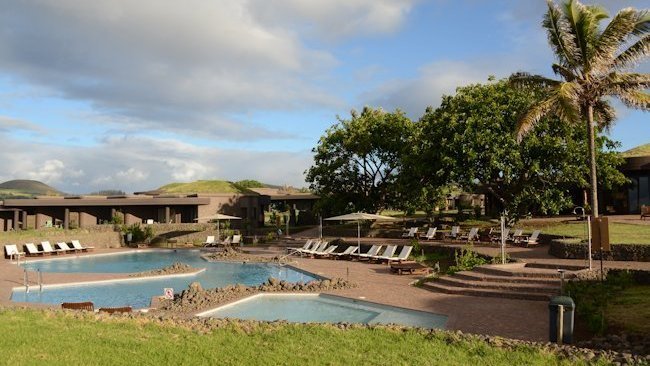 PLACES TO VISIT & THINGS TO DO IN HANGA ROA
Ahu Tahai is a highly photogenic site that contains three restored ahu (ceremonial platform). Ahu Tahai proper is the ahu in the middle, supporting a large, solitary moai (large anthropomorphic statue) with no topknot. On the north side of Ahu Tahai is Ahu Ko Te Riku, with a topknotted and eyeballed moai. On the other side is Ahu Vai Uri, which supports five moai of varying sizes and shapes. Along the hills are foundations of hare paenga (traditional houses resembling an upturned canoe, with a narrow doorway).
Museo Antropológico Sebastián Englert
This well-organized museum makes a perfect introduction to the island's history and culture. It displays basalt fishhooks, obsidian spearheads and other weapons, circular beehive-shaped huts, petroglyphs, funerary cists and a rare female moai. It also features replica Rongorongo tablets, covered in rows of tiny symbols resembling hieroglyphs. Researchers have proposed various theories on the nature of the script, but it's still an enigma to decipher.
Your first encounter with the moai will probably take place at Ahu Tautira, which overlooks Caleta Hanga Roa, the fishing port in Hanga Roa at the foot of Av Te Pito o Te Henua. Many dive outfits operate out of here, and there are some ocean-kissed restaurants and cafes.
The unmissable Iglesia Hanga Roa, the island's Catholic church, is well worth a visit for its spectacular carvings, which integrate Christian doctrine with Rapa Nui tradition. It also makes a colorful scene on Sunday morning.
Easily overlooked by visitors, the little Caleta Hanga Piko is used by local fishers. Facing away from the caleta, the restored Ahu Riata supports a solitary moai.
This new open-air interpretation center aims to help visitors better understand the rubble surrounding many of the island's archaeological sites by bringing history to life. A replica village built of volcanic rocks here is replete with boat houses, earthen pits for cooking (umu pae), special stone chicken coups and mana vai (circular gardens surrounded by stone walls).
For a little dip, the tiny beach at Playa Pea, on the south side of Caleta Hanga Roa, fits the bill (though it's more of a rocky cove than a sandy oasis).
You'll find this ahu with a solitary moai along the coastline, north of Hanga Roa.
Join Easter Island Caves Tour
Once you've had your fill of the giant gazing statues, take a break and enjoy the island's natural side with a cave exploration tour. The Rapa Nui people frequented the caves and left some interesting archaeological sites behind that visitors will see. Your local guide will give you an idea of how the caves were formed and why they were so important to the culture of the people that lived here long ago. This tour includes round-trip transportation to and from your hotel. At only four hours, you'll have the rest of the day to fill with other adventures and activities.
Ahu Vinapu and Rano Kao Half-Day Tour
Easter Island's southwest coast is one of the most beautiful areas you'll explore on your visit. This half-day tour begins in Hanga Roa and will include visits to a few of the most expansive ceremonial complexes. Rano Kau volcano was revered by the stone builders; in addition to the figures they built, they also created large works of art inside nearby caves that depicted strange, man-like bird creatures. You'll marvel at how such large slabs of stone were fitted together with such precision as you visit these sites. You'll also take a side excursion to the volcanic crater that serves as one of the island's three bodies of natural water.
Rapa Nui Traditional Polynesian Dinner and Show
Few tour-related activities capture the essence of Pacific Island and Polynesian culture like this traditional show and dinner combo. You and your travel partners will be wowed by the dancing and music that the island has been home to for centuries. As you're enjoying the show, your guide will describe the cultural and historical significance of what you're seeing. The tour lasts about four hours and conveniently includes round-trip transportation to and from your hotel. The dinner is buffet-style and includes traditional and international cuisine. Dance lessons are available as well if you'd like to put on a show of your own.
WHERE TO EAT IN HANGA ROA
Santiago's El Mercurio newspaper crowned La Kaleta the best regional restaurant in Chile in 2016 and the seafront tables have been packed with vacationing Chileans ever since. The menu changes with the season to reflect the freshest ingredients from the sea, but typically includes ceviche, grilled fish and seafood pastas. The wine list is equally memorable.
Make this chic new restaurant your go-to spot in the late afternoon when the moai of Tahai are silhouetted against the setting sun just below your table. Dine alfresco on the hanging wicker chairs or next to one of the 2nd-floor windows for the best views. The chef puts a creative twist on Chilean staples; the ceviche is tangy perfection!
One of the most reliable options in Hanga Roa, this buzzy restaurant boasts a spiffing location, with an atmospheric veranda opening onto the ocean. It's renowned for its tasty meat and fish dishes. The Polynesian decor is another clincher, with woodcarvings and traditional artifacts adorning the walls.
Fish dishes, steaks, homemade pasta, burgers and salads round out the menu at this well-regarded eatery blessed with unsurpassable ocean views. The grilled fish with papaya chutney is particularly flavorsome.
Ariki o Te Pana – Tia Berta
Surrender to some melt-in-your-mouth seafood empanadas prepared mamma-style in this no-frills den.
Tucked behind the Caleta Hanga Piko, Tataku Vave is that easy-to-miss 'secret spot' that locals like to recommend, with a delightfully breezy terrace that's just meters from the seashore. Munch on superb fish dishes while the ocean crashes nearby. Call ahead for free transportation from your hotel.
Stellar cuisine is the star of this somewhat bland-looking restaurant run by a Belgian woman. Every visitor ought to try the tuna in Tahitian vanilla sauce, the homemade pasta or the organic beef fillet. Leave room for dessert – the Belgian chocolate mousse is divine.
Whether you satisfy yourself with ultrafresh tuna or sample the lomo (beef with a homemade sauce), among a variety of hearty dishes, you'll be pleased with the careful preparation, attentive service and atmospheric decor. The Varua Ora dance troupe performs here three times weekly.
The Kuki Varua has a great selection of fish delivered daily from the harbor, including tuna and mero (grouper). The upstairs terrace is perfect for enjoying the cool, ocean breezes. Room should be kept for desserts – hmm, the crème brûlée flavored with passion fruit…
Mmm, the helados artesanales (homemade ice creams)! Oh, the damn addictive banana po'e cake! Other treats include panini, sandwiches, muffins and brownies. Also serves full breakfasts (from CH$6000) and real espresso coffees.
WHERE TO SHOP IN HANGA ROA
The main settlement, Hanga Roa, is by far the biggest commercial area of the island, featuring a handful of small shops, a supermarket and an open-air market. Many stalls selling a host of traditional Polynesian trinkets are set up for tourists. Miniature moai are ubiquitous, so too are the gangs of souvenir sellers that follow guided tour groups around the island.
Across from the church. This place has a bit of everything, from shell necklaces to floral shirts and the ubiquitous moai replicas.
Good prices. Look for small stone or carved wooden replicas of moai and fragments of obsidian.