KESKIVIIKKO, 19. ELOKUUTA 2020
One of Turkey's fastest-growing cities, ANTALYA is blessed with an ideal climate (excluding the searing heat of July and August) and a stunning setting atop a limestone plateau, with the formidable Beydağları looming to the west. In the heart of town, the pretty yacht harbour huddles below the Roman walls, while the crescent of Konyaaltı bay curves to the industrial harbour 10km west. Interest for tourists is largely confined to the relatively tiny and central old quarter within the Roman walls, known as the Kaleiçi (or "within the castle"). The city's renowned Archeological Museum, however, west of the old town, is home to one of the finest collections in the country.
Antalya was founded as late as the second century BC by Attalus II of Pergamon, and named Attaleia in his honour. The Romans only consolidated their hold on the city and its hinterland during the imperial period, following successful campaigns against local pirates. Christianity and the Byzantines had a similarly slow start, though because of its strategic location and good anchorage Antalya was an important halt for the Crusaders. The Selçuks supplanted the Byzantines for good early in the thirteenth century, and to them are owed most of the medieval monuments visible today (albeit some built on Byzantine foundations). Ottoman Antalya figured little in world events until 1918, when the Italians made it the focus of their short-lived Turkish colony.
Once seen simply as the gateway to the Turkish Riviera, Antalya today is very much a destination in its own right. Situated right on the Gulf of Antalya (Antalya Körfezi), the largest city on Turkey's western Mediterranean coastline is both classically beautiful and stylishly modern. At its core is the wonderfully preserved old-city district of Kaleiçi (literally 'within the castle'), which offers atmospheric accommodation in the finely restored Ottoman houses on its winding lanes. The old city wraps around a splendid Roman-era harbour with clifftop views of hazy-blue mountain silhouettes that are worth raising a toast to. Just outside of the central city are two beaches and one of Turkey's finest museums.
BEST TIME TO VISIT TO ANTALYA
March to May (Spring) and September to November (Autumn) is the best time to visit Antalya. Owning to its Mediterranean climate, the region has hot, dry summers and wet, humid winters. Hence spring and Autumn months, although the shoulder season, is an ideal time to visit Antalya.
The average annual temperature is 21 degrees, and the average precipitation in Antalya is about 90mm. The summers last from June to August and July and August are the warmest months of the year. July is also the driest month of the year, with almost negligible rainfall. March to May (Spring) and September to November (Autumn) is the best time to visit Antalya. Owning to its Mediterranean climate, the region has hot, dry summers and wet, humid winters. Hence spring and Autumn months, although the shoulder season, is an ideal time to visit Antalya.
The average annual temperature is 21 degrees, and the average precipitation in Antalya is about 90mm. The summers last from June to August and July and August are the warmest months of the year. July is also the driest month of the year, with almost negligible rainfall.​
GETTING TO ANTALYA
By plane - The International Airport in Antalya provides for direct flights and charters that fly vacationers from all over the world. Nevertheless, apart from these, you can always choose to fly via Istanbul, and then take a bus to Antalya city.
By bus - The Turkish bus system is comprehensive and you can get about anywhere from anywhere. Better spend a few more liras and you will have an unforgettable journey. Ulusoy has buses with seats that resemble business class in airplanes. There are also other bus companies, including Kamil Koc, Truva, Metro and otobusbileti selling bus tickets of Ulusoy Turizm and other seventy bus firms. Some companies have an onboard WLAN. The terminal is separated in two buildings. The larger building obviously houses the long distance bus routes, and the smaller building to the left (west) serves for shorter distance routes including Serik, Manavgat, Side, and Fethiye. Fares are low. Simply show up at the bus station ("otogar") and announce your destination. From most cities, there are an overnight bus options (with Antalya). There are regular buses destined for Antalya that run along the coastal roads and stop at tourist towns such as Kas and Fethiye.
By boat - Most travelers arrive in Marmaris from Rhodes, Greece, then bus it overland. You can also take a ferry from Kastellorizo, a tiny Greek island just off the Turkish fishing village of Kas.
By train - The nearest train station is in Bundur, 122 km north. Although Turkish State Railways (TCDD) ceased to operate direct passenger trains to Burdur from Istanbul, you can still buy a ticket for Pamukkale Express, which has sleeper berths as well as a coach car. You should get off the train in Dinar station and transfer to the connecting bus provided by TCDD (no extra payment other than your train ticket). Once in Burdur, all you need is to catch a minibus for Antalya, which takes one and a half hour and costs 9 TL/person one-way. All this may seem a bit of a hassle, but it is still an option if you are on a tight budget, keen on reducing your carbon footprint or hold an Inter Rail pass.
GETTING AROUND ANTALYA
Rent a car - When it comes to urban transportation, it can be said that the tourists come here have no difficulty whatsoever in moving from one place to another, in and out of Antalya city.
By Bus - Low priced, practical and comfortable, the bus will take you anywhere around the city. You can either choose to relax, cool off and watch a film during the bus trip, regardless of your destination or just watch the buildings that run alongside the city streets. However, should you decide to take a longer trip around the city then, you need to travel to the bus terminal first. Once here, you'll be taken to anywhere your heart desires.
By Dolmus -Dolmus is a minibus that follows a certain predetermined route and schedule. Its chief practical advantage is that once you have set off seeing the highlights around the city, you can get on and get off almost everywhere you want, due to the fact that, as a rule, major public transportation stations have a dolmus station as well.
By taxi - A practical, convenient and yet a little bit pricey way of moving around. If you do finally decide to take a taxi, there are a few things that you should know! The taxi rate is charged in keeping with the moment of the day, so that a taxi fare after midnight can get twice as much a taxi fare during the day. Also, make sure to check if your destination is on the price list of popular destinations which have to be paid in Euro.
By tram - Every sixty or thirty minutes there is a tram to start off from the Western Konyaalti Beach and Antalya Museum. The trip continues alongside the Sheraton Voyager or the Falez hotels getting yet closer to the eastern main boulevard … at the end of which the tram engages in a trip to the historic city centre – an open space where history flanks with Kalekapisi, Hadrian's Gate, Karaalioglu Park, or Talya Oteli.
By bicycle - Antalya is not the ideal bike friendly city you'd expect it to be! Cycling up and down the crowded streets can turn into a real adventure, so, unless you master the bicycle and are a true dare-devil don't take any unnecessary risks that will only prove to be extremely tiresome. Still, if you are hooked on cycling there are some cycle lanes that run by the seashore and that you might want to consider.
WHERE TO STAY IN ANTALYA
Elegance Hotel Kemer has a restaurant, seasonal outdoor swimming pool, a shared lounge and garden in Kemer. Boasting family rooms, this property also provides guests with a barbecue. The accommodation features a 24-hour front desk, room service and currency exchange for guests. All rooms are fitted with air conditioning, a flat-screen TV with cable channels, a fridge, a kettle, a bidet, a hairdryer and a desk. Featuring a private bathroom with a shower and free toiletries, rooms at the hotel also feature free WiFi. The rooms at Elegance Hotel Kemer are equipped with a seating area. The accommodation offers a continental or buffet breakfast. Guests staying at Elegance Hotel Kemer have access to the in-house wellness area which includes a hammam and a sauna. The area is popular for cycling, and bike hire and car hire are available at the hotel. Popular points of interest near Elegance Hotel Kemer include Merkez Bati Public Beach, Ayisigi Beach and Club Med Kemer Beach. The nearest airport is Antalya, 59 km from the accommodation, and the property offers a paid airport shuttle service.
The Land Of Legends Kingdom Hotel
Featuring a 5D Cinema which offers guests a unique experience, crazy river, wave pool and water coaster, 1300 metres-long Hyper Coaster with 115 km/h, The Land of Legends Theme Park offers a multi-sensory experience concept in Antalya. Semi-Olympic indoor pool and Kids Pool are also available. Guests are offered free entrance ticket to the Theme Park. Custom-designed guest rooms and suites at The Land of Legends Theme Park have touches of fantasy that reflect the tales and offer dual-screen LED TV and Play Station. Private bathrooms come with a bath and shower. For your comfort, you will find slippers, free toiletries and hairdryer. Master chefs offer an exquisite cuisines from Italy, South America, Europe and beyond. Brazilian Churrascaria, Italian Bistro, patisserie, smoothie bar and vitamin bar is also offered at The Land of Legends Theme Park. Hotel's spa provides holistic therapies and massages, Turkish Bath and fitness facilities. Aqua park offers a complimentary access to adrenaline-pumping rides and relaxed explorations including 55 water slides. There is a 24-hour front desk, valet parking service and gift shop at the property. The nearest airport is Antalya Airport, 25 km from The Land of Legends Theme Park.
Seven Seas Hotel Life - Ultra All Inclusive & Kids Concept -Ex Otium Hotel Life
Offering extensive and one-of-a-kind facilities specifically tailored for kids, Otium Hotel Life comes with a Kids' World equipped with security cameras, movie screening sessions, PlayStation games, PC games and variety of board games. You will find pools for children and babies and also a special beach area for kids is available. Along with a special kids menus at restaurants and a playground, creativity activities are available such as origami, cooking classes, handcrafting workshops and puzzle games to keep your kids inspired during your stay at Otium Hotel Life. Free tennis, language and swimming courses are also offered for younger guests. Babysitting service and strollers can be provided upon your request at a surcharge for your convenience. Baby cots, baby bathtub and high feeding chairs are offered free of charge. Other baby facilities include bottle warmer and blenders to facilitate your meal preparations. Located in Goynuk, Otium Hotel Life offers a sauna, hammam, gym and an outdoor pool with water slides. The private beach area comes with free parasols and sun loungers. An array of activities can be enjoyed on site or in the surroundings, including tennis, cycling, windsurfing and canoeing. The hotel is 3.3 km from Goynuk Canyon. Antalya Airport is 49 km away.
Xanadu Resort Hotel - High Class All Inclusive
Located at the seafront of beautiful Mediterranean Coast, Xanadu Resort Hotel - High Class All Inclusive has a 415-metre-long sand and pebble private beach and a large pier with sun loungers. Featuring a unique architecture, ancient-style pools and amphitheatre, this 5-star hotel offers all-inclusive service, numerous indoor and outdoor facilities, and a kids club. Tastefully decorated, the rooms of Xanadu Resort Hotel - High Class All Inclusive include a flat-screen TV, air conditioning and a minibar. All the rooms have a private bathroom with a hairdryer and free toiletries. Some rooms also offer sea or garden views. A pillow menu is also available. Ipekyolu Restaurant, where breakfast, lunch and dinner are served in open buffet style, offers extensive choices of international specialties in an elegant atmosphere. You can enjoy your meals on the terrace accompanied with pool, sea and nature views. For little guests, kids buffet is available. There are also multiple à la carte restaurants at the hotel, which offer a wide selection of dishes from French, Mexican, Chinese, Brazilian and Italian cuisine, and a fish restaurant on the river coast. You can also enjoy a variety of beverages and refreshments at one of hotel's bars including a beach bar and the Irish Pub Rosebud. Xanadu Resort Hotel - High Class All Inclusive offers 3 swimming pools, 3 water slides and 1 children's pool. Activities include parasailing, jet ski, windsurfing, beach volleyball, tennis and basketball among many others. Guests can relax at Shang-Du Spa Centre after an exercise session in the fitness centre. The private beach of the hotel includes an adults-only area and a VIP area with beach pavilions. An open-air disco with lounge is also available on site. The kids club Fancy Land offers numerous indoor and outdoor activities, and daily entertainment for children. It has activity areas for babies, kids and teens, an amusement park with carrousel, mini wheel, mini train and trampoline, freshpark with water games, playground area and an adventure park with basketball and a climbing wall. A kids' club is available at the beach and many indoor activities are provided such as handcrafting and video games. Antalya city centre is 50 km and Belek town centre is 5 km from the property. The nearest airport is Antalya Airport, 40 km away.
Situated on the beachfront, all-inclusive Kaya Palazzo Golf Resort has a 200-metre-long private beach offering free parasols and sun loungers. This luxurious accommodation also offers a wide garden, kids' pool and outdoor pools with several water slides. There is an on-site golf course. Featuring an elegant décor with modern furnishings, Kaya Palazzo Golf Resort offers air-conditioned units with free WiFi, safe, electric kettle and flat-screen satellite TV. Each is fitted with a private bathroom. Some also have a terrace offering pool and nature views. Leisure activities include tennis, golf, table tennis, darts and diving. You can get a relaxation with the sauna, spa, beauty and massage treatments. There are 3 golf courses within 3 km. All-inclusive service includes daily breakfast, lunch and dinner. There are 5 à la carte restaurants, which you can taste a variety of delicious dishes from traditional Turkish and international cuisines. You can also enjoy your alcoholic or non-alcoholic drinks at one of the on-site bars. Free private parking is possible on site. Belek town centre is within 6.5 km. Shuttle services to Antalya Airport, which is a 30 minute drive away, can be arranged upon request, at an additional charge.
Regnum Carya Golf & SPA Resort offers indoor/outdoor pools with water slides, a luxury spa centre with massage treatments, a sauna and a steam bath, and a private sandy beach. The hotel is placed at the Carya Golf Course. The spacious units of Regnum Carya have a private balcony or terrace, many of which overlook the Mediterranean Sea. They all have LCD TV with satellite channels. Some suites offer a spa bath. Ultra All Inclusive Regnum Carya Golf & SPA Resort provides 7 different restaurants where you can savour variety of dishes. You will find à la carte restaurants, a snack bar and a patisserie. Guests of Regnum Carya Golf & SPA Resort can swim in the indoor or outdoor pools, or play tennis on one of the floodlit courts for an additional fee. There is a wave pool at the resort. Real Madrid Foundation Clinic Antalya is available on site. The service can be used for an additional fee. Guests can enjoy shows at the open-air theatre or dance at the on-site disco. Guests can enjoy a day at the famous Land of Legends Theme Park with complimentary access offered by Regnum Carya Golf & SPA Resort. The property is 28 km from Antalya International Airport. Free on-site car parking is available.
Kimera Hotel - Yoga & Spa
Surrounded by a garden with fruit and orange trees, this holiday park offers spacious rooms with a balcony and air conditioning. It is 50 metres, a 2-minute walk from the sandy Çıralı Beach. The hotel offers complimentary guided Lycian Road tours and free bicycles are also available at the property. With a private balcony or terrace, all rooms at Kimera Hotel come equipped with free WiFi, electric kettle, coffee and tea set up, safe, minibar and satellite TV. Each has a private bathroom with a shower and hairdryer. The covered terrace offers a quiet setting for a local kebab or salad. The restaurant has an extensive à la carte menu. Guests can play darts and ping pong in Kimera Hotel's orchard. There are hammocks and cosy seating areas all around the garden to relax or read a book. This 24-hour accessible holiday park is 80 km from Antalya Airport. Free parking is available.
Lara Barut Collection-Ultra All Inclusive
This beachfront hotel in Antalya features 8 à la carte restaurants and spa with Turkish bath. Just 10 km from Antalya Airport, it offers kids' club facilities, indoor and outdoor pools with water slides. Guests can enjoy the adults-only beaches. The large rooms at Lara Barut Collection include spacious balconies with tables and chairs. Each room has a seating area equipped with an LCD TV, DVD player (on request) and minibar. The hotel has a turn-down service in order to offer the utmost comfort to their guests. Guests can relax at the Tuva Eurasian Spa & Thalasso Center, which has spa facilities, saunas and a beauty centre. For the active ones, there are also tennis and squash courts, gym, mini golf and a water sports centre. The Lara Barut Collection restaurants serve rich international and local cuisine, both indoors and al fresco. Vegan, lactose-free and gluten-free menu is available. There is also a patisserie serving sweet delicacies and 5 bars for drinks. Entertainment shows are organised by Lara Barut Collection animation team and live music can be enjoyed in the evenings at the on-site nightclub.
Set on 405.000 square metre area, this 5-star resort in Belek features 700 m of private beach. Property also has a spa, a gym and a shopping centre. Offering charming views of Mediterranean sea and pistachio tree forest, all rooms of Rixos Premium Belek feature an elegant décor with modern furnishings. Each room is equipped with a flat-screen satellite TV. All rooms at the Rixos Premium Belek have private balconies and some also have a terrace offering pool and nature views. The resort features free à la carte tastes with the gourmet restaurants, which you can taste refined flavours of Italian, Steakhouse, Turkish, international and seafood cuisine. There are also 8 bars on site, serving exotic cocktails, healthy smoothies and vintage wines. For children, Yummy Restaurant prepares special menus for lunch. La Del Mare Spa comes with a vast range of luxury treatments, which guests can enjoy relaxing and wellness. It offers a traditional Ottoman hammam, heated indoor pools, a sauna and a gym. The property also features live DJ performance, concerts, parties, events and educative programmes for children at the on-site Rixy Club. Sports Academy offers a range of work out programs like crossfit, spinning, Aqua Bike, Kangoo Power, Jumping Fitness, Tai Chi, Jiu Jitsu and Paddleboard Yoga. Antalya Airport is 35.7 km from the property.
Located on the east side of the ancient peninsula, Hotel Kaptan is one of the oldest hotels in Alanya. It offers clear views on the harbour and rooms with free Wi-Fi. The air-conditioned rooms at Kaptan Hotel open onto balconies. They are equipped with satellite TV and minibars. Each has a bathroom with a hairdryer. Kaptan's renowned restaurant offers an á la carte menu with a choice of international and Turkish cuisine. Guests can enjoy a rich breakfast buffet every morning while admiring panoramic views of the surrounding area. Hotel Kaptan offers an outdoor swimming pool. For indoors entertainment, there is a games room with table tennis. The hotel is located 30 km from Gazipasa Airport and 130 km from Antalya Airport.
PLACES TO GO AND THINGS TO DO IN ANTALYA WITH YOUR FAMILY
Antalya offers plenty of things to do for everyone. If you want to dose up on sightseeing, you'll find a fascinating line-up of tourist attractions to keep you busy. The labyrinthine old town is full of atmospheric historic sites, while the city is perfectly placed to act as your base for sightseeing around the outlying area, where dozens of grand ruins await. It's not all history, though. This city is also a great spot for your launch onto the white-sand beaches of Turkey's Turquoise Coast. Beach lovers and history buffs will both leave satisfied. Plan your family trip with our list of the top tourist attractions in Antalya.
The maze-like Kaleiçi neighborhood was made for strolling. Perfectly restored whitewashed and red-roofed Ottoman mansions line the cobblestone streets, now home to a plethora of boutique hotels, souvenir shops, art galleries, and restaurants. Although it's more a place to simply breathe in the old-world ambience, there are also plenty of small tourist attractions for those who want to sightsee. The main square (Kale Kapisi) has a fortress gate and stone-clad clock tower, while the 18th-century Tekeli Mehmet Pasa Mosque is worth a look just for its stunning interior tile work. Along Hesapçi Sokak, you'll find the graceful Kesik Minare (truncated minaret). Destroyed by fire in the 19th century, this is all that is left of a building that started its life as a Roman temple, was converted into a Byzantine church, and finally became a mosque.
Nestled into a recess in the cliffs, Antalya's old harbor is a picturesque huddle of boutiques, pretty cafés, bazaars, and gently bobbing yachts that look out over the shimmering Mediterranean. With its peaceful pleasure-boat atmosphere now, it's difficult to imagine this place was once Antalya's major economic hub, but from the 2nd century up until the mid-20th century, this was the main port, bringing trade and prosperity to the city and surrounding region. These days, you come here to shop and then watch the sun set over the sea while you sip a coffee, or you can head out onto the Mediterranean on one of the many excursion boats to swim, sightsee, and spread out your towel on an empty beach.
If you're at all interested in Turkish history, don't miss this excellent museum. The dazzling exhibits here showcase all the best finds from excavation sites across the Turkish coast. Even better, the collection is displayed in exemplary fashion, making Turkey's rich (and rather complicated) history easy to understand. The large archaeological section offers displays from the Bronze Age to Byzantium, with a particular emphasis on ruins in the nearby area. If you're short on time, make a beeline for the galleries containing the mosaics from Seleukeia, silver hoard display from Aspendos, and divinity statues from Perge.
Antalya's most distinctive landmark is the Yivli Minare (fluted minaret), built by the Seljuk sultan Alaeddin Keykubad (1219-36). The minaret is a typical example of Seljuk architecture, with a square base surmounted by an octagonal drum bearing the fluted shaft, with its corbelled gallery around the top. The attached 14th-century mosque is still in use today. The minaret is right beside the Kale entrance gate into the old city. Opposite the minaret is Antalya's Ottoman-era clock tower, while nearby are some tombs dating from the 14th century.
Hadrian's Gate is one of the main (and the most dramatic) entrance gates into the Kaleiçi district. Considerable stretches of the Hellenistic and Roman town walls on the eastern side of the old town have been preserved, and Hadrian's Gate is the most notable of these sections. Erected in honor of the AD 130 visit by Emperor Hadrian himself, this imposing three-arched marble gateway, flanked by imposing towers, is decorated with rich sculptural decorations. As you walk through the arches, look up at the ceiling to view the best preserved carvings.
Roman Fortress (Hidirlik Kalesi)
Built in the 2nd century, this squat 14-meter-high cylindrical tower watches over the old harbor from high above on the edge of Karaalioglu Park. No one is quite sure what its main function was, but most agree it acted as a watchtower or lighthouse over the busy port below. Now it's a fantastic spot to watch the sunset or get that all-important panoramic view over the old harbor area. The park itself is prime picnicking territory and a tranquil, flower-filled spot to escape the city streets. Do as the locals do and come here at dusk to promenade. Excellent cafés are also nearby if you need to recuperate after sightseeing.
The main reason history buffs visit Antalya is to make the day trip to Aspendos, about 47 kilometers east. This archaeological site is home to a Roman theater commonly thought to be the best preserved in the world and one of the top tourist attractions in Turkey. The glory days of this dazzling, ancient town were during the 2nd and 3rd centuries, when most of the ruins that can be seen today were built. Apart from the theater, which has been fully restored and can seat 15,000 people, much of the rest of the site still lies in ruins and is probably only interesting to the most enthusiastic sightseer. If you're short of time but keen to pack in as many highlights of the Antalya region as you can, the Aspendos, Perge and Manavgat Waterfalls tour allows you to cover three of the most popular attractions all in one day. It includes tours of the Roman ruins of Aspendos and Perge, entrance to Aspendos and the waterfalls (which are near Side), lunch, and pickup and drop-off from your Antalya hotel.
Aspendos may get all the tourism fame, but Termessos, 34 kilometers northwest of Antalya, beats it hands down for atmosphere. Neither the Greeks nor the Romans managed to tame the war-like Pisidians, who fiercely protected their independence from the mountain eyrie of Termessos. The well-preserved remains of this ancient city lie scattered along a rugged hillside with jaw-dropping views across the surrounding countryside. Wear sturdy shoes and take plenty of water if you want to fully explore this site. The colonnaded street and upper agora are particularly impressive but don't miss the theater, where the vistas across the peaks of the Taurus Mountains are astounding.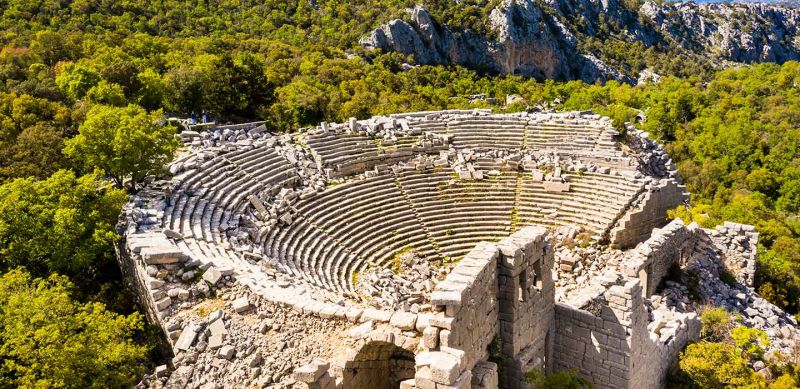 Perge's vast and rubble-filled stadium, half-destroyed temples, and huge colonnaded agora are imbued with an atmosphere of past glory. This was once the capital of ancient Pamphylia, which blossomed under first Greek and then Roman rule. The ruins here, about 17 kilometers east of Antalya, are not as well-preserved as others on Turkey's Turquoise Coast, but this also means they attract fewer crowds, leaving visitors able to explore the long colonnaded streets and half-collapsed temples in peace. The Roman baths, Hellenistic Gate, and Acropolis are all particularly interesting.
The near-twin villages of Olympos and Çirali, about 84 kilometers southwest of Antalya, sit on a piece of lovely coastline near the overgrown ruins of the ancient Lycian city of Olympos. As well as the ruins, the famed attraction here is the chimaera, a naturally occurring eternal flame that flickers out of the rocky cliff above. Olympos is popular with young backpackers and has a reputation for being lively at night, while Çirali is more laid-back and all about chilling out on the beach. Both are perfect for anyone seeking a beach holiday well away from Turkey's purposely built-up tourist resorts.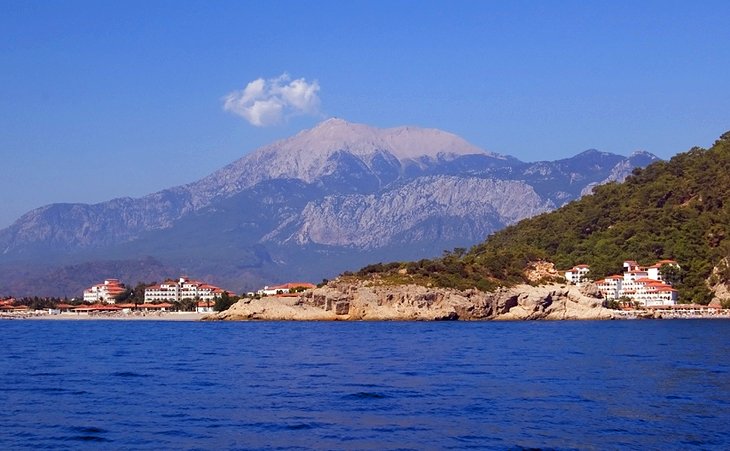 East of Antalya's town center, Konyaalti Beach is one of Antalya's two prime sweeps of sand, with a picturesque backing of mountains rolling down to the coastline beyond. During summer, this strip (which is more pebbly than sandy) is hugely popular with both local and foreign visitors, and lazy beach days are made simple with plenty of facilities provided. Sun loungers with umbrellas can be rented, there are good toilet and shower facilities, and the palm tree lined promenade behind the beach is rimmed with snack shops, cafés, and restaurants for when you get peckish.
The limestone countryside around Antalya is rich in karst springs, sinkholes, and waterfalls. The lime deposits from these springs have built up over a period of 1.5 to two million years into vast travertine terraces similar to the famed terraces at Pakmukkale. Kirkgöz and Pinarbasi (just to the northwest of Antalya) have springs and sinkholes to see, while at Düdenbasi, a cascade of waterfalls tumbles down a narrow gorge. There are both upper falls (Düdenbasi Selalesi) and lower falls (Düden Çayi) to admire, and a trip here makes a nice nature break from Antalya's glut of historic attractions.
To the south of Antalya's center, Lara beach is popular for its soft white sand and good family-friendly facilities, backed by cafés and restaurants and with plenty of activities, from jet-ski rentals to stand up paddleboards for those who want to hit the water. Sun loungers and umbrellas can be easily rented for those who want to do nothing more strenuous than soak up the sun. This area is where the vast amount of Antalya's beach resorts are located so do be aware that during the peak summer months, this beach can get crammed.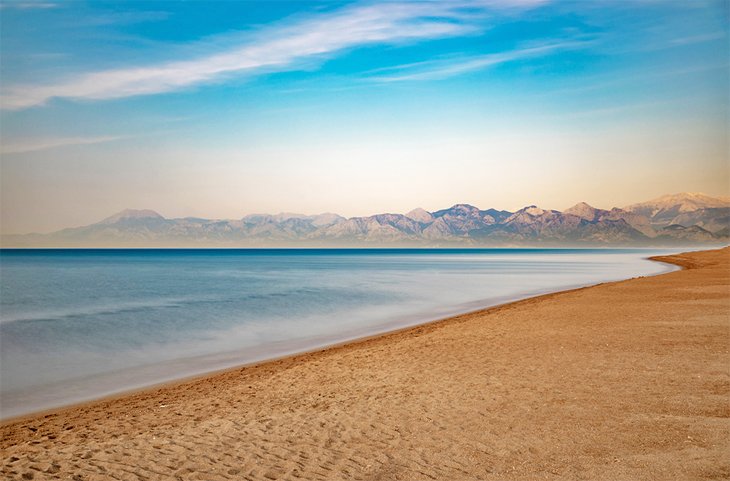 Karain Cave (Karain Magarasi)
The Karain Cave, about 27 kilometers northwest of Antalya, near Dösemalti, was inhabited by prehistoric man and has yielded finds from both the Lower and Middle Paleolithic eras. Excavated finds here include bones and teeth belonging to Neolithic man. Some of the finds are on show in the small but remarkably comprehensive museum on-site. The wide, arching caverns here are a good opportunity for some easy caving and are very popular with local families having a break from the city. If you can, try to come on a weekday, when they're less busy. If you have a rental car, the cave and museum combined with the karst springs a little farther north make a good day trip.
The old Lycian port of Phaselis, about 60 kilometers southwest of Antalya, is where Alexander the Great set up his winter quarters in 334 BC. There are remains of a theater, aqueduct, temples, a colonnaded street, and a Hadrian's Arch Gate erected in AD 114. The seaside location of the ruins is very pretty, and a museum on-site displays excavated finds. If you have time, a couple of kilometers before Phaselis is the Olympos Teleferik (cable car), which journeys up the side of Tahtali Mountain to the summit at 2,275 meters for panoramic vistas over the coast.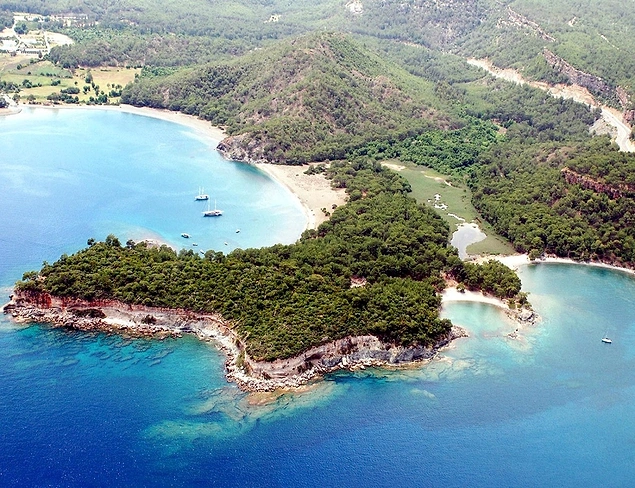 About 45 kilometers north of Antalya, the Kocain Magarasi lies hidden deep within the karst mountains of the region. The 600-meter-long cave was first investigated by K. Kökten, whose finds here prove that it was inhabited in prehistoric times. At the entrance is a huge Roman cistern and also traces of a very early settlement. The cavern here is colossal and boasts some mammoth stalagmites, which have formed into weird and wacky shapes. Bring along a torch and wear sturdy shoes if you want to explore the cave's interior as it can get slippery underfoot.
Köprülü Canyon National Park
If you are looking for things to do around Antalya, the Köprülü Canyon National Park (also easily accessible from Side), with the green-blue water of the Köprülü River snaking through dramatic and craggy high cliffs, is one of Turkey's most popular white water rafting destinations. If you feel like balancing out all the historic ruins of the region with an adrenaline rush, plenty of half-day rafting tours are offered from Antalya.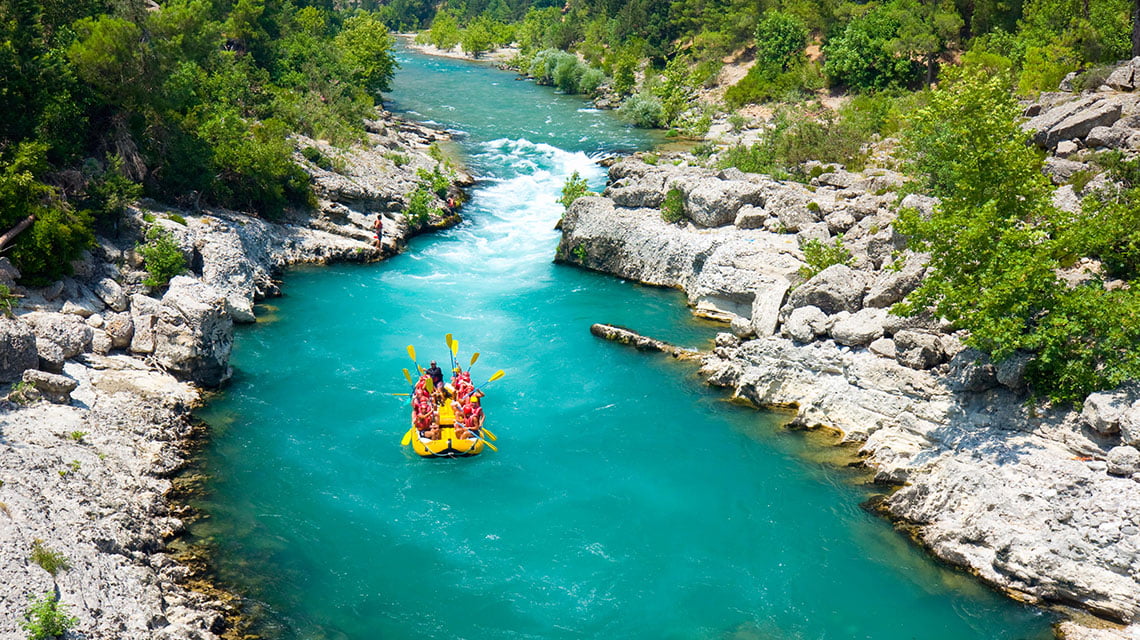 Make sure to visit Antalya during this amazing annual festival that takes place between May and December. Sand sculptors from all over the world arrive to create art out of more than 10,000 tons of sand resulting in giant sculptures composed of sand with unbelievable details. This year's theme at Sandland is '14 Wonders of the World and Mythology', and you can only imagine the amazing mythological characters and historic structures that have been made entirely from sand.
If you haven't booked a hotel then Land of Legends might be the perfect accommodation for you and your kids. Part hotel part theme park, the facility offers all the services of a luxury hotel while also providing a giant world of fun for the kids. We're talking about a massive open-air aquapark with more than 70 slides, a 5D cinema, swim with the dolphins experience, and daily scheduled kids activities.
With its proximity to the sea it would be crazy for Antalya not to have an aquarium. One of the best places to take the kids, the Antalya Aquarium features one of the world's largest tunnel aquariums, which measures 131 meters in length. With 40 thematic aquariums, a Snow World and Ice Museum (where kids can play with real snow!), a tropical reptile house, and the Oceanride XD Cinema (where you can experience the underwater world) there's a lot of things to keep children happily occupied.
Aqualand & Dolphinland Antalya
With its many colorful slides, wave pool, and activity pool, Aqualand is a great place for kids to play around in the water all day. If that doesn't suffice, Dolphinland is also right next door, offering kids the chance to swim with the park's friendly dolphins. There's also a daily show at 2:30pm where the park's dolphins, beluga whales, and seals show off their amazing talents.
WHERE TO EAT IN ANTALYA
A popular summer holiday destination in Turkey, Antalya offers the complete package – gorgeous beaches, traces of Ottoman history and great restaurants that cater to the most diverse and sophisticated of tastes. Eating out in this seaside resort is a culinary adventure offering not only the best of Turkish delicacies, but also international cuisines. Explores the top ten restaurants in Antalya.
One of the most established restaurants in Antalya, Club Arma greets its guests with wonderful views over the old city and the marina. Built by Italians in the late 19th century, the restaurant's building has served many purposes over the centuries, including a flour mill and a flour storage point. A true fusion of cultural influences is noticeable in Club Arma's design, as the stones of the columns are typical of ancient Antalya, while the bricks and arches are reminders of the building's Italian construction. Club Arma offers an a la carte menu with fresh fish, seafood and a solid range of Mediterranean dishes.
Just five minutes away from one of the landmarks of Antalya's old city,Hadrian's Gate, Vanilla Lounge portrays an unconventional encounter between its contemporary cuisine and the traditional Ottoman architecture that surrounds the restaurant. Run by a British chef and his Turkish wife, Vanilla Lounge is a great place to taste a rich array of international dishes. The menu consists of fresh ingredients, and represents a mix of both traditional and modern cooking techniques with inviting dishes such as pumpkin, coconut and lemongrass soup, wild mushroom tagliatelle or the succulent braised beef short ribs.
Located in the historical center of Antalya, in a 300-year old house, Seraser Fine Dining is one of the most exquisite restaurants of the city. Committed to offering its guests a memorable experience for all five senses, Seraser takes full advantage of its impressive decor featuring sculptures, hand-crafted furniture and authentic ornaments. Live piano music and a splendid Mediterranean garden are extra perks that come with dining here. The rich menu, offering international and Turkish recipes, completes the experience with highlights such as homemade pastas, fillet steak with gorgonzola sauce, sea bass wrapped in wine leaves and tempting desserts.
Offering a gorgeous panorama over the Gulf of Antalya, the Castle Cafe Bar is a splendid location for those wanting to contemplate the great outdoors while sampling delicious Mediterranean cuisine. Located in the old city of Antalya, on the edge of cliffs overlooking the sea, the Castle Café Bar is a trendy location, renowned for its ambiance and good service, and makes for a great stop during hot summer days. The menu is typically Mediterranean with diverse pasta options and tasty bite-size snacks available.
Big Chefs Café and Restaurant
Big Chefs is a well-known restaurant brand in Turkey with 18 locations in six cities across the country, including Antalya. The venue opened for the first time in Ankara in 2007, and has since become a favorite culinary establishment for both locals and tourists. Big Chefs' menu is rich and surprising with a diverse selection of Turkish and international dishes. Visitors have many tempting options to consider from the large array of delicious, local recipes and generous, buffet-style breakfasts.
A visit to Karaf Wine Bistro is a great choice for those with an interest in Turkey's past, as this restaurant is located in an old Ottoman house that still retains many antiques and souvenirs from past eras. Karaf is also a fantastic choice for visitors who enjoy wine tasting, as this small and newly opened bistro organizes various workshops and tasting events. The menu is a fine match for such a special venue with cheese plates, fajitas, quesadillas, steaks and soft desserts among its choices.
Il Vicino Pizzeria is the perfect restaurant for those with an appetite for a crispy Italian cuisine while strolling on the colorful streets of Antalya's historical center. The venue is also an excellent choice considering the accessible prices and abundant menu that transforms it into one of the most popular restaurants in the city. As any respectable Italian establishment, Il Vicino Pizzeria offers all the highlights of Italian cuisine, from starters such as bruschetta with tomatoes or caprese salads to its signature pizzas and, of course, the must-try panna cotta served up for dessert.
Alp Pasa part of the boutique hotel with the same name, is the place to go for visitors who enjoy the buffet-style experience, accompanied by live piano music. The restaurant is nestled in Antalya's historical center, in a traditional Ottoman building, just a few steps away from the stunning Hadrian's Gate. With a large romantic courtyard that enhances its warm and cozy atmosphere, Alp Pasa is a fail-safe choice with a variety of Turkish, Mediterranean, French and even vegetarian dishes on offer.
Just a few kilometers from the city center, 7 Mehmet enjoys a magnificent position on a lush green hill overlooking the Konyaalti Plaji beach, offering superb views over Antalya. This is one of the most famous restaurants in Antalya, and one that respects its fascinating heritage; it was founded years ago by chef Mehmet, who started his life-long culinary adventure at an early age as a kitchen helper in order to support his family. 7 Mehmet is an unmissable gastronomic attraction for all those who enjoy tradition, Turkish recipes with grilled meat, fish and meze, and beautiful scenery while enjoying their lunch or dinner.
Patio Bistro & Restaurant
In the heart of the historical neighborhood of Kaleici, just a few steps away from Antalya's unique cultural attractions and the Marina, Patio at the Puding Marina Hotel is a memorable choice for all those who enjoy discovering a variety of home-made marmalade, cheese or omelettes, all served up in the form of an appetizing breakfast. The wine and dinner menus are also worth exploring, filled with a fusion of recipes and international cuisines with highlights such as foie gras, shrimp and squid tempura, baked seabass, or the succulent beef tenderloin.
WHERE TO SHOP IN ANTALYA
Known for its beautiful beaches and historic sights, Antalya is much more than just one of Turkey's most popular summer resort towns. The city's colorful street markets and bazaars offer a way to not only become acquainted with the locals but to also shop like them. Check out the best places to shop in Antalya.
One of the best places to indulge in some retail therapy in Antalya is undoubtedly in its old district, also known as Kaleiçi. Walk along the cobblestone streets, past the many beautiful Ottoman style timber houses, and check out the shops in which you can explore some of the best wares that Antalya has to offer. Local souvenirs, jewelry, clothing, antiques, and carpets are all available and can be found around the mains shopping streets of Cumhuriyet, Güllük, and Atatürk.
Antalya has a lot of traditional outdoor neighborhood markets, but one of the biggest is the indoor market in the Çağlayan neighborhood. Here, you'll find an amazing selection of fresh fruits and vegetables, fish, nuts, spices, and olive varieties that have been brought in from the villages in the vicinity of the city. The bazaar is also a great place to observe the locals, who come here to do their weekly shopping.
If you're looking to visit stores that carry local and international fashion brands, or are in need of equipment for diving or water sports, then head to Kaleiçi Marina, which also happens to offer beautiful views of the sea. When you're done with your shopping, take a seat at one of the many cafes and restaurants and relax by the water.
If you're more of the shopping center kind of person, Antalya won't disappoint you with its many options. Head to TerraCity Mall , the city's largest shopping mall with over 150 stores and 30 restaurants, and you'll be sure to find whatever it is you're looking for. There is also a huge Migros Super Market here in case you need to stock up on food.
For a more historic experience, head over to this old, beautiful and covered bazaar from the late 15th century that is just north of Antalya's old town, Kaleiçi. It's a great place to find handmade souvenirs, and make sure you visit the jewelers, copper workshops, and metalwork craftsmen, as well as the merchants selling beautiful textiles, Iznik style tiles, and spices.
Set up every Saturday, this is Antalya's biggest street bazaar (known as pazar in Turkish). You'll find stalls selling clothing, jewelry, accessories, bags, and souvenirs, as well as fresh produce, herbs, and ready-made foods. This is definitely the place to go if you're a passionate bargain hunter or just want to mingle with the locals who are doing their bulk buying on a sunny afternoon.