LAUANTAI, 11. HEINÄKUUTA 2020
The Galápagos Islands may just inspire you to think differently about the world. The creatures that call the islands home, many found nowhere else in the world, act as if humans are nothing more than slightly annoying paparazzi.
It's quite humbling that thirteen scarred volcanic islands, scattered across 45,000 square kilometres of ocean, 960km adrift from the Ecuadorian mainland and defying permanent human colonization until the twentieth century, should have been so instrumental in changing humanity's perception of itself. Yet it was the forbidding Galápagos Islands – once feared as a bewitched and waterless hell, then the haunt of pirates, and later still an inhospitable pit stop for whaling ships – that spurred Charles Darwin to formulate his theory of evolution by natural selection, catapulting science into the modern era and colouring the values and attitudes of the Western world ever since.
This is not the Bahamas and these aren't typical tropical paradises; in fact, most of the islands are devoid of vegetation and some look more like the moon than Hawaii. However, more humans live here than is commonly assumed, and there's a surprising level of development in the islands' towns, mostly geared toward the thriving tourism industry.
This isolated group of volcanic islands and its fragile ecosystem has taken on almost-mythological status as a showcase of biodiversity. Yet you don't have to be an evolutionary biologist or an ornithologist to appreciate one of the few places left on the planet where the human footprint is kept to a minimum.
BEST TIME TO GO TO GALAPAGOS
Seasons are split into cool and dry (June - November) and warm and wet (December - June).
The best time to visit the Galápagos Islands is from June to November, with the warmer season being the best time to visit Galápagos for warmer, calmer seas and good underwater visibility. Showers tend to be short, so you can make the most of the heat on the beach or the deck of your boat. Though the Galápagos is beautiful year-round, these months offer temperatures ranging from the low 70s to mid-80s, making pleasant conditions for hiking and wildlife-spotting.
New year in the Galápagos brings sunshine as well as rain, and although you'll only find a slight daily drizzle it's pretty much a permanent fixture from January through to May. The start of the year is when green turtles lay their eggs and considered one of the best times to visit the Galápagos Islands.
Warmer weather signals l'amour and many of the land birds, sea lions, turtles and tortoises that you'll find on the Galápagos use February, March and April as their breeding or nesting season amongst a blanket of blossoming spring flowers. By May, blue-footed boobies are doing their courtship dance in North Seymour. This is also a great time of year for beach lovers as, although there's every chance of a daily shower, sea and land temperatures are at a high.
The colder climes of June through to November send an abundance of plankton and nutrients to the rougher seas off the coast of the Galápagos which provides sea birds, such as albatross and penguins, with food as well as an underwater treat for divers braving the cooler temperatures.
Although sunshine is not exactly at a premium during July this is the mating season for blue-footed boobies (particularly on Isla Española) and short-eared owls, with Genovesa Island providing the perfect place to observe rituals from a respectful distance.
August and September are still dry but relatively cool and it's not until October that temperatures start to rise with December kicking off the start of hatching season for giant tortoises.
GETTING TO GALAPAGOS ISLAND
The Galápagos Islands, located roughly 600 miles off the coast of Ecuador, remained a closely-guarded natural secret for millions of years.
TAKE AN INTERNATIONAL FLIGHT TO ECUADOR
There are no direct international flights to the Galapagos. When flying into the country of Ecuador, you can choose to arrive either to the Andean capital city of Quito or to the costal city of Guayaquil. Quito is Ecuador's capital, a city of just over 2 million people located in the Andes Mountain Range at 2,800 meters / 9,180 ft. above sea level. Quito's "old" town is one of the most beautiful colonial centers of any Latin American city and is nearby several Andean indeginous markets like Otavalo and Cotacachi. If you will be extending your trip to Galapagos with a trip in Mainland Ecuador, we recommend you arrive to Quito rather than Guayaquil.
Guayaquil is located in the coast of Ecuador at sea level and is the country's largest city with a population of 2.5 million. It is a modern city and Ecuador's largest port. For those who are sensitive to altitude, or who will not be doing any tours in Mainland Ecuador in addition to their Galapagos trip, we recommend to fly into the city of Guayaquil. There are direct non-stop flights to Quito or Guayaquil from several US cities like Houston, New York and Miami, as well as from European cities like Madrid.
TAKE A DOMESTIC FLIGHT TO THE GALAPAGOS ISLANDS
There are domestic flights to the Galapagos originating from the cities of Quito or Guayaquil in Ecuador. There are two airports in Galapagos: One on BALTRA Island and the other in in SAN CRISTOBAL Island. Which airport you fly to will depend on where your Galapagos cruise starts from (based on your chosen itinerary) or your hotel location. Flights departing from Quito stop in Guayaquil before continuing to the Galapagos Islands. The flight time between Quito and Guayaquil is roughly 35 minutes and from Guayaquil to Galapagos is roughly 1 hour and 45 minutes. Air flights to the Galapagos are somewhat limited. There are three airlines that operate these routes: TAME, AEROGAL (AVIANCA) and LATAM.
GETTING AROUND GALAPAGOS ISLAND
Getting around the Galapagos Islands is easy to do — bicycles, cargo boats, airplanes, buses, taxis, and other public transportation is available. If you are staying on one island, backpacking or diy-Galapagos is definitely possible, but before you go anywhere, make sure you don't need a Naturalist Guide with you.
WHERE TO STAY & EAT IN GALAPAGOS ISLAND
Set in Puerto Ayora, less than 1 km from Los Alemanes Beach, Hotel La Isla offers air-conditioned rooms and a shared lounge. Featuring a tour desk, this property also provides guests with a terrace. The property is allergy-free and is situated less than 1 km from Tortuga Bay. At the hotel, all rooms are fitted with a desk, a flat-screen TV and a private bathroom. The units feature a wardrobe. Guests at Hotel La Isla can enjoy a continental or a buffet breakfast. El Garrapatero Beach is 22 km from the accommodation.
Set in a Mediterranean-style house located right on Cuna del Sol Beach, Hotel Albemarle features a lush garden with an outdoor pool. It offers air-conditioned rooms. Decorated with tiled floors and wooden-beamed ceilings, the large rooms at Albemarle Hotel are fitted with stylish furnishing. All of them have private marble bathrooms and either sea or pool views. The in-house tour desk can help the guests' travel arrangements around Isabela and other islands in Galapagos. The Albemarle Hotel has a privileged location in the heart of Puerto Villamil, a 2-hour boat trip from Santa Cruz Island and 3 km from General Villamil Airport.
Hotel Acacia has an outdoor swimming pool, bar, a shared lounge and garden in Puerto Ayora. Among the facilities at this property are a concierge service and a tour desk, along with free WiFi throughout the property. El Garrapatero Beach is 21 km from the hotel. At the hotel, every room includes a wardrobe. At Hotel Acacia all rooms have air conditioning and a private bathroom. The accommodation offers a continental or Full English/Irish breakfast. Hotel Acacia offers a hot tub. Popular points of interest near the hotel include La Estacion Beach, Los Alemanes Beach and Tortuga Bay.
Featuring an on-site snack bar and free organic coffe, Hotel Cucuve offers accommodation in Puerto Ayora. Free WiFi access is available throughout the property. Roome here are all fitted with a flat-screen TV and a private bathroom with shower and free toiletries. In addition, some rooms have a balcony. At Hotel Cucuve guests will find a tour desk, capable of providing handy advise and information.
Galápagos Casa Playa Mann
Casa Playa Mann is located in San Cristóbal, 20 m from the beach. Guests can enjoy free Wi-Fi. Each room here is air-conditioned and includes a flat-screen cable TV, a minibar and a coffee maker. The private bathrooms include a shower and a toilet. At Casa Playa Mann you will find a garden, terrace and a tour desk that can help plan outings and activities like snorkeling and swimming. Laundry services are available for a fee. Restaurants and bars are available within a 5-minute walk. San Cristobal Airport is 2 km away.
Located in Puerto Ayora, Villa Escalesia offers beachfront accommodation 700 m from La Estacion Beach and provides various facilities, such as a garden and a terrace. Featuring a bar, the 5-star hotel has air-conditioned rooms with free WiFi, each with a private bathroom. The property is allergy-free and is situated 1.1 km from Los Alemanes Beach. Guest rooms in the hotel are equipped with a flat-screen TV. Guests at Villa Escalesia can enjoy an American breakfast. The accommodation offers a hot tub. Guests at Villa Escalesia will be able to enjoy activities in and around Puerto Ayora, like cycling. Tortuga Bay is 1.1 km from the hotel, while El Garrapatero Beach is 22 km away.
Hostal Sueños Silvestres​
Offering a terrace and views of the garden, Hostal Sueños Silvestres is set in a quiet residential area of Puerto Ayora.Charles Darwin Station is within a 10 minute walk and Tortuga Bay is 3.3 km from the property. Every room at this hotel is air conditioned and comes with a flat-screen TV. A terrace or patio are featured in certain rooms. Rooms have a private bathroom. Extras include free toiletries and a hairdryer. Hostal Sueños Silvestres features free WiFi throughout the property. There is a shared kitchen at the property. El Garrapatero Beach is 3.3 km from the property. The nearest airport is Seymour Airport, 32 km from Hostal Sueños Silvestres.
A few steps from Puerto Villamil Beach, Hotel Volcano is set in Puerto Villamil and offers free WiFi, concierge services and a tour desk. At the hotel, every room is fitted with a desk. At Hotel Volcano, all rooms come with air conditioning and a private bathroom. Guests at the accommodation can enjoy an American breakfast.
Finch Bay Galapagos Hotel
Finch Bay Galapagos Hotel features a restaurant, outdoor swimming pool, a fitness centre and bar in Puerto Ayora. 50 m from Los Alemanes Beach and less than 1 km from Tortuga Bay, the property provides a shared lounge and a garden. The property is allergy-free and is located 22 km from El Garrapatero Beach. At the hotel, rooms come with a desk. At Finch Bay Galapagos Hotel every room is equipped with air conditioning and a private bathroom. A buffet breakfast is available daily at the accommodation. Finch Bay Galapagos Hotel offers a hot tub. Guests at the hotel will be able to enjoy activities in and around Puerto Ayora, like cycling.
Set in Puerto Villamil, Isamar Hotel offers beachfront accommodation a few steps from Puerto Villamil Beach and offers various facilities, such as a restaurant, a bar and a garden. Among the facilities at this property are room service and a business centre, along with free WiFi throughout the property. The hotel has family rooms. At the hotel, the rooms come with a desk, a flat-screen TV and a private bathroom. All guest rooms at Isamar Hotel feature air conditioning and a wardrobe. Continental and buffet breakfast options are available every morning at the accommodation. Isamar Hotel offers a terrace. The area is popular for hiking and cycling, and bike hire is available at the hotel.
Semilla Verde Boutique Hotel
Semilla Verde Boutique Hotel gives its guests the real traditional guesthouse experience in Santa Cruz Island. It is located only a 12-minute drive from Puerto Ayora. It offers rooms with free Wi-Fi and private balconies. There is free unlimited coffee from the hotel's own sustainable plantation. At this hotel guests can relax in the hammocks or spot wild giant tortoises and native birds in the hotel's extensive garden and nature trails. Panoramic views of Galapagos National Park can be enjoyed from the terraces. Semilla Verde Boutique Hotel has rooms with flat-screen TVs and DVD players. All of them include private bathrooms with bathtubs or showers. All the rooms have views of the forest or coastline from private terraces or balconies. A full breakfast with eggs, fresh fruits, bacon and waffles is served daily in the main building of the property. Meals including vegetarian dishes are available upon request and there is a bar. The hotel offers tours and activities to surrounding islands including Santa Cruz Island. The hotel is a 12-minute taxi ride from Puerto Ayora town, the Charles Darwin Station and Tortuga Bay Beach. Semilla Verde Boutique Hotel is 30 km from Baltra airport by taxi and ferry. Private transfers can be arranged to and from the airport for an extra fee.
ACTIVITIES TO DO & PLACES TO VISIT GALAPAGOS ISLAND
The Galápagos' various islands are strikingly different, home to some of the most beautiful and rare animals in the world, not to mention some of the most stunning surroundings. Some feature imposing active volcanoes, while others flaunt idyllic beaches and remote wildlife reserves. If you're planning an extended visit, you'll want to explore them all. But should you have time limitations, you'll need to build a selective itinerary. Wildlife-watchers will want to venture to the small town of Puerto Ayora on Santa Cruz Island to tour the Charles Darwin Reseach Station before continuing southwest to catch a glimpse of critters basking in the sun along Santa Cruz's Tortuga Bay. Intrepid hikers will take pleasure in exploring Sierra Negra, Isabela Island's active volcano, while aquatic enthusiasts will enjoy sharing the waters with exuberant tropical fish during a snorkeling or diving excursion. Whatever pursuits pique your interest, just be sure to make time for exploring the Galápagos' unspoiled landscapes and interacting with its magnificent creatures
Outdoorsy types don't flock to these two white sand beaches simply to bake in the warm equatorial sun. Travelers visit this isolated strip of Santa Cruz Island's southern coastline for some quality face time with the Galápagos' marine turtles. If you visit between January and February, you may even catch sight of the black turtles laying their eggs (hatchlings emerge and make their way to the sea between April and May). Even if you're not a turtle-lover, you can still get up close and personal with the other beach combers like marine iguanas and Sally Lightfoot crabs. While most recent travelers describe their visits to Tortuga Bay as a highlight of their trips, some do caution that it can feel like quite a trek to get there from Puerto Ayora, especially in the hot sun. Also, remember that the beach closest to the bay's entrance (Playa Brava) has strong currents, so it's not suitable for swimming. If you want to swim, continue walking to the bay's other beach (Playa Mansa).
Located on Puerto Baquerizo Moreno, Kicker Rock is the remains of a volcanic cone been eroded by the sea. Above water, the rock is home to a smattering of Tropicbirds, Blue-footed Boobies, and Frigatebirds, but it is really its below-water inhabitants that has visitors in awe. The natural erosion of the cone has created a channel between the rocks that serves as the ideal place to view myriad sharks and rays. If visitors arrive at the right time, they can see hundreds of Galapagos sharks (and come into touching distance of them if you choose to snorkel through the canyon), schools of Spotted Eagle Rays, turtles, jellyfish, and even the occasional sea lion. The plethora of aquatic fauna here is an absolute must see for any Galapagos visitor, whether you jump into the water for a snorkel or just stay on the boat.
Just a short drive from Puerto Ayora, a visit to Reserva El Chato is an absolutely crucial experience and should be at the top of the list for an Galapagos traveler. Here, visitors can see Galapagos Giant Tortoises roaming around in their pristine natural habitat, with no cages, fences, or walls to obstruct the view – and all for just $3. There is also a small café with good coffee and food on the site.
Watch Out For: Getting to El Chato can be difficult but not impossible.You can bike there from Puerto Ayora, but it's a bit of a trek. Otherwise, you will need to take a taxi or bus.
Whether you choose to snorkel in the sapphire-blue sea while playing with baby sea lions, or hike around the beautiful scenery above water, Las Loberias, located on San Cristobal, is sure to wow any visitor. Often praised as the best free thing to do in the Galapagos, this beach has sea lions, iguanas, Hermit crabs, and turtles, all of who will happily put on a show for their visitors. The trail above the beach offers an incredible view, but make sure to wear some sturdy shoes if you choose to hike because there are quite a lot of rocks.
Watch Out For: Remember, look but do not touch. A mother sea lion will abandon her baby at the first scent of a human, and it doesn't take much for her to notice.
Another hotspot for aquatic life, Las Tintoreras, located on Puerto Villamil, is home to hundreds if not thousands of marine iguanas. Also living here are thousands of sharks, often sleeping, and on occasion, stingrays, seals, seahorses, and even penguins. This beautifully pristine environment gives the illusion that man never existed. It's a quick and easy stop, only about a ten minute boat ride from the Island of Isabella, and an absolute must-do.
Watch Out For: To visit Las Tintoreras, you must have a certified guide.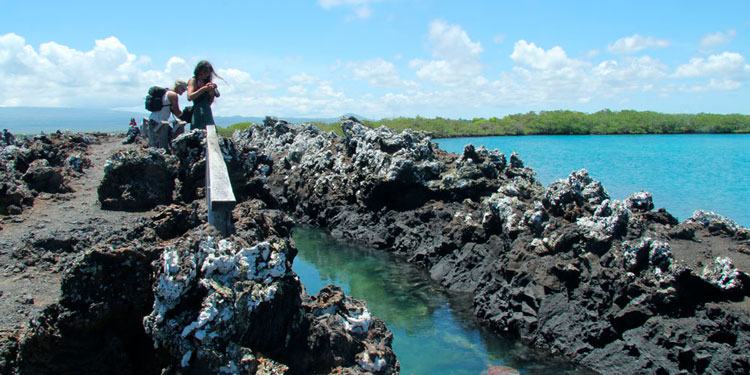 Charles Darwin Research Center
Although this place is zoo-like, it is nothing like your ordinary zoo. The research facility seems a bit primitive at first glance, but visitors quickly appreciate the fact that it serves another purpose than to merely show off rare species. Instead, the Charles Darwin Research Center is a breeding centre and rehabilitation facility for animals from local islands. Any Galapagos visa, usually purchased at the airport, covers entrance to this place, so it's basically free and a fun visit for anyone.
Watch Out For: This is a sure win with small children, who often love interacting with the various animals.
Not only is Isla Isabela the largest Galápagos island, but its imposing skyline of grumbling volcanoes makes it the most striking. Volcán Wolf, at the northern tip of the island, is the highest point in the Galápagos, standing at 1707m (5600ft), and is one of the most active volcanoes in the archipelago – young lava covers the caldera floor. Ten eruptions have occurred between 1797 and 1982. The 1982 eruption saw fountains of lava emanating from vents before rising over the rim.
Historic Site in Isla Isabela (Albemarle). Just south of Punta Tortuga is this cove where early sailors frequently anchored and scratched the names of their vessels into the cliffs. It's a strange sight to behold graffiti, the oldest from 1836, in an otherwise pristine environment, next to where sea lions lazily roam.
From the village of Puerto Velasco Ibarra, a road runs inland uphill for 7km to this official visitor site. A chiva (truck with bench seats) goes up twice a day at 6am (returning at 7:30am) and 3pm (returning at 4:30pm); one way $1. Or you can hire a truck ($50 return). Here you can see lumbering giant tortoises, the natural spring that supported Floreana and the caves where the first settlers lived. You might also see the endemic medium tree finch, which exists only on Floreana.
The first of its kind in the world, this museum uses augmented reality to showcase a permanent exhibition of 55 pre-Columbian artifacts. The ancient cultures of Ecuador's Amazon and coastal regions are brought to life as visitors point smart phones or tablets at one of the relics, with historical information and three-dimensional images appearing directly on the devices.
The summit of this volcano (1097m) is famous for its 7km-wide caldera and steaming fumaroles. Hundreds of giant tortoises can be seen here, especially from June to December, and juvenile hawks soar on thermal updrafts. The view is fantastic. Permits are required to hike this long, steep and waterless trail and to camp near the summit (two days required).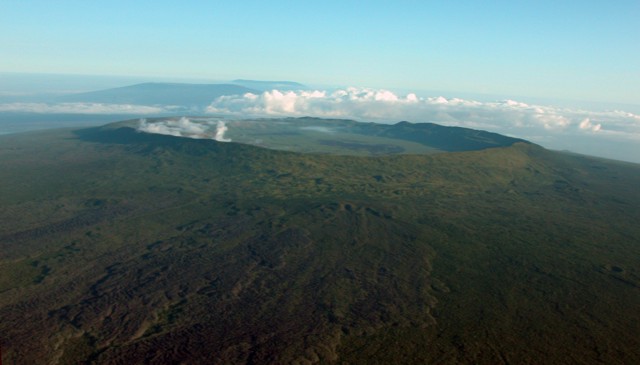 Puerto Egas is one of the most popular sites in the Galápagos – a long, flat, black lava shoreline where eroded shapes form lava pools, caves and inlets that house a great variety of wildlife. It's a great place to see colonies of marine iguanas basking in the sun and hundreds of Sally Lightfoot crabs attracting hunting herons. The inlets are also a favorite haunt of the surprisingly agile Galápagos fur sea lions. This stretch is named after Dario Egas, the owner of a salt mine on the island who was once, as a result of presidential patronage, the only producer of salt in the country. Behind the black lava shoreline is Sugarloaf Volcano, which can be reached via a 2km (1.2-mile) path on which lava lizards, Darwin's finches and Galápagos doves are often seen. It peters out near the summit, but the views from here are stupendous! There's also an extinct crater in which feral goats are known to lurk. North of the volcano is a crater where the mine once was – its remains can still be seen.
If seeing sea lions with their pups is something that interests you, you might want to include Las Loberias on your tour itinerary. Here, as in other sites throughout the islands, you can spend the day on the beach watching these pups interact with their parents, and you can even go swimming with these friendly sea lions. This scenic San Cristobal Island beach a perfect for enjoying these curious animals while delighting in the striking landscapes.
While Giant Galapagos Tortoises are the most famous residents of the islands, many fascinating feathered friends also reside here. Flightless Cormorants, Magnificent frigatebirds, and albatrosses are among the types of birds that can be seen, in addition to 13 species of tanagers and ever-delightful Blue- and Red-footed Boobies. Bring your binoculars and check the number of different birds that can be spotted.
If what's in water interests you more than what is in the air above, prepare to peer beneath the surface of the ocean. In the Galapagos, marine life is abundant and striking, which means diving is a popular pastime in this natural paradise. The water in this almost untouched part of the world is clear to a depth of 24 meters in some places, so you can enjoy excellent views.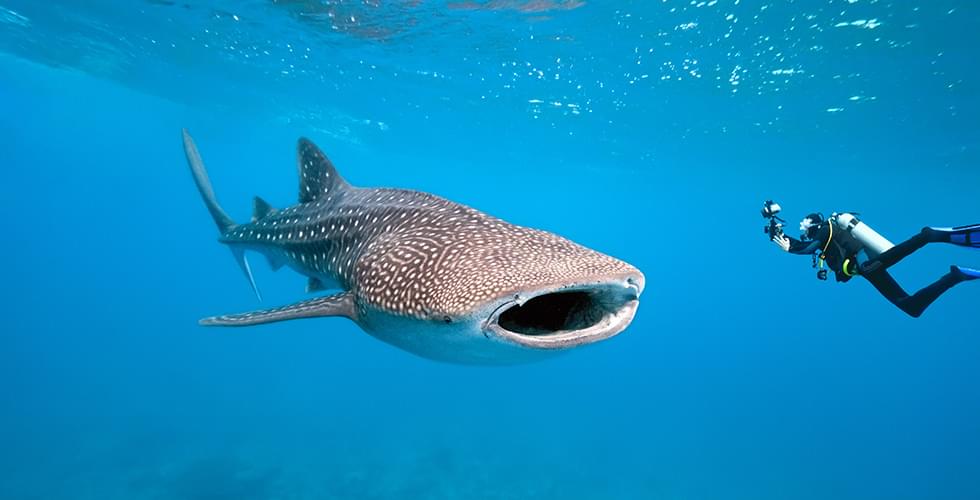 While in the islands, you'll have a chance to see land and marine iguanas at almost every turn. As you travel the islands, you will see for yourself how these creatures explain to perfection Darwin's theory of the evolution, since on each island these reptiles have adapted in a different way and possess different characteristics.
Its well-formed waves and pleasant year-round temperatures make the Galapagos archipelago one of the best destinations for surfing. San Cristobal Island is perfect for this sport, with its Tongo Reef and Carola Point, though other islands such as Santa Cruz and Isabela aren't far behind.
Though less than half a square mile in size (only 1.2 square km), Bartolome Island is the site of one of the most representative natural monuments of the Galapagos Islands: Pinnacle Rock, a triangular structure formed from the remnants of an ancient volcanic cone. While on Bartolome, you'll also see a large colony of tiny Galapagos penguins on this colorful island of red-, orange-, black- and green-toned sand.
On Isabela Island, you can do even more than watch dolphins dance or explore the lava tunnels and hidden lagoons. You can also visit the famed "Wall of Tears." This structure was constructed just after WWII, when a penal colony was run on this island. To punish the prisoners, they were forced to build this 100-yard-long and 20-foot-high wall from huge blocks of lava. Although the wall itself is interesting, visitors also enjoy the path that leads to it, as a variety of animals can be observed – everything from tortoises to flamingos.
One of the things you must do in the Galapagos Islands is, of course, embarking on a cruise. This means has become the favorite of many tourists to know the islands, as it offers the opportunity to integrate with nature while enjoying it.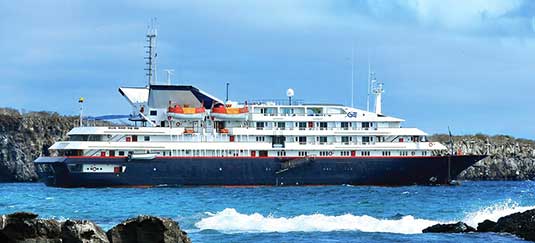 SHOPPING IN GALAPAGOS
You'll find one-of-a-kind gifts at this jeweler, with exquisite handmade works by Ecuadorian artisans. Some pieces incorporate lava forms, others feature pre-Columbian art and themes from native Ecuadorian wildlife.
A high-end artists boutique selling uniquely designed handicrafts, jewelry and ceramics.