KESKIVIIKKO, 01. HEINÄKUUTA 2020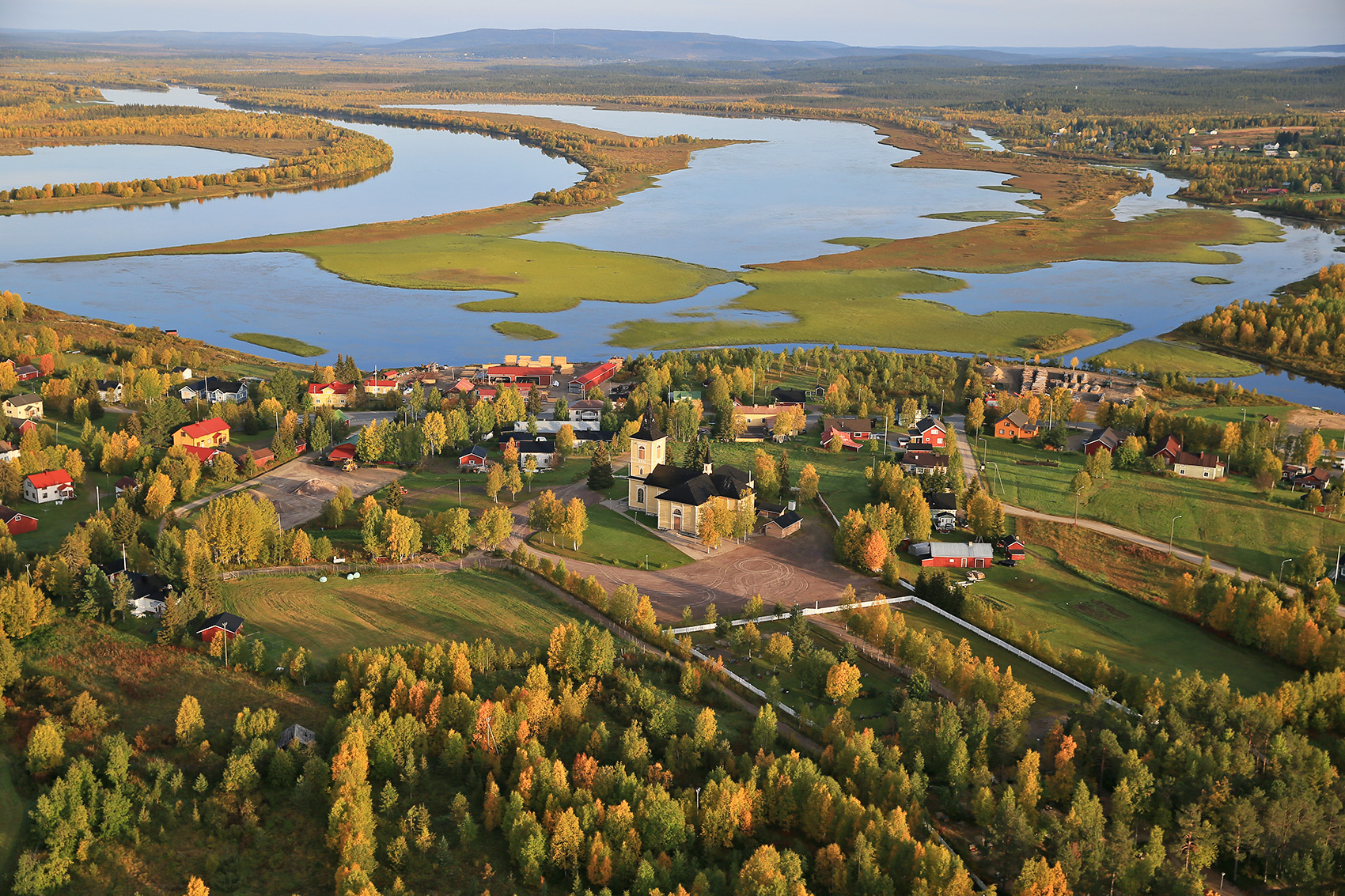 The town is located in far northern Finland above the Arctic Circle on the country's western border, within the area of the former Lappi province. Muonio is known as the municipality with the longest snow season in Finland. For that reason its vocational college has a top ski class that attracts aspiring cross-country ski champions from all over Finland.
The last significant stop on Rd 21 before Kilpisjärvi and Norway, Muonio sits on the scenic Muonionjoki that forms the border between Finland and Sweden. It's a fine base for summer and winter activities, including low-key skiing at nearby Olos. Most of the town was razed during WWII, but the 1817 wooden church escaped that fate.
In addition to its unique nature, Fell Lapland offers all the services necessary for a successful holiday: backcountry hiking and biking routes, an abundance of bird and fishing waterscross-country skiing trails, husky and reindeer safaris, snowmobile routes, freeriding, pleasant accommodation services and restaurants serving delicious meals.
Nestled among the gentle fells of western Lapland, Muonio is the perfect place for to spend your summer, winter or any time in between. Finland's most popular national park, Pallas - Yllastunturi, stretches from Enontekiö to the Ylläs ski villages, and it's only a 20 minute drive from the comforts and conveniences of downtown Muonio. In winter, cross-country paths thread throughout the park, over 500 kilometers' worth! When the snow melts, take a deep breath of the cleanest air in the world as you traverse the trails connecting the villages, visitor centers and resorts that dot the park and its environs. Take a break from the digital world and take a hike instead. The popular Hetta-Pallas trail has been explored for the last 80 years and gives you four days to experience and absorb the Lapland wilderness.
Water-lovers can enjoy swimming in the crisp waters of Lake Muoniojärvi or canoeing the Muonio River. Fishermen can spend their days on the banks of the Särkijärvi (Roach Lake) or take a boat across Lake Jerisjärvi and join the Shaman of Jerisjärvi by the fire in a kota. This lake is also popular for Finland's national animal: seven swans even choose to say here all winter-long, even when the temperature drops to -30. You can see these hardy Arctic survivors from the road from Särkijärvi to Pallas. If you are after a holiday that offers more than just city sightseeing and nightclubs, Muonio is the place for you. Lapland welcomes you to experience the land of mystique.
BEST TIME TO VISIT MUONIO
The best time to visit Muonio in Finland is from june until september, when you will have a very cold or pleasant temperature and limited rainfall. The highest average temperature in Muonio is 18°C in july and the lowest is -10°C in january. The weather and climate of Muonio is suitable for a winter sports.
Spring (March through May)
Humidity and temperatures combine to make this season feel very cold. Highs range from 60.3°F (15.7°C) and 23°F (-5°C) with far warmer temperatures in the later months. Rain is somewhat common with 3 to 6 days of significant precipitation per month. Spring is the second busiest for tourism, which makes it a good time for those looking for things to do.
Summer (June through August)
The middle-year months have cold weather with high temperatures that are brisk. These months see the most precipitation with 6 to 9 days of precipitation per month. June – August is the busiest season for tourism in Muonio, so lodging and other accommodations may cost more than usual.
Fall (September through November)
Fall daily highs range from 55.5°F (13.1°C) and 24.6°F (-4.1°C), which will feel very chilly given the humidity and wind. It rains or snows a significant amount: 6 to 7 days per month. Tourism is the slowest during these months due to the weather, so hotels may be affordably priced.
Winter (December through February)
Weather is far too cold this time of year in Muonio to be enjoyable for warm weather travelers. The average high during this season is between 25°F (-3.9°C) and 13.1°F (-10.5°C). On average, it rains or snows a fair amount: 2 to 8 times per month. These times of year are fairly slow with tourists.
GETTING TO MUONIO
By Plane - Flying to Kittilä International Airport is the easiest way to get here, when arriving by plane. From there, you can take a bus or a shuttle service taxi, which will get you to Muonio typically within an hour. Direct flights to Kittilä arrive, for example, from Helsinki, London, Paris, and München. The Enontekiö Airport in Hetta, as well as the airports in Rovaniemi and Tromsø (Norway), are other possible options. The distance to Muonio from these airports, however, is slightly longer.
By Train - Take a train to Kolari, where you'll find a bus or shuttele taxi service that can take you to Muonio within an hour. Remember that night trains and trains with car-carriages are also available. Another good option is taking a train to Rovaniemi, and a bus to Muonio from there.
By Bus - Busses from Rovaniemi to Muonio take about three hours. The Arctic Route – bus route from Rovaniemi via Muonio to Tromsø is a good option when in search of new adventures and unforgettable experiences in Lapland.
By Car - Arrive on your own time by car. Muonio is located on Route E8, which spans the distance between Turku in the south to Kilpisjärvi in the north. From Rovaniemi, you can drive along the route 79 and admire amazing views on your way.
GETTING AROUND MUONIO
There is no local public transportation in Muonio. You may use local taxi or the long distance places. Check Matkahulto for the time tables. Taxi Tapio Hietalahti operates a shared taxi on the route Muonio-Olos-Jeris-Pallas-Kittilä airport. The shared taxi must be invoked at least 24 hours before the trip. You can also get around by Bicycle or walking.
WHERE TO STAY & EAT IN MUONIO
Facing the beachfront in Muonio, Keimiölahen Maja features a private beach area and ski-to-door access. There is free private parking and the property provides paid airport shuttle service. At the inn, each room is fitted with a wardrobe. At Keimiölahen Maja each room is equipped with a desk and a private bathroom. A buffet breakfast is available daily at the accommodation. Guests at Keimiölahen Maja will be able to enjoy activities in and around Muonio, like skiing. Levi is 41 km from the inn, while Äkäslompolo is 48 km away. The nearest airport is Kittilä Airport, 54 km from Keimiölahen Maja.
In the village of Muonio amid open snowmobile and hiking country, the Harriniva Cottages offers cottages and camping areas in Finnish Lapland. Guests can enjoy husky sled rides in the winter and river rafting in the summer. Each unit at the Harriniva Cottages has views towards the Muonio River. Some have a sauna and bathroom, while others share facilities in a separate service building. All cottages have cooking facilities, while the cottages with private bathrooms also have a convertible sofa. The restaurant has an à la carte menu available for breakfast and dinner, and offers free Wi-Fi. Guests also have access to a communal sauna. Just a kilometre from the Swedish border, the centre is within an hour's drive of Levi Ski Resort and half an hour's drive from the Pallas-Ylläs National Park.
Set within 3 minutes' walk of Lake Särkijärvi, Särkijärven Majat offers accommodation with private terraces and fully equipped kitchens. Wi-Fi is free in public areas. Muonio town centre is a 10-minute drive away. A seating area and a flat-screen TV are featured in all apartments and cottages. Kitchen facilities include a stove, microwave and fridge. All apartments have a private sauna. Finnish dishes based on local ingredients are served for breakfast, lunch and dinner at the in-house restaurant. Barbecue facilities are provided on site. Relaxation options include a lakeside sauna. Rowing boats, canoes and ski equipment can be hired on site. Cross-country skiing trails start directly at the property. Levi Ski Resort is a 45-minute drive away. Kittilä Airport is 50 minutes' drive from the property.
Located along National Road 21, this motel is 500 m from central Muonio. It provides free WiFi and modern rooms with a flat-screen TV and full kitchenette. Some rooms offer a private sauna. A stove, microwave, fridge, as well as tea/coffee facilities are provided in each Motel SEO Muonio room. All have a seating area and fresh, tiled bathroom with a shower. Light meals and refreshments can be enjoyed at the on-site Roll's Express restaurant. Other facilities at SEO Muonio include a petrol station, grocery store and car rental service. Free private parking is also available. Pallas-Ylläs National Park is 30 minutes' drive away, while the Swedish border is just 700 m from the motel.
Lomamaja Pekonen Apartments
Located in Muonio, Lomamaja Pekonen Apartments are within walking distance to shops and services. You can enjoy free WiFi access and a peaceful setting during you stay. Each accommodation will provide you with a TV, dining table and sauna. There is a full kitchen with a microwave and refrigerator. The private bathroom has a shower and hairdryer. You can enjoy a lake view from the apartment. An array of activities can be enjoyed on site or in the surroundings, including hiking and water sports. You can also rent canoes and fishing equipment. The property offers free parking. Lomamaja Pekonen Apartments are 75 km from Kittilä Airport.
Located in Muonio in the Lapland region, Olosloisto Lomat provides accommodation with free private parking, as well as access to a sauna. Each unit comes with a fully equipped kitchen with a microwave, a fireplace, a seating area with a sofa, a flat-screen TV, a washing machine, and a private bathroom with shower. A fridge, an oven and toaster are also provided, as well as a kettle and a coffee machine. Guests at the apartment can enjoy hiking and skiing nearby, or make the most of the garden. Äkäslompolo is 49 km from Olosloisto Lomat. The nearest airport is Kittilä Airport, 69 km from the accommodation.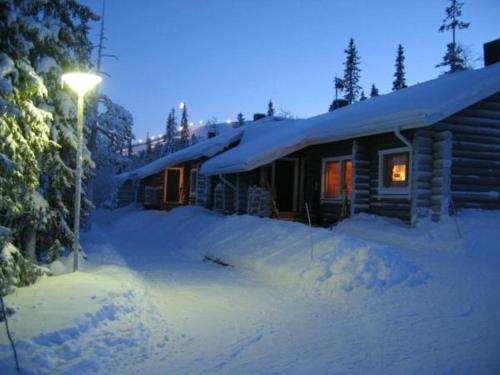 Holiday Home Kuksa is set in Muonio. Guests staying at this holiday home have access to a fully equipped kitchenette. The holiday home comes with a TV. If you would like to discover the area, skiing is possible in the surroundings. Levi is 44 km from the holiday home. Kittilä Airport is 52 km away.
With its own restaurant, Hotel Harriniva is half an hour's drive from the Pallas-Ylläs National Park and a kilometre from the Finnish/Swedish border. A wellness centre is featured with massage treatments, sauna and hot tub facilities. WiFi is available in the restaurant and reception. Rooms at Hotel Harriniva have modern pine interiors and a private bathroom with a shower. An extensive activity programme is offered by the hotel, with snowmobile safaris in the winter and river rafting in the summer. Guests are a 50-minute drive from Levi Ski Resort and within 5 minutes' drive of Muonio village. A year-round activity centre, guests can enjoy activities including cross country skiing, husky sled rides, canoeing and quad biking. There is a shuttle service to and from Kittilä Airport, an hour's drive away.
Holiday Home Oloskammi 5 is situated in Muonio. The holiday home has a TV. The kitchenette features a dishwasher and a fridge. Skiing can be enjoyed nearby. Äkäslompolo is 48 km from the holiday home. The nearest airport is Kittilä Airport, 69 km from Holiday Home Oloskammi 5.
OUTDOOR ACTIVITIES & PLACES TO GO IN MUONIO
- Cross Country Skiing - Swimming
- Snow Shoeing - Kayaking - Canoeing
- View Aurora - Fishing
The Midnight Sun is one of the most iconic natural phenomena in the Nordic region, even if it is a pain for the locals. The inclination of the Earth's axis makes it possible for the northern regions of Finland to experience daytime constantly during summer with the sun not setting for several weeks. Sodankylä in central Lapland is one of the best places to see the Midnight Sun. There is an incredible view and usually a clear sky with warm and mild sunshine. It also hosts the Midnight Sun Film Festival, which launches every year in June and plays 20 to 30 modern movies from all around the world nonstop, and is surely a great way to keep yourself entertained when the sun keeps you up all night.
Pallas-Yllästunturi National Park
Located in the municipalities of Enontekiö, Kittilä, Kolari and Muonio, Pallas-Yllästunturi National Park is one of the oldest national parks and the third-largest national park in Finland. Muonio is a good place to start hiking as the landscape is relatively flat and there are sufficient village houses where you may find food and necessities. While hiking you can see highland flora and fauna, which emerge during the brief Lapland summer. The most common plant is the Dryas octopetala, which is considered to be the most beautiful flower in Lapland.
Built in 1817, the church is an interesting historical landmark and display of architecture in Muonio.
the local touris information centre, which has a planetarium, souvenir shop, post office, restaurant, and playground for children.