MAANANTAI, 29. KESÄKUUTA 2020

Pudasjärvi is a second largest town in Finland. It is located in the province of Oulu and is part of the Northern Ostrobothnia region. Pudasjärvi is a town of about 8 100 inhabitants and 18 000 reindeers in Northern Finland. It's the second largest city in Finland in terms of area. The town is about an hour's drive from the nearest airport in Oulu, and two hours from Rovaniemi and Kuusamo airports.
The town's strategic goal is both to grow and to respect the precious nature. They are proud of their clean air, pure and local food as well as diverse natural surroundings. In Pudasjärvi, you are able to visit the southernmost fell in Finland surrounded by the Syöte national park. The awarded travel destination and ski resort Syöte is also located in Pudasjärvi.
Pudasjärvi is the log capital of Finland. The world's leading log house company Kontio and Finland's leading supplier of glass sliding doors Profin are naturally located in Pudasjärvi. Several modern log buildings of architectural interest and the largest log buildings in Finland are located in Pudasjärvi. The town promotes the development of modern log industry, and in 2015, the municipal board has even decided that all public buildings in Pudasjärvi will be made of logs. Other cities have followed their path and for example, there are already several log school buildings in Finland. Local businesses are active and cover various branches, but their town's growth strategy focuses on promoting the key sectors; log building and wood product industry, tourism industry and local foods in the area.
Pudasjärvi combines rural and urban half. Life here is calm and safe, surrounded by pure nature. In the vicinity you can always find a versatile service and modern comfort. In Pudasjärvi you can find quite a few ways to spend your free time. Zumba, golf, water aerobics, yoga, horseback riding, flying gliders, and you can also discover your acting skills in the theater ... this list is endless!
BEST TIME TO GO TO PUDASJÄRVI
In Pudasjärvi, the summers are cool and partly cloudy and the winters are frigid, snowy, and overcast. Over the course of the year, the temperature typically varies from 4°F to 68°F and is rarely below -20°F or above 77°F. The best time of year to visit Pudasjärvi for warm-weather activities is from late June to early August.
The best months for good weather in Pudasjärvi are June and August

July is the hottest month

January is the coldest month of the year

The rainiest months are May, June, July, August and September
GETTING TO PUDASJÄRVI
Pudasjärvi is located in Northern Finland in the province of Northern Ostrobothnia, by the river Iijoki. The area is 5,867.09 sq km, of which 229.07 sq km water area. So Pudasjärvi is over two times larger than Luxembourg. Pudasjärvi consists of the city center Kurenala, 15 main villages and several smaller villages.
By Plane:
You can reach us through three airports:
Oulu Airport (1.5 hours)
Finnair and Norwegian airlines fly over to Oulu. There are also direct flights from Stockholm by Scandinavian Airlines.
Rovaniemi Airport (2 hours)
Kuusamo Airport (2 hours)
By Car: Syöte, Pudasjärvi and Taivalkoski all along Road 20, which connects Oulu (intersects with E8) and Kuusamo (E63). From Oulu, it's about 1 hours by car, and from Kuusamo, only 1.5 hours. If you're coming from the north, Rovaniemi lies about 2 hours away from Pudasjärvi.
GETTING AROUND PUDASJÄRVI
You can get around in the town itself by foot or by bike. However many attractions are located in a few kilometres outside of it and there are just a few taxis a day, hence a car is the most practical mode of transportation.
WHERE TO STAY IN PUDASJÄRVI
Hotelli Ravintola Kurenkoski
Situated in Pudasjärvi, hotelli ravintola kurenkoski has a restaurant, fitness centre, bar, and free WiFi throughout the property. Private parking can be arranged at an extra charge. All rooms in the hotel are fitted with a flat-screen TV. At hotelli ravintola kurenkoski the rooms include a private bathroom. A buffet breakfast is available each morning at the accommodation. Hotelli ravintola kurenkoski offers a sauna. The nearest airport is Oulu Airport, 101 km from the hotel.
Hotelli Iijoki offers accommodation in a large log house in Pudasjärvi. The accommodation features air conditioning, a sauna and private on-site parking with car heater stations. Syöte National park is 40 km from property. All rooms feature a terrace or a balcony with outdoor furniture, en-suite bathroom and toilet and fully-equipped kitchen. There are various activity possibilities in the Jyrkkäkoski area, including cross-country skiing, hiking, riding and orientation routes. Various extreme sports such as parachute jumping, motorbiking and no-speed-limit driving are organised at Pudasjärvi Airfield during summertime, 5 km from the property. Oulu Airport is 90 km away.
Oikea vanhanajan mökki koskimaisema, 1,5 h Oulusta
Oikea vanhanajan mökki koskimaisema, 1,5 h Oulusta is set in Pudasjärvi. Guests staying at this chalet have access to a fully equipped kitchen. The chalet offers a terrace. Syöte is 28 km from Oikea vanhanajan mökki koskimaisema, 1,5 h Oulusta.
Holiday Home Eemeli is situated in Puomila. The holiday home has a TV,heater and a Sauna. The kitchenette features a fridge. Syöte is 40 km from the holiday home.
Boasting a spa bath, Hirvaskosken kartano is situated in Sotkajärvi. The accommodation is 39 km from Syöte, and guests benefit from complimentary WiFi and private parking available on site. The villa has 5 bedrooms, a flat-screen TV, an equipped kitchen with a dishwasher and a microwave, a washing machine, and 1 bathroom with a hot tub. For added convenience, the property can provide towels and bed linen for an extra charge. The villa offers a children's playground. After a day of hiking or skiing, guests can relax in the shared lounge area.
Koiviston porotila, Pudasjärvi
Koiviston porotila, Pudasjärvi is set in Ylikiiminki and offers free bikes, a shared lounge and a garden. This apartment offers barbecue facilities as well as a terrace. The apartment can conveniently provide information at the reception to help guests to get around the area. A bicycle rental service and ski storage space are featured at Koiviston porotila, Pudasjärvi, and guests can go skiing in the surroundings. The nearest airport is Oulu Airport, 72 km from the accommodation.
Set in Syöte in the North Ostrobothnia region, Rantatähti Villa has a balcony and lake views. Featuring free private parking, the villa is in an area where guests can engage in activities such as hiking and skiing. Boasting a Blu-ray player, the villa has a kitchen with a dishwasher, a microwave and a fridge, a living room, a dining area, 4 bedrooms, and 1 bathroom with a bidet. For added convenience, the property can provide towels and bed linen for an extra charge. The villa offers 5-star accommodation with a sauna and sun terrace. A children's playground and a private beach area can be found at Rantatähti Villa, along with a garden. The nearest airport is Kuusamo Airport, 110 km from the accommodation.
Kuuru Tunturilaakso by Kide Hotel
Kuuru Tunturilaakso by Kide Hotel in Syöte provides adults-only accommodation with a restaurant, a bar and ski-to-door access. This 4-star hotel offers a ski pass sales point and a tour desk. There is a terrace and guests can make use of free WiFi and free private parking. All guest rooms come with air conditioning, a microwave, a fridge, a kettle, a bidet, a hairdryer and a wardrobe. At the hotel all rooms are fitted with a flat-screen TV, a private bathroom, and a patio with a mountain view. Guests at Kuuru Tunturilaakso by Kide Hotel can enjoy a buffet breakfast. The accommodation offers a sauna. Ski equipment hire and bike hire are available at Kuuru Tunturilaakso by Kide Hotel and the area is popular for hiking and skiing. The nearest airport is Kuusamo, 109 km from the hotel, and the property offers a paid airport shuttle service.
Holiday Home Tunturisusi is situated in Syöte. The holiday home features a TV. The accommodation is fitted with a kitchenette with a dishwasher and a fridge. If you would like to discover the area, skiing is possible in the surroundings. The nearest airport is Kuusamo Airport, 109 km from the holiday home.
These cottages are situated on top of the fell Iso-Syöte in Finnish Lapland and offer great views of the surrounding nature. Next to the ski slopes is the Romekievari restaurant. Downhill and cross country skiing trails are right by the hotel. Staff can help arrange snowmobile tours and reindeer and husky dog safaris among other things. Hiking, biking, canoeing and camp-fire dinners are popular summer activities.
ACTIVITIES TO DO & WHAT TO SEE IN PUDASJÄRVI - SYOTE
Pudasjärvi is one of the most popular winter destinations in Finland, with the highest average snowfall in the country, due to the excellence of the resorts at Iso-Syöte and Pikku-Syöte resorts. In summer the National Park provides excellent hiking opportunities, and the river is ideal for fishing and canoeing.
The landscape of Syöte National Park, with its rugged hills, special bogs on hill tops and slopes, and old spruce forests create an attractive setting for a hiker. Syöte is the largest of the four parts of the Park, and it offers excellent possibilities for hiking in the summer as well as skiing in the winter. The cross-country skiing trails in the National Park form a remarkable part of the skiing trail network that serves the tourist centres of Syöte. The areas in the municipalities of Taivalkoski and Posio are quieter and very suitable for trekking. Syöte National Park is a chain of old-growth forests, part of which is high altitude forest. One fourth of the area of the Park is mires of different types. Most of these are North Ostrobothnian aapa bogs, but some are hanging bogs on the hill slopes at altitude of even 300 metres. Many of the mires represent the old meadow culture. Remains and marks of the slash-and-burn agriculture, reindeer-herding, and forestry of the old times can be seen in many places.
Your bike will glide along the trail. You'll hear the rush of the Pärjänjoki River alongside the trail, while a common redstart darts overhead. The terrain will gradually change from a spruce forest to a drier, more open heath. There are gorgeous rest stops all along the trail, high up along the ridgeline and on the banks of hidden little ponds. Biking should be enjoyed, so don't forget to stop and admire the beautiful tussock cottongrass growing on the open mires and let the cool, refreshing wind wash over you. The Syötteen kierros mountain bike trail is suitable for beginners and more experienced riders alike. As there are no difficult climbs or descents along the way, it will be easy for you to ride at your own skill and condition level. A definitive highlight of the trail is the Pytkynharju ridge, which rises almost as high as the fells from the heart of the forest. On warm summer days, don't forget to bring your bathing suit - Kellarinlampi Pond is a wonderful spot for a dip.
All the slopes are rated blue, as in easy slopes. A route tip for the off slope enthusiasts: go down from the west peak southwards into the forest. The route ends on a ski track that goes around the Pikku-Syöte fell. Following the track you'll easily find your way to the west slope station.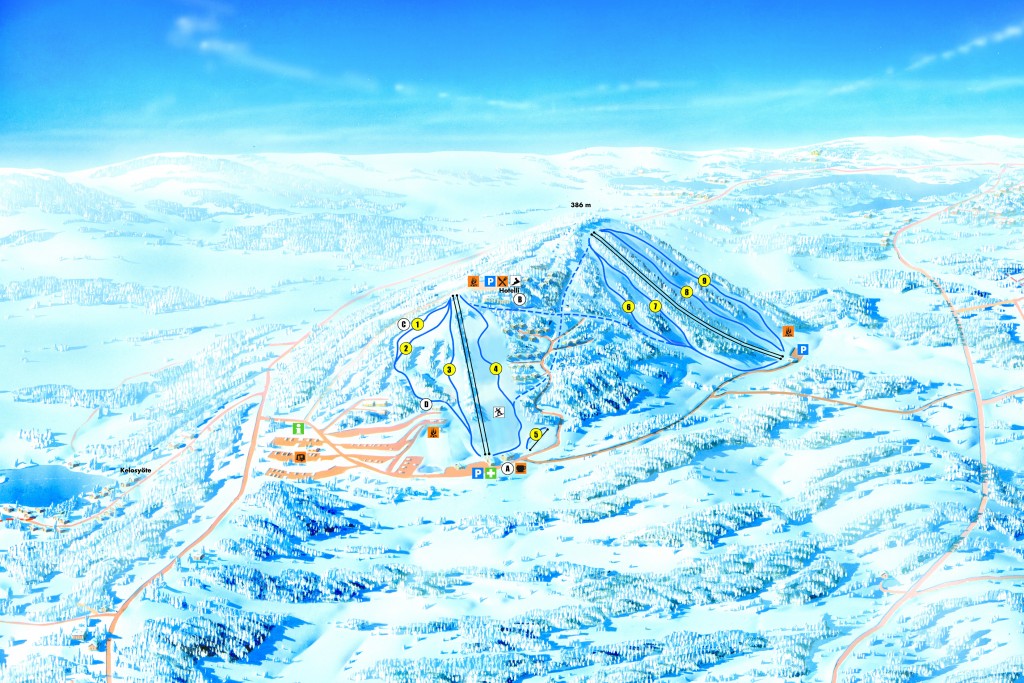 Hotel Iso Syöte is not just a hotel, but a Safari-hotel, a special place for exciting experiences on the southern border of Finnish Lapland, with a complete weekly program full of exciting safaris available for all. The Restaurant Panorama in Hotel Iso Syöte is known for its high quality – while enjoying a meal guests can admire the breathtaking view from the hill top to all directions over the surrounding snowcovered forests and valleys. On top of the Iso Syöte hill a real snow igloo is built where guests can experience an authentic Arctic overnight stay. Outside temperatures can drop down, but inside in the igloo it is just some minus degrees. In a special sleeping bag you will stay warm and cosy, admiring the snow igloo with beautiful snow covered trees all around.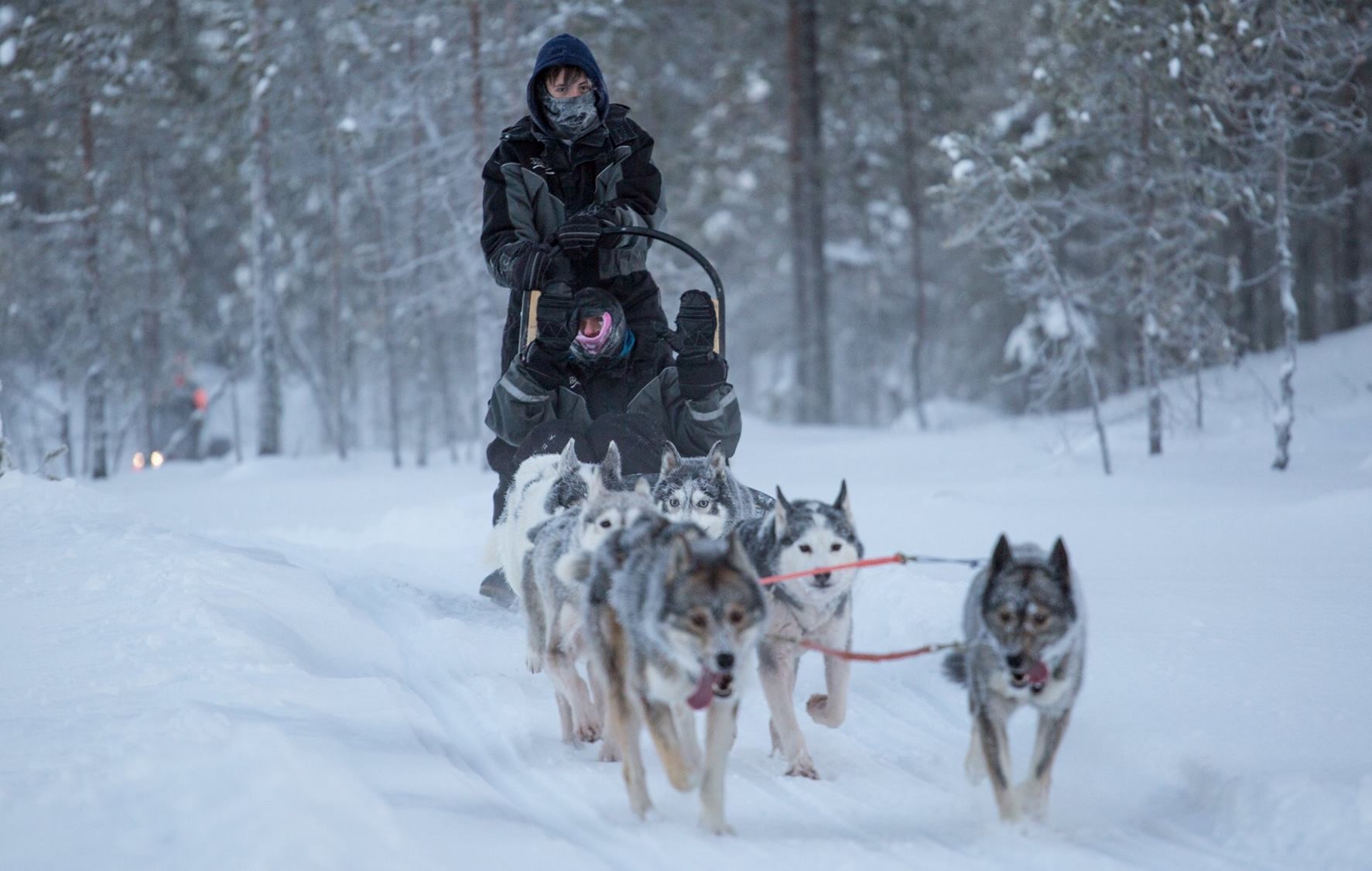 The challenging climb to the top of Teerivaara Hill is well worth it, as you'll be treated with magnificent views! The snowy landscape will enchant you with its beauty. As you make the gentle climb along the shoulder of the hill toward its summit, you stop and have a look around. The higher you climb, the more snow clings to the spruce trees. When you finally reach the top of Teerivaara, a stunning vista of Syöte National Park's fells will stretch out before you. You will find yourself immersed in a sea of white. Teerivaara is the perfect destination for beginners and more experienced snowshoers. The rest stop on Teerivaara's lower summit is an easy climb. There, you can enjoy a bite to eat around a campfire while taking photos of the snow-sculpted trees and blue sky. For those looking for a bit more action, snowshoeing the entire trail will get your pulse racing and provide you with astounding views in every direction, not to mention the possibility of making first tracks in untouched snowdrifts. Just step off the trail into pristine snowdrifts for an perfect showshoeing experience! The trail also serves as a regular hiking trail in the summer months.
At Troll Path you can experience many adventures in nature. You find trolls and fairies along the path. Great adventure for kids
SHOPPING IN PUDASJÄRVI - SYOTE
Most of Pudasjärvi's shops are around the town centre, with most of the usual brands and outlets you find throughout Finland, as well smaller boutiques and handicrafts stores. The resorts and parks also sell local handicrafts and souvenirs.