TORSTAI, 25. KESÄKUUTA 2020
Raseborg is a town and municipality of Finland. It was created on January 1, 2009, when the municipalities of Ekenäs, Karis and Pohja were consolidated into a single town. The town has a population of 27,653 and covers an area of 2,354.24 square kilometres of which 1,206.47 km² is water. Raseborg, on the Finnish south coast midway between the cities of Helsinki and Turku, is closer than you might think. The journey takes just over an hour from those cities, but when you arrive, you step into a different world.
Here you can really experience tranquility, easy living and small town charm. The municipality of Raseborg was named by a medieval castle with the same name, and there a plenty of other historical places to visit. Discover the popular artisan villages of Fiskars and Billnäs, stroll down the narrow alleys by wooden houses in Old town Ekenäs or find peace and quiet by the stately Svartå Manor. If you prefer nature you can cycle in beautiful landscapes, take a meditative walk in the woods and pick berries and mushrooms. Breathe the fresh sea air on a beach in the archipelago or go on canoeing trip. Enjoy local artisan foods and drinks at cozy cafes or restaurants and buy fine ingredients at markets and farms. Raseborg is perfect for a day trip, but in order to get the full experience, we recommend that you stay overnight or maybe for a whole week. Rent a cottage and enjoy the summer markets, the sights of the archipelago, and glorious sunsets. If you are looking for events and activities there are plenty to choose from.
In 2009 Ekenäs merged with the nearby towns of Karis and Pohja to form the municipality of Raseborg, named after the nearby castle. Both names are still in use.
BEST TIME TO GO TO RAASEPORI
The best time to visit Raseborg in Finland is from june until september, when you will have a soft or pleasant temperature and limited till little rainfall. The highest average temperature in Raseborg is 20°C in july and the lowest is -2°C in january. The weather and climate of Raseborg is suitable for a winter sports.
Spring (March through May)
Humidity and temperatures combine to make this season feel moderately cold. Highs range from 67.1°F (19.5°C) and 35.2°F (1.8°C) with far warmer temperatures in the later months. Rain is somewhat common with 4 to 5 days of significant precipitation per month. Spring is the second busiest for tourism, which makes it a good time for those looking for things to do.
Summer (June through August)
The middle-year months have comfortably cool weather with high temperatures that are comfortable. These months see moderate precipitation with 7 to 8 days of precipitation per month. June – August is the busiest season for tourism in Raasepori, so lodging and other accommodations may cost more than usual.
Fall (September through November)
Fall daily highs range from 65.1°F (18.4°C) and 36.9°F (2.7°C), which will feel chilly given the humidity and wind. It rains or snows a significant amount: 7 to 9 days per month. Tourism is fairly slow during these months due to the weather, so hotels may be lower priced.
Winter (December through February)
Weather is far too cold this time of year in Pohja-Tallinn to be enjoyable for warm weather travelers. The average high during this season is between 37.4°F (3°C) and 26.2°F (-3.2°C). On average, it rains or snows a fair amount: 4 to 10 times per month. These times of year are the slowest with tourists.
GETTING TO RAASEPORI
The bus and rail station are side by side at the northern end of Flemingsgatan. Ekenäs is served by buses (not always direct), but trains are invariably quicker and cheaper. Trains from Helsinki and Turku go via Karis (Finnish: Karjaa), where a change is required; some connections from Ekenäs to Karis involve a railbus.
Train services include the following:
Hanko €5, 30 minutes, eight daily
Helsinki €17.50, 1½ hours, eight daily
Turku €17, 1½ hours, eight daily
GETTING AROUND RAASEPORI
Bicycles are available for hire from Ormnas Camping and the Guest Harbour Cafe. A taxi is useful for getting to the Raseburg Castle Ruins.
WHERE TO STAY IN RAASEPORI
This B&B is quietly situated in the village of Billnäs along the Mustionjoki River. It offers a communal, fully equipped kitchen, along with a riverside terrace with garden furniture and barbecue facilities. Wooden floors and bright décor are provided in each room at Eden Billnäs. All include access to shared bathroom facilities. Free WiFi is available. Guests can enjoy a lounge with books and board games, as well as a dining area and laundry room with a washing machine. A bookable outdoor hot tub and sauna are available for an extra fee. Kayaks, SUP boards and a rowing boat are also available. Karjaa Train Station, 3 km away, provides direct access to Helsinki and Turku. Påminne Ski Resort a 6-minute drive away, while Nordcenter Golf Club is 10 minutes' drive from the property.
Situated 150 m from the Baltic Sea, this bright and airy cottage is 18 km from Tammisaari town centre. It features a beach front sauna, with a private sandy beach including a pier and row boat with life jackets. A washing machine and well-equipped kitchen with a dishwasher are offered at Holiday Cottage Tiira. It also has a seating area with a TV and fireplace. Guests can enjoy a large, furnished terrace with sea views. BBQ facilities are located on site. Common area activities include fishing and canoeing. The town of Karjaa is 20 km away, while central Hanko is 50 minutes' drive from the cottage.
Calliola features a restaurant, bar, a garden and private beach area in Snappertuna. There is a terrace and guests can make use of free WiFi and free private parking. Guest rooms in the hotel are equipped with a flat-screen TV. Each room comes with a private bathroom with a shower and a hairdryer. Activities such as hiking, cycling, fishing can be enjoyed in the surroundings, and guests can relax along the beachfront. The nearest airport is Helsinki-Vantaa Airport, 112 km from Calliola.
Overlooking the Pojo Bay, this waterfront hotel is located in the quiet town of Ekenäs. It offers free Wi-Fi and sauna access. A shared terrace provides scenic views over the water. All rooms at Hotel Sea Front have a private bathroom and a flat-screen TV with cable channels. Some rooms also feature a balcony with bay views. Sea Front Hotel's bar offers a variety of drinks and opens up to a large terrace. In summer, this is a popular place for afternoon coffee and evening cocktails. The restaurant offers a hotel dinner Monday to Thursday and à la carte Friday and Saturday. Ekenäs Train Station is 750 m away. Guests arriving by car have free access to private parking spaces at Hotel Sea Front.
Ekenäs Summer Hotel & Camping
Set about 10 minutes' walk from a sandy Baltic Sea beach, this property is 2 km from Tammisaari town centre. It offers a communal BBQ area and fresh accommodation with a kitchenette. Private bathrooms with a shower are featured in each apartment at Ekenäs Summer Hotel & Camping. All have a dining area, as well as a cooker, microwave and fridge. Bicycles and row boats can be rented on site, along with a sauna, 50 m from the Baltic Sea. Ekenäs Summer Hotel also provides a volleyball court, playground and private jetty. Restaurants and a grocery store are 700 m from the apartments, while the town of Karjaa is 22 minutes' drive away.
This countryside B&B is located 7 minutes' drive from Karjaa town centre. It offers free WiFi and individually decorated rooms include a seating area. The ruins of Raseborg Castle and the design village of Fiskars are both a 20-minute drive away. All rooms at Villa Dönsby have access to shared bathroom and kitchen facilities. Rooms have views of either the garden or Lake Kyrksjön. Guests can watch TV or read a book in Dönsby B&B's common room. Games like croquet can be enjoyed in the garden. Breakfast is served on site during summer. The surrounding forest area is nice for walks and berry and mushroom picking- The nearest restaurant is an 8-minute drive away. Lohja city centre is a 40-minute drive from the B&B.
Lingonberry Cottage offers accommodation in Tammisaari, 49 km from Salo and 31 km from Hanko. The property is 47 km from Lohja and features views of the garden. The kitchen is fitted with a dishwasher, an oven and a microwave, as well as a coffee machine. A flat-screen TV with satellite channels is offered. Other facilities at Ekenäs holiday cottage include a hot tub and barbecue. The nearest airport is Helsinki Airport, 105 km from the property.
Boasting air-conditioned accommodation with a balcony, Seaside Home 115m2 is situated in Tammisaari. This beachfront property offers access to a patio, free private parking and free WiFi. The apartment has 2 bedrooms, a flat-screen TV with satellite channels, an equipped kitchen with a dishwasher and a microwave, a washing machine, and 2 bathrooms with a bidet. The apartment offers a children's playground. There is a garden with a barbecue at this property and guests can go cycling nearby. Hanko is 36 km from Seaside Home 115m2, while Lohja is 49 km from the property. The nearest airport is Turku Airport, 110 km from the accommodation.
Housed in a 19th-century building in central Tammisaari, these apartments include free parking, well-equipped kitchens and free WiFi access. Tammisaari Train Station is a 7-minute walk away. A seating area, TV and tiled stove feature in all apartments at Slottsbädden. Each apartment has a washing machine and a bathroom with shower and hairdryer. Guests can relax in Slottsbädden's garden. A children's playground is located right next to the property. Tammisaari Harbour is a 5-minute walk away. The seaside town of Hanko is 35 km from the apartments.
Tammisaaren Kaupunginhotelli
Overlooking the Baltic Sea, this hotel is 200 m from Tammisaari's main square, Raatihuoneentori. It provides free WI-Fi and sauna access. All rooms have a flat-screen TV and most rooms have air conditioning. Guest rooms at Tammisaaren Kaupunginhotelli feature a work desk and a private bathroom with shower. In summer, the sea-view terrace is a nice place to enjoy the sun. Tammisaaren Kaupunginhotelli arranges guided fishing trips and other activities. Boats and bicycles are available for rent on site. Tammisaaren Kaupunginhotelli is just 100 m from a sandy beach and the city's marina. Guests can explore the picturesque Old Town, a few minutes' walk from the hotel. Tammisaari Station is 900 m away.
WHERE TO GO & ACTIVITIES TO DO IN RAASEPORI
Looming on a high rock overlooking a grassy sward, the late-14th-century Raseborg Castle was strategically crucial in the 15th century, when it protected the trading town of Tuna and exiled king of Sweden Karl Knutsson Bonde held his court here. The castle was abandoned in 1558 and lay deserted for more than 300 years. Nowadays the crumbling fortress is ripe for exploration, or you can sign up for a tour with Slottsknekten (www.slottsknekten.fi).
The castle is in Snappertuna, 18km east of Ekenäs via Rd 25. Buses are limited to non-existent.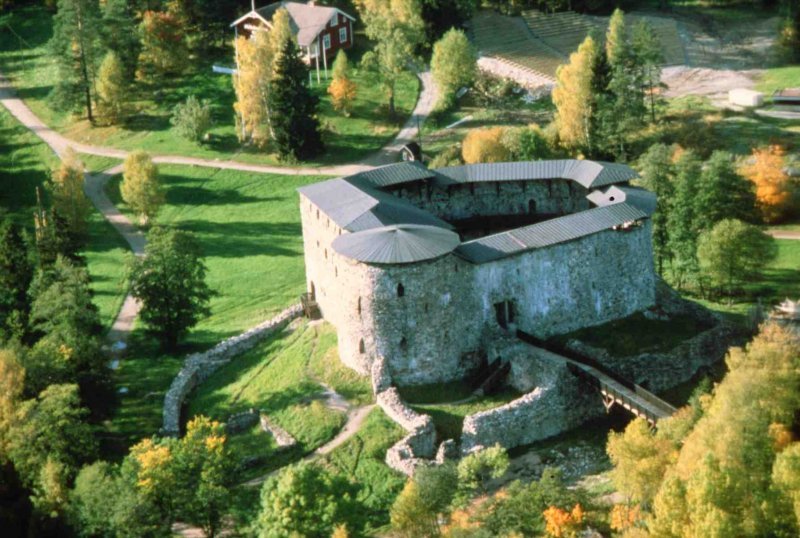 Ekenäs Archipelago National Park
Almost 90% of the 5200-hectare Ekenäs Archipelago National Park is water, so to explore the 1300 islands you'll need to take a tour from Ekenäs harbour, such as an archipelago cruise with Saariston Laivaristeilyt or a kayaking tour with Paddlingsfabriken. You might also charter your own boat; the tourist office has a list of charter craft. The most popular island is Älgö, with a 2km nature trail that takes in the island's observation tower. There's an old fisherman's home that's been converted to include a sauna and campsite facilities. There are also campgrounds on the islands of Fladalandet and Modermagan, but many other islands are off-limits to visitors, particularly the ecologically fragile outer islands. For information on the park and campground bookings, visit Naturum Visitor Centre in Ekenäs.
The highlight of the Ekenäs museum is the exhibit on the life and art of Finnish painter Helene Schjerfbeck, with a rotating display of 30 artworks. Other exhibits – spread over five buildings – trace the town's history back to the Stone Age. The Lindblad building re-creates a 1950s photographer's studio, while the Commoner's House displays the interiors and furnishings (in period styles) of a merchant's home.
A spacious wooden terrace steps down towards the water here, so you can watch the boats and jet-skiers while you're waiting for cartwheel-sized pizzas, grilled tuna, pan-seared whitefish or a tomahawk steak. It's 1.4km south of town, next door to Ormnas Camping.
Enjoy the charm of speed in a scenic setting by mountain biking! Fiskars Ruukki's first off-road cycling routes were opened in summer 2016. Four new tracks were opened in 2018, and now there are already 14. The routes run from the center of Fiskars to Rövarberget, and there are currently four different levels. Flowriders ry is responsible for the construction and maintenance of the routes.
Påminne is the highest slope center in southern Finland, located in Åminnefors in the city of Raseborg in western Uusimaa - only 80 km from Helsinki and 100 km from Turku. In winter, you can go skiing and snowboarding on the slopes. There are 6 + Påminne Park slopes in the center, so there are suitable slopes for both beginners and racers. We have a ski school, a varied equipment rental and a cozy big downhill cafe which is open during the winter season during the opening hours of the slopes. Other times, the café is open by arrangement. For companies, schoolchildren and other groups, event days are tailored for both downhill and downhill skiing. In summer, your Mukelorin serves as a ski slope. The length of the track is about 450 m and the height difference is about 40 m.
Eke Golf Golf Course offers a memorable golf experience in a very scenic and varied environment. Our 18-hole golf course, which also includes a high-quality driving range, a large and varied training area and a 9-hole par 3 course open to all, is located just south of Ekenäs. The clubhouse has a café, showers and a sauna. The location of the course is excellent for golfers living in the Karjaa-Ekenäs-Hanko area and for summer cottages in the Ekenäs archipelago.
Social pedagogical equine activity is a therapeutic activity carried out in a stable environment. The welfare-promoting effects are based on the interaction between the customer and the horse and the importance of the community. The activities are rehabilitative, goal-oriented and planned. Social pedagogical horse activities are aimed at e.g. • for children, young people and adults at risk of exclusion • for child protection clients in need of support • for those with special learning needs • for mental health and substance abuse rehabilitators No previous equine experience or riding skills are required. Visitors of all ages are welcome!
SUP ferry rental and SUP kayaking courses at Fiskars. Experience Ruukki from the surface of the water! Pyry and Pärske rent SUP ferries at Fiskars Ruukki every weekend Sat and Sun from 12 noon to 5 pm (weather permitting). Departure at the Old Fire Station. Price 20 € / hour payment in cash or by card. SUP boarding is suitable for all ages. No previous experience required, quick guidance will be provided on site. Equipment: Casual clothes according to the weather. SUP courses and kite surfing are also available.
In downhill driving, you drive down the slope by gravity and go uphill pulled by a ski lift. The only requirement for a downhill driver is that he is at least 150 cm tall to properly reach the brake pedal. The timing system allows you to compete, take a guy with you and see who can figure out the 15 turns of the track the fastest! The length of the asphalted track is 420 meters and the height difference is about 40 meters.