TORSTAI, 11. KESÄKUUTA 2020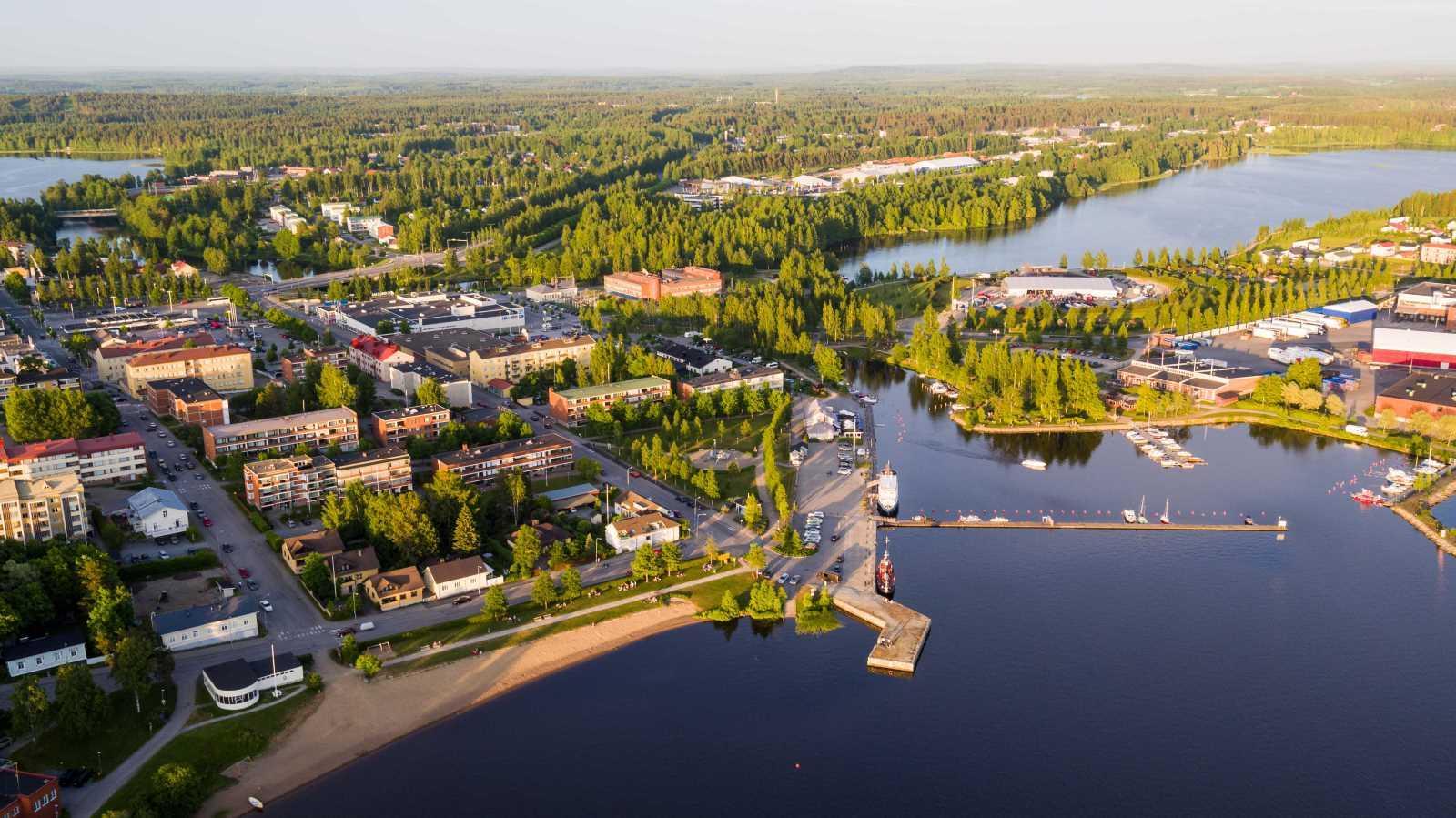 Iisalmi is a town and municipality in the region of Northern Savonia in Finland. It is the second largest of the five towns in Northern Savonia in terms of population. This idyllic town in Northern Savonnia attracts outdoors enthusiasts, in summer and winter, who enjoy watersports and exploring nature, skiing and toboganning, as well as those seeking to simply relax and get away from it all. Among Iisalmi's unique attractions are the the Runni Health Spa, which has the historic wooden channel of Saarikoski, and the Neulatammi natural massage streams, and the Olvi brewery. The regions culture and history are well represented in the Iisalmi Cultural Centre, the Local History and Culture Museum, the Juhani Aho Museum, the Church Museum, and the Nature Museum.
Formed around 1627, Iisalmi is situated in Ylä-Savo, or Northern Savonia, at the headwaters of two major Finnish lake systems, the Saimaa and Päijänne. Iisalmi is a vibrant town surrounded by lakes, rivers, and hilly terrain. Historically, the area had great significance as a battlefield in the war between Sweden and Imperial Russia in the mid 18th century, and was the scene for one of the great Swedish victories, although eventually the war was lost and Finland was ceded to the Russians.
BEST TIME TO GO TO IISALMI
In Iisalmi, the summers are comfortable and partly cloudy and the winters are freezing, snowy, and overcast. Over the course of the year, the temperature typically varies from 8°F to 70°F and is rarely below -15°F or above 78°F. Baese on tourism record, the best time of year to visit Iisalmi for warm-weather activities is from late June to mid August.
Spring (March through May)
Humidity and temperatures combine to make this season feel moderately cold. Highs range from 63°F (17.2°C) and 28°F (-2.2°C) with far warmer temperatures in the later months. Rain is somewhat common with 7 to 9 days of significant precipitation per month. Spring is the second busiest for tourism, which makes it a good time for those looking for things to do.
Summer (June through August)
The middle-year months have comfortably cool weather with high temperatures that are comfortable. These months see moderate precipitation with 8 to 10 days of precipitation per month. June – August is the busiest season for tourism in Iisalmi, so lodging and other accommodations may cost more than usual.
Fall (September through November)
Fall daily highs range from 60°F (15.6°C) and 30°F (-1.1°C), which will feel chilly given the humidity and wind. It rains or snows a significant amount: 8 to 10 days per month. Tourism is the slowest during these months due to the weather, so hotels may be affordably priced.
Winter (December through February)
Weather is far too cold this time of year in Iisalmi to be enjoyable for warm weather travelers. The average high during this season is between 28°F (-2.2°C) and 17.2°F (-8.2°C). On average, it rains or snows a great amount: 7 to 12 times per month. These times of year are fairly slow with tourists.
GETTING TO IISALMI
Getting to Iisalmi by road is easy, it is well served by the main routes from Helsinki to the north of Finland. The nearest airport is Kuopio, less than two hours south, which has regular flights to Helsinki and other cities in Finland. There are also regular daily bus and train services to the town from across the country.
By plane - Iisalmi doesn't have an airport, the closest ones are in Kuopio and Kaajani, 80 km south and north, respectively.
By train - Trains on the line between Kuopio and Kajaani, including trains from Helsinki to Kajaani, stop at Iisalmi.
By bus - Buses along highway 5 stop in Iisalmi.
By car - As with most other towns in Finland, arriving by car is always an option.
By boat - The town is reachable by boat from Saimaa and thereby from the sea. After Kuopio there is a 12 m hight restriction.
WHERE TO STAY IN IISALMI
This central hotel is in Iisalmi, just 500 m from Lake Porovesi. Italian-influenced cuisine, an Irish bar and free internet access are found here. The shared sauna is free for guests to use from Monday to Saturday. Iisalmi Station is a 5-minute walk away. Guest rooms at Original Sokos Hotel Koljonvirta feature a work desk and a private bathroom with shower. All are equipped with a flat-screen TV. Guests can relax in the cosy Pub Kuohu, located on the hotel's ground floor, or at O`Nelly`s Irish Bar, found next door. Olvi Brewery Museum is just a 15-minute stroll from Hotel Sokos Koljonvirta.
Hotel Golden Dome Iisalmi
Hotel Golden Dome Iisalmi is 4 minutes' walk from Iisalmi Train Station. It offers free parking and modern rooms with free WiFi. Iisalmi Bus Station is 500 m away. A flat-screen TV, work desk and private bathroom with shower and hairdryer are standard at Hotel Golden Dome Iisalmi. Some rooms include a private sauna. À la carte dishes are served with organic wines at the in-house restaurant. Ylä-Savon Golf Club is 10 minutes' drive from Hotel Golden Dome Iisalmi. Kuopio Airport is a 1-hour drive away.
City Apartment Kauppakatu
Situated in Iisalmi, this apartment features a balcony with lake views. City Apartment Kauppakatu is located 500 m away from the city centre. A dishwasher, an oven and a microwave can be found in the fully equipped kitchen and there is a private bathroom fitting a rain shower and sauna. The apartment also includes A flat-screen TV is with DVD player and washing machine. The train station is only 1 km from the property. The nearest airport is Kuopio Airport and is 68 km away.
Hotelli Iisalmen Seurahuone
Found 4 km off the E63 motorway, this hotel is 200 m from Iisalmi Train Station. Facilities include a communal sauna and free WiFi internet access. Hotelli Iisalmen Seurahuone's rooms have a TV and private bathroom. A small barber shop is found in the same building. The hotel restaurant is open upon reservation. Local shops and restaurants are easily accessed from Hotelli Iisalmen Seurahuone. The shore of Lake Porovesi is a 10-minute walk away.
Situated in Iisalmi, Koljonvirran Kartano features free WiFi, and guests can enjoy a restaurant, free bikes and a bar. All units feature air conditioning and a flat-screen TV. The camping offers a continental or buffet breakfast. Koljonvirran Kartano offers a terrace. After a day of skiing or cycling, guests can relax in the garden or in the shared lounge area. The nearest airport is Kuopio Airport, 79 km from the accommodation.
Set next to Lake Haapajärvi, these cottages include a private sauna, fully equipped kitchen and a peaceful terrace. Iisalmi town centre is 21 minutes' drive away. A seating area, fireplace and a dining area are included in both units at Haapaniemi Cottages. Each has a private shower and access to shared toilet facilities. Relax options include a garden and a private sandy shore by the lake. Winter activities include cross-country skiing, snowmobiling and ice-fishing. A row boat and a communal smoke sauna are also available for guests' use. Ylä Savon Golf Club is a 25-minute drive away. The E63 Highway is 15 km from the cottages.
Guest House Haapaniemen Hirsikartano
Situated next to Lake Haapajärvi, this guest house is 20 minutes' drive from Iisalmi town centre. It offers rooms with a private bathroom, as well as a guest kitchen and communal dining area with free Wi-Fi. A flat-screen TV, desk and wardrobe are featured in each individually decorated room at Guest House Haapaniemen Hirsikartano. The bathrooms have a shower. Communal facilities include a bookable sauna in the main building, along with a lakeside smoke sauna. Haapaniemen Hirsikartano Guest House staff can assist with a variety of rentals, such as boats, bicycles and snowmobiles. The guest house is 15 minutes' drive off European Route E63. Ice swimming in the winter, fishing and cycling are common area activities, while Ylä-Savon Golf Club is 20 km away.
Holiday Home Kissaniemi is situated in Iisalmi. The holiday home is fitted with a TV. The kitchenette features a fridge. The nearest airport is Kuopio Airport, 86 km from the holiday home.
Holiday Home Oriaho is set in Iisalmi. The holiday home comes with a TV. A dishwasher and a fridge can be found in the kitchenette. The nearest airport is Kuopio Airport, 87 km from the holiday home.
Holiday Home Käenpesä is situated in Iisalmi. The holiday home comes with a TV. The kitchenette has a fridge. The nearest airport is Kuopio Airport, 86 km from the holiday home.
WHERE TO GO & WHAT TO DO IN IISALMI
The most notable attractions in the town are the Karelian Orthodox Cultural Centre, and the Church of St. Elijah which is close by, but for anyone fascinated with history then a visit to Koljonvirta, the battlefield from the war of 1808-09, is a must, especially for the multimedia show presented there. There are also the Iisalmi Cultural Centre, The Local History and Culture Museum, the Juhani Aho Museum, the Church Museum, and the Nature Museum to visit. At the nexus of two of Finland's largest lake systems, Iisalmi is a haven for fishermen and lovers of watersports, and for those holiday makers who are seeking to experience more of nature. Winter attracts tourists to the nearby Paloisvuori Ski Resort, and to the 200km of snowmobile and ski trails.
The independent Iisalmi Parish was established 15.2.1627. The first parish church burnt down in 1699. By the late 18th century, a new parish church was needed. By the Swedish law all churches at the time were to be built of stone. In lack of suitable stone material and skilled labour, and lacking the necessary funds, the people of Iisalmi got a royal permission for a new wooden church. The church was finished in 1779 and named after the future king Gustav IV Adolf. To commemorate the 225th anniversary of the old church, a small church museum was opened in the church in June 2004. The exhibition portrays the vicissitudes of congregation and operations throughout its entire history.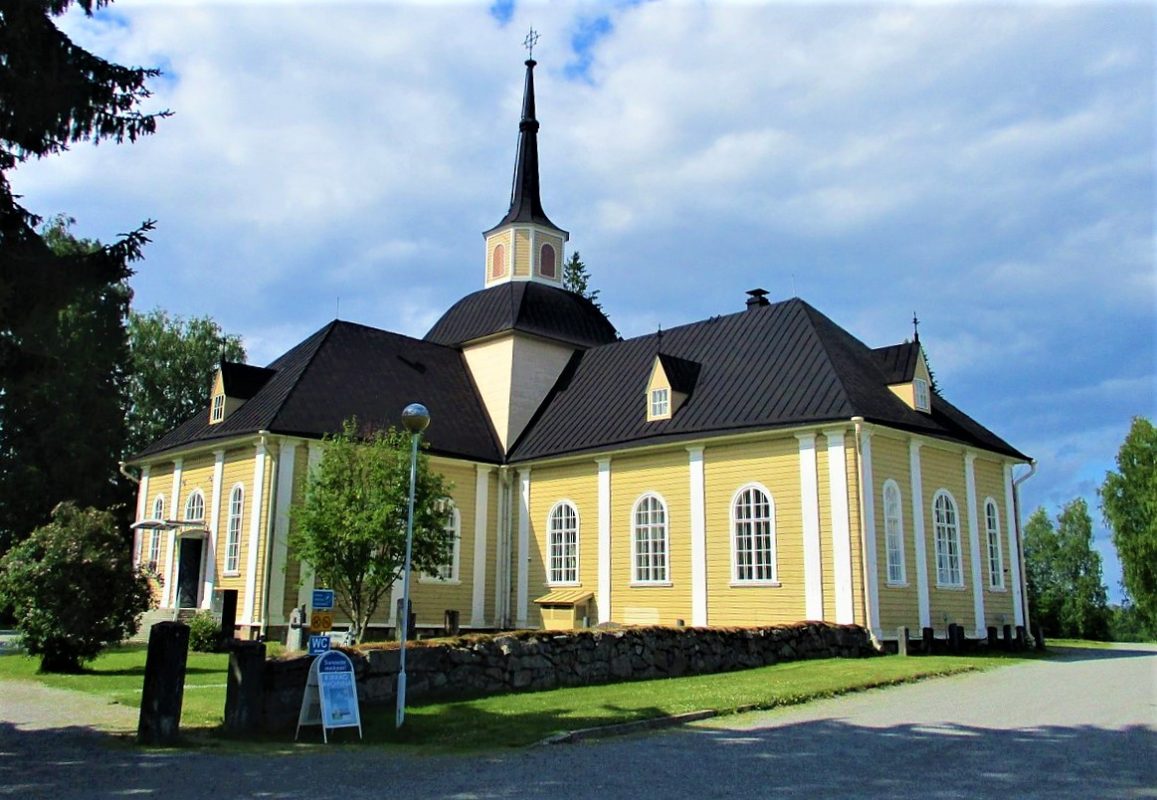 The Iislami Cultural Centre houses the town library, Community College, Culture Office, Museum of Natural Science, Underground Photo Gallery, the Eino Säisä Auditorium, the Karl Collan Auditorium, a café, and lots more. During the year some 200 events are held in the building, which was designed by the architect Pekka Pitkänen and completed in 1989.
The parsonage that was the childhood home of Juhani Aho was renovated and converted into a museum, which opened in 1958. Besides the museum building, there is a servants' cottage, two outbuildings from the 1840s, a wartime storehouse from the turn of the 19th century, a stable/cowshed, sauna and cellar. There are 500 items in the museum's collection, acquired from the Aho family and Iisalmi Parsonage. There are also buildings from the 1840s in the museum's courtyard. The museum has a collection of objects that belonged to the family, and to the writer Kauppis- Heikki, who was a close friend of the family. Juhani Aho (1861–1921) was well known Finnish national writer born in Iisalmi. The little parsonage in Mansikkaniemi was built in the 1840s. The parsonage has served as a museum since 1958.
Ylä-Savo Museum of Local History
The museum of local history and culture of Ylä-Savo is situated in a very beautiful location just a few hundred metres from the centre of Iisalmi. The main building is about 300 years old and has been moved to this location from Vieremä. The other buildings were originally situated throughout Ylä-Savo. The museum was opened to the public in 1964 to allow visitors to familiarize themselves with everyday life of Finnish farmers of the 18th and 19th century.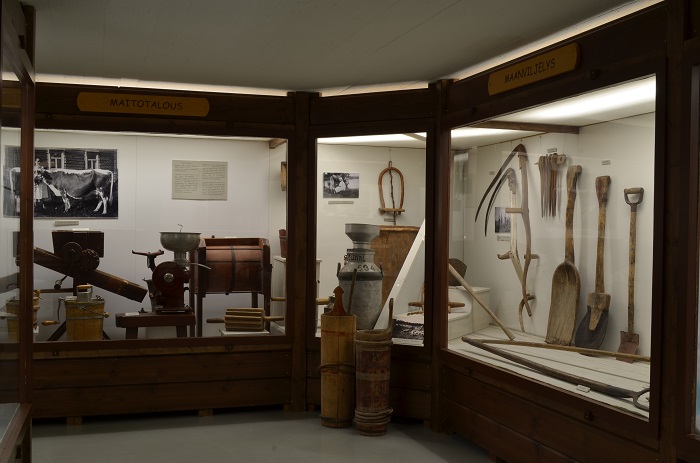 Koljonvirta Riding Centre
Koljonvirta riding center is located straight next to the camping site and during summer time, you can relax at the camping site beach, kiosk or restaurant/terrace after working out hard on a riding lesson. The riding school at the riding center offers professional teaching with well-trained, -fitting and -cared horses. The horses are capable of both in dressage and show jumping.
Haapaniemi can offer many ways for activity, tailored programme for your needs. Refreshing time together, sporty activities or trip to nature will give plenty of inspiration and stimulation for the everyday rutines. Try our canoes, boats, with different sizes, motored or not. Snowmobiles during the winter is a fun that suits many different age groups and is a interesting way to get in touch with the Finnish scenery. At summertime ATV's (quadbikes) are used to get almost anywhere, shorter or longer trips, harder or easier tracks.
Iisalmi Swimming Pool has a full-sized pool (25m), therapy pool with hydro massage, children's pool with swimming aids and a padding pool with toys for small children. After a good swim, you can warm up in our traditional sauna or steam sauna. The swimming bath also has a cafe and a gym.
Paloisvuori is a sports and recreation area (at Uotilanniementie 33) offering a wide range of opportunities for sports on the narrow ridges called eskers that rise to the south of Iisalmi's town centre. When you climb Paloisvuori Hill, you'll be rewarded by the magnificent views across Lake Paloisjärvi towards the town centre. The area has an extensive network of walking routes along with cross-country ski tracks and a downhill ski centre during the winter. ''Paloski'' has a ski lope, a slegding slope and a ski lift, plus a small cafe. In summer, you can play on the disc golf course (18 baskets) or explore the waymarked mountain bike trails. The walking routes distances are 2.3 to 4.2 km. The terrain is varied and hilly. Come along to enjoy exercise at Paloisvuori!
Nurmijokireitti is one of the most valuable rapid routes in North Savo. This river route running from Jyrkkä to Koirakoski is great for fishing and canoeing alike. Located in the west of Sonkajärvi, the Matkusjoki River route is around a hundred kilomtres long, alternating between paceful sections and several rapids.
In most cases, angling and ice fishing are allowed without a permit. However, angling and ice fishing are not allowed near rapids and in recreational areas. Lure fishing is allowed across Finland using a single permit, the fisheries management fee. However, you will need a special permit for recreational fishing areas and for spinning with more than one lure.
For a fun day out, try Iisalmi's circular cycle route around Lake Paloisjärvi. If you're looking for action, Paloisvuori's mountain bike routes and the trails around Koljonvirta are for you. To enjoy a more rural atmosphere, ride your bike around Lake Haapajärvi.
Hupirentti is a water jet rental company in Iisalmi harbor. We also rent jet skis, SUP boards, traction tires, ban boats, motor boats and water skis, as well as FatBikes and other leisure sports equipment.