MAANANTAI, 08. KESÄKUUTA 2020
Hyvinkää (population 45,000) is small town in Southern Finland and conveniently located about 50 km from Finland's capital Helsinki. Hyvinkää is located along Helsinki- Tampere railroad. And highway 3 (E12) is passing very near. Location of Hyvinkää provides many opportunities to exercise in nature. The green and verdant city also offers various cultural experiences. Hyvinkää is the centre of Finland's woollen industry, and is an important rail junction with direct lines to the ports of Hanko (Hangö, the southernmost in Finland), Helsinki, and Porvoo (Borgå). The city also has railway workshops, a granite quarry, and a rubber-products plant. Because of its hilly and timbered surroundings that are part of the ice age ridges known as Salpausselkä, Hyvinkää has become a popular leisure and recreation resort among the inhabitants of Helsinki, 35 mi (55 km) south.
Riihimäki isn't an old city, even compared with other Finnish cities. The first railway in the country (at the time a Grand Duchy of the Russian Empire) was opened between Helsinki and Hämeenlinna in 1862, and the small station of Riihimäki was built pretty much in the middle of nowhere. A few years later a railway from Lahti and eventually all the way from the imperial capital St. Petersburg was opened, joining the first railway in Riihimäki and as such it became an important railway junction which it still remains today, and a town started growing around it. In 1960 Riihimäki received city status.
Today Riihimäki is an industrial city, also home to some governmental functions like a garrison and Riihimäki Prison with the highest security level in Finland. The most notable attractions in the city are museums, such as the Glass Museum hosted in the former Riihimäen Lasi factory, and while Riihimäki isn't exactly a prime tourist destination, quite a number of travelers pass through every day.
BEST TIME TO GO TO HYVINKÄÄ - RIIHIMÄKI
The best time to visit Hyvinkää and Riihimäki in Finland is from may until september, when you will have a soft or pleasant temperature and limited rainfall. The highest average temperature in Hyvinkää is 23°C in july and the lowest is -5°C in january. The weather and climate of Hyvinkää is suitable for a winter sports.
Spring (March through May)
Humidity and temperatures combine to make this season feel moderately cold. Highs range from 67°F (19.4°C) and 33.3°F (0.7°C) with far warmer temperatures in the later months. Rain is rare with 1 to 2 days of significant precipitation per month. Spring is the second busiest for tourism, which makes it a good time for those looking for things to do.
Summer (June through August)
The middle-year months have comfortably cool weather with high temperatures that are comfortable. These months see the most precipitation with 2 to 3 days of precipitation per month. June – August is the busiest season for tourism in Hyvinkaa, so lodging and other accommodations may cost more than usual.
Fall (September through November)
Fall daily highs range from 63.6°F (17.6°C) and 35.6°F (2°C), which will feel chilly given the humidity and wind. It rains or snows a normal amount: 2 to 3 days per month. Tourism is the slowest during these months due to the weather, so hotels may be affordably priced.
Winter (December through February)
Weather is far too cold this time of year in Hyvinkaa to be enjoyable for warm weather travelers. The average high during this season is between 35.8°F (2.1°C) and 25°F (-3.9°C). On average, it rains or snows a smalll amount: 2 to 3 times per month. These times of year are fairly slow with tourists.
GETTING TO HYVINKÄÄ - RIIHIMÄKI
By train - Hyvinkää and Riihimaki are on the backbone railway from Helsinki northward to Tampere and farther, but you need to take or transfer to one of the suburban trains to or from Helsinki. 45 min train ride from Helsinki, 1½–2 hr from Tampere.
By bus - There are several Matkahuolto lines operating from Helsinki to Hyvinkää to Riihimaki. Most bus stop of the station, some late buses just pass Hyvinkää by Highway 3. The ride takes 1–1½ hr depending on whether it is direct or not.
By car - Hyvinkää's centre is 2 km from highway 3. The south side of Hyvinkää borders road 25 between Porvoo and Hanko.
GETTING AROUND HYVINKÄÄ
You can get around to Hyvinkää and Riihimaki by Bus, Taxi or by Bike. Hyvinkää is well known as a bicycling city. Grab a free cycling map from the Tourist information centre.
WHERE TO STAY & EAT IN HYVINKÄÄ - RIIHIMÄKI
Kiljavanranta is set in Kiljava and offers a bar and a terrace. The property is 45 km from Espoo and free private parking is offered. The bed and breakfast is fitted with a flat-screen TV. Guests at the bed and breakfast can enjoy a buffet breakfast. Kiljavanranta offers a range of wellness facilities including an indoor pool and a sauna. Helsinki is 47 km from the accommodation, while Vantaa is 45 km from the property. The nearest airport is Helsinki-Vantaa Airport, 40 km from Kiljavanranta.
Parantolankatu modern one room apartment
Boasting free bikes and a terrace, Parantolankatu modern one room apartment offers accommodation in Hyvinkää with free WiFi and garden views. Featuring a balcony, the apartment is in an area where guests can engage in activities such as hiking and skiing. The apartment features 1 bedroom, a flat-screen TV with cable channels, an equipped kitchen with a dishwasher and a microwave, a washing machine, and 1 bathroom with a bidet. The nearest airport is Helsinki-Vantaa Airport, 52 km from the apartment.
Featuring a garden, barbecue facilities, and a terrace, Modern wooden villa features accommodation in Hyvinkää with free WiFi and garden views. Boasting free private parking, the villa is in an area where guests can engage in activities such as hiking and skiing. The villa has 5 bedrooms, a flat-screen TV with satellite channels, an equipped kitchen with a dishwasher and a microwave, a washing machine, and 3 bathrooms with a shower. At the villa guests are welcome to take advantage of a sauna. A bicycle rental service and ski storage space are offered at Modern wooden villa. Vantaa is 49 km from the accommodation, while Espoo is 50 km from the property. The nearest airport is Helsinki-Vantaa Airport, 45 km from Modern wooden villa.
Cozy and comfortable two room apartment
Cozy and comfortable two room apartment is situated in Hyvinkää and offers free bikes, a garden and a terrace. The property was built in 2005 and features air-conditioned accommodation with a patio. The apartment has 1 bedroom, a flat-screen TV with cable channels, an equipped kitchen with a dishwasher and a microwave, a washing machine, and 1 bathroom with a bidet. The apartment offers a children's playground. A ski equipment rental service and a ski pass sales point are available at Cozy and comfortable two room apartment, and guests can go skiing in the surroundings. The nearest airport is Helsinki-Vantaa Airport, 50 km from the accommodation.
Yksiö uudenmaankatu is set in Hyvinkää. The apartment features 1 bedroom, a flat-screen TV with satellite channels, an equipped kitchen with a microwave and a fridge, and 1 bathroom with a bidet. The nearest airport is Helsinki-Vantaa Airport, 49 km from the apartment.
Scandic Hyvinkää is situated in central Hyvinkää, only 300 m from Hyvinkää Train Station and a few minutes' walk from Hyvinkää Church. It offers free 1 GB internet access and free parking. Each guest room at Scandic Hyvinkää has a work desk and satellite TV. Some guest rooms also include a minibar. General facilities at Scandic Hyvinkää include a sauna, a restaurant and a bar. During winter, sockets for car engine heaters can be provided. In addition to a breakfast buffet, guests have the option to request a takeaway breakfast bag form the reception at any time. The Kytäjä Golf Course is less than a 20-minute drive from Scandic Hyvinkää, and the Sveitsi ski resort is only 2 km away.
Ahdenkallionkatu Apartment
Ahdenkallionkatu Apartment offers accommodation in Hyvinkää in a green and peaceful area near the centre. Helsinki is 55 km away. Free WiFi is featured and free private parking is available on site. The kitchenette is fitted with stove, microwave and kitchenware. Towels and bed linen are offered in this self-catering accommodation. There is a wood heated sauna and a bath. The garden also includes barbecue facilities. During summer time there is a public beach and swimming pool 200 m from the property. Free use of bicycles is available at the property and the area is popular for skiing and cycling. Hämeenlinna is 47 km from Ahdenkallionkatu Apartment, while Espoo is 48 km away. The nearest airport is Helsinki-Vantaa Airport, 36 km from the property.
Hotel Sveitsi situated in Sveitsi Nature Park, quietly surrounded by nature, and is 30 minutes' drive from central Helsinki. It features free WiFi and parking, 2 on-site restaurants and a summer terrace. Guests benefit from free gym and swimming pool access. The guest rooms are decorated in natural colours and come with a work desk, TV and private bathroom. The restaurant Tila offers an à la carte menu including burgers, steaks, salads and pizzas. The carefully chosen wine list accompanies the menu. A variety of family activities can be enjoyed at the activity park SuperPark, located in the same building as Hotel Sveitsi. A 25 km network of jogging and skiing tracks start at the property. The Hyvinkää Train Station is a 5-minute drive away.
Holiday Home Villa jalna is located in Hyvinkää. The accommodation is 42 km from Helsinki. The holiday home features a TV. The kitchenette comes with a dishwasher. Vantaa is 31 km from the holiday home, while Espoo is 33 km from the property. The nearest airport is Helsinki-Vantaa Airport, 28 km from Holiday Home Villa jalna.
Located in Järvenpää, B&B Pajula offers accommodation for a small group. Complimentary WiFi is available. Custom made takeaway breakfasts as well as room service and taxi services are available. Guests have access to common living areas, a fully equipped kitchen and a wooden sauna. Helsinki is 42 km from B&B Pajula, while Vantaa is 29 km from the property. Helsinki-Vantaa Airport is 37 km away.
Located in Riihimäki in the Southern Finland region, Hiisi Homes Riihimäki provides accommodation with free WiFi and free private parking. Each unit is equipped with a fully equipped kitchen with a dishwasher, a seating area with a sofa, a flat-screen TV, a washing machine, and a private bathroom with shower and a hairdryer. A microwave, a fridge and oven are also provided, as well as a kettle. Hämeenlinna is 41 km from the apartment, while Hyvinkää is 14 km away. The nearest airport is Helsinki-Vantaa Airport, 63 km from Hiisi Homes Riihimäki.
Located 33 km from Hämeenlinna and 14 km from Hyvinkää, Petsamo Apartment offers accommodation in Riihimäki, 700 m from the centre. The private apartment is located on the upper floor of a private house and has its own entrance and skylight windows. Guests benefit from free WiFi and free private parking available on site. The apartment features a seating area, a dining area and a kitchen as well as a private bathroom with free toiletries and a hairdryer. Two flat-screen TVs with a DVD player, cable channels and Netflix are featured. Other facilities at Petsamo Apartment include a barbecue. The nearest airport is Helsinki-Vantaa Airport, 49 km from Petsamo Apartment.
This central Riihimäki hotel is just 800 m from the train station and 15 km from Puuhamaa amusement park. Guests enjoy free breakfast, Wi-Fi access and private parking. Riihimäen Seurahuone's guest rooms come with a TV and cable channels. Suites add a touch of luxury with either a private spa bath or sauna. Alternatively, 2 general saunas can be booked for an additional fee. Seurahuone's Bull'et American Diner restaurant offers à la carte cuisine, while the on-site bar and nightclub is one of Riihimäki's most popular.
WHAT TO DO IN HYVINKÄÄ - RIIHIMÄKI
SeikkailuSveitsi Adventure Park - Härkävehmaankatu 9
Climbing and Adventures In Hyvinkää, you can climb both indoors and outdoors, and climbing is available to both children and adults. Or perhaps you want to defeat your fear of heights and try abseiling from a cliff!
SeikkailuSveitsi is an adventure park for the whole family. The versatile treetop tracks offer challenges and the joy of success no matter how old or adventurous you are. The tracks are located in the spectacular Sveitsi conservation area, and the wildest zip line gives a new perspective into the formations moulded by the ice age. These tracks are also suitable for adults!
Enjoy a summer's morning with a fishing rod in hand, floating slowly in a rowboat catching some big fish. Fishing and ice fishing are everyman's rights, so no fishing license is needed. However, there are some rapids and running waters along the Vantaa, Koira ja Kerava Rivers where this right has been limited. You can find the best fishing spots in the Hyvinkää fishing guide (PDF, in Finnish). If the fishing is done with a spinning rod that has a reel, you have to pay the fisheries management fee, and on special fishing grounds you must have the owner's permission. Read more information about fishing permits www.eraluvat.fi).
Hop on the saddle! How about a relaxing ride on an Icelandic horse with its steady tolt or an efficient sprint with a riding instructor in the riding hall or in the field? Perhaps you are in need of a relaxing ride in nature. Whatever you desire, the Hyvinkää region provides excellent opportunities for riding and training.
Cycling is both an easy way to move around town and to reach nature! Fatbikes take you anywhere in winter, too! There are three signposted ring routes for cyclists in the Kytäjä-Usmi area. Together the routes make a 45-kilometer long mountain bike route. However, you won't need a mountain bike because all of the routes run along roads and forest paths that have good surfaces, however they are unpaved.
Hyvinkään pyörähdys (The Hyvinkää Route), 26.1 km, runs around the city centre. Karhujen pyörähdys (The Bear Route), 10.2 km, and Kytömetsän pyörähdys (The Kytömetsä Route), 17.8 km, lead you to the wilds of the Kytäjä-Usmi outdoor recreation area where you can also find maintained campfire sites and lean-to shelters. The routes have been marked at least in the crossroads with wooden signposts. You can also download the routes straight into your GPS device.
Does your heart desire to be on the green hitting a ball? There are two courses, so there's plenty to explore for golf-lovers. You can get your stance right at the range, then it's time to tee off. There's excellent golfing days ahead – in good company.
Kytäjä Golf - The two courses in Kytäjä provide world-class greens. During the break you can refresh yourself at the superb restaurant Kytäjä.
Hyvinkään Golf - The rolling terrain offers an 18-hole golf course, a driving range and a short game practice area. The River Vantaa flows through the course. The restaurant Golffari offers tasty meals.
On a hot summer's day the many lakes and ponds invite you to dive into their velvety embrace. During the heart of winter you'll want to enjoy a day at the spa. Hyvinkää has the Usmi beach, but the Sääksjärvi beach, which belongs to Nurmijärvi, is only 20 km away from the city centre.
Usmi beach is about 5 km away from the city centre, at Usminjärventie 206. During the summer the beach has a lifeguard. The beach has changing rooms and a toilet.
The Sääksjärvi beach is located in Nurmijärvi which is about 20 km away from Hyvinkää. By car the best route to the beach is via the Hanko-Mäntsälä road and Rajamäentie to Kiljavantie which has signposts to the beach. The beach is open from the beginning of June to the second weekend of August. The beach has changing rooms, a café, toilets and a separate surfing area. The beach is excellent for children because the water deepens slowly. You can also rent rowboats from the beach.

Kaupunkisilta Lido

The Kaupunkisilta lido is a cosy place with its sandy beach, and it is only a kilometre away from the city centre. It has a grass area for sun-worshippers, a gym for sports enthusiasts and a park for children. The kiosk sells treats.
​3. Sveitsi Swimming Pool
You can refresh yourself all year round at the delightful and versatile Sveitsi swimming pool. Summer rains or below zero weather aren't problems because when the indoor pools are in use, you can indulge yourself in the warm hot tub or enjoy the massaging shower and go wild in the water slide.
The outdoor pools have a vast grass area for sun-worshippers, and it is open during the summer. The 50-metre pool is excellent for swimmers, whereas the diving pool and children's pool offer fun in the water for adrenaline junkies and kids respectively. The pool area also has a beach volley court and a ping pong table. Café Sveitsi makes sure you don't go hungry.
Refresh yourself by going on a canoeing or rowing trip. Hyvinkää and its surroundings have both lakes and rivers to explore. Lake Hirvijärvi has an outdoor recreation area that belongs to the city of Hyvinkää. You can rent a rowboat from the lake for 10 euros a day.
Bird watching is fascinating and the seasons always bring something new to see and hear! The silence of winter is broken by owls that start their mating season in early spring. The spring brings with it some migratory birds which return to warmer regions in the autumn. In early summer, nesting is at its busiest and nature is full of song and rivalry. Hyvinkää's Ridasjärvi is an excellent bird lake, and it has a bird tower. Other well-known bird watching sites are the Kytäjä area with its good owl sites, Ylentola as a resting place for swans and geese. Also Neitsytsaari, Mätälampi, Sääksjärvi, Kittelä, Kapilampi and the dump are good places for bird watching
The Sveitsi Ski Centre, which is located by the Sveitsi nature park, offers the best of winter to both downhill skiers and snowboarders, but there is also room for sledders. The centre has four illuminated pistes and a snowboarding piste. There is a children's downhill skiing piste with a conveyor lift. There are cross-country skiing tracks that start from the area, and the wild sled hill provides wintry joy for the whole family.​
There are over 100 km of skiing tracks, and there are routes for both traditional cross-country skiing and skate skiing. Head to the green areas of the city or deeper into nature, to the wild Kytäjä-Usmi outdoor recreation area. In Hyvinkää the first snow falls early and winters are snowier than in the surrounding areas. Perttula's first snow track is usually open already in November. If the weather is enough below zero, you can ski well into the end of March. In Erkylä you'll find dog skiing tracks. Printed hiking and skiing maps are available, for example, at the information desk at the town hall, in the library, in the art museum and at the Sveitsi Swimming Pool.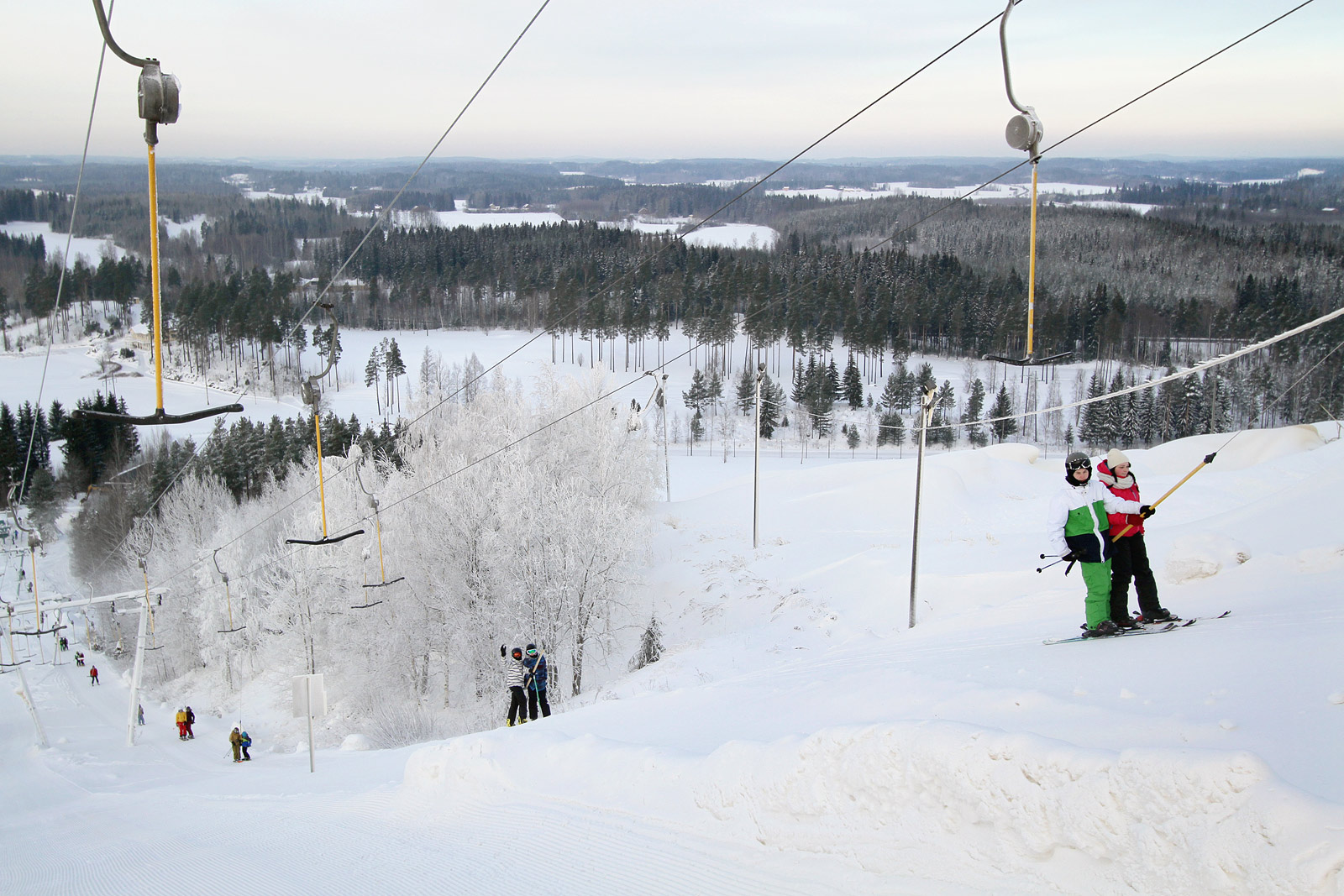 The Finnish Glass Museum has operated since 1981 in a former glassworks building converted into a museum designed By Tapio Wirkkala, academic and world-famous Finnish designer. The former glassblowing facility and the third floor of the museum are reserved for temporary Finnish and international Exhibition of the history and present state of glass and design.
The Hunting Museum of Finland is the leading information center and service institution on its field in Finland. The Mission of the museum is to collect, to study, to preserve, and to display Finnish hunting culture, past and present. The museum operations include a library and an archive serving researchers and public. Every year, the museum offers multiple Exhibition and events for local and national audiences. The permanent exhibition of the museum presents a general overview of the ten thousand year-old history of Finnish hunting - the period during which hunting developed from a means of earning one's living to a free time activity.

Open water swimming and Stand Up Paddling day tours and Safaris in Helsinki Region, South Coast Finland and Western Lakeland. Guiding and safety services. Be spoke swimming holidays for groups. Other activities, such as foraging and guided trekking, also available.
Riihimäki Art Museum is a warm and delightful meeting place in the centre of town. There is a lot to see and do in the art museum: in addition to the high-quality exhibitions, the museum hosts various workshops, concerts, lectures and other events for all ages. The exhibition space is also a suitable venue for business events and celebrations.
The valuable and nationally significant collection of the Riihimäki Art Museum comprises almost 2,500 works of art and other objects. Most of the artworks belong to the collection donated to the museum by Tatjana and Pentti Wähäjärvi. This donation made it possible to establish the museum and open it for the public in 1995. The core of the collection is Finnish art from the early 1900s. The essential artists include Helene Schjerfbeck, Ellen Thesleff, Tyko Sallinen, Jalmari Ruokokoski, Eero Nelimarkka, Marcus Collin, Hugo Backmansson and Wäinö Aaltonen. In addition, the collection contains Russian icons from the 1800s, Asian antiques, and other smaller object ensembles, etc. The collections of the art museum also include smaller art donations and the museum's own acquisitions.
Riihimäki Art Museum has a workshop room for children, and museum guests can also visit the Helene museum shop. In addition to changing exhibitions, the museum has artworks by Helene Schjerfbeck, Buddhist sculptures and Chinese tomb objects from the T'ang and Ming periods on permanent display. Riihimäki Art Museum has an active friends' association called the Friends of the Riihimäki Art Museum Association.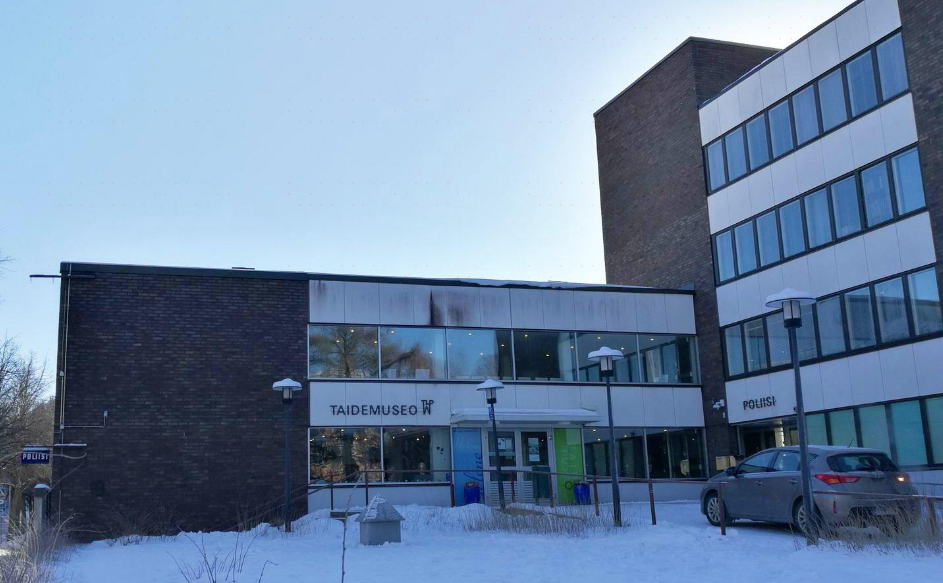 The Finnish Railway Museum presents railway history within the setting of a genuine railway environment. In the museum You can find unique Russian Czar´s royal train, engine shed, old station building and a selection of locomotives and rolling stock.