SUNNUNTAI, 07. KESÄKUUTA 2020
Dominated by its namesake castle, Hämeenlinna (Swedish: Tavastehus) is Finland's oldest inland town, founded in 1649, though a trading post had existed here since the 9th century. The Swedes built the castle in the 13th century, and Hämeenlinna developed into an administrative, educational and garrison town around it. The town is quiet but picturesque, and its wealth of museums will keep you busy for a day or two. It makes a good stop between Helsinki and Tampere. Hämeenlinna is only an hour away from the Helsinki Metropolitan Area.
In the summertime, Hämeenlinna is home to a huge number of events. Hämeenlinna is host to Finland's oldest children's event Hippalot. If you visit in August you can witness the medieval festival at Castle Park. In addition to these, the city of filled to the brim with numerous exhibitions and market events. Hämeenlinna region is full of things to see and experience. It offers a unique blend of new and old, nature and culture, urban sceneries and countryside landscapes – all in perfect harmony.
BEST TIME TO GO TO HÄMEENLINNA
The best time to visit Hämeenlinna in Finland is from may until september, when you will have a soft or pleasant temperature and limited rainfall. The highest average temperature in Hämeenlinna is 22°C in july and the lowest is -5°C in january. The weather and climate of Hämeenlinna is suitable for a winter sports.
Spring (March through May)
Humidity and temperatures combine to make this season feel moderately cold. Highs range from 66.2°F (19°C) and 32.9°F (0.5°C) with far warmer temperatures in the later months. Rain is somewhat common with 5 to 7 days of significant precipitation per month. Spring is the second busiest for tourism, which makes it a good time for those looking for things to do.
Summer (June through August)
The middle-year months have comfortably cool weather with high temperatures that are comfortable. These months see moderate precipitation with 7 to 9 days of precipitation per month. June – August is the busiest season for tourism in Hameenlinna, so lodging and other accommodations may cost more than usual.
Fall (September through November)
Fall daily highs range from 63.6°F (17.6°C) and 35°F (1.7°C), which will feel chilly given the humidity and wind. It rains or snows a significant amount: 6 to 8 days per month. Tourism is the slowest during these months due to the weather, so hotels may be affordably priced.
Winter (December through February)
Weather is far too cold this time of year in Hameenlinna to be enjoyable for warm weather travelers. The average high during this season is between 32.9°F (0.5°C) and 23.2°F (-4.9°C). On average, it rains or snows a fair amount: 7 to 11 times per month. These times of year are fairly slow with tourists.
GETTING TO HÄMEENLINNA
By car - Exactly 100 km north from Helsinki with the motorway 3 E12. The nearest major city (and airport) is Tampere, about 75 km to the north. Road number 10 from Turku to Lahti also passes near the city.
By train - As Hämeenlinna is on the most important railway line of Western Finland it's well connected with Helsinki and Tampere as well as cities further north, like Vaasa, Oulo and Rovaniemi
By bus - Buses from Helsinki to Tampere stop at Hämeenlinna.
By boat - Yes, there is a waterway between Tampere and Hämeenlinna. At summer it can be the most enjoyable way to travel, while the views at the lake Vanajavesi are at their best. The trip can be quite long though. Hopealinjat offers cruises, which take 8 hours one way.
GETTING AROUND HÄMEENLINNA
You can get around by car, by bus or by foot. For driving around, the city center is quite an irritating experience, with its tight intersections and numerous one-way streets. The services in the city centre are within a few minutes walk, so a car is hardly necessary there. All buses stop at the market square while heading west and at the bus station (at Palokunnankatu near market square) while heading east.
Hämeenlinna has a good system of public transport. You can ride from one part of the city to another with a single ticket of €2.90, kids €1.40. Kauppatori is the centre of Hämeenlinna's public transport system, but be aware that many bus lines go in both directions from Kauppatori. You can use Google Transit interactive route planner to find bus routes.
WHERE TO STAY IN HÄMEENLINNA
This hotel is 4 km from Hämeenlinna Train Station. It offers free 1 GB WiFi, private parking and daily 3-hour spa passes. A 6-lane bowling alley is also found on site. Classic décor, cable TV and a work desk are standard to all rooms at Scandic Aulanko. Facilities at Scandic Aulanko include 7 saunas, a hot tub and separate pools for adults and children. Facials, body scrubs and massage treatments are also available. Café & Restaurant Karlberg and the poolside Lähde Bar offer refreshments in a relaxing setting. Restaurant Aulanko serves international and Nordic dishes. The Lobby Bar and Night Club Hugo provide entertainment options. A breakfast buffet is served daily, and guests can also request a takeaway breakfast bag from the reception at any time. Cross-country ski trails surrounding the hotel, while Aulanko Golf Club is just 200 m away.
Original Sokos Hotel Vaakuna Hämeenlinna
Situated by the shore of Lake Vanajavesi, Original Sokos Hotel Vaakuna Hämeenlinna offers rooms with a TV and minibar. Hämeenlinna Train Station is a 2-minute walk away. All rooms at Sokos Vaakuna Hämeenlinna Hotel are equipped with a work desk and iron facilities. Some rooms include free Wi-Fi access and a minibar. The spacious and cosy Restaurant Vaakuna offers international dishes and occasional live music events and stand up shows. The Vaakuna Lobby Bar is a nice place to unwind with a refreshing drink. The sunny outdoor terrace is a nice place to relax during summer. The Hämeenlinnan Taidemuseo Art Museum is a 5-minute walk away. Hämeenlinna City Theatre is 700 m from the hotel.
Located in Hämeenlinna, Matin ja Maijan Majatalo offers free bikes and free WiFi. The accommodation provides a shared lounge, and buying tickets for guests. Rooms are complete with a private bathroom fitted with a bidet and free toiletries, while certain rooms at the bed and breakfast also offer a balcony. An iPad is also available for guests. An à la carte breakfast can be enjoyed at the property. The area is popular for cycling, and bike hire is available at Matin ja Maijan Majatalo. Helsinki-Vantaa Airport is 85 km away from the property.
Located in Hämeenlinna, Kieloranta features a garden. Boasting a 24-hour front desk, this property also provides guests with a terrace. The accommodation features free WiFi. All rooms in the hotel are fitted with a flat-screen TV. The private bathroom is equipped with a hairdryer. A continental breakfast is served each morning at the property. Hyvinkää is 48 km from Kieloranta, while Forssa is 40 km away. The nearest airport is Tampere-Pirkkala Airport, 63 km from the accommodation.
Guesthouse Solbacka Iittala
Boasting a garden, Guesthouse Solbacka Iittala is situated in Hämeenlinna. There is a terrace and guests can make use of free WiFi and free private parking. The rooms are fitted with air conditioning, a microwave, a fridge, a kettle, a shower, free toiletries and a desk. At the guest house rooms come with a wardrobe and a private bathroom.The nearest airport is Tampere-Pirkkala Airport, 68 km from Guesthouse Solbacka Iittala.
Found on central Hämeenlinna's Raatihuoneenkatu shopping street, Hotel Emilia offers a café bar and night club. All rooms have a flat-screen TV and Marimekko décor. Wi-Fi is free. Hotel Emilia's individually decorated rooms have a work desk and a private bathroom with shower. Guests can also treat themselves to an in-room breakfast. Nearby restaurant Piparkakkutalo serves a variety of Finnish specialties. Drinks are on offer at the hotel's café bar, which has a large summer terrace. The hotel's sauna is free for guests on Tuesdays and Thursdays. Emilia Hotel is about 10 minutes' walk from Hämeenlinna Art Museum and the Medieval Häme Castle. Aulanko Nature Reserve and Golf Club is 5 km away.
Situated in central Hämeenlinna, this hotel is 15 minutes' walk from the medieval Häme Castle. It offers an on-site restaurant and pub. Access to a sauna and indoor swimming pool is free. Guest rooms at Scandic Hämeenlinna City feature a minibar, a TV and free 1 GB WiFi connection. The private bathrooms include amenities such as a hairdryer. The Torilla restaurant and Kummeli pub offer guests several dining and drinking specials. Guests at Scandic Hämeenlinna City have free access to bicycles. There is also a children's indoor play area, gift shop and laundry services. The Hämeenlinna Bus Stop is 500 m from the hotel. The popular outdoor Puuhamaa Children's Park is about 20 km away.
SleepinnFinland Hostel is offering accommodation in Hämeenlinna. Among the facilities at this property are a shared kitchen and a shared lounge, along with free WiFi throughout the property. At the hostel, all rooms have a desk. All guest rooms feature a wardrobe. Hyvinkää is 49 km from SleepinnFinland Hostel. The nearest airport is Tampere-Pirkkala Airport, 87 km from the accommodation.
Vähäjärven Lomakoti ja Kurssikeskus
Facing the beachfront, Vähäjärven Lomakoti ja Kurssikeskus offers 3-star accommodation in Hämeenlinna and has a bar, shared lounge and garden. Featuring a private beach area, this 3-star hotel has air-conditioned rooms with a private bathroom. Private parking can be arranged at an extra charge. At the hotel, the rooms are equipped with a desk. All guest rooms feature a wardrobe. Guests at Vähäjärven Lomakoti ja Kurssikeskus can enjoy a buffet breakfast. The accommodation offers a terrace. The nearest airport is Tampere-Pirkkala Airport, 67 km from Vähäjärven Lomakoti ja Kurssikeskus.
Featuring air-conditioned accommodation with a terrace, Aulangon Rantahuvila is located in Hämeenlinna. This villa provides free private parking, a shared kitchen and free WiFi. The villa with a patio and lake views features 4 bedrooms, a living room, a flat-screen TV, an equipped kitchen with a dishwasher and a microwave, and 2 bathrooms with a hot tub. For added convenience, the property can provide towels and bed linen for an extra charge. The villa offers a barbecue. After a day of hiking, skiing or cycling, guests can relax in the garden or in the shared lounge area. The nearest airport is Tampere-Pirkkala, 89 km from Aulangon Rantahuvila, and the property offers a paid airport shuttle service.
WHERE TO GO & WHAT TO SEE IN HÄMEENLINNA
Hämeenlinna means Häme Castle, so it's no surprise that this bulky, twin-towered, red-brick fortress is the town's pride and most significant attraction. Construction was begun in the 1260s by the Swedes, who wanted to establish a military redoubt against the power of Novgorod. It was originally built on an island, but the lake receded and necessitated the building of new walls. It never saw serious military action and, after the Russian takeover of 1809, was converted into a jail. The interior has a modern exhibition annex displaying period costumes and furniture that's tacked on to the original bare-roomed building. Free multilingual guided tours leave every hour in summer – book these ahead outside of summer.
On a visit to Finland, HameenlinnanTaidemuseo will surely feature on your tour plans. A hot destination for art lovers, this Art Museum boasts of regular 40,000-50,000 visitors per year. Famous artist TaistoAhtola served as the Museum's intent for decades. A pivotal element in the establishment of the institution was Rurik Lindquist, who is the last director of the Vyborg Art Museum offered Hämeenlinnan the opportunity to act as a storage facility for Vyborg's valuable art collections. Lindquist remains to the main contributor of Hameenlinnan till date. Ever since its inception, the museum has grown enormously and now has over 5,000 works. This celebrated Art Depository proudly exhibits the work of Ester Helenius, Mikonos's widow, MaijaIsolalta and Ludvig and AijaWennervirra only to name a few.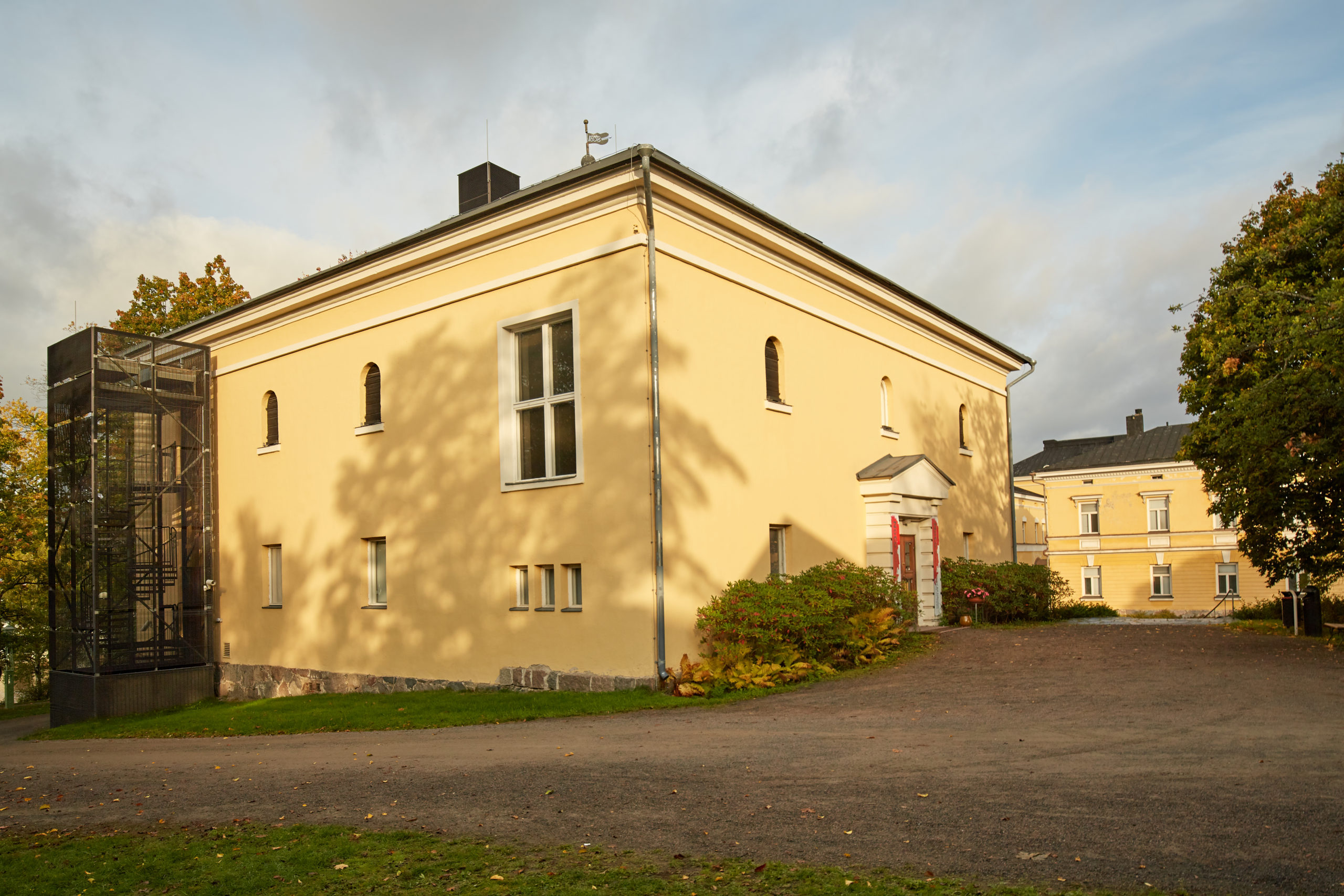 Finland loves its house-museums and this is among the best, offering a wonderful insight into well-off 19th-century Finnish life, thanks to excellent English-speaking guided tours. There's splendid imperial and art-nouveau furniture as well as delicate little touches including a double-sided mirror to spy on street fashion, and a set of authentic children's drawings from the period.
North of the town centre, this central-European-style park with ponds, swans, pavilions, a granite fortress and exotic trees was created early in the 20th century by Hugo Standertskjöld. Modern additions include a summer-only adventure park (www.hugopark.fi, admission €25) and a spa resort (www.cumulus.fi). Although the best way to explore it is on foot, the sealed one-way road loop is accessible by car. Bus 2 (€3.40, 15 minutes) gets you here from central Hämeenlinna, or it's a pleasant 5km bike ride.
Composer Johan Julius Christian (Jean) Sibelius was born in Hämeenlinna in 1865 and was schooled here, but the town makes surprisingly little fuss about it. His childhood home is a small museum containing photographs, letters, his upright piano and some family furniture. It's a likeable place, although uninformative about his later life. Concert performances on summer Sundays are free with an entry ticket.
The ground floor of this newly opened museum in the former Skogster Department Store has a small theatrette where an excellent short film about the history of Hämeenlinna is shown in a number of languages, including English. Entry to the museum's ground floor is free, but you'll need a ticket (adult/child €5/2) to visit the temporary exhibitions in the upstairs space.
There are numerous museums devoted to Finnish involvement in WWII, but this takes the cake. It's huge. There are three floors packed with war memorabilia, including good information in English on the beginnings of the Winter War. Outside, and in a separate hall, is a collection of heavy artillery big enough to start a war on several fronts.
Häme Castle's old cellblock, last used in 1993, has been converted into a prison museum where you can visit a solitary confinement cell or see graffiti left by former inmates. Most interesting are three cells left more or less as they were when the inmates departed, along with a brief description of their occupants' crime and lifestyle. There's also a sauna, where prisoners would sometimes violently settle disputes.
Dating from 1798, this church in the town centre was designed by Louis Jean Depréz, court painter for King Gustav III of Sweden, and is modelled on the Pantheon in Rome.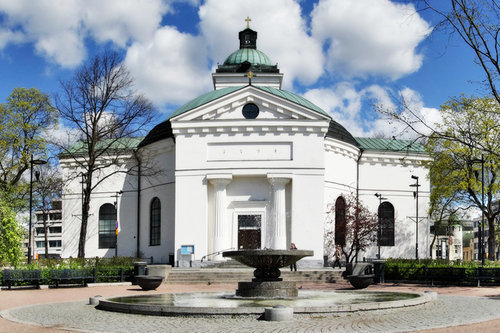 WHERE TO EAT IN HÄMEENLINNA
This fairytale-style 'gingerbread house' was built in 1907 for merchant August Skogster, whose department store was next door, and it is now home to the town's best restaurant. The interior still has a warm, domestic feel. Food includes Finnish classics, a few vegetarian choices and burgers, all made using fresh local produce. The cosy pub downstairs is open between Wednesday and Saturday.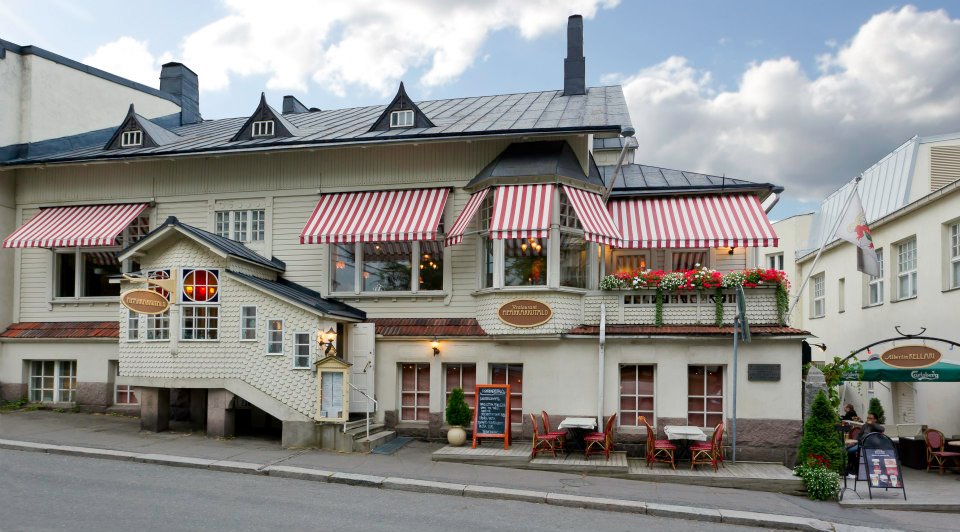 This spacious cafe on the market square is a Hämeenlinna stalwart and popular meeting place. Choose from the selection of cakes, rolls, pastries and pasties, both savoury and sweet.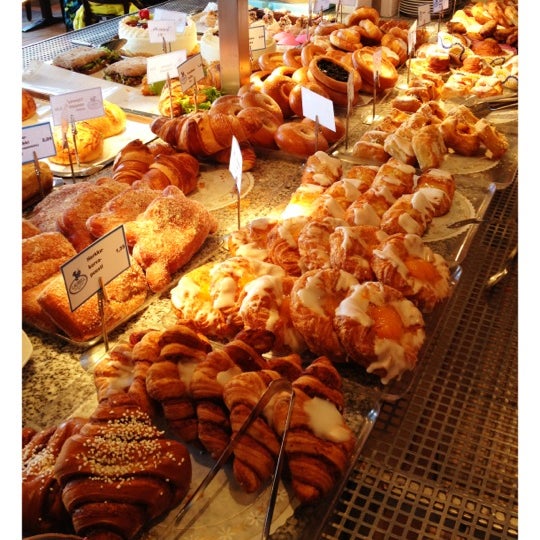 A nationwide chain, Rosso knows what makes diners happy: welcoming surrounds, flavoursome food, friendly service and keen prices. This branch is no different, offering good Neopolitan- and Roman-style pizzas and big serves of pasta. A fresh antipasto and salad buffet is included in the cost of a main course and there's a cute kids' play corner.
Head to this cosy basement pub under the Piparkakkutalo restaurant on Wednesdays and Thursdays for karaoke, and on weekends to hear live music.
You'll feel as if you're enjoying a drink at a friend's house when at this wine bar next to the Skogster Museum. The space features comfortable cane chairs, shelves filled with books and fresh flowers in vases – it's a relaxing spot to enjoy a glass of wine and cheese platter.
Every town needs a good cafe, and Kukko certainly fits the bill. Its bright, diner-style interior has a long counter with an espresso machine and displays of buns, brownies and pastries. A refrigerated cabinet is filled with healthy sandwiches (choose from salad, falafel or smoked salmon), making it as popular at lunch as it is at breakfast. Good coffee too.