LAUANTAI, 06. KESÄKUUTA 2020
Seinäjoki is a city in Southern Ostrobbothnia. Seinäjoki is the biggest city and the center of the Region of South Ostrobothnia, in western Finland. It is in the junction of five railways, at the intersection of several main roads.
Seinäjoki (Swedish: Östermyra) is often overlooked by visitors exploring the coast. But anyone interested in architecture shouldn't miss its striking town centre, designed by the country's most celebrated architect and designer, Alvar Aalto. Occupying two large city blocks, the centre consists of four municipal buildings and one church – each remarkable in its own right but also creating a uniquely integrated composite.
Seinäjoki enjoys a vibrant cultural life, with a city theatre, orchestra and art hall. Huge dance and music festivals, especially Tangomarkkinat (Tango Fair) and Provinssirock, draw crowds each summer.
BEST TIME TO GO TO SEINÄJOKI
The best time to visit Seinäjoki in Finland is from may until september, when you will have a soft or pleasant temperature and limited till little rainfall. The highest average temperature in Seinäjoki is 22°C in july and the lowest is -5°C in january. The weather and climate of Seinäjoki is suitable for a winter sports.
Spring (March through May)
Humidity and temperatures combine to make this season feel moderately cold. Highs range from 65.4°F (18.6°C) and 32.6°F (0.3°C) with far warmer temperatures in the later months. Rain is somewhat common with 3 to 5 days of significant precipitation per month. Spring is the second busiest for tourism, which makes it a good time for those looking for things to do.
Summer (June through August)
The middle-year months have comfortably cool weather with high temperatures that are comfortable. These months see the most precipitation with 6 to 8 days of precipitation per month. June – August is the busiest season for tourism in Seinajoki, so lodging and other accommodations may cost more than usual.
Fall (September through November)
Fall daily highs range from 64.5°F (18.1°C) and 33.8°F (1°C), which will feel chilly given the humidity and wind. It rains or snows a significant amount: 5 to 6 days per month. Tourism is the slowest during these months due to the weather, so hotels may be affordably priced.
Winter (December through February)
Weather is far too cold this time of year in Seinajoki to be enjoyable for warm weather travelers. The average high during this season is between 32.6°F (0.3°C) and 23.9°F (-4.5°C). On average, it rains or snows a fair amount: 3 to 7 times per month. These times of year are fairly slow with tourists.
GETTING TO SEINÄJOKI
By Car - Seinäjoki can be easily reached by car. The drive from Helsinki takes about 4 hours and there is a four-lane motorway as far as Tampere (speed limit 120 km/h in the summer, and 100 km/h in the winter), followed by two-lane regular roads with speed limits between 80 km/h and 100 km/h.
By train - The easiest way to come to Seinäjoki is by train. If you take the fastest Pendolino trains the trip takes roughly three hours from Helsinki or Oulu and just over one hour from Tampere.
By bus - Matkahuolto and Onnibus offer connections from Helsinki, Tampere, Vaasa, Jyväskyla, Kuopio, Mikkeli, Lappwwnranta and Joensuu.
By plane - Seinäjoki airport is nowadays used only for some charter flights. The nearest airport with regular flights is in Vaasa VAA. There are daily regular flights to Vaasa airport from Helsinki (Finair) and Stockholm, Sweden. An on-demand airport shuttle bus of Pahkakankaan Liikenne operates between Vaasa airport and Seinäjoki railway station. The shuttle bus can be pre-ordered at latest two days before arrival or departure. The ride from Vaasa airport to Seinäjoki railway station costs €19 per traveller.
GETTING AROUND SEINÄJOKI
By foot or by bike - Seinäjoki is small enough that most of the things to see are easily reached by foot or bike. When you exit the station, you will be facing the center of town.
By bus - Komia Liikenne offers local bus connections on weekdays and Saturdays but on Sundays there is no traffic. City of Seinäjoki operates on-demand minibus in Seinäjoki city and nearby region on weekdays 8-17. It is possible to use Matkahuolto long-distance buses for travel within Seinäjoki. On Sundays long-distance buses are the only form of public transport available for local travel inside Seinäjoki. To go west you can use buses to Teuva, Kauhajoki and Närpiö, and to go east, buses to Karstula, Vimpeli and Kuortane.
By taxi - 02 Taksi Smart phone app offers address-based routing and gives price offers from different taxi companies.
- Valopikku (Taksi Helsinki). Taxis ordered by smart phone app.
WHERE TO STAY & EAT IN SEINÄJOKI
Hotelli-Ravintola Alma is located right next to Seinäjoki Train and Bus Station and the main street, Kauppakatu. It offers free Wi-Fi, a restaurant and Art Noveau-style rooms with a flat-screen TV. The air-conditioned guest rooms feature an armchair or sofa and a bathroom with shower. A minibar, tea/coffee facilities and a DVD/CD player are standard features. Some rooms have a private sauna or spa bath. Alma's restaurant serves international cuisine with a Finnish twist. In summer, guests can enjoy their meals on the terrace. A lobby bar is also available. Guests can rent bikes and explore the city at their own convenience. Free public parking spaces are found nearby. Within 1 km from the hotel is The Aalto Centre, which displays some of Finnish architect Alvar Aalto's most important works.
Original Sokos Hotel Vaakuna Seinäjoki
Overlooking Seinäjoki's main square, this hotel is only 500 m from Seinäjoki Train Station. It offers a popular nightclub, Mexican and French cuisine, 3 saunas and rooms with flat-screen TVs. Free Wi-Fi is provided in each room at Original Sokos Hotel Vaakuna Seinäjoki. All rooms come with work desks, minibars and a selection of TV channels. Amarillo Restaurant serves spicy food in a relaxing environment. A Provencal-style menu with lots of fresh herbs is offered at the Fransmanni Restaurant, which also has an open fireplace. Seinäjoki Vaakuna Hotel is just a 10-minute walk from attractions such as the Mallaskoski brewery and the Lakeuden Risti Church, which was designed by Alvar Aalto.
Original Sokos Hotel Lakeus Seinäjoki
This hotel features a Spanish-themed restaurant and a sports pub. Free access to both WiFi and sauna. Seinäjoki Train Station is 300 m away. A TV and private bathroom with shower are standard at Original Sokos Hotel Lakeus Seinäjoki. Some rooms include a minibar and private sauna. The hotel has 3 saunas, including an 8th-floor sauna with panoramic views. The Alvar Aalto-designed Lakeuden Risti Church is 5 minutes' walk away. The surrounding area has plenty of shops, bars and restaurants.
Situated in the business hub of Hyllykallio, just 3.5 km from Seinäjoki city centre, Finlandia Hotel Fooninki offers a complimentary buffet breakfast and evening sauna for guests. Vaasa is just over an hour's drive away. A hearty lunch buffet is served daily in the hotel restaurant. The Robert Trent Jones II-designed Ruuhikoski golf course is also nearby. With 4 well-equipped meeting rooms, Finlandia Hotel Fooninki can cater for seminars of up to 70 people. The hotel's sauna rooms are perfect for hosting small events.
This central hotel is situated across from the Seinäjoki Train Station and 450 m from Seinäjoki's town centre. It offers an easy keyless entry system, free WiFi and functional guest rooms with a flat-screen TV. A microwave, small fridge and tea/coffee making facilities are found in all Omena Hotel Seinäjoki guest rooms. Each also features a seating/dining area with table. Vending machines are available at Omena Hotel. For those wishing to prepare their own meals, a grocery store is 450 m away. Lake Kyrkösjärvi, 7 km away, provides nice swimming, fishing and hiking opportunities. The Administrative and Cultural Centre, designed by Finnish architect Alvar Aalto, is less than a 10-minute walk away.
This hotel is located in Seinäjoki's town centre, known for its summer tango festival. It is 300 m from Seinäjoki Train Station. It offers free 1 GB WiFi connection and free access to 2 saunas. Guest rooms at Scandic Seinäjoki are classically decorated and feature a satellite TV and a work desk. The bathroom comes with a shower and hairdryer. The Olivo Restaurant serves international cuisine in a casual setting. The on-site dance restaurant, Soittola, is a local hot spot, featuring live music. There is also the cosy Kummeli pub in the hotel. A breakfast buffet is served daily, and guests also have the option to request a takeaway breakfast bag from the reception at any time to enjoy at their own pace. The Alvar Aalto Centre, dedicated to the Finnish architect, is 5 minutes' walk away. The Regional Museum of South Ostrobothnia is also a 5-minute walk from the hotel.
This hotel is located in the picturesque Törnävä area, 3.5 km from Seinajöki city centre. Surrounded by nature, it offers a restaurant, sauna and indoor pool. A flat-screen TV and luxury beds are found in all guest rooms at Hotel Sorsanpesä. Free WiFi internet access is also included. Sorsanpesä Hotel's restaurant offers river views, along with both Finnish and international food. Guests can borrow bikes for free on site and explore the surroundings. Ski trails start right by the hotel. Hotel Sorsanpesä also offers free parking for guests.
Heleenkatu 3 a 1 is set in Seinäjoki and offers free bikes, a garden and a terrace. This apartment offers free private parking and a 24-hour front desk. The apartment has 2 bedrooms, a flat-screen TV with cable channels, an equipped kitchen with a dishwasher and a microwave, a washing machine, and 1 bathroom with a bidet. At the apartment guests are welcome to take advantage of a sauna. The nearest airport is Vaasa Airport, 72 km from Heleenkatu 3 a 1.
Situated in Seinäjoki in the Western Finland Region, Siirilän tila boasts a barbecue and children's playground. Free WiFi is featured and free private parking is available on site. All units have a seating area. Towels and bed linen are offered. Siirilän tila also includes a sauna and a shared kitchen. Guests can book riding lessons at the on-site riding school. The property has ski storage space and bike hire is available. You can engage in various activities, such as skiing and cycling. Helsinki can be reached by train in about 3 hours. The nearest airport is Vaasa Airport, 59 km from the property.
Upea kaksio, Keskustorin laidalla
Set in Seinäjoki, Upea kaksio, Keskustorin laidalla offers air-conditioned accommodation with a balcony and free WiFi. The property has city views. This apartment is fitted with 1 bedroom, a kitchen with a dishwasher and a microwave, a flat-screen TV, a seating area and 1 bathroom fitted with a bidet. At the apartment guests are welcome to take advantage of a sauna. A children's playground is also available for guests at Upea kaksio, Keskustorin laidalla. The nearest airport is Vaasa Airport, 74 km from the accommodation.
WHAT TO SEE & DO IN SEINÄJOKI
Ähtäri Zoo – Home of the Pandas
Ähtäri Zoo is Finland's first natural zoo, and welcomes all for a journey into the wonderful world of nature to experience joy and insights in the company of nature and animals. The zoo is home to about 60 different species. Ähtäri Zoo is especially known for its bears, but you can also see many other exciting species from the coniferous forest zone, such as the wolverine, wolf, lynx and the very threatened snow leopard and takin, aka gnu goat.
Ähtäri Zoo is located in Ähtäri, about 90 km from Seinäjoki. The easiest way to get to the zoo is in your own car. You can also get to Ähtäri by train from Seinäjoki.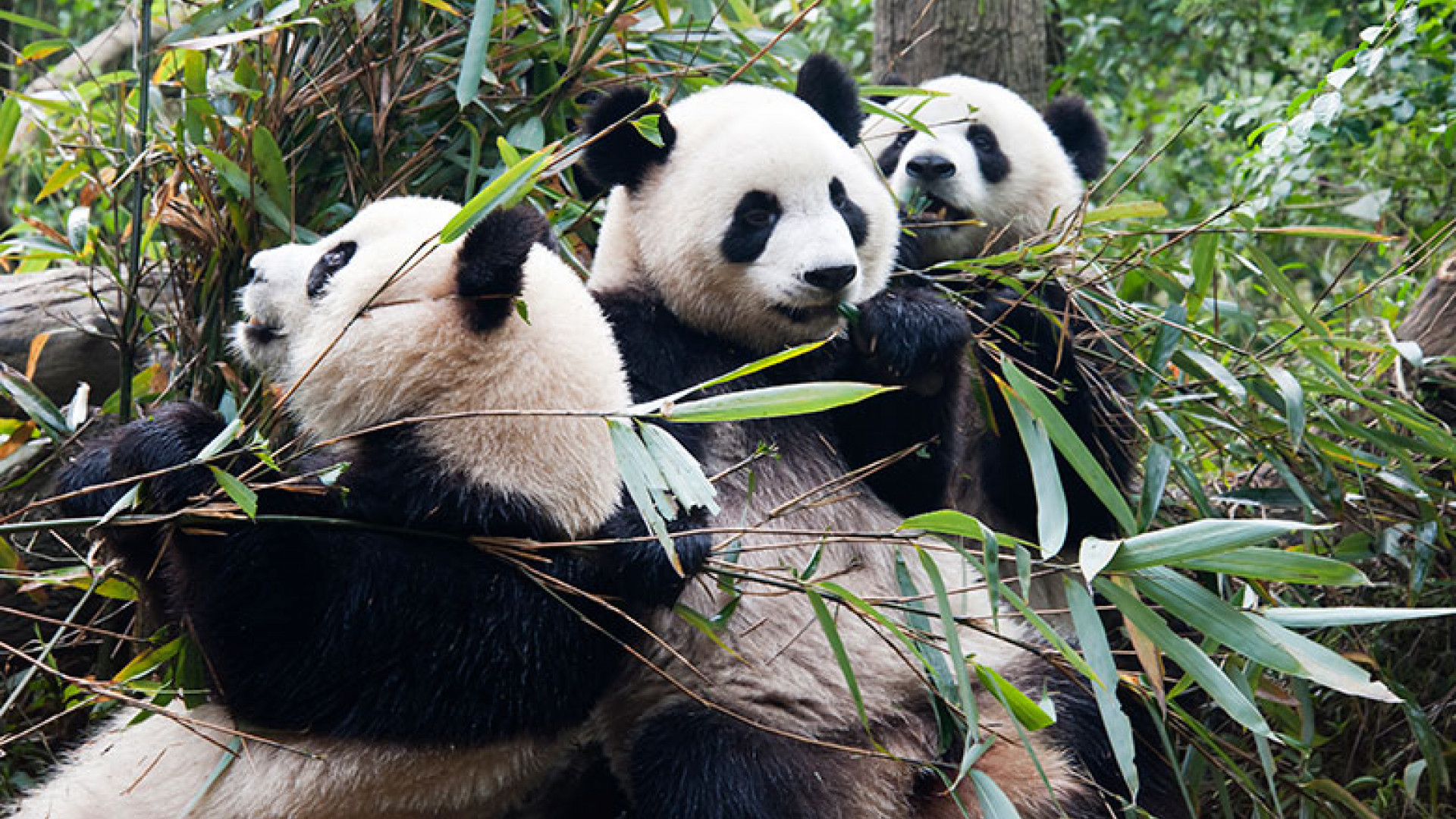 PowerPark adventure centre – Huvivaltio, the most fun place in Finland
160 hectares of joy, thrills, experiences and activities for all ages. From the dream of one visionary and creative man, over the course of a decade has sprung up Finland's best leisure destination, much loved by customers. The amusement park also contains Europe's largest indoor karting track, a horse centre for the horse crazy and Finland's first 5D cinema. PowerPark is located in Alahärmä in Kauhava, about 40 km from Seinäjoki. The easiest way to get there is in your own car. In the summer, when the amusement park is open, you can also get there by train. Huvivaltio has its own train stop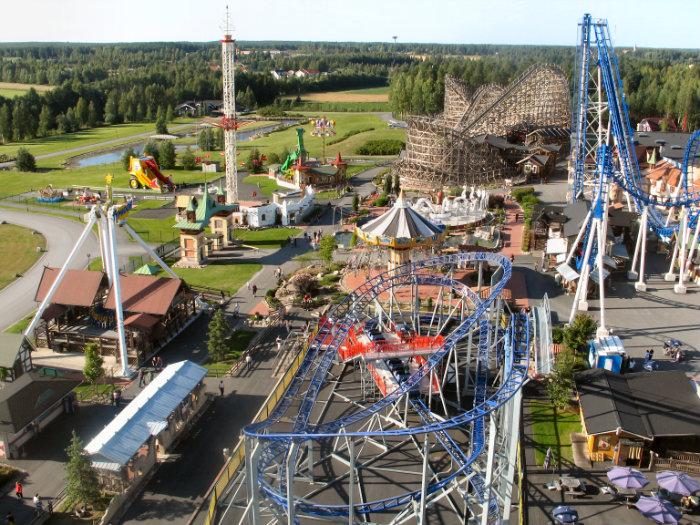 Simpsiö – ski resort with multiple slopes, in the middle of the plains
Simpsiö, rising out of the middle of the plains, is the largest multi-slope ski resort in Western Finland. This diverse ensemble offers recreational opportunities for every taste. Simpsiö has six slopes (family-friendly level 1 slope, children's slope, 2-4-5 slopes) and six lifts. For some excitement, there is a terrain park slope with rails and boxes. The slope also features a K-55 ski jump. Simpsiö's elevation is 90 metres and the longest slope is 600m.
During the summer, Simpsiö's natural area offers diverse routes for jogging and exercise. In addition, there is an excellent harvest of berries and mushrooms at Simpsiö. In addition to blazed nature paths, at Simpsiö you will find mountain bike trails and fixed control posts for orienteering. As the latest addition, an 18-hole disc golf course has been built on Simpsiö's forest trails, which fits the measurements of the national championship course. The area also includes a viewing tower, where you can admire the expanse of the plains opening around you.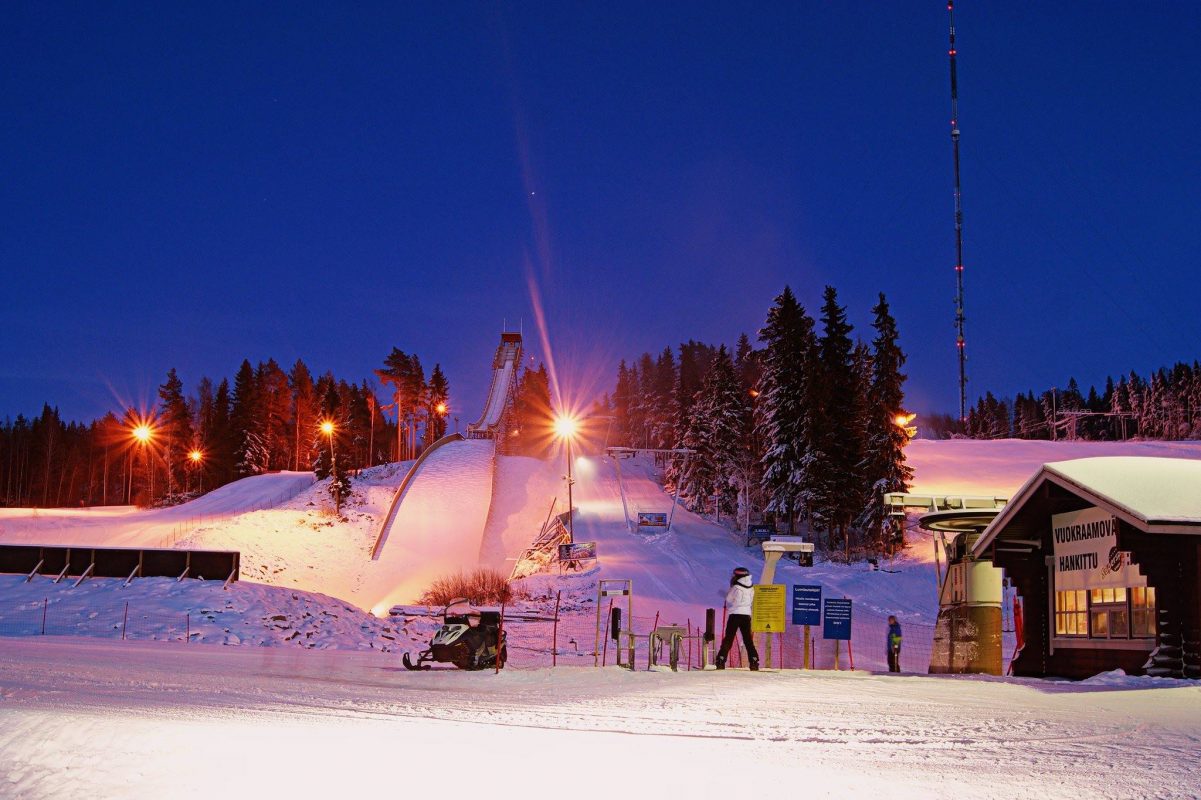 Alvar Aalto's crowning achievement, Lakeuden Risti Church, is recognisable by its oddly secular steeple–clock tower (built with funds from a voluntary church tax, by the way). You'll get a great perspective on the Aalto town centre by taking the lift to the top.
The church itself, completed in 1960, was the first piece of Aalto's work on the Seinäjoki centre. It's a vast interior – with pine benches and marble floors – that exudes lightness and spirit. Aalto also designed most of the interior details, such as the textiles, the lamps and the communion silver, as well as the glorious stained-glass work Streams of South Ostrobothnia.
Although Alvar Aalto designed the town theatre in 1968, its construction was not completed until the 1980s (under the supervision of his wife and partner, Elissa Aalto). The foyer is a showroom for design pieces from the Aaltos' company, Artek, as well as Alvar's collection of striking bentwood reliefs.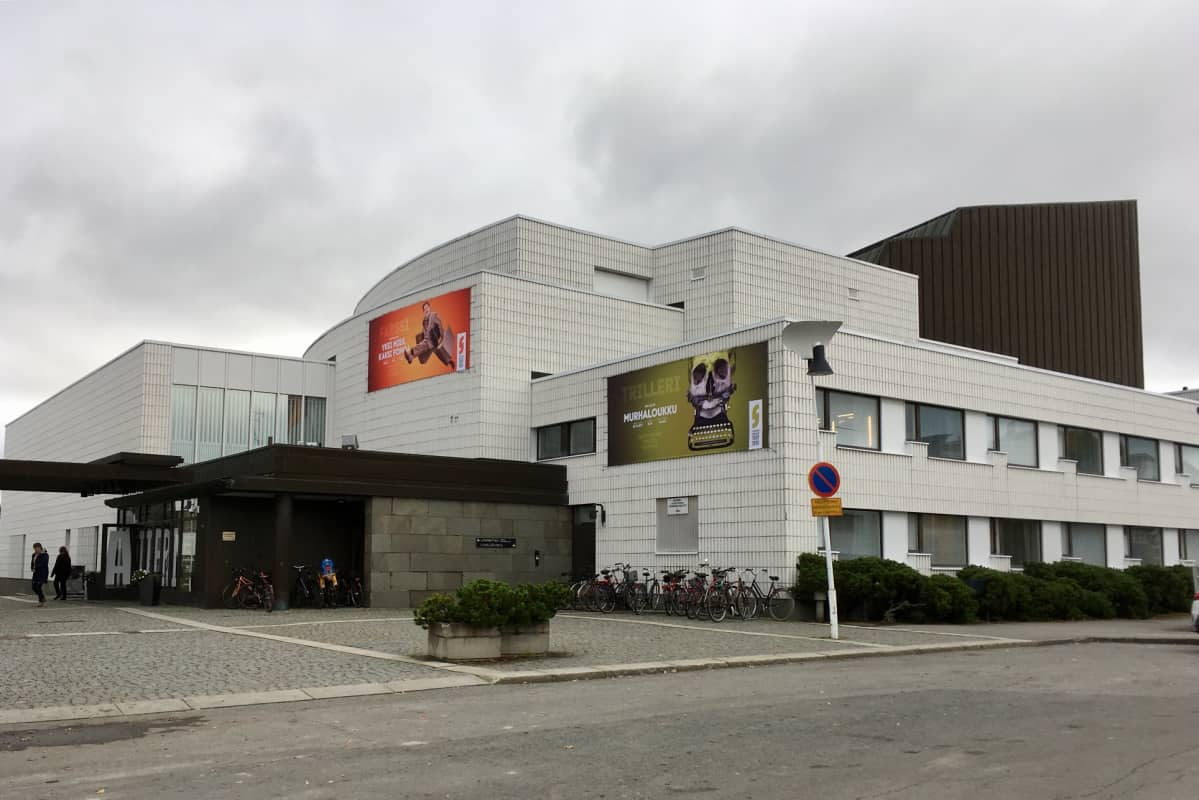 Kuortane Sports Resort is an active place for spending leisure time. The sports resort has 700 beds, with various options to be found in the Sports Hotel, gallery access lodging, town houses and the inexpensive hostel. At the resort, you can participate in instructor-led courses or reserve inexpensive lodging and choose the activities for your vacation on your own. The location offers excellent surroundings for outdoor activities, playing sports, bowling, swimming and rowing on Lake Kuortane. In addition to family courses, tennis, golf and wellness courses are also offered. During school vacations, Eppu family courses get the whole family moving.
Kuortane Sports Resort is located in Kuortane and is about 44 km from Seinäjoki. The best way to get to the Sports Resort is in your own car.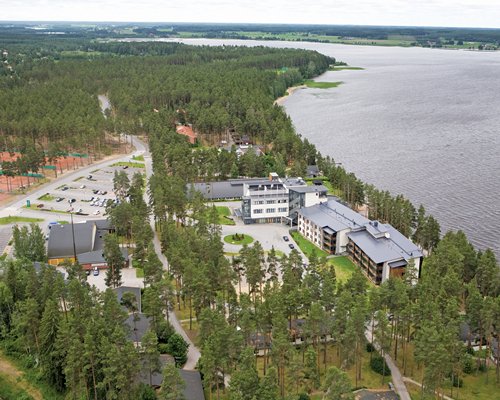 n Tuuri, a village in Alavus with all of 500 inhabitants, is located the Village Shop, Finland's largest department store in terms of sales, selection and square footage. Over 6 million people visit the Village Shop each year. The Village Shop as grown astronomically over the years both in size and selection and has also gathered around itself an entire shopping village and concentration of services. The services of the luxurious store, which was renovated in 2017, also include an outdoor market, Hotel LuckyStar, Caravan Area Onnela, various restaurants as well as Service Station OnnenLiekki.
The Village Shop is also known for its innumerable events. The Village Shop organises or offers its spaces for over a hundred special events each year. In the summer, families with children especially flock to the Miljoona Tivoli, Moomin playground and Mini-golf. Miljoona Rock takes place in July.
The Tuuri Village Shop is located in Tuuri, Alavus, which is about 60 km from Seinäjoki. The easiest way to get to the Village Shop is in your own car, but it is also possible to get to Tuuri by train.
Kyrö Distillery began the same way as many other Finnish companies, as an idea in the sauna: why isn't whiskey made from rye in Finland? The distillery found a home in an old dairy co-operative in Isokyrö, in the same building where Oltermann cheese was once made. The stills were turned on for the first time in 2014, and since then the distillery has won numerous international prizes and now sells its products in dozens of countries. Kyrö Tourism Board is a distillery restaurant and cocktail bar operating in the same space as Kyrö Distillery Company. During open hours, visitors can join a distillery tour and tasting, as well as enjoy unique cocktails made from local ingredients. Groups can also order dinners of local cuisine prepared by Juurella restaurant through Kyrö Tourism Board and include a tasting, cocktail school and distillery tour. Live music for diverse tastes is also offered on the first Saturday of every month.
Kyrö Distillery is located in the municipality of Isokyrö, about 37 km from Seinäjoki. The easiest way to get there is in your own car.