SUNNUNTAI, 31. TOUKOKUUTA 2020
Ivalo is known as the "Gateway to the North," one of the last significant settlements before heading into the farthest reaches of Finland and the municipality of Inari, Iocated near Ivalo River in Lapland, Northern Finland. As of the 2019 census, it has a population of over 6,900. Located in the charming village on the banks of the Ivalojoki River and explore the rest of the surrounding region. A small town by most standards, Ivalo (Sámi: Avvil) is a metropolis in these latitudes. With plenty of services and an airport that's particularly busy in winter, it's a useful place, though with few attractions. However, Inari's Sámi culture and Saariselkä's plentiful activities are close by. Experience all the natural attractions of Northern Finland from your base in Ivalo, including seeing breathtaking natural phenomena and a variety of winter activities.
It isn't as famous as other destinations in Finland, but don't let that fool you, because the activities and things to do here will definitely wow the travel enthusiast in you! It is close to the famous resort village called Saariselkä. Tourists from all over the world flock to this part of Finland mainly because of the many snow sports opportunities such as skiing, snowboarding, and sledding. Aside from winter sports, there are also hiking trails that travelers can explore. During the summer, activities that you can enjoy include canoeing, fishing, mountain biking, and gold panning. Whether you want to play snow sports, hike the trails, or maybe witness the famous Midnight Sun, I'll give you a few tips and ideas on how to spend your time in this part of Finland, so definitely check out things to do in Ivalo, Finland!
BEST TIME TO GO TO IVALO
Spring (March through May)
Humidity and temperatures combine to make this season feel very cold. Highs range from 57.3°F (14.1°C) and 20.9°F (-6.2°C) with far warmer temperatures in the later months. Rain is somewhat common with 3 to 5 days of significant precipitation per month. Spring is the second busiest for tourism, which makes it a good time for those looking for things to do.
Summer (June through August)
The middle-year months have cold weather with high temperatures that are brisk. These months see the most precipitation with 6 to 9 days of precipitation per month. June – August is the busiest season for tourism in Ivalo, so lodging and other accommodations may cost more than usual.
Fall (September through November)
Fall daily highs range from 53.8°F (12.1°C) and 24°F (-4.4°C), which will feel very chilly given the humidity and wind. It rains or snows a significant amount: 4 to 8 days per month. Tourism is the slowest during these months due to the weather, so hotels may be affordably priced.
Winter (December through February)
Weather is far too cold this time of year in Ivalo to be enjoyable for warm weather travelers. The average high during this season is between 23.5°F (-4.7°C) and 14.1°F (-9.9°C). On average, it rains or snows a smalll amount: 2 to 4 times per month. These times of year are fairly slow with tourists.
HOW TO GET TO IVALO
By Plane - You can quickly reach Finland's northernmost airport Ivalo from Helsinki with Finnair. During the winter months, there are also connections from European cities, not to forget the numerous charter flights. You can also fly to Rovaniemi and continue your way up North by bus. Taxis, rental cars and buses are at your service at Ivalo Airport.
By Train - The train will take you to Rovaniemi, where you will find various bus connections to Northern Lapland. You can travel to Inari-Saariselkä by bus. The bus routes take you through some of the most magnificent scenery, as far as the shores of the Arctic Ocean.
By car - Naturally you can also drive to Inari-Saariselkä region. The roads are in good condition but the weather conditions can change a lot. Car rental is available at Ivalo airport.
Airport bus - There is a regular bus connection to Saariselkä and Kakslauttanen / Kiilopää to and from each scheduled flight by Eskelinen bus. See the route and timetable below.
Ski Bus - in Saariselkä - Ski Bus operates in Saariselkä during the winter season. The bus departs Ivalo bus station in the morning, and runs in Saariselkä area for the day, returning to Ivalo at the end of the day. Ski Bus is a convenient way to move around Saariselkä!
GETTING AROUND IVALO
Since it is a small town, it is very easy to walk everywhere, or stroll around using bicycle. There are bicycle paths along the main road.
WHERE TO STAY & EAT IN IVALO
Wilderness Hotel Nangu & Igloos is located right by Lake Inari, offering lake views and accommodation in idyllic log buildings. In the winter, guests may experience the Northern Lights, and enjoy the midnight sun in the summer time. The rooms feature traditional log walls and Lappish décor. Each room has a private bathroom with a hairdryer and free toiletries. The on-site restaurant serves breakfast and lunch in buffet style. Dinner options include Lappish delicacies. A range of winter activities are arranged at Wilderness Hotel Nangu & Igloos, such as Northern Lights hunting trips with snowshoes or snowmobiling. Cross-country skiing, snowshoeing and ice fishing can also be arranged. Guests can enjoy a ride by husky sledges and visit a nearby reindeer farm.
Ivalo is a 20-minute car ride away. Ivalo Airport is 31 km away from Wilderness Hotel Nangu.
This hotel is located along the Ivalo River in Ivalo town centre. It offers free parking and sauna access. Traditional Lappish dishes are served in its award-winning restaurant. Hotel Kultahippu's guest rooms feature a flat-screen TV and work desk. Each private bathroom includes a shower and hairdryer. Some rooms have a private sauna. Karaoke nights are arranged on Fridays and Saturdays. Guests can enjoy free WiFi access in all areas of the hotel. Kultahippu's staff will gladly help to arrange area activities such as fishing on Lake Inari, cross-country skiing or hiking, aurora trips, husky safaris, snowmobile safaris and reindeer safaris. Ivalo Bus Station is a 10-minute walk away.
This Finnish Lapland hotel is located on both the Ivalo River and the E75 motorway. It offers free WiFi access, an indoor swimming pool and free evening sauna access. A traditional Finnish restaurant and bar are on site. Classic décor, satellite TV and a small fridge are standard to Hotel Ivalo's guest rooms. Each has a seating area and private bathroom with shower. Iron facilities can be rented from the reception. Lappish specialities and river views can be enjoyed from Ivalo's restaurant. Guests can also relax by the cosy fireplace lounge. Leisure options include 3 saunas and a playroom for children. Skis, ice skates and other winter sports facilities can be rented on site. Ivalo Hotel staff can help arrange snowmobile safaris and husky sledding trips in winter, along with horseback riding trips in summer. Saariselkä Ski Centre is 30 km away, while the Ivalo Airport is just 9 km away.
Aurora Village Ivalo is situated in Ivalo and offers cabins with a glass roof, offering the possibility to spot the Northern Lights from the bed. Among the facilities of this property are a restaurant, a tour desk and luggage storage space, along with free WiFi throughout the property. Guests can have a cocktail at the bar. All cabins are equipped with a coffee machine and a seating area. The private bathroom is fitted with a bath or shower and a hair dryer. Shampoo, conditioner and shower gel are included. A buffet breakfast is available daily at the property. Aurora Village Ivalo also offers safaris and other outdoor activities on site.
Saariselkä is 34 km from Aurora Village Ivalo, while Inari is 41 km from the property. The nearest airport is Ivalo Airport, 13 km from the resort.
Set on a dog farm in Finnish Lapland, this family-run guest house offers traditional home cooking and husky safaris. Sauna and WiFi access is free. Ivalo Airport is 15 km away, an 18-minute drive away. Guesthouse Husky's wood-panelled rooms feature basic furnishings, a TV and a private bathroom. Communal kitchen and laundry facilities are also available. From October until May, guests can enjoy pre-booked dinners with a true taste of Lapland. Free tea/coffee is available all day. Guests can use the free internet computer in the lobby or relax by the fireplace in the dining room. Husky Guesthouse staff can book snowmobile trips with a nearby operator. Cross-country skis and snowshoes can be rented on site. Lake Inari is 20 minutes' drive away and is known for its trout, arctic char and whitefish.
One of our top picks in Ivalo.Ivalo Lake Cottage offers accommodation about 10 km from Ivalo Town Centre. The property is 41 km from Saariselka and boasts views of the mountains. There is a seating area and a kitchen complete with a dishwasher, an oven and a microwave. A flat-screen TV is featured. Other facilities at Ivalo Lake Cottage include a sauna. The property has a private beach area and car hire is available. Ice Fishing, husky safaris and chasing the Northern Lights are possible here at Ivalo Lake Cottage. Ivalo Airport is 16 km away.
Situated in Ivalo, Finnish Lapland, this self-catering holiday home features a terrace and sauna. Ivalo River is located nearby. Free WiFi and private parking are available. The fully equipped kitchen has a dishwasher, microwave and convection oven. The living room has a fireplace and a flat-screen TV. A washing machine is also included. Saariselka is 22 km from Apaja House, while Inari is 45 km from the property. The area is popular for skiing and cycling. Ivalo Airport is 4 km away.
Featuring a garden and a terrace, Apartment Neitamo44 features accommodation in Ivalo with free WiFi and garden views. Boasting free private parking, the apartment is in an area where guests can engage in activities such as hiking, skiing and fishing. The apartment has 1 bedroom, a flat-screen TV, an equipped kitchen with a microwave and a fridge, a washing machine, and 1 bathroom with a bidet. Saariselka is 31 km from the apartment, while Inari is 42 km from the property. The nearest airport is Ivalo Airport, 11 km from Apartment Neitamo44.
Huoneisto Livva apartment
Situated in Ivalo in the Lapland region, Huoneisto Livva apartment features a balcony. This property offers access to a patio, free private parking and free WiFi. The apartment has 1 bedroom, a flat-screen TV, an equipped kitchen with a dishwasher and a microwave, a washing machine, and 1 bathroom with a bidet. Guests at the apartment can enjoy cycling nearby, or make the most of the sun terrace. Saariselka is 30 km from Huoneisto Livva apartment, while Inari is 40 km from the property. The nearest airport is Ivalo Airport, 10 km from the accommodation.
Featuring free bikes, a garden, and a private beach area, Riverhouse Lumo features accommodation in Ivalo with free WiFi and river views. Boasting free private parking, the holiday home is in an area where guests can engage in activities such as hiking, skiing and fishing. The holiday home has 3 bedrooms, a flat-screen TV, an equipped kitchen with a dishwasher and a microwave, a washing machine, and 1 bathroom with a bidet. Speaking English, Finnish and Swedish, staff at the reception can help you plan your stay. At the holiday home guests are welcome to take advantage of a sauna. Riverhouse Lumo has both a barbecue and a sun terrace, along with ski-to-door access and water sports facilities. Saariselka is 30 km from the accommodation, while Inari is 42 km from the property. The nearest airport is Ivalo Airport, 9 km from Riverhouse Lumo.
WHAT TO DO & SEE IN IVALO
Ivalo Trek Lapland offers individually organized excursions within the Ivalo and Inari districts. Trips are mainly organised for small groups. In the winter available Northern Lights and photographing excursions. In the summer hiking and photographing trips.
The expedition takes place in the beautiful nature of the north, Lapland's forests, on the Ivalo river and on the lake Inari. A soft, fun and comfortable ride in a warm army off-road vehicle offers you an unforgettable nature experience and access to the wilderness. We have also Northern Lights tours by car. Wildlife park excursion takes place in the beautiful nature of the north, Lapland's forests, on the Ivalo river and on the lake Inari. On the way you can see wild animals in their natural habitat. The vehicle's large roof and side windows provide you with the opportunity to enjoy the Northern Lights and the scenery in an easy way. Have you ever dreamed of meeting Santa Claus? Northern Lights Riders allow you a memorable encounter with Santa Claus in the middle of nature.
Meet the huskies and go for a ride, discover the wonderful Finnish nature!
Greet the dogs and help get your sled ready. This ride is 4kms long and the whole adventure will last close to 45min. This safari can take place in the woods of Ivalo or on the frozen lake of Inari (depending on the weather conditions). Half-way during the safari: photo break for unique pictures with the Huskies and beautiful views. The safaris may also be organized at nightfall to get a chance to spot northern lights. They offer a pure experience in the heart of Finnish nature, bonding with our dogs and enjoy the landscapes.
Arctica Lapland Sami husky farm is located 280 kilometers far away from the arctic circle! They focus on personalized customer service together with the well-being of the arctic huskies, which makes their company popular in Lapland!
Overnight Aurora Adventure in Lake Inari
Chase The Northern Lights and spend the night in Aurora Island. Comfortable snowmobile-pulled sleigh is covered by warming reindeer hide and you can enjoy the ride to the frozen lakeside. Take a break in the silent beauty of the wilderness while looking at the magical Northern Lights.
Snowmobile Safari in Ivalo
Snowmobile safari, enjoy beautiful surroundings and lunch at Wilderness Camp in Ivalo River. Snowmobile driving experiences, track is planned to suit your skills. Experienced guide will give you good instructions on snowmobile handling before heading to thetrack.During this safari, you'll learn how to drive snowmobile along frozen Ivalo River, trail distance of 20 km each way, 40 km in total.
Lake Inari Ice Fishing Excursion
Try your fishing luck on the frozen lake and every participant gets their own ice fishing rod to fish. You will use either a worm or a maggot to catch the fish. Then, enjoy a lunch and hot drinks by the open fire. You can also just relax by the campfire and admire the beautiful arctic surroundings.
Wild Spirit Park is 8 km north of Ivalo on the main road towards Inari. In winter you can take a husky ride – arrange it through the Tourist Information Centre in Ivalo. The owners know each well cared for and friendly dog by name. They only take small groups, and you need your own warm clothing. The owners also rescue animals by buying them from fur farms, and for 8 Euro you can take a private tour with Tiina, the owner, to meet the rescued animals, followed by a nice hot cup of tea by an open fire in the little Finnish hut. The rescued creatures include an affectionate pair of wild boar, Arctic foxes, stoats, rabbits and a "raccoon dog" which has a face like a raccoon but is a canine.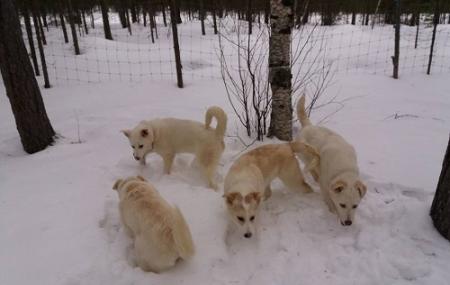 You'll have plenty of opportunity to check out these magical creatures,.whether it's by the side of the road while driving along, or at one of the activity places where you'll get an opportunity to pet them, take photos and even ride in a sleigh pulled by one.
Every day in winter there is a ski bus from Ivalo to the ski resorts in and around Saariselkä. Once the bus gets to Saariselkä it does a loop of the resorts on a hop-on hop-off arrangement. Don't miss the last "hop-on" before the bus returns to Ivalo!
Saariselkä is a small village surrounded by forest and cross country ski trails. You'll find numerous ski resorts, a small shopping center (Siula), some boutique shops, restaurants,cafes and a large department store and supermarket (Kuukkeli). The bus also goes to some other resorts just out of the village, including a downhill skiing and snow-boarding resort.