TORSTAI, 28. TOUKOKUUTA 2020
Ylläs is located in Finnish Lapland, 170 km north of the Arctic Circle. It is the dream destination for outdoor travelers and the gateway to the Pallas-Yllästunturi National Park, where the cleanest air in the world was measured in 2016 by the World Health Organization. Amid breathtaking mountain scenery, Ylläs is Finland's highest skiable fell. The seven fells surrounding the villages of Ylläs region, among them the eponymous Yllästunturi (719 m), give it a unique character of true Lapland. On either side are the villages Äkäslompolo, in a pretty lakeside setting, and smaller Ylläsjärvi. Both are typical ski-resort towns with top-end hotels, holiday cottages, charter flights and winter activities. Although, only a little over 1000 people live in the area, Ylläs offers very good services for travelers including cozy hotels, hostels, lodges and thousands of cabins scattered in the beautiful landscape. Ylläs is characterized by clean nature and tranquility, they shut down substantially in summer, when reindeer roam with impunity. Both villages are about 5km from their respective slopes.
BEST TIME TO VISIT YLLÄS
The best time to visit the ski area Ylläs in Finland is from june until august, when you will have a soft or pleasant temperature and limited rainfall. The highest average temperature in Ylläs is 19°C in july and the lowest is -9°C in january. The weather and climate of Ylläs is suitable for a winter sports. Ylläs has the continental climate prevailing. It is warm in the summer and cold in the winter.
The coldest season / winter is in the months of January, February, March, November and December.

The warmest month is July with an average maximum temperature of 19°C (66°F).

The coldest month is January with an average maximum temperature of -10°C (-4°F).

August is the most wet month. This month should be avoided if you are not a big fan of rain.

March is the driest month.
GETTING TO YLLÄS
Ylläs is located 150 km north of the Arctic Circle in Finnish Lapland, in Scandinavia. The Ylläs area consists of two original Lappish villages. Äkäslompolo village is located on the northern side of the Ylläs Fell and Ylläsjärvi village on the southern side.
By Flight - The nearest airport is Kittilä Airport – less than hour drive from Ylläs. There are two airline companies operating from Helsinki, Finnair and Norwegian. There are also direct connections from European cities during the winter season. Finnair has direct flights from Paris, Zürich and London to Kittilä. Lufthansa has flights from München to Kittilä. Distance from Kittilä airport to Ylläsjärvi village is 40 km and to Äkäslompolo village 55 km. From each flight there is a airport bus connecting to both villages. Alternatively you can fly to Rovaniemi, which is 170 km from Ylläs. From Rovaniemi there are shceduled buss connections to Kittilä and from Kittilä airport you can take the airport buss to Ylläs.
By Train to Kolari - You can reach Ylläs also by train from Helsinki. Board the night train in the evening, and in the morning you are already in Ylläs. You can also board the train along the route, like from Tampere or Oulu. Kolari railway station is 35 km from Ylläs and there is bus transportation from each train.
By Bus to Ylläs - There are bus connections to Ylläs across the country. Also Omnibus is operating an overnight bussline from Helsinki to Ylläs. Hopp on the buss in the evening and you are at Ylläs in the morning.
By Car - Naturally you can also drive to Ylläs. Even though we are above the arctic circle, our roads are in good condition. When traveling from south, take the route 21/E8 via Tornio to Kolari. Right after Kolari take right to road n.939 to Ylläsjärvi or drive another 10km and then turn right to road n.940 to Äkäslompolo. Another option is to drive via Rovaniemi to Kittilä on road n.79. After Killitä turn left to road n.939 to Ylläsjärvi. From Ylläsjärvi you can take the scenery road to Äkäslompolo.
Car rental is available for example in Kittilä Airport and Rovaniemi. Also pick up and drop down options are available with most of the companies.
GETTING AROUND YLLÄS
There is a Ski bus service during winter season. With the SkiBus you can also easily travel around Ylläs fell, from Äkäslompolo to Ylläsjärvi and back again. Several taxi companies operate in Ylläs area.
WHERE TO STAY IN YLLÄS
Offering a year-round outdoor hot tub, Aurora Estate is located in Ylläsjärvi in the Lapland Finland Region. The hotel has an outdoor fireplace in the summer and a private beach area. Free WiFi is offered throughout the property and free private parking is available on site. All rooms feature a flat-screen TV, a kettle and free toiletries. Certain rooms have a seating area where you can relax. Guests can enjoy dinner at the hotel restaurant.. It is open daily in the winter, and between Tuesday and Saturday in the summertime. Guests can enjoy various activities in the surroundings, including skiing, cycling and fishing. Cycling paths and cross-country skiing tracks are found just 200 m away from the property. Fishing is also possible in the lake by the hotel. Staff can help arrange activities and transfer service. The nearest airport is Kittilä Airport, 30 km from the property.
This hotel is located in the centre of the village of Ylläsjärvi, 100 m from Lake Ylläsjärvi. Surrounded by hiking, snowmobile and cross-country ski trails, it has a restaurant, a pub and free sauna facilities. Ylläs Lake Hotel's guest rooms feature a work desk and private bathroom. The in-house restaurant serves Finnish and international cuisine. Guests can play board games in the pub, which has a TV. Several other restaurants and shops are within a few minutes' walk. All guests have free access to ski storage and maintenance rooms. Other facilities include a TV room, a library and free parking. Organised activities on offer include guided hiking trips, river rafting and snowmobile safaris. Canoes, ice skates and snowmobiles are available for rent on site. A shuttle bus runs regularly between the Ylläs Lake Hotel and Ylläs Ski Resort, 4 km away. Kolari and Kittilä Airport are within 40 minutes' drive.
Lapland Hotels Äkäshotelli
The stunning location of Lapland Hotel Äkäshotelli is well-suited to cross country skiers and mountain hikers. Enjoy spectacular views of snow-covered fields and hills dotted with pine trees. Situated in the Lappish village of Äkäslompolo, Hotel Äkäshotelli is surrounded by 7 mountains that provide breathtaking scenery. The village is centred on a large lake and is sometimes better known by the ski resort name, Ylläs. All apartments have their own sauna and are located close to the hotel. All room rates include free use of the hotel's saunas and swimming pool. The hotel's Feelgood Gym offers services for health-conscious guests. Lapland Hotel Äkäshotelli has a foyer bar with a cosy fireplace and is popular with both locals and guests alike.
This peaceful hotel lies within 5 minutes' drive of Ylläs Ski Resort. Guests enjoy free gym and sauna access, as well as free private parking. A regular ski bus stops nearby. Free WiFi is available in public areas and rooms. All of Hotel Ylläsrinne's guest rooms include a TV, a refrigerator and a private bathroom with shower. Some rooms have a balcony with mountain views. Other facilities include a children's playroom, ski storage and ski care rooms. Hotel Ylläsrinne's guests can book activities, rent bicycles, fat bikes, snow shoes, winter clothing and kick sledges on site. Hiking and cross-country ski trails can be found in the surroundings, as well as the Pallas-Yllästunturi National Park.
Hotel Seita lies in the village Äkäslompolo, 6 km from Ylläs Ski Centre. It offers an on-site gym, pool and sauna facilities. The hotel offers guests free parking. Free WiFi is also available throughout the property. Hotel Seita's rooms are equipped with fridges, electric kettles and TVs. Wooden furnishings and a private bathroom with a hairdryer are featured in all rooms. A public internet computer is available in the hotel lobby. Other facilities at Seita Hotel include a heated ski service room, along with a bookable smoke sauna and outdoor hot tub. Staff will gladly assist in equipment rentals and suggest trails for cycling, skiing and hiking. The surrounding area also offers nice possibilities for fishing and canoeing. Ski buses for Ylläs Ski Resort stop right outside the hotel.
Lodge 67°N Lapland is located in the centre of Äkäslompolo and at the foot of Pallas-Yllästunturi National Park. Free WiFi and parking are available. Each room here will provide you with a TV, kitchenette, refrigerator and drying cabinet. A shower and bidet come with the private bathrooms. At Lodge 67°N Lapland you will find a shared sauna, common lounge, gym room and free bicycles to borrow. A ski maintenance room is also found on site. The surroundings have many opportunities for outdoor activities, including skiing, cycling and fishing. Ylläs gondola lift is 5 minutes' away, and Kellokas Nature Centre is 2.4 km away. Kittilä Airport is 50 km away.
Offering 5 log cottages by Ylläs Mountain, Tunturioravat is a 5-minute walk from central Äkäslompolo. All cottages have wooden interiors, free Wi-Fi access and a private sauna. Ylläs Ski Resort is 2.7 km away. A seating area, flat-screen TV and a large stone fireplace can be found in all cottages at Tunturioravat. Kitchen facilities include a stove, fridge and dishwasher. All cottages have bathrooms with a tiled floor and a shower. Guests have access to a 300 km network of ski trails, just 150 m from the cottages. A convenient ski storage room is also located on site. The bus for Ylläs Ski Resort stops 50 m from the property. Jounin Kauppa Shopping Centre is an 8-minute walk away. The visitor centre for Pallas–Yllästunturi National Park is 2 km away.
Offering ski-to-door access next to Ylläs Ski Resort, this property is 100 m from the Iso-Ylläs ski lift. It features spacious rooms with a drying cabinet and flat-screen TV. Modern, self-catering apartments with private saunas are also available. Some of Lapland Hotel Saaga's wood furnished rooms have a balcony and tea/coffee facilities. Apartments offer a microwave and seating area. Breakfast is served every morning at the hotel. Drinks can be enjoyed in the wintertime Icebar or the Saaga Fireplace Bar, which provides scenic mountain views. The Saaga Arctic Pool Bar is next to the indoor swimming pool. There is also a bistro and à la carte restaurant. A hot tub, sauna and steam bath are available in Lapland Saaga's spa and wellness centre. Activities arranged include bicycle rental, water gymnastics and Frisbee golf. Taiga Pub & Kitchen offers evening entertainment, music and artist events. Central Kolari is 45 minutes' drive away, while Kittilä Airport is 40 km from the property.
Situated in Äkäslompolo, 6 km from Jokeri-Pokeri, Kuerkievari KuerHotel features accommodation with a shared lounge, free private parking and a garden. 6 km from Perhe Ski Lift and Kulkuri, the hotel offers ski storage space. The accommodation provides a shared kitchen and free WiFi throughout the property. The rooms in the hotel are fitted with a kettle. At Kuerkievari KuerHotel rooms include a wardrobe, a flat-screen TV and a private bathroom. Guests at the accommodation will be able to enjoy activities in and around Äkäslompolo, like hiking, skiing and cycling. Dondo is 6 km from Kuerkievari KuerHotel, while Ankkurinappi is 7 km from the property. The nearest airport is Kittilä, 53 km from the hotel, and the property offers a paid airport shuttle service.
WHAT TO DO IN YLLÄS
As the recipient of Finnish Outdoor destination of the year 2019 award Ylläs in Finnish Lapland is truly a paradise for any outdoor enthusiasts.
A summer full of adventures
Hiking, biking, fishing, canoeing, riding – the list of possible activities during summer is endless as well. By conquering the Kukastunturi fell, you can enjoy great mountain biking experiences surrounded by the Finnish taiga. If you like the speed, you should visit Ylläs Bike Park, the place for downhill biking.
The challenging Ylläs-Levi mountain bike trail is also very popular. Hikers enjoy the vastness of the Pallas-Yllästunturi National Park on nature trails. Ylläs has a large number of lakes, rivers, ponds and creeks which provide best conditions for fishermen.
The Tornio-Muonio River, one of Europe's best salmon rivers, is only a short distance from here. Paddling with canoes or kayaks is possible on the river of Vähäjoki and Äkäsjoki or on the lakes of Ylläsjärvi and Luosujärvi.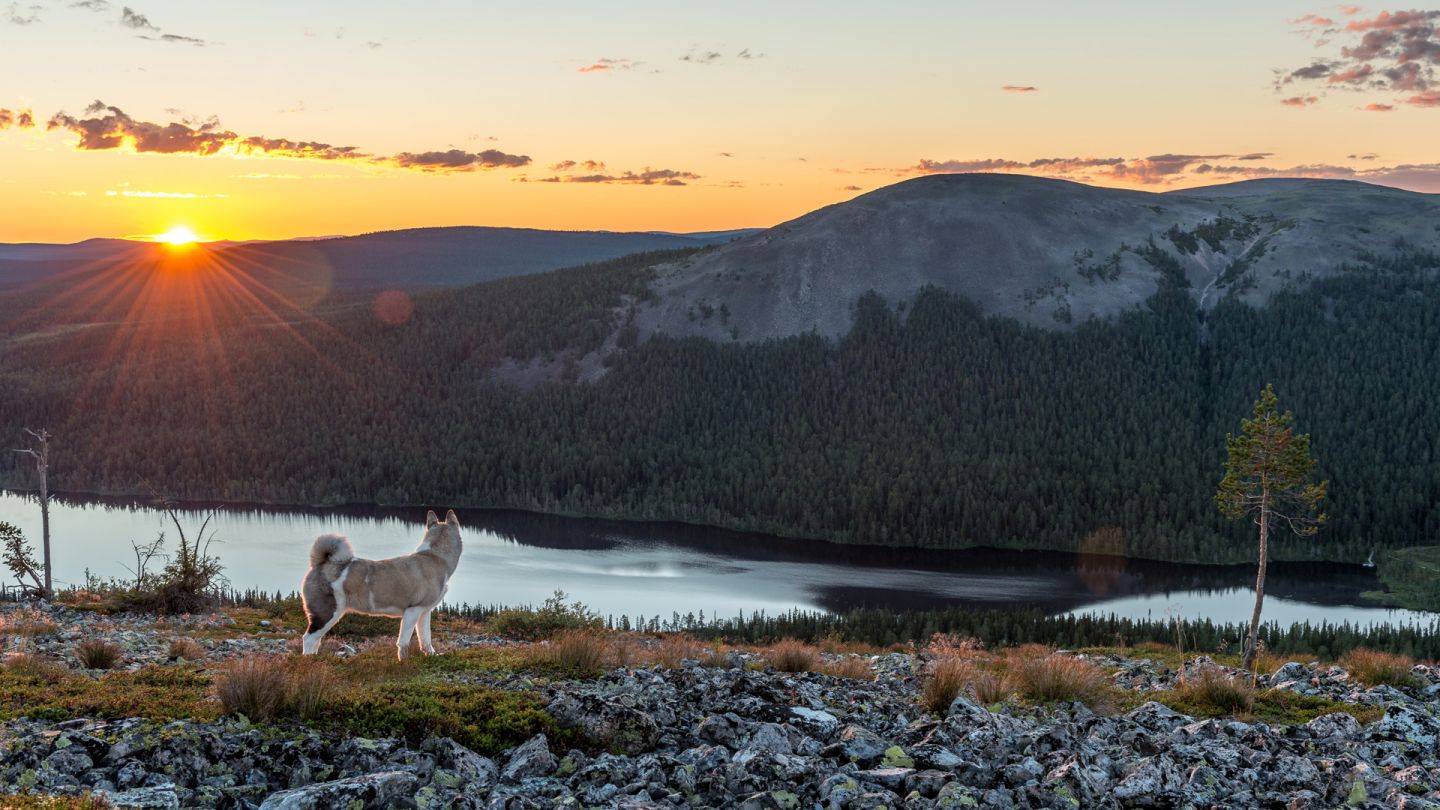 Winter experience in Ylläs
During the cold season, Ylläs is breaking all records: With 68 slopes and 28 lifts, it has the largest ski resort in Finland. The 3-km-long slope "Jättipitkä" is the country's longest ski run. Furthermore, you can discover the world's one and only sauna gondola.
With 330 km of first-class tracks, Ylläs is home to one of the most extensive cross-country track networks in the world. There are countless routes of which 38 km can be illuminated. Local guides will tell you stories about the fell region and its inhabitants when you take part in a snowshoe tour through the untouched nature.
A faster alternative is a snowmobile safari – 410 km of prepared snowmobile tracks are waiting to be discovered. Have you ever visited a husky or reindeer farm and dared to tide a sled? Another popular activity is winter biking: Your fatbike will carry you smoothly over the snowy trails.
ACTIVITIES TO DO IN YLLÄS
The Ylläs mountain bike trails have a range of difficulty levels. You can enjoy some of the finest mountain biking experiences available, by conquering the Kukastunturi fell. Surrounded by Finnish taiga, this fell offers fast trails and stunning scenery. The long-awaited Ylläs-Levi mountain bike trail, which runs through the Pallas-Ylläs National Park, was opened in the summer of 2015. It has been possible to drive in certain parts of the Pallas-Ylläs National Park since June 2017, and several other cycling routes and destinations are located nearby.
It's unknown exactly how far back ice swimming goes in Finland, but we do know that it has been practised since at least the 17th century. Possibly, it's just as old as the sauna tradition. The first ice swimming clubs were founded in the country during the 1920s. For a long time, ice swimming was generally only done by seniors (especially since it is good for arthritis), but it has recently experienced a resurgence in popularity, with more and more young people opting to go for a dip every day during the winter.
Ylläs is proud of its scenery and nature. The National Park of Pallas-Yllästunturi protects the seven fells profile and the hikers. Most of the nature trails and routes are located in the park and they will take you to the most beautiful sceneries and sights. Take a closer look!
Ylläs has great fishing spots for every season. Whether you want to fish in flowing water, in a clear mountain lake or a small forest pond, Ylläs is your choice. Ylläs has countless lakes, ponds, rivers and small creeks to which put in real test your fishing skills. And Ylläs is only a short drive from one of Finland's best salmon rivers, the Tornio-Muonio River.
You can paddle with canoes or kayaks in Ylläs. You should always have the life saving vests, paddles, water-proof bag and a hand bailer with you. Sopivia melontajokia ovat esim. Ylläsjärvestä laskeva Vähäjoki, josta muodostuu alempana Ylläs-, Lainio- ja Äkäsjoki sekä tietysti Tornio-Muoniojoki.
Children should play as much as they want. You can have the variety for children during your holiday by visiting the different playgrounds. There are playgrounds in Ylläsjärvi village near Eelin Kauppa supermarket and also in the Iso-Ylläs ski resort. In Äkäslompolo village there is a playground in Äkäslompolo elementary school and on the courtyard of Mailan Putiikki shop.
It is possible to ride in Ylläs throughout the whole year. A day trip in the fresh summer forest, or crispy autumn weather or just for a few hours in the winter wonderland with the almost silent sound of the horse is one of those unforgettable experiences.
Riding tours will take place in all weather conditions and over different terrain, depending, of course on the rider's experience. There is plenty to choose for beginners and experts and even the "horse-crazy" people will be able to choose an ideal riding tour.
There is a 18 hole disc golf course located in the Sport Resort Ylläs, which is behind the Lapland Hotel Saaga. The length of the course is about 1 km and the altitude difference is about 80 m, the longest fairway is 250 m downhill. When the extension is finished the course distance will be about 2.5 km and the altitude difference will be 150 m. Holes 1 to 5 can be played as a family course. Discs can be hired out from different companies such as Jemes Sport and Head Ski Shop.
Discover the winter magic on Husky Safari
It is difficult to hear anything from the loud barking of the husky dogs. Huskies are even more eager than you to get on the tour. For them it's work that matters in life - and the pats and hugs from people. Once everyone has found their place in the sledge, it is time to take off. In seconds the barking stop. And silence arrives. All you can hear is the soft swoosh of the sleigh and panting of the dogs. Around you opens the magical nature of Finnish Lapland.
If you want to experience the white silence and explore the unbeaten paths of the arctic, snowshoeing is the way. Snowshoeing is suitable for everyone despite your age or fitness level. If you are looking for more tranquil walk, you can just slow down the pace, look for gently sloping hills or follow the marked trails. Which Ylläs has plenty - over 50 kilometres in the close by national park and surrounding areas. With snowshoes you are really in the nature. Stop in the middle of nowhere, breath in cleanest air in the world and let the white silence enchant you.
Winter mountain biking in the pristine nature
Ride through the snowy forest in the national park and conquer the close by mountains. Enjoy the breath-taking views and breath in worlds cleanest air. Take a break at wilderness café for warm lunch. Stop in the middle of the forest and listen to the arctic silence. This is the perfect day of winter biker. We recommend to book a guided tour with one of our local guides. They will tell you all the secrets of winterbiking and show you a safe way to explore the Lappish wilderness. But be careful, you might get hooked on it!
If you like to feel the speed, are into driving a motorized vehicle and ready to venture into the snowy wilderness, then snowmobiling is the adventure for you. Snowmobile safari, whether you do it during daytime or aurora hunting at night, is an experience you will not forget. Snowmobiling is suitable for families as well as adventurous adults. Just pick the right type of safari below and off you go! After a guided safari, the most adventurous ones can rent a snowmobile and explore the arctic forest on their own.
Ylläs is home to the longest runs in Finland. With 63 slopes and 29 lifts Ylläs is the largest resort in Lapland and Finland. Ylläs also has excellent snowpark areas, super-G slope and off-piste slopes. For snowboarders Ylläs is a dream come true with many possibilities. Ylläs is also one of the most popular places among telemark skiers and off-piste skiers with several fells of untouched snow.
Ylläs is a skier's oasis. There are total of 330 km of mechanically prepared trails are available and 38 km of these are illuminated. The great fells are easy to reach also for beginners. The trails are arranged so that the route can be changed as desired, therefore giving countless alternatives in the beautiful nature. There are so many different routes that you can choose a new one every day. Many of the tracks take you inside the Pallas-Ylläs National park where the pure nature is carefully preserved.
Gondola in the summer and in the winter
The "Ylläs 1" gondola lift is the pride of Sport Resort Ylläs. It is foremost among ski lifts in Finland, by any measure. It can carry guests two kilometres to the top, to an altitude of 719 metres, in as little as seven minutes! The rise to the top with the gondola offers a breathtaking view of the landscape. It also offers guests an excellent opportunity to plan their next descent from a bird's eye view. Taking the gondola only requires a regular ski pass. Guests can also buy a round-trip pass. With a round-trip pass guests can ride up to the top, admire the view, perhaps visit the Ylläskammi café restaurant for some refreshments, and then take the gondola back down. In the summer time, the gondola is popular with hikers and downhill bikers, and in spring hang-gliders come for the spring winds.