PERJANTAI, 22. TOUKOKUUTA 2020
Kemi is a town in Finnish Lapland, at the northernmost tip of the Gulf of Bothnia. The surrounding countryside is Keminmaa.
Kemi is an important deep-water harbour and heavy-industry town. It's home to two of Finland's blockbuster winter attractions – a snow castle and an ice-breaker cruise – while summer diversions include a gem museum and a wide waterfront where you'll find a handful of kid-friendly activities at Santa's Seaside Office.The SnowCastle has been a source of pride for the townspeople since its inception in 1996. As the structure is rebuilt each winter by specialised craftsmen, the SnowCastle is never the same size or in the same design from year to year. In addition to suites decorated with beautiful ice art, the complex includes a snow restaurant and snow chapel as well as ice art exhibitions outside.
Another unique highlight in Kemi is the Sampo Icebreaker, which was repurposed as a tourist ship in 1988 after nearly 30 years of clearing shipping lanes in the Baltic Sea. During winter months, visitors can board the Sampo for day-cruises through the icy waters and even experience an "arctic swim" in thermal flotation suits. Historically an industrial port city, it has also become a popular winter destination for activities such as snowmobiling, dog sledding, visits to reindeer farms, northern lights viewing and overnights in snow hotels.
BEST TIME TO VISIT KEMI
The best time to visit Kemi in Finland is from june until september, when you will have a very cold or pleasant temperature and limited rainfall. The highest average temperature in Kemi is 18°C in july and the lowest is -7°C in january. The water temperature is between 0°C and 20°C. The weather and climate of Kemi is suitable for a winter sports.
Spring (March through May)
Humidity and temperatures combine to make this season feel very cold. Highs range from 58.9°F (14.9°C) and 27.1°F (-2.7°C) with far warmer temperatures in the later months. Rain is nonexistent with roughly 0 days of significant precipitation per month. Spring is the second busiest for tourism, which makes it a good time for those looking for things to do.
Summer (June through August)
The middle-year months have comfortably cool weather with high temperatures that are brisk. These months see moderate precipitation with 0 to 1 days of precipitation per month. June – August is the busiest season for tourism in Kemi, so lodging and other accommodations may cost more than usual.
Fall (September through November)
Fall daily highs range from 58.3°F (14.6°C) and 31.3°F (-0.4°C), which will feel chilly given the humidity and wind. It rains or snows a barely noticeable amount: 0 to 1 days per month. Tourism is the slowest during these months due to the weather, so hotels may be affordably priced.
Winter (December through February)
Weather is far too cold this time of year in Kemi to be enjoyable for warm weather travelers. The average high during this season is between 30.9°F (-0.6°C) and 20.3°F (-6.5°C). On average, it rains or snows a insignificant amount: consistently 0 times per month. These times of year are fairly slow with tourists.
GETTING TO KEMI
By plane - Kemi - Tornio Airport (KEM ). 6 km (3.7 mi) from the city. Finnair has one or two daily flights from Helsinki, flights taking about one hour.
By train - Kemi is the end of the line if heading west, towards Sweden; there are no passenger services across, as the rail ways is different. Within Finland, trains to Rovaniemi take about 1½ hours, while a trip all the way to Helsinki, fairly comfortable if done in a sleeper overnight, is 9 hours.
By bus - Buses head towards the Swedish border at Tornio/ Haparanda (30 min) and onward to Lulea(2½ hr), where you can reboard a train. Buses on this area are free with most rail passes.
By car - Kemi is a little north of the mid-point of highway 4 connecting Helsinki to Utsjoki (near Nuorgam at the northernmost point of the country); from either of these it's about 9 hours of driving depending on the road conditions. Oulo and Rovaniemi drive to Kemi is over an hour away along the same highway, and about half an hour to the west is Tornio with road connections from Sweden and Kilpisjarvi.
GETTING AROUND KEMI
You can get around Kemi by walking, biking or by bus, local bus lines Heiskasen Liikenne operates in Kemi with just a few departures a day, and aside of these your options for getting around without walking are driving or taking a taxi.
WHERE TO STAY IN KEMI
Hotelli Toivola
Set in Kemi, Hotelli Toivola features a bar, shared lounge, garden, and free WiFi throughout the property. Featuring family rooms, this property also provides guests with a terrace. The accommodation offers a shared kitchen, room service and luggage storage for guests. Continental and buffet breakfast options are available every morning at the hotel. Hotelli Toivola offers a sauna. The area is popular for skiing and cycling, and car hire is available at the accommodation. Haparanda is 30 km from Hotelli Toivola, while Tornio is 28 km away. The nearest airport is Kemi Tornio Airport, 12 km from the hotel.
Putiikkihotelli Kemi 1932
Located in Kemi, Putiikkihotelli Kemi 1932 features a bar, garden, terrace, and free WiFi throughout the property. Private parking can be arranged at an extra charge. Guest rooms in the hotel are equipped with a kettle. A continental breakfast is available daily at Putiikkihotelli Kemi 1932. Haparanda is 30 km from the accommodation, while Tornio is 28 km away. The nearest airport is Kemi Tornio Airport, 11 km from Putiikkihotelli Kemi 1932.
Hotel Yöpuu is in southern Kemi, next to European Route E8 and a 5-minute drive from the city centre. It offers international cuisine, free sauna access and free parking. All guest rooms at Yöpuu Hotel have a TV and a private bathroom. Many rooms feature a seating area, and some also include a kitchenette and a private sauna. Yöpuu's staff can help guests book snowmobile safaris and other activities. Hotel Yöpuus is just 3 minutes' drive from the Kemi SnowCastle Theme Park. The Sampo Arctic Ice Breaker is 8 km away.
Hotel Merihovi is situated in central Kemi, 500 m from Kemi Station. Guests enjoy free Wi-Fi, free parking, a sauna and rooms with cable TV. Kemi Art Museum is a 3-minute walk away. All the rooms at Hotel Merihovi have a TV, tea and coffee maker and a bathroom with either bathtub or shower. Some suites include a private sauna. The Art Deco-style Restaurant Merihovi is a member of the Chaîne des Rôtisseurs society and serves à la carte dishes. Sea food is offered at Restaurant Rantamakasiini. The Kemi Theatre is 350 m from the hotel. Kemi Church is a 5-minute walk away.
Only 200 m from the Kemi Bus Station and 500 m from the train station, Hotel Palomestari offers functional accommodation with free breakfast, WiFi and parking. It also features the on-site Olutravintola Polt bar and free sauna access. Each guest room at Hotel Palomestari includes cable TV. All of the town's main sights and attractions are within walking distance. Hotel Palomestari has conference facilities.
This hotel is situated by the Gulf of Bothnia, less than a 20-minute walk from the Kemi SnowCastle. It offers 3 saunas, an indoor swimming pool, as well as an on-site restaurant and bar. Free WiFi is available. All rooms at Scandic Kemi have wooden floors and classic décor. Scandic Kemi's restaurant serves dinner and drinks in a cosy environment. Guests can also enjoy a wide selection of beverages in Old Gringo's relaxed pub setting. A breakfast buffet is served daily at the hotel. The 24-hour reception staff at Scandic Kemi will gladly recommend adventure safaris, restaurants and attractions, such as the Sampo Arctic Ice Breaker. Kemi Train Station is 1 km away from the hotel. Kemi-Tornio Airport is 6 km from the property.
Made entirely out of ice and snow, Snow Hotel in Lumilinna offers guest rooms with an average temperature of -5°C. Central Kemi is 500 m away. Free WiFi is available in the castle lounge. All rooms at Hotel Snow feature beds covered with lamb skin and sleeping bags with fleece interiors. Some rooms are decorated with ice carvings. Each room has access to shared bathroom facilities by the heated castle lounge. The whole property is an experience, featuring the Snow Castle, the Snow Chapel for weddings, several sculptures with light effects as well as the Gemstone Gallery and Snow Castle Exhibition. A weekly programme offers different activities and experiences for guests to choose from. A gift shop is also located in the hotel. Breakfast is served each morning in the heated castle lounge. Other meals and drinks can be enjoyed at the Snow Restaurant & Bar.
Set in Kemi, HOSTEL TOIVOLA has a bar. Among the facilities at this property are a shared kitchen and a shared lounge, along with free WiFi throughout the property. Free private parking is available and the hostel also offers car hire for guests who want to explore the surrounding area. All guest rooms feature a private bathroom with a bidet and a hairdryer. Guests at the hostel can enjoy a continental breakfast. Guests at HOSTEL TOIVOLA will be able to enjoy activities in and around Kemi, like hiking. Haparanda is 30 km from the accommodation, while Tornio is 28 km from the property. The nearest airport is Kemi Tornio Airport, 12 km from HOSTEL TOIVOLA.
Kemi city near snowcastle
Featuring free WiFi, Kemi city near snowcastle is situated on the beachfront in Kemi. Boasting a balcony, the apartment is in an area where guests can engage in activities such as skiing, cycling and fishing. The apartment has 1 bedroom, a flat-screen TV with cable channels, an equipped kitchen with a dishwasher and a microwave, a washing machine, and 1 bathroom with a shower. Haparanda is 31 km from the apartment, while Tornio is 29 km from the property. The nearest airport is Kemi Tornio Airport, 11 km from Kemi city near snowcastle.
Offering a sun terrace and sauna, Hostel Villa Kemi is located in Kemi in the Lapland Region. Both the the Kemi Snow Castle and Kemi Train Station are within 750 m of the property. Free parking is available as well as a free sauna. Free WiFi is available at Hostel Villa Kemi. Some rooms have a private bathroom, while others have access to several shared facilities. All rooms feature a fridge. There is a shared kitchen at the hostel, along with a billiard table. A breakfast package is delivered to your room fridge for an extra fee. Free coffee and tea are available. Haparanda is 23 km from Hostel Villa Kemi, while Tornio is 23 km away. Kemi Tornio Airport is 6 km from the property.
THINGS TO DO IN KEMI
Have you ever visited a new place and felt 'wow' about it? Kemi is a smaller but beautiful upcoming tourist destination that is worth a visit. You will be surprised by some of the unique things to do and places you can explore at this hidden destination.
Sampo was used as an icebreaker by the Government of Finland till 1987. It was then converted into a tourist attraction. Today, it is one of the popular visiting spots amongst locals as well as tourists in Kemi. It is an adventurous experience to see thousands of tons of steel crushing the mighty ice in the frozen sea. The restaurant is located on the ship itself. And when you take a tour, you will visit this too. It is a majestic experience to eat delicious food while admiring the stunning beauty of the water. The dining hall will remind of the old movies you must have seen. Visiting this icebreaker and taking a tour is something you should not miss.
Few things conjure fairy-tale romance like a snow castle. First built in 1996 as a Unicef project, this is a Lapland winter highlight and a favoured destination for weddings, honeymoons, and general marvelling at the ethereal light and sumptuously decorated interior. The design changes every year but always includes a chapel, a snow hotel, an ice bar and a restaurant (lunch menus €26, dinner menus €51 to €58; by reservation 11am to 2pm and 7pm to 9.30pm).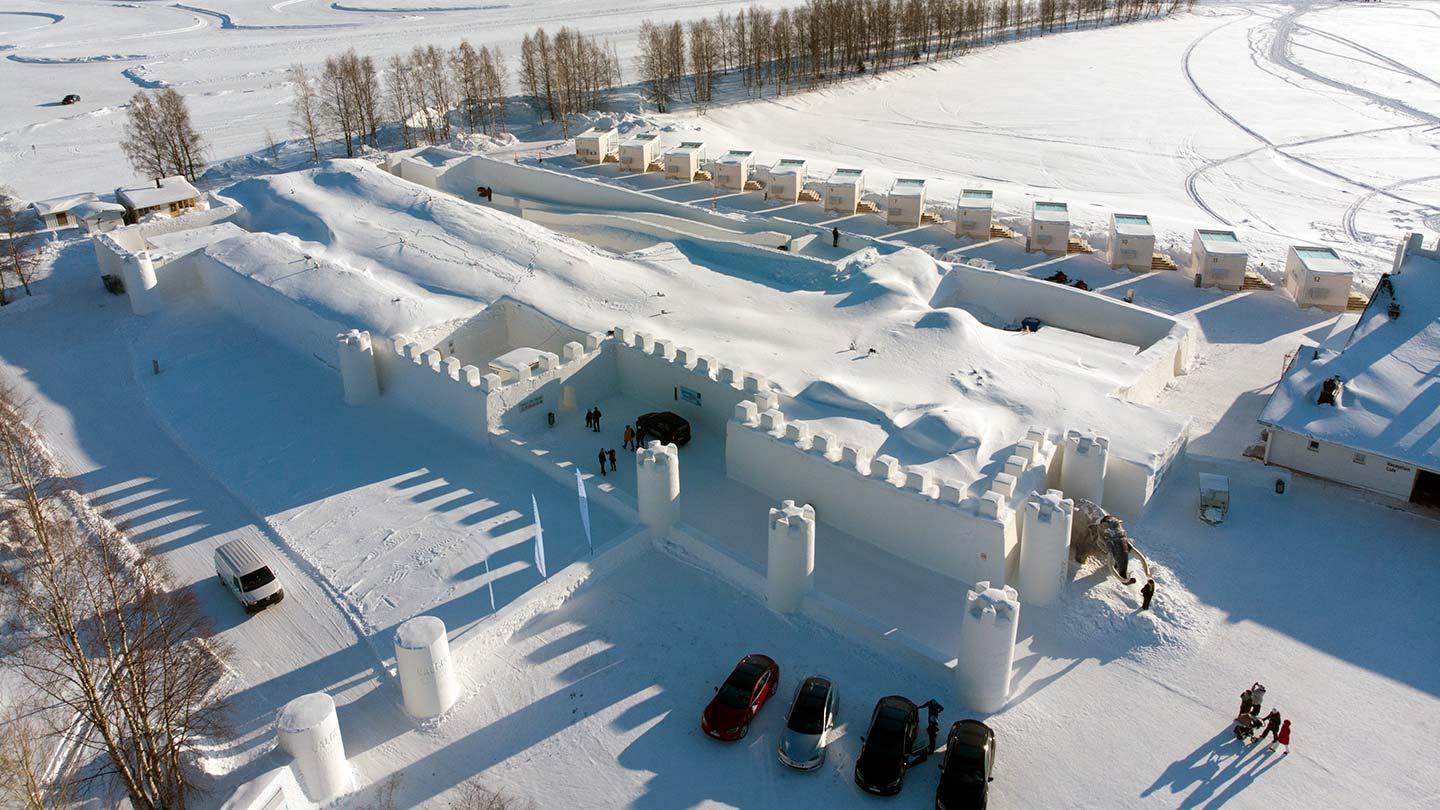 More than 3000 beautiful, rare stones and jewellery from 60 countries are displayed at the Gemstone Gallery, set in an old seaside customs house. Stones are on the ground floor; the upper floor contains exhibits such as replicas of famous diamonds. Interpretive information is in English and Finnish.
Kemi's cold climes make for the perfect skiing destination you will find fantastic ski resorts and places to learn and to practice through the winter months. As well as traditional downhill runs, a popular sport in winter is cross-country skiing, as to get around anywhere you need to be able to handle yourself on a pair skis in this extreme climate.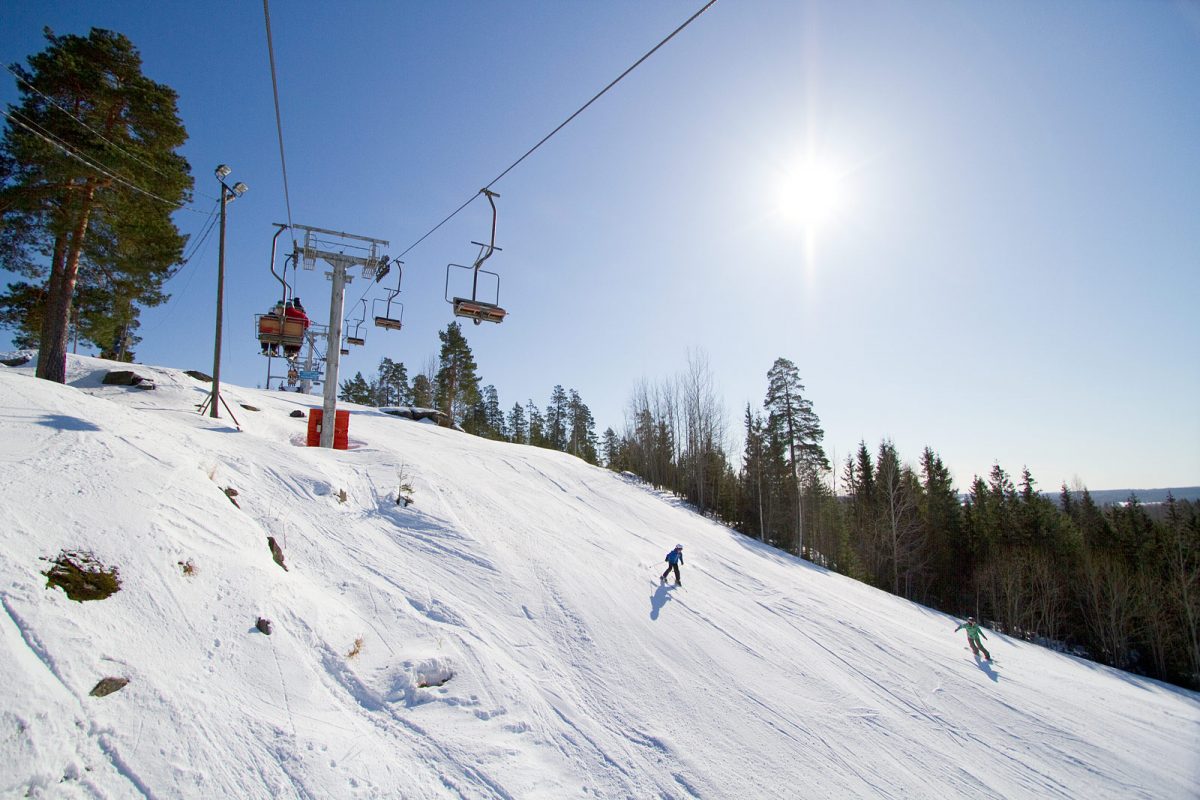 The Polar Explorer Icebreaker Cruise – The most popular tours!
Have a day tour to Sweden, which border is in only 30 km away. The Polar Explorer Cruise is a 3h Icebreaker cruise, that will give you a unique Arctic experience on the Gulf of Bothnia. The union of the majestic steel, ice and the sea will be unlike anything else you've ever expected. You will also pass small Swedish villages and towns and have a lunch in one of them. Imagine white frozen sea which never storms. The sea water is covered with solid ice. Not to mention the view, which consists of endless whiteness as far as you can see. The sound of crackling ice, broken ice slices rise from the icebreaker bottom letting and dark water splashing out.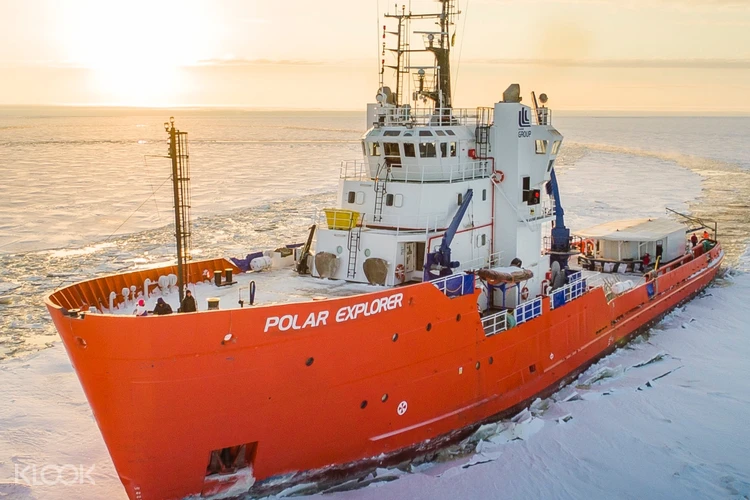 Kemi's newest attraction, opened in 2017, is Santa's Seaside Office – a collection of cute red-painted timber buildings overlooking the waterfront, which house a gift shop, a cafe and, from Thursday to Saturday afternoons, Santa himself. Activities include writing a letter to Santa and sealing it in a bottle, elf sailor workshops and gingerbread decorating. Prices for individual activities vary.
Panorama's great-value lunch buffet includes home-brewed beer. Dishes like arctic char and potato bake, wild-mushroom soup, reindeer meatballs with turnip mash, and elk sausages with cranberry sauce are delicious, but the ultimate reason to head up to the 13th floor of Kemi's town hall is for its sweeping views over the Bay of Bothnia from the dining room and terrace.