TORSTAI, 21. TOUKOKUUTA 2020
Glorious Åland Archipelago is the sunniest spot in northern Europe and its sweeping white-sand beaches and flat, scenic cycling routes attract crowds of holidaymakers during summer. Yet outside the lively capital, Mariehamn, a sleepy haze hangs over the islands' tiny villages: finding your own remote beach among the 6500 skerries (rocky islets) is surprisingly easy. A lattice of bridges and free cable ferries connects the central islands, while larger car ferries run to the archipelago's outer reaches.
Åland's autonomous status means that the island group has its own government, language and cultural policy. Since 1922, Åland has had its own parliament as well as a representative in the Finnish national parliament. Finnish legislation applies in matters concerning foreign policy, civil and criminal law, customs and monetary policy.
Åland is great for touring on a bike. Roads are flat and ferries and bridges link the numerous islands together. Everywhere is suitable for families and the sightseeing starts as soon as you hop on your bike. Bikes can either be brought over on the ferry or rented in Mariehamn.
And yet, Åland is a geopolitical anomaly: it is Finnish owned and Swedish speaking, but it has its own parliament, flies its own blue, gold and red flag, issues its own stamps and uses its own web suffix: 'dot ax'. Its 'special relationship' with the EU means it can sell duty-free and make its own gambling laws.
BEST TIME TO VISIT ÅLAND
For me the best time to visit Åland Islands is from july until september, when you will have a soft or pleasant temperature and limited rainfall. The highest average temperature in Åland Islands is 18°C in august and the lowest is 0°C in february. The weather and climate of Åland Islands is suitable for a winter sports.
Spring (March through May)
Humidity and temperatures combine to make this season feel moderately cold. Highs range from 61.9°F (16.6°C) and 36°F (2.2°C) with warmer temperatures in the later months. Rain is somewhat common with 4 to 6 days of significant precipitation per month. Spring is the second busiest for tourism, which makes it a good time for those looking for things to do.
Summer (June through August)
The middle-year months have comfortably cool weather with high temperatures that are comfortable. These months see moderate precipitation with 5 to 8 days of precipitation per month. June – August is the busiest season for tourism in Mariehamn, so lodging and other accommodations may cost more than usual.
Fall (September through November)
Fall daily highs range from 63.3°F (17.4°C) and 38.3°F (3.5°C), which will feel chilly given the humidity and wind. It rains or snows a significant amount: 9 to 10 days per month. Tourism is fairly slow during these months due to the weather, so hotels may be lower priced.
Winter (December through February)
Weather is far too cold this time of year in Mariehamn to be enjoyable for warm weather travelers. The average high during this season is between 37.6°F (3.1°C) and 30.6°F (-0.8°C). On average, it rains or snows a fair amount: 7 to 12 times per month. These times of year are the slowest with tourists.
GETTING TO ÅLAND
The Åland Islands are situated in the heart of Scandinavia, midway between Stockholm and Helsinki. Most people find the boat trip impressive. You can see Sweden's, Finland's and Åland's archipelagos on the way, as well as enjoy good food and entertainment onboard. The shortest route from Sweden leaves from Grisslehamn or Kapellskär outside Norrtälje and takes two hours. From Stockholm there are several route variations. From Finland you can travel on the ferries from Turku, Naantali and Helsinki. If you are travelling from Estonia you would opt for Tallink Silja from Tallinn. For travellers from Finland, the beautiful sea route by Ålandstrafiken's ferries is also an alternative, especially if you plan to visit one of the six Åland archipelago municipalities. The archipelago ferries depart from Osnäs or Galtby near Turku. Especially in the summer it's important to make your reservations well in advance.
Flying to Åland is a quick and convenient alternative. Your flight is via Helsinki, Turku or Stockholm. It takes just half an hour both from Stockholm/Arlanda (Sweden) and from Turku, and less than an hour from Helsinki/Vanda (Finland). Once you are in Åland, the international airport is just five minutes by car from central Mariehamn.
GETTING AROUND ÅLAND
It is easy to get around the Åland Islands, both by land and sea. The furthest distance between east and west on the main Åland island is no more than 50 km. The ground rules are simple: all islands that are inhabited have ferries and paths. If you want to get to the other islands you are best off going by boat. The Åland Islands are known as cycle-friendly islands. The short distances from A to B make them excellent for cycling. The fact is that a large part of the Åland experience is to get out to the islands, to the small villages.
Public transport in Åland includes buses, archipelago ferries and taxi connections in the archipelago municipalities. Buses and taxis in Åland use vehicles with good accessibility features. Low-floor buses will be introduced from 2018, even in the countryside.
WHERE TO STAY IN ÅLAND
Situated in Västansunda, Granlunda Gårdshotell has a garden, shared lounge, BBQ facilities, and free WiFi. Boasting a shared kitchen, this property also provides guests with a sun terrace. The rooms are equipped with a patio. At the hotel, every room is equipped with a desk. At Granlunda Gårdshotell rooms have air conditioning and a private bathroom. The accommodation offers a continental or buffet breakfast. Mariehamn is 12 km from Granlunda Gårdshotell. The nearest airport is Mariehamn, 6 km from the hotel, and the property offers a paid airport shuttle service.
Located next to the Pommern Museum Ship in Mariehamn, this hotel features indoor and outdoor pools, a sauna and a garden terrace. A well-equipped gym is available for guests free of charge. All rooms at Hotel Cikada have free WiFi, a writing desk and cable TV, while some also have a balcony. Room rates include a daily morning sauna and swim. Cikada's à la carte restaurant offers a varied dinner menu. In summer, guests can enjoy meals and refreshments on the poolside terrace. The Viking Line Ferry Terminal, which offers daily connections to Stockholm and Helsinki, is 700 m away.
Brudhäll Hotel & Restaurant
Brudhäll Hotel & Restaurant in Kökar provides accommodation with a terrace, a shared lounge and a bar. This hotel offers luggage storage space and free WiFi. Guests can make use of on-site dining. At the hotel, the rooms have a wardrobe. The rooms are fitted with a private bathroom fitted with a bath or shower, while certain rooms here will provide you with a kitchenette. A continental breakfast can be enjoyed in the breakfast area. Brudhäll Hotel & Restaurant offers a sauna. A variety of popular activities are available in the area around the accommodation, including cycling and hiking. The nearest airport is Mariehamn Airport, 61 km from the property.
Offering a restaurant, garden and terrace, this seaside hotel is located in Eckerö, on Åland's west coast. Free WiFi access is available. Havsbandet Pensionat's rooms have a desk or seating area, wooden floors and a wardrobe. The bathroom comes with a shower, hairdryer and free toiletries. You can enjoy sea or garden views from the rooms. At Havsbandet Pensionat you will also find a sauna and shared lounge. During high season, the hotel also has a popular restaurant. The property offers free parking. Eckerö Golf is 5 km away and Mariehamn Airport is reached in 30 minutes' drive.
Located on Åland's northern coast, this waterfront hotel offers free WiFi and a seasonal summer restaurant with sea views. Guests can enjoy the rocky cliffs and swimming from the private shore and jetty. HavsVidden Resort offers both modern guest rooms and luxurious, self-catering villas. The bright guests rooms are furnished with a flat-screen TV, work desk and wooden floors. The self-catering villas feature a spacious pine terrace and large panorama windows which offer an airy feeling. There is a fully equipped open plan kitchen and dining area, as well as a living room with a flat-screen cable TV. Open from March until October, the on-site restaurant offers locally produced specialities and international cuisine. During warm months, breakfast and a terrace menu can be served outdoors. Guests wishing to dine in the restaurant are asked to make a reservation. During summer, HavsVidden Resort offers a selection of relaxation options including an indoor swimming pool, 2 saunas and a hot tub overlooking the sea. HavsVidden Resort's staff can arrange area activities, such as cycling and kayaking. Åland's Golf Club is a 40-minute drive away. Free private parking is available on site.
Located in Mariehamn's centre, this Åland hotel offers live music events, free parking and free WiFi. Torggatan shopping street is just around the corner. Park Alandia Hotel's rooms feature cable TV, a writing desk and private bathroom. They are classically decorated and have wooden floors. Guests can enjoy a meal at the bar. In the summer, refreshments are served on the terrace. Staff at Park Alandia can help with booking tickets for events and activities. Shops and restaurants are found within walking distance. The Viking Line Ferry Terminal is less than 15 minutes' walk from Hotel Park Alandia. The Åland Museum and Åland Art Museum are within 300 m.
Located only 300 m from the waterfront in central Mariehamn, Hotel Pommern offers WiFi and free private parking on site. Cable TV, a desk and ironing facilities are found in all rooms, as well as a bathroom with a shower, hairdryer and toiletries. You can enjoy Nordic cuisine, prepared with local and seasonal ingredients, in Pommern's spacious restaurant. It also includes a stylish wine bar with a lounge and a wide selection of wine. A children's playground is situated nearby and a variety of shops, restaurants and bars are found around the corner. The Pommern Museum Ship is only a 10-minute walk away.
Offering a prime location in central Mariehamn, Hotel Arkipelag is just 50 m from the marina. It offers free WiFi access and rooms with private balconies and satellite TVs. All the elegant rooms at Arkipelag Hotel are equipped with a minibar and a work desk. Some feature sea views, while others face the city centre. Three restaurants and a popular night club are located on site. Restaurant Arkipelag offers views of the sound and marina, while drinks and light meals are available at Arkipelag Garden. Torggatan Shopping Street is 100 m from the hotel. The Åland Museum is a 3-minute walk away.
This holiday park is situated on Åland Island, 12 km from central Godby. It offers rooms and cottages with a private bathroom and fridge. The natural surroundings provide nice fishing possibilities. Some accommodation at Bastö Hotel & Stugby feature a fully equipped kitchen, a furnished patio and views of Grundfjärden Bay. Others have a TV and free Wi-Fi access. Boats and fishing equipment can be rented at Bastö Hotel. Relaxation options include a sauna and a sun terrace. Activities like hiking, guided fishing trips and swimming in Lake Grundviken can also be enjoyed. Home-made à la carte dishes based on local produce are served at the in-house restaurant. Breakfast can be enjoyed on the terrace in nice weather. Ålands Golf Club is a 15-minute drive away. Mariehamn town centre is 30 km away.
Eckerö Hotell & Restaurang
Located just 100 from Eckerö Hallen, this hotel is also a 3-minute drive from the Eckerö Ferry Terminal and Sea of Åland. Surrounded by nature, it offers free private parking, a furnished terrace, along with free WiFi. Eckerö Hotell & Restaurang's guest rooms feature a TV and private bathroom with a shower. Wooden floors, a table fan and a hairdryer are also found in each room. The on-site restaurant and bar offers an à la carte menu. For a more relaxing option, guests can book Eckerö Hotell's sauna. Area activities include fishing, canoeing, swimming and horseback riding. The nearest golf course is within 4 km. Leklandet activity park and a curling hall are found 100 m away.
THINGS TO DO IN ÅLAND
The Åland islands off the south-west coast of Finland are a collection of over 6,500 sparsely populated islands full of history, nature, and sports activities. Being physically cut off from mainland Finland, they have a unique culture and climate of their own, making Åland one of the most beautiful places to visit in Finland. These are some of the top things to see and do in Åland.
Explore the islands by kayak
With so many islands to explore, the best way to travel between them freely is to rent a kayak or join a kayak tour to paddle between the islands. This allows for travel between the smaller uninhabited islands or those which don't have regular ferry services. While the seas can be challenging, kayaking is still a great way to take in the seascapes of Åland and see some of its rare wildlife such as sea eagles.
Dress up at the Viking market
The annual Viking Market is held every July in Saltvik, where real-life Vikings settled more than 1,000 years ago. Over 10,000 historical recreationists come to the island from all over the world to spend the weekend dressing up in authentic Viking costumes, role playing, buying arts and crafts, and taking part in mock battles. Particular draws are the Viking feast, the children's jester entertainers, and a visit from the Viking ship Borge Swyn.
See the Pommern at the Maritime Museum
More of Åland's nautical heritage can be explored at the Maritime Museum in Mariehamn, which tells the stories of the Åland boatbuilders and sailors from different eras through interactive exhibits. Next to the museum is the Pommern ship, the only surviving four-masted merchant ship left in the world, which now towers over the rest of the ships in the Mariehamn harbor.
Learn history at Kastelholm Castle
Kastelholm in Sund is one of Finland's most beautiful and best restored medieval castles, dating back to the period of Swedish rule. The castle goes all the way to the 14th century and was once the administrative center for all of Åland, as well as a residence for Swedish royalty traveling between Finland and Sweden. Eerily, it is also where the Swedish king Gustav Vasa once imprisoned his own brother.
Get off the grid at Kökar
With only 250 residents, Kökar is the least populated municipality in Finland. Taking two and a half hours to reach by ferry from Lumparland, it is also one of the most remote places in Finland and great for escaping from the rest of the world for a while. The ruins of a medieval monastery and the charming old wooden houses make it worth the trip.
Eat some freshly caught fish
Being surrounded by clear waters, Åland is also a great place for fishing and trying numerous tasty seafood dishes. Each of the islands has its own fishing methods and specialty dishes, such as the island of Jurmo, which has only 25 residents and has invented its own 'Jurmo sushi'. Catching your own fish and cooking it on an open campfire is also highly satisfying.
Travelling by bike is considered the best way to see Åland and take in all of its stunning nature. Regular ferry services can take you between all of the major islands and speeding across the bridges with the wind in your hair is a great feeling. Bicycles can be rented from the main town of Mariehamn.
Enjoy some Swedish coffee
Åland's proximity to Sweden makes it one of the only predominantly Swedish-speaking areas of Finland. This means you can enjoy some Swedish culture in Åland, including delicious Swedish coffee for a 'fika' (coffee break) with freshly baked pastries.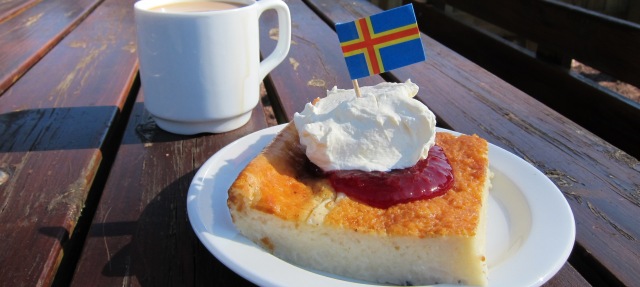 Play frisbee golf at Lappo
Frisbee golf, which is similar to regular golf except played with a frisbee, is the newest weird sport taking over Finland. The tiny island of Lappo, home to only 30 people, has the only frisbee golf field in Åland. You don't need any prior knowledge of the sport to take part in it. You just need to show up and have fun.
Take a beach sauna at sunset
Residents of Åland are just as obsessed with saunas as the rest of Finland and Sweden, and almost every home has its own sauna. What is particularly unique about Åland is that you can take a sauna in a beachside hut, cool off with a dip in the ocean, then relax with a beer while watching the sunset.
As sparsely populated as some of the islands are, if you truly want to get away from it all then you can rent your own private island and summer cottage in Åland. It costs as little as €140 per night for four people and gives you the freedom to fish, swim, kayak, or relax as much as you please.
WHERE TO EAT IN ÅLAND
Star chef Michael 'Micke' Björklund of Smakbyn is the brains behind this plåtbröd (Åland-style pizza) restaurant in the maritime quarter. Toppings are diverse and delicious, including favourites such as cold-smoked salmon and horseradish cream. In true locavore spirit, the cheese is from Åland's dairy. The atmospheric interior feels like the inside of a ship, but the place to be is the glorious sunny terrace.
The brainchild of award-winning chef Michael 'Micke' Björklund, this 'taste village' incorporates a farm shop, cookery courses and a distillery (tours and tastings available). The centrepiece is the airy open-kitchen restaurant, where the cooks work magic, using seasonal organic produce in creative ways. The menu is always different but usually features delicious local perch fillets and the beloved Hunter's sandwich.
It's worth a special trip to tiny Jurmo to sample the organic steak at wonderful Café Kvarnen, near the pier. The steak is sourced from local long-haired highland cattle and seasoned with island herbs. Other delicacies include homemade sausages, burgers, locally caught fish and fantastic Åland pancakes.
The building might be historic brick and timber, but the menu is contemporary, with expertly cooked dishes like grilled Åland beef with Béarnaise sauce and homemade fries. There's a buzzing summer courtyard and a beautiful loft space. It's a stylish spot for a drink, with late-night hours for the bar.
Right on the pier, this delightful spot is perfect for a drink or a meal while watching the seagulls soar above the creaking red boathouses. The classic Nordic dishes are delectable: marinated salmon with dill potatoes; grilled tenderloin; or a plate of 'sea tapas', including smoked salmon, shrimp or whitefish, served with archipelago black bread.
Taking its cue from its maritime - museum location, this spiffy marine-blue restaurant overlooking the western harbour and Pommern is decked out with a ship's wheel and has a splendid umbrella-shaded summer terrace. Sea-inspired dishes range from salmon tartare with horseradish and fennel to pan-fried Åland perch with caraway foam; land-based options include red-wine-braised oxtail with forest mushrooms.
This sweet cafe is set in a cosy house crowded with bookshelves, chandeliers and tile stoves. It's a charming backdrop for homemade soups, salads, quiches, pies and cakes (scattered with flower petals and far too pretty to eat!) made from local, often organic produce. The courtyard is a delight in summer.
This popular spot has received rave reviews for its sophisticated Nordic cuisine, featuring local ingredients and everything made from scratch. The location – inside the Hotel Pommern – detracts a bit from the atmosphere, but service and cuisine are spot on.