KESKIVIIKKO, 20. TOUKOKUUTA 2020
Capital of the Kainuu region, Kajaani is the major settlement in these parts. Apart from its pretty riverside and church at nearby Paltaniemi, however, it's more stopover than destination. It is southeast of Oulujärvi (Lake Oulu), which drains to the Gulf of Bothnia along the Oulujoki (river Oulu).
Kajaani was a tar town; until the 19th century, the Kainuu region produced more than anywhere in the world. Other claims to fame are that Elias Lönnrot, creator of the Kalevala, worked here for a period, using it as a base for his travels, and long-reigning president Urho Kekkonen lived here as a student (at Kalliokatu 7).
Kajaani is a typical small and quiescent former industrial city. For many visitors, Kajaani is a stop on their way to the Vuokatti skiing centre, 40 km east of the city. As Kajaani is the largest city (36,000 inhabitants) in Kainuu, there are more shopping opportunities than in Vuokatti. Especially Russian tourists staying in Vuokatti are a common sight in the shops of Kajaani in the winter. Despite its small size, Kajaani has a full calendar of events including the Kainuun JazzKevät, Kajaani Poetry Week, Kuhmo Chamber Music Festival, the unique, and hilarious, Swamp Soccer World Championships, Vuokatti Hiihto Skiing Race, Kainuun Soutu Rowing Competition, Kainuun Rastiviikko Orienteering Race, and Kajaani Tanssii Dance Event.
BEST TIME TO VISIT KAJAANI
In Kajaani, the summers are cool and partly cloudy and the winters are freezing, snowy, and overcast. Over the course of the year, the temperature typically varies from 5°F to 68°F and is rarely below -21°F or above 78°F.
Spring (March through May)
Humidity and temperatures combine to make this season feel moderately cold. Highs range from 63.5°F (17.5°C) and 33.6°F (0.9°C) with warmer temperatures in the later months. Rain is somewhat common with 5 to 8 days of significant precipitation per month. Spring is the second busiest for tourism, which makes it a good time for those looking for things to do.
Summer (June through August)
The middle-year months have comfortably cool weather with high temperatures that are comfortable. These months see the most precipitation with 8 to 12 days of precipitation per month. June – August is the busiest season for tourism in Kajaani, so lodging and other accommodations may cost more than usual.
Fall (September through November)
Fall daily highs range from 62.2°F (16.8°C) and 31.6°F (-0.2°C), which will feel chilly given the humidity and wind. It rains or snows a significant amount: 4 to 9 days per month. Tourism is the slowest during these months due to the weather, so hotels may be affordably priced.
Winter (December through February)
Weather is far too cold this time of year in Kajaani to be enjoyable for warm weather travelers. The average high during this season is between 33.6°F (0.9°C) and 14.5°F (-9.7°C). On average, it rains or snows a fair amount: 5 to 12 times per month. These times of year are fairly slow with tourists.
GETTING TO KAJAANI
By car - Highway 5, one of the major roads between northern and southern Finland passes through Kajaani, highway 6 links the city with Joensuu, highways 22 and 28 links Kajaani to Oulu and Kokkola respectively on the west coast. Roads are well maintained and taken good care of overall.
By plane - Kajaani Airport (KAJ ) (located 7 kilometres northwest from Kajaani city centre). Nordic Regional Airlines flies from Helsinki. Airbus offers connections for most flights from and to Kajaani center. Local bus number 4 links the airport to the centre. You can also take a taxi.
By train - There are many trains every day from Helsinki via Kuopio or Oulu. Kajaani train station is near the centre within walking distance. 
By bus - There is a daily bus from Helsinki, 3-4 buses a day from Oulu and Joensuu and even more frequent bus traffic from Kuopio.
GETTING AROUND KAAJANI
By foot
City centre and main attractions, like the castle, can be easily reached by foot. Maps and more information about the city and Kainuu region can be found from Kajaani-Info. Info is next to the town hall (address Pohjolankatu 13). 
By car
Driving everywhere in the town area is easy, as the city government continually improves driving conditions by building roudabouts, improving intersections and streets in general. There are minor weekday rushs in the mornings and afternoons, when residents head to work and home from there, however they usually don't last long. Finding parking space is not usually a problem, but you may have to search little longer during those "rush moments".
By bus
The only mode of public transportation is the bus. The routes are operated by the city of Kajaani. You can use the Matkahuolto route planner or matki.fi to seek local bus routes between given locations and addresses. Local transport operates during weekdays and Saturdays but not on Sundays.
WHERE TO STAY IN KAJAANI
Featuring a restaurant and a terrace, Brahenkatu Apartment provides accommodation in Kajaani with free WiFi and river views. The property has lake views and is 32 km from Vuokatti. The apartment features 2 bedrooms, a flat-screen TV with cable channels, an equipped kitchen with a dishwasher and a microwave, a washing machine, and 1 bathroom with a bidet. The apartment offers a children's playground. A bicycle rental service is available at Brahenkatu Apartment, while cycling can be enjoyed nearby.
Kauppakatu Apartment is set in Kajaani. The air-conditioned accommodation is 32 km from Vuokatti, and guests benefit from complimentary WiFi and private parking available on site. The apartment has 1 bedroom, a flat-screen TV with cable channels, an equipped kitchen with a microwave and a fridge, a washing machine, and 1 bathroom with a bidet. A bicycle rental service is available at the apartment, while cycling can be enjoyed nearby. The nearest airport is Kajaani Airport, 10 km from Kauppakatu Apartment.
Surrounded by a pretty garden along the Kajaani River, this historic property is 600 m from Kajaani town centre. It provides a garden terrace, free sauna access and individually decorated rooms. Set over 3 buildings, Karolineburg Manor House Hotel offers rooms with a flat-screen TV, fridge and fan. Some feature a private sauna. Guests can relax or enjoy yard games in Karolineburg's garden, which also has BBQ facilities in the summer. A daily breakfast is served in the main building. Staff can help arrange a variety of activities, including cross-country skiing, cycling and hiking. There are 3 golf courses within 30 minutes' drive. The historic area around the manor and the building itself are protected by museum authorities.
Overlooking the Kajaani River, 10 minutes' walk from Kajaani Station, this hotel provides free WiFi and sauna access. All rooms have a flat-screen TV. Parking is also free. Hotel Kajaani's rooms feature a seating area and a private bathroom with shower. Kajaani Hotel's guests can book massages, zone therapy and a wide variety of other treatments on site. A sandy beach is just a 5-minute walk away, while the central shopping area is about 1 km from the hotel. The late 1800s, Neo-Gothic Kajaani Church is within 20 minutes' walk.
Set in Kajaani, in a building dating from 1983, Guesthouse Julia features a terrace and guestrooms with free WiFi. The accommodation offers ski-to-door access and a ski pass sales point, as well as a shared lounge and a garden. Free private parking is available and the guest house also provides ski equipment hire for guests who want to explore the surrounding area. Guests at the guest house can enjoy a continental breakfast. Guests at Guesthouse Julia will be able to enjoy activities in and around Kajaani, like skiing and cycling. Vuokatti is 29 km from the accommodation. The nearest airport is Kajaani, 16 km from Guesthouse Julia, and the property offers a paid airport shuttle service.
Just 10 minutes' walk from Kajaani Railway Station, Original Sokos Hotel Valjus offers free sauna access and an on-site restaurant and bar. It offers free WiFi, as well as rooms with wooden floors, a flat-screen TV and free wired internet. Guests can enjoy a drink in the bar, a coffee break, as well as meals prepared from local ingredients at the on-site Restaurant Sulo. Kajaani Art Museum is 350 m from Original Sokos Valjus Hotel, while Kajaani Golf Club is within a 3 km drive.
This Kajaani hotel lies by River Kajaaninjoki, right next to Kaukametsä Congress Centre and Kaukavesi Water Sport Centre. It offers free sauna access as well as free WiFi and private parking. Each guest room at Scandic Kajanus has a work desk and flat-screen TV with multiple cable channels. Scandic Kajanus' popular breakfast buffet includes Scandinavian rye bread, herring and organic ingredients. Other facilities include a bar and free rental bikes during summer. The lobby shop sells snacks and drinks. All younger guests at Scandic Kajanus are offered a welcome gift and free access to computer films, computer games and a children's play area. Scandic Kajanus is within 20 minutes' walk of Kajaani Station. The surroundings offer activities such as fishing, hiking and skiing. Three ski centres are within 60 minutes' drive, while 2 golf courses can be found within a 30-minute drive of the hotel.
THINGS TO DO IN KAJAANI
Opened in 1913 and run by the fourth generation of the same family, Pekka Heikkinen's loaves are made from Finnish flour and baked in birch pans in its wood-fired oven. Savoury golden-brown pastries include juustosarvi (filled with cheese) and pasteijat (with veggie or meat fillings); korvapuusti (cinnamon scroll) and kääremunkki (rye pastry with fruit) are among the delectable sweet varieties. There's indoor seating and you can pick up takeaway pastries to enjoy by the river in warm weather.
Paltaniemi's enchantingly weathered wooden church was built in 1726 and contains some of Finland's most interesting church paintings: rustic 18th-century works full of life and colour that enliven the roof and walls. Above the entrance, symbolically representing the dangers of life outside the church, is a vivid scene of hell that was covered for years to avoid offending parish sensibilities.  Alongside the church, what looks like a woodshed is the Keisarintalli, an old stable that was actually used as a boarding house for Tsar Alexander I when he toured Finland in 1819. This simple building (moved from Vuolijoki) was the best accommodation available. Situated 300m east of the church is the lakeside museum Eino Leino- Talo, which is also worth a visit while you're out this way
Located above the rapids, with curved picture windows providing spectacular views, this striking 1940s villa was built as a residence for the local paper company's owner, It's now primarily a wedding and events venue, but during summer it serves the town's best lunch buffet, laden with dishes such as smoked salmon and fennel soup, and wild boar stew with cranberries.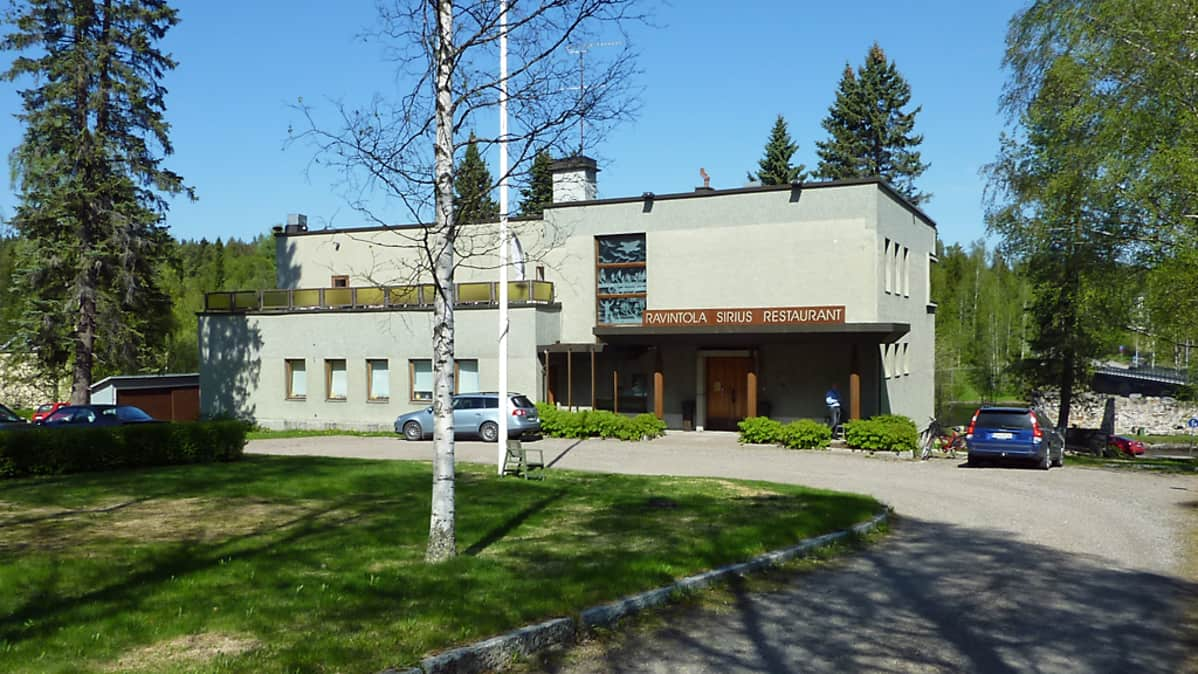 In a central corner position, Ulrika has one of the town's sunniest terraces, strewn with wicker chairs, and a cinematic-themed interior with film reels, projectors and spotlights. Craft beer, cider and cocktails are served alongside Finnish street food such as salmon burgers on rye. Live rock bands and singer-songwriters play on weekends.
The Eino Leino-Talo is a re-creation of the place where Leino, one of Finland's foremost independence-era poets, was born in 1878. It's a lovely lakeside spot, with a cafe as well as photos and memorabilia. It's just 300m east of the Paltaniemen kuvakirkko.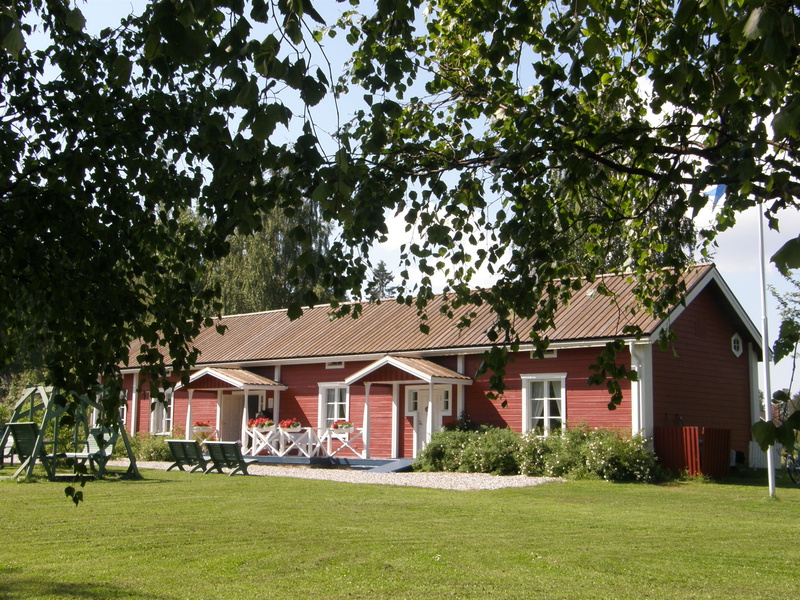 Picturesquely set on a river island in the town centre, Kajaani's castle was constructed between 1604 and 1619 to guard the Swedish border from Russia, and destroyed when Russian forces besieged it during the Great Northern War in 1716. The ruins show all the signs of damage by war and time. It's a fine spot to bask on the grass on a sunny day. Nearby, a tar-boat channel has a lock built to enable boats laden with tar barrels to pass the Ämmäkoski rapids.
Near the train station, the town museum has a good permanent exhibition on Kajaani's history from prehistoric times to the mid-1900s, including information on the castle, tar boats and the creator of the Kalevala, Elias Lönnrot. There are also regular temporary exhibitions.
Just off the main street, the painted windows here conceal a dark-wood interior. The food is for carnivores with an appetite: big burgers, steaks and fried chicken feature on the menu, alongside Mexican-inspired options, such as reindeer burritos. From Monday to Friday, it serves a lunch buffet.